We finally have an official sign that a PUBG PS4 version is coming soon, though it didn't arrive from either Sony or PUBG Corp. Instead it was the South Korean ratings board that unassumingly revealed the impending game via its online listings, as discovered on Reddit. Officially called the Game Rating and Admission Committee, the state-established organization has leaked several other games early in the past. Until the companies themselves officially confirm it there's always the possibility that this is an elaborate hoax, but it seems unlikely. At least there are other games like PUBG to keep you busy while you wait.
Back in December 2017, PUBG launched on Xbox One after its initial Steam release. It was originally a Game Preview title, meaning it wasn't totally finished, but that all changed in September 2018, when the 1.0 update launched marking PUBG's transition from beta to full title. That's a significant thing for PUBG, as the Game Preview state was one of the reasons it couldn't originally come to PS4. Thankfully, we do have some more snippets of PUBG PS4 information that might intrigue you. Read on.
Is there going to be a PUBG PS4 release?
Well, it's looking incredibly likely that we're going to see a PS4 release for PUBG at some point in the future. It's just a case of when, rather than if.
"As it's going to be an exclusive title on Xbox One for some time, we'd like to focus on completing the Xbox One PUBG for now," says Chang Han Kim, the CEO of PUBG Corporation to InvenGlobal. "If we have the opportunity, the final goal would be to launch the title on every platform."
"We definitely do have plans for other platforms," adds Kim in a Business Insider interview in June 2017. "But no details have been finalized yet."
It's not the first time that either Kim or creator Brendan Greene have mentioned ideas of wanting PUBG on every platform ever. It seems that total domination isn't just the idea for the gameplay.
"I'd like PUBG to become a universal media franchise based on the game. We want to take part in diverse industries including eSports, movies, drama, cartoons, animation, and more. In fact, we received a couple of lovely calls from a number of developers in Hollywood and Netflix. Our dream is to build a new game-based culture through various ways like this, and have the lead of that culture," says Kim in the InvenGlobal interview.
A recent PUBG video could be a huge clue
There's hope folks. There is hope that someday soon the PUBG PS4 release will happen. And after a recent video from Microsoft announcing the full release of PUBG, there's actually even more. Strangely enough, the video above showcases Bluehole employees gathered around a desk checking out PUBG. But, when the video gives you another pan of the very same desk, there's a PS4 Pro standing proudly just to the left of the developer's desk...
Now, it could just be that this developer really wanted to play Spider-Man PS4 on his lunchbreak, but seeing as PUBG was only intended to be a "Console Launch Exclusive", it could well mean that he's testing the PS4 version.
The Early Access Dilemma
One of the main reasons that Xbox One gamers got access to PUBG before PS4 owners is because of its Game Preview program. Basically, PlayerUnknown's Battlegrounds isn't anywhere near finished yet. It originally launched on Steam through its Early Access program, and only actually launched properly on the main Steam page in December 2017 with its PC 1.0 Update.
When it was originally released on Xbox One, PUBG was very much still a work in progress. It only existed within Microsoft's Game Preview service, which is basically the Xbox's version of Early Access. It's the only console with this type of preview service, allowing gamers to help test the quality and performance of games ahead of full launch - albeit usually for a fee, with PUBG on Xbox One costing $29.99/£24.99 at that point, or free when you bought a new Xbox One X. Neither PlayStation nor Nintendo offer such a service on PS4 or Switch, so it's more difficult to offer access on those platforms until the game is actually finished.
However, PUBG actually left the Game Preview on September 4, which marked the game's progression from a purely beta title to a fully-fledged title. The 1.0 update included the PUBG Sanhok map, new weapons, dynamic weather changes, War Mode deathmatch, and more. The PC version left Early Access even earlier, back in December in fact, which means there's scope now to see a PUBG PS4 release date in the near(ish) future.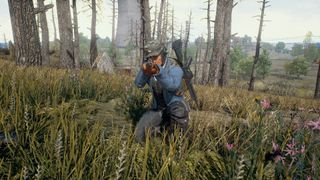 So there's basically good news and bad news when it comes to getting PUBG on PS4. You will get it eventually, but you're going to have to wait. However, when it does arrive, you are going to be getting the best version of the game, without having to wade through framerate issues, downgrades in graphical quality or any other pre-release issues. You'll probably even get both maps, the first-person mode and more when you get to play on PS4. It may even be optimised for a PS4 controller. So, it'll be worth the wait.
Just check out the difference between what PUBG looks like on Xbox One vs Xbox One X in this video to see what kind of issues Xbox gamers have been having.