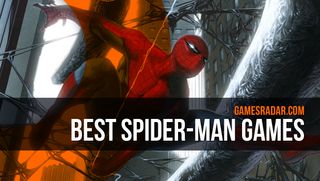 With great power...
GamesRadar has a lot of love for our friendly neighborhood Spider-Man. We appreciate the Wallcrawler so much that weve already listed the top 7 reasons Spider-Man makes a great game character. But what about when Spidey actually appears in games? Well, not all of them could be called the best games ever, but it isnt hard to rank the 25 best Spider-Man games ever made. (By the way, never forget the hyphen in Spider-Man. Write Spiderman, and everyone will think youre a poser.)
After reviewing more than 30 years of video games, weve narrowed down Spider-Mans best digital adventures to these select titles. We included both solo games and ensemble appearances, and for the purposes of ranking this list, focusing on the Spider-Man mythos counts a lot. So if Peter Parker is a bit player in a great game, expect that title to rank a little lower than another great title that digs deep into Spideys long history. We start with...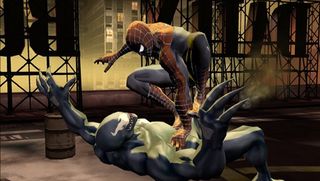 25. Marvel Nemesis: Rise of the Imperfects
EA had big plans for a Marvel game of its own, developing a fighter featuring big name heroes and an invasion of killer aliens known as the Imperfects. The gameplay is inspired by Super Smash Bros., Power Stone, and other chaotic fighters of the era, though EA didnt do the best job of embracing that gameplay. While the fights could get intense, the camera is pulled so far back that its hard to follow the action in the bland, dingy arenas, which were almost as unremarkable as the Imperfects themselves.
Compared to some of the other heroes, Marvel Nemesis handled Spider-Man relatively well. His moves and voice acting were accurate enough to the comics, and his limited cutscenes at least got his relationships with Venom and Human Torch correct. Ultimately, Nemesis is more boring than terrible, and thats enough to rank over some of the truly awful games Spider-Man has appeared in.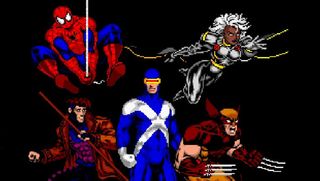 24. Spider-Man/X-Men: Arcade's Revenge
If you were a kid in the early 90s, the concept of this game was enough to get you bouncing off the walls with excitement. After appearing in multiple solo games, Marvels most popular characters were now costarring in the same game.The box art promises Spidey and the mutants fighting their most famous rogues, but the rather backwards gameplay of this 16-bit title doesnt come anywhere close to what you hoped for.
Despite being on SNES/Genesis, the design is closer to the flat platformers of the NES era, sticking Spider-Man and the four X-Men in a handful of plodding, punishing themed worlds. Spider-Mans stages are certainly better than Storms underwater mazes, though Spidey is cursed with an unhelpful Spider Sense that emits an annoying buzz whenever an enemy is within striking distance. On the plus side, this is hardly Spider-Mans worst platformer (check out this Game Boy titles if youre curious), and the monotonous action is backed by some awesomely 90s music.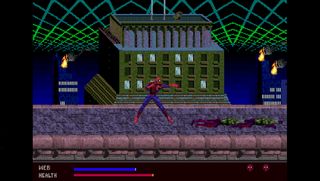 23. The Amazing Spider-Man: Web of Fire
The 32X was one of a number of Segas mid-90s misfires, but youd think that the 32-bit add-on would get a boost from an exclusive Spider-Man game. Unfortunately, the 32X had a small install base and an even smaller library of games, meaning Sega discontinued the system the same year Web of Fire came out. This unlucky game saw a very limited release, making it a highly collectible title, but dont make the mistake of thinking its some lost gem just because people are charging $400 for it on eBay.
Web of Fire is from the same mold as Segas previous Spider-Man titles (more on those later), with average stages full of nameless thugs and doomsday devices. The web-slinging is adequate thanks to Sega sticking to its own Spider-template, but its actually worse than the publishers previous arachnid efforts, partly thanks to a failure to use the 32Xs power appropriately. Comic fans will find slight pleasure seeing Spider-Mans super friend Daredevil make a non-playable appearance, becoming a level-clearing bonus attack after Spidey saves him early on.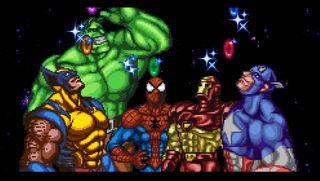 22. Marvel Super Heroes in War of the Gems
First off, no, this isnt Capcoms original arcade beat em up. Released around the same time, this SNES original sees Capcom repurpose the concept of its fighting game into a sidescroller that many missed the first time around. It stars multiple Marvel heroes, including a Spider-Man thats moves with more agility than hed had in any previous platformer, showing Capcom understood the character better than most of his previous developers.
You play through multiple levels in search of the six Infinity Gems, beating up a ton of evil super doppelgangers along the way. The platforming design is unmemorable, but the combat--inspired by Capcoms fighters--makes up for that deficiency. Its a fulfilling puchfest in the mold of Final Fight (though not as good), and Spider-Man is one of your best playable choices in this battle against Dr. Doom.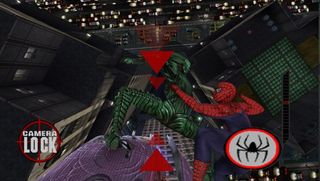 21. Spider-Man: The Movie
Fans had been waiting so long for there to finally be a proper Spider-Man film, and Sam Raimis blockbuster holds up pretty well in the years since its 2002 release. Thats less true for the game based upon the film, as its once-impressive graphics have aged poorly, along with its too simplistic gameplay. But you have to give it credit for high production values.
The game brought in most of the films cast to retell the story of Peter Parkers journey from nerd to savior of New York City. The plot follows the film--only with way more random thugs getting beat up--and the gameplay is styled after the earlier PlayStation game that Neversoft did so well. However, while Spider-Man: The Movie may look better than its PSOne predecessor, the movie licence means sacrificing much of the personality and fanboyish love that made Spider-Man (2000) great. We prefer nods to deep continuity over Tobey Maguires wooden acting any day of the week.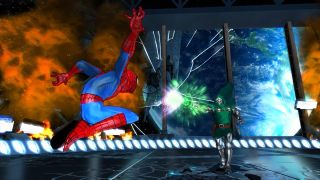 20. Marvel Avengers Battle For Earth
Spider-Man has been a core member of the Avengers for over a decade in the comics, despite the fact that he doesnt appear anywhere in the billion-dollar film franchise. Fans may never see him on the team in movie theaters, but they do get to see Spider-Man take part in games like this one from Ubisoft. Based on the hit Secret Invasion comics storyline, Battle for Earths simplified fighting gameplay cant compare to the depth of its Capcom competition, but its better than people expect from its Kinect-based gameplay.
Spider-Man and the rest of the Avengers get in motion-based battles against evil alien clones, giving a storyline excuse for Spidey to beat the tar out of fellow heroes. The 2.5D action focuses on timing and flailing around as accurately as possible, which feels silly until you see it translate into a fairly involved combo on-screen. If you come in with lowered expectation (and dont pay full price), Battle for Earth ends up an enjoyably simple diversion for Marvel diehards.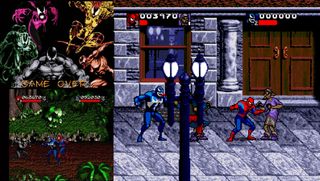 19. Spider-Man and Venom: Separation Anxiety
Maximum Carnage has a number of problems, but the beat em up came at just the right time to capture comic fans excitement over anything that starred any combination of Spider-Man, Venom, and Carnage. Publisher Acclaim knew it had a hit on its hands, and quickly got to work on a follow-up built on quantity over quality. Maximum Carnages two symbiotes were replaced with an army of gooey aliens to defeat.
Ripped straight from the pages of then-current comics, Separation Anxiety fails to capture the same buzz as Maximum Carnage, most likely because it wasnt as good. The levels werent as interesting, the combat was more punishing, and the number of cameos and story nods werent as exciting. However, even though the sidescrollers appeal was wearing thin, we have to admit that two player co-op with Spider-Man and Venom was fun for the first couple hours.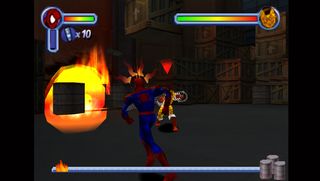 18. Spider-Man 2: Enter Electro
After a long layoff, Spider-Man games were made current again thanks to Activision and Neversofts Spider-Man game of 2000. Activision had a new franchise on its hands, which of course meant an annualized Spider-Man release the next year, only Neversoft went back to working on Tony Hawk games. That meant the late-era PSOne sequel got passed off to Vicarious Visions, which led to an unfortunate drop in quality.
Enter Electro plays about the same as the title before it, starring a quick-witted Spider-Man swinging around NYC in search of the electric super villain thats planning to steal some otherworldly device. The game has the playful nature of the original, but it lacks the same polish, and has a much worse collection of bad guys to fight. Enter Electro does have the interesting footnote that its final battle had to be altered weeks before its October 2001 release to excise an appearance by the World Trade Center in its final boss battle.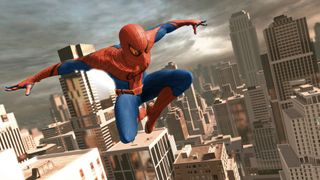 17. The Amazing Spider-Man
The Spider-Man films saw a reboot in 2012, retelling Peter Parkers early adventures to some audiences that were only introduced to the character just ten years earlier. The Amazing Spider-Man game does a similar job of reintroducing fans to a concept theyre already familiar with, dropping Spidey into an open world version of Manhattan for the first time in years. We were happy to see this gameplay return, but the game had little new for the Wallcrawler to do in the Big Apple.
The citywide swinging felt almost as natural as before, but the action is built around a repetitive series of objectives that arent all that different from Spider-Mans first open world game--beating up thieves, transporting people to hospitals, etc. The closed off world of the film also saps a lot of the fun intrinsic to setting other Spider-Man games in the larger Marvel universe. Amazing Spider-Man gets bonus points for taking place after the film, meaning it tells an original story instead of forcing fans to watch Uncle Ben get shot for the 100th time.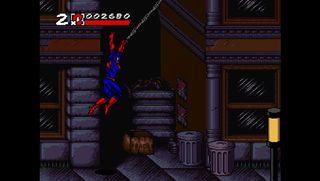 16. Spider-Man and Venom: Maximum Carnage
In the early 1990s, comic readers were enamored with Spidey's newest villain, Venom. He became popular enough to begin starring in his own series as well as becoming a hero of sorts, co-starring with Spider-Man to battle Venom's progeny, the murderous Carnage. The massive comic book crossover where it all happened was called Maximum Carnage, the same title as the Genesis/SNES game it inspired.
These days the game doesn't hold up all that well, but it's still worth remembering based on its devotion to the source material. Stages and enemies were ripped straight from the comic page, all set to a soundtrack by alternative band Green Jell. It may be a frustrating Final Fight clone, but at least it respected the continuity.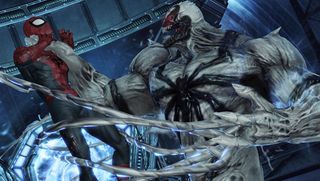 15. Spider-Man: Edge of Time
This is the follow-up to Shattered Dimensions, and it cant help but feel like half of a sequel by comparison. Instead of four Spider-Men, Edge of Time just has the two, regular Peter Parker and the Spider-Man of 2099. Thanks to the confusing effects of time travel, the two different Spider-Men swap chronologies, dropping Spidey into a futuristic setting while the edgier 2099 model fights the robot armies of today.
Edge of Times biggest issues come from a lack of scope, because there are so few enemies to fight beyond an army of boring robots, with an adequate fight against Anti-Venom being the exception. Plus, virtually every stage takes place indoors, restricting a characters that works best when he has freedom to move. On the other hand, Edge of Time is still ahead of the pack when it comes to fashion; Spider-Mans costume has never looked more realistic than it does in this game.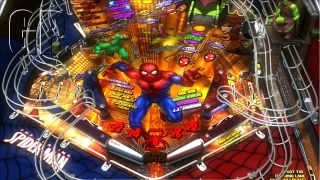 14. Marvel Pinball/Pinball FX DLC
If you want to feel old, just recall all the different pinball games of your youth, and then realize theyd never be built today. Tables were created for the likes of the X-Men and Terminator, but people arent designing the same type of tables now, at least not for physical release. The current pinball market has pushed the best designers to create content could only exist digitally in games like Pinball FX, including some unique Marvel DLC that features an especially good Spider-Man table.
The Marvel set has its ups and down, but the Spider-Man pinball machine is one of the best, telling a simple but exciting tale of Spider-Man battling Doctor Octopus and Green Goblin. Quality voice work and character animations support a fun narrative that unfurls as a reward that goes beyond a high score. Theres no real stinker among the Marvel Pinball set, with World War Hulk and Civil War being other standouts, but the quality Spider-Man content, short as it may be, is enough to place it on this list.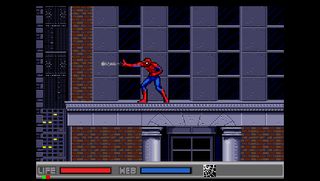 13. The Amazing Spider-Man vs The Kingpin (Sega CD version)
Spider-Man starred in multiple 2D adventures in the 8/16-bit days of gaming, but few made a real mark. Peter Parker starred in console games developed Rare, Acclaim and Capcom, but at the time it was Sega that understood the Web Slinger best. After some fun adventures on Genesis, Game Gear and Master System, Sega saved its best for the little played Sega CD.
Released in 1993, Spider-Man vs The Kingpin is basically a remake of 1991's Spider-Man for Genesis. This gave Sega a chance to revisit and improve a good game and really make it shine. Plus it had an open level structure that was very ahead of its time. It's true that it has laughable voice acting and a cheesy guitar-fueled theme song by Mr Big that look bad now, but underneath it all is the best 2D Spidey game ever made.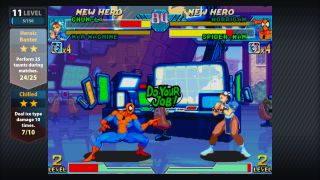 12. Marvel vs Capcom Origins
Capcom and Marvel have created some very popular games together, including some titles that have sustained popularity for years and years in the fighting game community. The two companies teamed together so many times that we dont fault some players for missing out on Capcoms earliest titles featuring Spider-Man. But even if the more current entries give you a better experience, theres still fun to be had in these two early Capcom fighters starring the Webhead, both of which appear in the downloadable Marvel vs. Capcom Origins.
Origins brings together Marvel Super Heroes and Marvel vs. Capcom: Clash of Super Heroes into one XBLA/PSN title, showcasing a Spider-Man sprite design that hasnt aged a day. His poses, attacks, and taunts all fit the agile, red and blue character, plus Spider-Man best frenemy, Venom, gets to join in on the action. Yes, some of its combat is a tad outdated and unbalanced compared to its sequels, but its still a fun part of Spidey history, particularly for those with a good deal of nostalgia for the original Capcom brawlers.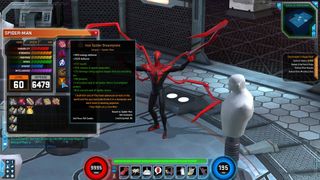 11. Marvel Heroes
The free-to-play market seems like a neverending waterfall of money, so it isnt surprising to see comic books join in, like with the DC Comics MOBA, Infinite Crisis. Marvels F2P title sidesteps DOTA, instead taking its inspiration from the Diablo titles to create quite the dungeon crawl for Marvel Heroes. The full game is free, but to add some of your favorite characters to the roster, including Spider-Man, youve got to pay.
This is worth it if you want a satisfying adventure games thats similar to Marvels previous Ultimate Alliance games, but theres a bit more to find if Spider-Man is your favorite Marvel character. Theres the thrill of seeing the Webhead team up with obscure heroes like Squirrel Girl and Moon Knight, and longtime Spidey fans will appreciate the deep selection of (purchasable) costumes. His alternate looks span Spider-Mans five decades of existence, including the black symbiote suit, the costumes worn by Peter Parkers many clones, and his uniform from his recent stint in the Fantastic Four. Its more fan service than youll find in most solo Spider-Man games.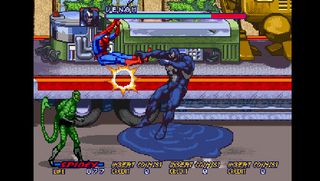 10. Spider-Man: The Video Game (Arcade)
Your typical '90s arcade beat 'em up, this Sega creation is a colorful classic. Made during Sega's arcade heyday, the bright colors, fluid animation and spoken dialogue were some of the fanciest features a comic book game ever had to that point. Sure, it followed the same formula as most other brawlers, but it shook things up every once in awhile by pulling back the camera add in some a platformer action on occasion.
Sega's Spider-Man arcade title featured many of his greatest enemies, including the relatively new Venom, as well as Fantastic Four nemesis Doctor Doom. Unlike similar games from the time, like X-Men, TMNT and Simpsons, Spider-Man has yet to see a downloadable rerelease, but we can always hold out hope that it will show up eventually.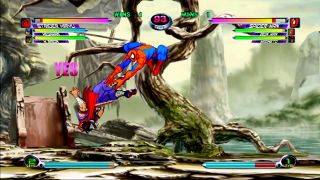 9. Marvel vs. Capcom 2
Its Mahvel Baybee! Ahem Sorry. As its ardent fans will tell you, Marvel vs. Capcom 2 is one of the most doggedly popular fighting games ever made, remaining a favorite for some of the most hardcore folks in the fighting game community. The 56 character roster included one final appearance of the Spider-Man sprite that fans had come to love over Capcoms multiple Marvel titles, this time moving with more intense speed than ever before.
Despite some gamers still favoring this entry in the series, the third Marvel vs. Capcom title definitely ranks higher when rating games based on its Spider-Man-osity. Both move at an insane pace and have crazy hyper moves like Parkers risky Maximum Spider attack, but the world of MvC2 favors amusement parks and swamps over famous settings like the Daily Bugle, along with random alternate colors that dont have any real comic equivalents. The only definitive advantage MvC2 offers the Spider-Man crowd is that Venom is still playable in this entry, but wouldnt you rather play with the symbiote costume skin in MvC3?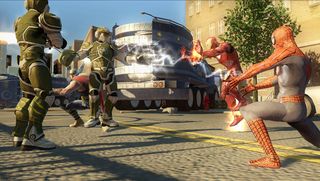 8. Marvel Ultimate Alliance 2
Spidey doesn't need to be the star of every game he appears in. Sometimes it's fun for Spider-Man to be part of an ensemble, just one of the unforgettable characters in the Marvel Universe. He's been a supporting character in many marvelous adventures, but if we had to pick one, it would be Marvel Ultimate Alliance 2 as his best super team-up.
A retelling of the highly publicized story line Civil War, the plot is ripped from the headlines, as the hero community reacts in different ways to a horrifying terror attack. Spider-Man--along with heroes as varied as Iron Man, She-Hulk and Wolverine--have to choose their side on the issue. Even without that plot hook, the simple fun of teaming Spidey up with multiple heroes (we preferred the classic duo of him with the Human Torch) was enough of draw for the MUA2. But when will there be a MUA3?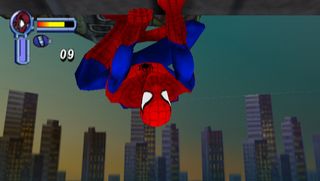 7. Spider-Man (PSX)
After dozens of lackluster platformers and brawlers starring the webbed wonder, many fans were beginning to think he'd never star in a truly great game, let alone one fans would embrace. Then came the title that proved them wrong, and it arrived from a very unlikely source. With Spider-Man on the PSOne (and virtually every other console of the era), Neversoft proved they were more than just skateboarding experts.
Made mostly obsolete by the later open world adventures, Neversoft's Spider-Man embraced something that couldn't be expressed in Spidey console games before: Peter Parker's voice. Thanks to the extra space on CDs, Spidey talked constantly, cracking wise with his greatest enemies and superhero friends. It added a much needed personality to the character. It also was the first Spider-Man game that felt made by fans for fans, with dozens of cameos and jokes meant for comic readers. This was the beginning of modern Spider-Man games.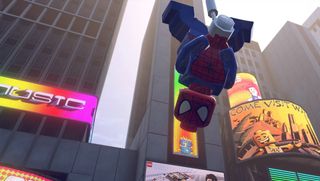 6. Lego Marvel Super Heroes
How did it take so long for there to be a Lego game set in the Marvel Universe? Well, Travellers Tales made the wait worth it by including just about every possible character they could in this block action game. The Avengers, X-Men, Fantastic Four, and many, many more are all crammed into this adventure game, and the adorable Lego Spider-Man is right in the middle of it all.
Its an increasingly rare treat to see Spider-Man hang out in-game with all his Marvel buddies in same campaign, so its great to see his personality bounce off the Lego visages of Hulk and Wolverine. Legos all ages thrills are in full force, and the world is packed with details, taking players to famous Spider-locales like The Daily Bugle, Oscorp headquarters and the super prison, The Raft. And best of all, the free roaming web swinging controls better in this game than it does in some of the most recent solo Spider-Man titles.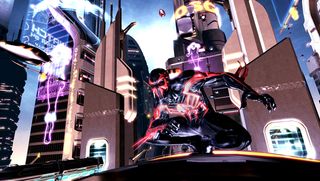 5. Spider-Man: Shattered Dimensions
We'll be the first to say that as a game, Shattered Dimensions was more than a little disjointed. How could it not be with a concept that brought together Spider-Men from different universes? You basically ended up with four different, smaller Spider games in one and some aren't as good as others. However, even if it fails at times to be a great video game, as a celebration of Spider-Man's history and mythos, few games are as good.
Shattered Dimensions brought together the regular Marvel Universe Spidey with Ultimate Spider-Man, 2099's Spider-Man, and the Noir Spidey of an alternate 1920s. The dialogue, settings, rich rogues' gallery and even the casting of the voice talent all function as some kind of tribute to Spidey's decades of history. Even when the gameplay falls down, any Spider-fan will find something to love about the game.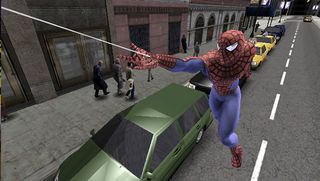 4. Spider-Man 2: The Game
Unlike DC Comic's fictional locales like Metropolis and Gotham, Marvel heroes has always been very directly tied to New York City. Almost every Spider-Man game has been set in NYC, but you never really got a real feel for the Big Apple before 2004. After Grand Theft Auto III proved the power of sandbox gaming set in a persistent world, Spider-Man and developer Treyarch came to the obvious conclusion: put Spidey in a living, breathing Manhattan.
By today's standards the city seems a little empty and the missions, particularly the balloon-catching ones, are regrettably boring more often than not. But the impact of finally swinging through a full recreation of NYC as Spidey can't be understated. Until Batman came around, games like Spider-Man 2 and its sequels were seen as the absolute best in comic book games.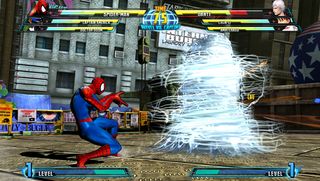 3. Ultimate Marvel vs Capcom 3
As this list proves, Spider-Man is most at home in third person adventures of the platforming or open world variety. Still, when he branches off sometimes you get great results, the best example being his appearances in fighting games. And no, we aren't talking about Marvel: Nemesis, but all the fun times he's had in Capcom fighters.
We had great times for more than a decade busting out Maximum Spider in a half-dozen games, but if we had to pick a favorite of all the Vs games, the choice is obvious for Spider-Man fans. Ultimate Marvel vs Capcom 3 featured way more fan service than any before, with so many alternate costumes and whole stages made in tribute to Peter Parker. Let the fighting game fanatics argue over the gameplay, for Spidey fans the choice is easy.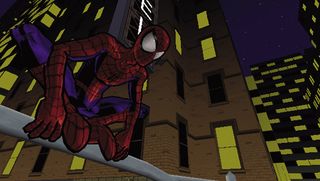 2. Ultimate Spider-Man
The direct sequel to the genre-defining Spider-Man 2 game, developer Treyarch improved everything for their second open world adventure. New York City was expanded, given more character and the mission variety grew bigger than ever. NYC looked better than ever too, as Ultimate embraced the cel-shaded look that was all the rage back then, meaning the game's graphics have aged well.
Set in the comic book world of Ultimate Spider-Man starring a younger version of Peter Parker, you spend the game trading off between Pete and his nemesis Venom. The story was written by Ultimate Spider-Man scribe Brian Michael Bendis and the visuals were based on Ult Spidey artist Mark Bagley, making the game appear ripped from the comics page. No Spider-game since has so embraced its comic roots, but we wish someone would try.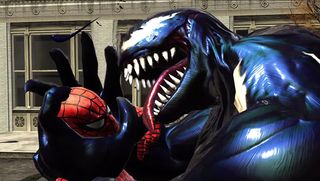 1. Spider-Man: Web of Shadows
With SO many classic Spider-Man adventures to choose from, it was tough to pick the best. Ultimately we had to ask ourselves, "If we could suggest only one Spider-Man game to someone that never played one, what would it be?" The answer was clear. Unappreciated in its time, Spider-Man: Web of Shadows pulled together almost everything we love about the franchise into one beautiful package.
Let's run down the list: The best defined Manhattan that's continually shifting, combat perfectly expresses Spider-Man's proportionate spider powers, cameos from Marvel heroes Luke Cage and Wolverine, and bringing back the fan-favorite black symbiote suit as a core feature. We're not sure why it never had a sequel, but if you can still find the game out there it's at least worth a couple of weekends.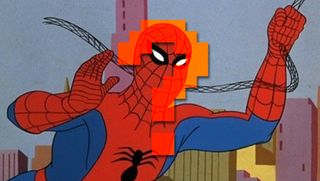 Excelsior!