SuperHyperCube
Genre: Puzzle
What is it?
A brilliantly simple, infinitely replayable puzzler that combines a Rubik's Cube, Tetris, and a certain Japanese game show
Why is it in our best PlayStation VR games list?
SuperHyperCube was made in part by the minds behind Fez, and that same brain-warping brilliance applies to this trip through a psychedelic series of walls. The goal is immediately apparent: rotate a chunk of cubes so that they fit through the precisely shaped hole in the next ever-approaching blockade. Each time you successfully pass through a wall, more cubes are added to your blocky behemoth based on how quickly and efficiently you squeezed through. What starts as one cube eventually grows into a giant mass of blocks, like a parade of Tetris pieces slammed into one another during highway rush hour.
VR is what makes SuperHyperCube's gameplay possible: to see the next shape you need to fit through, you have to physically crane your head in 3D space to peer past the shape that's always front-and-center. It's such a simple act, but feels incredibly satisfying when you quickly map out the correct sequence of rotations and turns by quickly peeking at the obstacle ahead. As you progress, the surroundings become increasingly trippy, with neon geometry filling the screen that has the same mesmerizing effect as a lava lamp. They're absolutely gorgeous to behold in VR - but don't get too distracted, or your SuperHyperCube will slam into a wall and be banished into high-score-screen oblivion.
Robinson: The Journey
Genre: Adventure
What is it?
The tale of a small boy trapped on an island full of dinosaurs trying to survive, explore and solve puzzles.
Why is it in our best PlayStation VR games list?
In short, it's Jurassic Park in space. Robinson: The Journey sees you as the lone survivor of a crashed spaceship, marooned on an alien planet full of dinosaurs. Of all the PS VR stuff out there this is one of the best for spectacle as you explore jungles and make open mouthed 'O's of delight at the views you find. And that before any dinos turn up - the scene where the giant head of a Brachiosaurus rises up to examine you in a tree is one of the best examples of just how much of showstopper virtual reality can be. Like Batman Arkham VR and Rush of Blood this is a VR experience that's much more of a fully formed game, as you explore new areas and solve various puzzles in a warm and entertainingly written story. In terms of gameplay it's satisfying and well rounded and only let down by a full price tag, a cost that's far too high for the 4-5 hours of enjoyment it provides. Keep an eye out for a deal though, because if you can get it cheaper it's well worth playing.
Thumper
Genre: Rhythm

What is it?
A self-proclaimed 'rhythm violence' game where you control a space beetle as it screams down an expansive length of trap-laden track.
Why is it in our best PlayStation VR games list?
Thumper is all about delivering an intoxicating sense of speed, as your little beetle speeds headlong towards a series of obstacles that you need to avoid (and point bonuses you ought to collect) with button presses in time to the music. And when you flip on VR Mode, and the tunnels, twists, and turns you're cruising through encompass your entire view, it's a profoundly intense experience.
If you're aiming for high scores on Thumper's leaderboard, you need intense focus: those deadly turns and sudden barricades come at you quickly and often, and two hits is all it takes for your beetle to explode on impact. PSVR can actually heighten your concentration during the ludicrously speedy gameplay, as your entire field of view becomes a heads-up for any distant hurdles that'll be zooming towards you before you know it. Oh, and encountering the giant orange skull known as Cracked that attacks you at the end of each level is delightfully terrifying in VR.
Tumble VR
Genre: Puzzle

What is it?
A building blocks puzzler that is a terrifying amount of fun in VR
Why is it in our best PlayStation VR games list?
It's hard to believe that this is the second entry on this list from Supermassive Games, purely for the fact that you'll have to play this one to get over the terror of the other. You couldn't get any further from Until Dawn than this ultra-minimalist block puzzler but don't be fooled by its appearance, this is a fiendish challenge with ultra-satisfying precise controls.
After the overwhelming worlds of some of the rest of the entries on this list, Tumble VR is peaceful but deadly. All the challenges are set by a Portal-style robot who'll clearly announce if he's testing your stress levels and will happily treat you like the guinea pig that you are. Levels vary from tower building - who'd have thought balancing could be this hard? - to directing lasers through multicoloured blocks and there's plenty of different types of challenges.
The tower building is almost ridiculous amounts of fun as you carefully stack different materials, each with their own satisfying noise when you pick them up and put them down. Add in a local two player mode to involve someone else in the room if they're armed with another DualShock and there's plenty to do here. Lots of brain hurting fun.
Keep Talking and Nobody Explodes
Genre: Puzzle

What is it?
A frantic party game where communication - be it clear or chaotic - determines your degree of combustion.
Why is it in our best PlayStation VR games list?
Along with The Playroom VR, KTANE (that's definitely going to catch on) is one of the PS VR games that facilitates local multiplayer even though there's just the one headset. Whoever's deemed worthy of bomb defusal duty puts on the headset, giving them a clear view of one (or more) rigged briefcases covered in switches, wires, and big red buttons. If you can't manipulate these numerous doo-hickeys quickly and precisely, you'll meet an explosive end - but luckily, your friends can feed you step-by-step instructions to surviving.
The trick to KTANE is that it can't be played alone: you need multiple onlookers coordinating the proper inputs to each randomized complication the bomb expert has to deal with. By printing out the purposely profuse instructions at bombmanual.com (or pulling them up on your phone), anyone can play along by acting as the expert for a certain defusal method, which can get incredibly complicated (and tricky to communicate, which is part of the devilish fun). It's the kind of cooperative co-op that's easy to get into and damn near impossible to master, and if you've got two Move controllers to poke and prod at the boobytrapped briefcase, the tension ramps up even further. It may feel stressful in the moment, but whether you win or lose, it's great collaborative fun.
Rez Infinite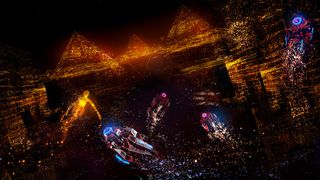 Genre: Shooter

What is it?
A sublime synesthesia experience that fuses surreal sights and sounds into shoot-'em-up action.
Why is it in our best PlayStation VR games list?
Rez has come a long way since its Dreamcast debut, jumping to the PS2, then the Xbox 360 in HD, and is now finally achieving its full potential with PlayStation VR. If you haven't played Rez before, it envisions cyberspace as a vast expanse of wireframe ruins, and the only way to stop the viruses running amok is blasting them with your lock-on laser. Every shot you take or virus you destroy is accompanied by a drum beat or synth note, which builds and builds as enemies start to fill the screen and the thumping techno soundtrack intensifies. Rez's distinct soundscape and otherworldly wireframe aesthetic have always been fantastic, but they're even more astonishing when you're wrapped in the immersion of PS VR.
But the piece de resistance is the all-new Area X, an additional stage developed to revolve around the PS VR technology. It switches up the control scheme, letting you fly freely towards your focal point rather than zooming along on rails, and changes the visual design entirely from wireframes to fluid clusters of shimmering light particles. It's a little like dancing amongst fireworks in slow motion which were somehow set off in the middle of a rave. And if that's not worth experiencing in PS VR, nothing is.
Here They Lie
Genre: Horror

What is it?
A surrealist horror story mixing strange and uncomfortable imagery and jump scares into a confusing but interesting experience.
Why is it in our best PlayStation VR games list?
As a horror game Here They Lie starts traditionally with creepy environments and an unsettling atmosphere. There's a very Silent Hill vibe to the grey, weirdly constructed city you initially explore - buildings move in to view just on the edges of your vision, while geometry and corridors seen just a little off. Plus there are… things in there with you. Odd beginnings only give way to increasingly surreal and bizarre landscapes. To say anything would be to spoil what you'll find but as the game progresses it layers on more and more bizarre imagery and allegories. It's uncomfortable in places, baffling in others but always drawing you on with a 'WTF?' lure.
It suffers in a few places. The movement system has two choices: a vision-lead option where you steer by looking, combined with a segmented turn on the right stick that clicks you around in set angles. Or a free look that restricts the field of view to a tunnel vision hole if you try to look around. The first system's the most usable but falls short whenever you need to react fast - being chased for example. Stealth is a bit wooly in places, especially a section near the end that relies too much on running and luck. There's also some Sims-style voice acting that breaks the atmosphere utterly. However, you won't find a more unusual and interesting horror game on PS VR. This is French surrealist cinema compared to Rush of Blood's more American movie scares. As fascinating as it is hard to decipher. Don't be surprised if it gives you very disturbing dreams.
Super Stardust Ultra VR
Genre: Twin stick shooter

What is it?
If you've ever owned a PlayStation console, chances are that you've played some iteration of this ultra-colourful twin stick space shooter.
Why is it in our best PlayStation VR games list?
Put simply, because Super Stardust is always no less than brilliant and virtual reality is no exception. The classic arcade action translates surprisingly well to headworn display action as you're surrounded by asteroids and floating stars. Despite still controlling the ship from the top down and shooting everything that moves, virtual reality gives the planet in front of you a pleasing amount of depth and there's no eye strain or sickness. There's stacks of modes on offer too, from arcade to survival and as ever, the action gets chaotic fast and makes you feel like some kind of god of the analogue sticks as you survive waves of enemies.
It's a shame then that the optional 'VR Invasion Mode' doesn't fare quite as well. Opting for a 3D version of the action and taking you to the surface of a planet, this is, err, aiming for a more immersive shooting experience. However if FPS controls in VR make you feel queasy then this is definitely going to pop you on a train to vomitville. It's pretty enough and has an ultra detailed vehicle to truck around in but the movement is jarring and if you're sensitive to lurching visuals, you won't feel particularly brilliant. Stick to the standard gameplay modes and you'll be fine though. The action is as addictive as ever.