20. Yakuza: Like a Dragon
Developer: Ryu Ga Gotoku Studio
Format: PC, PS4, Xbox One
What is it? An RPG twist on the action saga, tackling crime and corruption on the streets of Yokohama and Tokyo.
Why should you play it? Newcomer Ichiban Kasuga gives Yakuza a fantastic facelift, as Ryu Ga Gotoku Studio forgoes the action formula for an RPG adventure. The new combat system is sublime, with Kasuga and his allies retaining Yakuza's typically-hectic and hilarious battle mechanics for turn-based combat. There's the usual fantastic combination of heartfelt, funny writing with smart localization to be found everywhere in Yakuza: Like a Dragon, as Kasuga leads his group of friends on a mission of redemption, touching on the seedy underworld of Japan and tackling serious issues like illegal immigration and prostitution with the usual deft touch that you'd expect of Ryu Ga Gotoku. Yakuza: Like a Dragon is a superb reinvention of the long-running action franchise, a confident step in an exciting new direction. Hirun Cryer
19. Demon's Souls
Developer: Bluepoint Games/FromSoftware
Format: PS5
What is it? The original challenge. FromSoftware's first Souls game remastered for a new generation.
Why should you play it? This is actually the perfect entry into the world of FormSoftware. As the first game in the Souls series, it's a simpler exploration of what the games would become. Challenging but more approachable, with a smaller, more linear approach to progression where you can see it's all just an elaborate puzzle box to solve - get this item from here, so you can get there, gaining a tool to access the next challenge and so on. The famous difficulty of the series comes from not understanding that, and as the games got more complicated and ambitious it became harder to see those paths. Here, though, there's a clear and a more forgiving route through the game for people who want to give it a try. Beautifully updated by Bluepoint, it's fascinating to play what is basically the original game with next-gen skin stretched over its bones - all the original code still runs under the fancy visuals and it's fascinating to see how well the origins design has held up 11 years later. Leon Hurley
18. Ooblets
Developer: Glumberland
Format: Xbox One, Xbox Series X, PC
What is it? A farm-simulating, creature-collecting, dance-battling injection of serotonin that's got style in spades
Why should you play it? Everybody needs a mental break, and Ooblets, like many of 2020's games, provides. Except Ooblets provides that much-needed mental break in a completely unique way, pulling from genres to create a lovely tapestry of gameplay. It offers a quirky mix of youthful humor with adult cynicism, of wide-eyed naivete with narrow-eyed jadedness, all with a side of dance battles - making it one of those games that can be played and thoroughly enjoyed by all ages. Then there's its beautifully bespoke art style that seems tangible, like the designers meticulously cut out and layered pieces of paper on top of each other. Sure, Ooblets will feel familiar - like Animal Crossing New Horizons, it tasks you with farming (except it's all nonsense items) and like Pokemon, it tasks you with battling (except it's not fighting, it's dancing). But the game's moxie, wit, and vibrant beauty help Ooblets carve out a space that's entirely its own. Alyssa Mercante
17. Valorant
Developer: Riot Games
Platform: PC
What is it? An esports-focused PC FPS that takes the refined shooting mechanics from Counter-Strike and combines them with the hero-ability style gameplay from Overwatch.
Why should you play it? Counter-Strike: Global Offensive has been atop the esports FPS genre for almost a decade now, with nothing coming close to taking the crown. While Valorant still might not be that game, it has seen immense success since launch earlier this year, with a vibrant and healthy esports scene for this one-of-a-kind game. Whether you like to take the initiative and push for one-on-one gunfights, you prefer throwing down smokes and playing strategically, or you like to hang back and heal your team before following them into the fray, Valorant is arguably the best PC FPS game we've seen in a long time. As long as you can click on heads, you'll have a blast in this intense shooter from the League of Legends developers. Ford James
16. Genshin Impact
Developer: MiHoYo
Format: PS4, PS5, PC, iOS, Android
What is it? A series of compound adjectives: a free-to-play, open-world, third-person action-RPG built on a gacha-style character system.
Why should you play it? I've put over 100 hours into Genshin Impact, and the more of it I play, the easier it is to forget that it's free. It's not without the time gates and microtransactions that many players rightly associate with free-to-play games, and indeed gacha games specifically, but nothing prevents Genshin Impact from being a fun and gorgeous open-world game that anyone can enjoy, from gacha diehards to casual JRPG fans.
The ideas of MiHoYo's Honkai Impact 3rd are plain to see, and other influences are even more obvious, but again, none of this is bad. Fights are fast and flashy, the world of Teyvat is a joy to explore, and no matter what platform you play on, Genshin Impact looks and sounds incredible. I'll be playing this game for years to come, both for daily bursts of progression so I can watch my characters grow like anime Tamagotchis, and for regular binges around frankly massive updates. Austin Wood
15. Final Fantasy 7 Remake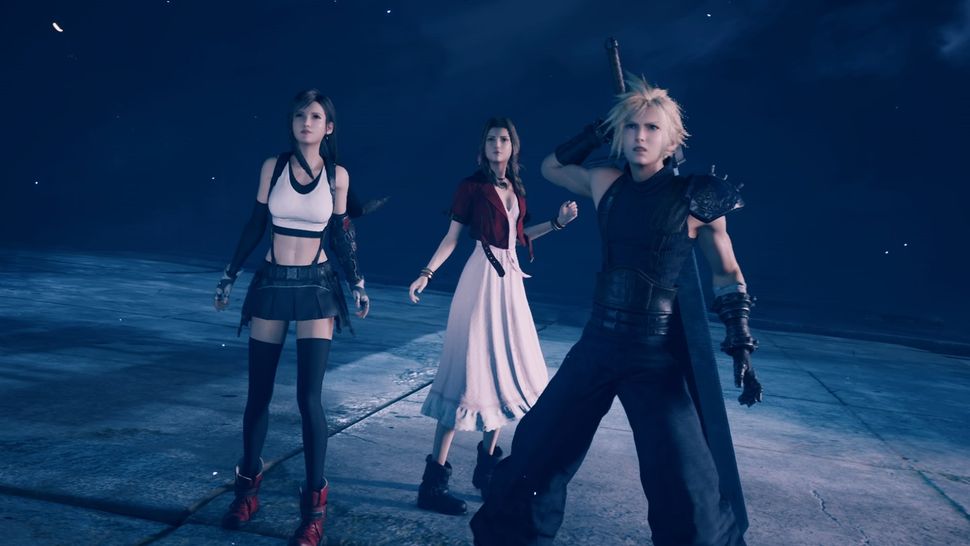 Developer: Square Enix
Format: PS4
What is it? A reimagining of the classic 1997 RPG that manages to both stay true to its roots and deliver an entirely new experience at the same time.
Why should you play it? Bringing back a much-loved classic for modern audiences is no small feat, especially when it comes to breathing new life into a game as well-known and iconic as Final Fantasy 7. Happily, Square Enix more than succeeded with its lovingly crafted reimagining that hits the right balance between old and new to appeal to longtime fans and newcomers alike. While the Remake still stays true to its source material, it also forges a path of its own with a reworked combat system, new story elements, and an expanded take on the setting of Midgar. With the return of Final Fantasy 7's cast of classic characters, you're also presented with the opportunity to see them in new lights and better understand them as individuals. With beautiful graphics, an endearing sense of humor, and a memorable, action-packed story, the Remake captures the magic of the original and impressively delivers it in a new and refreshing way. Heather Wald
14. If Found...
Developer: DREAMFEEL
Format: PC, Nintendo Switch, iOS
What is it? A deeply moving and beautifully written interactive story that follows the struggles of Kasio as she returns home to Ireland in the 90s.
Why should you play it? Every once in a while, you come across a game that grabs a hold of your heart and refuses to let go, and If Found... did just that and so much more. Taking you on an emotional journey through the challenges Kasio faces when she returns home to Ireland from University, DreamFeel delivers an impactful story that's made all the more affecting thanks to the way in which you experience it. Told through diary entries that you have to erase away, every page tells you more and more about Kasio and her relationships. Just as we try to forget bad experiences, or put the past behind us and move on, the very act of clearing the pages feels cathartic, heartbreaking, and uplifting all at the same time. With its LGBTQ+ representation, unique art style, and beautiful soundtrack, If Found… is filled with so many memorable characters and moments and that will stay with you long after you've finished playing it. Heather Wald
13. Tony Hawk's Pro Skater 1 & 2
Developer: Vicarious Vision
Format: PS4, Xbox One, PC
What is it? Remake of some of the greatest skateboarding games of all time, now with shinier graphics, online multiplayer, and compulsive challenges.
Why should you play it? If 2020 has been full of less-than-ideal surprises, Tony Hawk's Pro Skater 1 + 2 was a rare bucking of that trend. Out of the blue, we not only got a remake of some of the best skateboarding games ever made, but they actually lived up to the legacy of the Birdman's name.

That's because Vicarious Visions is the first developer in a long time to capture the series' essence, the calm and chaos of plotting a line, building a huge combo, and then trying to land it. Capturing the feel is no mean feat, but thanks to the fact that it runs at a silky 60 frames per second, it effortlessly conjures up how we remember the originals playing. Add on some strong new ideas, including the challenge system that provides ample reason to replay levels time and time again. Here's hoping Vicarious Visions gets the chance at building on this. Ben Tyrer
12. Half Life Alyx
Developer: Valve
Format: PC VR
What is it? The first virtual reality game in the Half-Life series, and the best reason to get a headset of your own yet.
Why should you play it? Half-Life: Alyx is not Half-Life 3. With its conspicuous lack of a crowbar-wielding protagonist and its exclusive release for virtual reality hardware, it doesn't try to be. This is a Half-Life game made from the ground up to justify your purchase of a virtual reality headset, and it succeeds at that task in every way.
Bringing your hands with you on this trip to City 17 means you can paw through each intricate environment looking for just the right shaped piece of junk to short circuit an environmental puzzle. You can recoil from headcrab zombies as you frantically draw your weapon or just start throwing whatever's nearby. No less important, ace casting and dialogue for Alyx and her new friend Russell make it feel every bit as quick and clever as Valve's best. Half-Life: Alyx is not Half-Life 3, but it's still the Half-Life game we've been waiting for more than a decade to play. Connor Sheridan
11. Cyberpunk 2077
Developer: CD Projekt Red
Format: PC, PS, PS4, Xbox Series X, Xbox One X
What is it? An open-world sci-GTA from the people that brought you The Witcher 3.
Why should you play it? Ah, what a poison chalice it is to praise Cyberpunk 2077. However, the fact remains that the game is amazing under the technical issues that will hopefully be patched away in time. I've been playing on PC, bug-free, and the depth and detail of the world I've discovered has been astonishing. It's a game where you can spend hours exploring just a few streets of Night City; discovering dramas and mysteries, seeing a world unfold and breath as you move through it. It can be a difficult experience to quantify because while there is obviously a main story, it's interwoven with other characters, their lives, and how you unravel all this as you pass through creates something unique to you. Outside of the world-building there's some satisfying and flexible gameplay too, with gunplay, stealth, hacking, and cyberware merging mixing in whatever way you see fit and providing interesting and engaging problem-solving opportunities as you fight your way to the top of Night City. Leon Hurley
Turn to page three for our top ten best games of 2020...