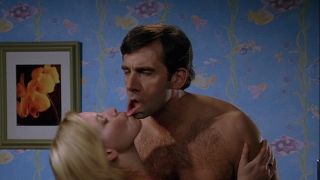 Failure to raunch
Ever wondered why certain words were initially coined? What purpose they actually serve? Take the word 'raunchy', for example: a rascally bit of language that allows a prudish writer to indicate something sexy, or dirty, without ever having to lower the tone, or get their feet err wet. It's the kind of word your old nan might use, either that or 'bawdy', maybe even 'randy' (if she was feeling particularly boisterous).
With that being said, here's a big old list of outrageously raunchy comedies. It's probably not the best idea to read this one at work chaps, but look on the bright side: if anyone catches on to your nasty habits, it'll probably all end up in some kind of hilarious 'reveal' followed by a chaotic, office-wide orgy. So sayeth the sex comedy movie. Begin!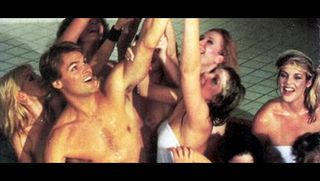 50. Hollywood Hot Tubs (1984)
The Comedy: So gloriously ridiculous it deserves its own section at the video store, Hollywood Hot Tubs follows a teen who is forced to work for his uncles hot tub company when he gets in trouble with the police.
The Sex: Two words: grandma orgy.
Which is Best? The comedy, because the weird sex is just too much to handle.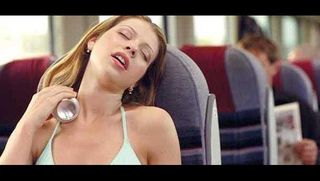 49. EuroTrip (2004)
The Comedy: When he gets dumped, Scott goes on a tour of Europe looking for the perfect woman. Yes, this is the one with the Matt Damon cameo.
The Sex: The terrifying Amsterdam S&M encounter is a particular highlight.
Which is Best? The comedy, all because of Matt Damon. Vinnie Jones, not so much.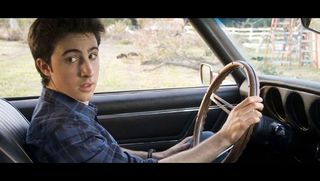 48. Sex Drive (2008)
The Comedy: Eighteen-year-old graduate Ian (Josh Zuckerman) goes on a road trip with his best buds in order to meet a girl hes been sexting online.
The Sex: Theres a surprisingly dirty encounter with the Amish, which sure peaked our interest.
Which is Best? The sex. The rest of the plotline is super-predictable, even if it has its charms.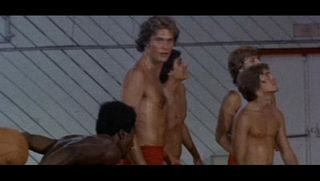 47. Revenge Of The Cheerleaders (1976)
The Comedy: Rival cheerleaders put away the pom-poms and get the claws out when they come face-to-cherub-face with one another. And yes, that is The Hoff up there... as 'Boner'.
The Sex: Not so much sex as clothes-ripping and bra-baring, but near enough - especially given all the throaty screams going on.
Which is Best? The unintentional humour, which comes courtesy of some truly atrocious acting.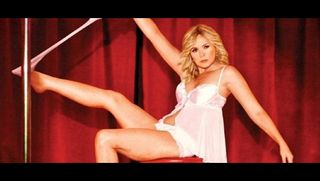 46. Meet Monica Velour (2011)
The Comedy: Awkward teenager Tobe (Dustin Ingram) sets out to meet his favourite 80s porn star Monica Velour (Kim Cattrall) when he discovers shes putting on a show.
The Sex: Cattrall strips during a sad pole dance show, then strips Tobe during an off-camera shagathon.
Which is Best? The comedy, which is far funnier than the sex.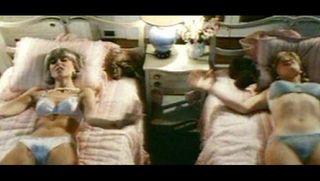 45. Preppies (1984)
The Comedy: Its a Playboy Channel Presentation. If that doesnt get you laughing, nothing will.
The Sex: Three geekazoids have their plans to pass an exam and inherit a fortune ruined by their bondage-loving bro, who hires party girls to distract them.
Which is Best? The sex. Because, frankly, the comedys often flat as a run-over turd.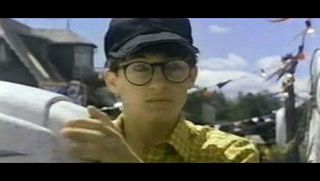 44. Meatballs 3 (1986)
The Comedy: A dead porn star (Sally Hot Lips Kellerman) has to help a geek lose his V-plates before she can rest in peace. Genius.
The Sex: Shannon Tweed oozes it while wearing very little.
Which is Best? The comedy premise, which sounds like something John Hughes dreamed up.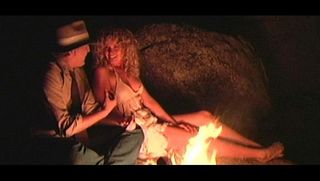 43. Cave Girl (1985)
The Comedy: Rex gets catapulted back through to time and finds himself in an era of cave men and (hurray!) cave girls.
The Sex: She cant speak a word, but cave girl Eba knows all about carnal pleasure... as Rex soon finds out.
Which is Best? Theyre both as gloriously silly.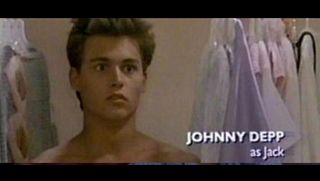 42. Private Resort (1985)
The Comedy: Johnny Depp and Rob Morrow hide from a jewel thief at a Miami resort, which, luckily for them, is heaving with bikini-clad lovelies.
The Sex: Pervy aerobics, poolside snogs, bikini-removal-by-fish-pole, compulsive stripping... this one has it all.
Which is Best? The sex is less dated than the goofy comedy.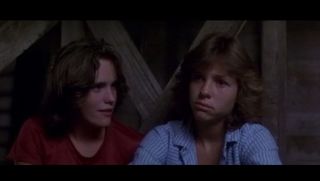 41. Little Darlings (1980)
The Comedy: A girlie-haired Matt Dillon plays Randy... and lives up to that moniker as he falls for the tomboyish Angel (Kristy McNichol), who proves to be anything but.
The Sex: Topless scenes ahoy.
Which is Best? The latter, which makes up for some cringey romance and beautifully cheesy one-liners.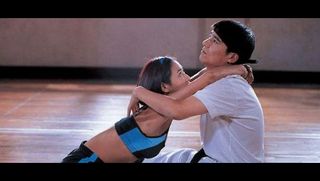 40. Sex Is Zero (2002)
The Comedy: Think a Korean American Pie, as a group of college kids attempt to get laid while having the time of their lives.
The Sex: Theres raunch, but it all goes to pot in Zeros final act, which lays on the drama and forgets to flash the boobs.
Which is Best? The comedy, while its around.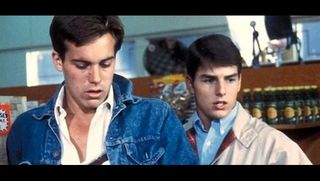 39. Losin It (1983)
The Comedy: Young Tom Cruise spies a Tijuana road trip as the perfect opportunity to get rid of his virginity.
The Sex: Shelly Long in her bra, and all manner of seedy encounters.
Which is Best? Theres not enough of the latter, so itll have to be the former.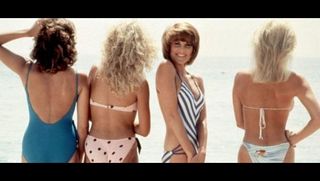 38. Where the Boys Are '84 (1984)
The Comedy: Four nubile young ladies set out on a search for seven minutes of heaven. If not more.
The Sex: Lots of topless action here, as the four lovely ladies flash their goods as often as possible.
Which is Best? The latter, clearly.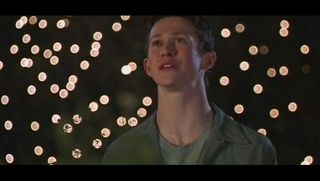 37. 100 Girls (2000)
The Comedy: Matthew (Jonathan Tucker) meets the girl of his dreams in a lift, and then spends the rest of the college year trying to find her again. Meanwhile, his roomie uses a dangling instrument to increase length and girth. Right on.
The Sex: So many girls in bras and bikinis (and out of bras and bikinis) that we lost count. Plus a steamy elevator shag and Katherine Heigl kissing a girl.
Which is Best? Katherine Heigl kissing a girl. Obviously.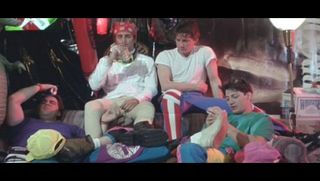 36. Ski School (1990)
The Comedy: It came late after the glut of 80s sex comedies, but when things are as exquisitely silly as this - a romp set in a ski resort - we don't mind.
The Sex: Some ice-meltingly hot babes ensure things are anything but chilly by variously stripping to their smalls and/or wearing nothing but a jacket.
Which is Best? The latter. The comedys pretty gurny, to be honest.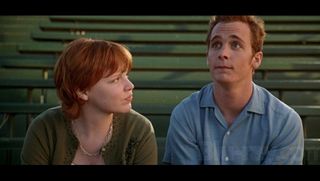 35. Cant Hardly Wait (1998)
The Comedy: A graduation gathering includes attendees like Jennifer Love Hewitt and Seth Green, who each have their own issues as the school year comes to a close.
The Sex: Its more about the talking than the walking here - these guys are going to have to wait, even if they dont want to.
Which is Best? The funny, with most of the giggles coming via a stoned Green.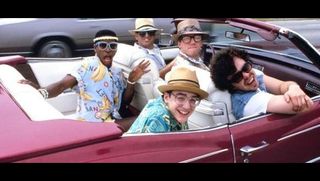 34. Revenge Of The Nerds 2: Nerds In Paradise (1987)
The Comedy: No, the paradise part of the title doesnt refer to an Apple store, but a swish hotel (uh, or not), where the usual sexy hijinks ensue.
The Sex: The nerds stay at the HOTel cORAL esSEX. Awesome.
Which is Best? The nerds abroad plotline is fishy, so the sex will have to do.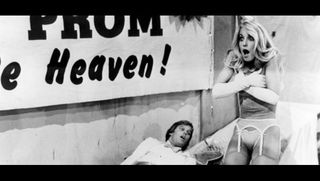 33. Zapped! (1982)
The Comedy: This weeks Chronicle may feature real teens using their superpowers for self-serving purposes, but Zapped! beat them by decades, with Scott Baio discovering he has telekinetic powers.
The Sex: What does Baio use his gifts for? Lifting skirts and unstrapping bras, of course.
Which is Best? The former. It's a great comic premise.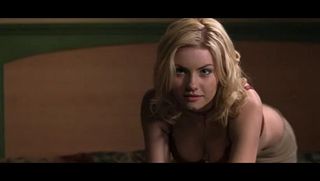 32. The Girl Next Door (2004)
The Comedy: Matthew (Emile Hirsch) has his dreams come true when a former adult star moves into the house next door.
The Sex: Cue lots of scenes of Elisha Cuthbert in just her undergarments, while a slack-jawed Matthew looks on. Later, his buddies hook up with other adult stars and film themselves. Naughty.
Which is Best? The comedy, particularly when it involves an underappreciated Timothy Olyphant.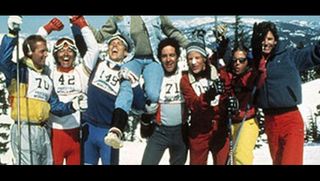 31. Hot Dog: The Movie (1984)
The Comedy: Harkin Banks (Patrick Houser) swooshes his way from girl to girl as a rather gifted skier. The film is proud to go downhill, fast, according to trailer voice-over bloke.
The Sex: Shannon Tweed (of Playboy fame) gets them out for the boys, theres saucy hot tub action, and Harkin gets his snow plough out for a different girl every night.
Which is Best? The cockle-warming babes, of course.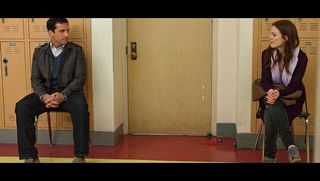 30. Crazy, Stupid, Love (2011)
The Comedy: Steve Carell gets dumped by his wife Julianne Moore. Happily, Ryan Goslings on hand to show him how to be a player.
The Sex: Carell gets, uh, seduced by Marisa Tomei. Meanwhile, Emma Stone and Gosling have a meaningful evening of chit-chat basking in the glory of Goslings abs.
Which is Best? The sharp comedy. Though Goslings abs are definitely praise-worthy.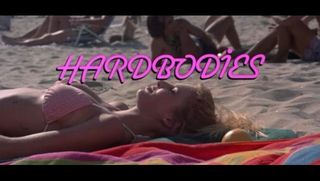 29. Hardbodies (1984)
The Comedy: It teaches us phrases like hardbodies, BBD and Wuss. Which were eternally grateful for.
The Sex: There are so many bendy, swimsuit-wearing women here, its a shock were not watching Playboy: The Movie.
Which is Best? The latter. The comedys over-easy at best.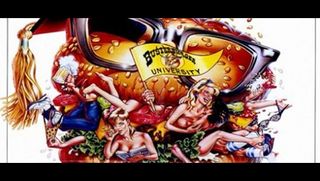 28. Hamburger: The Motion Picture (1986)
The Comedy: Russell (Leigh McCloskey) has to graduate if he wants to come into a lot of money via his trust fund... except he ends up studying at Busterburger University, a place where there are just too many temptations.
The Sex: Uh, theres a female-male rape attempt, which counts for originality.
Which is Best? The comedy. Because female-male rape is no laughing matter.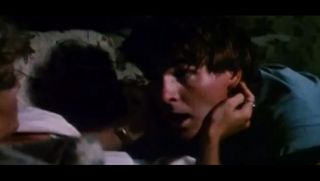 27. School Spirit (1985)
The Comedy: Billy Batson (Tom Nolan) dies in a horrific car crash, and comes back as a ghost with lustful intentions.
The Sex: Steamy showers and ghostly encounters between the sheets
Which is Best? Neither are the best weve ever seen, but School Spirit does possess a little winsome charm.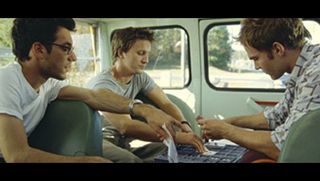 26. Road Trip (2000)
The Comedy: Josh Parker (Breckin Meyer) cheats on his girlfriend, and then his video recording of the event is accidentally sent to his girlfriend. Cue a road trip to get the offending tape back.
The Sex: A sex tape, more precisely. Though theres plenty of other naughtiness on display, including Kyle (DJ Qualls) sharing a mattress with a big mama.
Which is Best? Both are pretty awesome, to be honest.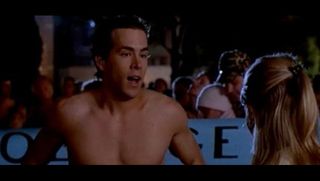 25. Van Wilder (2002)
The Comedy: Ryan Reynolds stars as the titular Wilder, whos having so much fun at college that hes totally forgotten to graduate.
The Sex: Does Reynolds getting naked for art class count? OK, well settle for Tajs (Kal Penn) attempts to get laid, including an unfortunate incident with baby oil.
Which is Best? The fun plot line. Who wants to graduate anyway?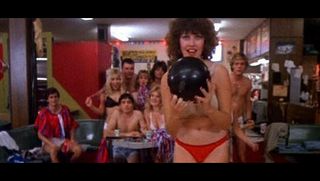 24. Screwballs (1983)
The Comedy: A bunch of high school dudes meet up in detention, where they plot to steal the innocence of a delicate young rose. Her name, naturally, is Purity.
The Sex: Suggestive gym class exercises, hula-hooping, teddy-bear humping, topless sunbathing
Which is Best? The comedys more (a)rousing than the sexiness.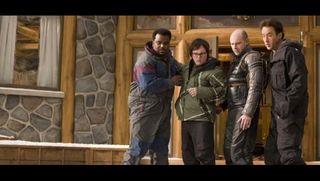 23. Hot Tub Time Machine (2010)
The Comedy: A group of friends are sent back to the 80s after a hot tub malfunctions and turns into a time machine. Cue nostalgia-laced gags galore.
The Sex: Forced blowjobs and a not-that-surprising revelation of just who Jacobs dad is.
Which is Best? The former, with the fun 80s humour eclipsing the OTT sex gags.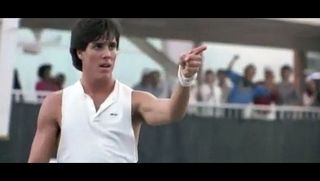 22. Jocks (1986)
The Comedy: A mens college tennis team fight for survival when a football coach hatches a plan to use their budget for his own devious agenda.
The Sex: If you believe the poster, theres at least one super-greasy locker room shagfest.
Which is Best? Its genuinely hilarious in places, despite that dreadful title.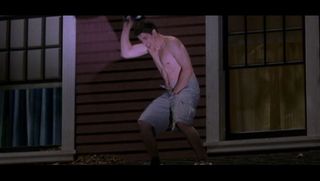 21. American Pie 2 (2001)
The Comedy: Jim (Jason Biggs) and co are now at college, but theyre still up for partying when they reunite for the summer after their first year of studying.
The Sex: Lesbian smooches, Jim getting an impromptu visit from the parents, Nadia again, and Michelle still doing naughty things
Which is Best? Both go hand in hand.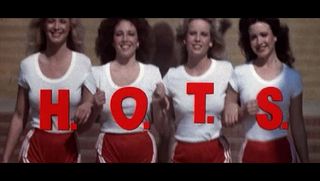 20. H.O.T.S. (1979)
The Comedy: Way ahead of its time, as sorority chicks pledge to sink their claws into as many men as possible. Think the reverse of American Pie.
The Sex: Babes in (and out of) bikinis and mini-skirts. Guys in nothing but towels. Something for everybody here.
Which is Best? The babes. Obvious, ain't it?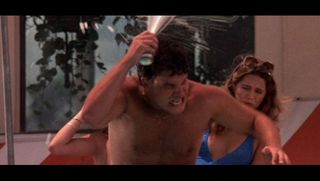 19. Spring Break (1983)
The Comedy: Fort Lauterdale, and 250,000 have descended on the beach for the sole purpose of partying. Sounds good to us.
The Sex: Wherever you look, skin, skin, skin Want to see the female form exploited in all its shapely glory? Spring Break has it (un)covered.
Which is Best? The latter, because steering wheels coming off cars and karate action moves can only entertain for so long.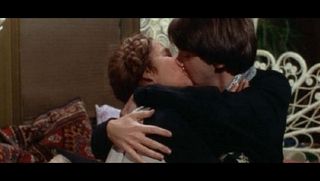 18. Harold And Maude (1971)
The Comedy: Sick of his boring everyday life, teenager Harold (Bud Cort) befriends an old lady called Maude (Ruth Gordon), whom he quickly falls in love with.
The Sex: Harold and Maude share a smooch, and dance in their bath robes
Which is Best? Well play it safe and say the humour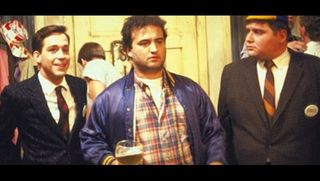 17. Animal House (1978)
The Comedy: In the early 60s, buddies Larry Kroger (Thomas Hulce) and Kent Dorfman (Stephen Furst) pledge to a fraternity, and find its not easy getting in.
The Sex: Animal House brings the sexy in its bra-and-panties pillow fights, backseat smooches and its, er, togas
Which is Best? The comedy; beautifully anarchic.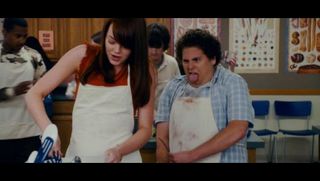 16. Superbad (2007)
The Comedy: Evan (Michael Cera) and Seth (Jonah Hill) get their hands on fake IDs courtesy of McLovin (Christopher Mintz-Plasse) and decide to buy booze for a house party.
The Sex: Evan gets promised an amazing blow-jay but declines, Seth headbutts the object of his affection by accident, and McLovins nuptials are interrupted by the cops.
Which is Best? For once, the comedy eclipses the sexiness--thanks in no small part to Jonah Hill.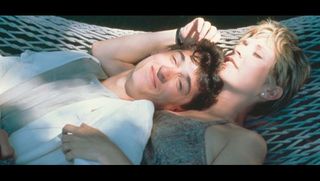 15. Loverboy (1989)
The Comedy: Patrick Dempsey (him off Greys Anatomy) plays a pizza delivery boy who delivers more than just pizza, satisfying the desires of bored housewives. Its porn without the penetration.
The Sex: Kirstie Alley, Carrie Fisher and Angel Kate all take a bite off Dempseys baguette. Or something.
Which is Best? The latter, simply because thats an amazing list of conquests.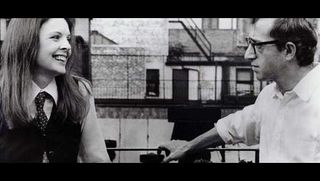 14. Annie Hall (1977)
The Comedy: Alvy Singer (Woody Allen) meets the perfect woman in Annie Hall (Diane Keaton). But will the course of true love run smoothly?
The Sex: Woody certainly lives up to his name this time around.
Which is Best? The former. Because the thought of Allen having sex just really creeps us out.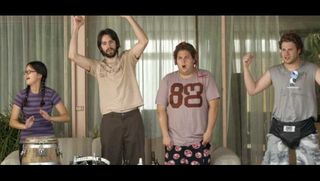 13. Knocked Up (2007)
The Comedy: Lazy stoner Ben (Seth Rogen) has a one night stand with career woman Alison (Katherine Heigl), resulting in a very significant pregnancy.
The Sex: Aside from the ill-advised, afore-mentioned one night stand, Ben and his buddies are working on a Mr Skin-style website that celebrates nudity in film.
Which is Best? The comedy, which keeps the gosh that could really happen laughs coming.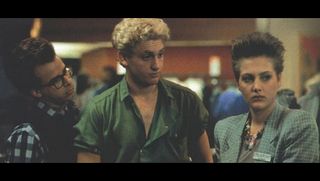 12. The Wild Life (1984)
The Comedy: A spiritual sequel to Fast Times At Ridgemont High, Wild Life follows three teens living in LA.
The Sex: Strip bars, giant boobies, boozy parties, babes in their undies
Which is Best? The comedy, with Chris Penn making for an excellent Spicoli stand-in.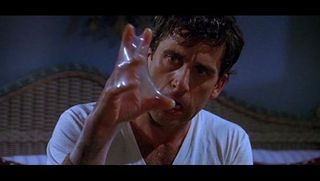 11. The 40-Year-Old Virgin (2005)
The Comedy: Andy Stitzer (Steve Carell) is 40 and has never had sex. When his work buddies discover that shocking fact, they attempt to help Andy pop his cherry.
The Sex: Carell has lots of sex with himself. At least he's using protection.
Which is Best? The former, for obvious reasons.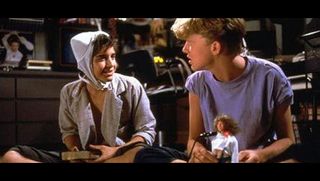 10. Weird Science (1985)
The Comedy: Fifteen-year-old wunderkinds Gray (Anthony Michael Hall) and Wyatt (Ilan Mitchell-Smith) manage to create their perfect woman using their computer. Ah, 80s technology.
The Sex: Kelly LeBrock shares a shower with her creators, but nothing more.
Which is Best? The comedy, more than ably penned by the late, great John Hughes.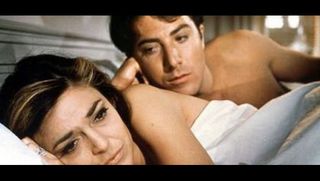 9. The Graduate (1967)
The Comedy: Benjamin (Dustin Hoffman) falls for the charms of the much-older Mrs Robinson (Anne Bancroft).
The Sex: Yes, theres a fair bit of it.
Which is Best? The sex: if only because it gave us some fantastic, iconic imagery thats now synonymous with seduction.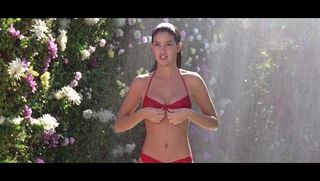 8. Fast Times At Ridgemont High (1982)
The Comedy: Scripted by Cameron Crowe, based on his experiences undercover at an American high school. Theres drinking. Lots and lots of drinking.
The Sex: Phoebe Cates gets all wet and takes her bikini off, while Jennifer Jason Leigh does naughty things. A lot.
Which is Best? Sean Penns legendary Spicoli is only just edged out by Cates dripping wet bod. Only just, mind.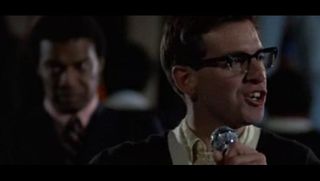 7. Revenge Of The Nerds (1984)
The Comedy: Nerdy young things set up their own fraternity and use their advanced IQs to invent ingenious ways of spying on the fairer sex.
The Sex: Lots of boob-ogling, plus a nifty/creepy spying device that reveals intimate places.
Which is Best? The former, simply because the premise is pure movie gold.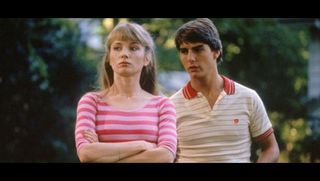 6. Risky Business (1983)
The Comedy: A wee Tom Cruise finds himself home alone when his parents go away on vacation. Which of course leads to all sorts of hormone-fuelled good times.
The Sex: Cruises Joel has a very saucy, very public shag on a train with the mysterious/dangerous Rebecca DeMornay.
Which is Best? The sex, because DeMornay helps drive the plot, from throwing a house party for her hooker friends, to getting Joel into Princeton.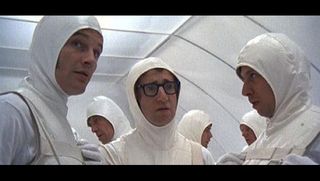 5. Everything You Always Wanted To Know About Sex *But Were Afraid To Ask (1972)
The Comedy: Woody Allen answers all your questions about sex with wit and frankness. Uneven but hilarious.
The Sex: Its all over this film, including Woodys attempts to remove Lynn Redgraves chastity belt
Which is Best? Impossible to say: theyre both as good as each other.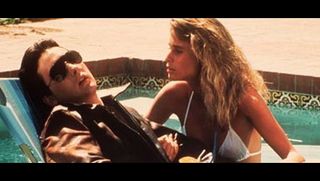 4. The Sure Thing (1985)
The Comedy: Walter Gibson (John Cusack) hitches a ride to meet a California girl who's promised him some no-strings fun, only to find his crush (Daphne Zuniga) on the same ride as him.
The Sex: How would you like to have a sexual encounter so intense it could change your political views? offers Gib. Which is as sexy as it gets before a greasy Nicollette Sheridan enters the picture in a tiny white bikini.
Which is Best? The nuanced funny stuff.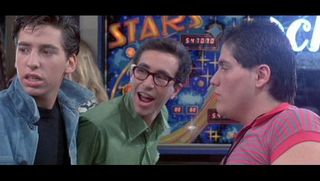 3. The Last American Virgin (1982)
The Comedy: See it or be it warned the films kitsch trailer. Hijinks include falling into pools and struggling to unhook bras. Ah, the perils of being a teen.
The Sex: Lots of it, and all very awkward.
Which is Best? The former, which proved a tonal predecessor to the kind of films Judd Apatow makes.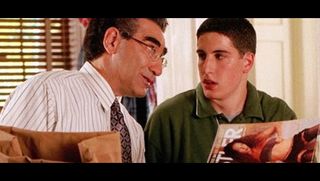 2. American Pie (1999)
The Comedy: Jim (Jason Biggs) and his buddies set out to lose their virginities before they graduate college. Hilarity ensues.
The Sex: Jim shags an apple pie, then blows his load early (twice) after getting over-excited about seeing Nadia strip. Then Shitbreak shags Stiflers Mom
Which is Best? The sex and the comedy are so beautifully intertwined that its impossible to separate them.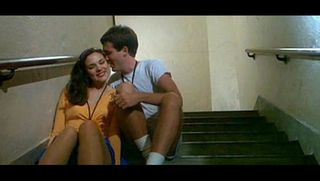 1. Porkys (1981)
The Comedy: Set in the 50s, where a group of Florida high school students make it their mission to lose their V-plates as soon as possible.
The Sex: Strip joints, shower peeping, condom hilarity, Porkys has it all. Small wonder it created an entire genre.
Which is Best? Its almost impossible to separate them, though the raunch has a clear edge when Kim Cattralls involved.