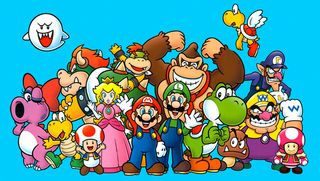 For almost 30 years, Mario has been entertaining people the world over in some of the best games of all time. With such a long history, theres a mountain of trivia and seemingly useless facts to learn about the franchise. Weve wasted our lives collecting much of this info, bringing together facts both great and small about Mario and his friends. Curious about Super Mario Bros 4, how Mario was once Popeye, or the secret voice of a Super Mario Galaxy boss? Read on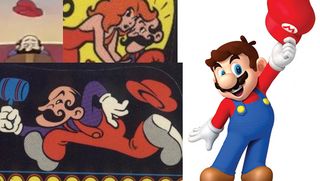 Mario was depicted as bald in early Donkey Kong merchandise
Though Nintendo has portrayed Mario hatless with hair many times since the NES hit store shelves, before then the rules weren't as defined. In many of the early Donkey Kong merch, artists in the US frequently drew Mario as balding. Perhaps Mario picked up a particularly good wig after he had the money on consoles. That would explain why his mustache and hair are different colors.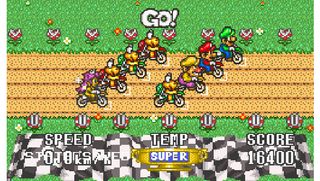 Japan got a version of Excitebike that starred Mario
Excitebike: Mario Battle Stadium is easily one of the most obscure Mario titles. Released on the Super Famicom's Satellaview, an early experiment in online gaming. Featuring only a few of the usual Mario characters, it was only available for download on the service, though it can still be found through less legal means.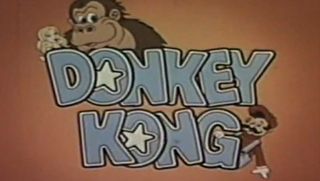 Supercade was the first Super Mario cartoon
Think Super Mario Bros Super Show or an obscure anime film are the first Mario cartoons? Wrong, it was the forgotten Saturday morning treat Supercade, a show that featured cartoons based on arcade hits including Donkey Kong and Donkey Kong Junior. Pretty much out of print, you can find some of the episodes on that internet repository known as YouTube.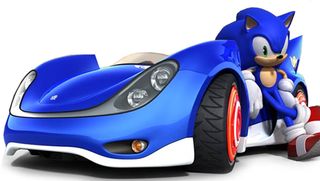 Mario was considered for Sega All-Stars Racing
After Sega did Nintendo the favor of lending Sonic to Super Smash Bros Brawl, its only fair that Nintendo would pay Sega back with a Mario cameo. Outside of the Olympic games the two shared, it hasnt happened, though it almost did in the first Sega All-Stars Racing for Wii. As revealed in an interview Mario considered for the mascot racer, but was ultimately scrapped in an effort to make the Olympic titles more unique. In a strange turn of events, former N64 stars Banjo and Kazooie did end up in the 360 version of the game.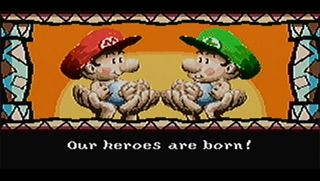 Mario and Luigi are twins that were born in the Mushroom Kingdom
The Mario cartoons of the 90s may have given the impression that Mario and Luigi are from New York City, but at far as Nintendo is concerned, the brothers were born in the Mushroom Kingdom. As seen at the end of Yoshi's Island, a stork delivers the newborns to a toadstool house similar to the ones that cover the Princess Peach's realm. Also, we'd still call Mario the older brother, since he left his bundle first.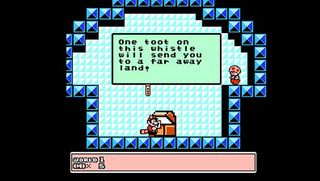 The Warp Whistle in Super Mario 3 is from Legend of Zelda
For many players, the Warp Whisltes hidden throughout Super Mario Bros 3 was their only hope for finishing the game in one sitting. But the handy travel accessories weren't a Mario original, and instead the instrument was borrowed from the first Legend of Zelda. The distinct musical notes played by the whistle are even the same.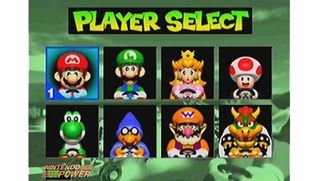 Kamek was almost in Mario Kart 64
Kamek, Bowser's right hand Koopa and head of the Magikoopas, has appeared in many Mario titles, but rarely as a playable option. But as early screenshots of Mario Kart 64 prove, they almost appeared in the classic racer. For unexplained reasons, he was replaced by Donkey Kong.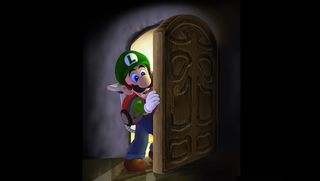 Luigi's Mansion was once planned as a 3D game
Luigis Mansion getting a long-overdue sequel on the 3DS was quite a surprise, but the reasoning for it caused an even bigger shock. The sequel came about after original Luigis Mansion stages were rebuilt on the handheld to test out the 3D. Why was that game chosen to test the new feature? Because the GameCube was originally intended to have optional 3D visuals and Luigis Mansion was developed with those capabilities in mind. The functional 3D version never left testing, but now Luigi can reach his full graphical potential in the sequel.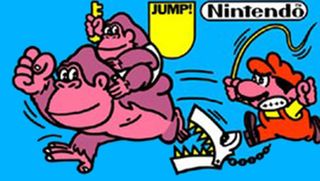 Mario was once a bad guy
In Mario's second ever gaming appearance, Donkey Kong Junior, the mustachioed star did something he's never done since: played the bad guy. As punishment for his crimes in the first came, Donkey Kong has been imprisoned by the whip-wielding Mario. DK's son tries his best to free him in spite of Mario's deadly traps and utter disregard for Junior's life. Series creator Shigeru Miyamoto has said he did this to show shades of grey in both Mario and DK, with neither being all bad or good.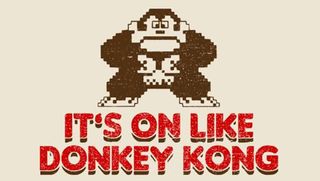 Nintendo trademarked "It's on like Donkey Kong"
Popularized by one-time gangsta rapper Ice Cube, "It's on like Donkey Kong," has now entered the popular lexicon. Back in 2010, in part to popularize the release of Donkey Kong Country Returns, Nintendo formally announced plans to register a trademark for the phrase. It now joins the ranks of "Let's get ready to rumble!" (wait, can we be sued for writing that?).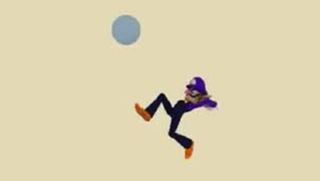 Nintendo cancelled a Mario volleyball game
Next Level Games has become one of Nintendos closest third party developers of late, creating Punch-Out!! for Wii and the upcoming Luigis Mansion sequel. The dev also created two of Marios sports games: the intense soccer titles Super Mario Strikers and Mario Strikers Charged. In 2011, it was revealed the team had worked on a volley ball game as well; unfortunately, it wasnt released. A short demo video is all thats left to prove it existed.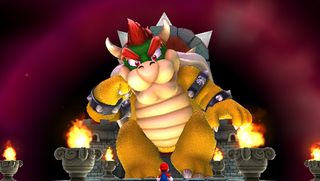 Bowser's original name was King Koopa
The first Super Mario Bros introduced so much of Mario mythology, though some of it has been retroactively abandoned. For instance, arch nemesis Bowser was known as King Koopa, a fairly accurate translation of his Japanese name. He's since become known as Bowser, though we suppose his title would remain King of the Koopas.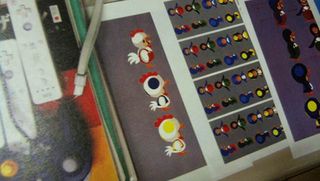 New Super Mario Bros Wii originally had a Chicken power-up
As seen in these official images leaked onto the web, Nintendo once played with the idea of a chicken suit transformation for the NSMB characters. Eventually Nintendo decided to use penguins instead, which we have to say is a little more dignified.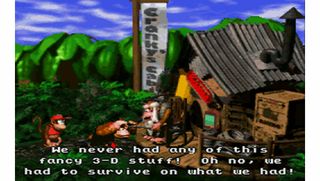 Cranky Kong is the original Donkey Kong
Donkey Kong Country was full of the cheeky sense of humor developer Rare is known for, and the belligerent Cranky Kong was one of the funniest parts. He continually complained about how terrible current games are compared to the old days, continually talking about his adventures as the Donkey Kong of the arcade originals. Since he's the grandfather of the Donkey Kong in DKC, just where is Donkey Kong Junior?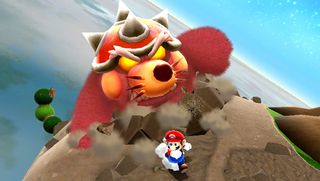 Super Mario Galaxy boss Major Burrows is voiced by the game's director
Recently we had the pleasure of meeting Koichi Hayashida, one of the lead designers on recent 3D Mario titles, including the Galaxy games and 3D Land. He revealed that players might even recognize his voice, as he supplied the vocals for Galaxy boss Major Burrows. That must be one of the perks of directing a video game.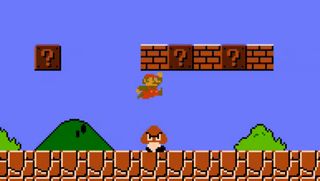 Mario breaks bricks with his fists
One of the core ideas of the Mario series is jumping up and hitting bricks. You do it countless times every playthrough, but the moment happens so fast, you might mistakenly think Mario is breaking them with his head. If you look closely in a freeze frame, you'll see his fist hits the bricks first, which is a slightly safer way of doing things (but still, don't try it at home).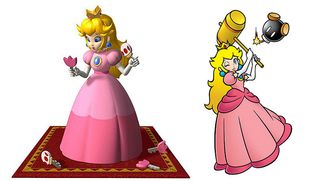 Princess Peach's dress has changed over time
Its a clich, but its true that sometimes its easy to miss when a woman makes a change in her clothing. Many Mario fans no doubt missed Princess Peachs swapped outfit: From the first Super Mario Bros all the way through the N64s lifecycle, Peach sported the look on the left, but sometime around her appearance in Super Mario Sunshine, the hemline of darker pink was thrown out and a cloth called panniers were added to the waist, giving her the standard looks she still has today.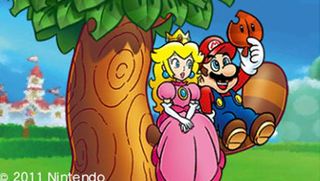 Shake your 3DS to get a surprise in Super Mario 3D Land
Super Mario 3D Land is one of the 3DS's premiere titles, and when we talked to the game's director, Koichi Hayashida, he clued us in to some of the game's secrets. For instance, you get multiple photos from Princess Peach as the story unfolds, but many missed the interactive bits. Shake your portable and you'll see different characters and items pop up in the background. Give it a try!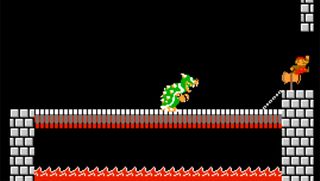 That thing at the end of the bridge is an ax
When we were kids, we thought the item behind Bowser in the original Super Mario Bros was a switch of some kind that pulled back a drawbridge. How foolish we were. It's actually an ax that Mario uses the cut the rope bridge to send Bowser to his fiery death.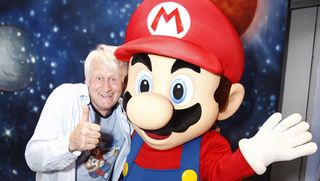 Mario, Luigi, Wario, and Waluigi are all voiced by the same guy
We wish we had the kind of job security of Charles Martinet. Ever since Super Mario 64 the actor has been Mario's voice in virtually every game he's appeared in since. But he isn't limited to Mario, as he does voices for all the alternate versions of the Italian, including Luigi, Wario, Waluigi, and the Baby versions of said characters.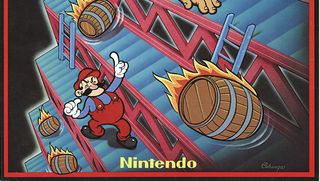 Donkey Kong was originally a Popeye game
Back in the early 1980s, a young Shigeru Miyamoto was working on his first game, one featuring cartoon character Popeye climbing up scaffolding to save Olive Oyl from Bluto. Unfortunately, Nintendo had just lost the rights to make games based on Popeye, so Miyamoto and his team hand to think of something else. They replaced Bluto with a gorilla, Olive with Pauline, spinach with a hammer, and Popeye with Mario, and the rest is history.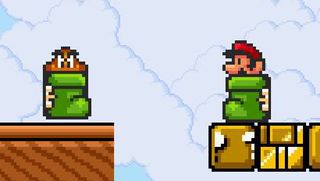 Kuribo is the Japanese name for Goombas
When we first heard that the highly desirable footwear power-up in Mario 3 was Kuribo's Shoe, we were perplexed. We later found out the green shoe was named after its occupant, the Kuribo, which is the Japanese name for Goombas. In remakes of SMB3 the name has been switched Goomba's Shoe, though they're still known as Kuribos in Japan.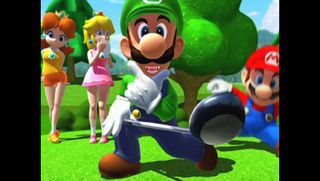 In Mario Golf, Luigi does sign language for "lesbian"
Probably without intending to, Mario Golf taught many a word of American Sign Language. After sinking a birdie, Luigi makes an "L" with his thumb and forefinger while striking a pose. Turns out that in ASL, that means "Lesbian." We're sure that's very useful for all of you.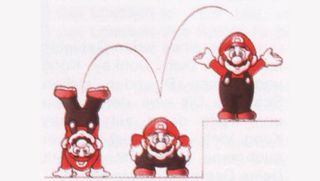 The first Mario Triple Jump was in Donkey Kong for Game Boy
Ever since Mario moved into the third dimension, the triple jump has been one of his best attributes, used by more skilled Mario players to quickly clear a stage. But the ability actually made its first appearance in a 2D game: 1994s Donkey Kong for Game Boy. You start from a handstand and after carefully executing a couple well-timed jumps he can achieve heights formerly unreachable. Mario even sticks his hands out in celebration after the third jump, just like he does in Super Mario 64, so clearly Miyamotos team was inspired by it.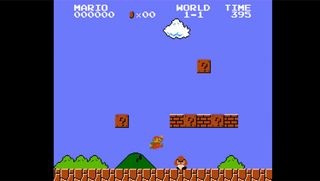 The grass and clouds in Super Mario Bros are the same
This spread around the internet a couple years ago, so maybe you heard of this, but do you know why it's the same? According to Mario development veteran Takeshi Tezuka, it was because the game could only hold 256 unique elements, so for the sake of space, they had to double up.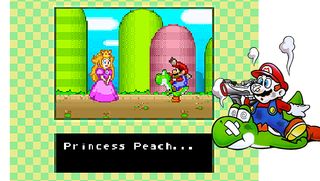 Princess Peach was once Princess Toadstool
Much like Bowser/King Koopa, Peach has a name she's left behind. She's always been Peach in Japan, but in the US she was Princess Toadstool in older titles. She permanently changed to Peach in Super Mario 64, though she was first called Princess Peach in English in the forgotten SNES title Yoshi's Safari.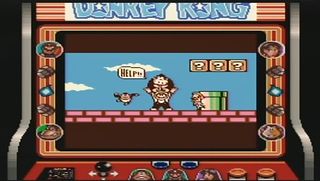 The ending to Donkey Kong for Game Boy connects it to Super Mario Bros
If you never played the Donkey Kong for the original Game Boy, download the Virtual Console version to you 3DS this instant. If you finish all 100 levels of the ingenious puzzle-platformer, you'll see an ending that that cleverly connects it to both Donkey Kong Junior and Super Mario Bros. Complete the title to see it for yourself.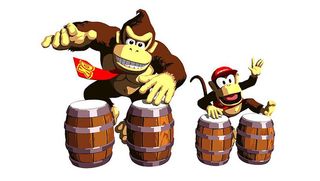 Diddy Kong originally designed to be Donkey Kong Jr
The Donkey Kong series had been pretty quiet until Rare took it over in the early 90s with Donkey Kong Country. When Rare was first designing the game, the plan was for Donkey Kong to be accompanied by a second player as Donkey Kong Junior. But Nintendo felt Rares redesign for the ape was too extreme. Given the choice, Rare kept the redesign and renamed him Diddy Kong.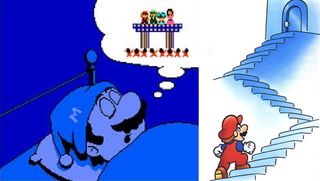 Super Mario Bros 2's ending is foreshadowed from the beginning
After plugging the NES cartridge for Super Mario Bros 2, we were confused by how different it was from the last Mario title, with weird new enemies and physics. We now know that's because it was a reskinned, non-Mario title, but the in-game reasoning was that it all took place in Mario's mind, which most people could tell ahead of time if they bothered to read the instruction manual. The game takes place in Subcon, short for Mario's subconscious.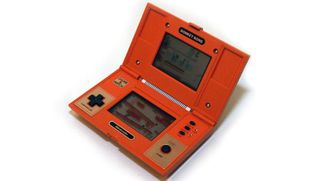 The first d-pad was on a Mario game
The analogue stick may be more prominent these days, but its hard to imagine that gaming would be where it is today without the d-pad. Short for directional pad, the familiar cross design was created by Nintendo for a Mario game. When Gunpei Yokoi and his team worked on a Game & Watch version of Donkey Kong, they came upon the upon the design as a straightforward way to control 2D movement, and the simple concept (that Nintendo holds the patent for) has been around ever since.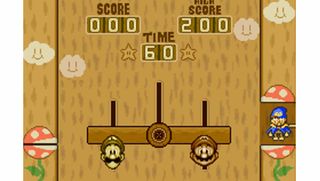 Geno from Super Mario RPG has appeared in one other game
The characters of Super Mario RPG have a rabid fan base, but due to legal red tape, all the characters created for the that game have never appeared elsewhere, with one exception. The first Mario & Luigi, subtitled Superstar Saga, was developed by some of the Mario RPG crew, so they included a tribute to that title. One of Superstar Saga's minigames is hosted by Geno, or at least the doll that Geno once inhabited.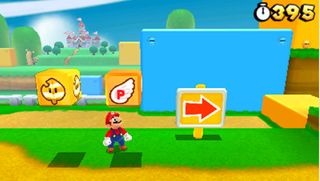 The P in P-Wing stands for Paratroopa
Always confused why the level-skipping item was known as a P-Wing? As explained by a Mario developer, the P-Wing represents one of the wings used by the flying turtles known as Paratroopas. Meaning some poor Paratroopa had to be maimed just so you could skip a stage that was too tough for you.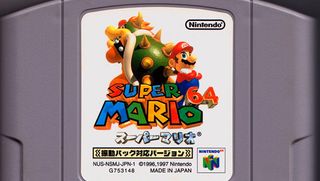 Japan got a version of Super Mario 64 that used the Rumble Pak
Though it's hardly the case anymore, in 1996 Nintendo was still releasing games months or even years earlier in Japan than in the US. One of the upsides for the US is our versions would sometimes be tweaked, fixing bugs that were found in the Japanese versions. That happened with Super Mario 64 and Nintendo eventually rereleased the game in Japan with those change and one final update: it used the newly released Rumble Pak. Sadly, Americans never got their own shaking version of the iconic launch game.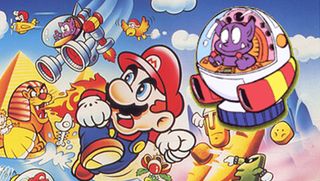 Tatanga, the final boss of Super Mario Land, makes one other appearance in Super Mario Land 2
Bowser and Mario seem to be locked in a war without end, but there are a handful of bad guys that have also been the lead villain in a Mario game. Wart and Wario come to mind, but strangest of all is the purple alien Tatanga, who kidnapped Princess Daisy in the Game Boy launch title Super Mario Land. After that, he sank into obscurity - though he did appear one last time, as the boss of the space stages in Super Mario Land 2: 6 Golden Coins. He hasnt been seen since, though who knows if Nintendo wont dig him up at some point.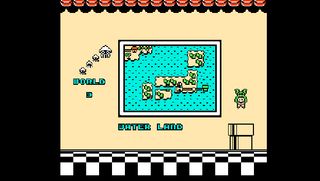 A world in Super Mario Bros 3 is shaped like Japan
In the liquid-heavy world known Water Land, Super Mario 3 had a clever homage to its country of origin. The final area of the map looks unmistakably like the islands that make up the nation of Japan, and the castle is placed where one would find the city of Kyoto. Not coincidentally, Kyoto is where Nintendo's business headquarters is located.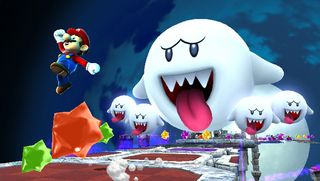 Boo was based on a developers wife
First appearing in Super Mario Bros 3, Boos have become an indispensable enemy in the Mario series. The monsters origins come from an incident in co-designer Takeshi Tezukas life according to an interview with Miyamoto. He said, Mr. Tezuka got an idea about putting his wife in the game. His wife is very quiet normally, but one day she exploded, maddened by all the time he spent at work. In the game, there is now a character who shrinks when Mario looks at it, but when Mario turns away, it will grow large and menacing."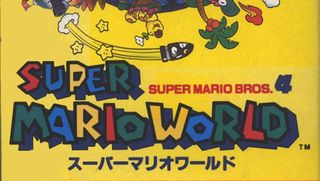 There already was a Super Mario 4
In Japan at least. When Super Mario World hit stores in Japan, the game was subtitled Super Mario Bros 4, perhaps to prevent any confusion. Strangely enough, in America Yoshi's Island was also known as Super Mario World 2, though that wasn't included in the Japanese title.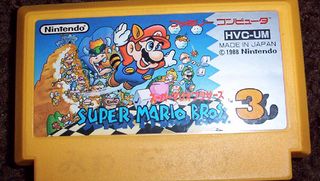 Super Mario Bros 3 was out in Japan almost two years before the US got it
20 years ago it took a shockingly long time for games to make it from Japan to the US- if they even got localized at all. That was the case with Super Mario Bros 3, which hit Japanese retailers in 1988 and the US in 1990. That also explains how SMB3 could appear in the 1989 film The Wizard before it even landed in US stores.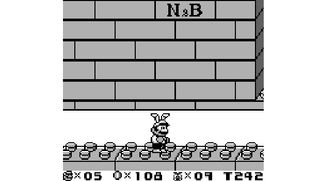 Super Mario Land 2 features Nintendo's real life version of LEGO
Super Mario Land 2 had an interesting mix of themed stages, including a world filled with toys. Here Mario runs over blocks that look exactly like LEGOs, but then players run by an "N&B" label. That was the name of Nintendo's own series of building blocks that they sold in the 1960s, a stealthy reference to the decades of Nintendo history that predates their entry into the games market.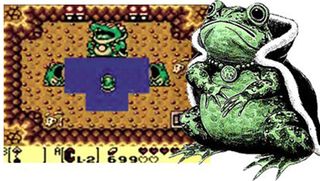 Super Mario Bros 2 boss Wart appears in Link's Awakening
Outside of a Smash Bros trophy here and there, Super Mario 2s Boss hasnt shown anywhere near the longevity of a Mario villain like Bowser. Although his name is dropped in Super Paper Mario and Mario Superstars Baseball, as well as an alleged son appearing in Animal Crossing, Wart has never physically appeared again in a single Mario game for more than two decades. However, a very recognizable Wart appeared in The Legend of Zelda: Links Awakening under his original Japanese moniker, Mamu, and actually teaches Link his last song on the Ocarina!