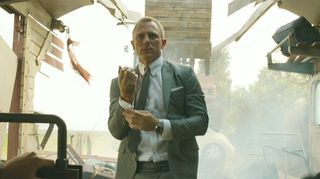 Off The Cuff
We're opening this feature on something that any self-respecting Bond fan (hell, even any movie fan in general, and their dog) will have seen. But be warned, there are some HUGE spoilers to follow.

These 50 Best Moment features are designed to go in-depth on the experience of watching the best films of the year - to remind you of bits you enjoyed, or highlight stuff you might have missed first time out, to encourage you to see it a second time.

So if you haven't seen Skyfall , leave now (and don't even think about reading the comments section), and return once you've caught up with James Bond's 23rd (official) adventure.

Still with us? Then we look forward to going in-depth on the greatest bits that Skyfall had to offer (and there were plenty). And as ever, we'd like to hear about your favourite moments in the comments.

So, to kick things off, we'll go for a moment that played in countless trailers, TV spots and celebratory GIFs before Skyfall was released but was still worthy of an emphatic round of applause from the cinema stalls.

James Bond, in hot pursuit of Patrice (Ola Rapace), has just torn half a carriage off the back of a train (using a digger), and leaps onto the locomotive to continue his pursuit.

So, the stunt's pretty impressive, but the killer detail comes when Bond checks his cufflink, just after landing, without missing a beat.

Put simply, Bond doesn't do anything without doing it with impeccable style.

There's a long acknowledged rule that Bond actors really get comfortable in the role in their third film, and Daniel Craig has never seemed quite so 007 as he does here.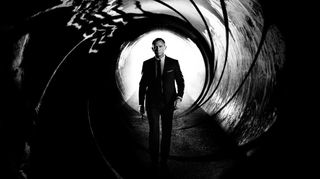 Credits Sequence
Right, we're moving into spoiler territory here, so it's your last chance to bail if you haven't seen Skyfall yet…

The credits sequence has become a customary Bond, as much a part of the experience as the gun barrel standoff, the power tux, and the 'Bond, James Bond' introduction.

Quantum Of Solace was a quantifiable disappointment, lacking many items from the Bond checklist, without being coherent enough to work as a standalone action thriller. Its credit sequence was poorly served by an odd song selection (not a terrible song per se, but not really Bond) and a lack of decent imagery to draw on.

With Adele's single returning the franchise's music to form, we had high hopes for an opening salvo to match, and we weren't disappointed.

The familiar musical keys throb in the background, while Adele's sizeable vocals hark back to the classic Bond tracks of yore. A contemporary update on a classic franchise staple, the song neatly encapsulates Skyfall 's modus operandi - giving Bond a service and tune-up, rather than a complete overhaul.

With Bond's watery crash serving as the ideal intro to the subaquatic sequence, the imagery that's thrown up - stags at Skyfall lodge, Chinese dragons, art deco skulls, flames, halls of mirrors, shadowy villains - hints heavily at plot turns, without actually spoiling anything for first timers.

And that bleeding Bond-shaped shooting-range target, it's a very prescient recurring image. And it looks damn cool.

It's telling that the sequence wraps up on a close-up of Bond's ice-blue eye. Cold, yet seductive, this one's going to dig deep.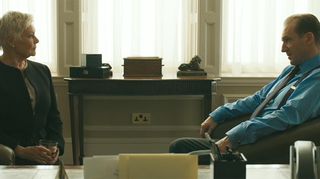 Headmasters Quarters
Our first introduction to Ralph Fiennes' new character, Mallory, sees Judi Dench's M receiving the kind of dressing down she's used to being on the dispensing end of.

Telling her loyal sidekick Tanner (see next page) that she feels like she's being called to the headmaster's quarters, the scene attests to the seriousness of M's mistake - the loss of a hard drive containing the names of every undercover MI6 agent on active service.

Fiennes is such a apposite cast-member that it makes you wonder why he didn't join the franchise earlier.

Owning the scene, he makes it impossible to tell if Mallory's a bull-headed bureaucrat, a decent chap, or an enemy within. One thing's clear though: his voluntary redundancy offer makes it clear that M's on shaky ground.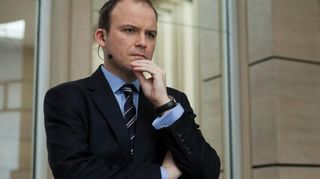 Rory Kinnears Tanner
Spare a moment for the little guy. The quiet one who's never going to have a shot at active field duty. The most dangerous part of his day is probably when he pours boiling water over M's teabags.

But credit to the Bond team for hiring Rory Kinnear, an actor of considerable Shakespearean talents, for making Tanner meek, but not entirely detestable.

He delivers some 'Basil Exposition' lines with conviction, and is the perfect as the other side of Bond's lantern-jawed bemuscled secret agent. And despite being a desk jockey, he's not an absolute drip, and gets to show real concern for Dench's M in a couple of key scenes.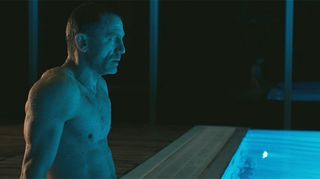 Nightswimming
This one made the list, simply because it revisits a Bond staple that only came into being during Craig's tenure: the trunks shot.

Cutting a striking figure in his baby blues in Casino Royale , Craig's impressive body gave a previously neglected 50% share of the audience something to gawp at. Admittedly, former Bond's had sported trunks, but none so strikingly as Craig.

And it became so iconic, that a scene of Bond swimming (in a pool located magnificently above the Shanghai skyline) is crowbarred into a mission.

Well, who doesn't like a quick dip to sharpen their senses before facing a professional assassin?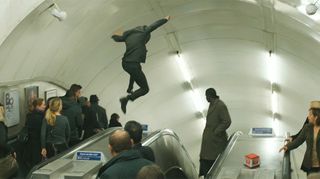 Escalator Surfing
A small but key moment in the London Underground pursuit sequence, with Bond and Silva hurtling themselves down the escalator equivalent of the central reservation.

Not only does it add to the intensity of the chase scene (Bond flings himself down there with gusto, and barely keeps his footing as he flies off the endpoint), but as a classic piece of wish-fulfilment for impatient commuters, it's right up there with the escalator slide in Getting Even With Dad (not the only Macauley Culkin parallel to be drawn with Skyfall , you'll see).

Next time we're shuffling behind the braindead hordes towards the Victoria Line, we're going to be sorely tempted to try this one out.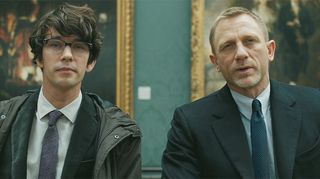 Your New Quartermaster
Ben Whishaw's appointment as Q was a crowdpleasing one. Not only did it confirm that Skyfall would be harking back to the golden years of Bond, it made it clear it would be revisiting the classic staples on its own terms.

Meeting Bond in London's National Gallery, Q makes some pointed comments about a painting depicting "an old warship being hauled off for scrap", and sparks fly between the surly secret agent and his young, spotty go-to gadget guy.

Craig's Bond is known for his 'lone wolf' temperament, but as this scene illustrates, he's great fun when sparking with an antagonist. And the conversation wraps Skyfall into a nutshell: the ongoing conflict between the old and the new.

And it's nice to see Craig get a bit a of cool kit to play with, even if Q branch don't go in for exploding pens anymore…

Watch the 'Bond meets Q' scene.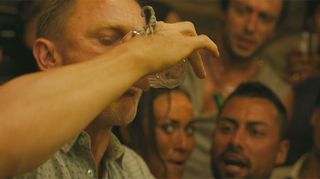 Enjoying Death
You can interpret Bond's symbolic death in a number of ways, but, however you look at it, it's a bit of a shock to see your protagonist shot off a ridiculously high bridge before the credits roll.

A rare opportunity for Bond to go off the radar, his exotic, opportunistic sabbatical affords him the time for some angry, anonymous cabin sex, the occasional beer, and a scorpion drinking game that most gap-year students would baulk at.

Right from the off, director Sam Mendes presents us with a Bond who can't be bothered to go back to work. Stripping him of his tailored suits, peppering him with stubble, and loading his eyes with the baggage of a career's worth of doubt, it's a rare look at an unpolished Bond.

After 50 years in the game, does Bond still want to do it? And are his services required any longer? It takes a stark news report to snap him back into action.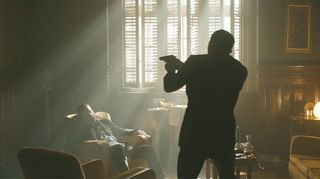 Hard Decisions
In Istanbul, Bond wanders into to a dingy apartment, dead bodies leak the red stuff all over the floor, and an MI6 agent sits in an armchair, gasping his last.

Highlighting a rarely-surfaced compassion for a colleague, Bond applies pressure to his partner's wound, before M orders him to leave in order to trail the stolen hard drive.

Knowing what the decision will mean for the agent, Bond recommends staying, but M stands firm in her decision: demonstrating the kind of cold calculation that's evidently got her to the top tier of MI6.

As we'll see again in Skyfall , M doesn't shy away from tough decisions, and rarely lets emotion get in the way of a job.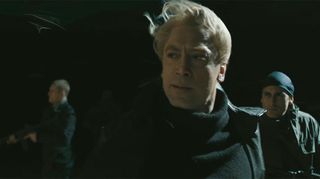 Kick My Face
A simple moment, but one that's almost comical in the immense amount of satisfaction it provides.

Following Silva across the long grass of his family's estate, Bond refuses to let a generic henchman stand in his way, leaping into a flying kick to the face without missing a beat.

Fast, ruthless, efficient, it's a showcase for the physicality of Craig's 007.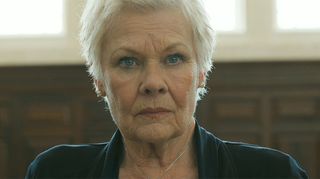 M In The Dock
Cranking up the tension to a crescendo at the midway point, Mendes crafted a nail-biting sequence for any viewer thinking that Skyfall might be Judi Dench's last franchise appearance (pretty much all of us, then).

Helen McCrory's curt MP doesn't stand on ceremony for the queen of the series, even in the year of her golden jubilee, "You'll forgive us for not putting up the bunting."

Putting Dench on the backfoot only ups the pressure, as instant messages warn Tanner of the imminent threat.

We could have done without the Tennyson reading, but the sight of Bond anxiously sprinting towards the courthouse (thrusting his knees in a manner rarely seen outside of the Mission: Impossible franchise), is enough for even the most stoic Brit to get a lump in their throat.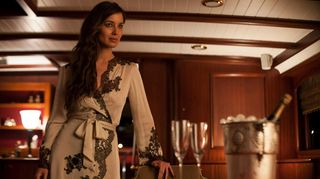 Hitting The Bottle
Much was made of the filmmakers' promotional pact with lager giant Heineken, but thankfully, the product placement was kept subtle, with Craig's Bond fortunately spared going full Wayne's World . In fact, during the one early sequence in which he does swig from the green bottle, his hand obscures the label.

Throw in a couple more sly references - the stocked chiller in the Shanghai bar, the London Underground ads - and it seems like a pretty fair trade for the amount that was contributed to the budget.

And it wasn't only lager that Bond swills during the running time. At his lowest ebb, he takes part in a exotic drinking game (scorpion chaser optional), and shares a Macalllan whisky with M in her apartment. The highland single malt hints at Bond's to-be-revealed origins, and provides a link to the shooting game Silva will later entangle Bond in.

And, it wouldn't be a proper golden anniversary celebration for Bond if he didn't down his signature martini, but rather than repeating the instructions, we simply see the waitress shaking the cocktail, before decanting it into a chilled glass. "Perfect."

Throw in a couple of bottles of Bollinger and you've got yourself a party.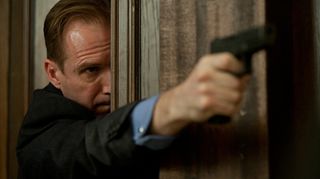 Mallory Down
For a man who spends most of his scenes pushing pens around a stately desk, it doesn't take long for Mallory to spring into action, and he even takes a bullet to the shoulder for his trouble.

Recalling Mallory's infrequently mentioned fieldwork earlier in his career (spending time at the hands of the IRA), it's a brief, immediate reminder of hidden depths to a character who could have easily been one-note.

His involvement in the shoot-out also had us thinking that, 15 years ago, English Patient -era Fiennes could have been a appropriate candidate for the James Bond role himself.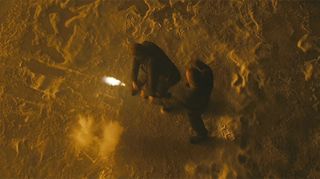 Beneath The Ice
The second frozen lake set-piece of the year (after Rust And Bone ), Bond's slippery grapple with a henchman is worlds away from the invisible car chase in Die Another Day , and all the better for it.

In honesty, it's suspenseful enough when Bond takes a gentle jog across the surface, before his run-in with Silva's goon. Opting to do things the difficult way, 007 blasts himself and his rival into the icy deep, before besting him with a rather impressive leg-to-neck strangle.

Cool, efficient, resourceful… and brutal in the face of adversity. That's the Bond we know.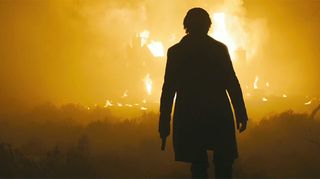 House On Fire
It's a brave move, giving your decades-old character a whiff of a backstory, before burning his heritage to the ground, but it makes for one hell of a spectactle.

A neat twist on the classic 'villain's lair showdown', Skyfall brings the trouble home to Bond. Destroying the vintage lodge carries a much more weight than seeing a tech-heavy hideout going down.

And, quite frankly, the whole spectacle looks glorious on the big screen, as Bond's improvised explosive blows away the ghosts of his past and the flames rise and a helicopter gets pulled into the carnage.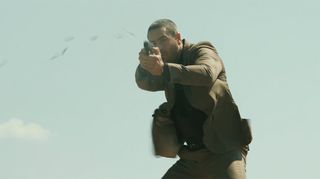 Patrices Lethal Weapon
We can't have been the only ones to notice this, intentional or otherwise, can we?

The Bond series isn't unfamiliar with phallic imagery (c'mon, you could write reams on the silencer alone), but even by it's own standards there's something breathtakingly bizarre about the automatic weapon Patrice (Ola Rapace) defends himself with during the Istanbul market shootout (unfortunately not pictured above).

Below the pistol's barrel hang two round ammo-cartridges, and the imagery is pretty much unmistakeable. Bond must've felt pretty insecure with his PPK in that particular standoff.

Or do we just have too much time on our hands?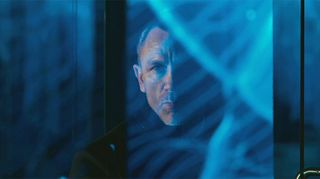 Hall Of Mirrors
Mirrors play a key role in Skyfall (something we're more used to saying about artsy dramas than rock-solid blockbusters); hinted at in the opening sequence and utilised by Albert Finney's Kincade during the siege, the pinnacle comes during Bond's Shanghai showdown with Patrice.

Stalking the barely-lit, neon-tinged top floor, Bond aims to get the jump on the assassin by stealthing up behind him, and the glassy workspace is transferred into a veritable hall of mirrors.

It's a credit to Mendes that he has the confidence to take his time with this scene, as it plays out in connection with a Rear Window assassination. But as Mendes has Roger Deakins' cinematography to luxuriate over, we're glad he doesn't rush through it.

And the shadowplay ties nicely into a recurrent theme throughout the movie (not least when M describes the whereabouts of the contemporary threats the 00 unit has to deal with).

Best looking Bond ever? You bet.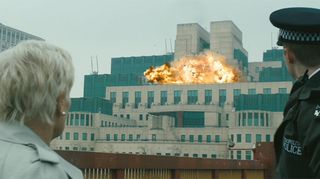 MI6 Explosion
If Skyfall got anything right, it's villainy was bang on, as encapsulated by this attack on MI6. Fresh from her bollocking from Mallory, M's on her way back to headquarters when her car's stopped on a bridge, giving the grumpy madam a scant few seconds to complain before she sees her office blown sky high (thankfully, the bulldog table decoration survives the blast).

The attack marks a rare occurrence in the Bond universe, wherein the upper ranks of MI6 are targeted. The specifity of the attack affords the franchise a welcome change of pace. No grand schemes. This time, it's personal.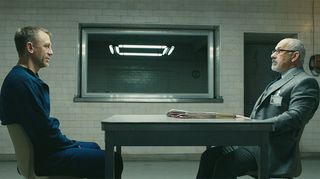 Analyse This
Bond's fractured psyche has been a key selling point of the Craig-era movies, but never so consciously as in the scene in which Bond, on returning to duty is psychoanalysed by Nicholas Woodeson's Doctor Hall.

One of the things we loved about this scene - as well as getting a taste of Bond's flinty sense of humour - is that it plays out rather differently than it did in the trailer, which is always a nice surprise for the cinema if you've played out the promos ad nauseam before the film comes out.

Here, Bond's closing line 'Done!', suggests he's finished with the interview as the topic of Skyfall comes up, whereas the manner of the trailer's edit suggested he was saying 'Skyfall' was 'completed'.

It was a bit harsh that the first word that came to Bond's mind when he heard 'M' was 'Bitch,' though. But she still clears him for duty, so she's obviously not too greatly offended.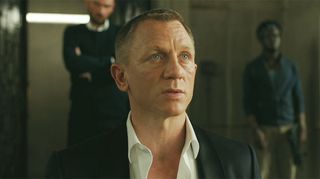 Resurrection
When asked what his hobby is, Bond responds, "Resurrection." Fitting, not only because he does make a return from the dead in Skyfall (after an extended holiday), but it marks one of the key attributes that has seen the character survive the harsh, changeable tastes of the multiplex for half a century.

Bond's arguably been reborn five times during the course of the official series, and will doubtless get another go around the block after Daniel Craig moves on.

It's a bold move to draw attention to this facet of the character so candidly in Skyfall , but as the film reinvigorates classic Bond for a new era, it's a move that pays off.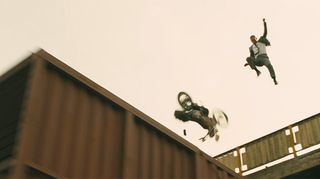 Motorcycle Leap
Bond's never been one to shy away from audacious stunts, and when he really needs to catch a train in Instanbul, he chooses the only sensible option available: launching himself off the side of a bridge, using the momentum from his motorcycle.

If it wasn't for the stunt team, this could've easily looked silly. But instead, it adds an insanely cool action beat into an already jam-packed opening.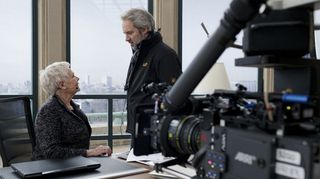 Ms F-Bomb
Judi Dench's M made a trademark of her tough-talking, no-nonsense schtick (the "sexist, misogynist dinosaur" line from GoldenEye introduced her with flair), and before she croaks her last in Skyfall , she gets to drop the franchise's first F-bomb.

"I fucked this up, didn't I?" There's something quite touching about the moment when M drops her guard in front of Bond, after putting on a tough façade for seven franchise entries, across 17 years.

And, y'know, high-five for getting that F-bomb in there!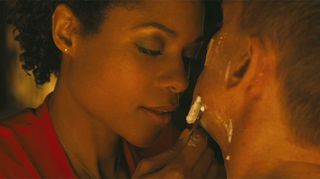 A Close Shave
Despite a fairly limited amount of joint screentime, plenty of sparks fly between Bond and Eve.

The sexual chemistry between the pair works itself up into a lather when the future Miss Moneypenny (well, the present Miss Moneypenny, we guess) drops in to Bond's Macau hotel room to assist him with his cut-throat shave. As the pair agree, some things are best done the old-fashioned way.

A tantalising blend of dangerous, dominant and sexy, you could cut the atmosphere as easily as Eve could sever Bond's jugular.

And she makes a deft job of shooing off Bond's wandering hands, which will come in handy for that desk job she takes up at the end of the film.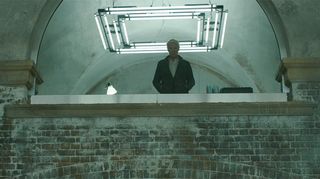 For Her Eyes Only
One of several knowing nods to 007's movie heritage, Bond's request for confidentiality raises a smile, as a congenial reminder of a Roger Moore installment.

Following Bond's introspective self-surgery (plucking shrapnel from his chest in another scene that plays heavily on mirror imagery), the drop-off at the ad-hoc lab in MI6's new digs further adds to the feeling of the threat being closer to home than ever before.

On top of all that, the line creates an oddly familial relationship between Bond and his ma'am, and hints at how high up this conspiracy goes at MI6. The chips really are down.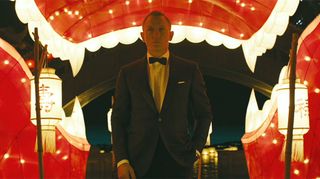 Enter The Dragon
Another nod to Moore-era Bond comes during Bond's face-off with a Macau casino goon, when the scrappers tumble off a decorative bridge and into a dragon pit.

Again, Mendes cleaves close to classic 007 (villains tend to have a taste for audacious pets), but manages to stay just on the right side of believable (these are Komodo dragons, not laser-firing sharks).

Adding a reptilian frisson of tension into an otherwise gritty mix, Mendes plays the moment for drama, before reminding us of the singularly terrifying stunt carried out by Ross Kananga in Live And Let Die , when the crocodile owner sprinted across the backs of a bunch of his own farmed crocs.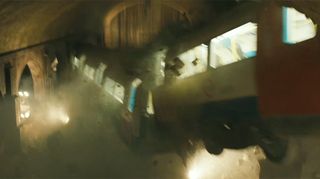 Underground Explosion
Bond's frantic chase across the London Underground in pursuit of Silva incorporates a host of great bits, but the culmination is something special.

The first half of the chase is rivetingly real. Yeah, OK, so the type of train might not match the underground line, but in all reasonable respects, the sequence is frighteningly familiar, hurtling through a location that's all too recognisable (it also adds to the fact that, coming in the same year as the London Olympics, the feels like possible the most British-set Bond movie ever).

So it's down to the final standoff of the set-piece to take things epic again. Following Silva's shadow into a disused section of the tube system, Bond soon finds himself on the unfortunate end of a wayward tube train.

And as if launching a train at your enemy isn't harsh enough already, Silva throws salt on the wound by making a callback jibe to Bond's earlier comment about good old-fashioned radio technology.

Credit is due to Chris Corbould's miniature work here, as the end result is anything but small.

Watch a clip of the Underground Explosion.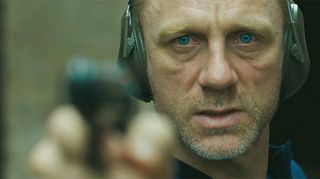 Target Practise
The most significant sequence in Bond's back-to-work assessment comes when he's faced with the hanging paper target at the shooting range.

Stubbled, red-eyed and kitted out in a standard issue tracksuit, Bond's not looking his as he squares up to the half-body facing him down. Rather than obliterating it RoboCop-style, our man fails to strike the target, and it doesn't get much better when he marches towards the target, firing in frustration.

It's rare the 007 is unable to hit the target, and it's a marked contrast with the near-invincible agent we've come to know over the years (he didn't even sustain a broken bone until The World Is Not Enough ).

It's a fresh coat of vulnerability for the superspy, which was neatly foreshadowed in the opening sequence.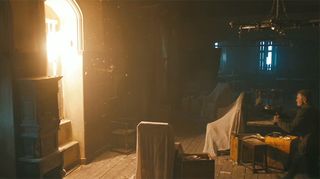 Home Alone
Setting up an action climax that's both intimate and epic, Skyfall flips the Bond formula to shoot the ending on home turf.

Gone are the giant satellites, nuclear weapons and grand schemes, and in are two OAPs helping Bond fashion makeshift weapons out of the detritus littering Bond's family pad (well, former family pad, considering it was sold off on his presumed death).

We already mentioned that another Macauley Culkin movie was invoked, and here Skyfall goes a bit Home Alone , and it's all the better for it.

M's lightbulb nailbombs are a masterstroke, and Kincade's sawn-off shotgun packs a considerable punch.

Maybe it's because M's impending death had our emotions running high, but the Skyfall lodge showdown had a genuine 'last stand' quality, with the kind of heft that you rarely get in a multi-installment franchise, let alone one on its 23rd outing.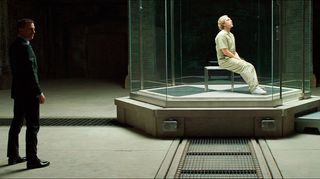 The Effects Of Cyanide
It's tricky, when it comes to Bond villains. We've come to expect some sort of flamboyant flourish, a trademark affectation that marks them out from your standard bad guy, and gives them an almost cartoony edge. It was that darn white cat that got the ball rolling.

While Casino Royale pitched it just right, with La Chiffre weeping bloody tears, Quantum Of Solace went for a 'naked' villain, and it turned out that eco-villainy on its own was just a bit boring.

Skyfall redresses the balance with Silva. When Javier Bardem came onboard, we thought the blond frightwig would be his key physical attribute, when in fact he reveals that a failed suicide attempt while facing torture lefts his insides in tatters.

Removing the false teeth that hold his face together, Silva's cheek collapses into an almost zombiefied hollow. The slightly dodgy CGI doesn't detract from the overall power of the scene, and it's an impressive way to show of his disfigurement, without the need for Bardem to mug his way through the whole film under make-up.

It's also interesting how far M is implicated in the making of this monster, adding an intriguing moral murkiness to the jurisdiction of the Secret Service.
And credit's due to the make-up team for the more subtle magic involved throughout the entire movie, in transforming Bardem's tanned, rugged, Spanish exterior into a deathly, toad-like pallor.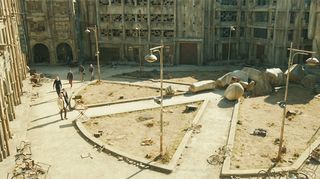 Svrines Death
It's commonly accepted that getting it on with Bond is bad for your health. Craig's Bond has a particularly damning track record, with three out of three ladies he scores with across Casino and Quantum ending up dead.

So, we never really fancied Sévérine's chances much to begin with, but there's something especially cruel about the manner of her demise.

Returning to Bond's favourite brand of whisky for the William Tell trick, 007 does his best to offer Sévérine a stay of execution, but Silva's coldness ensures she doesn't survive too long.

For a character who's seen little chance of redemption in her life, it's a pretty brutal way to go, and another blow to Bond's abilities, his offer of salvation being proved painfully futile.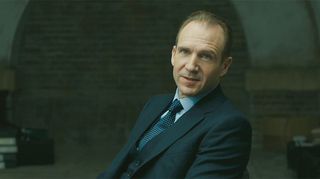 Mallorys Motives
Before actually seeing Skyfall , we weren't sure exactly what direction Mallory's arc would take. It certainly seemed possible that he might be the heir to M's throne, but Fiennes played it with such a frostiness, that you could plausibly think that he was Blofeld reborn, the head of Quantum, or some other nefarious type.

This tension comes to a head in the scene in which Mallory sneaks up on Q and Tanner, who are sorting out a 'fake' breadcrumb trail to ensure that Silva follows Bond to Scotland.

For a split-second, it really seems as if Mallory might be about to drop an almighty twist into the proceedings, before he reveals that he's actually a pretty decent guy, with a smart, practical mind for espionage. Phew.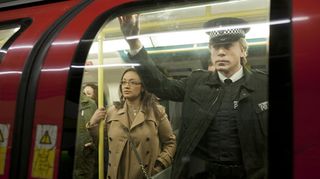 Catching The Tube
Getting to-me-to-you advice from Q down his earpiece, Bond almost misses the train that's facilitating Silva's escape.

In an echo of the leap he makes to catch the Shanghai elevator with Patrice, Bond throws himself full-throttle onto the back of the moving train in the nick of time, living the dream of frustrated commuters everywhere.

The gag the old man cracks to his wife verges on the cringey, but Craig makes up for it with his deadpan delivery to the train operator. His disgruntled "Open the door", delivered with an expression of exasperation that'll be familiar to anyone who's ever used public transport, followed by an apathetic cover story: "Health and safety."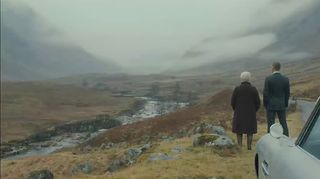 Bonds Scottish Roots
In the spirit of Bond's 50th anniversary celebrations, it seems only fitting that the production should hark back to the character's roots, and his first official movie portrayal by Sir Sean Connery.

Although this does touch upon a Scottish ancestry mentioned in some of Fleming's work, the author only incorporated that element after Connery had played Bond, closing the adaptation loop.

As well as the Connery connection, the Shining -style drive up to the remote wilds of the highlands detaches the character from any contemporary, cultural concerns, giving the final showdown something of an elemental quality.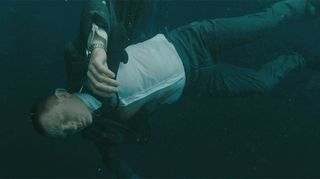 Agent Down
James Bond does get put through the wringer in Skyfall . As the trailer attested, he's shot from the top of a train that's barrelling across a bridge in Turkey, falling to his presumed watery death. And that's before the credits have even rolled.

Demonstrating stone-cold discipline, M refuses to let sentimentality cloud a business decision, even though her prodigal (work) son is in the firing line, she still demands that Eve risks taking the shot.

In an impressive touch, Mendes keeps a stark dichotomy between the dreary MI6 offices and the vibrant Istanbul market, until the London rain, beating down on the window, blends in with the Istanbul waterfall, before segueing smoothly into the opening sequence.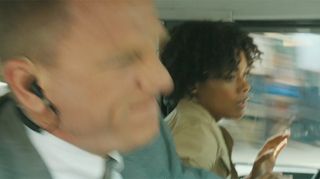 Check Your Mirrors
There's a danger of Eve being bullied by Bond, overpowered by his brutish masculine ways.

But while 007 won't let her forget that she shot him, and is evidently happy to see her sat behind her desk, she can more than hold her own in the field.

When she loses a mirror on the 4x4 during at the start of the Istanbul pursuit, Bond chastises her with a typically blokey, backseat driver comment, "You weren't using it anyway," before she rebuffs him by purposefully and expertly dispatching the one on the other side, "I wasn't using that one either."

Fair play for shutting up Bond, and a sign of her precision when in a tight spot (later evidenced in the courtroom shootout).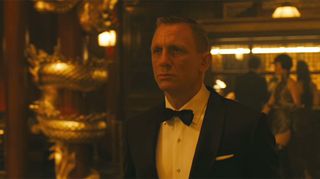 Put It All On Red
Not that Bond's going to allow Eve to completely dictate their relationship in the field though.

The pair are sparking nicely through some ear-piece banter in the Macau casino, before Bond's lays eyes on Sévérine, and puts a prompt ending on their communication by dumping his ear-piece into Eve's champagne.

It seems you can teach an old dog new tricks, although he'll still tear up the garden from time to time. Still, she gets to help him out of a sticky spot again as he emerges from the Komodo dragon's lair, and gets a whole bunch of chips to put on red…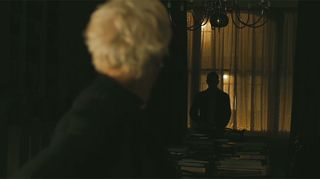 007 Reporting For Duty
Many of Skyfall 's most explosive moments don't rely on pyrotechnics, instead choosing to zero in on character interactions that have often go unexplored throughout Bond's movie history.

Take the sequence in M's flat, for instance. Bond returns from 'the dead', and initially appears cloaked in shadow (and when he steps into the light, he's clearly a shadow of his former self).

During the course of their reacquaintance, barbs are traded between the testy pair. Again, it's telling that M won't even allow Bond to kip for a night at her house, despite everything that's happened.

Perhaps the most intriguing nugget of info from the entire exchange though, is the reference to Bond's flat (which has now been sold, given that he's presumed dead). Is it just us, or is it unfathomably odd trying to imagine Bond with a permanent place of residence? We bet there's a revolving bed in there somewhere.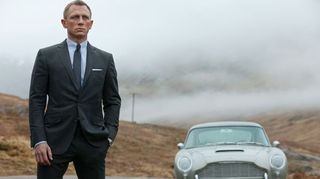 The Return Of The Aston Martin
The Aston Martin DB5 returns in one of Skyfall 's most crowdpleasing moments. Taking M to his garage so that can trade their government vehicle for one that'll be more difficult to trace.

The unmistakeable musical theme kicks in as Bond flicks on the lights (surely an innovation that DB5 owners need to work into their garage lightswitches), and reveals the trusty steed he first rode in Goldfinger .

Bearing the same registration plates as the vehicle in that Sean Connery outing, it still features the ejector button, and later reveals that the pop-out machine guns are still fully-functioning.

It's painful to see it destroyed by Silva's goons during the raid on Skyfall lodge, and it almost seems as if it's the final straw that really kicks Bond into action.

Maybe it's not a total loss though, as M had previous dubbed Bond's iconic ride "not very comfortable." Damning words indeed.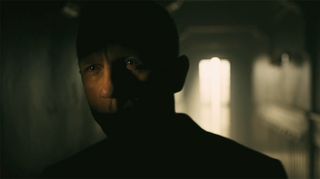 Opening Shot
Cinematographer Roger Deakins' contribution to Skyfall can't be overstated. From the very first moment, you realise that this is going to look like no other Bond film that's come before it.

As first two notes from the inimitable theme tune blare out, sharply and concisely, Bond stalks the back of the frame, out of focus, shrouded in shadow.

The visual effect gives an almost alien look to Bond's posture and gait, his spindly limbs bringing to mind the animated intro to any number of '60s capers.

When he reaches the end of the corridor, a crack of light illuminates his eyes only. Pure class.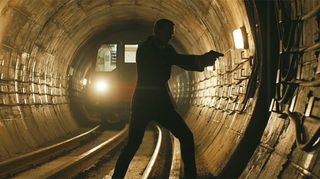 Put Your Back Into It
The base-bound presence of Q was one of a number of Skyfall elements that got us particularly excited about the next two installments, with Whishaw's geek genius providing the perfect foil for Craig's sullen secret agent.

A nagging voice in 007's ear, Q provides a bit of odd-couple friction, even though the gadget-master's never likely to actually show up in the field, you know, in person.

With Bond trying to open an emergency exit on the London Underground line, the urgency heightened by an oncoming train, Skyfall revisits a Bond staple that hasn't been aired during Craig's tenure: the mixing of some humour into a tense action beat.

Craig 1. Door 0.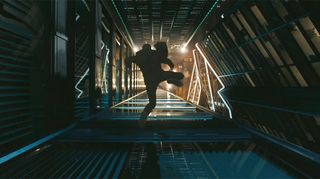 Shanghai Showdown
When Bond goes toe-to-toe with Patrice at the top of the Shanghai skyscraper, there's a pleasing lack of Bourne-style grittiness to the lensing, with Mendes and co opting for some silhouetted shadowplay in favour of docu-style realism.

The close-quarters scrap is rough and ready, illuminated only by occasional bursts of gunfire.

Dripping with style, the scene has the confidence we associate with the best Bond flicks, and fits 007 better than Bourne-aping shakycam ever did.

And it feels like it's been a while since Bond's dropped an adversary from a dizzying height.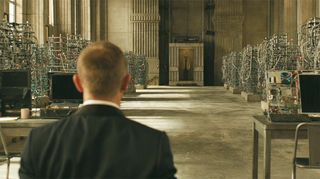 Silvas Entrance
Javier Bardem's Silva easily steals the film, nicking all the best lines and showing no restraint in terms of campness, without scrimping on the fear factor.

Bond villains need to make a grand entrance, and there's something extremely impressive about Silva's understated intro.

With Bond strapped to a chair, in a building on a desolate, crumbling island, an elevator descends at the back of the frame. Sauntering in gently measured step, Silva purposefully, potently walks towards his captive in one unbroken take.

Along the way he monologues about the last two survivors of an infestation of rats, recounting a story that's basically a sinister version of Christopher Walken's 'two mice fall into a bucket of cream speech' from Catch Me If You Can .

A scene that not only introduces Skyfall 's secret weapon, and further emphasises the absolute confidence that this franchise entry has.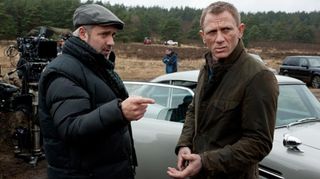 Rifle Range
Gearing up for the invasion of Skyfall lodge, Bond and his trusty gamekeeper Kincade (Albert) head out onto the estate for a bit of rifle practise.

With Bond back on form after his earlier misfire, the scene is set for a nice bit of surrogate father-son bonding. And who doesn't relish the opportunity to see Bond being called a "jumped-up little shit"?

On a nice sidenote, the initials on Bond's father hunting rifle (AB, later revealed to stand for Andrew Bond), also work as a nod to the 'father' of the film series, Albert 'Cubby' Broccoli.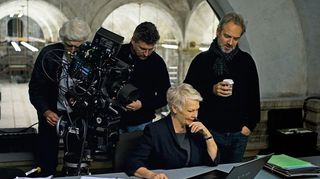 Ms Death
If the Skyfall lodge invasion was a Bond set-piece on a more intimate scale, then the scene in the chapel gives it another turn of the screw.

If you'd had an inkling that M would be croaking her last in Skyfall , then here comes your confirmation. Made all the more poignant by the placement of Mr and Mrs Bond's gravestones outside, it's marks one of the franchise's rare reaches for emotion.

Perhaps only On Her Majesty's Secret Service and Casino Royale have previously aimed for heart-tuggers in the same vein, although arguably neither film matched the tenderness of this goodbye to franchise stalwart Dench. "I did get one thing right," admits M in her last words, and Bond even gives his boss a peck on the forehead.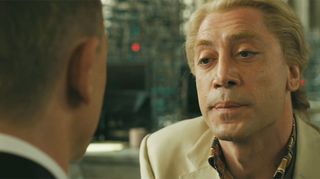 Silvas Interrogation
Bardem's killer moment as Silva comes during his interrogation of Bond.

Strapped to a chair in the bad guy's makeshift lair, 007 is defenceless against Silva's thigh-rubbing interrogation. First inspecting the scars on Bond's chest, the blond villain works his way down…

It's up to Bond to puncture the tension by asking, "How do you know it's my first time?" Whether he's drawing from genuine experience or dropping in a smart-alec comment to bring his unconventional interrogation to a close, we'll never know (unless Bond's backstory is explored even further in future installments).

When you factor in Silva's rundown of Bond's MI6 evaluation ("Alcohol and substance abuse… Oof!"), you have a truly classic scene that instantly earns a place in Bond history.
Looks like it was a smart decision to hire an Oscar-winning actor as the Bond villain, for only the second time in the series, following Christopher Walken's turn in A View To A Kill (we're not counting Benicio Del Toro, as he won his Academy Award post-Bond).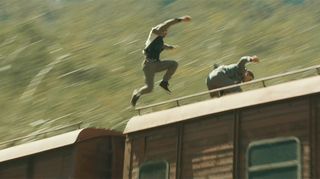 Train-Top Scuffle
Some of Bond's finest smackdowns have taken place in or around moving vehicles - the train punch-up on From Russia With Love , the plane-based finale to The Living Daylights - and the train-top scuffle in Istanbul pays tribute to that tradition.

The motorcycle chase across the rooftop is thrilling, and the crane vs train segment of the sequence is a standout, but it comes into its own when Bond and Patrice go toe-to-toe atop the moving locomotive.

Adding a tangible ferocity to the scene, both actors throw themselves into the scrap with such vigour that you really believe they're both equally desperate to walk away with that hard drive.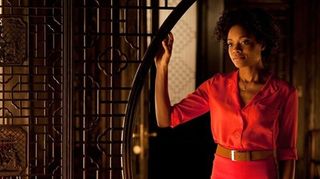 Miss Moneypenny
At the press conference that was held to mark the start of production on Skyfall , producer Michael G Wilson referred to the title as 'the worst kept secret in London'.

It wasn't the only confidential information that leaked before the film hit cinemas, although after the initial rumours about Naomie Harris' character, the team did a pretty decent job of throwing fans off the scent for a while.

In fact, Harris does such a good job with the action moments, that it's almost enough to convince you that Eve is an entirely new character. Though as soon as there's talk of stepping down from field work, you know where it'll lead…

Even given the likeliness of the outcome, there's no denying the goosebumps when she greets Bond in the MI6 office, and introduces herself by her full name.

With Craig's Bond now well and truly entering the Bond canon, there's a distinct feeling that we're entering an era of 'new classic' Bond.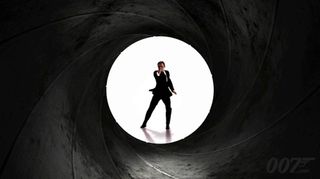 Gun Barrel
Skyfall gets one classic Bond element perfectly right: the gun barrel.

An fixture of the franchise, the gun barrel that targets Bond before the agent turns and fires is something that we expect, nay demand, to see before the end credits finally roll.

The rustic revamp of the sequence for Casino Royale was completely acceptable, especially given the gritty nature of the scrap that was incorporated. But the barrel sequence in QOS felt hurried, and suffered by comparison.

Riding on a nostalgia high at the end of Skyfall , there's not better time for Mendes and Craig to perfect the signature snippet.

And it's perfect.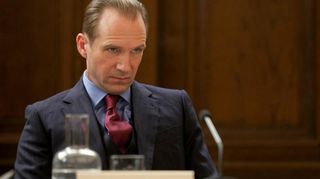 Dial M For Mallory
Another immensely satisfying moment for Bond fans, as a long-hinted at rumour finally comes to fruition.

So, Ralph Fiennes' Mallory is confirmed as the new M. But it wouldn't mean anything if Fiennes hadn't build up the mixture of warmth and respect that he manages with his limited screentime.

Proving that he'll be a useful ally for Bond (and one unafraid of putting the agent in his place), Fiennes further proves that he's a bona fide national treasure. And, really, isn't that what Skyfall 's all about?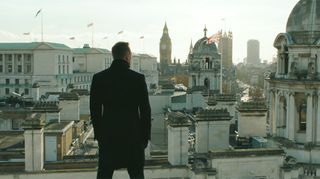 With Pleasure
If you've somehow landed on this page by accident, the following is a highly spoilery. Please don't read on if you haven't seen Skyfall . Go to the totalfilm.com homepage .

Skyfall achieves a feat that Quantum Of Solace singularly failed to - it makes you excited for another Bond film, the immortal credit 'James Bond will return' becoming a brilliant promise.

As Fiennes's freshly promoted M slides a top-secret dossier across his desk towards his #1 operative (who accepts, "With pleasure"), we were literally squirming in our seat with excitement, desperate to know what Bond's next mission entails.

Thankfully, we shouldn't have to wait too long, as screenwriter John Logan is already at work on the next two installments (a two-part adventure).
With M and Moneypenny ensconced comfortably in their new offices, and Craig fully owning the 00-status, we're going to be counting down the days until Bond 24 .

What were your favourite Skyfall moments? Any you'd care to add to our list?

Read more about Skyfall.