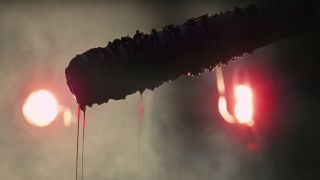 Whose blood is on the bat?
The Walking Dead outdid itself with a season 6 cliffhanger that left most of us desperate for the answer to one simple question: Who has Negan killed?
Everyone and their grandmother has a theory about who it is. Loads of folks have even resorted to getting technical in order to reinforce their theories. One eager fan analysed audio from the season 6 finale to try and identify the voice screaming out in pain. Not easy to do, and it didn't provide conclusive results, either. Likewise, AMC made it impossible for amateur photographers lurking near the set to reveal the victim by having every single cast member shoot a death scene. Then producers went one better, confirming that they shot the season out of order on purpose, to make any sleuthing on-set photos meaningless.
That leaves one option: good old fashioned detective work. With our analytical minds attacking the contents of some deep, dank subreddits, we've concocted compelling arguments for every single character kneeling before Negan. Yep. As far as this article goes, they're all his victim.
Get ready for The Walking Dead season 7 premiere this Sunday with our detailed breakdown of Negan's potential victims.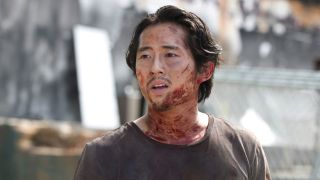 Glenn
I've long-believed that Glenn should die. Way before we knew 11 members of the group would kneel before Negan, I put my money on the former pizza delivery boy. It's not because I dislike him, quite the opposite. After his dance with death down that walker-infested alleyway, audiences deserve a show that doesn't backtrack or cop out of killing its most popular characters. Also, looking at actor Steven Yeun's current schedule, it turns out he's been out of the US during production on season 7, shooting Bong Joon-ho's latest film in Seoul and Vancouver. They're not even remotely near Atlanta, Georgia (where the show is filmed). Robert Kirkman even teased Glenn's onscreen death years ago. Makes sense, what with Glenn being the one Negan kills in the comics.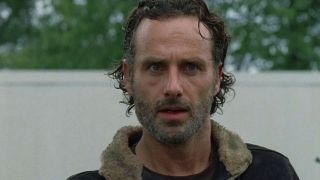 Rick
I know what you're going to say. They can't kill Rick because he's Rick. But why not? Producer Greg Nicotero calls season 7 a "new chapter" for the series. Rick's death would be the most obvious way to instigate that, as the show has revolved around his story since the beginning. Hell, even Andrew Lincoln's all "yep, the show can go on without me!" Daryl actor Norman Reedus mentions that the upcoming season involves a huge shift for the those who survive: "It was hard, and they had to go through things all the time," he says about challenging times gone by, "but they were on a path, and now that path has been ripped from their feet, and things that they believe in are completely different now. The world is completely turned upside down". Now whose death would make that big of an impact on the show?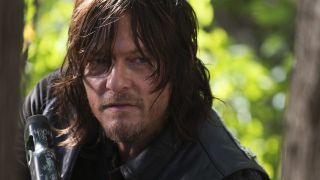 Daryl
Daryl's the strong-but-silent type. A good guy with a big heart who's been by Rick's side since the start. Made a lot of sacrifices, too. But so has Norman Reedus, the actor who plays him. Imagine having to turn down other opportunities in life to focus on working your delts and perfecting your man bangs. If you take a look at Reedus' extra-curricular activities outside of the show, it would appear that he's not turning stuff down anymore. Far from it. He hosts his own travel show on AMC (it's about biking, obviously), is almost certainly starring in Kojima's upcoming Death Stranding, and is in the process of launching a restaurant in Atlanta alongside the show's VFX guru/director Greg Nicotero. Come on. Together those three things REEK of sayonara.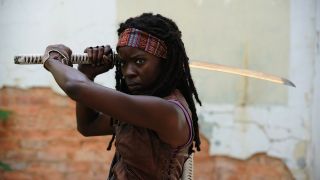 Michonne
It would be absolutely typical of The Walking Dead to kill off Michonne. Not because she's got it coming, but just to see how much more fucked-up it'll make Rick. Let's face it, his romantic track record has been terrible. Women in love with Sheriff Grimes die and their corpses become zombie jerky. So there's that. Plus Danai Gurira, who plays the katana-wielding survivor, recently signed for a fairly significant role as Okoye in Marvel's Black Panther. As is routinely the case, actors who join the Marvel Cinematic Universe have multiple appearances across several movies inked into their contracts as well as lengthy press commitments. Will she have really have time for slicing up walkers? Doubt it.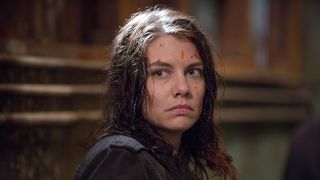 Maggie
Maggie is an ill, pregnant woman. That's a tough, tough thing to argue because no-one wants to see Negan touch so much as a hair on her head. But this is The Walking Dead. The show pushes boundaries. Remember Noah's death? That was five seasons in and still the zombie threat felt fresh in its gruesomeness. Or the sight of that bloated walker in the prison right near where Lori died? This is the show that goes there. To those places you don't want to think about. Director of the season 7 premiere, Greg Nicotero, shared this anecdote about screening the episode where Negan's victim is revealed to his fellow directors: "A couple of people have seen it and then they stand next to me for about 24 hours going, 'Fuck!' And I'm like, 'What?'" That type of reaction makes it seem like someone unexpected. Someone perhaps… like Maggie.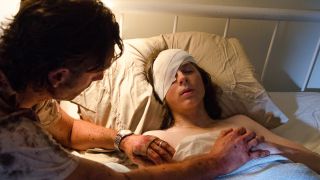 Carl
Okay, okay, so Negan's final words before butchering the poor soul in question suggests that Carl's safe. "If anybody says anything, cut the boy's other eye out and feed it to his father," he cautions. But as the series has shown in the past, something happens (Glenn is eaten by zombies) and weeks later that thing doesn't happen (Glenn rolls under a dumpster). He's had many, MANY narrow squeaks, pissing off fate one too many times. Then there's the spoiler executive producer Robert Kirkman "let slip" on Comedy Central's Midnight: "On the next exciting episode of The Walking Dead, we find out how mad fans are when they learn Negan killed Carl in the Season 6 cliffhanger." Think he was kidding? "People wanted to know," he replied. "I'm not going to make you wait all summer. I'm not an asshole."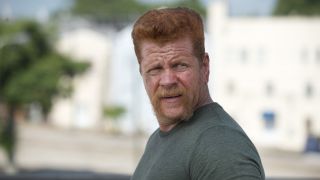 Abraham
Comic-wise, Abraham is already a goner. The arrow to the eye that killed Denise on the show is how he met his end on the page. In that sense he's in an adaptation limbo, if you will, waiting for producers to either rework his storyline or kill him off. That hug he shared with Eugene right before he drove off in the RV suggests the latter. Michael Cudlitz who plays the former Army sergeant was spotted out and about earlier this summer at Sacramento's Wizard World sporting his regular black hair color, before he had Abraham's signature red restored for his appearance at Comic-Con. To add further fuel to this fire, if a bunch of leaked episode credits are correct, he's only set to appear in the premiere. What else do we need? It's ciao, bitchnuts!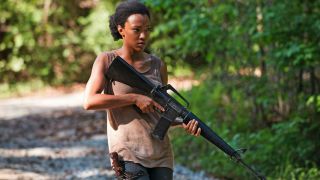 Sasha
Damn, Sasha's really been through A LOT. Her brother and her sort-of boyfriend both died within a short space of time, and she's only just surfaced from that pit of despair. Remember? That actual pit she slept in that was lined with dead walkers. Yikes. It'd be keeping in the show's mean streak to extend her suffering riiiiight as things are looking up. Sure, there's the zombie apocalypse to deal with but she had a brief 'what if?' moment with Abraham, a chance to contemplate a happy future. On The Walking Dead that's tantamount to welcoming Death into your home, giving him a pipe, the paper and a pair of slippers. (And then letting him beat you into oblivion with a baseball bat).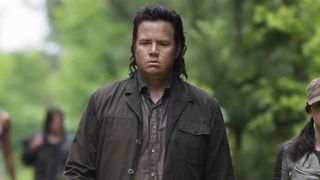 Eugene
The mulleted Eugene finally made the leap from gibbering scaredycat to hardened survivor. Moments before Rick and company walked into Negan's trap, Eugene offered to sacrifice himself so that they might live. It was a tender moment that's ultimately robbed of all meaning if he doesn't actually die. Eugene's actions, including that bearhug he shares with Abraham echo a similar exchange between Rick and Glenn over the radio before the dumpster incident. It's as if Eugene's signposted for death. If you remember when Denise died, that episode depicted her in a new light. We got to know more about her, about how lovely and normal and full of hope she was, a future before her ripe with promise. Eugene's not getting an arrow to the eye, but those same signs are there. I wouldn't be surprised if he stands up to take someone's place.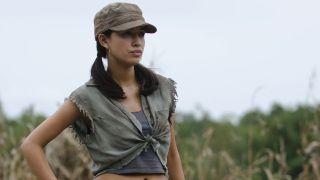 Rosita
Alexandria has benefitted greatly from Rosita's combat expertise; she's the only person really training those quivering, inexperienced folks in the art of apocalyptic war. It'd make sense in terms of cranking up future tension if they're all left without anyone to teach them how to survive. As for Rosita personally? Eh. She's the one getting Lucilled for the simple reason that outside of training, she's not got much to do. Abraham's chucked her for Sasha and she doesn't seem keen to continue that weird tryst with Spencer. Her comic book counterpart goes through a similar experience much later on, but don't forget that this is the series that likes to mess with mythology and timelines.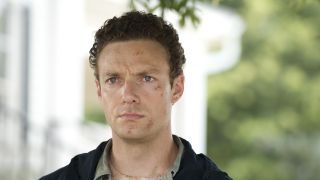 Aaron
Ah, the lovely Alexandrian who enlisted Rick's gang into the walled community. His name's hardly been mentioned in reference to Negan's fatal bat swing - but why? Is he that disposable that his death wouldn't make a difference? While you could argue that he's too insignificant a character... surely that's the type of scheming the show would use. Off the guy you don't expect after SEVEN MONTHS of build up. Seeing as the show has already pandered to the "bury your gays" trope (Denise!) Aaron certainly fits the profile.