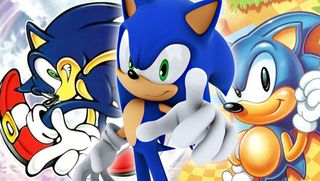 "Loving you / is easy cos you're blue and cool..."
With our Sonic Lost World review going live tomorrow and so many Sonic fans' hopes riding on this new Sega/Nintendo collaboration, we thought it would be time to look back at Sonic's history from the perspective of a Sonic fan. Yes, me.
I can still remember it really clearly. The boy in my class at school saying at lunchtime Have you heard of Sonic the Hedgehog? to which I replied No. Hes blue and he runs really fast, he said, doing a little 'running' motion on the words 'runs really'. I can still hear him say it. Fast to rhyme with gassed, not arsed. But there it was. The seed was planted in my mind. This Sonic sounded cool. And so began 21 years that started easy, grew frustrating and veered into dejection. And some way back again. So let's see how the hog that could do no wrong in the eyes of a 9-year-old boy developed as that same boy grew up. I've even made a little graphic for each slide to show how easy or hard it was to be a Sonic fan in each year. Ready? Let's do this...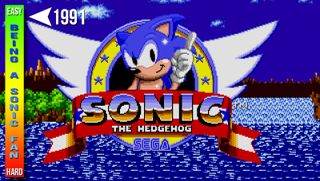 1991: Sonic the Hedgehog was released
I was a Sonic 1 fan before Id even played the game. Ive said on GamesRadar before that my sister and I would stand in Taunton Toys (our local toy shop) and watch the Mega Drive demo roll around. Wed gasp in awe at the cascade of rings when he dropped them in the Marble Zone demo and laugh when he popped up from the title screen barrel and waggled his finger. It was like nothing we'd ever seen before. Yet demo pods always had the control pads unplugged, leaving 16-bit Sonic always so near, yet so far.
When I finally got to play it, it was everything Id built it up in my mind to be, which made playground arguments extremely easy to win. Sonic was faster than Mario, looked way better than Mario (even when SNES did finally get released in Europe) and Sonic was a more exciting character. Whereas Mario was a fat plumber, Sonic was a razor-spined rodent who could break the sound barrier and curled up into a ball to ping off bumpers like a pinball. There was simply no contest.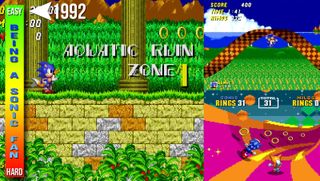 1992
Sonic 2 was released, offering a much more mainstream-feeling gameplay experience than Sonic 1. It had a greater variety of levels (all of which looked incredible), an exciting new move--the spin dash--and the ability to run upside-down through a pseudo-3D corkscrew if you had built up enough speed. Chuck in an into-the-screen 3D effect-laden special stage and you were looking at THE game to play on Christmas Day, 1992. Which is exactly what I did.
Looking back at the Aquatic Ruin zone now, its hard to believe these graphics ever looked incredible, but they did. Seeing occasional flashes of the game on TV was so exciting. Sonic broke those massive stone pillars, the foliage was multi-layered parallax it was incredible.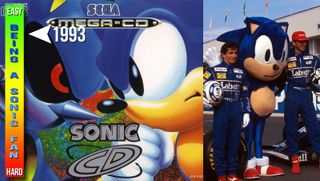 1993
1993 was a strange year for Sonic. There was no numbered sequel, but he did make his first 'next-gen' appearance on Mega CD in the shape of Sonic CD. I didn't play it because, like everyone else in the world, I hadn't bought a Mega CD. Because it was over-expensive and a bit pap, really. Still, it did have a rival technology to Nintendo's Mode 7, so that was a bonus.
Sonic himself could still do no wrong, as he hadn't appeared in very many games yet, and all had been great. He was a balloon in the Thanksgiving parade and made it onto the Williams Formula One team's cars. There was even a decal sticker that suggested Prost and Hill's feet were, in fact, Sonic's feet. Awesome. Sonic was associated with speed and with winning, as Prost claimed his fourth title, this time powered by Sega. Well, and Renault, obviously.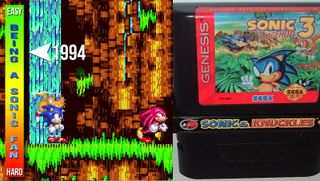 1994
Things weren't quite so rosy for Sonic in 1994. Sonic 3 was released, with a new game engine that made the 16-bit Mega Drive/Genesis hardware purr. The standout levels, Angel Island, Hydrocity and Ice Cap offered some of the finest sights and sounds of the generation. But it wasn't the game Sonic 3 was intended to be, resulting in Sonic & Knuckles appearing later the same year, apparently offering more of the same, only smaller and with a strange 'bolt-on' feature to physically join it to Sonic 3.
People were complaining that Sonic was now just rehashing the same formula without really moving forward. SNES was picking up pace in the console wars and playground arguments were getting harder to win. And Game Gear's Sonic Triple Trouble was pushing the handheld hardware ever further, but starting to suffer badly from style over substance. Sega needed a true next-gen Sonic. And so did his fans.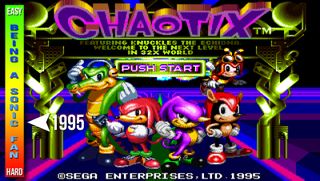 1995
"Where's Sonic?!" That's what every Sonic fan thought when they laid eyes on Knuckles' Chaotix for 32X. It was a Sonic game without Sonic in it, although looking at the character designs, that fella on the right is surely Sonic in an Armadillo suit. The mechanics of the game were strange, with a bizarre link between two characters... It looked like Sega didn't know what to do with their mascot. Or, worse still, that they were retiring him.
The hope, of course, was that Sonic would make his triumphant return on Sega's then-next-generation hardware, the Sega Saturn. But the console was launched sooner than expected to everyone's surprise, and--crucially--without Sonic on day 1. Oh, but he was coming. Yes, he was coming. Sonic X-Treme was being developed for Saturn and that was going to change everything...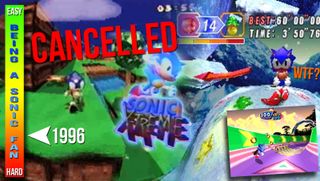 1996
The worst thing that could possibly have happened? It happened. Sonic X-Treme was canned. We've covered that story before, but the net result was a next-gen Sega machine with no next-gen Sonic. At least Sonic Team was still delivering the goods, releasing NiGHTS into Dreams in time for Christmas.
Perhaps realising it needed to sweeten Sonic fans, select games that Christmas came with a bonus CD-ROM, entitled 'Christmas NiGHTS into Dreams'. One of the finest games of all time in its own right, despite basically being a demo for the full game, Christmas NiGHTS features Sonic's first 3D appearance. And, as you can see from the picture, it was dreadful. Running around like a broken toy, Sonic into Dreams was a shocker. At least the Robotnik/Puffy crossover battle was great. But still, NiGHTS had to take over as the Sonic Team product to champion in the console wars. Because nobody could feasibly pretend Sonic 3D's rushed Saturn port was worth playing, except perhaps for the Sonic Team-programmed special stages. Indeed, I didn't even buy it, which says a lot.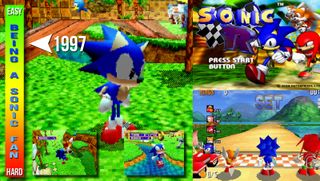 1997
Another year without a proper Sonic game, but at least Sonic fans had a two great titles to champion. Sonic R was incredible for the time, providing transparency effects supposedly impossible on the Saturn hardware. It was so solid-looking, it could have passed for an N64 game, which at the time was something pretty special to boast about.
But even so, it was Sonic Jam that really got everyone excited. Acting as Sonic Team's first experiment towards how Sonic might work in 3D, the Sonic World section of this impressive retro collection featured true 3D Sonic gameplay. Sonic Adventure would begin development for Saturn based on this engine, but later move to Dreamcast. Not that we knew that. Suffice to say, Sonic's future looked bright once again. This was awesome.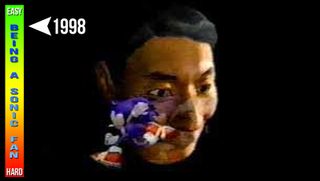 1998
Dreamcast became a reality in 1998, launching in Japan. But when you're a mere 16 years old, it's not advisable to import a new console, especially when you're consigning yourself to years of imports for region-locked hardware. So while Japanese gamers were actually playing Sonic Adventure, Western fans had to look at pictures, videos and release dates.
The image up there was the first glimpse anyone had of Sonic running on the new hardware. The 'Iri-san demo' was a tech display for the Dreamcast's special effects, and featured a fantastic-looking 3D Sonic running around Irimajiri's head. I distinctly remember getting what was game-online.com (now CVG) blocked on my college IT network for downloading a massive 12MB file. It took all of lunchtime and still wasn't done. But I could see the killer whale sequence. Oh my god, the killer whale. Yes, even better than a chocodile. The future looked amazing, and it was all about Sonic.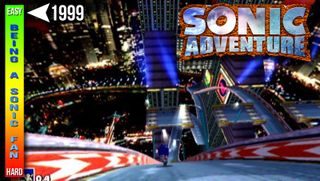 1999
After a two-week delay in Europe, It was November by the time Dreamcast launched. I attended the midnight launch event in my local GAME store, bringing home my beautiful new Dreamcast and loading up Sonic Adventure. It was sensational. As the official Dreamcast Magazine UK said at the time: "One day, all games will look this good. Right now, only this does." They were absolutely right.
Suddenly being a Sonic fan was incredibly easy again. Sure, the game had bugs from its frantic development cycle, but compared to the competition, Sonic on Dreamcast was literally in a different league. PS2 wasn't even out at this point, meaning the choice was either jaw-dropping visuals like this (above) or something on PlayStation. One.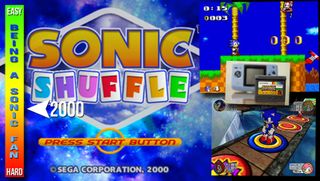 2000
After Sonic Adventure in 1999, Sonic went quiet for a bit. Dreamcast received an abysmal Mario Party clone called Sonic Shuffle, which I have only ever played once. Even though I still own it. And here began the problem with Sega starting to put Sonic's name on different game genres, when previously he had only really gone platforming and racing.
At least handheld Sonic was superb. Neo Geo Pocket's 16-bit architecture may not have been able to replicate the Mega Drive's parallax backgrounds, but Sonic Pocket Adventure was like a megamix of Sonic and Sonic 2. It had come out in Japan the year before, but when Neo Geo Pocket hit the UK and then promptly died on its bum, it was easy enough to pick one up cheaply and enjoy one of Sonic's best side-scrollers.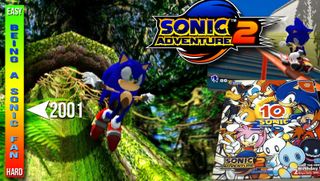 2001
It was a bittersweet 2001. On the one hand, Dreamcast was dead after just two incredible years on the market. But on the other hand, it went out with a bang. Sonic Adventure 2 may not have been the most consistently great game, featuring all kinds of strange mission levels to break up the 'proper' Sonic levels. But, boy, was it a looker. Textures were maxed out, frame-rate was super-smooth... and Sonic turned on the style once more.
Japan even had a special edition version of the game, to celebrate the hog turning 10 years old. It was a milestone, certainly, and everyone looked back and thought 'crikey, I'm getting on a bit'. But the crest of the wave started by Sonic a decade previously had now broken and was sucking backwards into the sea again. Sonic was in trouble and everyone knew it.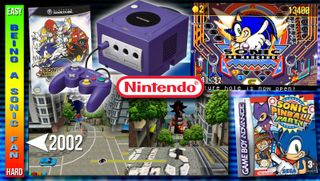 2002
By 2002, Sonic games were exclusive to Nintendo machines. Worse still from a Sonic fan's point of view, they were superior, too. The extra grunt offered by Gamecube allowed for split-screen Sonic Adventure 2 gameplay, meaning Nintendo had not only claimed Sega's mascot for its own, it was also running him on superior hardware. Not fun for a long-term Sega fan.
Worse still, re-releases of Sonic Adventure 2 and (the next year) Sonic Adventure were being reviewed with significantly lower scores. Now the graphics weren't quite as exceptional, Sonic's gameplay was proving lackluster. At least Sonic was having a riot on GBA, with Sonic Pinball Party whiling away many hours during uni holidays, and Sonic Advance returning to the old 2D formula in some style.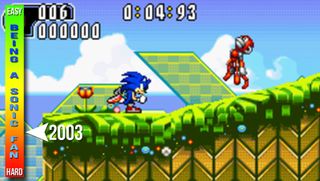 2003
2003 is not a memorable year for a Sonic fan. I remember buying Sonic Advance 2, constantly crashing into things because the screen was so far zoomed-in on the action you couldn't see what was ahead of you, and then doing pretty well off it on eBay a while later. Same goes for Sonic Advance 3.
However, at the end of the year, Sonic Heroes was released in Japan. And that signalled the start of a turnaround for Sonic's fortunes...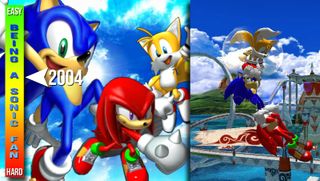 2004
Finally turning legitimately multi-format, Sonic must've really enjoyed 2004. Not only was the Xbox version of Sonic Heroes beautifully crisp and smooth, the game stayed on the top of the UK sales charts for what seemed like an eternity. A lot of people talk about Sonic Heroes disparagingly, but honestly, it was the best Sonic game since the Mega Drive originals.
Of course, it made a big deal out of Sonic's 'friends' (and enemies in fairness), which did make Sonic fans wish he could just return to the spotlight on his own once in a while. The voice acting was cringe-worthy too. But at least the action was slick and enjoyable. Put it this way: It wasn't a complete embarrassment.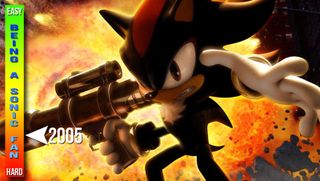 2005
FFS. Well, at least my copy legitimately developed a disc-read error on the first night, allowing me to take it back for a refund the next day. "Do you want another copy?" "Nah, mate, you're alright."
Well, at least it couldn't get any worse...
2006
Oh god. Well, let's just say it's very telling that Yuji Naka left Sonic Team in mid-2006 to start his new studio, Prope. Mercifully, I didn't pay 50 for Sonic The Hedgehog when it was released, although I did S-rank the demo. I actually avoided it until the Xbox 360 had installs, then bought it second-hand.
It remains the only time I have ever taken a game back to the shop and pleaded with the assistant for a refund simply because the game was so bad. And no, I haven't cropped the picture badly up there. The needle is off the scale. You can't defend the indefensible. What a disaster. By now, I was working at GamesRadar. At least there were other things to look forward to. Like PS3...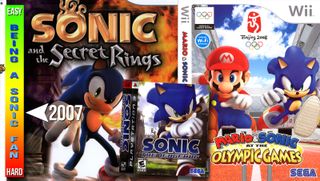 2007
Firstly, after the UK PS3 release was delayed, it's sad to say 'Sonic 2006' also left its smeary mark on 2007 as well, appearing on PS3 as a launch title. Shudder. But 2007 will be remembered for happier reasons. Sonic & the Secret Rings (changed from its original title 'Sonic Wild Fire, which I liked) was a neat little game, full of cool music and absorbing visuals.
But it was also the year that Sonic and Mario first got together in the same game. There it was, finally after all those years of playground arguments. Sonic and Mario were best buddies. Sure, they were competing against each other, but Sonic was clearly just humouring the plumber. As though Mario stood a chance in the 100m dash against Sonic the Hedgehog who turned blue when he broke the sound barrier with his bare feet.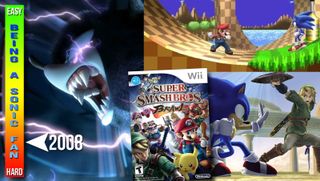 2008
Also known as 'year of the were-hog'. It's a shame, really. The were-hog was only put in the game to make it longer, as the development cost for the Sonic levels (which were legitimately awesome) cost too much to sustain an entire game. But everybody remembers the were-hog. And everybody laughed at the were-hog. And subsequently, everybody laughed at Sonic.
Annoyingly (again), it was Nintendo who was showing everyone how it should be done. Sonic's stage, look and feel in Super Smash Bros. Brawl was sublime, looking exactly how Sonic should look in 3D. How was a Sonic fan supposed to condone the were-hog, when Nintendo itself clearly had the right idea. Could the answer really be to let Nintendo make a Sonic game? Entertaining such thoughts went against everything a Sonic fan believed in. Yet it sounded the most logical course of action.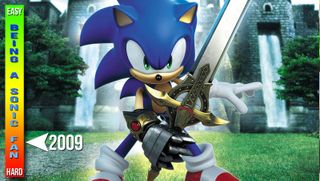 2009
It was a quiet year for Sonic in 2009. He did get a sequel to Secret Rings in the shape of Sonic & the Black Knight. A game that I played the first two levels of, got the point where Sonic says 'well, you can't be the good guy all the time' and turned it off in disgust. Sonic, I don't even know who you are any more.
Beside that, there was another Mario & Sonic... but the gaming world seemed to be leaving poor Sonic behind.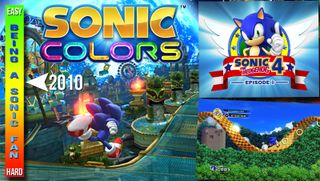 2010
Sonic Colors promised to return to 2D Sonic's roots while embracing the 3D gameplay of recent years. And it almost worked. It was a shame it was only released on Wii, as the standard def resolution didn't make the wonderful levels look their best. The physics were off, too, which was something I was moaning about on GamesRadar at the time. Especially when fan-made games were moving more like Sonic than Sonic himself.
All this came to a head with the release of Sonic the Hedgehog 4: Episode 1. The first numbered Sonic game since 1994, it was really an amalgamation of best bits from the old 2D games. Me? I loved it. The depth of control those crazy physics offered made for one of the best speedrun games I've ever played. The nuance of control remains sensational. Not that anyone else saw it that way... But anyway. Sonic also appeared in Sonic & Sega All-Stars Racing, which was ace. So things were looking up all-round.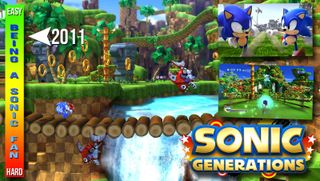 2011
Finally! This is more like it! Finally it felt like being a Sonic fan was being rewarded, as Sonic Generations embraced everything that was great about the last 20 years of Sonic. The opening 'modern' version of the Green Hill Zone remains possibly Sonic's finest hour, combining razor-sharp 3D gameplay with jaw-dropping 3D sections. OK, so the control still wasn't great at low speeds, but once the game hit its stride, Generations was legitimately sensational.
2011 also saw a sensational port of Sonic CD that finally brought a classic Sonic hardly anyone played back into the spotlight. Magical stuff, whether on iOS or console. Easy to recommend.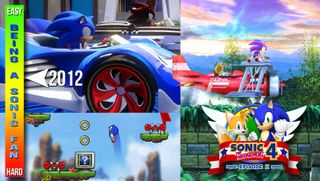 2012
Sonic the Hedgehog 4: Episode 2 was released in 2012. I played through it and enjoyed it, but I doubt we'll be seeing Episode 3 any time soon. Or ever. After clamouring for Sonic 4 for so long, I'm sorry to say I no longer really care. Odd.
I do care about Sonic & All Stars Racing Transformed, which I finished on PS3 and then played through again when Wii U came out. After keeping his finger in so many gaming pies, it seems like the best ingredients have stuck to old Sonic's fingers. Except, perhaps for Doodle Jump clone 'Sonic Jump'. Which is OK. Still, solid-to-great isn't bad at all for a year of releases.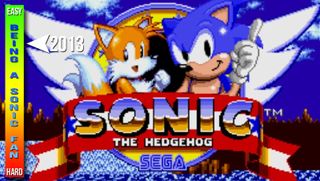 2013
How things change in 22 years, eh? Look--now Tails is in the title barrel too! No, really, this is one of the highlights of a Sonic fan's 2013, seeing the iOS version of the game completely overhauled using Christian Whitehead's Retro Engine. A wonderfully gentle yet barnstorming conversion and one that makes Sonic the Hedgehog still feel fresh after all these years.
But of course, the year is not done. And in a scant few hours, we will discover how well Sonic Lost World fares on Wii U and 3DS. Me? I already know. So make sure you check GamesRadar for the definitive verdict.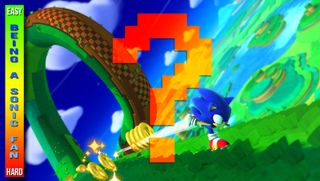 But how has it been for you?