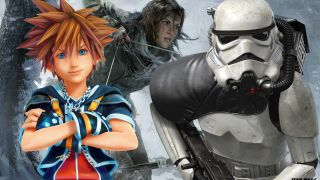 Show's over, folks
Every year, game developers from all around the industry show off their games on the E3 show floor. Sometimes we see games that will be out in the wild in just a few months, other times we get very early looks at games coming years down the line. Then there's the glitzy press conferences, revealing new titles and hardware, and those memorable E3 moments that come out of them. Needless to say, it's an exciting and entertaining time.
The show is finished for another year, but E3 2015 had plenty of surprises. The Last Guardian finally emerged from its cave. New games like Horizon were revealed. Even Fallout 4 finally came out of hiding. There are a ton of new games to keep track of, and that's why we've put all the biggest games we saw at E3 all in one place. Take a look at the following slides to see the games that made an appearance this year.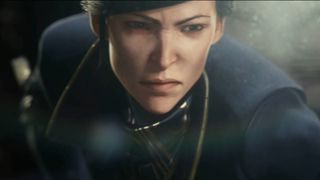 Dishonored 2
Dishonored 2 is real, and we've finally got our first look at the game during Bethesda's E3 2015 press conference. From what we've seen so far, Corvo Attano isn't the only playable protagonist - he's joined by his apparent successor / trainee, Emily Kaldwin (the little girl from the first game), who's all grown up and has her own supernatural powers and assassination skills. The trailer shows that her abilities won't be exactly the same as Corvo's, either: Emily's able to transform into an inky, tentacle-like cloud. Needless to say, we're looking forward to seeing more as we get closer to the release date early next year.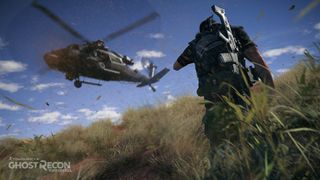 Ghost Recon: Wildlands
The Ghost Recon series has always been about going into a mission, fighting through a linear, objective-based path, reaching your goal, and getting the heck out of the combat zone. Now it looks like all of that's about to change in Ghost Recon: Wildlands. Rather than having levels revolving around singular missions, the entire world is open to you as you systematically take down evil drug cartels. There are outposts to liberate, crime bosses to capture, and, of course, hostages to rescue. And you won't have to do it alone, either: you can have up to four players for co-op cartel-bustin'.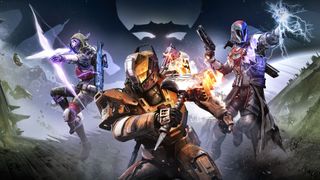 Destiny: The Taken King
The third Destiny expansion has been revealed, and this time, Crota's daddy Oryx is coming to enact his revenge on the Guardians of the Traveler. With a truckload of new items, additional subclasses, and missions to undertake, there will definitely be more to do. But Bungie is promising that all those new additions will make the game feel different as well. The Taken enemies are a fresh take on the opposing races that the Guardians have been facing since vanilla Destiny , there are challenging new bosses to overcome, and there'll be a extra raid and multiple strike missions for players to tackle. Plus, a Destiny: The Taken King Legendary edition will be released alongside the expansion. There hasn't been a better time to jump in to Bungie's shared-world shooter.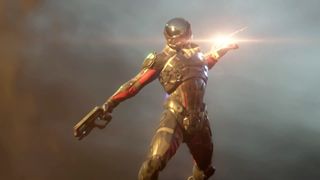 Mass Effect: Andromeda
When Johnny Cash's 'Ghost Riders in the Sky' started playing over an image of an arid desert at the beginning of EA's conference, it almost looked like the publisher had managed to snag the rights to Red Dead Redemption 2. That is, until, the scene changed to a computer screen cycling through multiple photos, then to a space-ship accelerating at high speed, then to the Mako and Citadel towers and oh my God it's Mass Effect! The trailer was over almost as soon as that realization landed, with only enough time left for Mass Effect: Andromeda to flash across the screen, but it definitely made an impact. Now we know the new Mass Effect's name, and we know it's on the horizon. For many of us, that's enough to pass our joy threshold.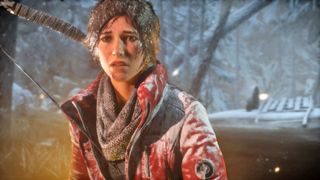 Rise of the Tomb Raider
The new Lara got her first taste of adventure in 2013's Tomb Raider. For the sequel Rise of the Tomb Raider, she has some experience under her belt - and from the look of things, Lara is transitioning from survivor to full-on tomb-raiding adventurer. Rise brings back the dramatic setpieces as Lara throws herself from icy ledges, escapes incoming avalanches, and dangles from frozen cliffs hundreds of feet up. But the game isn't just about those intense moments: the developers say they're bringing more tombs into the next Tomb Raider for players to explore.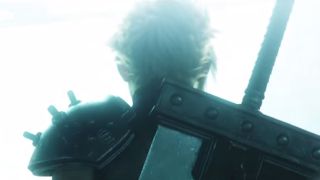 Final Fantasy 7 Remake
It's something that we all wanted to happen, but probably never, ever expected to actually be announced at an E3 press conference. And yet, here we are. The Final Fantasy 7 Remake is real, and soon enough we'll be able to play through Cloud and Aeris' (Aerith's?) adventure with gorgeous new-gen visuals. There isn't much information on the remake outside of it currently being in the Square Enix pipeline, but even so, it's hard not to get immensely excited about this historic announcement.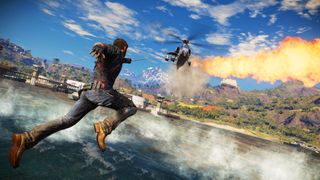 Just Cause 3
All you really need to know is yes, you have a grappling hook, and you can still make everything in the massive open-world environment erupt in flaming shards of debris. Now that the Just Cause series coming to new-gen consoles, those fiery explosions and lush islands look absolutely gorgeous as Rico skydives headfirst toward the earth. Just Cause 3 looks like the ultimate, destructible, open-world playground. You can demolish anything on the map, including fuel factories and bridges. Plus, you can spawn in a variety of vehicles and weapons at any time for maximum chaos.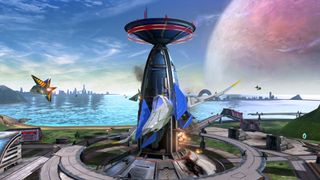 Star Fox Zero
After a barely-there showing last year, Nintendo finally pulled back the curtain on the next entry in the Star Fox series. Star Fox Zero looks to have all of the Arwing flight combat you'd expect from Star Fox, and the scenery is quite familiar as well, echoing the bright greens and blues of Star Fox 64. The trailer shows locales such as Corneria, the return of alternate vehicles like the Landmaster, and all-range-mode arena levels. Then there's the new stuff: the Arwing can transform into a bird-like walker, the GamePad screen can be used to aim from the cockpit view, and you can send out tethered drones to explore the nooks and crannies of each level.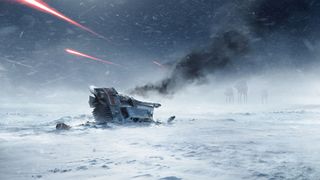 Star Wars: Battlefront
The anticipation was strong with all of us, but at E3 2015, we finally got a look at the gameplay in Dice's Star Wars Battlefront. And it is glorious. Not only was there a five minute Walker Assault game mode demo set on the planet Hoth; we also got a glimpse of the two-player co-op horde mode on the Tatooine map. With the extreme detail of the characters, environments, and sound effects, everything is spot-on Star Wars. The wait for the November 17 release date feels even more unbearable now.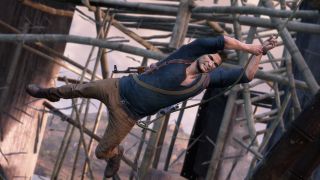 Uncharted 4: A Thief's End
Nathan Drake's thieving, treasure-hunting road is coming to an end, but not before he goes out on one last adventure. Yes, Uncharted 4 will be the conclusion to Nathan Drake's story. But whether that end will come as the hero walking off into the sunset with the love of his life, or getting chopped into little bitty pieces, is yet to be seen. What we do know is that Uncharted 4 is just as action-packed as you'd expect from classic Uncharted. And now, there's a greater emphasis on driving jeeps and exploring the game's more open environments.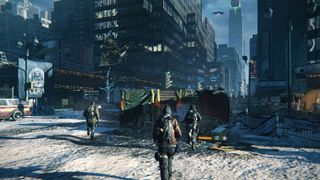 Tom Clancy's The Division
Ubisoft's open-world, co-op shooter just got much more interesting. At E3 2015, a new demo showed the game's Dark Zones: high-level areas filled with extremely tough AI enemies as well as other players who may or may not be hostile. And the demo showed off The Division's capacity for gut-wrenching betrayal. After working with another team of three players to kill some NPCs and grab precious loot, the demo team decide to ambush the rival crew and loot their corpses. It all ended with one players taking everything as he shot his downed 'allies' when they needed his help, grabbing everyone's newfound items for himself. It seems you won't be able to trust anyone in The Division's harsh world.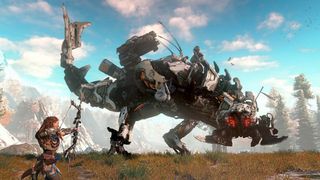 Horizon: Zero Dawn
At first glance, you might think that the story of Horizon: Zero Dawn takes place in prehistoric times. People are living in caves, there is no great civilization, and humanity's broken up into wandering tribes. As the E3 demo footage rolled on, we learned that this is actually the distant future. Our present-day cities are rotten husks, and the wilderness is filled with robotic dinosaurs. Horizon is one of the most fascinating new titles to be revealed at E3 2015, and not just for the unique setting - the gameplay looks absolutely fantastic. Just imagine how you would take down a metallic t-rex with only a bow and some arrows. Good luck with that.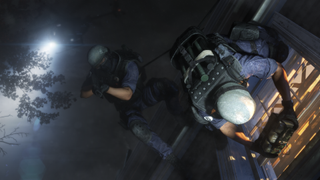 Rainbow Six Siege
Having made its debut at E3 2014, Rainbow Six Siege seems to be taking the tactical shooter genre in a new direction. As a member of a SWAT team or a group of criminals, it's up to you to prevent the other team from accomplishing their goals. As the criminals, you take a hostage and barricade yourself in various environments such as an American suburban home or a grounded plane. The SWAT players have to coordinate their attack as they bust in through windows and blow down doors (and even destroyed the floor) with breach charges. It's intense - and no hiding spot can stay safe for long.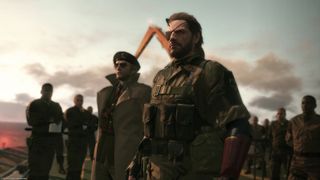 Metal Gear Solid 5: The Phantom Pain
MGS 5: The Phantom Pain is easily one of the most anticipated games of the year, and with the newly announced September release date, The Phantom Pain is shaping up to be one of the best games of 2015. Snake is back (Big Boss snake, not the Solid one) in a console prequel/sequel to the rest of the Metal Gear Solid series... except 3 (and the portable ones), which take place before MGS 5. Look, it's complicated - all you need to know is that the game looks absolutely amazing. A few things have changed in Metal Gear Solid 5. For one, the world isn't as confined as it has been in previous games. Instead, you have the freedom to approach your missions as you see fit. Snake has an entire army at his back as well as powerful companions who can join him in the field, not to mention a ton of new gadgets to mess with, kidnap, or kill guards.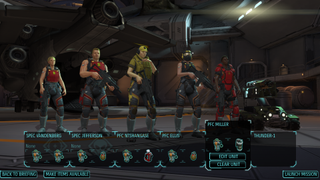 XCOM 2
The tables have turned in XCOM 2. Earth has fallen to the alien menace, and their (seemingly peaceful) subjugation of humanity is well under way. XCOM itself is now a rogue organization, having been all but wiped out during the early stages of the extraterrestrials' invasion. This new XCOM is a faster, leaner strike force that hits hard before getting the hell out of dodge. At this year's E3, a variety of new features were shown, including turret hacking and the ability to carry injured troopers to the evac point. Get ready to lose a few weeks of your life when XCOM 2 lands this November.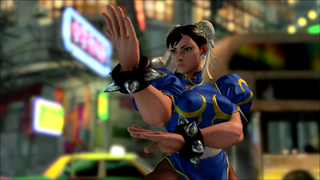 Street Fighter 5
After E3, we still have a ton of questions about Street Fighter 5. After all, the game was just announced in December and Capcom is only letting a few details and trailers trickle in here and there. We know it has classic fighters like Ryu, Chun Li, and newly resurrected Charlie Nash, plus the newly announced Cammy and Birdie. But that isn't all the fighters. The rest of the roster eludes us. We were definitely excited to see more of the game in action and we can't wait to see more of the game as we get closer to the game's Spring 2015 release date.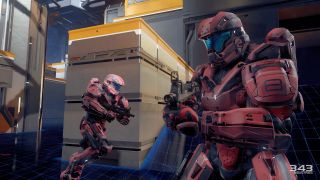 Halo 5 Guardians
Developer 343 Industries has been cranking out a steady stream of info on Halo 5: Guardians, and there was plenty revealed just in time for E3 2015. We learned that there will be a 24-player skirmish mode called Warzone, where teams face not only each other, but attempt to capture bases and defeat AI-controlled bosses. We learned that map DLC would be free, but that there will also be microtransactions for unlocking weapons, skins and more. We saw a snippet of the campaign during Microsoft's press conference, which showed off new weapons, enemies and three co-op squadmates. Every time we think we've got a good grasp on what Halo 5 is all about, we get a curve ball thrown at us. Of course, with a release date of October 27, 2015 looming on the horizon, it won't be long until we dig in and come away with a final verdict.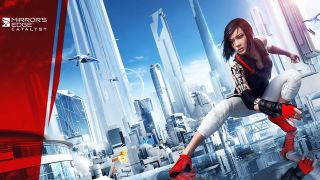 Mirror's Edge: Catalyst
There have been a bunch of games that have featured first person parkour since the release of the first Mirror's Edge, but just remember, Faith was the one who first made it cool. Revealed at E3 2015, developer Dice already has the Mirror's Edge Catalyst release date locked down: February 23. Our first look at the game reveal showed the return of the series heroine. The developers have stated that the game will re-evaluate and improve every aspect of the original, bringing players into an open world with a more advanced parkour system.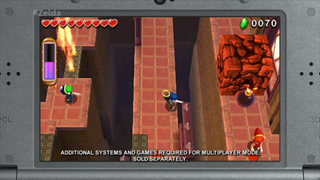 Zelda: Tri Force Heroes
Tri Force Heroes isn't the most complex Zelda game you'll ever play, but its emphasis on cooperative puzzle-solving gives it a chaotic feel that we haven't experienced since Four Swords Adventures on the GBA. When you're calling out instructions to your fellows Links and start working together to overcome an obstacle, every small victory becomes an amazing triumph. The game also does a few subtle things to encourage teamwork, such as a shared health pool and splitting up special items (boomerang, bow and arrow) between different players. Of course, if you just want to scoop up the other Links and chuck 'em off a ledge, you can still do that - but you'll only be hurting yourself.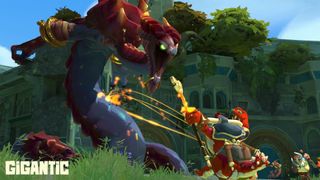 Gigantic
This imaginative team-based arena game is coming to Xbox One and PC this fall, courtesy of a publishing deal with Microsoft. Gigantic is on par with Blizzard's Overwatch in terms of colorful, vibrant character designs, and the blazingly fast gameplay blends third-person combat with the coordination inherent to a MOBA. The 5v5 team setup is pretty standard, but your objective is anything but: you and your dazzlingly animated compatriots are fighting on behalf of one colossal guardian, a larger-than-life mythical beast that needs your help to make its way across the map and into enemy territory. Of course, the opposing forces have a guardian of their own - and the battle that breaks out when the two teams meet head-on is nothing short of epic.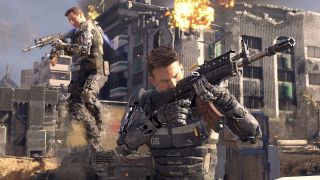 Call of Duty: Black Ops 3
Call of Duty Black Ops 3's multiplayer is all about the Specialists. You aren't just a faceless soldier roaming the battlefield, shooting down other faceless soldiers - you play as unique, futuristic Specialist characters. Each of these characters has exclusive powers, like the Viking-inspired Ruin's ground slam or the robot Reaper's ability to reverse time. It seems the MOBA genre's DNA has gotten into the Call of Duty series. And if you're worried that these new abilities will muck up the CoD multiplayer experience, don't be: it still plays and feels like Call of Duty, just with a little extra flavor on top.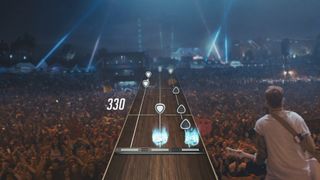 Guitar Hero Live
Guitar Hero is making a comeback with Guitar Hero Live. Veterans of the series are sure to feel right at home with the scrolling note rhythm gameplay, but everything isn't the same as it used to be. For the new gen game, the guitar got a redesign, sporting 6 total buttons on its neck. The presentation has changed quite a bit as well, giving players a first-person perspective of stepping on stage to a live action audience. Can the new Guitar Hero usher in a resurgence of the music genre? We'll just have to see when the game releases on October 15.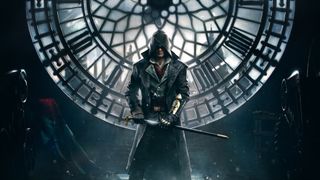 Assassin's Creed: Syndicate
Assassin's Creed: Syndicate is set during the Industrial Revolution in England, an era when street gangs ruled and back-alley rumbles were how people settled their differences. You play as siblings Jacob and Evie Frye as they fight the Templar order for control of the city, one piece of turf at a time. To do that, you'll use your gang to take on rivals in street brawls, hijack carriages to drive through the massive open world more quickly, and execute your targets in brutal close-combat battles that make multiple hidden blades a necessity.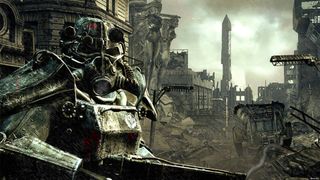 Fallout 4
Fallout 4 that is actually happening! Bethesda ran its own press conference this year, and it was the perfect place to unveil new and improved, massive open world. Boston's wasteland features much more to do than previous Fallout entries. Not only can you explore the post apocalyptic world, killing mutants and bandits, and finding loot, Fallout 4 has Minecraft-like elements that allow you to build weapons and buildings from scratch. The game is vast, and we can't wait to get our hands on it next year.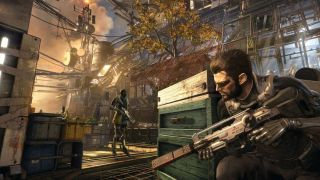 Deus Ex: Mankind Divided
Adam Jensen never asked for this, but from the looks of the Deus Ex: Mankind Divided reveal trailer, he has fully embraced his robotic augmentations and is using his powers to slice and dice his enemies to bits. A revolution has ignited, bringing together a group of augmented terrorists who are fighting against the abuse the government has brought on their kind. At E3, we finally got to see the game in action and all of the multi-path gameplay from the previous games is there. You can choose the way you want to approach your objectives, whether that be as an invisible ghost, or a trigger happy maniac.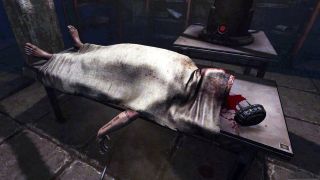 SOMA
Created by the team behind Penumbra and Amnesia (oh no) and with a design that recalls System Shock (OH NO), Soma is a game about robot evolution gone horribly wrong. You explore an underwater base where robot workers have begun to transform into half-techno, half-organic lifeforms, most of which will tear you apart on sight. But some are kinder, and if you talk to them, they seem to be of the opinion that they are human too, despite the fact that they don't last long when unplugged from a power source. That goes from creepy to terrifying when you find evidence that they might be right. Soma reveals its many horrors in September, so get ready to be afraid of your toaster for a while this fall.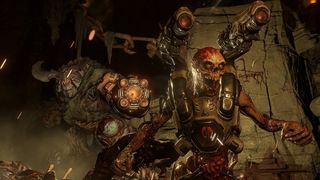 Doom
Forget monster closets and dwindling flashlight batteries - those are so Doom 3. The next chapter in this legendary 'one man against a legion of Hellspawn' FPS franchise is looking amazing, and from what Bethesda's shown of the gameplay, it recaptures the nonstop action of the original DOS games. Of course, it's got plenty of new stuff, too: gut-wrenchingly brutal melee kills, even bigger Cyberdemons, and loads of custom content creation with the new Snapmap tool. Whether in single- or multiplayer, this Doom is sure to get the blood pumping - possibly in a spray out of the other end of a demon's spine.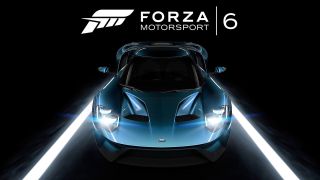 Forza Motorsport 6
Microsoft has been dedicated to bringing regular installments of the Forza series, and has already revealed that the next title, Forza Motorsport 6, is in development and was shown on the E3 show floor. The game looks fantastic. Not only do we have a hard time telling the difference between the digital cars and their real life counterparts, Forza 6 is adding quite a few new features. Players will be able to play as woman drivers, there's wet weather racing that uses real puddle physics, and tuning and customization are more intricate than before.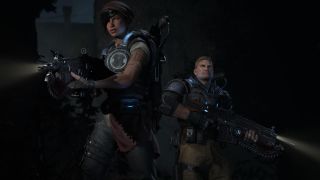 Gears of War 4
Microsoft finally broke its silence on the next game in the Gears of War series with a pretty lengthy gameplay trailer during its E3 stage show, depicting a man and woman (apparently named JD and Kait) wandering through an abandoned city before being attacked by a bunch of spine-shooting creatures. Gears of War 4 isn't planned for release on Xbox One until holiday 2016, so Microsoft is saving plenty of details to keep fans wondering until then. But for now, The Coalition studio head Rod Fergusson says to expect a return to the darker, creepier tone of the original Gears of War.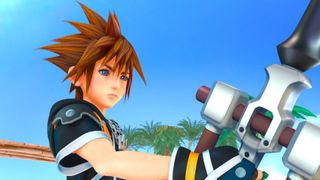 Kingdom Hearts 3
The crazy train that is Kingdom Hearts 3 picked up a bit of steam at this year's E3, with a new trailer that was light on details and heavy on bombastic, over-the-top setpieces. We're talking weaponized Disney rides - such as roller coasters, swinging ships, and the ever popular teacup ride - mowing down swaths of Heartless. Sora's Keyblade can apparently transform itself into several oversized super weapons that spew fireworks all over the screen. And all this was punctuated by what appeared to be a young Master Xehanort and Master Eraqus playing a needlessly complicated variant of chess. Kingdom Hearts 3 is going to be a Disney-sized spectacle, but that's about all we know for sure.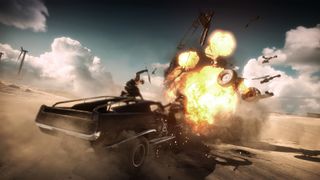 Mad Max
The post-apocalyptic world of Mad Max is a desolate wasteland where having precious resources like water, working weapons, and gasoline determines whether you live or die. In the Mad Max game, you play as Max as he attempts to survive the harsh, open-world environment full of bloodthirsty raiding parties that drive nitrous-fueled, armored dune buggies. Even though the movie, Mad Max: Fury Road, is already out, we still have to wait until September to play out your wasteland driving fantasies.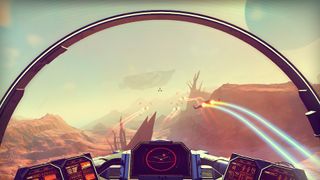 No Man's Sky
No Man's Sky blew us away when it premiered at E3 2013, thanks to its out-of-this-world massive scale. The procedurally generated universe spreads seemingly into infinity, and the chances of a single player actually exploring all of it seem slim to none. But this year, we know there's more to the game than just being really, really, really ridiculously large. Now we know how you'll make your way through the universe, and you can choose what impact you leave on the worlds you visit. You can only take scans and leave only footprints, or you can blow holes in mountains and take all those valuable minerals for yourself. But be careful, because too much destruction will anger the robo-space-police, and they'll gun you down without a second thought. All of that together sounds like a fun sci-fi adventure that doesn't take itself too seriously, and we're ready to take the first step.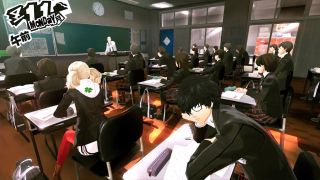 Persona 5
Once again, players will be able to take control of a high school student with the power to summon a Persona (a powerful spirit) to battle monsters, as they deal with the day to day troubles of being a teenager. This time the protagonist has a bit of a dark side, as he puts on a bird mask and performs nightly heists with a few of his classmates. The developers didn't show much of the game that was new, but it was revealed that Persona 5 will be coming to the US by the end of 2015. So that's something.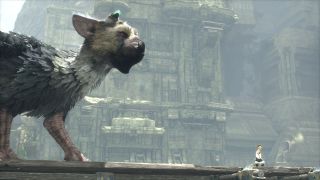 The Last Guardian
The Last Guardian is alive and well, and it's coming to the PlayStation 4. Trico and his pet boy (or is it the other way around?) are a team, looking to escape the ancient ruins that theyve found themselves in. The boy had been kidnapped under strange circumstances, and the two need to help each other to figure out how to traverse (and hopefully escape) their towering prison in the sky. From what weve seen, the boy is going to need to rely on his cat-bird-dog friend to catch him when he falls - but in turn, the boy can give his giant friend a hand as well. At least we know we dont have to wait several more years to see this game again: its scheduled to come in 2016.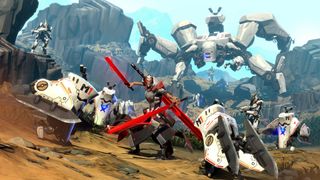 Battleborn
From the studio that brought you Borderlands (and Aliens: Colonial Marines, but let's do our best to put that out of our memory) comes a sci-fi co-op shooter with cartoonish visuals. Okay, so on paper Battleborn sounds pretty darn similar to Gearbox's (in)famously raunchy games about Vault Hunters and space bandits. But Battleborn changes things just enough by infusing MOBA-style elements to be unique, while still nailing that 'epic fun with friends' feeling. We'll find out if Battleborn is on par with the competition when it releases in winter of this year.