Fast Facts:
Deadpool 2 release date: June 1, 2018
Director: David Leitch
Cast: Ryan Reynolds, Josh Brolin, Zazie Beetz
Writers: Paul Wernick, Rhett Reese
Update: June 6, 2017 - Deadpool 2's villain will be played by Jack Kesy
Deadpool 2 is starting shooting imminently which means the Merc with a Mouth really needs someone to actually have a fight with so we don't just have him riffing with Cable the entire time. Step in The Strain actor Jack Kesey. As reported by Deadline, Kesey is playing an as yet unnamed villain. Deadline also reports that sources are suggesting that he'll play a character called Black Tom. Probably known to X-Men fans as a recurring villain in the comics since 1976, Black Tom Cassidy is a mutant who can manipulate plant life to do his bidding. He has previously appeared in Deadpool comics but all we have is rumours so far. We'll keep you updated.
Update: May 15, 2017 - Josh Brolin is SERIOUSLY bulking up to play Cable
Cable's coming, growing from the inside. Clean building from a past of donut travel to the present hard case that he is. No sugar. No bread. No pastas. The machine is being built. I'm pissed off. 😳 #cable #deadpool #ryanreynoldsismybitch #cleangrowth @justindlovato @iambuilt #fourweeksin

A photo posted by @joshbrolin on May 12, 2017 at 6:03pm PDT
Wow, look at those guns. Josh Brolin isn't messing about when it comes to his Cable training. Has anyone told him he's not meant to be as strong as an actual mutant? If you want to do the same, looks like you're ditching every happy-making carb and sugar. Yes, it makes you grumpy but just look at those muscles.
Update: May 15, 2017 - Deadpool 2's post-credits scene is going to tease the X-Force movie
Well, this is interesting. If ComicBook.com is to be believed, not one but three major Marvel comic characters will be appearing in Deadpool 2's post-credits scene to tease the X-Force movie. Feral, Shatterstar and Sunspot are rumoured to star. If you aren't au fait with X-Force, think a whole bundle of mutant anti-heroes that are a bit like the cool X-Men. Cable's been in and out, as have Deadpool and Domino.
The X-Force movie is currently in production and will apparently star Ryan Reynolds as Deadpool and Josh Brolin as Cable. In an interview with Deadline, X-Men producer and writer Simon Kinberg confirmed their presence. "We are working hard on New Mutants, Gambit with Channing Tatum, Deadpool 2 and the new X Force movie where Deadpool is alongside Cable and other main characters," he said. "X Force... is a combination of Deadpool, and Cable –they're like the Black ops of the X-Men. They're much darker and have an R-rated decibel. There are other X-Men characters coming into X-Force at different times in the comic, but it's separate from X-Men." If you haven't lost all meaning of the letter X, that means a lot more Deadpool will be on our screens next year.
***Original article continues below***
Need your fix of a certain red clad merc with a mouth? Ryan Reynold's Deadpool will be back next year for even more fourth wall breaking hilarity and offensive action. After months without a Cable and a Domino we've finally got news of both castings in the shape of Josh Brolin and Zazie Beets and there's even a release date to get excited about. Put down that coffee, here's everything we know about Deadpool 2 so far.
Deadpool 2 release date has been confirmed for 2018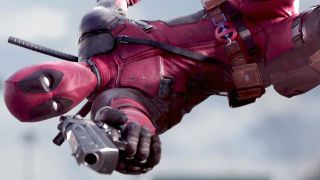 We always assumed that the movie would be a shoe in for next year but it's now been officially confirmed that Deadpool 2 has a 2018 release date. 20th Century Fox finally revealed that Deadpool 2 will release on June 1, 2018.
Fox has confirmed this morning a slew of release updates, including #NewMutants (4/13/18), #Deadpool2 (6/1/18), & #DarkPhoenix (11/2/18)April 22, 2017
Also confirmed for next year are Josh Boone's X-Men movie New Mutants and Bryan Singer's Dark Phoenix so there's going to be a hell of a lot of X-rated superhero movies if all goes according to plan. Just think of it all as a wonderful Deadpool 2 flavoured sandwich.
A start date for Deadpool 2's shooting has also been uncovered. As reported by NME, a listing on industry site My Entertainment World has revealed that shooting will start May 1 in Vancouver with the rather amusing working title of 'Love Machine'. Nice.
Deadpool 2 Cable casting has FINALLY been confirmed as Josh Brolin
Finally, after endless months of speculation, Josh Brolin has finally been revealed as Deadpool's mutant pal Cable. From Pierce Brosnan to Brad Pitt, every male actor of a certain age has been through the Cable rumour mill. Even Russell Crowe was teasing fan art at one stage. Now we can finally relax with the knowledge that Cable and, y'know, Thanos are being played by the same person. Obviously Deadpool himself has something to say about that.
The fuck, Fox! You can't play 2 characters in the same universe!! Josh Brolin was in Sicario and I was in Sabrina The Teenage Witch. pic.twitter.com/AQCRp1aWKgApril 12, 2017
At least, unlike the Domino reveal below, Reynolds didn't feel the need to spell out Brolin's name in actual Cables. The actor might have found his social media match in Brolin who has already started sharing behind the scenes pics on Instagram of his prep for Cable. Going by the hashtags, it looks like we're going to see a lot more like this before release.
You know, just meditating. #deadpool2 #clostraphobiarocks #ryanreyondsismybitch #umguys

A photo posted by @joshbrolin on Apr 18, 2017 at 12:53pm PDT
Oh, you thought the other one was gnarly. Ha! #discipline #billcorso #nomoreeffincookies #citoratsuperhero #breathingisforpussies @bcorso @cce_inc

A photo posted by @joshbrolin on Apr 18, 2017 at 4:47pm PDT
Deadpool 2 teaser trailer reveals quite a lot of Wade
Oh look! All new moving pictures of Deadpool. Released on Ryan Reynolds' YouTube channel, No Good Deed is our very first Deadpool 2 teaseraaaand of course we get a nice clear view of the Merc with a Mouth's rear pressed up against the glass of a phonebox. It's not insignificant time-wise either. None of that three second teaser nonsense. You've got a full three minutes forty of unadulterated Deadpool and even a joyous cameo. Oh and what's with the Firefly poster, guys? Enjoy it above.
Deadpool 2's Domino has been revealed as Zazie Beetz
Ryan Reynolds has finally revealed in his own inimitable style....
Domino Effect. pic.twitter.com/ILEnTcW7fYMarch 9, 2017
Yep, funnily enough, they're dominos and they spell out the name of newcomer Zazie Beetz. Also, just in case the black and white spots weren't obvious enough, Reynolds followed his first tweet up with the below.
Zazie Beetz Effect. pic.twitter.com/Kvtyk1aI7OMarch 9, 2017
25 year old Beetz has previously starred in Atlanta as Donald Glover's girlfriend Vanessa but this is her first blockbusting role. In an interview with IGNDeadpool 2 writers Rhett Reese and Paul Wernick revealed that Beetz was cast because of her chemistry with Ryan Reynolds. "She, you know, in the read and in the test she went toe-to-toe with Ryan and that's not an easy task, he's such a brilliant actor," Wernick said. "She kept pace with him and that's reason enough to see how that plays out over the course of the next movie and franchise."
Deadpool 2 story sees Cable join the merc with a mouth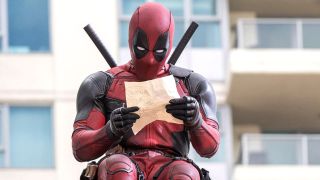 If you aren't hopped up on comic lore, all you need to know about Cable's origin story is that it's seriously convoluted. Nathan Summers - AKA Cable - is the mutant son of X-Men leader Cyclops and X-Men antagonist Madelyne Pryor - that's Jean Grey's clone - and then there's the time travel.... Returning writers Paul Wernick and Rhett Reese are aware of the complexity of the situation and, in an interview with , revealed that they're going to have to take out a few of the twists and turns.
"So with Cable, he's got such a convoluted past, and such a convoluted origin story that I think we're going to try to leave that, not mysterious, but there are a lot of twists and turns, cloning and all this stuff where you go, "Oh my God. How do we get that across in a two hour movie?"" says Wernick. "I think we're going to distill him down to his essence. It will be authentic and faithful, but it's not going to include the 18,000 details if you were going to read a Wikipedia page about Cable you'd roll your eyes."
Deadpool 2 cast will include 3 fan favourites from the original movie
Also confirmed to be present and correct for the smart-talking sequel are the Stefan Kapicic voiced Colossus and Brianna Hildebrand's Negasonic Teenage Warhead. It's unclear exactly how much of the movie they'll be in but in an , the writers said that the pair will "make at least an appearance." And yes, beady-eyed human, I said three fan favourites above and that's because Reese and Wernick, in another interview with Nerdist have revealed that Dopinder the taxi driver - played by Karan Soni - will make a triumphant return. "We've got to get him his own spin-off," said Wernick. Right. Less jokes, more writing, guys.
In terms of other X-Men, there won't be a full on crossover for Deadpool 2. "It's a timeline that will eventually catch up I would imagine," Wernick said in a Playlist interview . "But [X-Men producer] Simon's more the keeper of that universe and maybe we'll see more X-Men playing in Deadpool's sandbox and probably Deadpool playing in their sandbox at some point." Well that all sounds fun and sandy but God knows what Deadpool would do in their sandbox if given free rein. Clue, it probably wouldn't be making a castle.
Deadpool 2 director is John Wick's David Leitch, not Tim Miller
One of the biggest shockers in the run-up to production was the news that Deadpool director and effects mastermind Tim Miller had departed the second film. At the time this was rumoured to be down to creative differences with Miller wanting to make a bigger budget sequel but in an interview with CG Garage reported on Collider, Miller cleared up some rumours.
"I just want to say one thing to the geek audience out there, because it's important to me what the geeks and nerds of the world think because they are my brothers and sisters," he said. "I didn't want to make some stylized movie that was 3 times the budget. If you read the internet — who cares, really? But for those of you who do, I wanted to make the same kind of movie that we made before because I think that's the right movie to make for the character. So don't believe what you read on the internet."
He didn't quite explain why he did leave but it wasn't what's been said online and in the same interview he says he only has the best wishes for the sequel: "I wish them nothing but good - I hope it's great. I hope it's a great movie. Because I love the character and I think it's great, and I love all the actors and I want to see them successful again."
Miller's replacement is John Wick director David Leitch whose explosive action sequences attracted Ryan Reynolds. "Everybody was just a fan of his work," he tells Entertainment Weekly. "He's just a guy who's so muscular with his action. He also really understands those Deadpool sensibilities and where we need to take the franchise from here. And I love John Wick. One of the things that David Leitch does that very few filmmakers can do these days is they can make a movie on an ultra tight minimal budget look like it was shot for 10-15 times what it cost." Given that Deadpool 2's budget will be considerably higher than Wick, it's going to be exciting to see what Leitch gets up to when he's not directing dog revenge.
Deadpool 2 plot is going to be "as provocative and startling as the first film"
Don't panic about Deadpool 2 being any less controversial than the original. Producer Simon Kinberg says the sequel isn't going to water down Ryan Reynolds motor-mouthed merc. "The goal for us when we sat down and started talking about it was it needs to be as provocative and startling as the first film which means it can't just be a continuation of the first film," he tells . "It has [to] tonally and stylistically be as fresh and original."
The team is also focussing on keeping the production small. This isn't just going to be seas of things going boom after the success of the first. "That's the biggest mandate going into on the second film: to not make it bigger," says Kinberg. "We have to resist the temptation to make it bigger in scale and scope, which is normally what you do when you have a surprise hit movie. But actually stay true to the tenets of it's [sic] the tone and the style and the humor that make it so special — it's not the explosions and the special effects."
Related Deadpool 2 news
Deadpool 2's post-credits scene could introduce a trio of mutants and set up an X-Force movie
Deadpool 2 finds its Cable in Josh Brolin - yup, Cable and Thanos are now the same person
Deadpool 2 gets a 2018 release date (along with two more X-Men spin-off movies)
The Deadpool 2 writers want Hugh Jackman to cameo... but not as Wolverine
The newest Deadpool 2 Cable casting rumor is a doozy: Brad Pitt
Deadpool 2's Domino got the role because she could go "toe-to-toe" with Ryan Reynolds
Deadpool 2 is bringing back three fan-favourite characters from the original movie