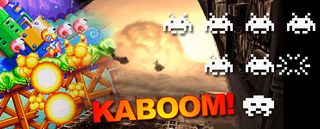 Welcome to the explosive side of video games
If there's one thing developers know we like, it's explosions. Sure, you could argue there's only so many things that can explode in a Call of Duty game before we get explosion fatigue, but that doesn't stop games getting packed full of them. But while we're used to pretty particle effects, dynamic lighting and blah blah blah, it wasn't always like this. So let's look back at explosions through gaming's history. Be warned - the first slide is very ugly. But it does get better.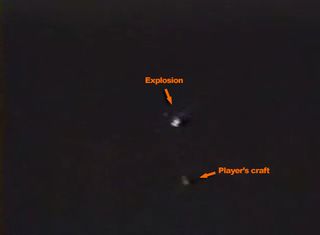 1962 (ish) - Space War!
The first true video game? Suffice to say there's no direct feed footage from the original to take screenshots from, so you'll have to trust us that this mangled mess of blurry pixels is an explosion. Must've been incredible at the time. *cough*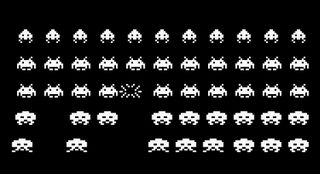 1978: Space Invaders
The grid of invaders in this arcade classic could easily pass for pop art. Which is pretty much how we'd describe the explosion. It's a pop in pixel art. Minimalism at its finest.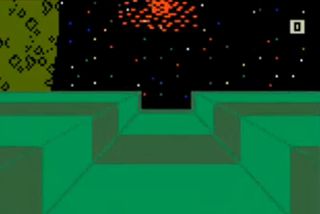 1981: Star Strike
How much more like Star Wars can you get before George Lucas' lawyers come knocking? Zoom down the trench run... sorry, I mean 'surface of the alien planet' and try to stop the aliens before they destroy Alderaan... sorry 'Earth' in this Intellivision classic. Fail and this happens. That mess of red pixels USED TO BE OUR PLANET. Gulp!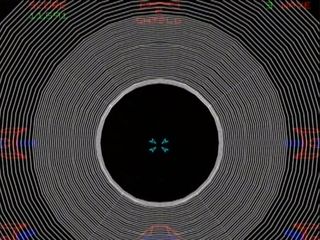 1983: Star Wars (Arcade)
Come 1983, vector graphics were all the rage, allowing the most realistic simulation of X-Wing combat imaginable - and in your local amusement arcade too. This explosion? It's the freakin' Death Star, of course! Who needs its souped-up demise from the special edition re-release of the movie? This is so epic it even changes colour. Are you seeing the progress yet?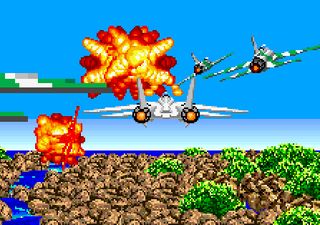 1987: Afterburner II
Not that different from Afterburner 'one', but this is the best version. And look at those hand-drawn explosions go! They even scale smoothly thanks to the super-scaler technology that also powered Space Harrier and OutRun. But these explosions are far bigger than Space Harrier's, especially when your own plane explodes right in front of the camera. Or when it disintegrates along the ground. We love that one.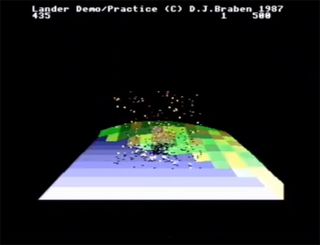 1990: Lander
This pack-in demo of Zarch (later Virus) came with every Acorn Archimedes computer. Our school had one, meaning we got our first taste of flat-shaded polygonal 3D when we should have been learning speling. Or sumfing. The explosions were beautiful, with single pixel particle effects that even turned blue if they touched the water. Even more beautiful when you didn't have speakers. In space no-one can hear you explode.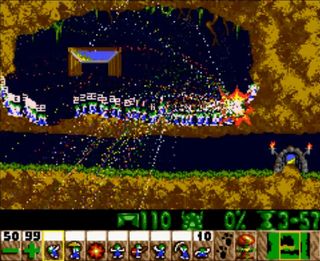 1991: Lemmings
Explosions in Lemmings? Yes, but not the firey kind, really. The game came with a nuke option that turned all of your Lemmings into Bombers. This was either to allow you to quit a level or to detonate remaining blockers that were unable to reach the exit. But the real fun came from packing the Lemmings into as small a space as possible and doing this. Maniacal laughter is optional.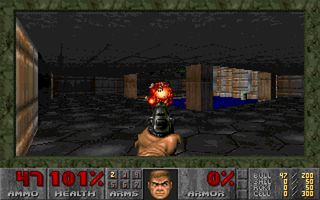 1993: Doom
Doom had exploding barrels. They didn't catch on. One of these sentences is a lie. However, it's worth noting that even at this early stage, splash damage hurt enemies in the vicinity and even blew objects around, causing chain reactions - which the player could unwittingly find themselves caught in. That'll learn ya.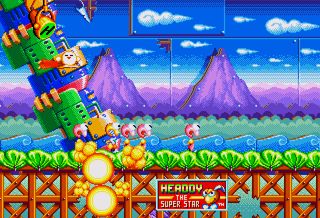 1994: Dynamite Headdy
Not Treasure's greatest moment, but the stylised explosions in Dynamite Headdy are worthy of a place in this list. Using Treasure's trademark technique of having many small and simply-animated sprites combing to create something greater than the sum of its parts, the explosions here are classic video game fare - and they were smooth, too. Very nice.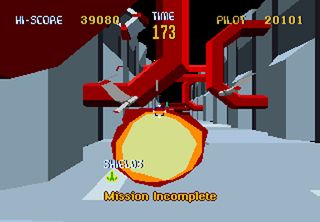 1994: Star Wars Arcade
1994 was a big year for gaming in general as the industry heaved itself out of the 2D era and stumbled with wide eyes into the world of 3D opportunity. This Sega 32X game featured yet another trench run, but also some flat-shaded explosions that fitted the art style nicely. But they weren't that authentic, in all honesty. Real Star Wars explosions don't look like coloured paper.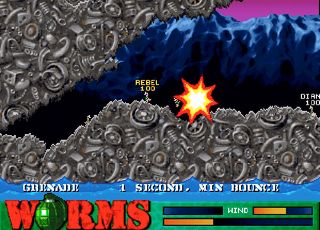 1995: Worms
The explosions in Worms may not have been very big (though the cluster bomb was pretty devastating), but it was the impact they had on the way the game played that made them unforgettable. Every blast chipped away at the scenery, allowing gamers to create hiding spots... or simply blast their opponent clean off the screen... (*adopts high-pitched voice*) "Excellent!"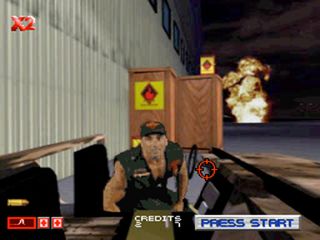 1996: Area 51
Everyone was crazy about digitised images in the mid-nineties. Can we see the attraction now? Er... no. Especially when 'explosions' like this are laid over pre-rendered backgrounds, looking like someone's stuck them on afterwards. We'll never complain about modern games again. Probably.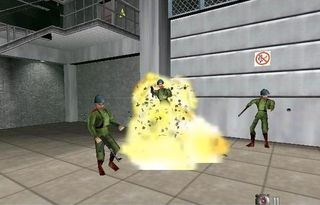 1997: Goldeneye
This N64 classic contained so many explosions, it even featured them on the game's box art. But what made these stand out so much was the sneaky special agent way you could use them. Detonating carefully-hidden remote mines in multiplayer remains one of gaming's most gleeful moments. Looksh like he er... hash an exshplosive temper. Sh.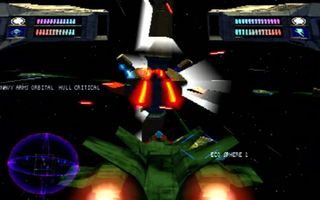 1997: Colony Wars
PSone's rather ace space shooter had some sweet minor explosions when destroying enemy craft, but it was the bigger targets that truly shone. Quite literally, in fact. Once shields have been breached and the fuel chambers compromised, shafts of light emerge from the fractured hull, before a screen-filling explosion of white light. Beautiful.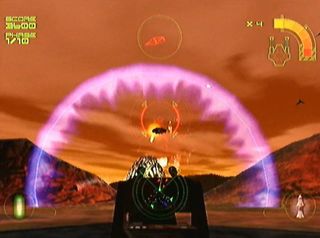 1998: Incoming
Special effects in games were starting to get really good come 1998 and Incoming was full of them. Explosions with purple shock waves surrounded alien craft that disintegrated into their component polygons (pictured here at the bottom), making everyone who saw it say 'ooh' and 'aah', like Eric Cantona fans used to do at Old Trafford.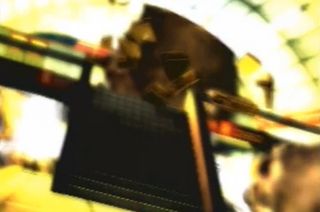 2000: The Bouncer
This was the first PS2 game from Square and a launch game for the system in Japan in late 2000. Most memorable is the scene where a runaway train crashes into a station, resulting in a massive fireball. However, the first trailer for the game at TGS in 1999 was markedly superior to the final, blurry version seen here. The blurring is deliberate, mind. Thank goodness other PS2 games didn't follow suit.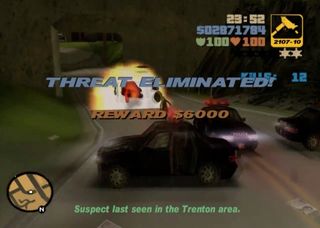 2001: Grand Theft Auto III
There are many, many reasons why PS2's first truly massive hit was so compelling. The open world, the ability to rampage through an entire city... but there's no denying the way cars exploded was a huge part of the appeal too. First the smoke, then the tell-tale flames... then the fuel tank ignites with this pleasing outcome. Chaining together explosions with a row of cars was sublime then - and still is.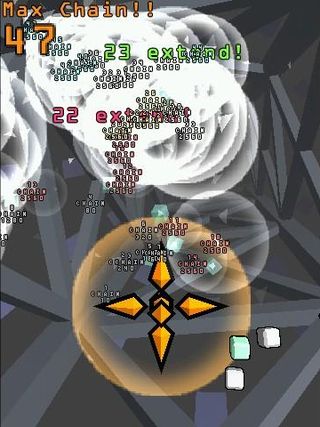 2004: Every Extend
Every Extend (and its many sequels) uses explosions as a key part of its scoring system. The idea is to make the blast of each explosion catch another object in its radius, triggering another blast. The more you clear in one go, the higher your score. It all looks rather lovely too, especially in the later games.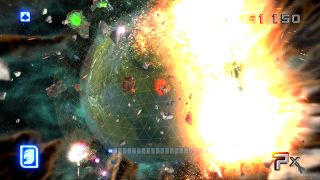 2006: Super Stardust HD
Super Stardust HD's explosions are beautiful. But there's a reason they're included over every other twin stick shooter. They now support 3D. And if you want to show off a new 3D TV to any non-believers, the one game that might just make them say 'wow' is this. Just let a rock hit your ship and watch their mouths hit the floor.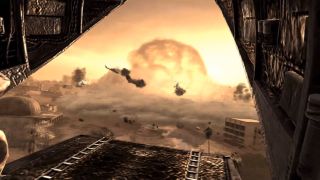 2007: Call of Duty 4: Modern Warfare
The most memorable video game explosion of all time? Definitely. Huge, unexpected (unless you have spoiler-loving friends) and as harrowing a scene as we've ever seen on our gaming screens, this nuclear blast is shocking. Not to mention a graphical tour de force.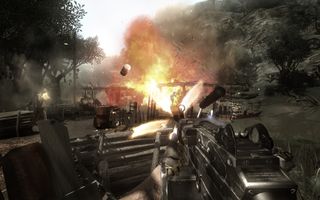 2008: Far Cry 2
Not only are the explosions in Far Cry 2 model examples of barrel physics and what-have you, they even start fires. Fires which can spread into fields, moving with the wind. These are proper explosions that behave as explosions should. Must've been to Explosion obedience classes. Yup.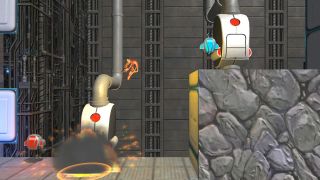 2009: 'Splosion Man
The dude explodes to jump, explodes to kill and explodes to... well, pretty much do anything, really. Probably even explodes to explode. And we love him for it.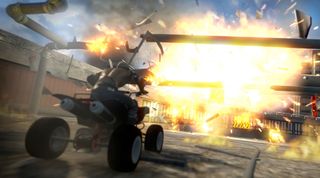 2011: Motorstorm Apocalypse
The fourth game in the Motorstorm series may have been underwhelming, but it was BIG on explosions. The apocalyptic setting saw cities crumble and explode as you raced. But the explosions have earned their place here by being unrealistically frequent. Even a minor prang can see your vehicle go up like it's packed full of particularly volatile dynamite. So just in case you're as explosioned out as we were after playing this game, here concludes our brief history of explosions.
But there are thousands of games in existence, approximately 84.8675% of which have explosions in them. So tell us - what's your favourite explosion in gaming? To get you started, I'll admit - mine's the 3D one from Super Stardust HD. Hey - each to their own, right?