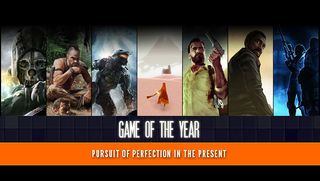 The best games of 2012
What makes a Game of the Year? Measuring up review scores is one often-cited way of going about it, but that doesn't quite do it. Review scores are, after all, first and foremost purchasing advice, seeking to answer the question "Is this game worth your time and money?" So what question does Game of the Year seek to answer? We'd put forth: "Is the industry most benefited by the release of this game?"
This year's contenders hail from nearly every established genre, and some are so innovative to have created genres all their own. Each and everyone has made significant contributions to the future of the industry, be it the emergent narrative found in Far Cry 3, the exhaustive multiplayer suite of Halo 4, the profound narrative in The Walking Dead, or the emotional resonance of Journey. But which rose above the rest? Read on.
Continue on after the Game of the Year nominees to see the nominees and winners for the best RPG, fighter, shooter, indie, action adventure, and handheld games of 2012.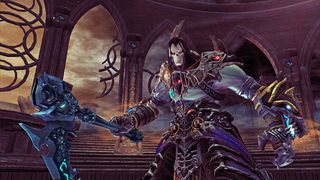 Darksiders II
By all accounts, the original Darksiders was a pretty solid Legend of Zelda clone that told a reasonably interesting story and had potential for the follow-up. Considering that its publisher, THQ, has all but collapsed in the two years since that game's release, it be easy to write off Darksiders II and forgive Vigil for delivering a follow-up that fell flat. Boy, would that have been a mistake.
Not only did Darksiders II double down on the original's puzzle-heavy action adventure gameplay, it introduced a compelling and complex loot system and completely blew out the combat mechanics. And it did all of this while dramatically increasing the size and scope of the game, bringing in high-quality voice-actors to deliver on a humorous and largely cohesive storyline. Darksiders II didn't do anything earth-shaking or innovative, but what it lacked in originality, it easily made up for in sheer fun.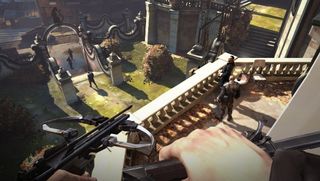 Dishonored
How do you take your revenge? Warm, with a burning hatred and a bloodlust that guides your sword through enemies' throats? Or cool, with a calculating calm and humane mercy for those who wronged you? Dishonored's Corvo Attano became an extension of your ruthlessness or forgiveness, effecting change through the streets of Dunwall as you eliminated assassination targets through murderous or imaginative means. The game let you make things right your way, as you stealthily act from the shadows to restore a matriarchy and your title of Lord Protector.
From the ridiculously deep lore and complex characters, to the open-ended levels and empowering mobility, Dishonored does so much right its astounding. Whether you had a penchant for slicing open guards, menacing Tall Boys, and horrific Weepers alike, or preferred nonlethal chokeholds and Blink-jumping across buildings, Dishonored delivered nothing but engrossing gameplay. Deftly blending the supernatural abilities of Bioshock, the rooftop-running parkour of Mirror's Edge, and the badass stealth takedowns of Batman: Arkham City, there's something in this first-person masterpiece for everyone.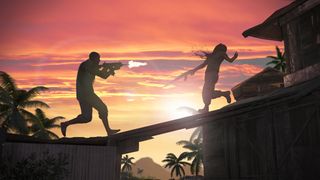 Far Cry 3
No one creates living, breathing worlds better than Ubisoft, and no Ubisoft game has been as successful at doing it than Far Cry 3. It's a game of dynamic unpredictability--if not absolute reality--where a randomly generated narrative unfolds in a unique way for each individual player. Round a corner, and there may be a gang of ruffians having a shootout in the streets. Come back later, and the surviving gang may be fending off, unsuccessfully, a jungle tiger.
Far Cry 3's emergent narrative is matched by its equally enthralling scripted narrative, one that delves into the nature of insanity with fresh characters and real insight. Yes, the remote island locale can be absurd, and the lead character's latent gifts of Rambo-ism leave no room for disbelief, but it's hardly important. Exaggerating a point often brings it into sharper focus, and in this way, games have the most potential. Far Cry 3 capitalizes on that potential.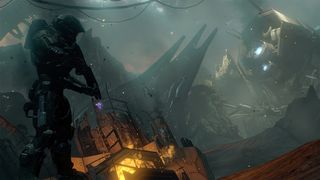 Halo 4
In a world of increasingly grey, increasingly narrow shooters, Halo stands firm as a proud guardian of the old(ish) ways. Its colourful vistas remain vast and awe-inspiring. Its battles remain wide and resolutely free-form. Its weapon-set is defiantly varied and creative. As for those fears of franchise decay as a result of the mantle-pass from Bungie to 343 Industries? The new studio has smashed any doubt into a tiny crumpled heap and kicked it into the path of a charging Spartan Laser.
And for all the authenticity, Halo 4 is a real fresh start for Master Chief. With a stunning new engine, it blows away any preconceptions of what the aging Xbox 360 can do. And beyond the surface level, 343 has achieved the seemingly impossible by humanising the Chief without reducing his stoic badassery by one iota. Halo 4 is a damnably exciting game in itself, but as a promise of whats to come its absolutely thrilling.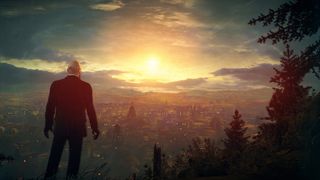 Hitman: Absolution
Agent 47s skills arent limited to his ability to kill without remorse. His real strength, the thing that makes him more than a hired gun, is in being adaptable. Regardless of the situation, 47 is immaculately professional, faultlessly creative, and wholly capable of finding the perfect way out of any position. Its here that Hitman: Absolution shines: in giving 47 more tools he needs to accomplish anything.
With the addition of Instinct Mode, youre able to find your way into places that otherwise might be impossible to get to, and thanks to Point Shooting a group of impassable guards is simply another hurdle 47 can leap. New stealth missions might seem out of place at first as 47 moves through crowded train stations or apartment buildings, but they help to flesh out the interesting, stylish plot that makes past games narratives seem sterile in comparison.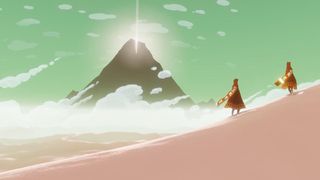 Journey
Give Journey three hours, and you'll see the future of the industry. An emotional tour de force, thatgamecompany's masterpiece marries sight, sound, and movement in a way that no other game has and all other games should. It sets a new high-water mark in narrative design, innovating in realms as disparate as online connectivity and color theory. It is truly a landmark achievement.
All that said, Journey is absolutely a polarizing experience. Many who play it will come away feeling little to nothing at all. They'll agree that, yes, it's pretty... in the way snowboarding games can be. But what is all this about happiness and sadness, disappointment and anger? Surely, anyone who reads so much into the game is simply projecting on to it their own desires, since Journey brings very little of anything to the table.
Whose interpretation is correct? Time will tell.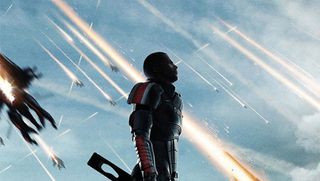 Mass Effect 3
Endings are sad even when theyre happy because it means theres nothing left to see. Its over. And though the fleeting moments of Mass Effect 3s final chapter didnt live up to expectations for an ending, complaining about those few scenes is missing the point--Mass Effect 3 was all ending. From the moment Shepard blasted away from a war-torn earth until the credits rolled, Mass Effect 3 was winding down two games worth of stories, plotlines, and expectations, and it did a damn fine job of it.
The gameplay, which started off weak when the series began, reached a point of near-perfection, allowing the developers to deliver the most exciting encounters the generation had seen. Every mission Shepard went on had the potential to explode into a massive set-piece battle, with gripping action that folded well into the apocalyptic story of lifes last stand. Even more impressive was the wave-based multiplayer, which turned out to be shockingly addictive to the point where we still find ourselves jumping back in for one more round, helping continue humanitys last stand.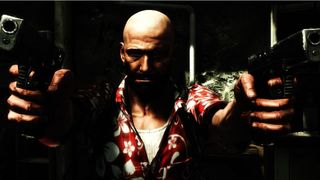 Max Payne 3
More than a decade since the original Max Payne introduced the beauty of bullet time to gamers and the return of Rockstars perpetually down-on-his-luck cop again turns the noisy, mechanical business of repeatedly shooting men in the face into a finely tuned art form (of repeatedly shooting men in the face). Gliding horizontal through the air in glorious slow motion, fists blazing like pumped-up fire crackers, is as satisfying as it ever was first time around, while the addition of a kill cam turns the fatal journey of the final bullet into a mesmerising display of death--the sickeningly satisfying sound of projectile penetration, a heavy shower of blood, and the perforated target acting out their dying spasms according to the consistently entertaining laws of ragdoll physicality.
In other games shooting men in the face is an objective carried out with chore-like efficiency, but Max Payne 3 makes shooting men in the face a spectacle--an unashamed, high-caliber party popper celebration of gamings love affair with gun-based brutality.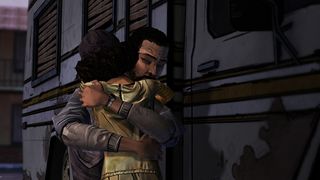 The Walking Dead
After playing so many of its episodic adventure games, we thought we knew what to expect from Telltale Games, but the developer proved us wrong with a series based on the popular comic book. The Walking Dead strips away all of the pretense and expectations you have of gaming, leaving players with a raw tale of survival in the face of impossible odds. The Walking Dead is about tough choices and harsher consequences thanks to a design that makes the player feel incredibly invested in every new, dark turn.
The Walking Dead puts players in the role of Lee, a man with a past thrown together with the few living he can find in the zombie-strewn wasteland. Most of all Lee has to protect Clementine, the young girl he finds early on, and that leads players to make some incredibly tough decisions, ones that will stick with them long after each episode ends.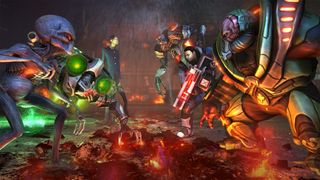 XCOM: Enemy Unknown
It seemed like XCOM was on the standard path for current gen by transitioning to an FPS, but a funny thing happened on the way to market. The developers behind the Civilization series created their own XCOM update, one that was remarkably respectful of what made the strategy series so memorable in the past, while making it feel current even on console.
The turn-based game put you in charge of the remainder of humanity struggling to push back an alien invasion. Every situation is dire and filled with tough choices, whether it's placing your sniper at the best vantage point or choosing to spend your last $100 on one of three necessary engineering projects. XCOM: Enemy Unknown surprised many by being one of the deepest games of the year and impossible to put down once you got in the zone.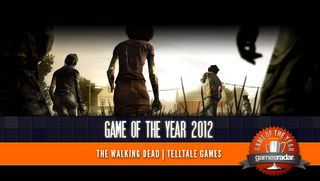 And the winner is... The Walking Dead
Yes, a licensed zombie game by the developer of those Sam & Max games is the best game of 2012. No, we didn't see it coming, either. We didn't expect to be immediately drawn into the crumbling world. We didn't expect to to think that the choice-driven gameplay would be incredible alluring. We didn't expect to find Lee Everett, convicted killer, to be interesting, complex and relatable. And we didn't expect to care for Clementine more than we had ever cared for a video game character.
Telltale's The Walking Dead is a triumphant leap forward for storytelling. Not just video game storytelling, mind you--all storytelling. The Walking Dead is a game that should inspire the industry, proving just how well the medium can be used to craft a compelling narrative even when it leaves big action behind. Though games like Journey, Dishonored, XCOM, and Halo impressed us in 2012, none were as powerful as Lee and Clementines relatable tale of survival.
Want to see more about why we picked The Walking Dead? Check out the video below.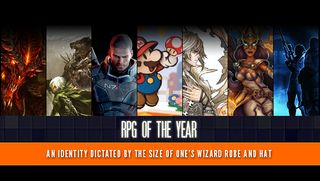 RPG of the year
For a genre that isnt as high profile as it once was, role-playing games had a particularly strong year in 2012. Heres an easy way to measure how good it was: Great adventures like Pokemon Black/White 2, Xenoblade Chronicles, and Final Fantasy XIII-2 didnt make the cut for this feature. (Oh, and Persona lovers--sorry. Remakes, no matter how good, aren't up for the award.)
There were engrossing loot quests Diablo III and Torchlight 2. Guild Wars 2 reignited the impressive MMO series for audiences new and old. Paper Mario: Sticker Star and The Last Story proved that JRPGs can evolve in interesting ways. Mass Effect 3 was the epic conclusion to one of the biggest trilogies this generation. And XCOM: Enemy Unknown took one of the most hardcore franchises in gaming history and made it mainstream while staying true to its roots. Finding a winner out of these seven wasnt easy, as youll see when we take a closer look at our entrants...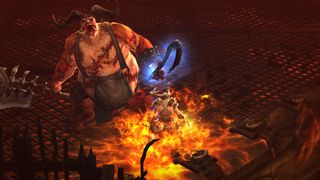 Diablo III
We have romantic memories of teenage years spent murdering the demon lord of hatred. Wed warp through his temple, clicking until he was blown to green and gold and yellow pieces that wed gather with haste ad infinitum. Diablo III wasnt a retelling of those memories, and some people hated it for that. But there was brilliance found in Blizzards sequel, and it wasnt in the ways it was similar to Diablo II, but the ways it was different.
Physics made the primal act of clicking feel incredibly powerful, letting us truly inhabit the pixels of our digital avatars. Brilliantly rendered environments carved the world of Sanctuary into existence, and stellar lighting coated it in reality that made it feel like an actual, tangible place. The new skill system was revolutionary, and made for an incredible amount of customization without overcomplicated skills and menus. Diablo III might not have been the sequel our teenage selves would have asked for, but that doesnt detract from how brilliantly made it is, and how much fun we had playing it.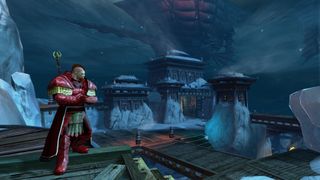 Guild Wars 2
Sometimes the best way to innovate is to ignore the past and forge forward, unencumbered by the shackles of expectations. Thats the direction ArenaNet took with Guild Wars 2, a game that eschewed nearly every genre norm in order to move the MMO forward. Everything from the pay structure to the way classes interact has been completely revamped, making for one of the most accessible MMORPGs ever released.
But thats not even what earned it a spot on the list of the best RPGs of 2012. Its Guild Wars 2s take on questing that really makes it stand out among its contemporaries. The days of clicking on exclamation points is over, replaced with a free-form, exploration-based questing model that lets players approach leveling the way they want. Better yet, the games ability to downscale anyone at any time means even the idea of being too high a level to play with friends is antiquated.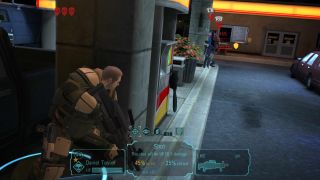 XCOM: Enemy Unknown
A few months ago, XCOM felt like a series lost to time. Its style of hardcore, demanding gameplay was fine for PC players of the mid-to-late 90s, but that couldnt actually please current gamers, particularly those that reside on consoles. XCOM is probably better off getting rebooted as an FPS, right? Instead, 2K Games and Firaxis took that weathered franchise, updated it for consoles without leaving behind its most addictive qualities, and gave the world XCOM: Enemy Unknown.
XCOM: Enemy Unknowns brutal battle between humans and alien invaders is tough but fair even on Normal settings. Every victory is earned through careful planning, skill, and reflexive actions. Each turn on the battlefield was a new intense scenario because one wrong move would spell disaster for your entire squad. To top it off, the planning and resource management outside of fighting was almost as engrossing, making XCOM the perfect game to steal away an entire weekend.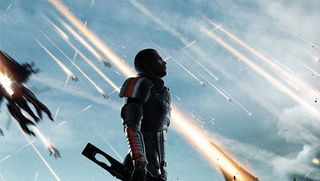 Mass Effect 3
Mass Effect 3 can be a supremely depressing game, even if it is also a tour de force of epic storytelling and frenetic combat. Five years after BioWare launched its epic sci-fi RPG franchise, Commander Shepard has nothing left to do but muster the known universe's armies in a last-ditch bid to halt the Reaper's cyclical destruction of all sentient life. Friends will die, whole species will die, all because of the decisions that you must make for the greater good.
A powerful and complex storyline, of course, has come to be de rigueur from any BioWare game. Combat, not so much. With Mass Effect 3, though, the developer at last found its footing in the FPS genre, melding RPG-caliber variety with finely tuned shooting to deliver an intricate and intense experience. Good enough, in fact, to easily support what turned out to be a surprisingly successful online mulitplayer component. So much for BioWare being a one-note studio.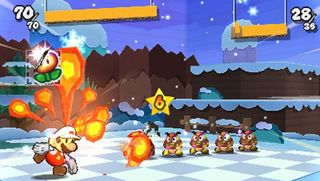 Paper Mario: Sticker Star
Many RPGs are infamous for pushing away players with too many rules and exposition at the outset, sometimes taking hours to truly begin. The Paper Mario games have always been aimed at streamlining that experience and Paper Mario: Sticker Star is the most simplified entry to date. Dropping much of the RPG artifice made its best qualities--combat, humor, art, soundtrack--shine brighter than ever, but it keeps an emphasis on gameplay and story that are a big part of why we love the genre.
Equipment, attacks, spells, magic points, and more RPG traditions are replaced in Sticker Star by the countless stickers that Mario uses to battle enemies with his action-oriented style of turn-based combat. The puzzles in the games also took on the same clever tone of the series, with solutions like using a goat sticker to eat all the garbage in an area. If the results were always such memorable games as Sticker Star, RPGs would break the rules more often.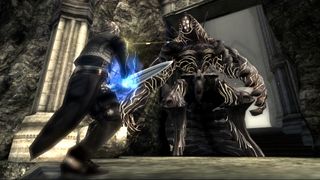 The Last Story
The Final Fantasy series is currently going through a strange transition in a gaming landscape that isnt as hospitable to Japanese role-playing games as it once was. And while it searches for an identity, the former Executive Producer of Final Fantasy, Hironobu Sakaguchi, quietly pushed forward JPRGs with his understated, but ultimately very important game, The Last Story. Likely one of the last quality game released for the Wii, it was a stirring sendoff for the system.
The game revolves around Zael, head of a group of mercenaries trapped in a war between countries where no ones intentions are quite clear. The world and character designs are gorgeous, as is the soundtrack by Nobuo Uematsu. The tale is told without the bloat the genre sometimes suffer from, and the combat in particular has an interesting immediacy that combines real-time attacks with unique abilities that let players dictate the flow of the action in creative ways. The Last Storys gripping (if linear) plot definitely draws on the history of JRPGs, but it defies expectations often, showing that the genres evolution is far from over.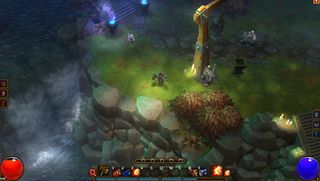 Torchlight II
Dungeon crawlers, at their core, are about heading deeper and deeper into the depths of the unknown, slaying hordes of demonic monstrosities, and snagging all the coins and shiny toys that spew from their corpses. Torchlight II nails that formula with its slick presentation, logical loot progression, and limitless end-game content that'll keep you coming back for more.
While its four classes may fall under typical archetypes, each is imbued with a an atypical twist; the two-handed heavy-hitting Engineer, for example, can summon allied robots for support, while the pistol-wielding Outlander relies heavily on firearms instead of bows for ranged damage. You'll frequently find equipment upgrades, face down tons of unique bosses, and, upon completing the campaign, gain access to the "Mapworks." This zone presents dozens of randomized maps for you to explore and find more gear--and in the event you get bored with it, you can always check out the bevy of community mods.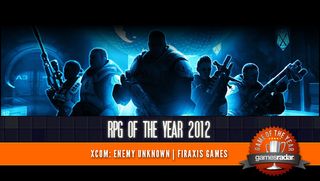 And the winner is... XCOM: Enemy Unknown
Out of the surprisingly strong crop of RPGs this year, only one was so heavily embraced by the GR staff--played for dozens hours. From the strategy to the controls on down to unforgiving difficulty, XCOM: Enemy Unknown proved that its classic gameplay not only still had a place in gaming, it could be one of the best titles of the year.
For all the praise we could heap on the balance or the restrained way the grim setting is established, XCOMs greatest strength is in its addictive replayability. Similar to what Firaxis has done with its Civilization games, we played XCOM thinking, Just one more turn just one more turn for hours on end. Any game that can pull that off deserves some sort of honor, and fortunately we have just the prize to award it.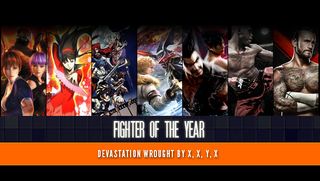 Put up your dukes and prepare to fight
Whether you have a passing fancy for arcade-style fisticuffs, or youre a hardcore fan with thousands of combos stashed in your neural networks, youve got to agree that the future of fighting games has never looked brighter. 2012 didn't start a revolution in the fighting game scene--but it definitely rode the wave of greatness that's been surging through the genre over the past few years. With a potent mix of 2D and 3D contenders, each with their individual strengths, this years releases proved that fighters have graduated from niche status to a genre that's alive and kicking.
Now before you get your form-fitting gi in a bunch, you should know that remakes were off limits for 2012s genre awards; that means no Virtua Fighter 5: Final Showdown. With that in mind, lets take a closer look at the fighters that are eligible for this tournament of 2012 supremacy--and may the best fighting game win.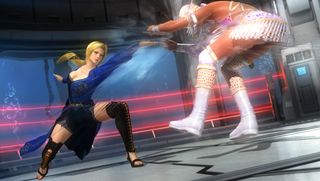 Dead or Alive 5
The return of the Dead or Alive franchise strived to present gamers with fighting entertainment--and it delivered in spades. Evolving past a mere fetishization of ninja dudes and large-breasted ladies, this new breed of DOA made the environment as significant a factor as the fighters themselves. The 3D brawling that defined the series is still as much bombastic fun as ever, but the stellar quality of the games presentation gave it the air of a big-budget kung fu flick. Youll be on board the second you participate in a Tag Battle and see your scrappers double-drop-kick the poor opponent. And the inclusion of some fan-favorite Virtua Fighter stars was an unexpected bonus.
Those snarling tigers, electrified grates, and incoming tank shells in the background werent just for show, either: Get slammed onto the wrong side of the arena by a Critical Burst, and one of these inventive stage hazards is liable to light you up. It supercharges every match with a cinematic sense of excitement, where a derailing train or crumbling construction site merely sets the stage for the frenetic brawling.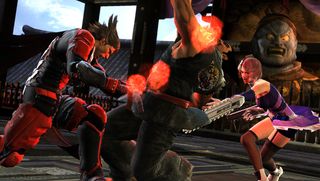 Tekken Tag Tournament 2
Tekken fans have waited ages for a follow-up to one of the best arcade tag battles--and Tekken Tag Tournament 2 makes the wait indubitably worth it. With a staggeringly humongous cast of brawlers and the same wall-bouncing, floor-smashing fighting that series fans adore, its pretty much the best Tekken title money can buy. Few things in gaming are as satisfying as the sensation of chaining a massive combo with well-timed tag-ins, or slapping your opponent silly when theyre cornered in one of the vivacious arenas.
The music alone has the power to get anyone hyped, in addition to the heavy hitting combos. TTT2 also delivered the World Tekken Federation, a fully-integrated online profile that gets far less credit than it deserves. By grouping all your habits, specialties, and pugilistic preferences into one place, along with the stats for the best players around, it offers a wealth of invaluable info for those looking to up their Tekken skills. That kind of innovative feature is exactly what we want to see more of in the fighting game scene.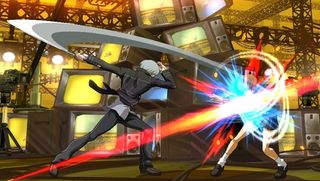 Persona 4 Arena
Turns out, RPG premises can make for utterly enthralling fighting games. Taking the much-adored cast of chipper high school students from Persona 4 (and a couple from Persona 3) and dropping them into a 2D anime fighter was a stroke of Japanese genius, creating a hybridized game thatll appeal to fans of either genre. Developed by the minds behind the beloved BlazBlue and Guilty Gear franchises, its a given that the core mechanics would be fine-tuned to perfection. But the way the game incorporates the Midnight Channels intrigue and shows such love to its characters is a large part of what makes it so special.
With dozens of hours of story-based content, this is one of the few fighting games you could play just to see the new, canonical plot unfold. Each character in the just-the-right-size roster plays wildly different from one another, utilizing nifty gimmicks in addition to their show-stopping Persona summons. With gorgeous sprites, impressive character balance, and a mirror-finish level of polish, its pretty much the whole fighting game package with some delicious RPG sprinkled on top. And oh, that music--bestill our Japanese-pop-loving hearts.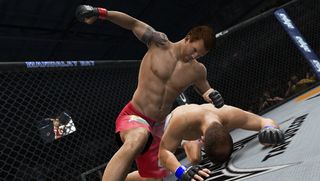 UFC Undisputed 3
Theres something immediately relatable about a fighting game where kicking someone in the head is one of the worst things you can do to them. Youre not ripping out hearts, or throwing fireballs at enemies--youre simply beating the snot out of them. Maybe thats why some of us prefer the UFC series of games to its more complicated contemporaries, even if its not as technical as a game like Dead or Alive or Tekken.
That doesnt make it any less fun, though. THQs latest (and final) UFC game improved over the past titles in every way, iterating and polishing every mechanic to near-perfection. Theres bountiful content thanks to the inclusion of Pride mode, and improved controls made it so anyone could pick up and play the game without wading through a sea of of tutorials. And hey! It even managed to include a fairly competent submission system, the white whale of MMA games. That, alone, is worth celebrating.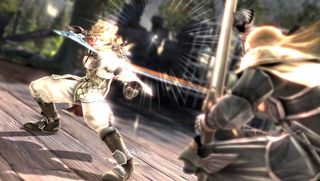 Soulcalibur V
After Soulcalibur IV failed to reposition the series as a top fighting game amongst its peers, Namco bounced back with Soulcalibur V. The weapon-based combat was stronger than ever, simple enough to grasp but with crazy combos and flashy attacks just beneath the surface. Meanwhile, the roster received a major update thanks to the plot jumping forward 17 years, adding 10 new characters to the series--a considerable number for a franchise as well-established as SC.
Though the story wasnt all it could have been, the devs more than made up for it with a much-improved character creator mode, and the online was similarly refined compared to the previous edition. Add to that the welcome (and surprising) playable guest appearance of Assassins Creeds Ezio and some sensational super attacks, and you have the best Soulcalibur in years.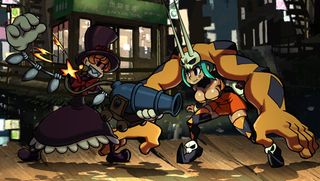 Skullgirls
Equal parts zippy style and technical complexity, Skullgirls is an American-made heir to the Japanese gold standard for fighting game development: by hardcore 2D fighting fans, for hardcore 2D fighting fans. This all-girls fighter might not have the ridiculously huge cast of games like Tekken or Marvel vs. Capcom--but what it lacked in roster size, it more than made up for in panache. The living-comic-book aesthetic and silky smooth animations are infinitely easy on the eyes, and the inimitable femme fatale pugilists spanned the spectrum from sexy ninja nurse to horrific mutant nun.
Being able to balance your game for anywhere between 1v1 and 3v3 bouts is a tremendous feat in and of itself, but Skullgirls pulls it off with grace. And, if were being honest, homicidal tyke Peacock is probably one of the most refreshing fighting game characters weve seen in the last decade. Once we witnessed her bevy of zany, old-timey animations--including chucking bowling balls, firing a sword out of her revolver, or exhaling cigar smoke out of her eye--we were instant fans.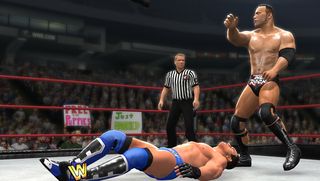 WWE 13
Some might argue over whether the fake fighting of WWE isnt as real as some of the other nominees on the list. But wrestling matches have winners, losers, and finishing moves, so thats good enough for us. WWE 13 did a great job of re-establishing the sports entertainment franchise after publisher THQ ditched the SmackDown brand last year. But for all the advancements in Create-A-Superstar, online play, and match pacing, WWE 13s greatest strength was in its tribute to wrestlings storied past.
Current champ CM Punk may be the cover star, but the real attraction is Attitude Mode, WWE 13s campaign that takes players on an interactive tour of WWEs late-90s heyday. Dozens of wrestlers of that era are included, from champs like Stone Cold Steve Austin on down to lesser-known stars like Gangrel, which is why the game boasts one of the deepest rosters THQ has ever had. Even with virtually no competition in the realm of wrestling games, WWE 13 proves the series isnt ready to slow down yet.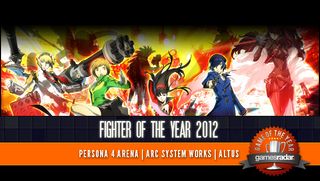 And the winner is Persona 4 Arena
With the exception of Skullgirls, which offered everything that could fit in a downloadable title, nearly every title on this list is part of a well-established fighting franchise. But Persona 4 Arena tried something refreshingly different--the adaptation of an RPG in fighting game form--and absolutely nailed the execution. Few new fighting games have had this strong a debut, delivering on the graphics, sound, control, and balance fronts so stunningly well without a preceding game to iterate upon. Blending BlazBlue with JoJos Bizarre Adventure and sprinkling a bevy of unique mechanics on top, P4A stood out from 2012s parade of fighting game sequels.
No two contenders in the games P-1 Grand Prix play quite alike, and they stray far outside the bounds of your typical fighting game archetypes. Healing, ranged gunplay, magnetized boxing, smashing fools with a folding chair--youll encounter all of these inventive styles as you fight your way through the trippy, supernatural dimension of the Midnight Channel. P4A shines with everything that makes 2D anime fighters great, bringing together two unalike genres under one gloriously chaotic roof.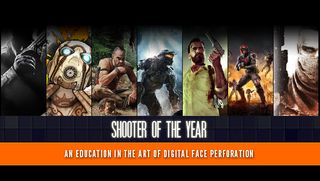 Lock and load
What makes for a great shooter? The "shooting" part of the equation plays a rather large role, to be certain--but most games in the genre pull that off effortlessly. Multiplayer is another important (though inessential) element, but how does one stack hours spent competing against others online to standalone single-player experiences that bring something new to the table? You can't quantify lasting impressions.
2012 brought a lot of subtle evolutions to the shooter genre. Call of Duty: Black Ops II introduced a branching campaign and refinements to the multiplayer; a new Halo trilogy was kicked off by a new developer; Spec Ops: The Line made us question the morality of our virtual wars; and Far Cry 3 thrust us into an island of insanity where chaotic encounters occurred in natural, organic ways. There's a lot worth celebrating in this year's offering of shooters. So join us as we give a nod to those that we enjoyed the most, and crown one as 2012's shooter of the year.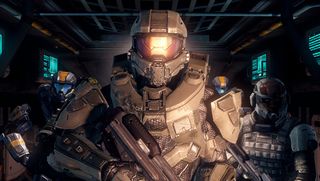 Halo 4
The industry has undergone somewhat of a shift since Halo 3 released in 2007. Series-leader Bungie left Microsoft to chase its destiny at Activision, and Call of Duty has experienced an explosive rise to become one of the largest game franchises of all time. Expectations were sky-high for Chief's first tour of duty after his years in stasis, and his return isn't just good; it's absolutely triumphant.
343 Industries created a better Halo game than Bungie ever did--one that pushes forward a compelling, interesting narrative without sacrificing the massive battles the series is known for. Halo 4 is everything Halo fans want from a Halo game from top to bottom. It's the complete package, mixing together a strong campaign, amazing multiplayer, and fantastic cooperative play to strengthen the franchise, creating a bright future for Master Chief's continued journey.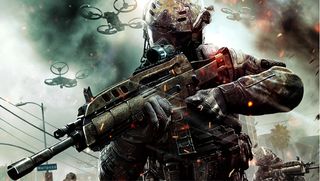 Call of Duty: Black Ops II
Treyarch could've just taken the Call of Duty formula, regurgitated it, and sat back while the coffers overflowed. But instead, the developer created one of the strongest shooter offerings this year. The campaign's near-future setting had a branching story with various endings that encouraged multiple playthroughs, and the futuristic weapons were a breath of fresh air.
Of course, some of the most important changes came in the form of multiplayer changes. It received vast improvements in balance and player customization with the new Pick 10 and Scorestreak systems, and Treyarchs signature Zombies mode also evolved, turning into nearly a stand-alone game with the addition of Tranzit, Grief, and Custom survival. Even the bonus features, like CODcasting and the updated Theater mode, helped raise the game even higher above the standard shooter. Its tough to find a game that's as complete a package of Black Ops II.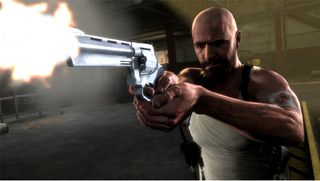 Max Payne 3
Poor Max Payne, that guy always draws the proverbial short end of the stick. But at least he finally got a shot at redemption in Rockstar's Max Payne 3, where the cynical ex-cop ditched the badge in favor of a smooth-sailin' bodyguard gig. Unfortunately for Max (but fortunately for us), it wasn't quite as easy as Max thought it would be.
Max Payne 3 is a tale of personal redemption; in it, Max discovers his alcoholic, self-destructive tendencies make him incapable of even the most basic of tasks. He must ultimately come to terms with the horrible events that define his life in what is easily the franchise's strongest outing. Max Payne 3 still includes series' staples--such as Bullet Time and shoot-dodging--while embellishing everything with a bit of Rockstar flair. Cut-scenes are edgy, the noir-style monologues are clever and rich, the multiplayer is surprisingly decent, and the shooting is some of the most gruesomely brutal and responsive we've ever seen in a third-person shooter.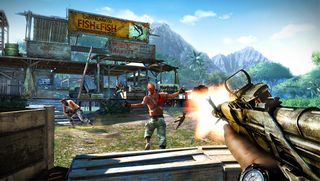 Far Cry 3
Maybe it's when you take out a group of hostile pirates without ever getting caught; or, perhaps it's when a duo of pissed off bears tears through an enemy compound, mauling everyone in sight. But at some point you'll be overwhelmed by the realization that Far Cry 3 is unlike any shooter you've ever played.
Between the expert performances of the psychotic Vaas--one of our new all-time favorite villains--and the incredible variety of things to do on the hostile Rook Island, Far Cry 3 will easily soak up hours of your time. It's easy to get lost wandering the island, liberating encampments, activating radio towers, and hunting down wildlife to gain access to useful upgrades. Far Cry 3 is masterful in its pacing and mission variety, and the way the allies, enemies, and animals on the island clash to create organic moments of chaos means your playthrough will be wildly different than anyone else's.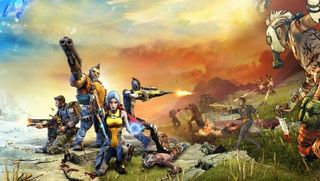 Borderlands 2
Toilet humor? Check. Awesome four-player co-op? You bet. Enough gunporn to fulfill our wildest gunlust fantasies? Absolutely. Borderlands 2 had everything that made the original so great--but it transcended its predecessor in every way imaginable. It's almost like Gearbox went down a list of our wants and desires for a Borderlands sequel and said "nope, not good enough."
For starters, it provided a more focused narrative with a central villain--the delightful (and quite funny) Handsome Jack--which provided a sense of context to side quests and story missions. There was vastly improved variety of colorful environments, and character classes were further developed, allowing players more freedom than ever before in terms of skill builds and cosmetic customizations. Plus, we got to party with Claptrap, which is always a guarantee that great times are in store.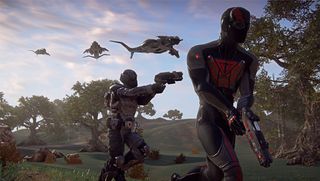 PlanetSide 2
When it comes to multiplayer shooters, most are content to shove you into a 16-player free-for-all where those with the fastest trigger fingers and knowledge of the best choke points usually come out on top. PlanetSide 2, however, destroys everything you think you know about virtual warzones, injecting you smack dab in the middle of a giant 2,000-player battle for supremacy. And that fast trigger finger of yours? It isn't going to matter much when tanks and aircraft rain destruction all over your helmeted head.
This free-to-play FPS MMO is the ultimate experience for anyone who has ever dreamt of engaging in a full-scale war in the virtual space. Class-based infantry strategize takeovers of enemy-controlled bases, while ground armor and air support punch a hole in the enemy's defenses. Your heart will pound when thousands of bullets light up the dark night sky, and your adrenaline will pump as a column of tanks rolls up behind you to assault an enemy compound. No shooter does multiplayer warfare even remotely as awesome as PlanetSide 2.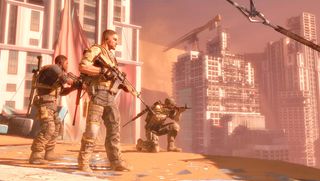 Spec Ops: The Line
Spec Ops: The Lines wants you to think its a game youve played a hundred times before--a game where plastic army men wrap themselves in the American flag and ooh-rah at the corpses of soldiers theyve filled with lead. But its not. Though it starts off like any Call of Honorfield-style shooter, it slowly shifts, kicking players down a narrative rabbit hole thatll question the concept of war, the entire genre, and you: the player.
Captain Walkers trip into Dubai might not have the strongest gameplay of any game released this year, but narrative and atmosphere go a long way. Few games have ever taken such a disturbing, candid look at military shooters, and none have held the player so accountable for their actions. Are you the hero? The villain? What are you willing to do to finish the mission? Its damning of the genre, its damning of the industry, and, most importantly, its damn good.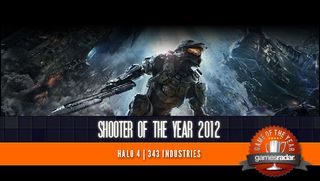 And the winner is...Halo 4
Shooters can tell wonderful stories, or provide compelling campaigns, or suck you in with thrilling multiplayer, but Halo 4 is the rare game that one manages to do it all effortlessly. 343 Industries first at bat with the blockbuster franchise is the best Halo to date, with so much heart its nearly beating out of its chest and enough content to keep us gaming for years to come.
The focused single-player out-explodes Black Ops II by a mile, and the cooperative play in Spartan Ops is much easier to digest than Borderlands 2s. And though some might dismiss the multiplayer as more of the same, its anything but. Loadouts make the competitive side more accessible than ever, and the new killstreak rewards help move Halo forward without sacrificing what makes it unique.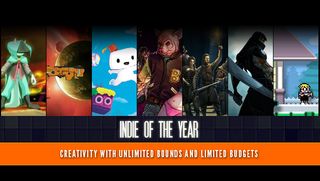 Indie game of the year
It's hard to define what "indie" is. If we strictly abide by "any developer that self publishes" (like The Walking Dead's Telltale Games), then billion-dollar companies like Valve qualify. If we say that it's a developer not technically owned by a publisher but is still being bankrolled by one (like Journey's Thatgamecompany), you're including massive studios like Epic Games. Calling it "downloadable" doesn't do anyone any favors, either, because just about every game can be downloaded these days. Instead, to us, indie is more of a handful of developers in a basement slaving away at code sort of thing. Its a freedom that major developers simply don't have--a total control of artistic direction without needing to bow to the bank accounts of corporate overlords.
Indie games have crept into nearly every Game of the Year award category this year, but we still think its worth celebrating the genre itself. Today we do just that, putting the spotlight on the indie mindset. Here's a list of the indie games that impressed us the most--and, of course, the winner of GamesRadar's Indie Game of the Year award for 2012.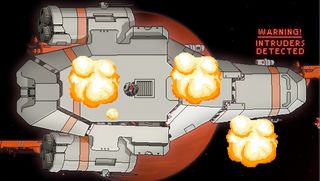 Faster Than Light
Were furious that we werent born into an era where space travel was more common. Seriously, in 300 years our great grandchildren will be zipping around the stars, high-fiving aliens and blowing up spaceships for fun. Our only consolation is the existence of games like Faster Than Light, which allow us to teleport our minds into a time where such adventures are possible. They also remind us that we wouldnt last five minutes in space.
FTL is the Star Trek game we always wanted. Its a roguelike (see: randomized levels and permanent death) where were the captain of our very own customizable spaceship. The upgrade system is complex and fulfilling, and being able to swap out weapons and abilities makes each journey through the stars unique. But its really the tactical battles, mixed with the brutal difficulty, that makes FTL so memorable. Well never forget the first time we took out a massive ship thanks to a few split-second decisions--or the first time our crew (named after our friends and family) suffocated, burned alive, or got blown apart by space pirates.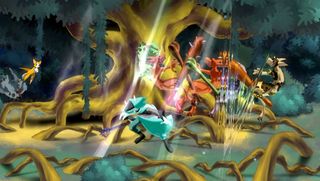 Dust: An Elysian Tail
Super Metroid with a sword-wielding cat. Thats a starting point for imagining what this awesome XBLA game plays like, for those who have yet to experience it. Combining the Eastern hack-n-slash gameplay of Odin Sphere with a cast of animal-people styled after Western cartoons, its an achievement in combat-focused platforming, managing to capture the thrill and satisfaction of a classic Metroid or Castlevania game with the low budget of an indie developer.
Everything you encounter in Elysian Tail feels just right: The combat is phenomenal, the characters are endearing, and the vast world is ripe for secret-seeking exploration. Wielding the sturdy Blade of Ahrah as samurai cat Dust, youll get a rush of adrenaline every time a pack of enemies shows up--because that means its time to slice and dice them with a bevy of flashy combos and magic attacks. Its like a mash-up of your favorite childhood storybook and the battles of the 16-bit era, easily making it one of the years best.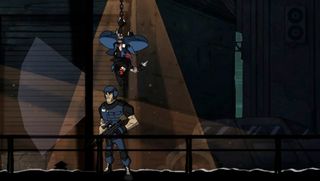 Mark of the Ninja
Most "ninja" games have you running around in cool clothes and lopping off the heads of bad guys en masse. But Mark of the Ninja might just be the best actual ninja game we've ever played. Not that we really know what it's like to be one--but we'd wager it involved a lot more sneaking than head-on skirmishes.
Planning your every move in this 2D sidescroller is essential, as it prioritizes stealth over being a gung-ho hero. You'll have to operate from the shadows while dodging traps and taking down bad guys before they ever had a chance to know you were there. And, should you fail, your score will suffer, resulting in great shame for your clan. Mark of the Ninja is a lesson in masterful, minimalist stealth design--and it's one of those addictingly difficult games that will send you spiraling toward obsession.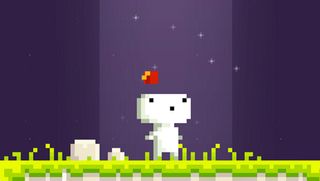 Fez
Some might argue that the pixelated puzzle platformer approach to indie game design is the safest path to take, but Fez is more than its pixelated parts let on. While it starts off as a funny, cutesy retro homage with a neat, world-spinning gimmick, it quickly evolves into something grander. Something more impressive. Before long, your eyes will be glazed over, your brains will be leaking out of your ears, and youll be neck deep in one of the most enigmatic games released in a long time.
Fezs brilliance is in its depth. Its simple platforming is fun, but it eventually takes a backseat to delving tombs and deciphering codes. Cracking said codes will unlock new in-game languages, leading to new areas that reward you with more cubes to collect and even more puzzles to solve. The sense of satisfaction after uncovering one of the encoded languages is immense, and the feeling of reward is incredible. Its not a game for everyone, but if it hooks you, good luck escaping with your sanity.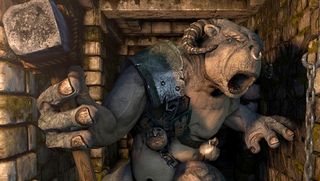 Legend of Grimrock
Legend of Grimrocks presentation made ancient gameplay feel new again, introducing a new generation of adventurers to the wonders of first-person, tile-based dungeon crawling circa early 90s PCs. Instead of tasking you with mundane fetch quests, a clich fight against evil, or blabbermouth party members, Grimrock takes a simpler approach: Your four-creature group is trapped in a labyrinthine prison-tower, and the only way out is down. Rather than bash you over the head with its story like one of its many monsters, the game lets the arcane mysteries of its sinister dungeon unfold through ethereal dialogue and hidden messages.
The atmosphere really drives home the feeling of being trapped in a dank, claustrophobic stone prison--which is absolutely a good thing, in a gaming landscape filled with bloom lighting abuse and heroes that look like action figures. And taking on the mythical creatures in Grimrock actually feels like a test of your resolve, instead of a means of accruing XP. Its terrifying when a raptor gets the jump on you while youre resting, and youll bellow a victory shout after downing your first Tunnel Ogre.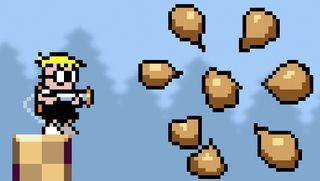 Mutant Mudds
A lot of games these days, indie and otherwise, make a big song and dance about bringing back the spirit of "retro" games. Most of them do so simply by being harder than a concrete rhino, irrespective of any other design sensibilities.
Mutant Mudds, however, is the real deal. Its basically a NES game, polished up to within an inch of its life. Other than an endlessly coo-worthy 3D depth of field effect, theres barely a concession made to anything created after 1987. The result? An utterly pure platforming design, lean of frills and tighter than drum-skin. Its demanding, requiring nothing less than utter discipline, precise timing, and a keen eye for pixel-perfect spatial navigation. But its also bright, breezy, funny, and endlessly likeable. And the DLC is centred around a granny with a jetpack. Enough said.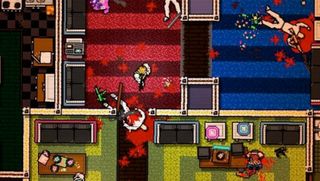 Hotline Miami
Far more than the simple tribute to old-school GTA that it might first appear to be, Hotline Miami is smarter, sharper, and more exhilarating than Albert Einstein on a knifing spree. Essentially an ultra-tactical, high-speed stealth game, Hotlines pacing and brutally precise demands are less a case of blink and youll miss it, and more a case of blink and youre almost guaranteed to find your innards spread over a very wide area.
Its a game that looks effortless--mindless, even--in successful execution, but in which a single level can take more than an hour of second-to-second pre-planning to complete. Not that youll mind. That feverish loop of plotting, failing, restarting, and eventually succeeding is one of the most satisfying and compulsive experiences provided by a game all year.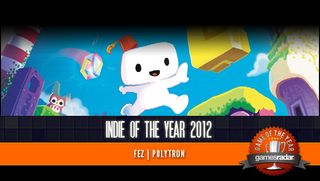 And the winner is... Fez
While Faster Than Light, Hotline Miami, and Legend of Grimrock reminded us of the enjoyment in punishing difficulty, and Dust: An Elysian Tale, Mutant Mudds, and Mark of the Ninja presented us with some of the sleekest 2D gameplay weve seen in a long while, their successes were in reminding us what we love about gaming. Fez, on the other hand, gave us something wholly new to love, which is why weve decided to award it our Indie Game of the Year award for 2012.
Its adorable graphics and retro style might have been what brought us in originally, but the cryptography-style code breaking is what kept us interested for dozens of hours. The world is whimsical and imaginative, and the game is so multifaceted, so imaginative, and so complex that its hard not to become obsessed.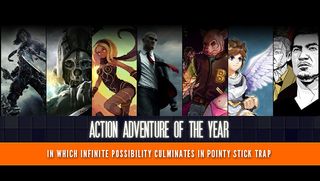 Action Adventure of the Year
The year is coming to a close. We've played through the year's best games and now it's time to choose the one that rules them all. But with so many that fall under the umbrella of Action Adventure, how in the world do you pick the best one? Well, you don't need to worry, because we've played them all and selected our favorites from the 2012 lineup.
Our nominees for 2012 are the best of what the Action Adventure genre has to offer. Darksiders II adopted it's own identity, veering away from the Zelda formula and creating a thrilling, loot-mongering quest. Dishonored introduced the dilapidated city of Dunwall, giving you free reign over it's fate. And games like Gravity Rush took gameplay to new heights, giving you awesome ways to play with...well gravity. Check out our seven picks for the year's best. But which one takes the title of Action Adventure game of Year?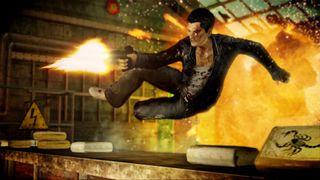 Sleeping Dogs
What would happen if you took every major AAA game in recent memory, got them drunk, and threw them into Hong Kong with shotguns and meat cleavers? Sleeping Dogs, apparently. Drawing inspiration from the best shooters, brawlers, and racers in the industry, United Front Games open-world action game is a hodgepodge of ideas and concepts that work together to create one of the most action-packed experiences of the last few years.
Climbing up the ranks of the criminal underworld as an undercover cop isnt the most unique premise of all time--in fact, little in Sleeping Dogs is truly original--but odds are you wont complain about originality when youre jumping between cars in slow motion, or beating down dozens of enemies at a time, or getting in thrilling shootouts, or chasing foes through crowded streets, or... doing any of the other fantastic things that make Sleeping Dogs so incredibly, irrefutably fun.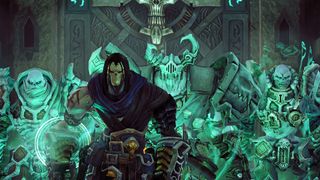 Darksiders II
Death's quest to free his brother from the corrupt powers that be changed almost completely from the first title's copy-cat Zelda formula. Instead the sequel grabbed RPG-inspired looting, adopted a God of War-style combat system, and featured an astounding presentation. All of those elements culminated into one of the best gaming experiences this year. Though the first was well received, the ride of the second Horseman gave the series its own identity, expanding the fascinating world and characters and having us eagerly awaiting the next entry in the series.
Battling ancient evils, collecting powerful weapons and armor, and having a story set around saving all of mankind certainly makes Darksiders II the most typical Action Adventure title to come out this year. But it is still of the highest quality in the genre. The nimble combat kicks the action up a notch from the original, letting players unleash combos with weapons like Death's morphing dual scythes or massive hammers, but the action keeps an excellent balance with exploration, platforming, and item-hunting. Couple all that with fantastic voice work and the emotionally charged soundtrack, and you have a tough contender to beat.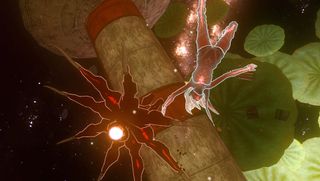 Gravity Rush
Not since Gordon Freeman picked up his Gravity Gun have real-world physics meant so little in a game. Stepping into the shoes of the adorable anime cutie Kat, we were completely entranced by the dreamlike city of Hekseville and its hostile jelly-monsters, old men with portals in their chest, and a kitten with translucent skin resembling a star-speckled galaxy. As Kat learns to master her gravity-manipulating powers, the games small town opens up into a vast, vibrant cityscape ripe for anti-gravity exploration, where up and down have no bearing on your travels.
Say what you will about Kats preliminary fretfulness about getting boys to like her (she is just a teenager, after all)--theres no denying that she answers the call to heroism during the wildly unexpected events of the games final third. Even after youve saved the day, theres still plenty to see in the super-stylized districts, including a fascinating subplot involving inter-dimensional rifts. With its novel gameplay and storybook setting, Gravity Rush is as disorienting and charming as a wonderfully strange dream. Gravity Rush was the first Vita-exclusive game to truly wow us, delivering a fanciful adventure unlike anything weve played on a console.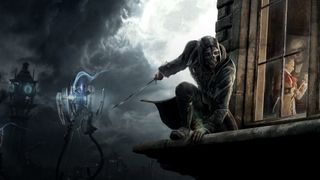 Dishonored
Dunwall's diseased city streets, infected citizens, corrupt officials, and mystical god-figures create the unique backdrop for Corvo Attano's revenge. Framed for regicide, you're a highly trained, supernaturally powered bodyguard who must discover the true culprits of the queen's death while slicing and dicing anyone who gets in your way (unless you decide to go the stealthy route). Dishonored gives you the freedom to accomplish your missions the way you want, from the level of blood shed to your infiltration point.
Dishonored has the tone of Bioshock, Thief, and Deus Ex all bound up into one game. Your actions determine what course the story will take. Will you murder innocent guards, disregard the citizens of Dunwall, and cause the city to fall into a deeper pit of despair, or will you set out to help return it to prosperity? From the gameplay to the engrossing narrative and lore, Dishonored will hook you from beginning to end.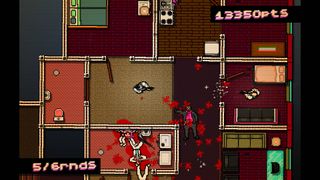 Hotline Miami
The action: Sneaking up behind a Russian mobster, slitting his throat, then flinging your knife at a gunman across the room before he can fill your torso with lead. The adventure: Falling farther and farther backward into the madness of a hyper-violent 80s acid-trip--one laden with animal masks, hallucinations, and the introspective wonder of whether you truly enjoy hurting people. Hotline Miamis distinctive mix of gory, pulse-pounding combat and narrative intrigue makes it one of the most memorable games we played all year--and somehow, the fact that the graphics resemble the original Grand Theft Auto only accentuate Hotlines greatness.
Few games can capture tension like this top-down shooter, where scoping out a room full of enemies feels like the build-up to a strategic, blink-and-youre-dead marathon of murder. Tying new abilities to unlockable animal masks was a stroke of genius; it tickles our gaming sensibilities that you can see farther when wearing a giraffe mask, or walk faster while wearing a rabbit mask. If you disagree, we might be inclined to pick up a bat, don a horse mask, and drive our car to your place.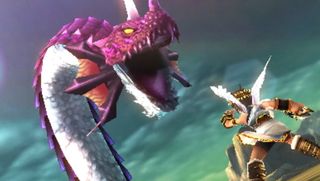 Kid Icarus: Uprising
The return of Kid Icarus was something Nintendo fans had hoped for more than 20 years, and their prayers were finally answered with Kid Icarus: Uprising. Uprising was developed by a high profile team led by Masahiro Sakurai of Smash Bros. fame, and the quality shows in the product. The gameplay is an experimental mash-up of on-rails shooting and on-foot exploring, and its hampered with a strange control set-up, but once you got into the groove you were treated to one of the best adventures of the year.
Featuring some of the funniest dialogue of 2012, the story is full of twists and turns as Pit, a humble angel, defends Earth from being overrun by demons. The lengthy campaign is packed with variety, and theres tons of replay value thanks to a clever difficulty system, online multiplayer, collectible AR cards, and Achievement-style rewards. Heres hoping it isnt another 20 years before the sequel.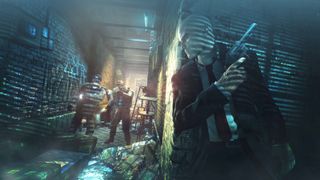 Hitman: Absolution
Agent 47 could've spent his six-year vacation eating pizza and slamming Miller Lite by the six pack, but instead decided to learn a few new tricks for turning targets into corpses. Gaming's baldest, baddest assassin made his return without missing a beat in Hitman: Absolution, which is easily the most accessible game in the franchise to date.
The new story-based approach gave a bit of cohesion to the series, which had traditionally been structured around unconnected assassination missions. Sure, sometimes the story in Absolution didn't make a ton of sense, but that hardly detracted from what is easily the most intelligent stealth game to make the rounds this year. Each mission provides a wild degree of freedom; we often had a bevy of options available for taking down each mark, and 47's new moves only reinforced that flexibility. Instinct Mode allowed us to identify targets from amidst a crowd and anticipate their next moves, and we had a blast executing bad guys in style with Point Shooting. And oldschool fans? Well, they'll still spend hours going for that coveted Silent Assassin ranking.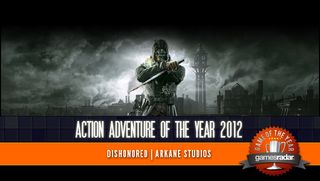 And the winner is...Dishonored
Though there was stiff competition, Dishonored comes out on top with the Action Adventure of the Year 2012 title. Each nominee had outstanding strengths and were amazing gaming experiences, but none managed to surpass the gameplay depth, immersive new world, and engrossing, reactive storyline of Dishonored.
The art style, characters, and moldable city of Dunwall created a place that we had never experienced before. There is an entire world to explore, and every route you choose, brutal tactic, or sneaky workaround is a decision made by you. The semi-open world missions created experiences that could be done completely different by every single person that played them--depending on what paths they explored. From getting a deeper insight into the fascinating world lore and characters, to opening even more gameplay options than you thought possible, the more you peek into the rich world of Dishonored, the more it rewards you.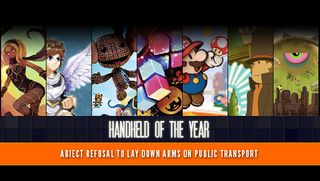 Gaming on the go
Gaming on the go has seen a drastic surge in the mobile/tablet market and while were getting to a point where these games can exist across all platforms, we decided to keep things simple and honor the best games to have come out on traditional handhelds--the PlayStation Vita and Nintendo 3DS. The 3DS has been out long enough that its already gone through a redesign, whereas the PS Vita hasnt quite been on the market for a full year in the US. Nonetheless, both platforms have been expanding their library with some impressive offerings in 2012.
Youve seen our list of nominees, and we hope youve had a chance to play through them. But there can be only one winner that deserves to be on your person at all times. So lets take a look at this years greatest and most portablest (?).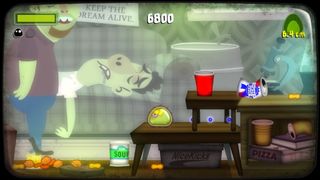 Tales from Space: Mutant Blobs Attack
Considering the PlayStation Vita's launch lineup included games such as Uncharted: Golden Abyss and Lumines: Electronic Symphony, who would've thought that the platform's first must-have game would be an inexpensive downloadable?
Tales from Space: Mutant Blobs Attack is 1958's The Blob in video game form. It's a 2D platformer in which your ultimate goal is to gobble up as many stinky sneakers, discarded scraps of junk, and, later, pesky human beings as you can in order to grow in size and consume the universe. It's quirky, full of funny jokes and pop culture references, and absolutely endearing. While you eat planet earth to death, Mutant Blobs will devour your heart.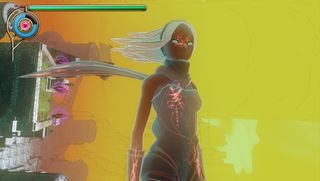 Gravity Rush
Gravity Rush was what the PlayStation Vita needed most: a completely original, entrancingly enjoyable game. Squeezing the dazzling open-world city of Hekseville onto a handheld couldnt have been easy, but the end result was something that blew away most console experiences. Kats adventures were so surreal, and her gravity-reversing abilities so empowering, that the sheer act of exploring became a delight.
And yet, at its core, Gravity Rush is a superhero game, tasking you time and again with saving the day from bizarre blob creatures. Watching Kat blossom from a timid tomboy into an astonishing, brave heroine is as gripping as the gameplay itself. Its the kind of handheld game that you give your undivided attention to: Plug in some headphones, relax in a quiet area, and prepare to lose yourself in its anime-storybook world.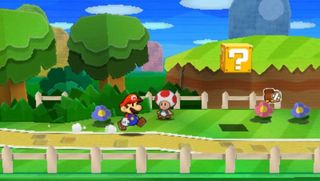 Paper Mario: Sticker Star
It's possible for handhelds to mute the epic scope of role-playing games, but Paper Mario has always done a pretty good job at adjusting. For Paper Mario: Sticker Star, the franchises first ever portable game, the developers made the already-simple game more streamlined and focused than ever, but without losing what made the previous entries so memorable.
Worlds are divided similar to the core Mario games--1-1, 1-2, etc.--so exploration is more casual, yet the devs make the adventure one of the most open in Paper Mario history. Longtime RPG fans might dislike that many genre tropes are replaced by stickers, but the unpretentious combat is as engaging as it ever was. Sticker Star also has some of the funniest writing of the year and a great soundtrack, making it a handheld adventure worth bringing everywhere.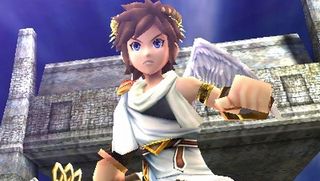 Kid Icarus: Uprising
After years spent languishing in the Nintendo vaults, 2012 featured the Kid Icarus series getting a comeback that some fans had waited 20 years to see. Headed up by big name game director Masahiro Sakurai (Super Smash Bros.), Kid Icarus: Uprising revived the series as a clever mix of on-rails shooting and on-foot adventure. Uprising quickly established itself as one of the best handheld games of the year thanks to high production values and a focus on gameplay fundamentals.
The shooting sections have some of the flashiest visuals the 3DS has ever displayed (especially in 3D), and once you get used to the admittedly quirky control scheme, the on-foot sections have some surprisingly dynamic action. Uprising also boasts insanely deep weapon customization options, online action, and an adjustable difficulty that plays into its well-realized economy. Uprising wouldve been a standout on consoles, making it easily one of the most impressive portable games of the year.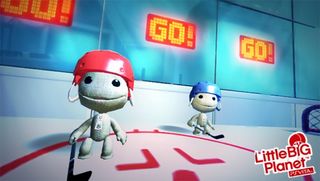 LittleBigPlanet Vita
The LittleBigPlanet series had already established its winning formula of play, create, share on the PlayStation 3, and the transition to Sonys shiny new handheld was a successful and seamless one. Woven into the gameplay of LittleBigPlanet PS Vita was tighter controls, intuitive touch mechanics, and a treasure trove of tools for you to create custom levels. There are endless possibilities to level creation when the power of a blank canvas is handed over to the creative minds of the community.
While the basic premise is the same, LBP Vita was packed with quirky minigames, endless collectable items, and fun, detailed, platforming levels that made us fall in love with Sackboy in the first place. Attention to detail is just one of LBP Vitas strength, even if Sackboys charming good looks goes a long way. But what actually goes a long way is that LBP Vita is bursting with content, while still being an entertaining and rewarding experience that fits in the palm of your hand.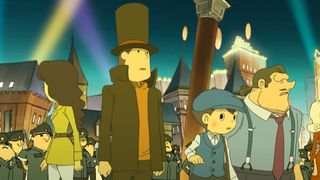 Professor Layton and the Miracle Mask
The charming Professor Layton series was a perfect fit for the DS, mostly thanks to a winning combination of challenging puzzles, deep narrative, and whimsical art. That tradition was kept alive by Miracle Mask, the first entry on the 3DS, but it did so while refreshing Layton with some much-needed updates. Miracle Masks story took a new twist by delving into Professor Laytons past and introducing a boatload of extras, all while still pushing players with new brainteasers.
Miracle Masks most obvious update can be seen from the visuals. This is Laytons first 3D outing in more ways than one--it had polygonal characters for the first time ever to accompany the glasses-free 3D visuals. Big shifts like these showed the franchise was ready to move forward into this next generation of handhelds, something we hope to see expanded upon in the next 3DS entry, so long as the puzzles stay just as good as they were in Miracle Mask.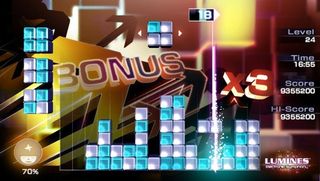 Lumines: Electronic Symphony
Lumines: Electronic Symphony is the kind of game that takes over your life. Even after youve unplugged your headphones youll still be haunted by the stellar musical tracks rhythmically beating your eardrums. Even after youve turned off your Vita youll be hard pressed to rid yourself of falling blocks, stacking into larger shapes before exploding in a cascading chain-reaction of points and multipliers.
Electronic Symphony is absolutely intoxicating, and represents a near-perfection of the Lumines formula that started years ago on Sonys first handheld. Featuring some of the most memorable musical tracks the series has ever seen and the same great gameplay that made it one of the best puzzle franchises around, Lumines is easily one of the best offerings available on the Vita.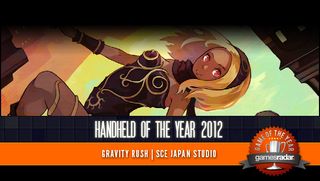 And the winner is... Gravity Rush
Gravity Rush is a pretty weird game. Its super-powered protagonist, Kat, is a bit of an airhead; she owns a celestial cat made out of... outer space(?), and she's been tasked with saving the world from weird amorphous blob monsters. And you know what? We absolutely love it all.
Never before has the simple act of movement been such an enjoyable treat in a video game. In Gravity Rush, you can go anywhere thanks to Kat's gravity manipulation powers. Suddenly walls, ceilings, and otherwise unreachable surfaces become the very ground beneath your feet--and as Kat plummets through the air after shifting the center of gravity, she flies with such force that we became enamored with exploration. Everything from the game's motion controls to its level design were testaments to the power of what Vita games can achieve--and Gravity Rush is simply one of the most memorable experiences we've had in gaming this year.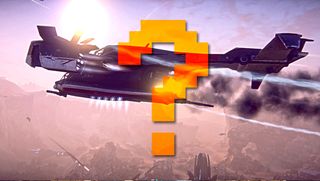 What's your pick?
There you have it. We've broken down the biggest and best games of the year by genre and named a victor for each category. But now we want to hear what you think of our game of the year choices. What were your favorites, and which ones do you think should wear the crown. Let us know in the comments below.
If you're looking for more amazing games to play, have a look at our Best games of all time list.