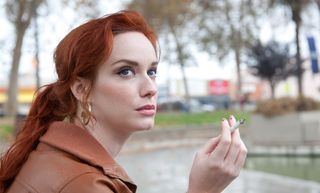 Drive
The Sexy Moment: Hendricks smoulders in Nicolas Winding Refn's love letter to old-school action.
As a duplicitous sex bomb with her own devious agenda, Hendricks oozes "don't give a shit" attitude while looking as gorgeous as ever.

If It Was Frumpy: She'd have the fag superglued to her top lip like a truck driver.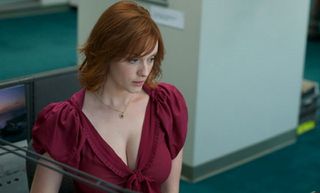 Family Tree
The Sexy Moment: An otherwise crummy 80 minute movie – about a woman suffering from memory less – is given a little life thanks to Hendricks' presence.
She should be installed in every office in London – that'd definitely brighten up our day.

If It Was Frumpy: She'd have coke bottle specs and a terrible overbite.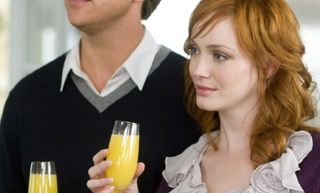 Life As We Know It
The Sexy Moment: Probably the best thing about this duff romcom, in which Katherine Heigl has to work with Josh Duhamel to raise a baby when their friends cark it.
Hendricks rocks the modern day style, despite being best known as a '60s bomb shell. She ducks out early, which is actually a good thing.

If It Was Frumpy: She'd be drinking a cup of Bovril.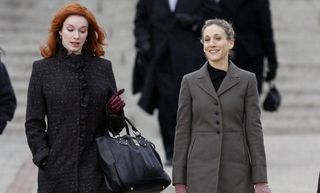 I Dont Know How She Does It
The Sexy Moment: Sarah Jessica Parker switches one romcom for another – and in the process exchanges her usual on-screen redhead (Cynthia Nixon) for a younger model.
Which gives Hendricks a chance to show off a little winter wardrobe.

If It Was Frumpy: She'd be Sarah Jessica Parker.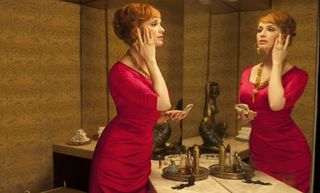 Mad Men
The Sexy Moment: Season four promotional photography for Mad Men has Hendricks looking as chic as ever. She really was built for this era.

If It Was Frumpy: She'd have those horrible '60s horn-rimmed glasses on.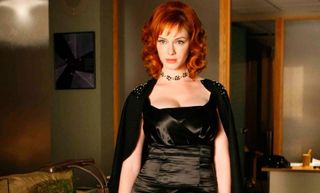 Long Weekend
The Sexy Moment: Hendricks continues to sex up the swinging '60s in season one Mad Men episode 'The Long Weekend'.
Ten episodes into the show's debut season, she's already becoming a fan favourite – and with togs like that, it's not hard to see why.

If It Was Frumpy: There'd be no jewellery, and her breasts would be taped down.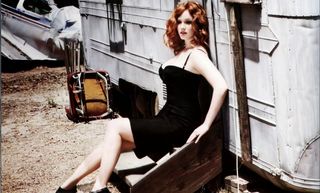 Esquire Shoot
The Sexy Moment: Hendricks gets steamy in a photoshoot for Esquire .
"I've had people say to me, 'My husband and I watch [Mad Men] and we always have sex afterwards,'" the saucy minx tells the mag. "I think it's really hot that the show stirs up naughty things."

If It Was Frumpy: She'd be sat inside trying to finish her first romance novel. On a typewriter.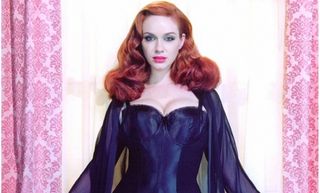 Lingerie Lady
The Sexy Moment: Other brands quickly snap Hendricks up to capitalise on her sky-rocketing profile. Which is how she ended up in the saucy concoction, wearing Christine Vancouver lingerie and a silk robe.

If It Was Frumpy: Well, she wouldn't be wearing Christine Vancouver for a start…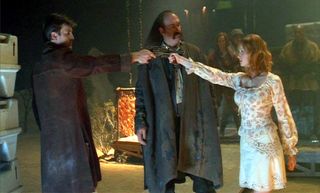 Bang Bang
The Sexy Moment: It takes a certain kind of broad to stand up to the mighty Nathan Fillion. And in Firefly 's one and (sob) only season, Christina Hendricks was that broad.
As the slippery Saffron, she had no qualms in drawing a pistol on the space cowboy – which ups her sexy factor by a thousand.

If It Was Frumpy: The gun would be replaced with an icing spatula.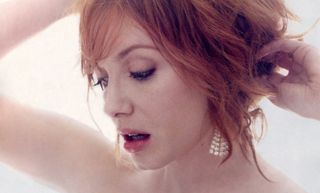 New York
The Sexy Moment: New York Magazine grab Hendricks for a photo shoot.
"It kind of hurt my feelings at first," she says of all the chatter about her curves. "Anytime someone talks about your figure constantly, you get nervous, you get really self-conscious. I was working my butt off on the show, and then all anyone was talking about was my body!"

If It Was Frumpy: There'd be bits of baby puke in her hair.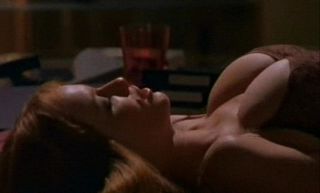 Beggars And Choosers
The Sexy Moment: Pre- Mad Men , Hendricks is already showing off her cleavage in short-lived TV series Beggars And Choosers . Not that we're complaining or anything.

If It Was Frumpy: She'd be hiding her modesty with a big cosy jumper.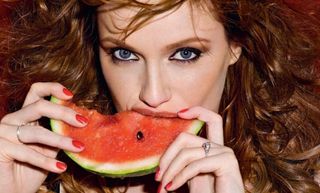 Mouth Watering
The Sexy Moment: We've had Angelina Jolie sucking on strawberries, but Christina Hendricks blows the fruit-eating competition out of the water with, fittingly, this watermelon. We've never wanted to be a piece of fruit so much before.

If It Was Frumpy: There'd be an 'after' photo in which a grinning Hendricks is blissfully unaware that her teeth are full of pips.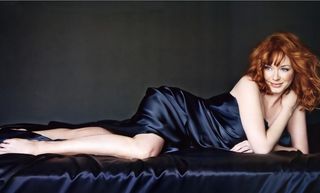 Bedtime
The Sexy Moment: Ah, the obligatory bed-set photoshoot. Except Christina goes about it with a fresh-faced breeziness, while the vibrant bedsheets match the sparkling sapphire of her eyes. Masterpiece.

If It Was Frumpy: She sheets would have My Little Pony on them.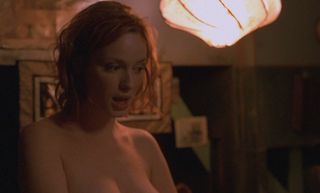 Out Of This World
The Sexy Moment: There are many reasons to love Joss Whedon. But if there's one that trumps the lot, it's that he got Christina Hendricks naked before any other show.
In Firefly episode 'Our Mrs Reynolds', Hendricks strips off for Nathan Fillion – possibly the luckiest man in America. Nay, the world.

If It Was Frumpy: There's no frumping this one. Frump-free.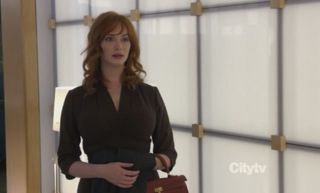 Body Proof
The Sexy Moment: More TV stuff, Hendricks taking a break from the '60s for a one-episode stint on Body Of Proof. She guests in the episode 'Dead Man Walking', and looks great doing it - except for the bit where she's a cadaver.

If It Was Frumpy: She'd be wearing one of those awful umbrella hats.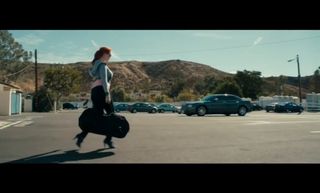 Drive Faster
The Sexy Moment: Drive again, except this time Hendricks is rocking some killer heels, a super-tight hoodie and shades.
She's also strutting the kind of catwalk strut that would make Naomi Campbell green with envy. Damn this gal's cool.

If It Was Frumpy: She'd galumph along in some unflattering green wellies.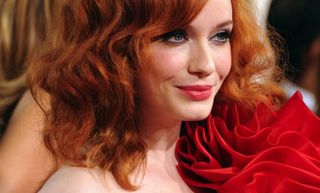 Golden Globe
The Sexy Moment: We'll resist making a lewd joke about Christina's golden globes and stick to the facts – the Mad Men beauty is here dressed up to the nines for the 2011 Golden Globes.
The show was nominated for three awards, including Best Television Drama, which it missed out on winning. Still, Hendricks is certainly a winner in that frock.

If It Was Frumpy: The big shoulder detail would be made to look like a cute little puppy.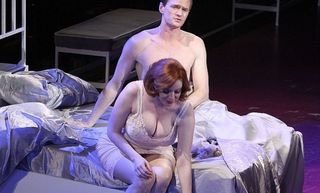 Spring Gala
The Sexy Moment: Hendricks is not shy when it comes to stripping down to her smalls, which is exactly what she did in this resurrection of Stephen Sondheim's Company .
It was part of the 2011 New York Philharmonic Orchestra's Spring Gala Benefit. People in the front row more than certainly benefited from a fantastic view.

If It Was Frumpy: She'd be in one of those frilly grandma nighties that reaches right down to the floor.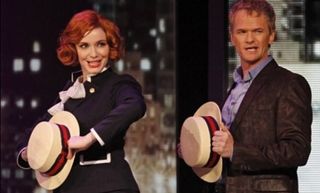 Sing When Youre Winning
The Sexy Moment: It's period time again, as Hendricks gets dolled up in classy garb from yesteryear to perform a little number with Neil Patrick Harris. It's for the 2011 Tony Awards.

If It Was Frumpy: They'd be performing Punch & Judy instead.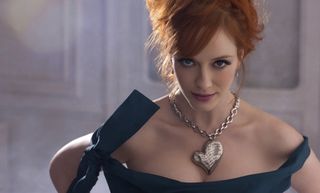 Wonderfully Westwood
The Sexy Moment: You know you're on your way to making it in the biz when you get a call from Vivienne Westwood. That's who Christina had on the blower recently, which resulted in this gorgeous photoshoot for the fashion designer.

If It Was Frumpy: Frump up Westwood? You're kidding, right?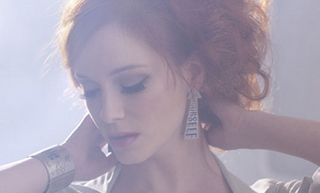 More Westwood
The Sexy Moment: Alright, we've already had one gorgeous shot from Hendricks' Westwood photoshoot, but it would be a crime not to include this one as well. It speaks for itself.

If It Was Frumpy: She'd be wearing proper Pat Butcher earrings instead.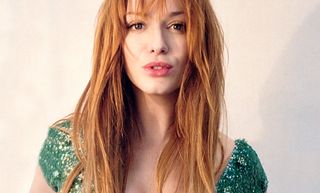 Shoot Me
The Sexy Moment: Another photoshoot. This time, Hendricks has literally let her hair down, giving us a glimpse of just how she'd look if those luscious red locks weren't always done up in a bob.
If they ever want to make a life-action Rapunzel, we know who Hollywood needs to call.

If It Was Frumpy: Those long tresses would be plaited Pippy Longstocking-style.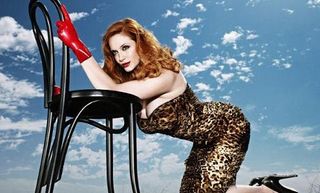 Upward Climb
The Sexy Moment: A clever visual metaphor for the upward climb all actors face when they first set foot in LA? Or simply an excuse to get Christina Hendricks in a pair of PVC gloves and more killer heels?
We're thinking the latter – and there's absolutely nothing wrong with that.

If It Was Frumpy: She'd be climbing a church pew instead.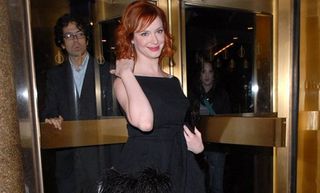 Oh OBrien
The Sexy Moment: It takes Conan O'Brien exactly one minute and 10 seconds to turn the conversation to bras when Hendricks appears on his talk show.
"It's certainly sexy on Mad Men , because we wear [ the clothes ] so tight," Hendricks giggles, unfazed by the raunch chat. Hear hear.

If It Was Frumpy: She'd be talking about how tight her husband is.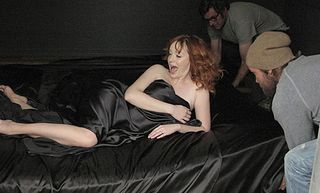 Behind The Scenes
The Sexy Moment: Remember that bed photoshoot? Well, this is a snap from behind the scenes, which somehow manages to make Hendricks look even more alluring. Who needs a careful pose when you can have the liveliness of a candid?

If It Was Frumpy: She'd be revealed to be wearing big giant granny knickers to hide her modesty.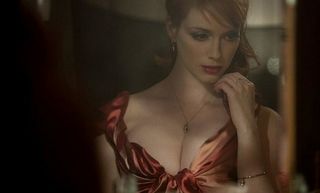 Mirror Image
The Sexy Moment: Hendricks pulls off sexy, sultry, and mysterious in this moody photoshoot.
In other news, Hendricks reveals her breasts are the real deal. "My breasts are so obviously genuine that anybody who's at any time noticed or touched a breast would know," she assures us.

If It Was Frumpy: She'd pull off tired, bored and mousy instead.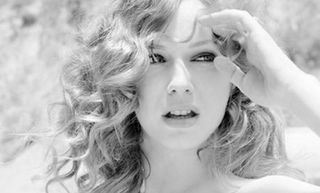 Mini Marilyn
The Sexy Moment: Like all the best porcelain beauties, Hendricks has been compared to Marilyn. She doesn't mind though.
"I don't think any woman in the world could get tired of being compared to Marilyn Monroe," she says. "It is embarrassing, though, because I think that I could never hold a candle, but it is also incredibly flattering, and she's someone I admire greatly. So it's always a really nice thing to hear."

If It Was Frumpy: Hendricks would talk about how she's compared to Shirley McClaine instead.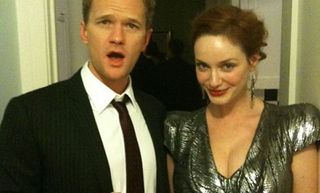 Party Time
The Sexy Moment: Christina throws her very own Hollywood party and invites best bud Neil Patrick Harris. Just out of shot, Hendricks is clutching a cool glass of whiskey...

If It Was Frumpy: She'd throw a party for the WI.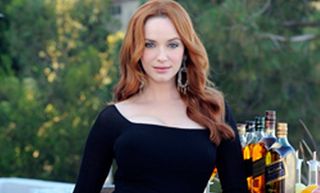 We Love Whiskey
The Sexy Moment: If you want to be friends with Hendricks, you have to love whiskey.
Why? Well, she loves throwing parties like this one, a whiskey tasting fest in the Chateau Marmont. Everybody who's anyone was there. Sadly, that didn't include us.

If It Was Frumpy: She'd be throwing a tea tasting party.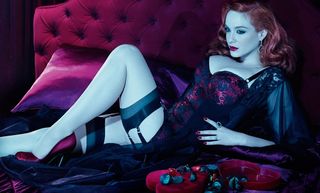 God Bless GQ
The Sexy Moment: GQ wrestle Hendricks into a series of scanty, revealing outfits. Then ask her very important questions about her Mad Men character.
Most importantly, does it feel good to be a pin-up? "Well, I'm thrilled," enthuses the actress. "I'd love to be thought of as that..."

If It Was Frumpy: It wouldn't be in GQ.

Found any other sexy moments from the Mad Men beauty? Drop them below...