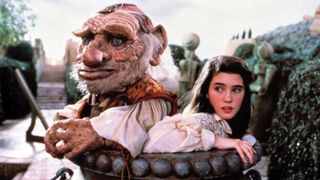 Labyrinth (1986)
Reality: Teenage girls babysit their infant siblings and rant about the injustice of it all but nothing changes. Except nappies.
The Movie Reality: A mystical world of goblins, talking worms and giant furry monsters held within a giant labyrinth manifests after hearing the cries of a moody adolescent. Power ballad maestro, The Goblin King, whisks babies away to his castle.
If We Lived In The Movies: Each time anyone whinged about doing something they didn't like, they'd run the risk of turning up in a labyrinth just to be taught a lesson.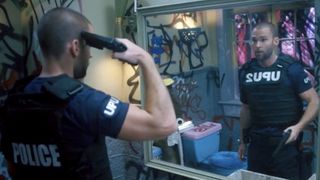 Southland Tales (2006)
Reality: The last World War ended in 1945 and since then no nuclear attacks have occurred in the southern United States.
The Movie Reality: In July 2005, two nuclear attacks on Texas cause the United States to strike out, inciting World War III. This leads to a worldwide fuel shortage, and greater monitoring of US citizens personal habits.
If We Lived In The Movies: The wait at the petrol station would be considerably longer than it is now.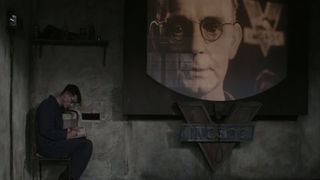 1984 (1984)
Reality: People are free to think and say what they like. Mostly.
The Movie Reality: UK citizens are under constant surveillance from the Thought Police, a body governed by The Party, who monitor people's independent thought which is now deemed a crime.
Workers at The Ministry of Truth, rewrite history so it aligns with the parameters of The Party.
If We Lived In The Movies: Everyone'd be wearing tin foil hats.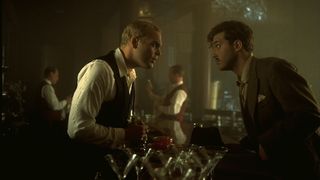 The Thirteenth Floor (1999)
Reality: Most virtual reality experiences occur through visual stereoscopic displays and are often for specific training routines.
The Movie Reality: During the 1990s, a billionaire inventor creates a virtual reality simulation of 1937 Los Angeles kitted out with humans who've no idea they're a bunch of zeroes and ones in a gigantic database. Of course, the 1990s world too is a simulation.
It all gets rather Russian doll-like.
If We Lived In The Movies: Offering a cheaper, immediate alternative to pricey time travel, being able to pop back to a certain time would become a rewarding way for school children to learn about history.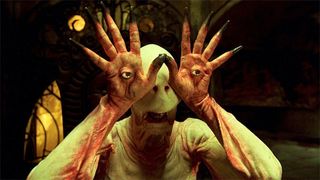 Pan's Labyrinth (2006)
Reality: If you go down to the woods today... then there's likely going to be trees, grass and lichen.
The Movie Reality: In 1944 Spain, an overgrown labyrinth exists with a giant faun as a guide (who is utterly terrifying yet one of the good guys), an albino monster with hand-eyes, and a huge belching toad.
Still more preferable than hanging around with that bastard Captain.
If We Lived In The Movies: Heading for a camping trip is now twice as terrifying as you've also just watched The Blair Witch Project .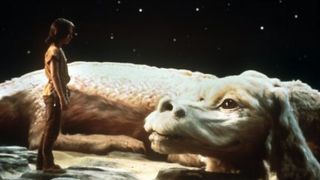 The NeverEnding Story (1984)
Reality: As much as librarians sell books to kids by promising them a doorway into another world, they don't literally mean it.
The Movie Reality: A fictional storybook world called Fantasia, is on the brink of extinction if scrappy warrior Atreyu can't stop the evil force of The Nothing from wiping it out.
While reading the book, a young boy called Bastian becomes entwined with the story world and follows his literary counterpart, Atreyu as he traverses melancholic swamps and battles monsters.
If We Lived In The Movies: Libraries and bookstores would become flooded with single gals all desperate for a copy of 50 Shades Of Grey .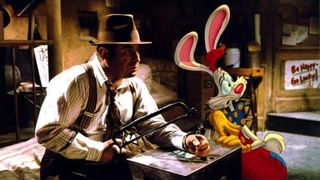 Who Framed Roger Rabbit? (1988)
Reality: Animated characters exist solely on TV as part of Saturday morning cartoon-watching rituals held by children the world over.
The Movie Reality: Cartoon characters referred to as "toons" are real living beings who mingle peacefully with humans. Much like people act in movies, 'toons star in their own cartoons.
If We Lived In The Movies: Taxes would skyrocket to cope with the collateral damage caused by Wile E. Coyote's tomfoolery.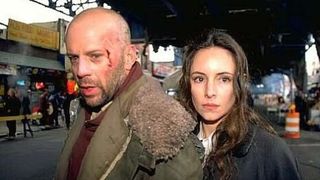 12 Monkeys (1995)
Reality: Between 1996 and 1997 no catastrophic global pandemics occurred. Apart from Spice World: The Movie . Yeesh.
The Movie Reality: Between 1996 and 1997, a deadly virus is exposed to the world's population killing millions. This in turn causes the planet to turn into an ash-filled dystopia where humans can only exist underground, as deadly airborne particles are present in the atmosphere.
And lots of animals wander about.
If We Lived In The Movies: We'd never get that fresh windy smell in bed sheets again, what with only being able to use tumble dryers.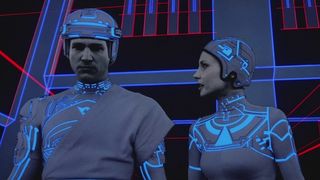 Tron (1982)
Reality: Computers are guarded by highly sophisticated firewalls which are programmed and accessed through the computer screen interface.
The Movie Reality: Following the theft of his video games, Kevin Flynn sneaks into his competitor's system to retrieve them. Once inside, the Master Control Program digitises him into the mainframe where he battles against the programs who appear as their human creators.
If We Lived In The Movies: Battling the blue screen of death would bring on a whole new level of catharsis, as frustrated computer users could literally face the blue screen in human form.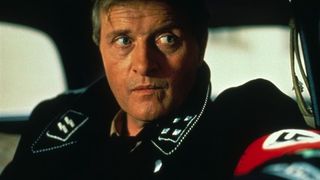 Fatherland (1994)
Reality: World War II came to an end when Allied forces won the invasion in Normandy and thousands of war criminals were brought to justice after the holocaust.
The Movie Reality: Takes place in a 1964 where Germany won the war, and are currently battling with the Soviet Union, while desperately trying to recruit the forces of the United States to overthrow Stalin. German leaders attempt to cover up the holocaust.
If We Lived In The Movies: We'd all be speaking German.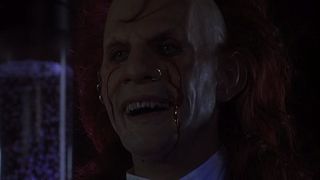 Brainscan (1994)
Reality: Spending an evening blasting away on the latest shoot 'em up game is a perfectly acceptable way of letting off steam.
The Movie Reality: Playing horror game Brainscan , in which the gamer assumes the role of a serial killer, is such a brutal experience because it actually turns out to be real.
If We Lived In The Movies: The game market would see a plummet in sales of Grand Theft Auto V , and a rise in fluffier fare like Care Bears: The Game .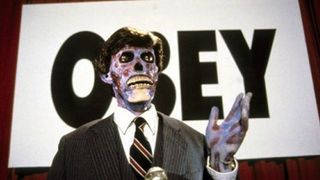 They Live (1988)
Reality: Media marketing and promotional schemes by corporations are plastered on billboards and online adspace.
The Movie Reality: All major corporations are controlled by aliens, who pose as members of the ruling class. Mass media indoctrination occurs through subliminal messaging in practically every available surface.
These messages and the skeletal-faced aliens are only visible through a special pair of specs.
If We Lived In The Movies: The web would blow up with a million conspiracy bloggers stating "I told you so!"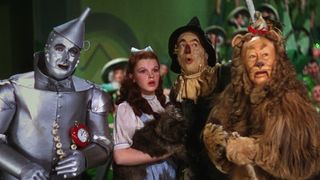 The Wizard Of Oz (1939)
Reality: Getting caught out in a tornado would probably be the most terrifying experience of your life.
The Movie Reality: A tornado hits Kansas, and whisks away a young girl to a brightly coloured world. A scarecrow, lion and tin man, who look like heavily made-up versions of people from her real life, accompany her on her journey, which is littered with evil flying monkeys.
If We Lived In The Movies: Extreme sports would become even more popular as folks risk life and limb for a chance to visit Oz and skip down a yellow brick road with a talking lion.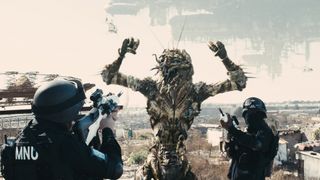 District 9 (2009)
Reality: During the apartheid, District Six in Cape Town was declared a "whites only" area and 66,000 people were removed by force as a result.
The Movie Reality: In 1982, a giant spaceship filled with sickly extraterrestrials lands in Johannesburg where they are put into a government camp called District 9.
Following unrest between humans and aliens, the "prawns" are then carted off to internment camps.
If We Lived In The Movies: Aliens would live on Earth. The chances of bumping into E.T. down the local would be much more likely.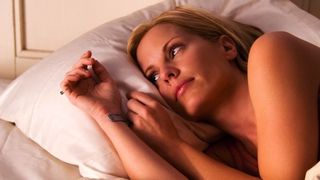 Timer (2009)
Reality: When hunting for a soulmate, there is no way to immediately confirm that a potential partner is "the one." Couples usually spend a prolonged period of time together, often on mini-breaks to determine if they're right for each other.
The Movie Reality: Most people choose to have a timer fitted, which begins counting down to the moment they'll meet their soulmate once the partner's timer is activated.
The countdown reaches zero the night before the two meet, and once they do it begins beeping erratically.
If We Lived In The Movies: Social media would be filled with smug updates declaring "OMG! My timer just zeroed!!!"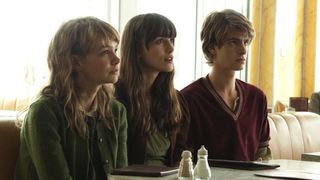 Never Let Me Go (2010)
Reality: The first organ transplant in the UK occurred in 1954. Since then, people choose whether or not to carry donor cards so in the event of their death, their organs can go to those who need them.
The Movie Reality: In 1952, a medical breakthrough enables the human lifespan to surpass 100 years. Human beings are cloned purely so their organs can be harvested for people who require them.
If We Lived In The Movies: It's likely the Human Rights Commission would get involved immediately and put a stop to it.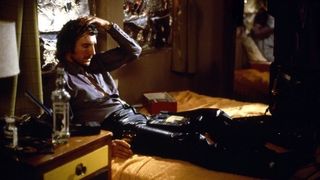 Strange Days (1995)
Reality: Memories are saved into people's minds and can be recalled by the person who experienced the memory.
The Movie Reality: People's experiences can be recorded from their cerebrum directly onto discs using a SQUID (Superconducting Quantum Interference Device), usually for sale on the black market.
These recordings can be played back by anyone, who then experiences exactly what the wearer did at the time of capture.
If We Lived In The Movies: Celebrity sex tapes would become a thing of the past, and celebrity sex experiences would sell like hot cakes.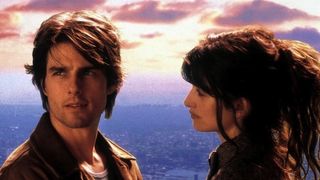 Vanilla Sky (2001)
Reality: Dreams take place while people are asleep. More often that not, they're like David Lynch films as opposed to lucid, everyday happenings.
The Movie Reality: An advancement in cryonic freezing entitled Life Extension, enables people to remain in a suspended animated state wherein they live in a dream of their choosing.
Should that dream turn into a nightmare, then your beautiful girlfriend may metamorphose into an even crazier version of your dead ex. Cripes.
If We Lived In The Movies: Having control over dreams, a lot of folks would opt to become frozen in order to attain the life they've always wanted. Leaving everything open to looters.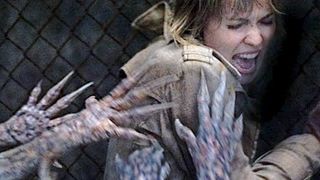 Silent Hill (2006)
Reality: Abandoned ghost towns are typically empty of inhabitants.
The Movie Reality: Empty, silent and coated in a layer of falling ash, the town of Silent Hill is a projection from the dark side of young girl who was burned by the townspeople for being born out of wedlock.
Her nightmare world is flooded with pyramid headed monsters, ugly landscapes and townsfolk all destined to feel her wrath.
If We Lived In The Movies: Smoke alarms would feel a lot scarier.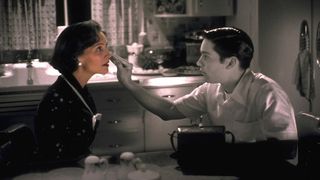 Pleasantville (1998)
Reality: The world is presented in every glorious colour imaginable, and people's personal revelations don't manifest physically.
The Movie Reality: The fictional TV town of Pleasantville exists entirely in black and white until trivia geek David and his sister are magically zapped into it bringing with them pre-marital sex, swearing, fighting and err...oil painting.
You know, all the things that make life great. Then things get rather exciting as the citizens start turning to colour.
If We Lived In The Movies: Every minute personal eureka moment would be visibly noticeable. Making it rather difficult to hide certain milestone moments in one's life (ahem) from parents.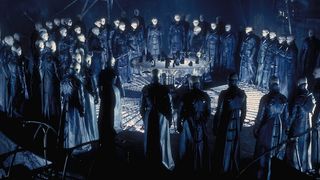 Dark City (1998)
Reality: Human beings live out their lives as the same person, relying on their memories to inform them of who they are and what they've done.
The Movie Reality: A world without sunlight is controlled by a group of bald beings called The Strangers, who plant a sample of humans into their city. Every night they "tune" them with new memories and place them into new lives as an experiment to discover the role of the soul.
If We Lived In The Movies: It'd be easy to shun yourself of the guilt of watching Grown Ups 2 , as in all likelihood it probably wasn't you that did it.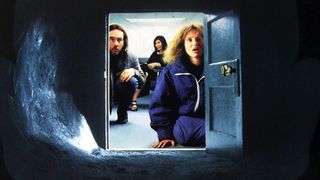 Being John Malkovich (1999)
Reality: The closest anyone gets to John Malkovich's innermost thoughts is reading his autobiography.
The Movie Reality: In an unusual twist of fate, a tiny doorway leading to Malkovich's brain is revealed to transport those entering directly into his soul. Before they get thrown into a ditch near New Jersey.
If We Lived In The Movies: Fans gagging for a Con Air sequel could get him to sign on the dotted line.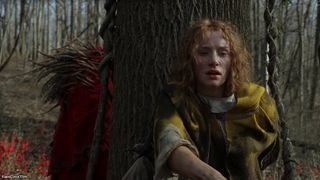 The Village (2004)
Reality: There ain't no such thing as monsters living out in the woods.
The Movie Reality: A small Pennsylvania village is kept in check by mythical creatures living in the surrounding woods.
The beasties turn out to be part of an elaborate scheme by the village Elders in an attempt to keep their families sheltered from the brutality of the 20th century.
If We Lived In The Movies: The Village would become a highly sought after luxury getaway from the stresses of modern day living.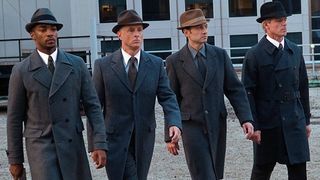 The Adjustment Bureau (2011)
Reality: Mankind is able to seek out any choice and travel down any path as a result of free will.
The Movie Reality: Due to humanity making choices deemed ridiculous by a higher power, free will was revoked following the Cold War. Afterwards, the adjustment bureau of snappy dressers were brought in to control people's choices, thereby determining their fates.
If We Lived In The Movies: We'd realise immediately if a new partner is going to cause us a whirlwind of grief down the line, as there'd be plenty of obstacles thrown our way.
See? Not all bad.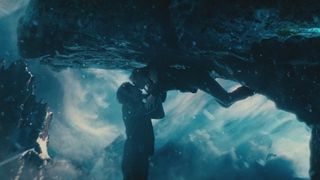 Upside Down (2010)
Reality: Our planet functions with one force of gravity pulling everything towards the Earth.
The Movie Reality: The planet is actually one of two, situated one atop the other. A dual gravity field with a unique set of rules makes it nigh on impossible for two people from the differing worlds to meet.
Prolonged contact with matter from the other planet causes one to be engulfed in flames. Puts a new spin on the whole "I'm burning for you" thing, huh?
If We Lived In The Movies: Teenagers with foreign "wanderlust" would frequently be whisked to A&E for topical burn creams.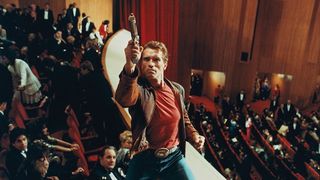 The Last Action Hero (1993)
Reality: When at the cinema, you can shout at the screen all you like without fear of a character reaching out to give you a clip round the ear.
The Movie Reality: Ownership of a special ticket stub enables the bearer to be transported into the world of the movie they are watching.
In this case, a teenage movie geek is zapped into the latest Jack Slater (Arnold Schwarzenegger) actioner.
If We Lived In The Movies: There'd no doubt be a Watchdog special about why people are going to the cinema and returning with bullet wounds, xenomorph goo, etc. all over them.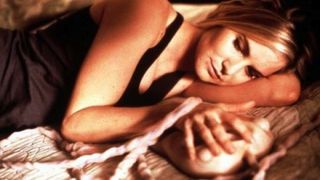 eXistenZ (1999)
Reality: Multi-player role playing games are operated by users in their homes through consoles hooked up to the Internet.
The Movie Reality: A virtual reality game created by game designers with caps lock issues, eXistenZ users plug into organic pods via a bioport in their spine.
Players embark on a mysterious game. In which, another game is played. And possibly another. To help win the game, they chop up frogs, eat repugnant fish and make guns out of bones.
If We Lived In The Movies: Bugger all would get done (pots being washed, trousers ironed, etc.) as everyone is constantly distracting each other by asking if they're still in a game.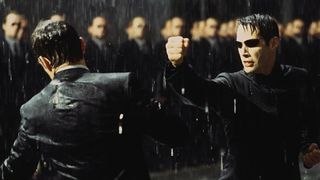 The Matrix (1999)
Reality: Computers are hands down one of the greatest inventions since those devices that slice eggs. But they've not taken over. Yet.
The Movie Reality: Life as we know it is a giant computer simulation called The Matrix, created by sentient machines who won a battle with the human race.
The real world is a gritty, urban habitat wherein all humans are kept in small liquid-filled capsules and plugged in to fuel the electrical needs of the machines. Unplugged however, they can manipulate the simulated universe to awesome effect.
If We Lived In The Movies: Everyone'd wanna take the red pill so they can go bendy-spine paintball-dodging with their mates on the weekend.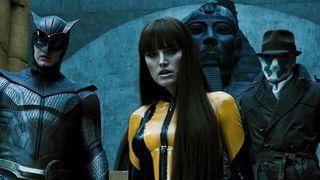 Watchmen (2009)
Reality: The Vietnam War ended when Saigon was captured in 1975, following President Richard Nixon's resignation in 1974.
The Movie Reality: A band of costumed vigilantes called the Watchmen aid the U.S. in winning the Vietnam War, causing Nixon's continued re-election and resulting in the Soviet Union threatening a nuclear war.
If We Lived In The Movies: The Avengers would be a social realist documentary.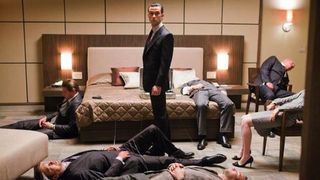 Inception (2010)
Reality: The world exists on a single plane of consciousness. Dreams consist of nonsensical images, often involving being naked in front of big crowds.
The Movie Reality: Dreams-within-dreams-within-dreams are accessible as corporate espionage technology enables a team of conmen to infiltrate other people's subconscious.
While stealing or planting ideas, dreams may also feature dead spouses trying to drag you into limbo.
If We Lived In The Movies: Desperate for a promotion at work, it'd be easier sneaking into the boss's brain to plant the idea instead of trying to replicate that complicated Mary Berry meringue as a bribe.