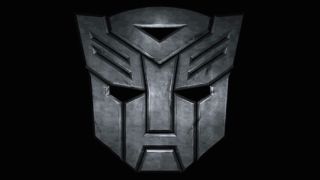 Robots in disguise
Robots get a bad rep. Many films choose to present them as cold, calculating murder machines - mankind's not-too-distant-future overlords. However, some automatons are damn decent chaps. Think Robbie the Robot (Forbidden Planet), Haley Joel Osment in AI, and Ash in Alien. Hmm, actually, scratch that last one. Hasbro's Transformers line, translated to the silver screen by none other than professional pyromaniac Michael Bay, is chock full of these pleasant automatons.
They are the Autobots, and together they help planet earth to fend off their smelly neighbours the Decepticons. They also perform a bunch of wacky skits and cause billions of dollars worth of property damage. Alas, no one's perfect. Today's filmic list looks at the very best of these charming clankers, from the skyscraper sized, to the mini and mischevious. Autobots, roll out!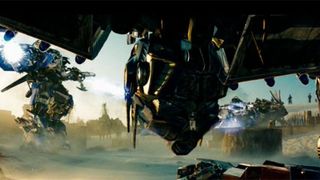 25. Jolt
The Autobot: Coming equipped with a natty pair of electro whips, Jolt is a blue Chevrolet Volt and an autobot technician. His sole movie appearance is in Revenge Of The Fallen. During the comic sequel, released prior to Dark Of The Moon, Shockwave takes him out.
Greatest Moment: Jolt fights during the climactic battle in Revenge Of The Fallen and plays a pivotal role, using his electro whips to transport Jetfire's spark into Optimus Prime.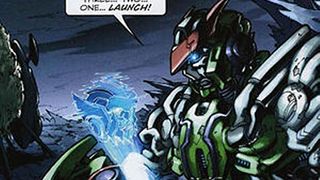 24. Grindcore
The Autobot: A lover of heavy metal (which means we love him), Grindcore may have a name that's unfortunately similar to a dating app, but he's the rock star construction worker of the Autobots. In the Titan comics, he's sent to Earth to help clean up after the All Spark created wanton destruction.
Greatest Moment: Grindcore doesn't see that much action (or, at least, he doesn't really fight), so his greatest moments generally involve him cranking up the tunes and getting his groove on.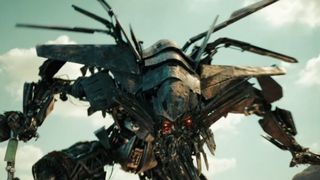 23. Jetfire
The Autobot: Somewhat resembling a wizened old man, Jetfire tires of the Decepticon ways and decides to side with the Autobots instead. He's been on Earth since the humans turned up and is 50 feet tall, leaning on a cane when in transformer mode. Yes, that's how old he is.
Greatest Moment: In Revenge Of The Fallen, he proves his loyalty to the Autobots by sacrificing his spark so that Optimus Prime can take down the Fallen. In your face, Megatron.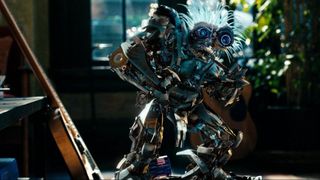 22. Brains
The Autobot: A one-time Decepticon who sort of looks like a robo-punk, Brains defected and became an autobot in Dark Of The Moon. He's a drone and pet to Sam (Shia LaBeouf) who sort of acts like a robotic dog, particularly when it comes to his feelings for Carly.
Greatest Moment: Brains and Wheelie save Bumblebee during the battle of Chicago when they hijack a Decepticon fighter and use it to sabotage a Decepticon battle-cruiser. Whoever said size matters?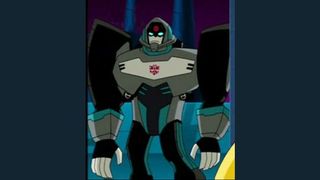 21. Longarm
The Autobot: One of the nicest Autobots, Longarm only lives to help other people (or Autobots). As a toy, one of his shoulder-panels reads 'Fast, Friendly, Fleet', which pretty much sums Longarm up. In the Titan comics, he joins the other Autobots in the fight to reclaim Earth from the Decepticons.
Greatest Moment: Even getting destroyed by the drone hordes can't stop Longarm. After a little rewiring, he's back fighting alongside the other Autobots. You can't keep a good 'bot down...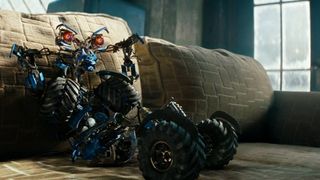 20. Wheelie
The Autobot: A former Decepticon who switches sides, Wheelie is so-called because, well, just look at him. He transforms into a blue toy truck and lives by the motto Only the fierce shall live. Even as an autobot, there's something dark and weird about Wheelie, who has a decidedly sick sense of humour.
Greatest Moment: In T3, Wheelie teams up with Brains for the battle in Chicago, commandeering a downed Decepticon fighter. Sabotage was never so cool.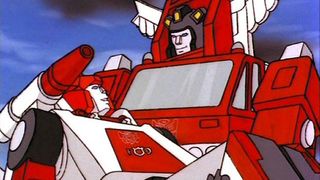 19. Inferno
The Autobot: Sure, every team needs a weapons specialist, but the Transformers are an intelligent folk, which is why they also have a qualified psychologist on speed-dial, too. That psychologist is Inferno, who uses his own special programming to analyse an autobot's emotional output, then recalibrates that output to make his patients feel better. Clever.
Greatest Moment: In the animated movie, Inferno proves he works only for the greater good when he willingly destroys a ruined building in order to take down the Decepticons, despite the fact that it'll take him down, too...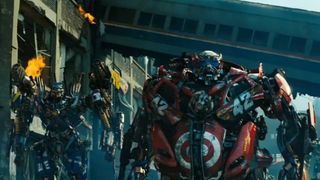 18. The Wreckers
The Autobot: A trio of Wreckers formed of Roadbuster, Leadfoot and Topspin, the Wreckers all turn into NASCAR Sprint Cup Series Chevrolet Impalas and work as mechanics.
Greatest Moment: The trio come to the aid of Optimus Prime during the battle in Chicago, creating a distraction so that Shockwave and the other Autobots can escape. They're also pivotal during Optimus Prime's fight against Sentinel Prime...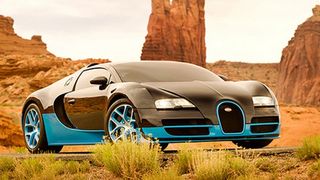 17. Drift
The Autobot: Inspired by a samurai (meaning he's skilled in battle), Drift is able to change into three different types of vehicle, including a 2013 Bugatti Veyron Grand Sport Vitesse and a helicopter. He's also voiced by Ken Watanabe.
Greatest Moment: Any autobot's shining moment is surely riding a Dinobot. In Transformers: Age Of Extinction, Drift joins forces with the purple Triceratops Dinobot Slug.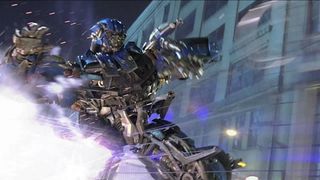 16. Evac
The Autobot: A young Autobot who so far has only appeared in Transformers: The Ride. Evac is a blue emergency vehicle who is tasked with transporting the All Spark. Even though he's only part of the ride, Evac's still cool - particularly because he lets any human who buys a ticket ride in him.
Greatest Moment: Going up against Megatron and surviving, even when Megatron fires missiles at him. Get this guy a gig in the next Transformers movie, stat.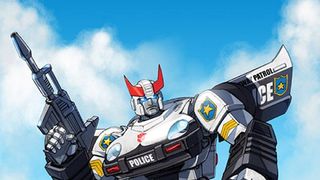 15. Prowl
The Autobot: A military strategist and one of Optimus Prime's most devoted combatants, Prowl appears in the comics and the cartoons, but not Michael Bay's movies. He transforms into a police car, which is as big a hint as any that he likes order, which is why he often butts heads with the other Autobots.
Greatest Moment: Any time he uses his acid pellets on Decepticons. That stuff burns...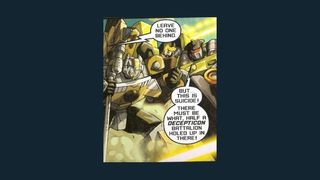 14. Skyblast
The Autobot: A comic mainstay, Skyblast is so cool that he doesn't need friends. He's the maverick of the Autobots. Blessed with the ability to fly, he's something of a thrill-seeking show off (we imagine he has 'Danger Zone' playing on repeat on his iPod).
Greatest Moment: Fighting with Divebomb during a daredevil mid-air skirmish that nearly cost him his parts. Few other Autobots live life on the edge quite as much as Skyblast...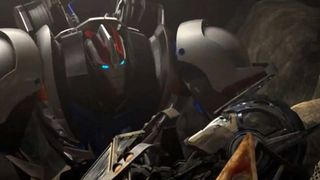 13. Smokescreen
The Autobot: Somewhat resembling Jazz, Smokescreen appears in the IDW Transformers comics (from 2007) and is part of a small unit headed up by Arcee sent to track down Decepticons who are based on Mars.
Greatest Moment: True to his name, Smokescreen is called on to help scramble Decepticon sensors using his array of electrical weapons. In the comics, he takes down Swindle, Dreadwing and Payload. Not bad.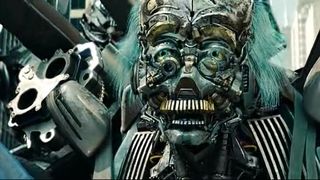 12. Wheeljack
The Autobot: Also known as Que, Wheeljack sort of looks like a robot version of Albert Einstein, which is probably because he's a super-smart scientist responsible for inventing some of the Autobots' coolest weapons. He takes the form of a blue Mercedes-Benz E550.
Greatest Moment: Any scene in which he's doing something science-y. Obviously. Also, cool bit of trivia, he was renamed Que for his movie appearance as a nod to Q in the Bond films.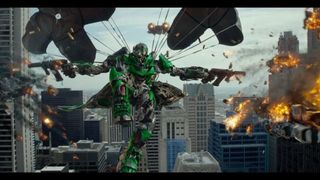 11. Crosshairs
The Autobot: An Aussie Autobot who transforms into a green 2014 C7 Corvette Stingray, Crosshairs is a paratrooper who appears in Transformers: Age Of Extinction. He comes with sidearm machine guns and a pair of natty goggles.
Greatest Moment: Riding Dinobot Scorn. Because riding a Dinobot is obviously ridiculously awesome.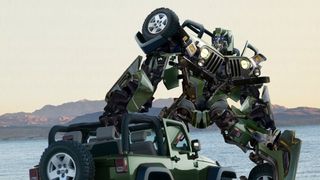 10. Hound
The Autobot: Taking the form of a dark green Oshkosh Defence Medium Tactical Vehicle in Transformers: Age Of Extinction, Hound is an Autobot commander (voiced with typical command by none other than John Goodman). He has a cigar that also functions as a gun...
Greatest Moment: We won't give anything away, but suffice to say Hound gets in on the action at the film's close, fighting alongside Bumblebee...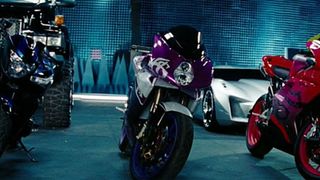 9. Arcee
The Autobot: Who says all Autobots are guys? Arcee actually consists of three female 'bots who are united by a single consciousness (you can tell they're female cos they're pink...) They often fight in tandem and take the form of motorcycles.
Greatest Moment: In comic sequel The Reign Of Starscream, Arcee takes down Flatline. If you've ever seen Flatline, you'll know what a big deal that is.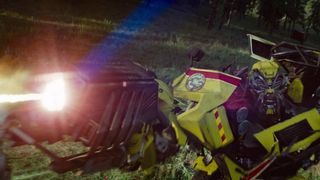 8. Ratchet
The Autobot: Every team needs a medical officer, and the Transformers are no different. Ratchet provides that service, mostly because he transforms into a search and rescue Hummer H2, meaning he's fit for purpose. That's in the Michael Bay movies, which is a change from the character's original design as an ambulance.
Greatest Moment: In the first Transformers, Ratchet gets in on the city-based action, dodging missiles and transforming in SLOW-MO (naturally) as he goes up against rampaging Decepticons.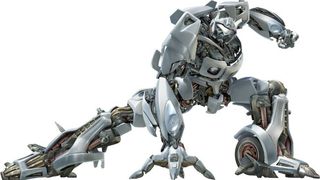 7. Jazz
The Autobot: Second in command behind Optimus Prime and a lover of all things urban, Jazz is a zippy sports car with style to spare. Doubt it? He was voiced by Scatman Crothers in the animated Transformers movie.
Greatest Moment: Jazz fearlessly goes up against Megatron in Transformers. Considering how huge Megatron is, though, it's not exactly a fair fight, and Jazz is taken to task. Sob.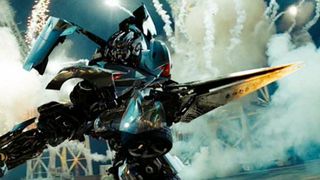 6. Sideswipe
The Autobot: Easily one of the slickest-looking of the Autobots, Sideswipe takes the form of a silver Chevrolet Corvette. He's the team's combat instructor and is seriously agile. He has wheels for feet, so he's able to skate through battle scenes wielding his detachable swords. See? Slick.
Greatest Moment: In Transformers: Revenge Of The Fallen, Sideswipe goes up against Sideways (of course), slicing him in half with his enormous blades. Damn I'm good, he gruffs. Modest, too.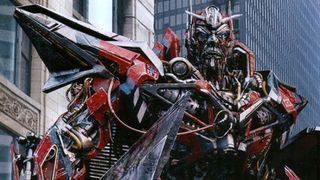 5. Sentinel Prime
The Autobot: Voiced by Leonard Nimoy (hello awesomeness), Sentinel Prime is the former leader of the Autobots and Optimus Prime's mentor. He appears in Dark Of The Moon as a Rosenbauer Panther fire truck and betrays the Autobots. Saving grace? He's based on Sean Connery...
Greatest Moment: Sentinel Prime is responsible for considerably upping the stakes in T3, activating the space bridge in Chicago in order to repair Cyberton using Earth's resources. Sure, it's evil, but man it's cool.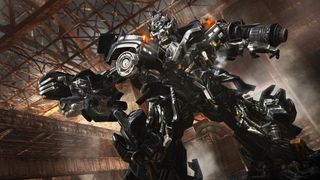 4. Ironhide
The Autobot: A cranky weapons specialist who takes on the appearance of medium-duty truck the GMC TopKick c4500. Ironhide is a loveable curmudgeon who climbs the ranks through the first three Transformers flicks before being killed by Sentinel Prime in Dark Of The Moon.
Greatest Moment: Going down fighting when Sentinel Prime destroys him in T3. You didn't really expect Ironhide to go down in anything but a blaze of glory, did you?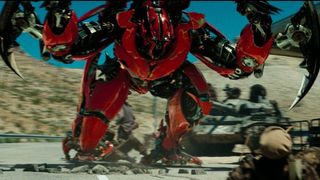 3. Mirage
The Autobot: Easily one of the coolest ever Transformers (and only partly because he's a Ferrari), Mirage - who's also known as Dino - is a rare autobot who doesn't think too highly of human beings. He's damn near impossible to best in battle thanks to his ability to cloak himself, plus the fact that he has an electro disruptor...
Greatest Moment: Mirage plays a pivotal part in T3's battle of Chicago, taking down numerous Decepticons. We love this guy.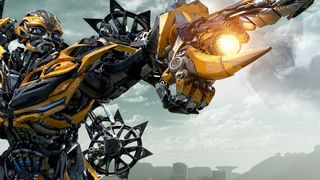 2. Bumblebee
The Autobot: Mute for most of the first Transformers, Bumblebee is a 1974 Chevrolet Camaro, and the first car of a certain Sam Witwicky (Shia LaBeouf). He's also one of Optimus Prime's most trusted compadres.
Greatest Moment: Though he does some seriously nifty fighting throughout the Transformers films, we love his cheeky 'radio play' in the first film. Unable to speak, Bumblebee instead communicates using songs on the radio.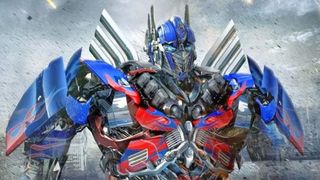 1. Optimus Prime
The Autobot: The big cheese. Leader of the Autobots and general trucking badass. Optimus Prime (brilliantly voiced by Peter Cullen), who transforms into a 1997 Peterbily 379, is on a mission to destroy the All Spark and end the war between the Autobots and the Decepticons.
Greatest Moment: Prime breaks out the weaponry in Transformers: Dark Of The Moon when he avenges Ironhide by killing (gasp) Sentinel Prime. That, or the bit where he rides on a Dinobot while wielding a flaming sword. Because HELL YEAH.