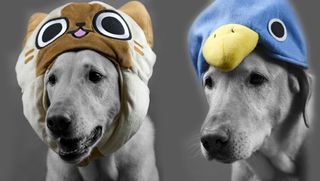 Halloween has gone to the dogs!
Earlier this month, GamesRadar's staff were sitting around in a room discussing important Halloween-themed articles when someone said, "What about an article where we show pictures of dogs wearing game-themed Halloween costumes?" And thus, this article was born, because dogs look like they hate wearing costumes--which is hilarious--and some people put a lot of effort into squeezing their pup into a cute getup.
We know dressing up the dog can be lame, but there are a few great costumes out there for your best friend. The following 25 slides should give you an idea of how you can dress up your canine companion, and who knows... maybe you'll find a costume for yourself too!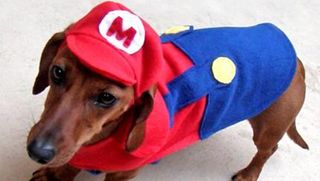 Mario
Mario is a classic character, so dressing your dog up as the plucky plumber will be sure to get some recognition.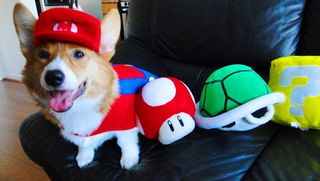 Mario
If you're afraid that not even your friends will know who Mario is, or if you just want to spice up the overalls and red shirt, throw some props in like this corgi has.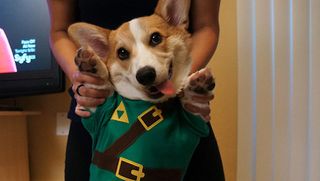 Link
This little guy is really excited to be the Hero of Time, and we're really excited for him.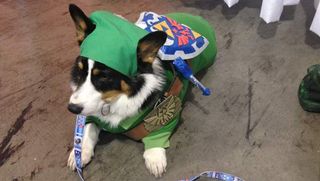 Link
Where the last Link was just the tunic, this guy goes all out with the hood, sword, and shield. He's ready for battle!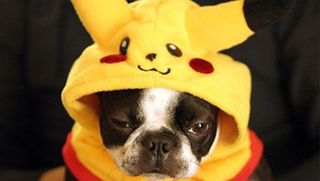 Pikachu
Everyone knows Pokemon, and everyone who knows Pokemon knows Pikachu. The two go hand-in-hand.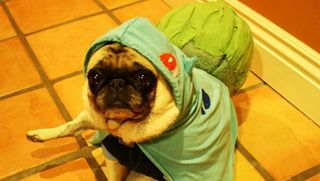 Bulbasaur
However, if you want to dress your dog as a Pokemon but don't like the little yellow rat, may we humbly suggest Bulbasaur.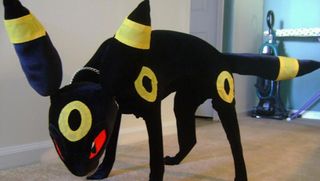 Umbreon
If you REALLY want to impress your Pokemaniac friends, however, take your dog out as Umbreon like this guy here. We love this costume and wish we owned it.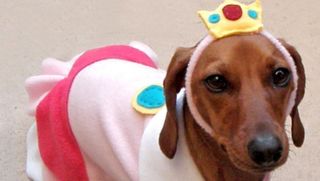 Princess Peach
We're not just talking about male dogs here, so why not dress up your little princess (don't lie, you've called her that) as a princess?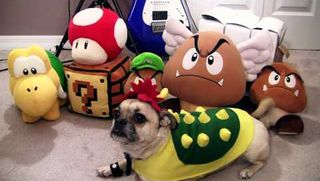 Bowser
If you do choose the Peach costume, watch out for the neighborhood Bowser dog. He likes to steal princesses and be defeated a bunch of times.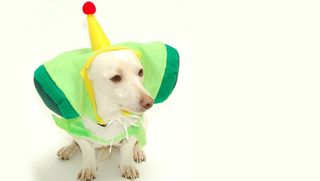 Prince of the Cosmos
If he rolls up anything, it's likely stuff he tore apart himself. Dogs are jerks sometimes.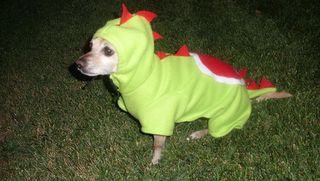 Yoshi
Maybe the Mario costume isn't your thing and you prefer animals to stay animals. Why not try Yoshi? Your dog always wanted to be a dinosaur; that's why he keeps chewing your shoes.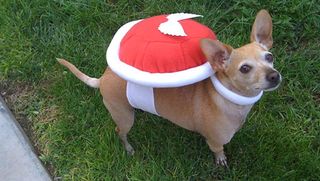 Paratroopa
Everyone gets so caught up in Mario and Luigi and Peach and Bowser, no one stops to remember the little guys like Paratroopa. Perhaps you can remedy that with a snazzy costume.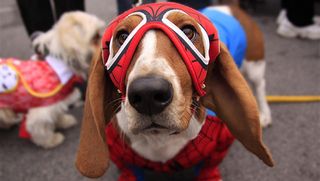 Spider-Man
Spider-Dog, Spider-Dog, does whatever a Spider-Dog does...we know that's not the song, but Spidey does make a great costume.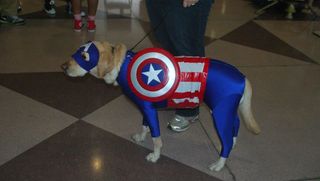 Captain America
If Steve Rogers himself owned a dog, we have no doubt it would look like this guy here. He even has his own shield, perfect for deflecting attacks or a plate for treats when turned upside down.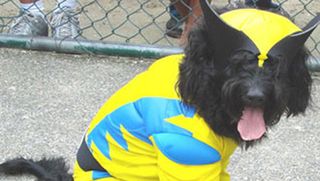 Wolverine
We love the idea of doggy Wolverine, but for authenticity's sake we'd have to leave his nails untrimmed for a while, and that would only end up badly.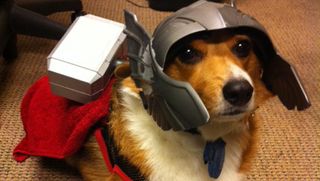 Thor
I AM THORGI, CANINE COMPANION OF ODIN. FEEL THE WRATH OF MY CHEWY SQUEAKY HAMMER!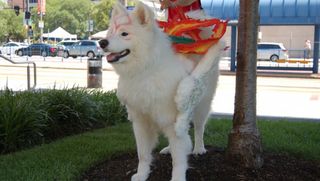 Amaterasu
This is a no-brainer: Amaterasu is a wolf god, dogs are basically domesticated wolves, voila! Instant God of the Sun.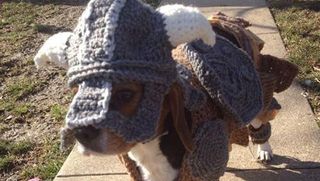 Dovahkiin
We LOVE the idea of Dogvahkiin, but we assume Shouts would turn into Barks. It's hard to speak an ancient dragon language when one can't speak at all.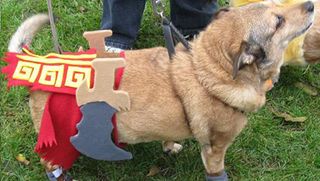 Kratos
"That dog stole food from my bowl and sniffed my rear end without my consent...VENGEANCE SHALL BE MINE! I AM THE DOG OF WAR!" Don't mess with Doggy Kratos.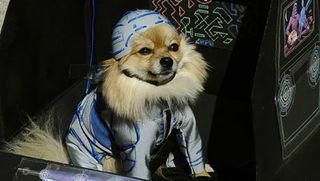 Tron
We love this costume, but the idea of dogs in the Tron world is scary. How many light cycle races would be ruined by dogs chasing the bikes? Too many, we think.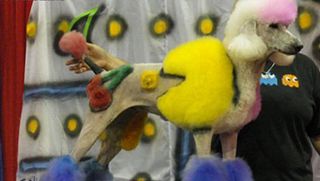 Pac-Man
It's one thing to dress you dog as a video game character, it's another to dress it as an entire level like this. Pure craftsmanship.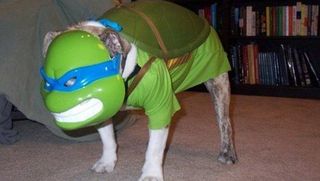 Leonardo
Any Ninja Turtle would be perfect for a dog costume, but why would you want your dog to be dressed as anyone but the best?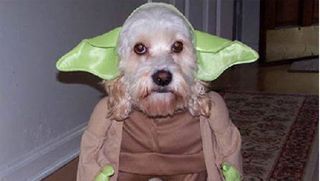 Yoda
Dress dog like Yoda, you should. Appreciate it, he will. Many sloppy dog kisses, you will receive.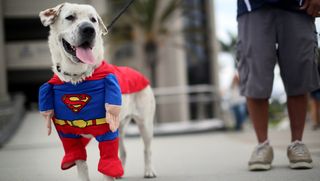 Superman
Watch out when dressing your dog as Superman, it may think it is actually Superman and try to fly from the couch to the dinner table. Remember: Milk-Bone is their kryptonite.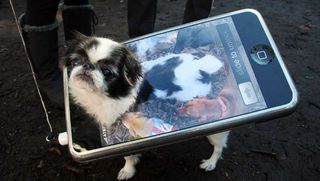 iPhone
Maybe you're not sure which character you want to dress the dog as, so why not dress him like the device you play some of the games on? Does the software update include a "no accidents in the house" setting?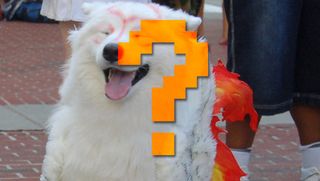 What's your dog wearing this year?