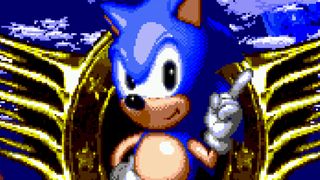 Sonic the Facthog
If there was an award for 'most fanatical fans', then Sonic's followers would be in with a shout of winning it. They just love to pore over every little detail, not only of the games themselves, but every little scrap of pre-release footage and information, in the hope they'll find out something new.
Why? F*** knows. But what it does mean is that there's a load of information around that is absolutely fascinating if you have even the slightest interest in ol' Spikey Head. I've collated the most amazing facts and displayed them here for your eyes to gawp at. How many did you already know? Let's find out...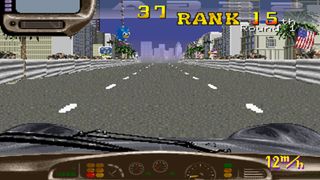 Sonic's first appearance was NOT in Sonic 1
He was featured in coin-op racer Rad Mobile months before Sonic 1s release, dangling from the rear-view mirror as a little toy. Awwww, how cute. Of course, he also appeared in Super Monaco GP II before Sonic 2 came out, running across the bottom of the Select Your Rival screen as the cars race on. But that was when everyone knew who he was. Still cool, mind.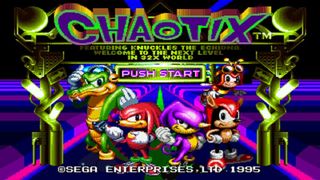 There is a Sonic game that doesn't have Sonic in it
Knuckles Chaotix on (recites from gamz journalism handbook) Segas ill-fated 32X was a Sonic game that didnt feature Sonic. Instead, Knuckles takes centre stage. Yes, that is really weird. But whats weirder is that its never been ported to any other console. GBA could probably have run the game, so quite why Chaotix has never appeared on a Virtual Console service or compilation package is anyones guess. Sonic does technically appear in the 'good' ending credits, but that hardly counts. You can't play as Sonic. In a Sonic game.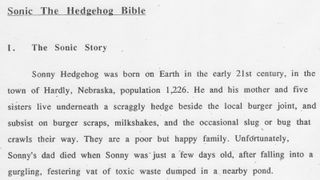 Sonic is really 'Sonny'. From... Nebraska?
Sonic wasnt always blue. There is a document written by Sega of America (with several necessary revisions) that sets out the official origin story for Sonic, which was later used for comic adaptations. The earliest draft is called the Sonic Bible and reveals some strange back-story decisions, like Sonics dad dying after falling into some toxic sludge, Sonic being called Sonny (no mention of Cher) and that hes from Nebraska. The only other notable character I know linked to Nebraska is Ike from South Park. And he didnt even want to go there.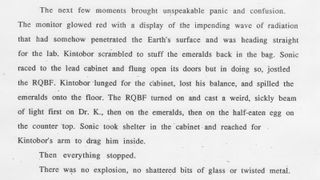 Robotnik/Eggman used to be a nice guy
Dr Ovi Kintobor was a genuinely nice character who wanted to save the environment... until a strange radiation wave combined him with the evil of six Chaos Emeralds AND a half-eaten egg. Honestly, Im not making this up. This is all from that first draft of the Sonic Bible origin story, which is absolutely bonkers. After the radiation blast, his name badge on his jacket read 'Ivo Robotnik' (backwards, see?) and the rest is history.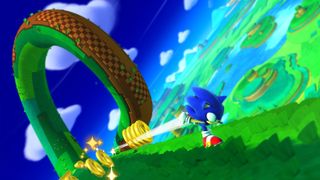 Sonic is blue because he ran faster than the speed of light
On a treadmill on Kintobors lab, Sonic ran faster and faster simply through training really hard. He passed the sound barrier, then managed to travel faster than light itself. Technically he should have finished running before he started (or maybe the treadmill should have been the time traveller Im not a physicist), and when Kintobor slowed down the treadmill, Sonic was blue and his spikes were now like a Mohawk. Cool.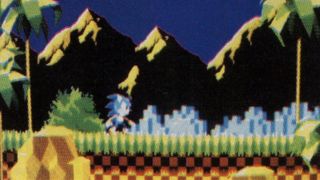 Sonic Team had to slow him down for Sonic 1
Sonic was too darn fast in early prototypes. One early build of the game looked amazing, featuring 7 layers of parallax scrolling (according to Yuji Naka), but early builds moved so quickly, it was a little too dizzying to be playable for any length of time. So Naka slowed him down to a pace that was controllable and enjoyable. Still brain-meltingly fast in some sections, but crucially that speed was used sparingly, for maximum impact.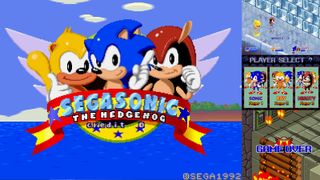 There is an arcade Sonic game
It's called SegaSonic The Hedgehog and featured an isometric perspective, with some reasonably impressive special effects for its time. It has never been ported to home consoles, which is no great loss in my opinion. Interestingly, however, it does feature Mighty the Armadillo, disproving the theory of anyone who says Mighty was actually meant to be Sonic in Knuckles' Chaotix on 32X. Mighty's been around since 1993. Fact. That other character is 'Ray the Squirrel', who only ever appeared in comics after that. Too many 'Something the Something' characters, perhaps.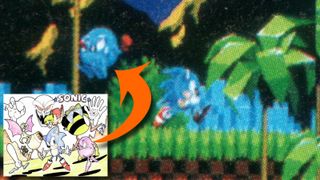 Sonic's enemies weren't always robots
A playable demo of Sonic exists, made for a 1990 Japanese toy fair (before the days of E3), using different sprites and even featuring enemies from the original concept art. Look at the picture--that's a pre-Badnik Sonic enemy right there. Sadly, we were supposed to be playing this build already in Sonic Mega Collection, but Yuji Naka cant find it. He wishes he knew where it was and wants it back. Meh.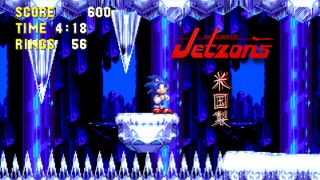 Ice Cap's amazing music is a real song by the Jetzons
An unreleased song by 1980s band the Jetzons (whom Id never heard of until this came up--sorry) called Hard Times is clearly the source for Sonic 3s sensational Ice Cap Zone music. Its long been a fan favourite, so it was weird to hear it being sung (with words and everything) when the bands record label, Fervor Records, released the previously unpublished song in December 2009.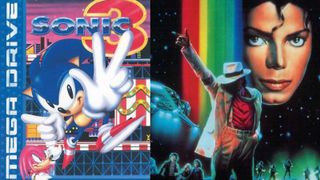 And Michael Jackson clearly wrote a lot of Sonic 3's music
There is so much evidence for this. The King of Pop loved video games, appeared in several Sega releases and (most obviously), several tunes in Sonic 3 sound exactly like sections of Michaels released tracks. Especially that bit in Carnival Night Zone. But then the unsavoury alligator unleashed his first round of unsavoury allegations and Jacksons involvement was totally shushed to distance Sega--and Sonic 3--from the scandal. A shame really. Sonic 3s soundtrack is amazing and credit is due.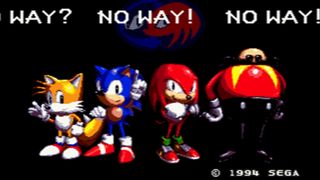 Sonic & Knuckles' lock-on compatibility doesn't end with Sonic 2/3
When Sonic & Knuckles was first announced, it was supposed to add playable Knuckles to Sonic 3, Sonic 2 and even Sonic 1. But in the end, the levels in the original didnt suit him and the colour palettes were incompatible basically it didnt work. But if you simultaneously press A, B and C on the No way! screen, you can play Blue Sphere, a version of Sonic & Knuckles globe-based 3D special stage based on code from the locked-on game. How cool is that? Not all games work, but most early, 2MB ROM games (like Ecco The Dolphin) do. Crazy times.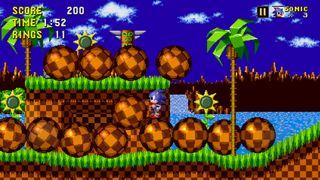 Robotnik used to twerk. No, sorry, his wrecking ball was level furniture
And not only has it been seen in beta code, it can be accessed via the debug mode in the iOS/Android conversion of Sonic 1 by Christian Whitehead. Not only can the ball be pushed around the levels, it smashes through breakable walls and can even be dropped on Robotniks head in the boss fight, causing damage.
Incredibly, the physics engine not only allows multiple balls to roll around on the screen at once, they even collide with each other. Probably just Christian Whitehead having fun with his development toys, but it's amazing to see the ball working properly. It even smashes through breakable walls. I know I already said that, but it's amazing.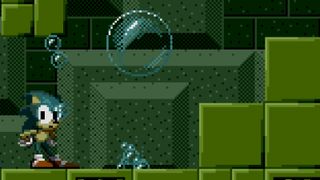 Sonic can't swim because Yuji Naka was mistaken
Yuji Naka thought that hedgehogs couldnt swim (they can), so Sonic just walks around underwater, breathing in gulps of air from cracks in the floor. Which is obviously much more believable.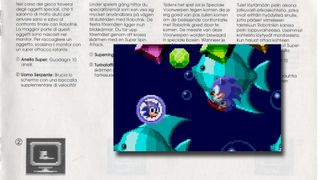 Instruction manuals advertise items you cant ever collect through normal means
Sonic 1 shows an extra life icon in the bonus stage which is present, but only in an unfinished area outside of the normal level that you can only reach via the debug mode. Similarly, Game Gear Sonic 2s manual shows a pair of running boots in the first level but unlike the Master System version, you cant ever find them. Fail.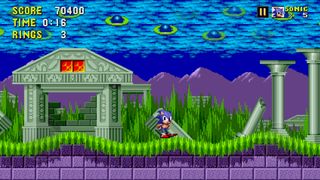 The Sonic 1 beta UFOs are present in an official release
Early footage of Sonic 1s pre-release phase (including Waynes World!) shows strange UFO-like objects in the Marble Zone sky. Theyre actually present in the debug mode of the iOS/Android version and can be called into play whenever you like. They dont do anything, although they are clearly a modern addition, as they feature transparency effects the Mega Drive wouldnt have been able to display.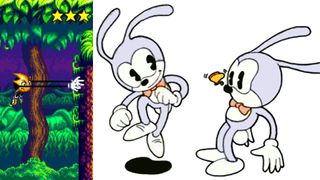 Sonic was almost a rabbit
Early suggestions for Segas new mascot included a rabbit that grabbed enemies and items with its ears. But technical limitations at the time prevented that from being used for the Nintendo-beater. It is entirely likely that Ristar was born from this early concept, using his long arms to grab things and swing from them, once the Mega Drive tech was more understood.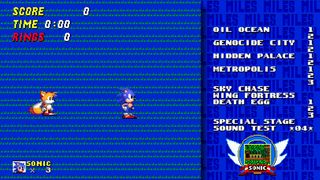 Sonic 2 once contained a level called Genocide City
There are several levels in early betas for Sonic 2 that go by different names or were cut from the final product (in fact this level arguably never had any graphics, as this beta hack shows). One such stage was Genocide City. Likely an unfortunate misunderstanding of a literal translation, clearly this could never be the name for a family-friendly game. But Genocide City wasnt lost completely. Its single-act layout was reskinned... and became Metropolis Act 3. So thats why Metropolis is the only level to have 3 acts in Sonic 2. Its really Genocide City in disguise.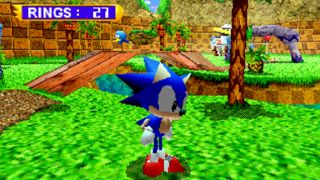 Sonic Adventure started life as a Saturn game
Sonic team made several prototypes on Saturn to see how Sonic would work in 3D, the best of which emerged as the Sonic 3D World section in Sonic Jam (pictured). But, having found a decent formula, the project was moved to Dreamcast as Saturn stalled and the new hardware loomed. I must say, though, Sonic Jams 3D Sonic controls exceptionally well. Maybe 3D Sonic should move at that kind of pace more often?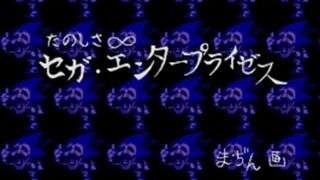 Sonic CD has a scary screen in it
Sonic CD has a scary screen in it with a weird-faced Sonic and Japanese text. Turned out to be a play on words (in Japanese) on the games Landscape Designer Masato Nishimuras name. The pun turns his name into another word for the devil, which is why some people thought this screen was put in the game by *cough* the devil. It wasnt--its just devilishly good. Hahaha.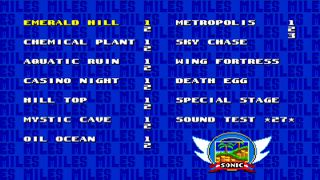 Sonic 2's level select is Yuji Naka's birthday
19, 65, 09 and 17. Thats the sequence of numbers indelibly branded onto my brain, for its the sequence of sounds in the Sonic 2 sound test you have to play in order to unlock the level select. But its that sequence for a reason. September 17, 1965, is Yuji Nakas date of birth.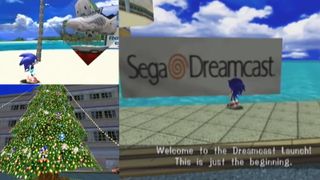 He introduced the console world to DLC
Sonic Adventure featured the first DLC on console, with the Dreamcast Launch Party for Sonic Adventure in the US, followed by the Reebok Challenge in Europe. Other consoles like SNES and Mega Drive had allowed gamers to play games through the internet, but never offered additional content available to download. Or, more accurately, unlock. The trainers hunt was pretty fun, but the Christmas in Station Square pack was better, allowing you to sit under a Christmas tree and listen to Boyz II Men's acapella rendition of Dreams Dreams from Christmas NiGHTS.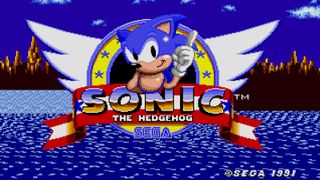 Sonic 1s title screen relies on graphical limitations to display properly
If you've ever see an emulated version of Sonic 1, youll often see the bottom of Sonics tummy overlapping the title ribbon, thanks to the sprites overlapping in ways the Mega Drive could not display. Sounds like a minor thing (and it is) until you see mainstream media like the Guinness Book of World Records Gamers Edition, which proudly shows the glitched version. Either theyre emulating Sonic for their grabs, or nicking it off Google without knowing the difference.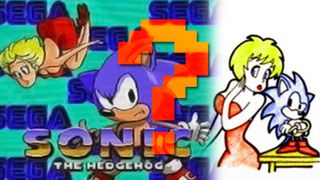 Everyone knows about Madonna, right?