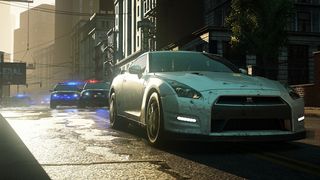 It's a city of possibilities...
So you've bought Need For Speed: Most Wanted and got it loaded up. The entire city's there to be enjoyed. But what can you do straight from the first rev of the engine to maximise your fun in the first hour? Fear not! GamesRadar is here to suggest some automotive tomfoolery. Check this out...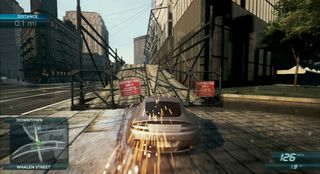 1. Hit the first ramp
After the first few sweeping corners and the drift tutorial, there's a ramp you might miss if you're not looking for it. Right before the first Jack Spot, look right and get ready to hit this ramp. Do so and you'll smash through a BioWare advertising board, landing right at the foot of your first new ride.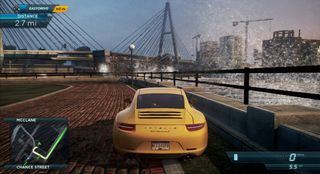 2. Earn some nitrous
It's worth doing the first race you get offered to earn nitrous for your car. By the way, don't miss the rather nifty spray effects from the breakers. Just don't get saltwater all over your shiny new car.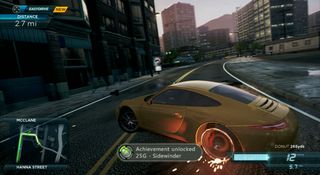 3. Blow your tyres and do donuts on the rims
Hold the brake and accelerator together from standing, then release the brake as you turn to do a massive donut. Keep it going long enough and your rear tyres will explode, leaving you spinning on your bare rims. You'll even get an achievement/trophy, as if it wasn't already rewarding enough.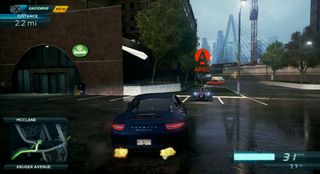 4. Find the Ariel
In Kruger Drive (two roads North from the broken bridge at the bottom of the map), you can find this tasty little number sitting in a parking lot. Well, it seems cruel to just let it sit there, doesnt it?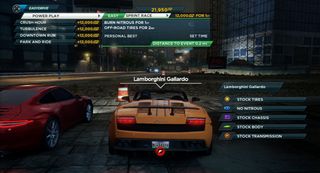 5. ...And the Lamborghini Gallardo
This is next to the large parking lot in McClane (come off Interstate 92 in the South East of the map and find it on the corner as you head South). Time to get speedy. Just don't expect to be able to wreck it in the manner you've become accustomed to in Criterion games. It's 'robust', to put it politely.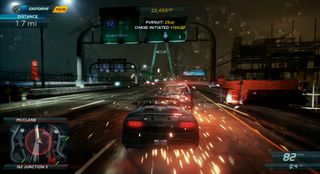 6. Pick a fight with a cop
Yeah, we just drove into him. Thats gonna get you noticed. Hot Pursuit time!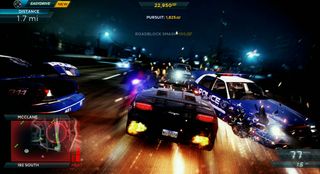 7. Smash through a roadblock
Just stick to main roads while being chased by the cops and this will happen sooner or later. We just smashed through and earned the Battering Ram achievement. Booosh!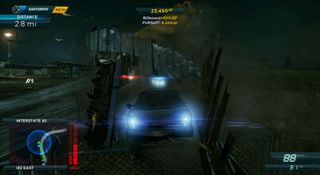 8. Look backwards while smashing stuff
A simple trick, but pulling back on the right stick gives you a great view of a billboard smash, provided you've lined it up properly.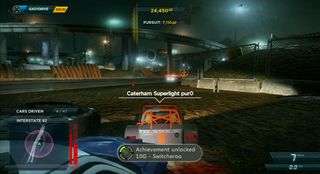 9. Do a 'switcheroo'
Hop into a new car while youre being chased to earn this achievement and also fool your pursuers (if youre in cooldown mode, which were not here).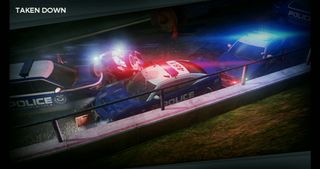 10. Get busted
We wouldnt normally recommend failing, but getting caught not only yields another achievement, but it also has a cute little top-down moment, GTA-style, where the cops continue to ram your broken car. Surely that's unnecessary?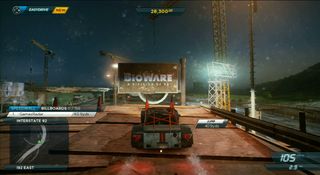 11. Have some fun 'under construction'
Interstate 192 has some flyovers part-way through being built. There are pipes to jump through and suspended platforms to leap at and precariously park on, just to test your brakes, of course.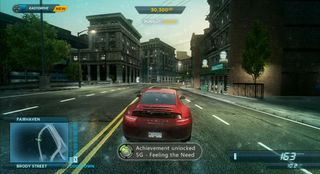 12. Burnout!
Expel an entire boost bar in one go (without hitting anything) to earn another achievement and feel the need. The need for spee... Oh, we've done that one already. Sorry.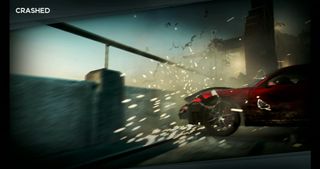 13. Crash, dummy
Its worth crashing head-on into something, if only to see that your driver is rendered inside the car, enjoying a face meets steering wheel moment. Hey, at least hes wearing a helmet.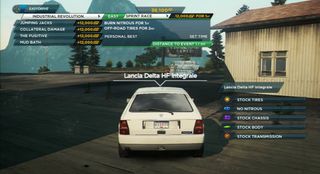 14. Pretend it's Sega Rally
Get to the lighthouse at Fairhaven and youll find this Lancia Delta Integrale, co-star of the classic 1995 arcade racer, Sega Rally Championship.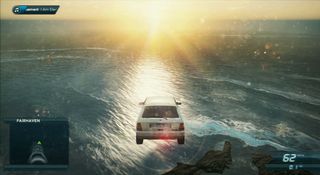 15. "Game over, yeah!"
Then crash it into the sea by driving through the flimsy barriers. Ahahahaha!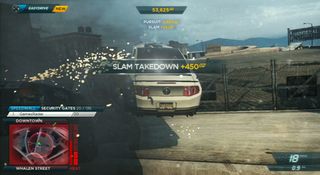 16. Perform a Takedown on a cop
We did it by making them fall short on a jump. Losers! You can also get easy takedown bonuses by T-boning police cars trying to turn in the road ahead.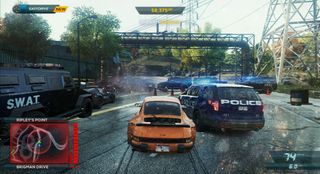 17. Try to fill your heat meter all the way
We almost made it to maximum heat (that's the top of the 'you've been this much naughty' gauge), before this little situation finally brought our rampage to an end. It was most definitely fun while it lasted. How long can you last?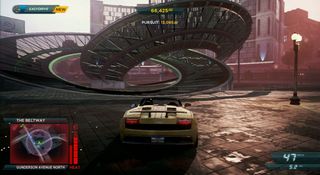 18. Drive around the modern art
This fancy-looking modern art installation at Gunderson Avenue North (low/centre of the map) is as fun to drive around as it looks like its going to be. Especially when the police get on it with you. Sadly, you don't get an achievement for being so creative.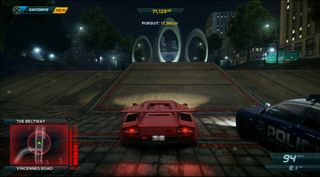 19. Try to nail this jump
Vincennes Road literally has you jumping through a hoop to reach this billboard. You need a lot of speed--more than our paltry 94 MPH on this attempt. Of course we got it in the end.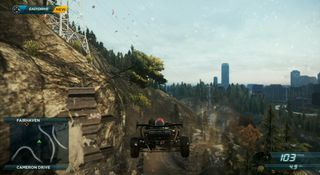 20. Try for a 200m jump
You might need a faster car for this. We managed 183m, after doing one race to earn a quick-dispel nitrous system. But if you're starting to enter more events to level up your ride, it sounds like you're into the game proper. So we'll leave you there to enjoy the rest of your shiny new racing game...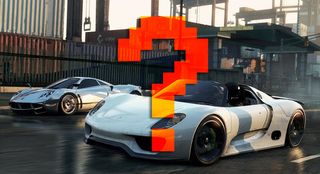 But what will you find?
The internet is like a hive mind, remember, so spread the knowledge and let us know your favourite jumps and Jack Spots in the comments.
And if you haven't done so already, be sure to check out our Need For Speed: Most Wanted review.