Submarine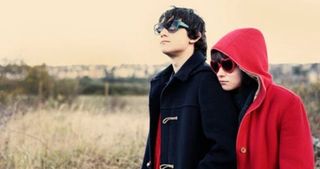 The Film: Richard Ayoade's hotly tipped debut about a teenager trying to break up his mother's (Sally Hawkins) affair with a life coach (Paddy Considine).

Why We're Excited: Ayoade has moved successfully from The I.T. Crowd into visually inventive music videos for The Arctic Monkeys, and Submarine follows suit with plenty of wit and a freewheeling aesthetic that betrays Ayoade's love of the French New Wave.
Red State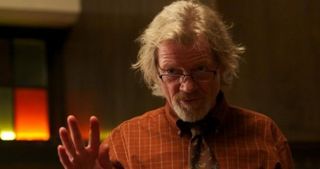 The Film: Kevin Smith swaps comedy for horror in the tale of three horny boys lured into a trap by Michael Parks' fire-and-brimstone preacher.

Why We're Excited: Smith has struggled to replicate his early form in recent years, but remains a strong, distinctive writer. This startling career change - allied to a grass-roots marketing campaign - might be the film to restore his mojo, if early buzz (from Neil Gaiman and Richard Kelly) is anything to go by.
The Guard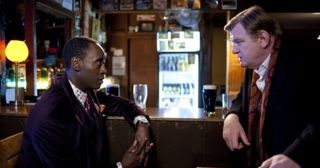 The Film: Culture-clash ahoy, as Don Cheadle's FBI agent meets his match in an Irish cop (Brendan Gleeson) who isn't about to let a Yank disrupt his unorthodox approach to keeping the law.

Why We're Excited: Gleeson is a cast-iron guarantee of quality, and Don Cheadle isn't far off. Better still, this is written and directed by John Michael McDongh, whose brother Martin made Total Film fave In Bruges with Gleeson. If this can deliver half of that film's laughs, it'll be a winner.
The Greatest Movie Ever Sold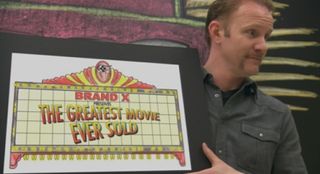 The Film: Morgan Spurlock takes on the world of product placement by - inevitably - making a film funded entirely by product placement.

Why We're Excited: Spurlock's cheek in marrying form and content is unrivalled, and this sounds like his smartest, most sardonic concept since Super Size Me , shedding light on one of Hollywood's most annoying habits.
Margin Call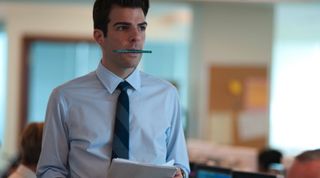 The Film: A financial analyst (Zachary Quinto) makes an alarming discovery that sends ripples through his investment bank.

Why We're Excited: Set in 2008, this is a brainy corporate thriller a la Boiler Room that uses a stellar cast - Kevin Spacey, Paul Bettany and Stanley Tucci all feature - to explain the moral corrosion and high-stakes gambling that brought the banks to their knees.
Hobo With A Shotgun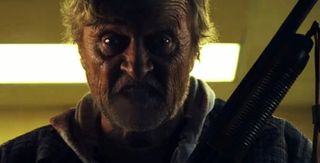 The Film: Tired of being pushed around, Rutger Hauer's titular wanderer-with-a-weapon decides enough is enough.

Why We're Excited: They had you at 'Shotgun,' right? But Jason Eisener's exploitation homage also comes with a solid, First Blood -esque premise and, in Hauer, a icon out to prove how underrated he's always been.
The Devil's Double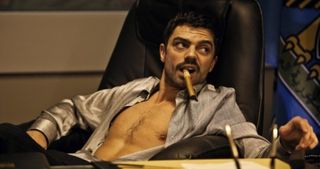 The Film: Dominic Cooper doubles up in a bizarre true-life tale as both Saddam Hussein's volatile son Uday... and Latif Yahia, the man ordered to act as the tyrant's body double.
Why We're Excited: Cooper isn't the most obvious choice as an Iraqi, but he's thrown himself into a role - or roles - that should displace memories of Mamma Mia . Similarly, director Lee Tamahori desperately needs to atone for Die Another Day ... so a return to the violent machismo of his classic debut, Once Were Warriors , seems a smart move.
Higher Ground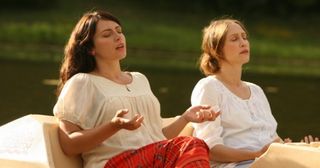 The Film: A woman (Vera Farmiga) begins to question her life after twenty years as a Fundamentalist Christian.

Why We're Excited: Farmiga has proved herself one of the most interesting and sparky actress around in the likes of The Departed and Up In The Air . For her directorial debut, she's chosen contentious subject matter that addresses one of America's hot-button topics, as well as the kind of role that could bring her another Oscar nom in a year's time.
The Interrupters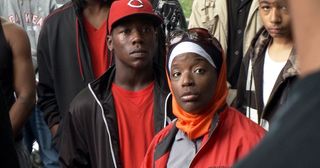 The Film: Documentary about a group of reformed gang members in Chicago whose new career involves 'interrupting' violence on the streets before it turns fatal.

Why We're Excited: Director Steve James made Hoop Dreams , a contender for the greatest documentary ever made, and his latest has all the hallmarks of repeating the balance of taut narrative and social awareness. The fact that The Interrupters sound like real-life superheroes doesn't hurt, either.
My Idiot Brother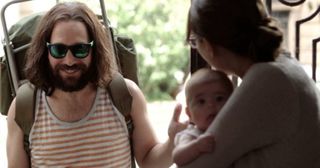 The Film: Paul Rudd stars as a hapless bum who turns to his three sisters (Elizabeth Banks, Zooey Deschanel and Emily Mortimer) for help.

Why We're Excited: Rudd remains the not-quite star of the Brat Pack, despite his solid turns in Anchorman and Knocked Up , but this gives him a chance to escape straight man chores to become a comic maelstrom. With the Focker franchise bereft of ideas, this could be the dysfunctional fam-com to replace it.