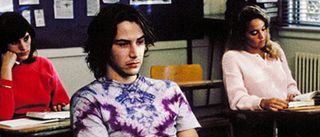 Rivers Edge (1986)
"It was a great script. I remember going to the audition, where I met Crispin Glover. That was an exciting day. And then I got the role and that was an even better day!

"Working with Crispin, meeting Dennis Hopper… It was one of my first jobs in Los Angeles and a great artistic experience."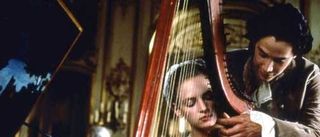 Dangerous Liaisons (1988)
"I'd just driven across the country from Los Angeles to New York and I got the role. I guess I was about 23.

"I mean, I was so excited. I didn't know the novel before I auditioned, but after, I eventually read it.

"I didn't get any rehearsal and my first day was with Malkovich. I really was a fish out of water. But then, I think I got hired for my innocence."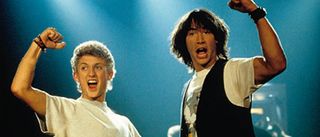 Bill and Ted (1989)
"Well, the material was just… funny. The heart of the film was good and Stephen Herek was a really good director for it.

"I met Alex Winter and he and I got along famously but, did I know it was going to be so popular? No. When I got the audition, I probably didn't even have the whole script.

Bonus! On Bill and Ted 3:

"Way back when I was in my thirties, Alex and I would talk about playing Bill and Ted in our forties. But now he and I are in our mid-forties, so maybe he and I need to talk about playing Bill and Ted in their fifties.
I wouldn't say no, but it would have to be a good idea and they would have to be a reason to do it. And we don't have one right now"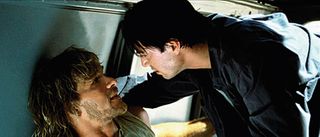 Point Break (1991)
"Kathryn Bigelow – what was she thinking? She obviously saw something that no one else could see, god bless her heart, and she cast me in Point Break. opposite Patrick Swayze!
"Who would have thought of me as an FBI agent? But, you know, I grew up playing sports so I was physically able and kind of coordinated.

"I didn't think of it as an action movie. I thought of it as a drama, a kind of fun movie with a great role in it."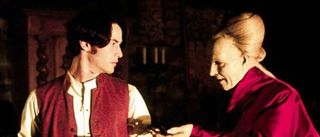 Bram Stoker's Dracula (1992)
"I was approached with that project by Winona ryder and then I met up with Francis. I remember being psychologically really beat up after three films in close succession but, again, it was a great opportunity and there was francis and he liked me.
"Then I met gary [Oldman] and then they said "Yes" – that was another good day! We went to napa and started rehearsals"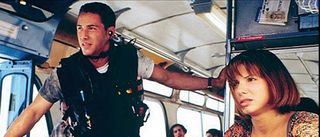 Speed (1994)
"I tried to bring a character into it – an everyman kind of thing. I mean that was the story. that was Jan de Bont's take and for me, I guess I took that and ran with it.

"And I also had a great stunt coordinator in gary Hives, who really put me there. Then I kind of knew a little bit more about what I was doing so I could say, 'Okay, let's get me under the bus. Let's hang me upside down on a wire in the elevator shaft. Yeah, I can shoot guns.'"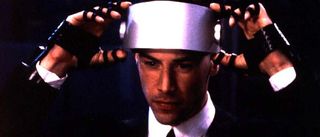 Johnny Mnemonic (1995)
"I had a great experience with that, working with [director] Robert Longo. the film got taken out of his hands a little bit, but if you look back on that movie it's really ahead of its time. [Laughs] It is!"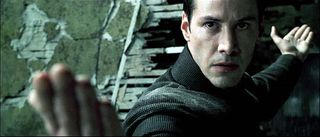 The Matrix (1999)
"I didn't know how other people were going to receive it, but I knew how I did. I was absolutely taken with it. the construct, you know, the platform that they had of reality and what you perceive of reality from a science fiction aspect, the idea of the agents – and then there was kung-fu thrown in!
"It was like, 'How come no one else ever thought of this? It's just so perfect…' And then meeting Andrew and Larry Wachowski… those guys were such visionaries, you know, with the 'bullettime' effects."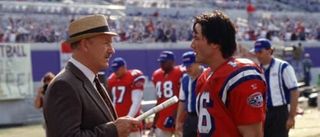 The Replacements (2000)
"Gene Hackman and I had lighter, much lighter, scenes to do. But to hang out with him and to see how – [He and Al Pacino] – just see how they go about their craft… they're both just such beautiful actors.
"We don't think of Al pacino now with economy, but that's what he has. He's just a beautiful actor and gene Hackman is another nonpareil, you know?"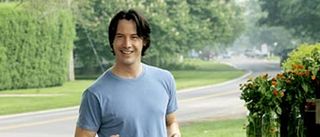 Something's Gotta Give (2003)
"[Jack nicholson] is a generous actor. He offers so much variety and the director decides to pick. He's very practical too – like there's a scene between he and I where he's just had his heart attack and it's kind of sensitive.
"He's crying and he doesn't know why he's crying. He told me later: 'I was driving to the studio and I had to take a piss desperately, so I took a piss on the highway.'
"When I asked why he was so desperate, he said, 'Because you gotta drink a lot of water when you've got a crying scene. If you don't have a lot of water in your body the tears won't come.'"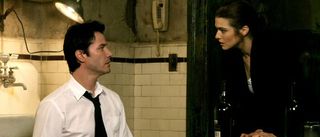 Constantine (2005)
"I think Francis Lawrence [the director] did a great job. And yes, I did have a blast playing that role.
"I know that we went from blond to brunette and from English to American, but I hope that fans of the piece thought that we captured at least some of that 'Constantinian' edge. His anger, his world-weariness, his circumstances."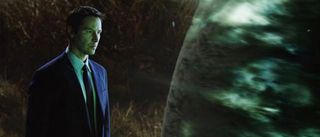 The Day The Earth Stood Still (2008)
"What appealed to me was Scott's [Scott Derrickson, director] 'why' to do it. The Earth being at a crisis point, a cross-roads. Humanity as well. Looking at that as a story.

"I thought that was a good start… and I thought it would be fun to play an alien."