16 Delicious - And Disastrous - Movie Cakes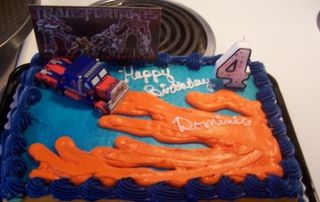 Transformers 'Optimus Prime Being Sick' Cake
First up - the crappy confections, the baked bads...
That is, cakes produced with good intentions and a clear passion for the movies that inspired them - but which leave a lot to be desired in the conception/design department.
We kick off with the boss of the Autobots after a heavy binge on chocolate-orange, satsuma and carrot smoothies.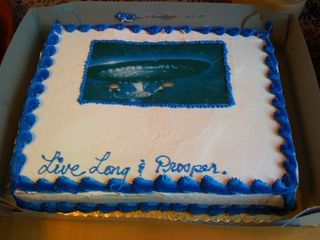 Star Trek 'Vulgar Vulcan' Cake
Well, no.
Fanboyish pants of lust for the rebooted sci-fi series are very easy to mock.
But when they're manifested in the form of a curious coconut oblong with blue (never blue!) squidge-trimming and a crudely colour-printed pic of the Enterprise... mock we must do.
And what's with the legend? 'Live Long & Prosdfdsfper'? Eh? Enunciate! And get your letters more central by measuring the white space ratio before you commence piping...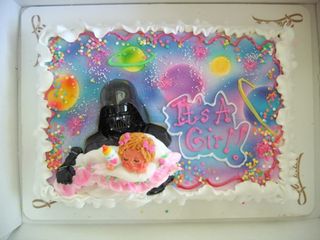 Star Wars 'Proud Daddy Darth Vader' Cake
Oh, dear Christ.
Now we all know 'Vader' is Dutch for 'father', but it's one hell of a light-speed leap to cast the evillest man in the galaxy as the source and protector of an ickle baby girl.
There's also the disturbing implication that the kid belongs to someone else and this charming scene merely depicts Uncle Darth paying a visit.
We doubt he could curb his instincts and not use The Force to yank out the incubator plug when no-one was watching.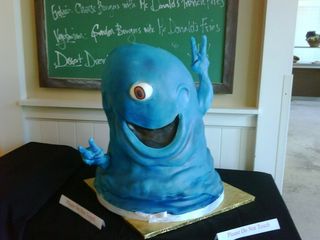 Monsters vs Aliens 'Play Doh Bob' Cake
Well, it's Bob and it's jolly and a great representation of the character and all that, but...
Again, blue. It's rubbery and Play Doh-ish and has an air of 'If Ingested Orally, Seek Medical Advice Immediately'.
We're separated from the animals by not eating blue things.
Except the blueberry.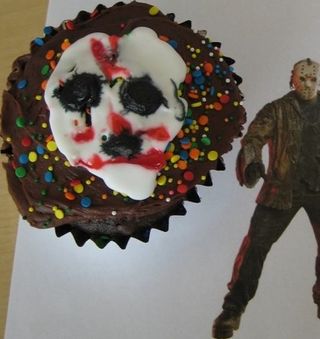 Friday The 13th 'Beaten-Up Jason' Cake
Oh, Mr Voorhees! You rock, Mr Voorhees! You're an icon for disaffected, disfigured youth the world over!
We've made a special cupcake to commemorate your homicidal excellentness, Mr Voorhees.
We think we were going for an Edvard Munch's 'Scream'-type tribute, but it looks more like you've been badly beaten about the face and neck witha spanner.
Please don't hurt us, Mr Voorhees.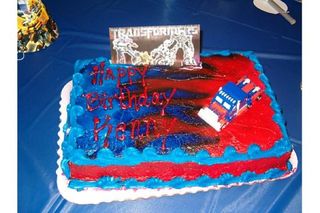 Transformers 'Stabbed-To-Death Optimus Prime' Cake
Earlier, we enjoyed the spectacle of Mr Optimus Prime vomming up a tsunami of orange sick.
This cake artist has chosen a different, much more disturbing, bodily expulsion - good old-fashioned vein-juice.
We do hope that Kenny's had at least 17 previous birthdays because this splatterific vision of the Chief Autobot sliced up with a metal-piercing machete is a big bucket of wrong.
We call the bright-red bottom-right corner piece!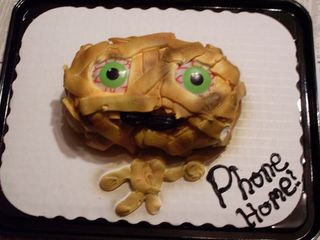 ET 'Make The Zombie Spaceman Go Away, Mummy!' Cake
Aaaaaaaaaaaaaaaaaargh!
AAAAAAAAAAAAAAAAAAAAAAAAARGH!!!
ITS EYES ARE DRILLING THROUGH MY MIND!!
Steven Spielberg's ET - a lovable little alien fella who just wanted to get back to his home planet.
This - a horrific, mummified vision in fatty pastry bandages, bloodshot eye-whites and - oh God oh God - what's that stuff COMING OUT OF HIS MOUTH!???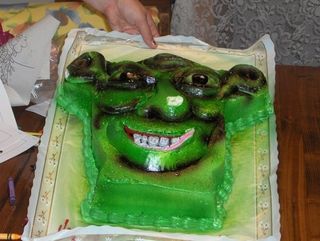 Shrek 'The Congealed Bogeys Of A Thousand Maniacs' Cake
Bring back ET! He was a cuddly, mildly creepy cake-mess compared to this howling monstrosity of unrelenting, bright green terror.
It's a jelly thing, yes. But it's a jelly thing that appears to be a murdered man's cut-off face grotesquely mutated and jammed into a wobbly great blob of pepperminty Hell.
It's the kind of jelly confection a Broadmoor inmate would create to prove he's getting better - only to have an extra 500 years added to his sentence at the request of a traumatised 'kitchen activities' teacher.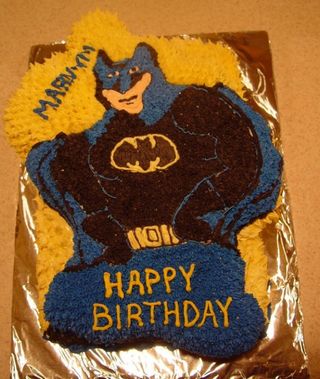 Batman 'Massive Blue Pants' Cake
Y'see, Batman's okay. But the black costume, doomy demeanour... it's all a bit done .
What he really needs is a reinterpretation - an image makeover recasting him as a big fat man in an ill-fitting children's playsuit, hands on hips, showing off his shiny belt buckle which is wrapped around big, billowing blue pants that resemble a nappy.
And he should be resting on top of an old flannel.
Enough, then, with the cack confectionary.
Here's a few movie cakes we genuinely love...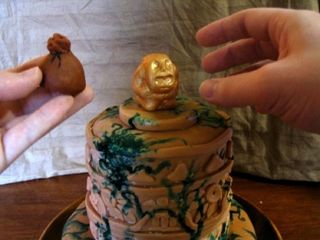 Raiders Of The Lost Ark Idol Plinth Cake
Wonderful. A warm and fuzzy homage to Indy's opening Mayan-temple misadventure that's both edible and utterly inspired.
We love the little pressure platform, the detail in the etchings, the fact that it looks like a load of ultra-sickly doughnuts piled on top of each other...
But most of all we love the little marzipan sandbag. Accessorisation and glory...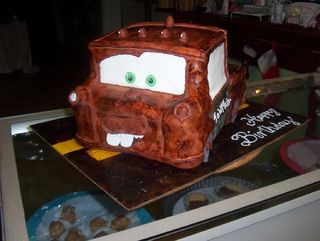 Cars Mater Rusty-Chocolate-Type Cake
In Pixar's Cars, Mater was The Stupid One. The tarnished pick-up truck hick there to make Lightning Mc-frickin'-Queen seem six times as smug.
Here, he's a beautifully crafted vision in what looks like chocolatey, fudgey, toffee-y, rust-effect... stuff.
We'd go for that yummy-looking creamy eye-white first. Hack it out with an ice-cream scoop.
Take an eyeball with it.
Than, lop off the top. Scalp him!
Mmm... mutilation.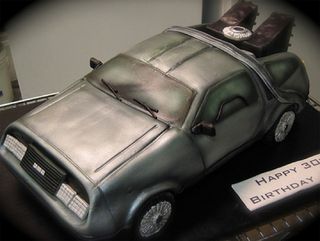 Back To The Future 'Leather-Effect' Delorean Cake
Well, as Marty says to Doc, if you're gonna build a time-machine into a car (or a cake that looks like a car time-machine), you might as well do it with style...
We're not sure what this one is made of (edible leather?) but you've gotta love the meticulous styling and supremely unnecessary attention to detail - including the plutonium port at the back.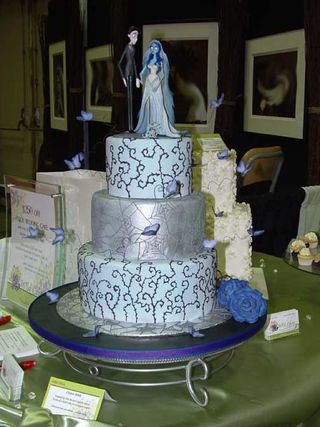 Corpse Bride Cadaverous-But-Delicious Cake
Tim Burton's underrated stop-motion Gothic folk-tale rendered in appropriately deathly pale-blue gnarled/barbed branches and clammy grey spider-webs.
The perfect solution for mopey but twee-at-heart Marilyn Manson couples.
And this one clearly has the best unnecessary but wondrous detail of this whole cake parade: the little blue butterflies flitting around the happy/crappy couple...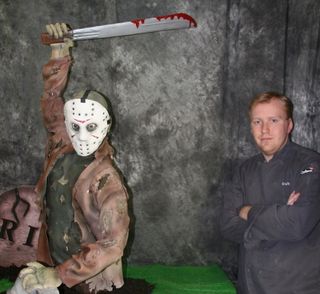 Friday The 13th Jason 'Yes It Actually Is A Cake' Cake
Cake design brothers Antoni and Edward Frys mixed up this killer confection that's not so much a themed cake as food fine art.
The face is sugar paste, the jacket is tinted and airbrushed fondant and the cake itself it chocolate with vanilla icing.
Still, we don't fancy facing it cooling off in a gloomy kitchen during a sleepy midnight fridge-raid.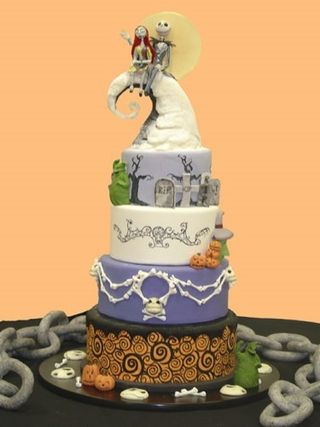 Nightmare Before Christmas Ornamental Wondercake
Again, a lovingly crafted sweetmeat sculpture more suited to the mantelpiece than chopped into bits and served as a tea compliment.
It transposes Tim Burton's entire production design into a five-layered labour of love... Chocolatey-orange base, beautifully adorned, porcelain-like fondant top layers and a glorious curly, ice-creamy top for Jack Skellington and rag-doll missus Sally.
Best bit, though: the sun behind the characters. Should really be the moon - with a black, not orange background - but we'll let it go...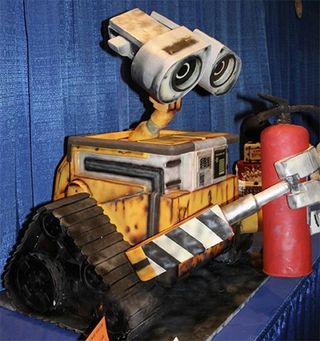 Wall-E Staggeringly Ace Marzipan Masterpiece Cake
Just - wow.
Another incredible piece of theme cake/very fine art from the Fry brothers.
Sad to imagine that the little guy has probably been long picked apart by corporate vultures at some launch party, but we'll always have that little fleck of sugary rust on the fire extinguisher...
==
Special thanks to Cake Wrecks .
Invididual cake sources:
Transformers (Sick & Stabbed) , Monsters vs Aliens , Friday The 13th Cupcake , Friday The 13th Ace-cake , Shrek , ET , Back To The Future , Daddy Darth , Star Trek , Batman , Wall-E , Raiders , Corpse Bride , Nightmare Before Christmas