16 Ace Lego Versions Of Movie Posters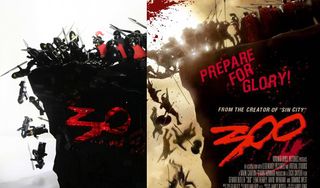 300
This tribute to Zack Snyder's sweaty Spartan dust-up was made in celebration of the 30th anniversary of Lego figures (hence the missing '0').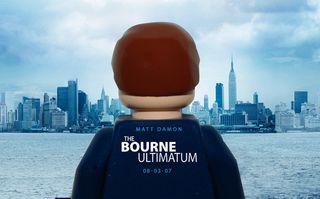 The Bourne Ultimatum
No need for a comparison shot with this Bourne take-off - the Photoshop work is superb, and Matt Damon's head looks a little bit like a big block of plastic anyway.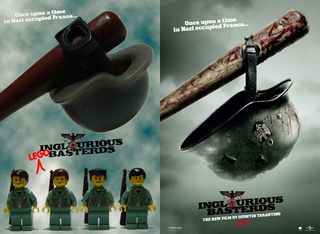 Inglourious Basterds
Surely someone's missed a trick with this spot-on take on Tarantino's Cannes-divider.
Shouldn't it be called InLegorious Basterds ? Anyone?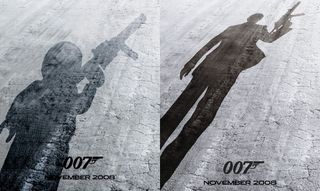 Quantum Of Solace
Properly subtle, this one, with some very smart Photoshop work. The curved hand, bottom left, is the killer touch.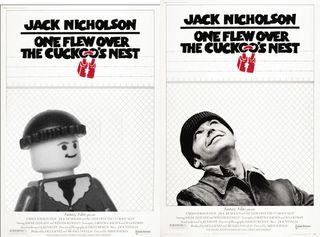 One Flew Over The Cuckoo's Nest
Another sharp bit of 'shopping. Simple, but a million extra marks for finding a Lego man with the same hat as Randal P. McMurphy.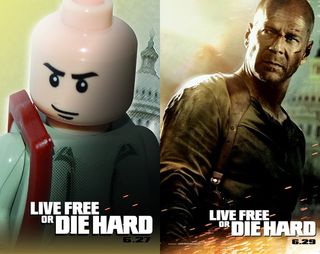 Die Hard 4.0
The default Lego man seems to have the same expressive range as Big Bruce.
Not that we're suggesting anything, but have you ever seen them in the same place?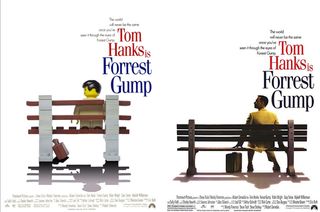 Forrest Gump
Another from Marcin. Kudos for also building the Lego bench, and for the fact that mini-Forrest's legs don't even dangle over the side.
Ace finish with the shadow, too.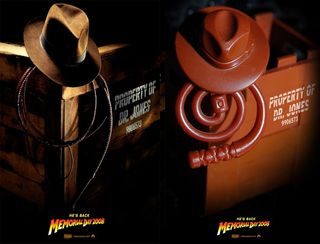 Indiana Jones And The Kingdom Of The Crystal Skull
This one uses figures taken from the actual Lego set released to coincide with Indy's final, pre-pension outing.
Real class in the details - even the serial number on the sinister government crate is correct. Source: LegoLyons.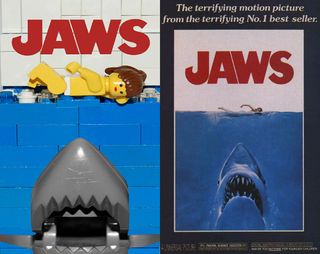 Jaws
Our favourite.
It gets the perspective spot-on and it's made entirely of Lego - right down to the white sky and splashes in the water. Amazing work from LegoLyons.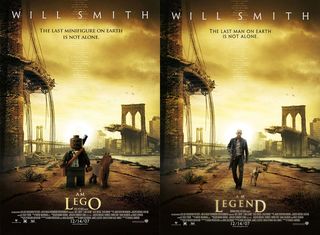 I Am Legend
Cheap but undeniably effective.
Credit to author LegoLyons for also having a subtler fiddle with the tagline at the top of the poster.
Makes you wonder what the Infected look like...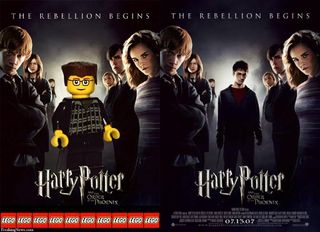 Harry Potter And The Order Of The Phoenix
This makes us think two things: that they should really make an extra Potter sequel where Harry gets turned into a small plastic boy, and that Daniel Radcliffe needs to grow a Frankenstein's monster-style flat-top.
Rocky Balboa
Waaait a minute - Lego Rocky Balboa looks an awful lot like Lego Randal P. McMurphy turned around. Loving the hood, though.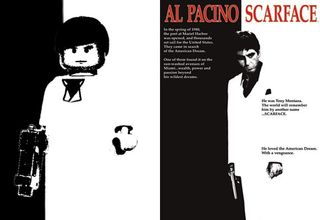 Scarface
"I kill Mega Bloks for fun, but for a green card, I'm gonna cut him up real nice..."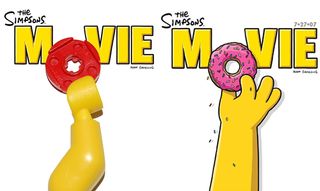 The Simpsons Movie
Mmmm, sweet Lego item #C56...
Very nicely done, and not least for reminding us that the Simpsons' isn't the only world in which people are inexplicably coloured yellow.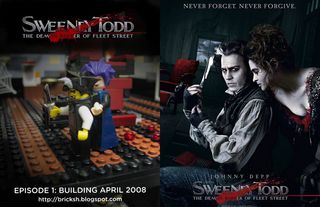 Sweeney Todd
An entire set made from Lego, complete with splashes of blood on the floor? Yes.
And what looks a little bit of customisation on teeny Depp's hair... Weird, Goth-ish magic.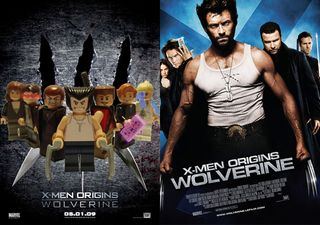 X-Men Origins: Wolverine
Lovely poster, but... what the hell?
Lego Wolverine's claws look like a pair of gardening trowels. What's he going to do, defeat Magneto with a more artfully arranged rockery?
Picture Credits:

300 by Keithcku

The Bourne Ultimatum, The Simpsons Movie, Indiana Jones, Jaws and I Am Legend by LegoLyons

Inglorious Basterds by DoctorSinister

Quantum Of Solace, One Flew Over The Cuckoo's Nest, Rocky Balboa, Scarface and Forrest Gump by Marcin ImpreSariO .

Harry Potter and the Order of the Phoenix by Mandrak

Sweeney Todd by bricksh.blogpspot.com

X-Men Origins: Wolverine by U7K6a123