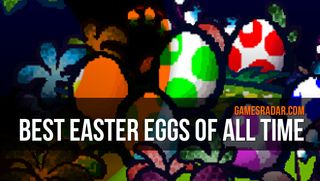 Happy hunting
The tradition of hiding little secrets for gamers to find is as old as the medium itself. Sometimes, an Easter Egg is just a funny character moment or a memorable bit of absurdity; other times, you'll get a few mind-bending plot secrets for your troubles. But all these Easter Eggs have something in common: they're really hard to find. Unless, of course, you have the Internet pointing them out for you. *ahem*
We collected 100 of the greatest Easter Eggs that were ever secreted away in gaming history, and compiled them here for your easy browsing. Some are timeless classics; others were just discovered in the most recent games. We dug deep to unearth these gems, so we bet at least a few will be new to you. Such as...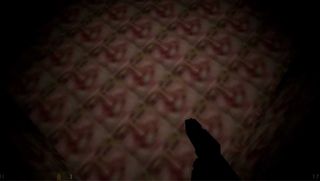 Half-Life - Room of Gaben
How much do you love Valve founder Gabe Newell? Enough to construct a tiny box with the walls, floor, and ceiling all plastered with a picture of his grinning mug? Boot up the "c1a1c" map (the last segment of the Unforeseen Consequences chapter), then activate -noclip mode to let Gordon Freeman pass freely through the level geometry. Delve beneath the level, and you'll spot a pitch black box. Once inside it, turn on your flashlight to be greeted by 1,000 smiling Newell faces.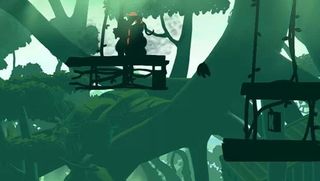 Donkey Kong Tropical Freeze - Samus' ship
Nintendo has never been one to shy away from stealthily cross-referencing its various franchises between games. Look closely at the silhouetted background of the Busted Bayou level near the K in KONG, and you can see Samus Aran's Gunship lodged between the trees. Must've been that baby Metroid messing with the controls again.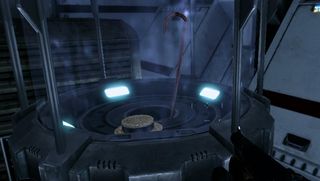 Aliens: Colonial Marines - Hello, ma baby
Yes, the game might've been marginally better than a vigorous slap in the face--but Aliens: Colonial Marines at least had the courtesy to give us a great Easter Egg. In the laboratory from the mission One Bullet, you can find a special containment capsule with a tiny straw hat and cane inside. Later on in the same level, you'll encounter two contained Chestbuster specimens that are now outfitted with that same hat and cane. This is a reference to the Spaceballs bit lifted from the classic Chuck Jones cartoon One Froggy Evening.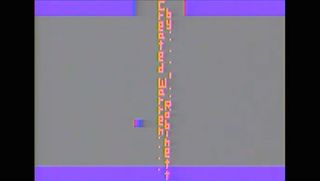 Adventure - Hidden credits
Back in the old days, Atari didn't allow video game programmers to credit their full names. As a result, many resorted to hiding their initials within a game, often in secret areas that required a specific step-by-step process to reach. Such was the case with Adventure, whose creator Warren Robinett hid his name as an Easter Egg.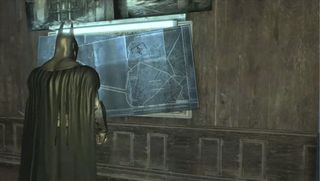 Batman: Arkham Asylum - Arkham City map
Connected to Quincy Sharp's office in Batman: Arkham Asylum is a secret room. To reach it, you have to place several applications of explosive foam, and using detective vision doesn't unveil the location of the weak wall. Successfully find it, though, and you'll see blueprints of Arkham City hanging up on a wall.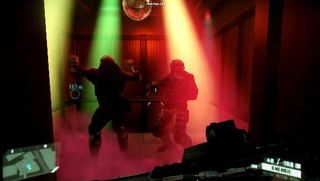 Crysis 2 - Elevator rave
Not even a Nanosuit can provide these kinds of smooth moves. While trekking through the office building in the "Dead Man Walking" mission, you can uncover a lovely surprise: two C.E.L.L. assault soldiers boogieing their hearts out in an elevator car filled with strobe lights, fog, a disco ball, and thumping techno. Maximum Dance, engaged. This is, without a doubt, a contender for one of the most momentous elevator rides in games.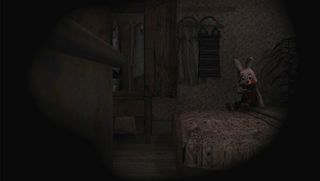 Silent Hill 4 - Robbie the Rabbit sees all
This one's liable to give you nightmares. Robbie is a disturbing, bloody-mouthed pink rabbit mascot from Silent Hill 3; for whatever reason, your neighbor Eileen owns a plushie version of him. You can spot it sitting on her bed if you peek through a tiny peephole in the wall. Usually, the Robbie doll just sits there creepily--but if you take a look after Eileen's gone missing, you'll get a terrifying surprise: Robbie staring and pointing directly at you. Oh dear GOD.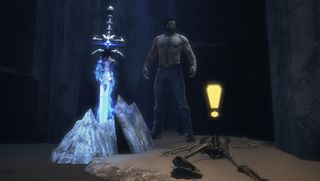 X-Men Origins: Wolverine - Frostmourne and hatch from Lost
While X-Men Origins: Wolverine wasn't an amazing game by any means (though it was pretty good), it did include a pretty incredible reference to World of Warcraft and the television series Lost. You can find the hatch from Lost in the very first level, while chapter 2 contains an icy cave in which you can find Frostmourne--Arthas' corrupting sword from Warcraft III.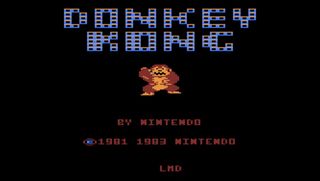 Donkey Kong - LMD initials
The Easter Egg hidden in the Donkey Kong port for the Atari 400 and 800 went undiscovered for 26 years before programmer Landon Dyer unveiled its existence. By fulfilling a very specific list of criteria before purposely killing Mario, you can see Landon's initials (LMD) on the game's title screen.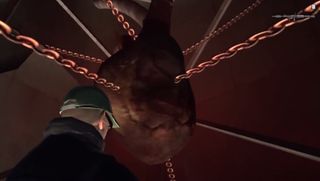 Grand Theft Auto IV - Heart of Liberty City
Ah, Grand Theft Auto, always pulling fast ones. In GTA IV, use a helicopter to fly up to a set of doors on the Statue of Happiness. Look for the door sandwiched between two signs that say "no hidden content this way" and just walk through it. Inside the statue you'll find a giant, beating heart. Uhhhhh...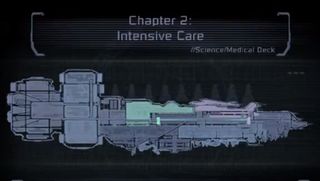 Dead Space - Nicole is dead
This secret involves spoilers for the original Dead Space, so consider yourself warned. Dead Spaces big plot twist is that Nicole, the woman protagonist Isaac Clarke has been chasing the whole game, died before he even arrived at the derelict space station. But that reveal wouldnt have surprised him if he was paying attention to the chapter titles, because the first letter of each one comes together to spell Nicole is dead.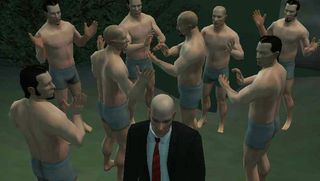 Hitman: Blood Money - The lucky coin
Blood Money's "Till Death Do Us Part" mission has Agent 47 mingling with party guests, including a group of rednecks that seem to be having a scuffle. But if you can find and shoot a tiny coin hidden in the backyard, those same surly tough guys will suddenly strip down to their boxers and sprint to your position to give you a round of applause. Uh thank you very much?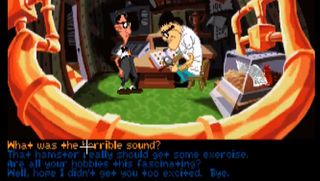 Day of the Tentacle - Play Maniac Mansion
The follow-up to the beloved adventure game Maniac Mansion, Day of the Tentacle actually allowed people to play its predecessor in its entirety. While playing as Bernard, just go to Weird Ed's room and "use" his computer to gain access to Maniac Mansion. The whole thing.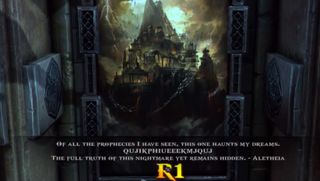 God of War: Ascension - The puzzle's in the painting
This cleverly hidden puzzle can only be solved in Chapter 14 - The Cistern. You'll find a painting depicting Olympus, which, when examined, spits out a seemingly random string of letters. Once deciphered, these letters translate to: Sun, bird, bull, lion, sun, all of which correspond to nearby plates printed in the ground. Activating those plates in that specific order unveils a new image on the painting, with the following cryptic message: "When the Earth stops, the journey begins."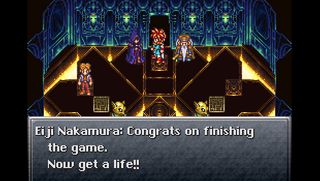 Chrono Trigger - Secret developer room
Ever wish you could meet the developers of Chrono Trigger in person? Well, you sort of can. After beating the game and starting a New Game Plus, a new Gate appears in the right-hand telepod in Leene Square. Take this at the beginning of your new game to fight a double-powered Lavos. If you manage to beat him, you'll find virtual representations of the dev team at the End of Time.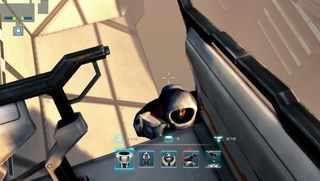 Sanctum 2 - Gandalf of the future
This futuristic, first-person tower defense game is full of nifty Easter Eggs, but this one's our favorite by far. In the Bio Lab level, you'll find a lone explorer hanging on for dear life to the edge of a broken platform. As you approach, he'll utter one piece of advice in his best Ian McKellan voice: "Fly, you fools!" Then he plunges to his doom. NOOOOOOOOO!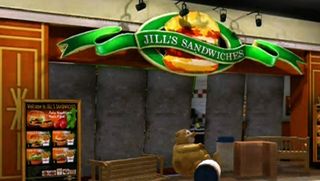 Dead Rising - Jill's Sandwiches
Anyone who played the original Resident Evil likely remembers the laughably cheesy line, "that was TOO close, you were almost a JILL SANDWICH!" Now, Barry's comforting words will live on forever in Dead Rising, where you can visit a quaint little shop called Jill's Sandwiches.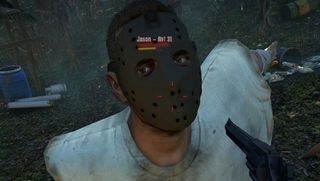 Dead Island - Fight Friday the 13ths Jason
Dead Island took inspiration from a number of horror classics, but buried on the jungle infested island was a cameo appearance by Jason Voorhees. If you can even find the machete-wielding maniac, youll have a hard time killing him since hes one of the more sturdy beasts in the game. And yes, officially it isnt the Jason, but his trademark hockey mask and weapon are proof enough for us.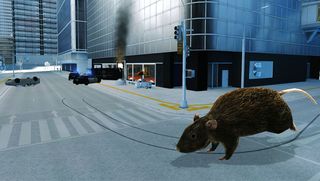 Mirror's Edge - Giant rat on parade
Given how seriously Mirror's Edge takes itself, this Easter Egg is surprisingly bizarre. When Faith has to use the sniper rifle during part D of the "Kate" chapter, shoot the engine of the target truck as it comes around the corner, then hit the white spot directly in the middle of the orange sign on the building behind it. You'll be rewarded by seeing a gigantic, police cruiser-sized rat bounding around the corner and scurrying down the street.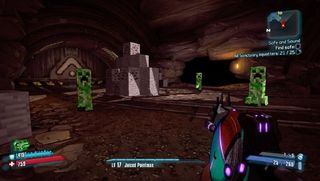 Borderlands 2 - Minecraft caves
Lots of games make cute Minecraft references, but Borderlands 2 does it right. While spelunking through the Caustic Caverns, you may find some unmistakable dirt cubes blocking your way. Bust through them with your melee attack (in classic Minecraft fashion), and you'll find a cave filled with Creepers on the other side. Killing them may even net you a sweet Minecraft helmet accessory, complete with chunky pixelation!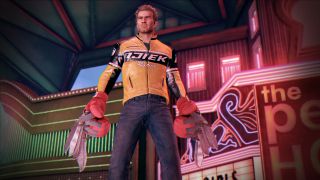 Dead Rising 2 - Ijiek Racing
Much like the original Dead Rising star Frank West, sequel protagonist Chuck Greene can dress up tons of different outfits, but his standard clothes are where a secret is hidden in plain sight. Chucks Ijiek Racing jacket may seem like a hard to pronounce in-game brand, but its really a tribute to the series creator. Reverse the letters and you get Keiji, as in Keiji Inafune, the creator Mega Man that went on to head up Dead Rising until he left Capcom shortly before Dead Rising 2 came out.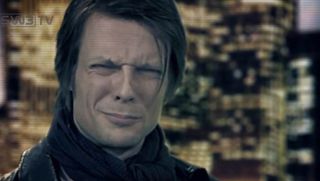 Alan Wake - A payned expression
There are a few cute allusions to developer Remedys first game, Max Payne, in their newer series Alan Wake, but our favorite was scriptwriter Sam Lakes bit of self-mockery. Lake not only wrote the scripts for Payne and Wakes adventures, he also was the original face model for Payne, and in one Alan Wakes random live action videos he briefly contorts his face into the famously pained expression.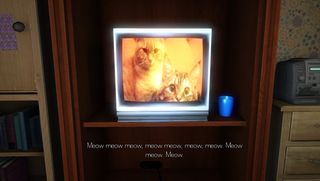 Gone Home - Mitten's journal
Gone's Home's journal entries are what deliver most of the heartfelt story--but there's one that you probably missed, and it may be the most evocative of all. To get it, you have to locate a small purple basketball in the Greenbriar family's garage, then make a basket on the hoop affixed to the back of Sam's door (take that, everyone who says Gone Home isn't a game). Your prize is a reading of a meow-tastic journal entry by Mitten the cat, while a slideshow of random cat pictures displays on Sam's TV. It's so beautiful.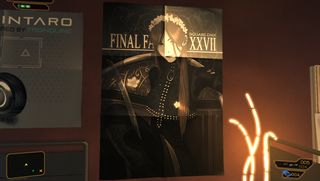 Deus Ex: Human Revolution - Final Fantasy XXVII poster
The first time you step foot into Frank Pritchard's office, take a look at the wall to the left of the doorway. There you'll find a poster with the title "Final Fantasy XXVII." Of course, by the time Final Fantasy hits the 27th numbered entry, we'll probably be sucked into computer worlds Jonny Quest style--wonder what turn-based combat will look like by then. Hmmm...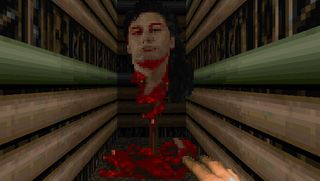 Doom II - John Romero's head on a stick
The impaled head of John Romero--one of the lead programmers of Doom II--is one of the more famous Easter Eggs in all of gaming. To find it, you must use a noclipping cheat during the final boss encounter in Doom II and walk "through" the villain's head. There you'll find Romero's head mounted atop a stake. This visual gag is actually the hit detection box for the boss.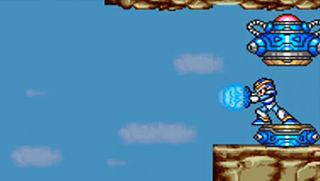 Mega Man X - Hadouken!
Street Fighter and Mega Man are two of Capcoms biggest franchises, but the two series didnt cross over until this super secret Easter Egg in the first Mega Man X. After jumping through a huge number of hoops, including collecting every upgrade and beating a stage without taking any damage, youll find a hidden upgrade Dr. Light--whos dressed like Ryu--left behind. X can now fire off a Hadouken with the same quarter circle attack command. Mega Man X2 continued the tradition by adding a Shoryunken, but it was much easier to unlock.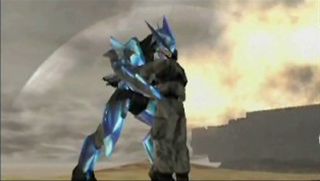 Halo: Combat Evolved - This is it, baby. Hold me
Playing through Halo: Combat Evolved on Legendary, its hardest difficulty, was no easy task. But those who completed it on that setting were treated to a surprise cutscene in which Sergeant Johnson was seen grappling for his assault rifle with a Covenant Elite. Once the Pillar of Autumn's self-destruct sequence was initiated in the background, he stared longingly into the Elite's eyes and said "This is it, baby. Hold me." The two then embraced as the Halo ring exploded into tiny pieces.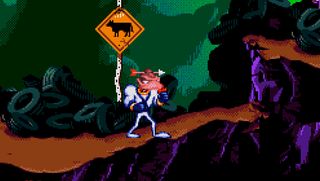 Earthworm Jim Special Edition - Donkey Jim Kong
When Earthworm Jim originally hit the Genesis and SNES in 1995 many thought it would be the biggest game of the year, but it got overshadowed by the 600 pound retail gorilla that was Donkey Kong Country. When Earthworm Jim got a Sega CD rerelease in 1995, the devs took a little swipe at the primate that outsold them via the unlockable head graphic you see above. Thatll teach DKC!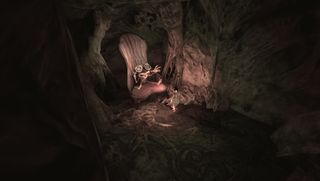 Alice: Madness Returns - Corpse of Raz
Hidden with one of Alice's in-game memories in a secret hole lies the fleshless bones of Razputen "Raz" Aquato of Psychonauts fame. Poor guy--even mind-surfing powers apparently can't save you from the madness of Wonderland.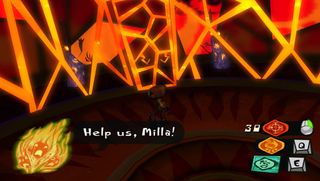 Psychonauts - Milla's nightmare
For such a light-hearted platformer, this cerebral secret is shockingly dark. While bouncing around Milla's Dance Party mindscape, keep an eye out for a secluded playroom with a large toy chest. Hit it open and hop in, and Raz will be sucked into a fiery cell surrounded by disfigured spirits with endless, horrifying whispers. This is a mental representation of the sadder side to Milla Vodello's character: the compartmentalized memory of the children who died when a fire broke out in Milla's orphanage.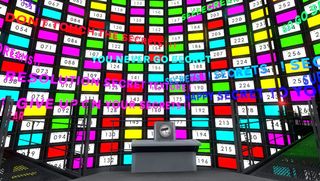 Stanley Parable - Disco party
Oh, Stanley Parable--always the cheeky one. Hang out in the Mind Control Facility for long enough, and you'll eventually be granted access to a mysterious light switch. Flipping said switch kicks off a surprise disco party, complete with goofy, secret-related blurbs that feel both congratulatory and slightly mocking.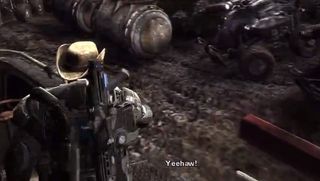 Gears of War 2 - Cowboy hats
Love Gears of War, but find yourself wishing that Marcus and co. wore cowboy hats? There's an easy fix for that. In Gears of War 2, play on Insane difficulty and load up chapter three in the campaign. There are three cowboy hats just hanging out in the environment--shoot all three, and everyone on your rig (as well as many of the Locusts you'll have to kill) will pull a John Marston and wear an awesome cowboy hat.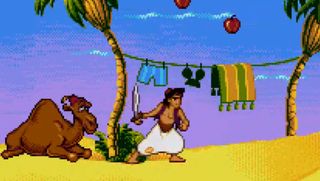 Aladdin (Genesis) - Mickey ears in the desert
As a company, Disney is famous for hiding Mickey Mouse ears in its feature films and theme parks, so its no surprise that some of their games did it as well. In the gorgeously 16-bit Aladdin tie-in game, a pair of Mickey ears pop up early in the second stage. Bonus: if you line up Al with the ears to make it look like hes wearing them, youll get an extra life.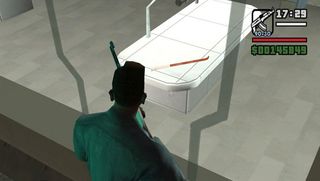 Grand Theft Auto: San Andreas - Half-Life reference
During the "Black Project" mission you'll be tasked with infiltrating Area 69 and stealing a jetpack. Pay attention to the rooms you have to walk past, though--one of them has Gordon Freeman's crowbar sitting on a table.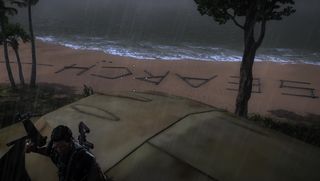 Just Cause 2 - "Lost" island
Try to fly over the island in the upper lefthand corner of the map and you're in for a surprise of the "oh god my plane's on fire" variety. While most games are content to sprinkle in references to pop culture, Just Cause 2 built the entire island from Lost for you to explore, itself riddled with references from the show.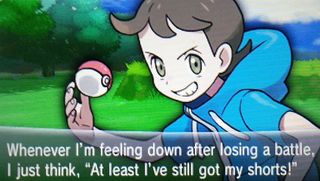 Pokmon X and Y - The great thing about shorts
"Hi! I like shorts! They're comfy and easy to wear!" That's the undeniably random battle cry of a Youngster in the original Pokmon Red and Blue. And because this bizarre bit of fashion advice was such a memorable, goofy line to many players, it's stuck with the series as a running joke. Multiple Pokmon games have referenced it--most recently Pokmon X and Y, which you can watch in action here.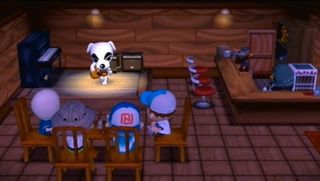 Animal Crossing - Totaka's song
This specific tune has showed up in a bevy of Nintendo games, including Mario Paint, Mario Land 2, Yoshi's Story, The Legend of Zelda: Links Awakening, and more. To hear it in Animal Crossing, find K. K. Slider and ask him to hear the "K.K. Song."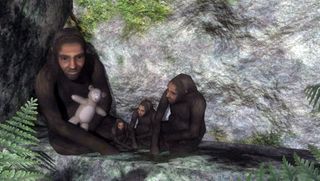 Halo 3 - Cavemen family
The Halo franchise has always been packed with some pretty neat Easter Eggs, but none have been as outlandishly creepy as the family of cavemen found in Halo 3's Sierra 117 level. Seriously, look at those things--they look like differently sized clones of the same thing. That face is the sort that haunts dreams.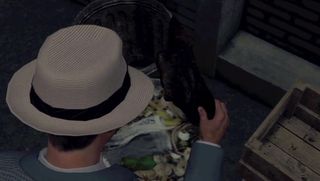 L.A. Noire - John Marston's hat
During "The Silk Stocking Murder" case, check out the trash can in the alleyway behind your car after returning from the rooftop. Inside, you'll find the hat that belonged to John Marston in Red Dead Redemption.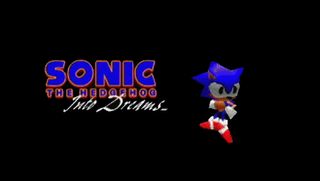 Christmas Night - Sonic into Dreams
Christmas Nights may look like a seasonal rebranding of the Saturns killer app, but it also acted as a special present to all the Sonic-starved Saturn owners. As a special holiday present to fans, Christmas Nights had an unlockable Sonic stage that ended with the blue hedgehog battling a standard Nights boss that had been reskinned as Eggman.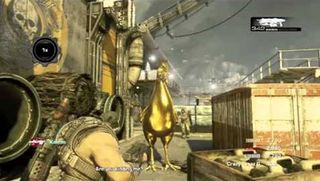 Gears of War 3 - Golden chicken
Zelda games have taught us to be wary of attacking chickens, but this secret in Gears of War 3 made us especially nervous. In one section of the campaign, if you shoot into several different pipes, a seemingly normal chicken pops out. But if you shoot at it enough, itll transform into a ten-foot tall, golden, fire-breathing chicken beast. Wed rather face an army of Brumacks then go up against that thing again.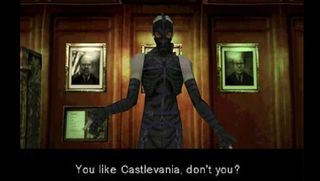 Metal Gear Solid - Psycho Mantis knows you like Castlevania
Psycho Mantis wasnt Snakes strongest enemy in Metal Gear Solid, but his mental powers make him one of the wiliest. The psychic operative even says he can read your mind, though he really just means your memory card. He has a description no matter whats on there, but if you happen to have a Castlevania: Symphony of the Night save on your PSOne Memory Card, Mantis will thoroughly creep you out by saying, You like Castlevania, dont you?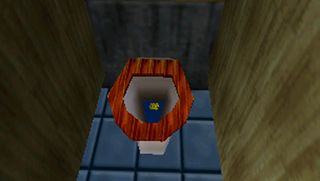 Perfect Dark - Cheese wedges
Developer Rare loves to hide secrets in its games, but this Perfect Dark one has to be one of its weirder Easter Eggs. Hidden within each chapter of the single player portion of the FPS is a small wedge of cheese, and theyre hidden so well that few found any of them in the game without a guide, let alone all 17.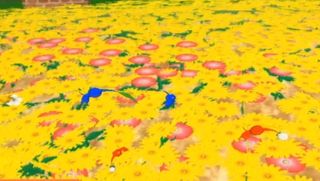 Mario Golf: Toadstool Tour - Pikmin pop out of flower beds
The GameCube entry in the long-running Mario sports series got included an Easter Egg that give tribute to one of the systems most original games. If you hit your golf ball into a flower bed, youll a see number of Pikmin jump out of the vegetation. We hope this means youll collect Marios lost golf balls in Pikmin 3.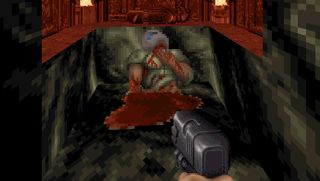 Duke Nukem 3D - The fate of Doom's Space Marine
Duke's always had a penchant for poking fun at pop culture and his own FPS competitors, most famously with the disemboweled corpse of Doom's protagonist in one of Duke 3D's hidden rooms. Other potshots include a busted T-800 Terminator, Luke Skywalker's corpse suspended from the ceiling in an ice cave, and an impaled Indiana Jones. Duke Nukem Forever continued the tradition by mocking Gears of War's Dom and Halo's Master Chief. In retrospect, Duke's attempts at making fun of the superior game heroes are regrettable.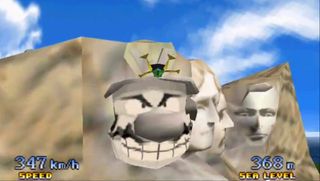 Pilotwings 64 - Put Wario on Mount Rushmore
When it launched with the N64 in 1996, Pilotwings was known as the other game that came out alongside Super Mario 64. And Mario even found a way into Pilotwings by replacing George Washington among the Presidents on Mount Rushmore. But if Marios not your bag, secret seekers found out they could run into Marios face and switch the visage to Warios instead.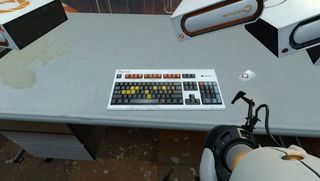 Portal - Reference to Half-Life: Opposing Force
While taking a nice, death-free stroll through any of the office areas in Portal, take a gander at some of the keyboards. You'll notice that the following keys are yellow instead of black: A, S, D, E, R, H, N, I, P. These can be unscrambled to spell Adrian Shepard, the protagonist of Half-Life: Opposing Force.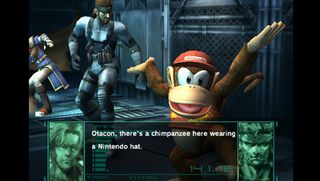 Super Smash Bros. Brawl - Level specific CODECs
Smash Bros. is built upon a mountain of clever secrets for fans to find, but none were had as high production values as these Easter Eggs. If you played as Solid Snake in the Shadow Moses stage and continually hit down on the d-pad youll hear Snake have a lengthy radio conversation about his current opponent, all with new dialogue recorded by the voice cast. The same happens for the Star Fox crew on their stage.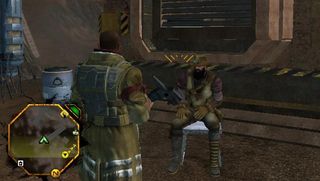 Red Faction: Guerilla - Finding Parker
Northeast of Mohole in the Badlands zone is a cranky old dude sitting in a chair. If you hang around long enough he'll start mumbling about how difficult his war was, and that yours is far easier in comparison to the battles he had to fight. This man is Parker--the protagonist of the original Red Faction.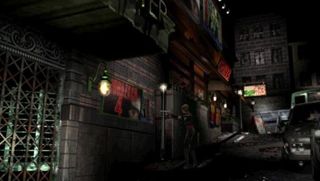 Resident Evil 3: Nemesis - RE4 teaser
You can find a teaser poster of Biohazard 4 (Resident Evil 4) in RE3. To find it, head to the movie theater before meeting up with Carlos in the diner. It'll be hanging on a wall right in front of the building.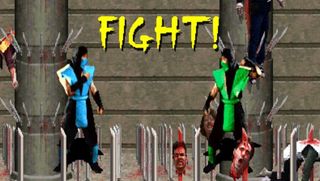 Mortal Kombat - Battle with Reptile
Though Reptile wasn't a playable character in the console port of Mortal Kombat, unlocking the battle with him was the only way to fight in the spike pit arena. To do so, fight an opponent (in single-player mode) on the bridge arena, and be sure to get two flawless victories back to back. Unleashing a Fatality on the second round means your next fight will be with Reptile in the spike pit.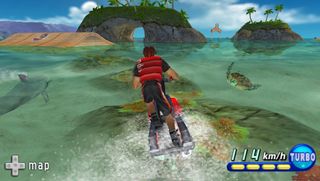 Wave Race Blue Storm - Sarcastic announcer
Surprisingly, this one managed to stay buried for quite awhile. By pressing a specific sequence of buttons in the audio options menu, you can change the generally cheerful announcer into a sarcastic d-bag who mocks your every move. Seriously, give him a listen.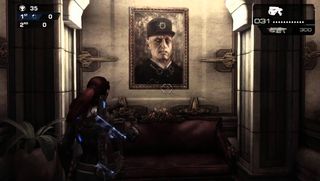 Gears of War: Judgment - Fear the Reaper
Finding this secret requires some pretty crazy hoop-jumping, but the payoff is well worth it. First off, you have to be in the multiplayer-only Library map--an odd mode to hide an Easter Egg in. By shooting tiny slips of paper hidden throughout the level, you'll cause the nearby portraits to change in gruesome ways. Do this with every painting on the map, and you'll summon a ghostly Reaper that you can fight in an epic one-on-one duel to the death. Insane!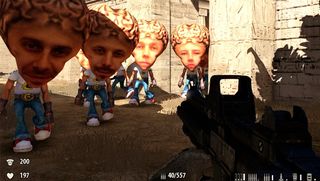 Serious Sam 3: BFE - Secret Hall of Developers
All the Serious Sam games are packed to the gills with secrets; this is just the latest and highest resolution version of the series' most recognizable (and strangest) running joke. In the "Dark Bride" level, some tricky jumps can get you past a giant pond and through a nearby window. Once across, you're accosted by giant-headed martians with the developers' faces. Kill them. Kill them all.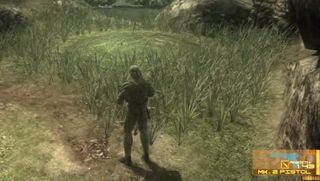 Metal Gear Solid 4 - Alien crop circle
After defeating Laughing Octopus in Act 2, you'll be tasked with tracking Naomi. After you find her handkerchief on the ground, you'll come across a squatting guard. Take him out and continue forward to find a crop circle. If you hang out there for a bit, you'll start to hear Colonel Campbell recount his tale of being abducted by aliens. What a guy.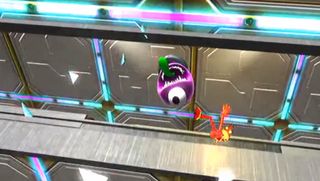 'Splosion Man - The Maw
In level 3-17 of 'Splosion Man, you can find a tank that contains The Maw, a character from a 2009 game of the same name. 'Splode in front of it and you'll unlock a neat cutscene.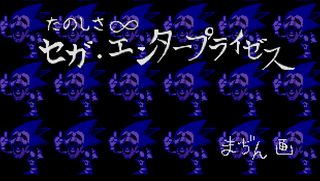 Sonic CD - A message from Masato Nishimura
Here's an Easter Egg that's totally harmless in theory, but incredibly disturbing in practice. If you access the secret sound test menu, THEN input a secret combination of sounds, you'll suddenly be greeted by a frightening collage of Sonic sprites with leering, human faces and some unsettling music to match. There's an incredibly complex explanation behind this creepy secret, but long story short, it's a personal touch snuck into the game by level designer Masato Nishimura.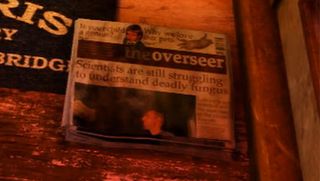 Uncharted 3 - The Last of Us newspaper
This fungus-related Easter Egg was almost one of the biggest leaks in gaming history. There's a long story behind it, but the short version is that Naughty Dog put this reference in the game thinking that The Last of Us would be announced before Uncharted 3 was released. It wasn't--but no one remembered to remove the foreshadowing hint from Uncharted to account for the scheduling change. Whoops!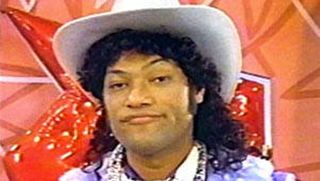 Enter the Matrix - Cowboy Curtis reference
Back when hype was at a fever pitch for the Matrix sequels, Enter the Matrix was an official film tie-in that took great care to respect the films plot lines. Sadly, that accuracy came at the cost of game being really bad. Despite the lack of quality, the game did have some cool secrets hidden within, particularly for fans that grew up with Pee-Wees Playhouse. Type Cowboy Curtis into the hacking minigame and youll get a brief response from Morpheus a.k.a. Lawrence Fishburne, the man that played Curtis on Pee-Wee Hermans show.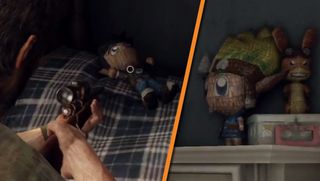 The Last of Us - Naughty Dog pinatas
Before the zombie apocalypse, Sony developer Naughty Dog will seemingly dip its resources into the pinata business. When searching around the apartment in the Pittsburgh chapter, you might stumble upon some familiar faces: Nathan Drake, Jak, and Daxter, all in adorable pinata form. Makes sense, since Naughty Dog famously developed Uncharted and Jak and Daxter prior to The Last of Us.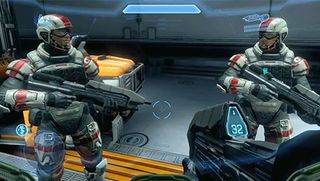 Halo 4 - Conan O'Brien and Andy Richter as marines
While in Mission 6 of Halo 4, find the two marines standing near a forklift in the large loading bay. At first, the two just stand there in silence. Wait for a bit, though, and you'll hear the voices of both Conan O'Brien and Andy Richter as they talk about moving crates and the comfortableness of carpets.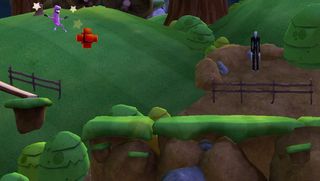 Runner 2 - Slenderman sighting
No game is safe from the faceless horror that is Slenderman. While running and jumping through the "Bush Wacky" level in World 3 of Runner 2, you can catch a glimpse of everyone's favorite boogeyman staring at you silently from the background. Whatever you do, don't turn around. That's when he gets you.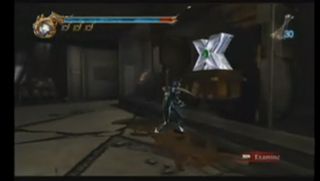 Ninja Gaiden II - Xbox prototype
Seeing this big shiny metallic "X" is a sobering reminder of what could've been. Thankfully, Microsoft's Xbox was a giant, clunky...box instead. You can find this Easter Egg in Chapter 4, inside the museum full of Japanese artifacts. It even makes the Xbox's startup noise!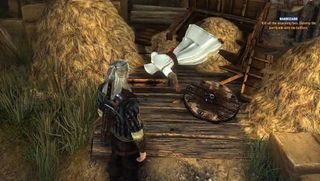 The Witcher 2: Assassins of Kings - Altair dead in a bale of hay
In Assassin's Creed games, we've always kind of just accepted that jumping into a bale of hay from, like, 20 stories up was a safe way to escape danger. But in The Witcher 2, it seems Geralt has discovered that that's not the case--at least, if Altair's dead body is any indication. That, or the dude just botched his landing.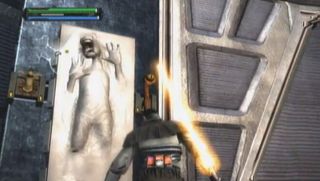 Star Wars: The Force Unleashed - Jar Jar Binks in carbonite
Find the trophy room in the Imperial Kashykk level of Star Wars: The Force Unleashed. Inside, you'll find a number of creatures from the Star Wars universe, as well as Jar Jar Binks frozen in carbonite. Finally. Maybe Episode 1 was worth it, after all?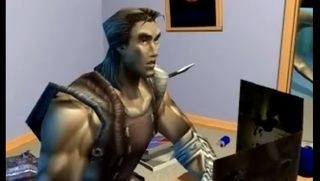 Summoner - Playing D&D
Volition's Summoner, a third-person RPG, was a fairly decent launch title for the PlayStation 2, and it contained a rather humorous Easter Egg. After finishing the game and watching the credits, an animated rendition of the Dungeons and Dragons comedy sketch "Summoner Geeks" would play. This video, which included characters from both the Summoner and Red Faction series, was made as a promotional tool for Summoner.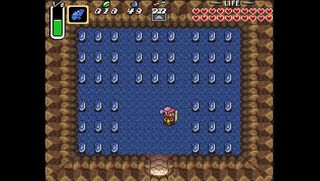 The Legend of Zelda: A Link to the Past - Chris Houlihan room
Back in 1990, the now-defunct Nintendo Power held a contest that selected a random winner to appear in a future NES game. That winner was a dude named Chris Houlihan, who received his own fancy room in 1991's The Legend of Zelda: A Link to the Past. There were five different ways you could enter the Rupee-filled room, though it had been intended as a crash prevention measure--the game would only send players there when it couldn't determine Link's destination when transitioning between maps.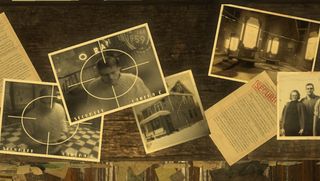 BioShock - Jack's picture
When you're looking through the eyes of another person, it's a tad difficult to see your own face. A lot of first-person game developers seem to get a kick out of teasing what your character's face might look like without ever revealing his or her mug. But in BioShock, you can see surveillance photos of Jack's face shortly after you enter Andrew Ryan's office. Just keep checking the walls for the string diagram with the famous words, "Would you kindly" scrawled in big ol' letters.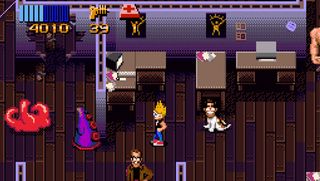 Zombies Ate My Neighbors - LucasArts HQ
Sadly, LucasArts has been consumed by Disney--but at least we'll always have a 16-bit version of the LucasArts offices to remember this great developer by. If you enter "QSDZ" at the password screen of this classic top-down shooter, you'll be whisked to the Credits Level. Instead of killing the undead in a zombie-filled suburb, you'll be chatting with the folks who made the game and blasting purple tentacles in the LucasArts offices. George Lucas even greets you at the door--what a guy!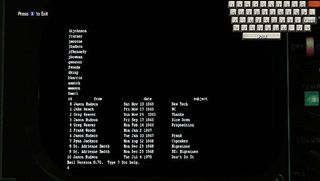 Call of Duty: Black Ops - Free games!
On the menu screen, repeatedly hit the left and right triggers to make the strapped-in Alex Mason rock back and forth. Eventually you'll break free of the restraining cuffs. Walk to the computer behind your chair. By typing in the appropriate commands, you can play Zork and Dead Ops Arcade, among other options.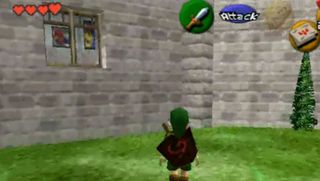 Legend of Zelda: Ocarina of Time - Super Mario portrait
Another Mario reference in a Zelda game. While in the courtyard where Zelda is hanging out (as child Link), look into the nearby windows. You'll see portraits of various Mario characters depending on your angle.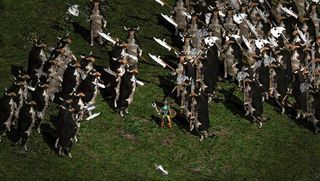 Diablo II - Secret Cow Level
Chances are you've slain dozens of bipedal cows for loot in Diablo II's Secret Cow Level. Funny thing is, this was included as homage to a false rumor about the original Diablo that stated you could access a hidden level if you continuously clicked on the cows just outside of town. To access the wondrous land of Hell Bovines, simply combine Wirt's Leg and a Tome of Town Portal within the Horadric Cube while standing in the Rogue Encampment.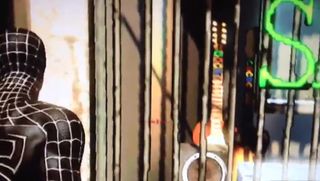 The Amazing Spider-Man - Guitar Hero for sale
The recent adaptation of the last Spider-Man film has an Easter Egg that looks to poke some gentle fun at its publisher, Activision. See, if you search the titles recreation of Manhattan long enough, youll come across a Guitar Hero instrument with their telltale colored buttons on the neck. Where are they located? In the windows of pawn shops.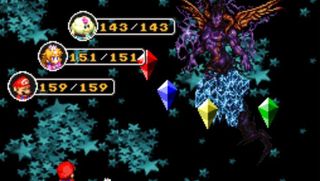 Super Mario RPG - Hear remixed boss music from Final Fantasy IV
The music that plays during the fight with the optional boss Culex is actually just a remixed version of the boss music from Final Fantasy IV. Note that Culex himself does not appear in FFIV, but merely represents a type of enemy common to the FF franchise.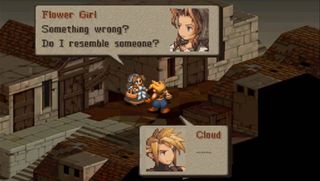 Final Fantasy Tactics - Reunion of Cloud Strife and Aerith Gainsborough
In chapter 4 of Final Fantasy Tactics you can follow a series of steps to open a time portal and get Cloud Strife to join your party. Doing so ultimately results in his encounter with a "flower girl"--Aerith--who is being harassed by thugs, one of which suggests she sell her body instead of flowers. Creepy, man.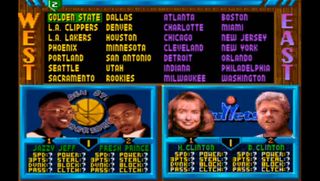 NBA Jam Tournament Edition - Hidden roster
Many are the days we've wished we could jam with the president of the United States--but back in 1995, we did. Frequently (in video game form, at least). The console release of Midway's NBA Jam Tournament Edition had a huge roster of hidden characters, ranging from then-POTUS Bill Clinton to Al Gore, band members from the Beastie Boys, and many of Midway's programmers. Boomshakalaka!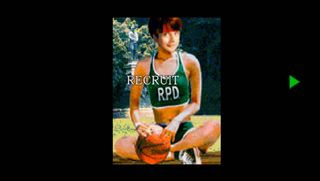 Resident Evil 2 - Photo of Rebecca Chambers
Some Easter Eggs are a lesson in tedium. Take, for instance, the hidden roll of film in Resident Evil 2. Find Albert Wesker's desk in the S.T.A.R.S. office and check it 50 times to get the film. Then develop it in the save room with a darkroom to unveil a photo of Rebecca Chambers with the word "Recruit" on it. You should consider apologizing to the "X" button of your PlayStation controller afterwards.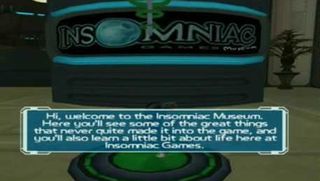 Ratchet and Clank: Going Commando/Up Your Arsenal/A Crack in Time - Insomniac museum
This one might seem a little too much like self-promotion, but the Insomniac Museums actually exist to show off content that the developers chose to cut from the Ratchet and Clank games. Usually only accessible at certain times of the day after youve 100% finished the game, youll find left over items, art, and other features that Insomniac chose not to include in the game. We wish more developers found such cool ways to share stuff like this with Its most dedicated fans.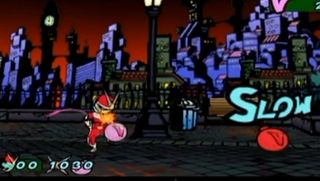 Viewtiful Joe (GameCube) - Whistling the Super Mario theme
Viewtiful Joe eventually ended up on other systems, but it was originally set as a Nintendo exclusive, and this Easter Egg confirms it. After you unlock the Shocking Pink bomb attack, Joe gains the ability to bounce bombs on his foot like its an explosive hackeysack. All while bouncing the ball Joe can be heard humming the iconic Super Mario Bros. theme.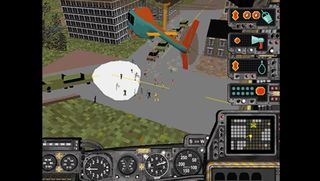 SimCopter - Its raining men
The Sim series started off small with several spin-offs before conquering the world with The Sims. Games like SimAnt and SimFarm were early software hits, but SimCopter made the biggest splash thanks to one coder placing a disproportionate number of gay, speedo-clad men on the streets of the city you patrol via chopper. The coder in question was fired for making such a huge change to the game, but we appreciate something as bland as SimCopter getting a little more fabulous.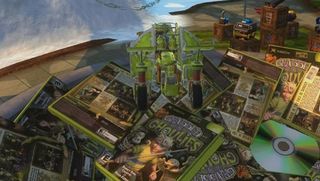 Banjo-Kazooie: Nuts and Bolts - Take out the trash
Currently Rare seems solely focused on Kinect and Avatar games, making Banjo-Kazooie: Nuts & Bolts the developer's last game in one of its classic franchises. The game has a rather ignoble goodbye to Rares past among its Easter Eggs thats found in the dumpster near Bajos house. Within it, youll find the Ice Key from the first game, a Viva Pinata Fudgehog, and Kameos talking book. Elsewhere, youll find a bin full of Grabbed by Ghoulies, which is exactly the right place for that trashy game.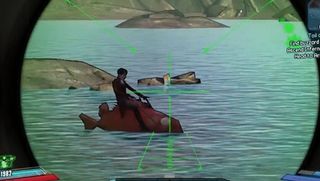 Borderlands - Fish riding
Tannis is key to the storyline in Borderlands, but that doesnt mean this NPC doesnt know how to have fun. You can find this one by heading to the docks in the south east, then shooting a handful of barrels in a very specific order that developer Gearbox had to spell out on its forums. Once you did it, Tannis pops out of the water riding a fish off into the sunset. This secret was repeated with a little more gusto in the sequel.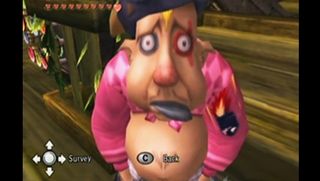 Legend of Zelda: Twilight Princess - Bullet Bill patch
Most Zelda games contain at least one Super Mario reference, and they're often cleverly hidden. In The Legend of Zelda: Twilight Princess, head to Lake Hylia and find the creepy-looking clown that operates the cannon there. Switch to first-person mode and check out the sleeve on his left arm to find an image of Bullet Bill on his stylish jacket.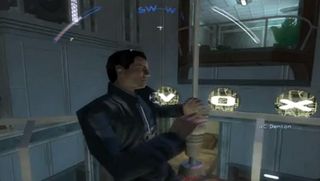 Deus Ex: Invisible War - The REAL endgame
Okay, so Invisible War maybe wasn't the best Deus Ex game--but it at least had an awesome hidden ending. Before uploading the Aquinas information to anyone, head to UNATCO. Find the ruined wall and pick up the nearby flag, take it down the stairs to the middle floor, and into the bathroom in the room on the far left. Flush the toilet while holding the flag and you'll be transported to a hidden nightclub in which a bunch of characters are dancing. Enjoy your hidden ending, you crazy dance machine, you.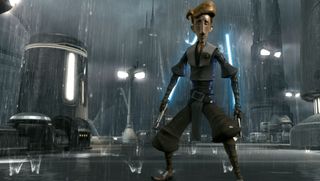 Star Wars: The Force Unleashed II - Guybrush Threepwood
In the second mission of the game, enter the room with the hologram Jabba the Hut. To Jabba's left is a statue of Guybrush Threepwood, the protagonist of LucasArts' The Secret of Monkey Island. Best of all, you can unlock the Guybrush Threepkiller costume by smashing the nearby game machines. Guybrush Threepwood, mighty Jedi.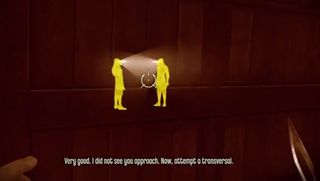 Dishonored - Thief: The Dark Project reference
Dishonored had a lot in common with the stealth franchise Thief, and even payed tribute to the tutorial of Thief: The Dark Project. To find this, load up mission 7 and head to Assassin's Hideout in Central Rudshore. Sneak inside and you'll find a training area, where one assassin is teaching another the basics of stealth. Pay attention to the dialogue; it's nearly identical to the tutorial dialogue from Thief: The Dark Project.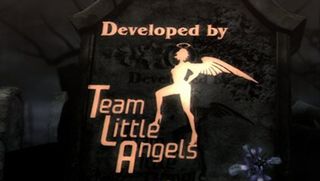 Bayonetta - Any of its Easter Eggs
There are at least a gajillion references to various games and TV shows in Bayonetta, all of which are equally awesome. You'll really have to pay attention if you hope to catch 'em all, though, as many are cleverly hidden. Between all the nods to Viewtiful Joe, Okami, Resident Evil 4, and other Capcom games (as well as some movies and TV series), there's plenty to see.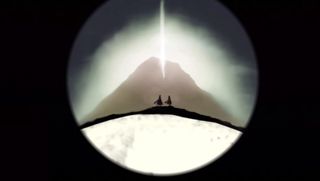 The Unfinished Swan - Journey protagonists
Isn't it pleasant when indie crossovers happen for pretty much no reason besides mutual respect? At the top of one of the tallest towers in The Unfinished Swan, you'll find a gigantic telescope. Peek through the looking glass then zoom all the way in, and you'll see a pair of scarf-folk preparing to begin their Journey on a distant planet. Neat!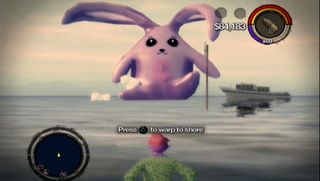 Saints Row 2 - Giant ocean bunny
The series truly embraced its wild nature in Saints Row The Third, but developer Volition was already playing with it during the second Saints title, as this Easter Egg proves. If you head to several nondescript islands in the games watery area, youll end up falling through one, which will awaken a sleeping giant. Simply look to the horizon and youll see a monstrous purple rabbit arise, making this one more of an Easter Bunny than an Easter Egg.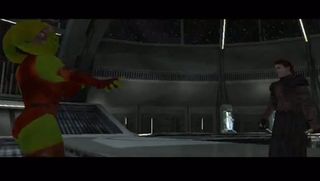 Star Wars: Knights of the Old Republic - Malaks transformation
BioWare games are known for their multiple endings, but this hidden climax its first Star Wars game is one of the weirdest. When the hero faces their former apprentice Darth Malak, plug in a second Xbox controller and press L, R, and Y at the same time. Malak will transform into a Twilek dancer, and though the camera cuts away, we can only assume the two then have an epic dance battle.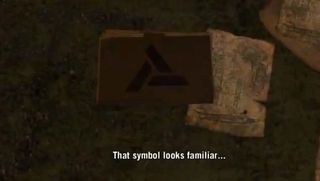 Far Cry 3 - Abstergo Industries files
Weve gone on record about the similarities between Assassins Creed III and Far Cry 3, but the Lost Expeditions DLC takes it one step further. Throughout the stage youll find hidden proof that Abstergo, the enemies of the Assassins Guild, had been doing experiments on the same island that Far Cry 3 takes place. After the surprise success of Far Cry 3, could this be Ubisoft testing the waters for a full on crossover?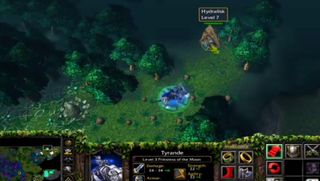 Warcraft 3: Reign of Chaos - Hiding Hydralisk
Back in 2002, playing a fully polygonal StarCraft game seemed like nothing more than a wonderful pipe dream. That's what made Blizzard fans ecstatic when they found a 3D-rendered Hydralisk unit from StarCraft's Zerg race hidden in the "Daughters of the Moon" mission from Warcraft 3's Night Elf campaign. By using the Ballista unit to chop down foliage in just the right spot, you could locate (and recruit!) this poison-spitting alien. Alternatively, you could just play a round of Defense of the Ancient and pick the Venomancer; your choice.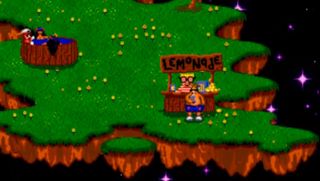 ToeJam & Earl - Secret hot tub level
The first level of the game consists of two islands in a giant ocean. By using an item (such as a jet ski or inner tube) to reach the lower left section of the ocean, you'll find a secret island with a hot tub full of hula girls that will heal you, and a lemonade stand that grants extra lives. Best. Vacation. Ever.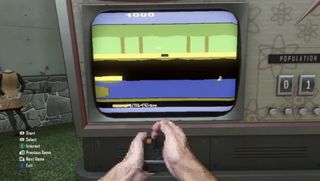 Call of Duty: Black Ops II - Playable Atari games
If ever you've thought to yourself, "Man, wish I could play some old-school Atari games in this modern first-person shooter," then you're in luck. Classic hits such as H.E.R.O., Kaboom!, Pitfall, and River Raid can all be played from within Call of Duty: Black Ops II. To do so, start a private match on the Nuketown 2025 map, and shoot the heads off of every mannequin in the level in 90 seconds or less. You'll find a TV screen near the population sign where the games can be played.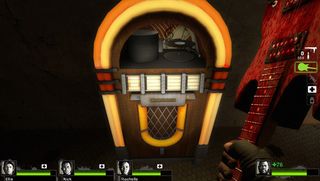 Left 4 Dead 2 - Jukebox plays Portal's "Still Alive" song
Sometimes you need a bit of musical motivation for all that zombie slaying, which is where the Left 4 Dead 2's jukebox--located in the Parish campaign--comes in. You'll find it in a cafe. Flip through the available songs, and you'll eventually come across Portal's "Still Alive." A fitting tune for the survivors of a zombie apocalypse, don't you think?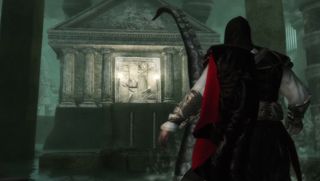 Assassin's Creed II - The giant squid
While in the Assassin Tomb beneath Santa Maria della Visitazione, pull the lever that activates the swinging poles and look down into the nearby pool of water for about a minute. There, you'll see a large squid swim past. Repeat the process, and the thing will take a swing at Ezio with its tentacle arm. Rude.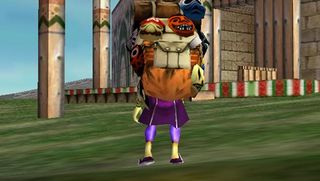 The Legend of Zelda: Majora's Mask - Marios mask
Majoras Mask might be the weirdest game Nintendo has ever put out (we mean that as a compliment), and the creepy mask salesman at the start of the game helps set that tone. And if you take a look at the many masks he has to sell, youll see a little Mario mask on there as a wink to the fellow Nintendo franchise. The existence of that mask makes us wonder if youll transform into Mario if you wore it, but thats one Easter Egg that well sadly never get to see.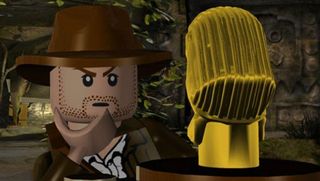 Lego Star Wars: The Complete Saga - Play as Lego Indiana Jones
A Lego Indiana Jones game makes sense from a marketing standpoint, but Indies blocky adventure was only on the verge of coming out when this Lego Star Wars collection hit stores. However, you can get early access to your favorite Nazi killer should you bother to watch the trailer for his then-upcoming game thats in the Star Wars movie room. After seeing the commercial for his game, Indie is now a playable character for the entire Lego Star Wars mythos, something fan fiction writers had been dreaming about for decades.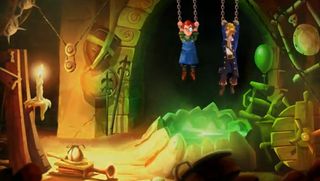 Secret of Monkey Island 2 - Guybrush dies
Unlike their cruel Sierra counterparts, LucasArts adventure games were famous for not killing players or forcing them to completely start over an adventure, which makes this deadly moment an out of character Easter Egg. When Guybrush is trapped in a death trap that requires him to blow out a candle, if you wait about ten minutes, it eventually burns through a rope that then sends him to his death. But because the plot is all being told to by a living Guybrush, he then admits the death was embellished and the scene starts over.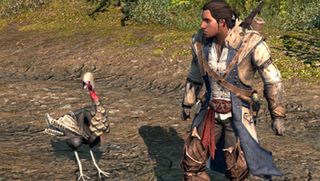 Assassin's Creed 3 - Turkey Egg
Connor might be one of the more stoic assassins in franchise history, but that doesnt mean he cant have fun like this Easter Egg youll find at the Davenport homestead. If you hide on a certain corner of the house and whistle, a heretofore unseen turkey will appear. That might seem lame on the surface, but if you enter the classic Contra/Konami code, Connor will then feed the turkey and a hood will appear on its head, making that turkey an official assassin. Apparently, theyll let anybody in these days.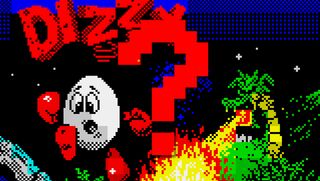 Did we miss anything?