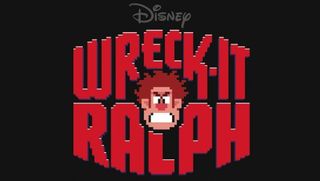 Wreck-It Ralph trailer breakdown: all the movie's references so far
The headline cast for Disney's upcoming Wreck-It Ralph is a sterling assemblage of comic talent: John C Reilly, Sarah Silverman, Jack McBrayer and Jane Lynch? Those four alone could wring comedy out of cancer patients reading from the phone book. Luckily for the sake of good taste, they've opted instead to star in a CG cartoon about video games; and luckily for fans, someone realized that gamers tend to be obsessive completists who love nothing more than a good Easter Egg hunt, and accordingly have filled the movie with videogame nods.

And luckily for you, there's no one more obsessive or completist than us. We've gone through every trailer so far released with a fine-tooth comb, then when that didn't work we went back to watching them in high-res with a quick finger on the pause button. Come with us on a journey of discovery, recognition, old (pixellated) friends and new (polygonal) faces...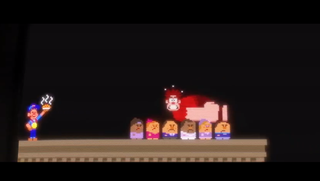 Donkey Kong/Jumpman (Donkey Kong series)
Wreck-It Ralph revolves around John C Reilly's eponymous villain, who's spent some 30 years as the foil to Jack McBrayer's Fix-It Felix in a game that's a pretty unmistakeable riff on Nintendo's Donkey Kong. While DK himself took a hero turn a mere year after the first game's release, Ralph's career apparently never made it to the Jaunty SNES-era reboot phase; he's stuck instead at the receiving end of the transparently Jumpman-inspired Felix's golden hammer.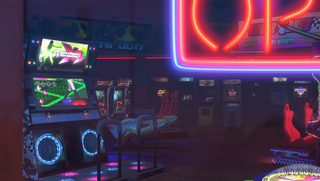 Dance Dance Revolution
One of the only Konami references to make the trailer (we'll get to that later) is a prominently-displayed Dance Dance Revolution X2 cabinet, housed within the arcade Wreck-It Ralph calls home. The sequence is mainly an excuse to foreshadow Sugar Rush and Hero's Duty, the movie's custom-created games featuring characters played by Silverman and Lynch respectively; however, other cabinets shown include Space Invaders, Wack-a-Mole, Frogger, Street Fighter II and Virtua Cop (we'll see more of these later too).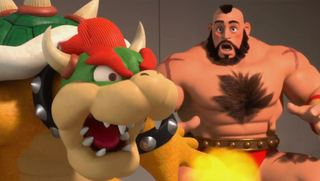 Bowser (Super Mario series)
Director Rich Moore says he tried to get videogaming's own plunger-toting figurehead (Mario, duh) into the film, but that Nintendo's fee was too high to justify the inclusion. But apparently the plumber's reptilian(?) nemesis still works for scale.

Look real closely in the trailer's Game Central Station scene and you'll also see red-shelled turtle soldiers, at a loose end until the boss gets back from his meeting. The decent thing would have been to tell them, guys, I'm off to try and deal with this insatiable thirst for evil, take the afternoon for yourselves... but then that's why these are villains, right?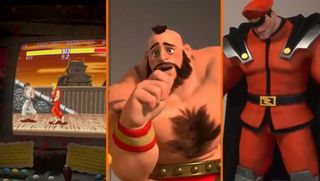 Ken & Ryu/Bison/Zangief (Street Fighter II)
Fittingly for a game about the bygone heyday of video arcades, the title given the most Wreck-It love is probably Capcom's Street Fighter II--itself arguably the biggest arcade title since Pac-Man and Donkey Kong. An early sequence features a remarkably well-kept SF2 cabinet (what, no Hyper Fighting?), and Bison and Zangief feature heavily in the trailer's most prominent scene.

Some might wonder what Zangief's doing at a villains' support group--but then, he does seem the only one with anything useful to say, so maybe he's more of a Steve Earle-type figure? Anyway, don't dwell on that too long, because...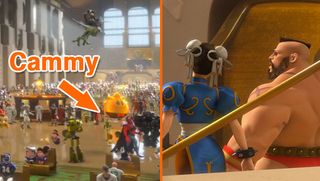 Cammy/Chun Li (Street Fighter II)
...Wreck-It Ralph will apparently have a whole new generation of dedicated virtual lechers honing their pause-reflexes and squintin'-muscles, trying to catch a glimpse of Chun Li and Cammy. They're both in the background of the same scene, the Game Central Station area, which also features characters and call-outs including Burger Time, earlier Disney movies, and some more we'll get to later.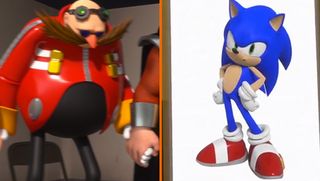 Sonic/Eggman (Sonic the Hedgehog)
Also featured in the support group is the unrepentantly fiendish Dr. Ivo Robotnik, aka Dr. Eggman; the character's foil, Sonic the Hedgehog himself, doesn't appear in the trailer save as a billboard within the movie's Game Central Station environment. Presumably they don't have video games within the world of video game characters (that would be like if we started a site called RadarRadar featuring only news on our correspondents' adventures, and no we're not doing that); so maybe Sonic is running for office or opening a burger joint or something?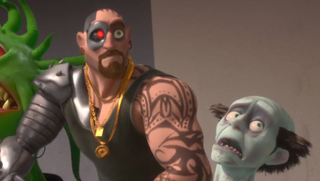 Kano (Mortal Kombat)
A support group for videogame villains ought to be a safe haven from do-gooding antagonists, but even bad-on-bad matchups contain their share of potential conflict. Bison and Zangief appear to be keeping their hands off of Kano, the one-eyed ne'er-do-well from SFII's shouty American cousin; but they've still been sat as far as possible from the cyclopean Sagat-a-like. Who knows what happens when the cameras leave... and real life begins??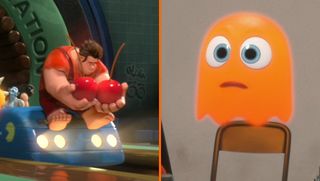 Cherry/Clyde (Pac-Man)
Namco's spherical ur-mascot is absent from the trailer, though the game makes plenty of appearances. A cabinet sits alongside Wreck-It Ralph within the clip's video arcade, and Ralph's later seen munching on a Cherry powerup such as players used to grab back when Pac-Man was king of the arcades. Clyde, one of the game's ghostly antagonists (and thus one of gaming's first recognizable bad guys), also appears as a moderator in the support group scene.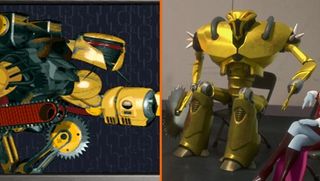 Vandal (Rise of the Robots)
Okay, you're free to dispute this one, because if everyone was able to identify Rise of the Robots characters on sight it would imply something pretty terrible about all of our childhoods (namely, that they were spent familiarizing ourselves with characters from terrible mid-90s cyber-brawlers). But take a look at this yellow, buzzsaw-handed freakshow and tell us it's not a dead-ringer for Rise 2's Vandal. Or alternatively, take our word for it and then go back to never having played Rise of the Robots.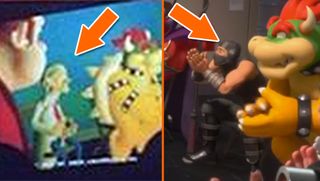 Dr Wily (Megaman)
Wreck-It Ralph is shaping up well as a hit for Disney, but the trailer's already generated its fair share of controversy online. If you think a fair share here translates to none, it's a movie about imaginary characters making friends, then you apparently never saw early cuts of the clip, which featured Mega Man's Dr Wily as part of the Villains' Support Group.

Subsequent, officially-released cuts swap out Wily for... a black-clad nobody. Who dat ninja taking Wily's place? Some think it could be Mortal Kombat's Smoke, but more likely he's just some ninja dude. Mega Man fans wasted no time in adding the omission to the litany of perceived slights against which they continue to suffer.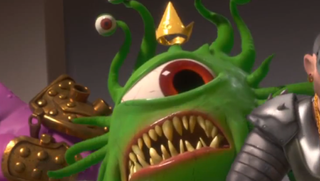 Shuma-Gorath (Marvel vs Capcom)
Disney's said that the green tentacled creature attending Ralph's meeting is an original character like the scene's ninja, dark elf and demon creations. However, it sure looks an awful lot like Shuma-Gorath, the Lovecraftian beastie known to gamers through the Marvel vs Capcom series.

Consider also that Shuma-Gorath, being a Lovecraft pastiche first mentioned in the early 20th Century, is hardly the most defensible in Copyright Court; and that the other examples listed herein suggest Disney must've got some bulk discount on Capcom characters to use in their movie; and that inasmuch as Shuma-Gorath is owned by anyone, it's a property of Marvel Comics, which answers to Marvel Entertainment, which is a subsidiary of... the Walt Disney Company.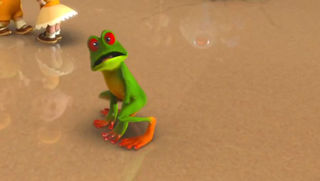 Frogger (Frogger)
Konami's traffic-shy amphibian puts in an appearance during the Game Central Station sequence. If you think about Stuff Frogger Likes (swamps, girl frogs, not being run over) and Stuff Froggers Hate (transportation vehicles, trampling opportunities), a huge transport hub is pretty much the worst place on the planet to be, which is why our kid's a little on edge.

Alright, so it could be just a frog, but if Disney didn't want comparisons, it should have filled this moment with an animal that's never been turned into a videogame mascot. You know, such as... um... oh look here's another entry for you to click.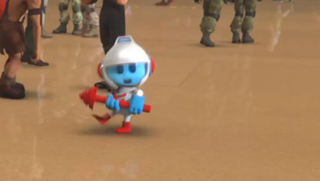 Dig-Dug (Dig-Dug)
This one's easy to miss, what with Dig-Dug being almost as old as Donkey Kong itself and with the jackhammer-toting jackanapes' haste to escape Ralph. But then, if your character looks like the guy from an old arcade title and escapes by drilling a hole in the floor, it's probably not a Balloon Fight reference, right?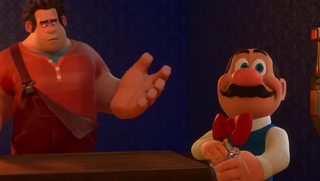 Bartender (Root Beer Tapper)
Wreck-It Ralph is a comedy, and as anyone who's seen last year's comedy Carnage or this video clip can attest, it's always a treat to see John C Reilly acting the drunken oaf. So even playing a videogame character, odds are a dejected JCR will be the type to rush a barkeep off their busy feet, right?

Possibly, but look closely and you'll note that Wreck-It Ralph's harried barman plies his trade in Root Beer Tapper, the kid-friendly reskin of Bally Midway's 1983 enablement-sim. Thank goodness for that.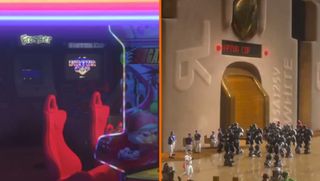 Virtua Cop
If you've been paying attention (which, obviously, because hi there), you'll have noted that the vast bulk of Wreck-It Ralph's cameos come originally from Capcom, Namco and Sega properties. That extends to the beloved early-90s light-gun shooter Virtua Cop, whose cabinet sits alongside SFII in Ralph's arcade and whose cast can be seen heading for work in the Game Central Station scene.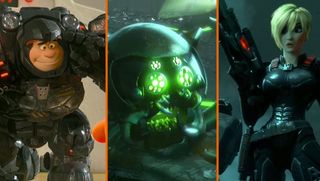 Halo/Starcraft/Metroid
When Wreck-It Ralph's not making outright callbacks to other games, it's still making winking reference: Sarah Silverman's character inhabits a game that looks like Wip3out in a Mario Kart-esque candyland, and the Jane Lynch-headed Hero's Duty takes plenty of cues from the "grim baldies shoot everything in space" genre. Of particular note are the game's Zerg-esque enemies, Lynch's Samus-styled character, and the characters' shamelessly Spartan-inspired body armor.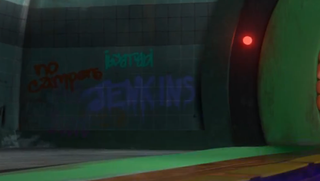 Leeroy Jenkins (World of Warcraft)
Less a WoW reference than a shout-out to the wider gaming culture, graffiti on the Game Central Station walls can be seen reading JENKINS. This of course is a reference to one of the most famous trolls in the history of WoW, the forever-great Leeroy Jenkins, who rushes in where strategy-focused nerdlingers fear to tread.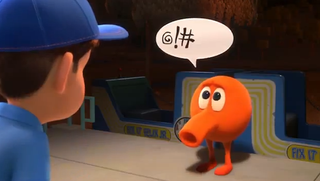 Q*Bert (Q*Bert)
Q*Bert's never seen reinvention on the scale of a Super Mario or even Frogger, and the poor weirdo has clearly fallen on hard times. Reduced to begging while his antagonists hash out their attitude problems at support groups, it clearly doesn't help that Gottlieb's faded hero hasn't even taken the 30-odd years' downtime to, say, learn to talk in anything other than swears that only Jack McBrayer can decipher.

In fairness, this also describes Alec Baldwin pretty well, so maybe Q*Bert just has an awful agent.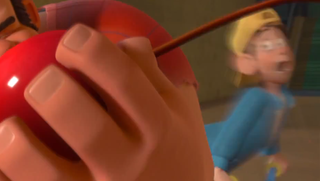 Paperboy (Paperboy)
Blink and you'll miss the hero of Atari's 1984 deliver-'em-up, credited with playing a major factor in pulling the company out from the doldrums of the Great Videogame Crash of 1983. But then, anyone who's ever been any good at Paperboy knows blinking is a loser strategy anyway.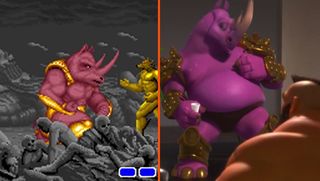 Neff (Altered Beast)
Younger players will see a purple rhinoceros and figure, sure, a purple rhino, why the hell not, video games have all sorts of crazy crap in them nowadays. Veterans will recognize the character as Altered Beast's shapeshifting antagonist, the demon god Neff, who's apparently let himself go in the years since anyone last played that game to completion; he's seen here finally taking a break from Welcoming You To Your Doom in order to Welcome Ralph To The Free Coffee-Tray.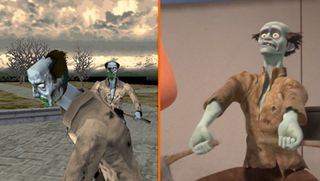 Cyril the Zombie (House of the Dead)
Zombies is zombies is zombies, right? Not so! If you can name every game where you're attacked by an axe-wielding, male-pattern-balding undead, please go right ahead and do so and we'll get this reference sorted out; otherwise, we'll save you some time and say that the character's specific inspiration is House of the Dead's axe-wielding, male-pattern-balding Cyril.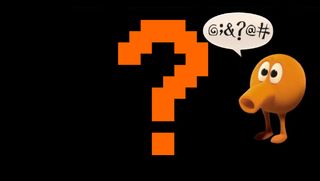 And...