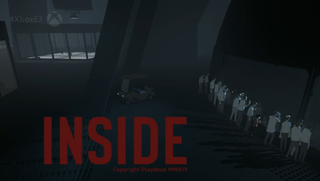 As if Limbo wasn't scary enough...
Inside is the name of the second game from Limbo creator Playdead and features a similar aesthetic to that game's creepy, sinister world. You appear to play as a boy, running and swimming through dark locales while small crowds of people stand around, almost motionless. They do move when nudged, but otherwise just seem to stand there. Nightmarish stuff...
While the plot hasn't been revealed, the trailer did show a lot of people peering through observation windows into a large room. Dogs are also seen chasing the boy as he clambers over a wire fence and there are lots of pretty, silvery fish flitting around in the murky depths of the underwater sections. Suffice to say it's unlikely the game will feature much sunshine. Probably lots of nasty death scenes. Spiders are unconfirmed.
The game has been in development for 4 years and will be released 'first' on Xbox One, which implies it will also at least come to PS4 at some point in the future.