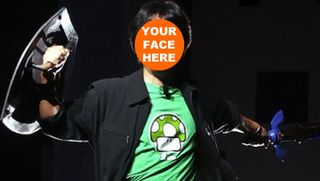 Ever dreamed of making a video game?
You must have looked at indie successes like Hotline Miami, To The Moon and Gunpoint and thought well, I could do that. The next thought is usually something along the lines of oh, but I cant do that. Making games needs boring things like money and a knowledge of coding, right? Wrong! Truth is, you can make a game. Yes, you. In fact, you can start right now.
Whether you want to make games for PCs, consoles, phones or tablets, theres a tool out there for you. And in case you still think its a pipe dream, then let me tell you that I am living proof that it works. I dont know a single line of code, have never worked with a dev team, yet I have made two iPhone games and sold them on Apples App Store: Bulletrisk and Squeak's Dreams (although iOS7 didn't work with Squeak's Dreams so I've had to take my squeaky buddy offline while I fix him). Come on, click through to the next slide and Ill show you how you can get into the games industry too. Youll wonder why you didnt do it sooner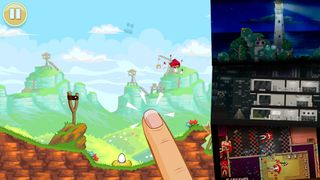 Decide what kind of game you want to make
To begin with, lets start a little less ambitious than a game like BioShock Infinite. You are just one person--not a large team of professionals with millions of dollars to spend on development. So have a think about the kind of game you want to make. A shooter? A platformer? An endless runner? You shouldnt just copy another game, of course, but a basic genre is a good start.
Picture the game you want to make in your mind, then ask yourself some simple questions to determine what kind of tools youll need. Is it 2D or 3D? Does it require a touch interface or a joypad? And what hardware do you have access to? If you want to make an iPhone game, you will need a Mac to submit it to Apple. Its the only way. Youll also need devices to test the game on, whether its a tablet, phone or even PC. Once youve considered your needs and available resources, its time to look at the options available for what you want to do.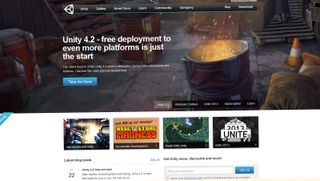 Want 3D? Try Unity
3D is fundamentally the same as 2D game design in that you still make objects that interact with each other. But it is undeniably far more complex. Unity is an extremely powerful 3D game-making tool, which allows you to program AI routines, place light-sources and make sprawling levels. It can be used to make 2D game too, or even 2.5D games. It's extremely versatile.
Unity has both a free and a paid-for Pro version. The free edition is still impressively full-featured and allows you to publish to several platforms. And you can always upgrade once you know youre making something of worth. And with PC, Mac, iOS, Android, Windows Phone 8, Windows Store apps and BlackBerry 10 all within your grasp with relatively pain-free porting between the platforms, this is an incredible tool for would-be game makers. The question is whether you have the time and artistic skill to be able to texture everything to the standard of the game running in your minds eye. If you think youre up to it and dont mind spending a lot of time learning a new program, then this is the one for you. However, if you fancy something a bit simpler, fear not - weve got you covered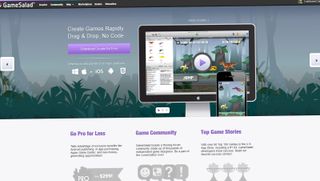 Want something simpler? Try GameSalad... for free!
This is my personal program of choice and the one I use to make my games. Firstly, its free to use for as long as you want. My first game was made and published entirely using the free version, which has since become available for PC also (though I must stress, to submit iPhone games to Apple, you absolutely must do it via a Mac. There's no other way).
Secondly, it requires absolutely no knowledge of coding. Instead, you simply drag and drop artwork onto resizable rectangles and then add pre-made (but editable) behaviours onto them, based on simple logic. For example, if your character gets shot by a bullet: When Actor A overlaps or collides with Actor B, change attribute Health to Health-1. In other words, when a bullet hits your character, make him lose a hit point. If you can understand that, you can understand GameSalad.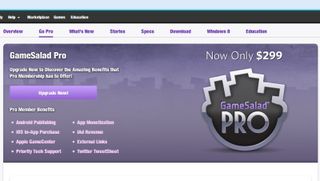 Or buy GameSalad Pro for loads of extras
I took the plunge a week prior to writing this article and bought a year's license for GameSalad Pro. You get a lot of benefits with that - not least the ability to integrate Game Center into iPhone Apps, add in Twitter integration, post scores to online leaderboards and remove all the start-up ads from your free version-published games.
But that's just iOS games. The Pro membership also allows you to publish your games to Android devices, opening up another massive market sector. Both platforms also get the ability to include in-app purchases as well as various in-app advertising if you want to sign up with an ad provider to make money from free games. It's comprehensive stuff and improving all the time. Find out more at gamesalad.com.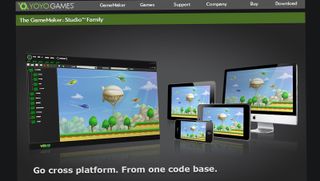 Want advanced 2D? Try GameMaker: Studio
GameMaker is the reason games like Gunpoint exist. Designed to be accessible to novices yet powerful enough to provide a viable development tool for professionals, GameMaker: Studio features several tiers of paid-license (including a free trial version) and the ability to publish games to most modern formats, including iOS, Android, PC and Windows 8 Phone.
Its a strong platform for 2D game creation and has begun to support limited 3D elements, which can be expanded further by installing bolt-ons. However, while the lower tiers offer an impressive array of creation options, the cost of publishing to various platforms is much higher than most hobbies would allow. Check out the list of packages to see them. At least the free version will let you know if youre onto something good without the risk of losing a lot of money. Click here to see a demonstration of the program in action as a developer talks you through the creation of an Angry Birds clone (you might need to turn up your speakers a bit).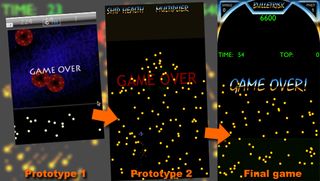 Chosen? Now it's time to make a rough prototype
Before you make all the artwork for your game, you need to know if its actually going to work. Remember, even Mario 64 started off life as a prototype where you controlled Mario and had to catch a bunny. So make a rough version of your game. Use a square or a cube for your character, draw a stick man in MS Paint anything you like as long as it lets you test your games rules.
If it doesnt work, either try to make it work or think of something else before youve wasted all your efforts on something no-one will enjoy playing. If you find yourself playing your own prototype over and over for fun, you're probably onto a good thing. Time to make it a reality.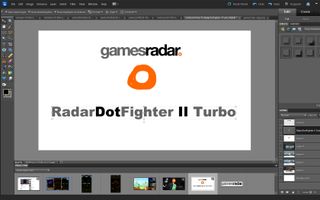 Now to make some graphics
If youre not very good at art, that doesnt mean you cant make games. Firstly, you could choose the retro route--big, chunky pixels can have a charm of their own, yet demand less artistic ability to produce. You could also try photographs, using photo-editing software like PhotoShop or a cheaper alternative to cut out elements from them and use them as sprites. If youre making a game for your own amusement, theres nothing really to stop you using existing sprites, but suffice to say youll get into a heap of trouble if you try to sell something containing someone elses work. Much better to make your own. In fact, even scribbles will do. Just look at Doodle Jump for proof. If you want see-through aspects of your sprites (so everything isnt a square), save as .png to preserve the transparency that jpgs cant provide.
Finally, if you really cant draw anything to save your life, there are people out there who will make graphics for you. Most will want money, while some who are just starting out might offer their services for free, as long as they get a credit to put in their portfolio.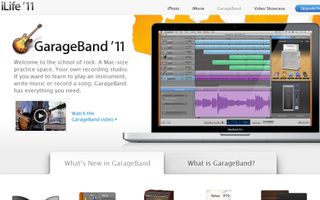 Make some music and sound effects
Making music is way easier than it used to be. Music programs like Garageband (which comes free with new Macs) have drag and drop loops to play around with, plus simple piano roll visual editing of MIDI notes. There are countless sequencers available across PCs and tablets so have a play and see what you can make. But dont think you necessarily need studio-quality sound.
Some of the sound effects for my first game were sampled from real things, like a key jangling or a balloon bursting. But many were made with my mouth. The sound of Squeak jumping, the quack from the ducks when you jump on their backs, the woohoo when you finish a level... its all just spoken into my PCs microphone, then cut up with Garageband and triggered with a behaviour within the game. Hey, even the X-Files used mouth-made sound effects for that little puncture devices unsheathing sound (yeah, remember that?), so just be creative. Its your game and you can do whatever you like with it.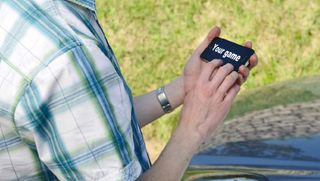 Ask your friends to play it... and watch them carefully
Bug testing is something youll be doing a lot of yourself, but its amazing how other people will try to play your game in ways you never even imagined. But its important to watch what they try to do. If everyone tries to jump on a platform that isnt actually a platform, maybe its graphically misleading.
The bug testing process can honestly take as long as making the basic game. Sure, your controls work, but what happens if you press all the buttons at once? Is there a way around your most carefully-implemented rule? Bulletrisk features a two-finger penalty which counts the number of fingers on the screen. But build 1.0 didn't actually penalise a third touch, meaning you could still circumnavigate the score reset and use two fingers, as long as 'touch 2' was never taken off the screen. Yes, you have to get that detailed with every aspect of your game, no matter how simple it is.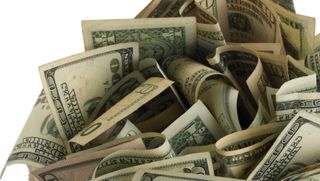 Don't expect to make millions overnight
Making games takes a lot of time and the rewards can be painfully small. To begin with, you'll be lucky if you can recoup the cost of development. But if your game is good enough, it might make it big... and then who knows? You might even be able to go professional.
One word of warning, though: Taxes. As in 'don't forget to do your taxes if you sell your games'. Every country has different rules, but if you're selling your games, it counts as income and you'll need to declare yourself self-employed. It just means having to fill in a tax return as far as the UK is concerned, but the good news is that it's actually simpler if you're the only person involved in making your games, as you don't need to set up a company. You're the sole developer, working as an individual. And that's about as simple as things can get from a tax point of view. Ask your tax advisor to be sure, before you sell anything.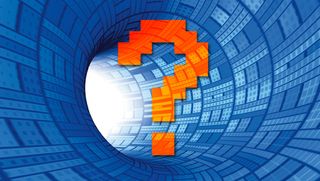 Is your first game just around the corner?
Everything you need is available to you, whether you have money to spend on your dream or not. So the rest is entirely up to you. Nobody else is going to make your game for you, so take a look through the links below and make a start. Like I say, I wanted to do it, so I did it. I won't say it isn't hard (sometimes it's horrible), but nothing can beat hearing someone say they bought a game you made and loved it. Just imagine that.
Want to get started? Here are some helpful links:
GameMaker: Studio: Professional-grade 2D gaming
Unity: 3D and 2D gaming with advanced capabilities.
GameSalad: The program I use so I can personally vouch for it.
Quest: Great little text adventure-making program that we used to make our Modern video games as text adventures version of Heavy Rain.
Scrolling Game Development Kit: Basic platforming game template. I fiddled around with this for a few hours before I discovered GameSalad.
Clickteam: Game creation software with a demo version that powers commercially-available apps.
The 3D Game Maker: Lets you play with pre-made scenes and ready-made 3D objects to make your game "in seconds".
Blender: Free 3D creation tool that can be used for both commercial and non-commercial purposes.
For artwork:
I would recommend you visit Adobe and try out the free trials of Photoshop (the Elements version is cheaper and still versatile if you're on a budget).
There are free alternatives like GIMP and, if you have a Mac, Pixelmator is incredibly close to Photoshop in terms of functionality, yet at a fraction of the price. It even opens and edits PSDs. Amaze.
And for music:
I used a mix of Garageband (which comes free with new Macs and is cheap and easy to use on iOS) and Logic Pro for Mac, the latter of which is professional quality recording software. Both come with loops and pitch correction to get you started and the results are amazing. I use version 9, but Logic Pro X is out now too.
For PC users, Cakewalk Music Creator is a comparatively cheap multi-tracking program, and one that I used to use for home recordings before I bought a Mac.
For basic audio recording and editing, you can't go wrong with Audacity, which is both free and awesome.
Hope that helps get you started. Let us know how you get on in the comments.