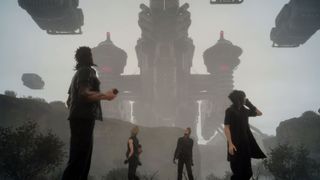 Finally Fantasy
Final Fantasy 15 is finally out of the woods and is coming out this year on September 30th. After it's long development having a release date for a game we've been waiting almost 10 years for comes as a massive relief... and then elation as loads more info has started to pour out of Square Enix Japan. Indeed, it's not just the game we'll be getting, but a movie with an insane voice cast that includes Aaron Paul, Lena Headey, and Sean Bean, and a five-part anime series.
Even Florence and the Machine are getting involved being responsible for the main theme tune - a cover of the classic 'Stand By Me' by Ben E King. It's all shaping up to be unlike any Final Fantasy game we've seen before - a modern open-world action game with heavy brotherly themes - and we couldn't be more excited for it. Here's everything we know so far.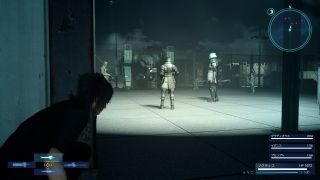 There'll be a straight-up stealth mode
Although we saw FF15's stealth gameplay in action in the Duscae demo, when Noctis had to tail a trudging behemoth at a snail's pace so he could track it to its den, we had no idea how prominent that sort of stealth was going to be in the final product (you could say Tabata kept us waiting). However, one particularly sneaky screenshot and a new gameplay trailer reveal that it's going to be a bigger deal than anyone anticipated, with Noctis sneaking into an enemy base and back-stabbing on the sly.
Thankfully, it looks like FF15's stealth gameplay and combat won't be wholly separated. For instance, Noctis can use his teleportation move (which acts an impressive ultra-stab in combat) to zoom up to unsuspecting enemies and take them out. Plus, if every stealth section plays out like the one in the trailer, you can give up the slinking ghost and charge in, sword-swinging, without failing the mission. Hopefully that means there will be a natural flow between these very different parts of the game, though we'll have to wait for release to see. Or not see, depending on how sneaky you are.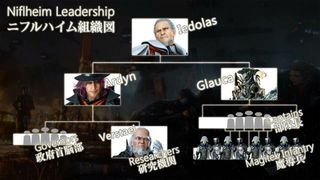 We have an idea who the villains are
Until now we've just known the villains of FF15's story as 'the generic evil empire', with a few images of old men with ratty-white beards and ominous coats tossed in for flavor. Now those old men have names, and brought a few younger compatriots along with them. In a fairly recent Active-Time Battle Report, director Hajime Tabata identified the big bad few in charge of the Nilfhelm Empire, and now we've gotten an idea of what they actually do - that flippant-looking redhead from the FF15 announcement trailer is apparently the prime minister, and the unnerving dragoon is Aranea Highwind, captain in the Nilfhelm army and possibly a distant relative of Kain. The old dudes, meanwhile, are the Empire's resident mad scientist Verstael, and 'former' emperor Iedolas, who works from behind the scenes to control the country.
The report also delved into the makeup of the Nilfhelm Empire, explaining that it's a mechanized society that uses robots in place of human ground troops and decks its captains out in medieval-looking armor. But they're distinctly lacking in magic, which Noctis' home nation of Lucis has in spades. I think I have an idea where this whole invasion nonsense started.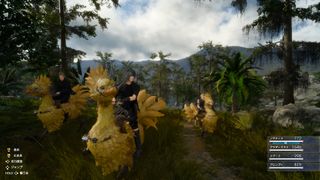 Of Moogles and monsters
After a recent vote by fans, it looks like Moogles will officially have a place in FF15, albeit in a smaller capacity than previous series entries. At first it didn't look like we were going to get them at all, with director Hajime Tabata wanting to focus on this game's more realistic aspects, but come on - you can't have a Final Fantasy game without these adorable little freaks. Now with the fan's blessing, they're back on the 'to do' list before release. We've spied a model one on Cidney's truck dashboard in a trailer so far, but here's hoping for a bigger appearance.
Meanwhile, other monsters recently shown off on the game's Instagram page are much less whimsical, highlighting the game's more 'realistic', dark look. Chocobos are nowhere near as cutesy as they usually are, feeling more like an ostrich-horse hybrid, and the human face on the serpentine Naga looks like it could have belonged to an actual person once. For the first time in a while the monsters actually look like monsters. Ones that you really don't want to cross paths with, rather than simple beasts to slay for EXP.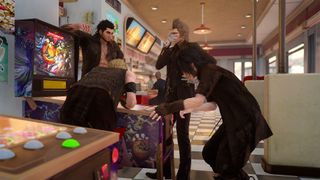 Mingames
Like in previous entries, minigames are making a return, though this time it's pinball and fishing that take the top billing, rather than Blitzball or card games. Justice Monsters V is the name of pinball minigame which you'll be able to play at tables in various rest stops on your journey. A standalone version will also be coming to mobiles before the release of the main game, though they might not be able to cross over fully. At the moment they're only looking into shared leaderboards.
Fishing is also not only a relaxing way to pass time in between kingdom-saving heroics, you'll also be able to have a fish supper, as Ignis can use whatever you catch as cooking ingredients for your evening meal. Party members also have hobbies they'll share with you, such as Prompto using his smartphone to take photos of your adventures and potentially side-tracking your mission in order to get the perfect snap. Gladiolus, meanwhile, is an avid outdoorsman and will often request training sessions with you to work on new moves. And hey, why not - what good is a roadtrip (even one you take on to save the world) if you don't have some fun along the way?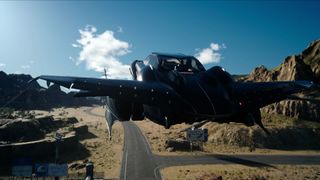 Ladz on tour
With such a huge open-world to explore you're going to need something faster than walking to get around it all. With one of FF15's central themes being that of a road trip, your car, the Regalia, is your main mode of transportation. It comes equipped with everything any 'ladz on tour' could possibly need, including a radio station that plays music from the entire Final Fantasy series. It's time to shuffle or boogie.
You'll also get to take to the skies after your car get's an upgrade towards the end of the game which turns it into a particularly fancy flying machine. There are also boats for travelling over water and Chocobos for all of the Final Fantasy purists out there.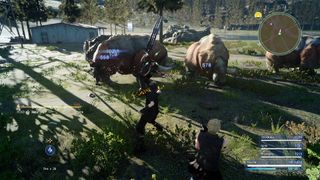 The combat is action-based
Final Fantasy games have traditionally adhered to the turn-based JRPG battle standard, but have been edging away from that in recent iterations, particularly Lighting Returns: Final Fantasy 13 and Type-0. FF15 takes another step away from tradition by adopting an action-heavy combat system akin to that of Kingdom Hearts, where fights unravel in real-time. Main character Noctis and crew can run around the battlefield, actively dodging attacks and following up with brutal strikes without waiting for a meter's permission. You can also climb giant monsters when fighting them to target their weak points for massive damage.
It's also had at least one complete overhaul - changing between the Duscae and Platinum demos to something that is far simpler to manage. Weapons and spells are mapped to the D-pad where they can be switched easily mid-combo depending on your situation and playstyle. Start things off with a fireball from a distance before switching to a light blade for quick attacks and then finish it off with a heavy strike from a two-handed sword. Learning when to dodge will also be key to keeping your HP bar in the green.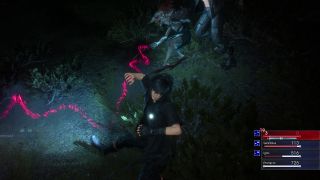 Once you lose all your HP, enemies will kill your health bar
Sure, real-time battles aren't entirely new to the Final Fantasy franchise, but FF15 also introduces some unique changes in a place you might not have thought to look: the health bar. While 0 HP has meant Game Over since roughly the dawn of time, losing all your hit points in FF15 means you enter a critical mode where your max HP is depleted every time you take a hit. If you happen to survive the encounter, your HP will only increase to that reduced maximum until you head back to camp and rest.
This mechanic may sound beyond brutal at first, but in practice it can take the edge off keeping four characters alive and kicking in real time. Any character who's hit zero can be 'rescued' by any comrade who hasn't gone critical themselves, restoring a portion of the injured party's health and avoiding total team destruction. This admittedly could wind up making the game too easy, but since we've only seen it implemented in the five-hour demo, it's too early to make any calls. We'll just have to wait and see what FF15 does with this brand-new danger zone. Did I mention that's basically what it's called? Archer jokes inbound.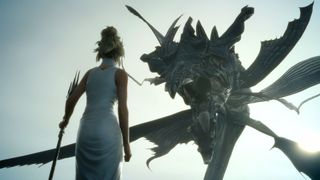 The summons are FREAKING GIGANTIC
It wouldn't be Final Fantasy without some colorfully-constructed summons, and on that front, FF15 goes big. Really big. So freaking big that Noctis sits comfortably in the the palm of his summon's hand while the creature blows away a ten-ton behemoth with an atmosphere-puncturing lightning staff. Holy freaking damn.
Sadly, you might not see these summons as often as you'd like, because they can't be called upon at will. Unlike other games in the series that let you choose when to call your magical monster backup, in FF15 your health has to drop to zero before you can unleash the beast. Still, it looks like it'll be well worth it to witness the hell they unleash. So far we've seen Ramuh, Titan, Carbuncle (though he's a lot smaller and more adorable than the others) and Leviathan. There are also a few more hidning in the official Amano artwork though we've yet to see what any of them look like in-game.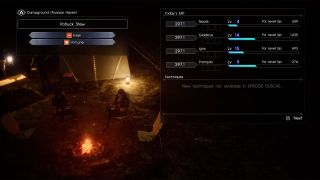 You benefit from a good meal at the end of the day
Wait, wait, a game where days noticeably pass and characters actually have to stop sprinting to take care of basic bodily needs? Inconceivable! Granted, FF15 doesn't go so far as to introduce bathroom breaks or a Sims-style energy meter, but the fact that characters get a boost from a decent meal at the end of the day is a noteworthy mechanic.
FF15 has a clear progression from day to night, and you're encouraged through dialogue prompts to get your characters back to camp once dusk rolls around. There's no specific punishment for keeping Noctis and crew out past their bedtime, but fights do get noticeably trickier, if for no other reason than you can't actually see what you're trying to kill. In addition to keeping your team from being chewed on by things that go bump in the night, letting them set up camp and tuck into a meal gives each character a series of stat boosts that persist throughout the next day. This makes battles easier (so much so that I can actually see the feature being scaled back for the full release) and encourages you to think about your characters' human needs, making them seem more true-to-life.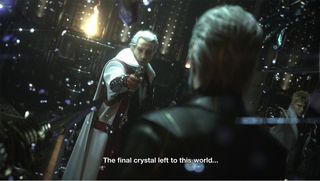 The story is meant to be more mature, and politically charged
While FF13 focused on a tale of godlike fal'Cie and the cosmic consequences of their spunky human servants going rogue, FF15's taking a more political approach to its story. The big players here are the kingdoms of Lucis and Niflheim, which are naturally at war over something magical, specifically a set of crystals Lucis has used to build its civilization. Cue Niflheim's surprise invasion of Lucis - King Regis Lucis Caelum is reportedly killed in the ensuing chaos, as is his son, Noctis Lucis Caelum. Except Noctis is the main character and you're definitely playing as him, so it appears rumors of his death have been greatly exaggerated.
While power-plays and politics aren't at all new to the series (a few adjustments and that same description could work for FF12), FF15 also seems to be a more mature take on that classic JRPG story, starting as far back as Noctis' early childhood. The game's Dawn trailer puts particular emphasis on the relationship between Noctis and his father, treating it with surprising sensitivity and none of Final Fantasy's typical flashiness. While we won't know for sure how much of that interest will be realized until the game is finally out, this tiny peek alone is already fascinating.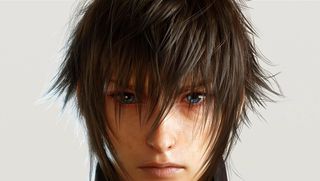 Noctis is the main character
Noctis Lucis Caelum, the heir to the kingdom of Lucis, is who you'll be controlling throughout most of FF15. He's a stereotypically rebellious young man (you might say he's got a bit of a Squall-ish streak), choosing to live by his own rules as opposed to following the strict code of conduct set by his royal overseers. With his kingdom under siege, Noctis and his friends must protect the crystal of Lucis and exact revenge on the forces of Niflheim at all costs. He's also arranged to marry Lunafreya who is also his childhood friend, and shares a very close bond with his father King Regis.
Weapon style: "Noc" isn't your average moody prince; a near-death experience in his childhood endowed him with the ability to sense the impending death of other people, a power that (for some reason) also allows him to summon a variety of weapons from thin air. He's also able to shield himself with a magically-enhanced dodge, and teleport around the battlefield at will. He's the only character in the game who can use any type of weapon he chooses, including spears, swords, axes, lances, and guns. And he's the one that does all of the summoning.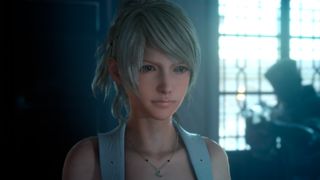 Lunafreya is the heroine
After dropping former heroine Stella (seen in trailers back when the game was known as Versus 13) due to story conflicts, Lunafreya has risen to take her place as the leading female of FF15. She's the childhood friend of Noctis, as well as his bride-to-be, and the Oracle of Tenebrae who is said to be able to talk to the Gods. While the identity of those gods is far from certain, the Titanic being that Noctis and company are on their way to visit in the Episode Duscae demo seems like a likely candidate.
She's no damsel in distress either, acting as a major part of the game's plot and taking an active role in events, even if she isn't part of your main party. There is a possibility that she will join up with Noctis as company in time, perhaps as one of the mysterious female party members Tabata has mentioned in the past. At the moment we can't say for sure if that's the case, but I'd put gil on it.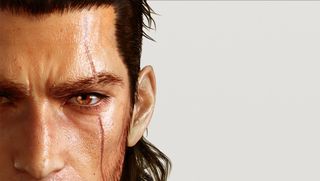 Gladiolus Amicitia is Noctis' sworn protector
Gladiolus comes from the house of Amicitia, part of the royal circle of Lucis, whose sole duty is to protect the royal family. Gladiolus (or "Gladio" for short) grew up with Noctis, forming a deep bond with the prince that goes beyond the scope of duty. He's also the fellow responsible for teaching Noctis how to fight, and you can spar with him at any rest point if you're ever feeling rusty. Best described as a bruiser with a heart of gold (you can tell because he has tattoos and laughs a lot), it looks like he'll be helpful balancing out Noctis' stormier attitude. He's also constantly thinking of new moves for you to try out and learn as you progress.
Weapon style: He wields a humongous two-handed sword that looks like a weapon straight out of Monster Hunter.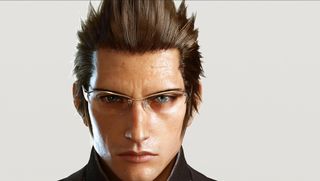 Ignis Scientia is the party's strategist
Noctis is a bit of a loose cannon, so it's the job of the prim and proper Ignis to keep the prince in check. Like Gladiolus, Ignis has a storied past with the young heir, and the two have developed a trustful bond. His official description depicts him as an "unwavering voice of reason" with a "classical education" who will one day counsel Noctis when he becomes king of Lucis. For now though, he's the group's main battle strategist, as seen in the demo when he comes up with a plan to take down a beast that's way too tough for our heroes to handle. He's also the team cook, and while I'm not sure what strategic value that has, the food he makes looks dang tasty.
Weapon style: Ignis utilizes a katana and throwing knives in battle, which allows him to strike multiple enemies at once.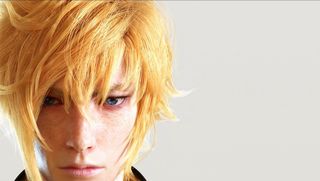 Prompto Argentum is the team's bad boy
It's very likely that Noctis has Prompto (who looks strikingly like Cloud, if Cloud shopped at Hot Topic) to thank for some of his rebellious nature, as this womanizing troublemaker is a wanted fugitive. The two supposedly met during their school days, and though Prompto is friends with the prince of Lucis, he was raised in an inferior social class and harbors resentment about it. Not that you'd know - the guy's super peppy and talks a lot about the wonders of his rich upbringing, so you wouldn't think he was familiar with adversity. That's clearly not the case though, and my guess is the whole class-difference-thing is going to come up when it's least convenient for Noctis. He also loves taking photos and you'll be able to make use of his camera ingame.
Weapon style: Prompto is an expert marksman, and is able to wield a variety of handguns and shotguns.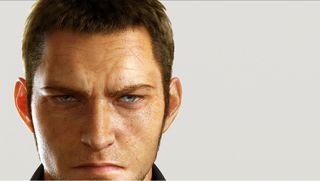 Cor Leonis is the most experienced member of the group
Every fantasy fellowship needs its battle-worn veteran, which is where the 42-year-old Cor Leonis comes in. Cor has devoted his life to studying the art of war, and is bound by duty to protect the crown, though he doesn't always see eye-to-eye with Noctis. He's a guest character that doesn't always see eye-to-eye with Noctis and co, but is good friends with King Regis.
Weapon style: Cor has quite the reputation for his katana expertise on the battlefield.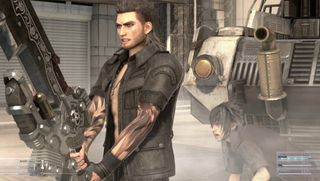 You can have four active party members, including Noctis
Though the story will dictate which party members you have available at the onset of the game, you'll eventually get to choose three characters to accompany Noctis on his journey. Each party member (aside from Noctis) is proficient with only one type of weapon, and though all can use magic, with spell effects differing from character to character.
Other characters, such as heroine Lunafreya, will join you in combat as guests, though how active they'll be has yet to be seen. While former director Tetsuya Nomura previously mentioned that players would be able to switch between player characters in the middle of battle (a la a real-time FF12), Tabata has since confirmed that the character-switching feature has been scrapped. But given that Noctis can use five separate swords, sometimes all at once, that doesn't feel like a great loss.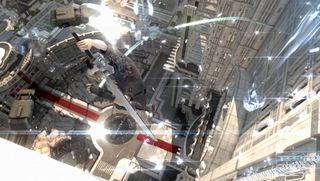 Battles and navigation could be even more complex than the demo lets on
While the demo limited Noctis and company to a pleasant hike through the monster-infested wilderness, footage from earlier trailers promises a shockingly wide range of motion and battle mechanics in the final release. One of the things about Final Fantasy 15 that immediately struck us was how much vertical space it explores. Hell, jumping is a feature in Lightning Returns, but Noctis straight up launches himself through the air, using his magic swords as warping grappling hooks.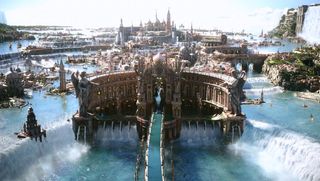 Kingdom Hearts director Tetsuya Nomura is no longer directing it
Back when it was still known as Versus 13, FF15 was presented as the brainchild of Tetsuya Nomura, one of Square Enix's top developers and lover of all things zipper-like. Nomura rose to prominence as character designer on FF7, then gained international notoriety as the director of the Kingdom Hearts franchise. It was Nomura that reintroduced FF15 to the gaming world at E3 2013, so it was a shock to learn that he's stepped down as director.
Hajime Tabata has now stepped up to the director's plate following his work on Type-0, but Nomura's influence is far from gone. His input on the story concept, characters, and overall world building is still integral to the game as a whole, but he has removed himself from seeing it to completion. On the bright side, he apparently did so in order to focus his attentions on Kingdom Hearts 3 and the Final Fantasy 7 remake.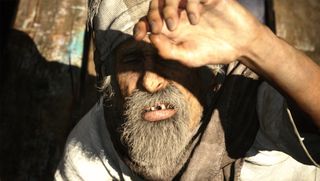 It runs on Square Enix's new Luminous engine
Back at E3 2012 (yikes, has it been that long ago now?!), Square Enix unveiled a jaw-dropping tech demo, entitled Agni's Philosophy, to showcase the power of its new development engine, Luminous. People went nuts. The level of detail was astonishing, and the video being rendered in real-time was of a quality typically reserved for pre-rendered cutscenes.
FF15 runs on that very engine. It's hard not to be excited about how fantastic the game looks on a visual level after having seen it in action.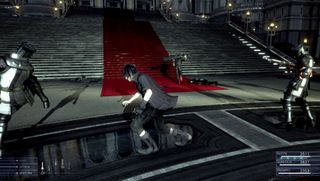 It'll be available on PS4 and Xbox One
Back when Final Fantasy Versus 13 was announced in 2006, it was planned as a last-gen title, possibly even exclusive to the PS3. But as development wore on and the game became more complex with every year that passed, it became clear that time and harddrive size were working against it. But with its rebranding as Final Fantasy 15 and its transition to the new Luminous engine, the PS3 and Xbox 360 were abandoned entirely in favor of the PS4 and Xbox One. And you know what? We're cool with that.
With access to new hardware, the developers can realize their ambituous plans for FF15 in a way that wouldn't be possible otherwise - and at the very least, it's gonna look pretty damn amazing.