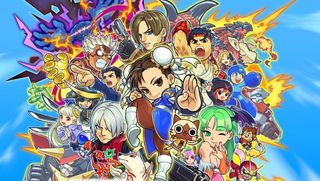 30 Years of Awesome
Over the past 30 years, Capcom has created some of the greatest games, franchises, and characters in video games, but theyve also done so much more. Often times its the little things that stick with us--an insane line of dialogue, a brilliant control decision, a whimsical design choice, an exceptionally catchy piece of music--and give birth to something thats awesome, epic, hilarious, or maybe all of the above.
Capcom was basically creating gaming memes before the rest of the world even knew what the term meant, resulting in a grab-bag of gaming goodness that over the last three decades has become a permanent part of the interactive entertainment landscape. From colorful boxer shorts to the business end of an index finger, here are Capcoms 30 greatest contributions to gaming from the past 30 years.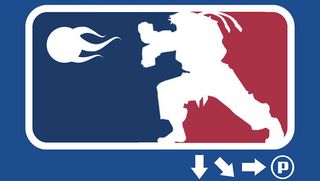 Quarter-circle forward + punch
Once upon a time, game actions pretty much consisted of basic things like moving, jumping, and attacking. Pretty simple, eh? Capcom changed all that with a little game called Street Fighter II and its joystick-and-button combinations for special moves. SFII wasnt the first game to do such a thing (obviously; it is a sequel, after all), but it was the game that suddenly made it common for you to roll the joystick down, down-right, right--aka a quarter-circle forward--and hit a button to see a projectile erupt from your characters hands and shoot across the screen. It wasnt long before every arcade game and its brother was using the same control scheme, and now practically everyone knows exactly what you mean when you say fireball motion or quarter-circle forward.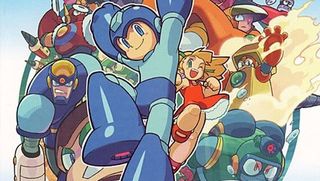 Mega Man 2s soundtrack
Is there any catchier 8-bit soundtrack out there than that of Mega Man 2? (Hint: The answer is no.) From the rocking title screen track (which has basically established itself as the unofficial Mega Man theme song) to the incomparably upbeat theme to Dr. Wilys castle, Mega Man 2 is full of amazing tunes that makes it is a favorite of remix artists everywhere. Despite the limitations of the NES, Capcoms programmers were able to pump out surprisingly rich, complex, multilayered music, such as the electronically infused theme to Quick Mans stage and the epically funky Crash Man tune. Its fair to say that Mega Man 2s music was as big a part of establishing the games personality as the Robot Masters and level designs themselves. More importantly, nearly 25 years later, the music still sounds fantastic.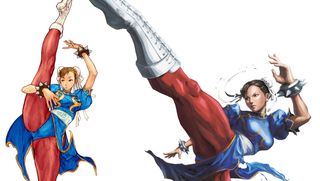 Chun-Lis thighs
Ever since she burst onto the scene in Street Fighter II, claiming to be the strongest woman in the world, Chun-Li has worked wonders with her mighty legs. Not only was she able to rapidly devastate opponents with her Lightning Leg technique, but she was actually able to flip herself upside down and fly through the air by using her legs like propeller blades. Now those are some pretty amazing gams! They got even more impressive throughout the years--perhaps most notably in Street Fighter III: 3rd Strike--as her muscular thighs grew to tree-trunk-like proportions and practically took on a life of their own. Does Chun-Li have the best legs in gaming? Maybe... but we wouldnt tell her that unless we wanted her to kick our teeth down our throats.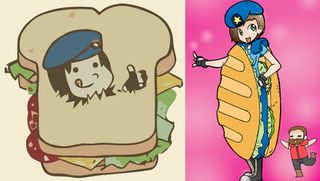 Jill sandwich
Were not gonna say that Capcom can do no wrong, but even when things go awry, its often in spectacular fashion. Naturally, were referring to the original Resident Evil, which--in addition to establishing the survival-horror genre, providing tons of jump-from-your-seat thrills, and spawning a plethora of imitators--has earned a place in history for its epically bad voice acting. Its especially hard to ignore the scene in which burly bearded badass Barry Burton saves his partner Jill Valentine from a falling ceiling and proceeds to calmly tell her that, You were almost a Jill sandwich! to which she laughingly replies, Youre right! Barry also gets props for his Oscar-worthy delivery of I hope this is not Chris blood!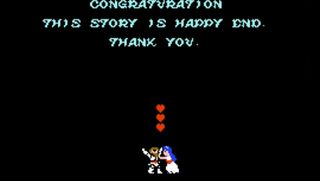 This story is happy end! [NOTE: Typos below are intentional]
Look up the definition of infuriating and you just might see a picture of Capcoms Ghostsn Goblins for NES. As if simply being hard as nails wasnt bad enough, once you think youve reached the end, the game sends you all the way back to the beginning with the message, This room is an illusion and a trap devisut by Satan. Go ahead dauntlessly! Make rapid progress! Should you somehow manage to play through the game a second time without smashing your controller into a million pieces and get the true ending, youll be treated to a hilariously bad translation that says, Congraturation. This story is happy end. Thank you. Being the wise and courageour knight that you are you feel strongth welling in your body. Return to starting point. Challenge again! Wait, after all that you still want us to do it AGAIN? Brutal.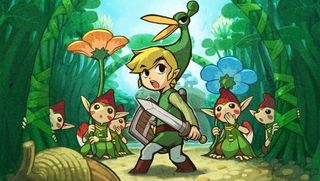 The Legend of Capcom
The Legend of Zelda is one of Nintendos most beloved properties, but Capcom has actually made a fairly significant contribution to the franchises success: believe it or not, Capcom was responsible for the development of The Legend of Zelda: Oracle of Ages and The Legend of Zelda: Oracle of Seasons on the Game Boy Color, as well as The Legend of Zelda: The Minish Cap and at least part of the remake of The Legend of Zelda: A Link to the Past on Game Boy Advance. Clearly, it says a lot about Nintendos faith in Capcom that theyd be trusted with such a significant franchise. And its not like these games ended up being the black sheep of the series, either; they rank among the best handheld Zelda games out there.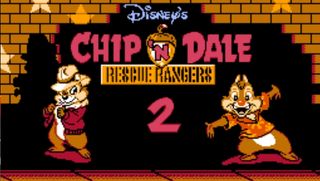 Quality licensed games
Games based on licenses have a bad reputation, and for a good reason--most of them are crap. But Capcom managed to defy the odds and make numerous licensed titles that were actually--gasp!--good! During the 8- and 16-bit days, Capcoms Disney titles, such as DuckTales, Chip n Dale Rescue Rangers, Aladdin, and The Magical Quest Starring Mickey Mouse were nothing short of fantastic, and that attention to quality extended into the arcade with gems like Dungeons & Dragons: Shadow Over Mystara, Aliens vs. Predator, and X-Men: Children of the Atom. The trend even continues today with titles like DuckTales Remastered and Ultimate Marvel vs. Capcom 3, proving that licensed games can be so much more than a quick cash-in when the publisher wants them to be.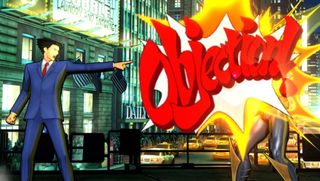 Objection!
Who ever thought that a game about being a being a lawyer and pointing with your index finger could be a success? Apparently Capcom and Ace Attorney creator Shu Takumi did, as they brought unlikely hero Phoenix Wright to life in a lighthearted courtroom-drama series. Though there are many reasons to like the Ace Attorney games--including a memorable cast of unique characters, engaging mysteries that will keep you guessing, and back-and-forth courtroom battles where the innocent are exonerated and the guilty are exposed--it is perhaps the sheer satisfaction of finding a lie, presenting a piece of contradictory evidence, and hearing Phoenix yell Objection! that keeps players coming back more than anything else. And, of course, its arguably even more fun when you yell Objection! into the DSs microphone yourself.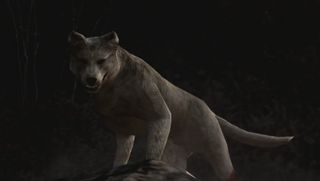 Saved by the wolf
Resident Evil 4--often considered the best installment of Capcoms survival-horror franchise--is jam-packed with awesome moments and heart-pounding thrills (chainsaw guy, anyone?), but one of the best occurs during Leon S. Kennedys boss fight against an ogre-like El Gigante. Early in the game you have an opportunity to free a white wolf caught in a bear trap; if you do so, it escapes to freedom, but much later makes a dramatic, howling return during your battle against the enormous, seemingly unstoppable foe. Despite the apparently impossible odds, the wolf leaps into the fray to distract El Gigante, allowing the tough encounter to become considerably more manageable. Its a cheer-worthy payoff, and just one example of how RE4s attention to detail can take an already epic encounter and make it feel even more triumphant.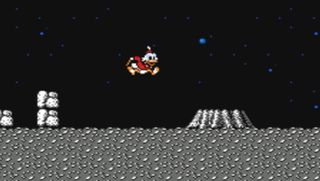 DuckTales Moon theme
We could go on for a while about all the reasons that Capcoms NES DuckTales game was fantastic--top-notch 8-bit visuals, the fun pogo-jumping play mechanic, sprawling levels, nonlinear gameplay, and lots of hidden secrets, to name a few--but the single greatest thing about the 1989 platformer might be its music, especially the theme to the Moon level. Opening with a calm subtlety, the tune soon explodes into an incredibly energetic, upbeat anthem that rocks as much as anything youll ever hear coming out of your NES. Its no wonder that the theme has become a favorite of chip-tune enthusiasts everywhere.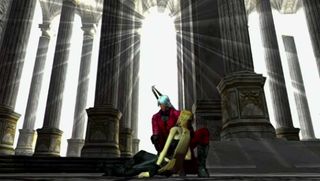 Devilish dialogue
Oh, Devil May Cry, you so crazy. Not only does the game deliver intensely stylish gun- and sword-based action, wild combos, and a cool-as-a-cucumber hero in Dante, but it also provides some grade-A cornball dialogue with an extra helping of cheese. Were not sure which part is more ludicrous: the scene where Dante meets the griffon and tells him to Flock off, feather-face! or the ending scene in which Dante melodramatically proclaims that I should have been the one to fill your dark soul with LIIIIIIIIGHT!!! (Light... light... light... light... light!) Its OK, Dante. We wont hold it against you.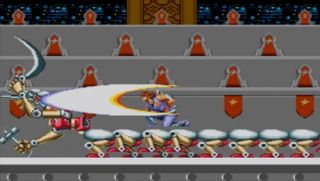 The mutant politburo
The arcade version of Strider is a pretty crazy game. It starts with the protagonist, Hiryu, hang-gliding into Russia, and he then proceeds to jaunt all over the world, using his powerful cipher blade to chop through everything from a stereotypical pirate to a robotic gorilla to a herd of dinosaurs that have taken over the Amazon jungle, after which he heads off to a space station where he defeats a flying geezer who looks like the emperor from Star Wars. And the gameplay--which has you climbing walls, walking on ceilings, and battling in zero gravity--gets pretty out-there, too. The weirdest part, however, comes at the end of the first level, where Hiryu encounters what appears to be the Soviet parliament; upon seeing Hiryu, the politicians leap from their seats and combine into a giant hammer-and-sickle-wielding robotic centipede. It doesnt get much stranger than that.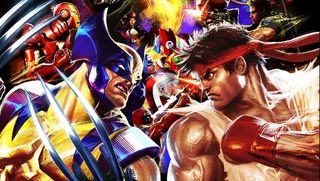 Crossover madness
Is there anything more exciting than when two beloved franchises merge into one? Nah, not really. Capcom has been perfecting the art of the video game crossover since the 90s, delivering madcap action in titles such as X-Men vs. Street Fighter, Marvel Super Heroes vs. Street Fighter, Marvel vs. Capcom, Capcom vs. SNK, Capcom Fighting Evolution, Street Fighter X Tekken, and Tatsunoko vs. Capcom, as well as their various sequels. Frequently the result was explosive, over-the-top tag-team chaos that made Capcoms regular fighting games look like backyard brawls. And lets not forget that there have even been non-game crossovers, too, such as the recent Sonic/Mega Man comics or the time that the Street Fighter characters enlisted in the G.I. Joe action figure line. Actually, those toys were terrible; feel free to pretend that didnt happen.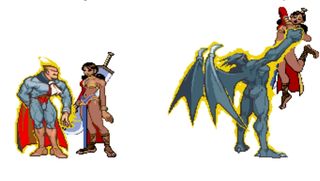 Midnight Bliss
Street Fighter gets all the attention, but Capcom is home to numerous other fighting-game series. One of the best is Darkstalkers, which stars a cast of classic horror-movie monsters as seen through Capcoms distinctive artistic filter. Vibrant anime-style visuals and insane special moves are the order of the day; one of the most bizarre is vampire Dimitri Maximovs Midnight Bliss super attack, which, if it connects, results in his opponents--even the guys--being transformed into curvacious ladies of the night. Ever wondered what Frankensteins monster or a waddling sasquatch would look like as a hot babe? No? Well, Midnight Bliss gave you the chance anyway. Even non-Darkstalkers characters got a gender-bending makeover when Demitri appeared in the crossover fighting game Capcom Fighting Evolution.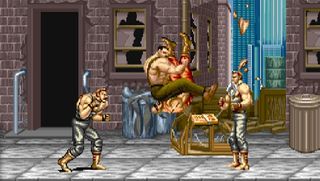 Piledriver!
Beating the crap out of punk criminals is fun, but you know whats even better? Grabbing one of those thugs, jumping into the air, flipping him over, and crashing down on top of him while driving him into the concrete. Such was the appeal of Mike Haggars mighty piledriver, which the mustachioed mayor of Metro City put to good use in in the 1989 beat-em-up Final Fight. Politicians may have a bad reputation, but theres no doubt that wrestler-turned-street-fighter-turned-vigilante Haggar was delivering on his campaign promise to fight crime when he personally hospitalized countless members of the Mad Gear gang. More recently Haggar has been seen piledriving the likes of Dr. Doom, Tyrant, and a Sentinel.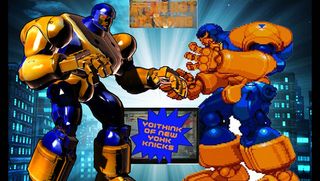 Mango Sentinels
The Mango Sentinel is a nickname given to the orange-and-blue alternate color scheme of the Sentinel robot in Marvel vs. Capcom 2, but its also so much more. It exemplifies the sheer enthusiasm that Capcoms fighting games often generate, as the name fell into vogue--alongside a number of other phrases, mainly involving potato chips, ice cream, New York sports teams, and lots of profanity--after a particularly lively tournament held back in 2007, which subsequently spread like wildfire across the Internet. Not one to let such notoriety fade away for too long, Capcom revived the Mango Sentinel when the gargantuan robot returned a years later in Marvel vs. Capcom 3.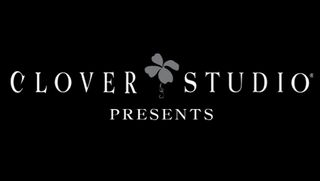 Clover Studio
Capcom is known for its franchises and sequels, but its also known for its creativity and originality. This pioneering spirit is what led to the formation of one of Capcoms most renowned development groups, Clover Studio, which was founded in 2004 under the guidance of Viewtiful Joe creator Atsushi Inaba, Resident Evil creator Shinji Mikami, and Devil May Cry director Hideki Kamiya. In addition to continuing the Viewtiful Joe franchise, the group was responsible for creating the astonishing adventure game Okami and the divisive brawler God Hand, but Capcom unfortunately shut down the studio in 2007. However, Clovers influence lives on, not only through its beloved IPs (see the recent Okami HD remake), but through the studios spiritual successor, Platinum Games, which has employed much of the same talent to deliver stylish titles such as MadWorld, Bayonetta, and Metal Gear Rising: Revengeance.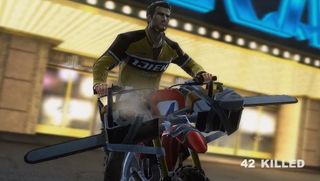 Motorcycles with chainsaws
One of the coolest things about the Dead Rising games is how pretty much anything can be used as a weapon. Better yet, you can combine items to make dozens of combo weapons including an electric rake, exploding meat, and a plate launcher. But best of all? Being able to customize a motorcycle with a pair of chainsaws--one sticking out to the left, the other to the right--so you can slice through the undead hordes in Dead Rising 2. Hero Chuck Greene may not have covered wars, you know, but at least he can put his championship motocross skills to use in the defense of Fortune City. Disclaimer: Under ordinary circumstances wed have to say that riding around completely exposed on a motorbike while whirling implements of death are only a few inches from your limbs is a spectacularly bad idea, but in a zombie apocalypse anything goes.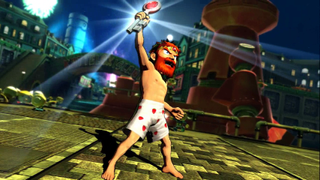 Arthurs boxer shorts
Pretty much anybody can fight bad guys when fully clothed, but it takes a real mans man to battle zombies, demons, and, um, vomiting pigs when youre wearing nothing but your beard and your boxer shorts. Admittedly, Arthur--the protagonist of Capcoms Ghostsn Goblins series--isnt running around in his skivvies by choice; that only happens when he takes a hit from an enemy and his whole freaking flimsy suit of armor pops off his body. Seriously, how lousy is this armor that it completely flies off just from getting hit by a bird or whatever? Its almost as if Arthur is some sort of weird exhibitionist who likes running around almost starkers. Fun fact: Even though its commonly believed that Arthurs boxers feature a heart pattern, they are, in fact, decorated with strawberries.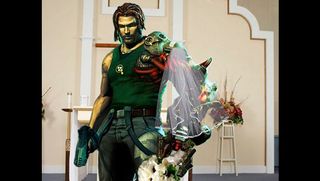 I now pronounce you man and arm
After having faded into obscurity for years, Bionic Commando finally returned to the spotlight in 2009 with a modern-day sequel to the beloved NES classic. Unfortunately, this darker, edgier, more-realistic(?) take on the property lacked the fun and charm of its predecessor, and the convoluted story was burdened by one of the silliest plot twists in recent memory. After spending much of the game trying to figure out what happened to his wife who had disappeared many years prior, protagonist Nathan Rad Spencer learns that--spoiler alert!--his wife was actually somehow transformed into his bionic arm. Yes, you read that correctly: the arm is his wife! It makes the crazy ending of the original Bionic Commando seem pretty sensible by comparison.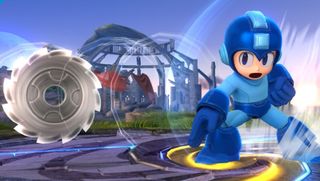 Metal Blade
The Mega Man series is known for the variety of cool weapons that the Blue Bomber can acquire by defeating enemy Robot Masters, but one weapon stands above the rest: the Metal Blade. Obtained from Metal Man in Mega Man 2, this powerful tool uses very little energy (so you have a virtually limitless supply), plus it can be hurled in eight directions and can finish off multiple bosses with minimal effort. In fact, its so strong that if you use it on Metal Man when you fight him a second time, he can go down in just a single hit. Talk about useful! Now that Mega Man is joining the Super Smash Bros. crew with Metal Blade in hand, we wonder how anybodys gonna stop him.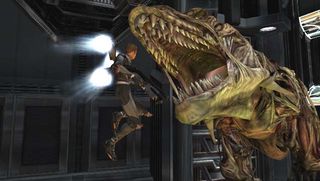 Dinosaurs... in space!
First there was Resident Evil. Then there was Dino Crisis, a survival panic game that applied the RE formula to a Jurassic Park-like scenario. So where do you go from there? Outer space. After two regular installments and a light-gin spin-off, Dino Crisis 3 took the series into a sci-fi future where a team of space commandos squared off against genetically mutated dinosaurs. The actual game was underwhelming and plagued by a problematic camera system (which may have ultimately resulted in the series not being continued), but cmon! Were talking about freaking space dinosaurs! Its almost too bad that the game was rated M, because probably every 7-year-old kid would agree that space dinosaurs are the coolest thing ever.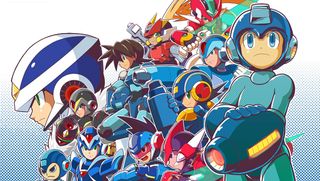 Countless Mega Man spin-offs
You've gotta hand it to Capcom--they know how to make a franchise work. Case in point: Mega Man, which has been spun off into so many different sub-series over the year that were not even sure how to count em all up. In addition to regular old classic Mega Man, theres the Game Boy series that combined aspects of the NES Mega Man games, the edgier Mega Man X, the 3D adventures of Mega Man Legends, the role-playing sagas of Mega Man Battle Network and Mega Man Star Force, the super-challenging action of Mega Man Zero, and the biometal-infused Mega Man ZX games. On top of that, there are spin-offs of spin-offs (such as Mega Man X Command Mission) and one-offs like Mega Mans Soccer and Mega Man Battle & Chase. Some might call it overkill, but weve got respect for any company that can get so much mileage out of one property and still have fans begging and pleading for more.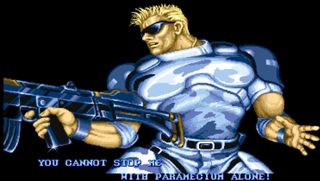 What!? A paramecium?
You cannot stop me with paramecium alone! yells the muscular, unnamed, sunglasses-wearing, jetpack-equipped soldier from Forgotten Worlds. Thats, uh, fine, dude. I dont think anyone was planning to stop you with paramecium alone. Or with paramecium at all, really. Why are we discussing paramecia when youre supposed to be on a mission to save the world? According to the dictionary, a paramecium is an aquatic, microscopic, single-celled organism, and it shouldnt pose much of a threat to a guy that can fly through the air while unleashing lasers, flamethrowers, missiles, and other assorted weaponry. Who knows? Maybe the Unknown Soldier was having a weird flashback to seventh-grade biology class or something.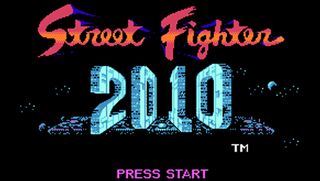 Ken Masters in 2010
One of the great things about video games is that they can take you to places limited only by their creators imaginations, and in 1990, Capcoms Street Fighter 2010: The Final Fight transported gamers to--you guessed it--the far-flung future of 2010. In case you dont remember that groundbreaking period of history, it was the year that bionic implants were all the rage, when mutant monsters were rampantly stealing Cyboplasm, and when teleportation devices allowed people to visit alien worlds in a flash. Let that sink in for a minute, then marvel at the fact that the game starred Ken of Street Fighter fame, who (at least in the North American version) had left martial arts behind to become a genius scientist/cybernetically enhanced super warrior.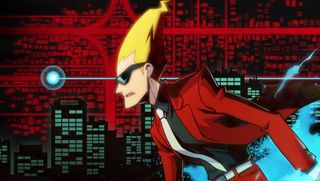 Sissel's hair
Its been said that the key to making memorable characters is to give them distinctive silhouettes, and Capcoms designers certainly seemed to have that rule in mind when they were creating the cast of Ghost Trick. I mean, just look at that hair! Seriously. Look at it. Protagonist Sissel either stuck all his fingers into electrical sockets or spent about a bazillion dollars on hair gel to come up with that crazy, pointy do. Sissels hair becomes even more impressive when you consider the fact that the dude is dead. We can barely get our hair to cooperate on any average day, yet Sissel manages to look like a rock star even in the afterlife. Wonder if Guile is jealous.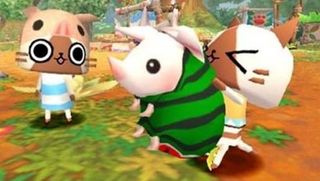 Monster Hunters Felynes
If you take a brief look at Capcoms multiplayer battle-fest Monster Hunter, youd probably think that the game is all about dangerous-looking weapons and big, scary, dinosauric beasts. And, well, sure, there is all that, but the insanely popular (in Japan) series is also responsible for some of the cutest things weve ever seen in video games. Were talking, of course, about the Felynes and the Melynx, the two races of walking, talking, and undeniably adorable cat-people. These furry fellows can take on all kinds of useful jobs, including cooks and shopkeepers, but they can also be enemies as well. Its kind of strange--we figured theyd just spend all day long taking videos of themselves and posting them to YouTube.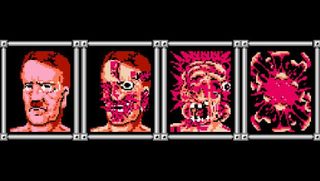 Hitlers head asplodes!
Bionic Commando on the NES was primarily known as an innovative action-platformer with unique grappling-hook-based play mechanics and lots of cool combat. But if you persevered and made it to the end of the challenging game, instead of shouting, Awesome! you were more likely to ask, WTF? Following a well-placed shot into an enemy emplacement, players got to witness Adolf Hitlers head quickly but brutally explode into messy chunks. When you consider the games Japanese title of Hitlers Return: Top Secret, the scene actually made a lot of sense, but since all other references to Hitler and Nazism were removed from the North American version, the scene seemed completely out of left field. (The Hitler character was even renamed Master-D for North America, despite the unmistakable likeness.) On top of that, the scene was pretty darn violent compared to other games of its era.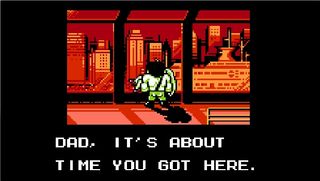 The ending to Mighty Final Fight
Never let anyone tell you that Capcom doesnt have a sense of humor. Back in the early 90s, Capcom released Mighty Final Fight, a goofy parody of the companys somewhat more serious series of Final Fight beat-em-ups. The game was packed with laughter-inducing touches (such a boss fight in which you could make the enemys health go down by insulting him), but the best part was the ending. If you beat the game as street tough Cody or ninjitsu master Guy, mayor Mike Haggar would spin onto the scene, knock the hero out of the way, then claim the victory for himself. While Haggar basked in the glory of someone elses hard work, Cody and Guy were left to sulk by themselves. Politicians, eh? The scene is easily one of the most amusing endings on the NES.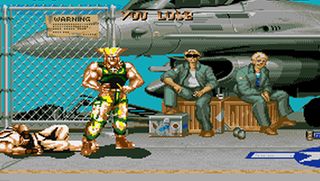 Guiles theme
In case you havent heard, Guiles theme (from Street Fighter II) goes with everything, from the Super Mario Bros. movie to cat videos to crappy daytime talk shows. To be fair, though, all of the tunes in SFII are incredibly catchy and memorable, and it probably could have just as easily been Kens theme or Balrogs theme or Zangiefs theme that became an Internet sensation. But you know what? Those other themes didnt get the nod, and now all the other World Warriors probably have to put up with ol Brush Head going on day after day about his online conquests. Oh sure, your Shoryuken might have priority over my Flash Kick, but how many YouTube views did YOUR theme song get yesterday?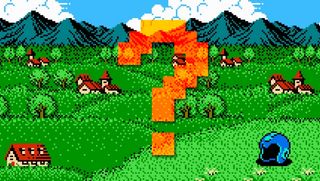 On to the next three decades
Is that it? Have we reached 30 already? Man, we were just getting started, and we didnt even get to touch on games like Breath of Fire, Commando, Onimusha, PN03, Power Stone, Rival Schools, Super Puzzle Fighter II Turbo, and so many more. Capcom has produced so much content and provided so many noteworthy moments over the past 30 years that its virtually impossible to cram them all into a single article of any size. What scenes and characters from Capcom history are still stuck in your head? Tell us in the comments!
Need more Capcom love? Check out the 30 best Capcom characters and our the history of Marvel Vs. Capcom games.