Best: Lethal Weapon (1987)
Oft-imitated but seldom surpassed, Lethal Weapon is the crème de la crème of buddy-cop movies. The black cop-white cop dynamic is more or less incidental to the real contrast between Murtaugh and Riggs, namely that one of them is a low-key family man and the other is an effing loon.

By-the-book grafter meets maverick loose cannon…it should be a bit of a yawn by rights, but a cracking pair of performances from Danny Glover and Mel Gibson (who knew he could play a nutcase? Oh…), a series of pulse-quickening set-pieces and plenty of zinging one-liners make it far more than the sum of its parts. All together now, "RIIIIIIGS!"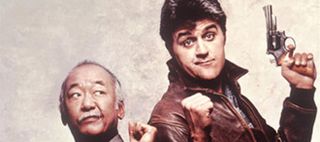 Worst: Collision Course (1989)
Nope, there's no need to get some new eyes, that is indeed mega-chinned chat-show host Jay Leno teaming up with Mr. Miyagi himself, Pat Morita. God alone knows whose bright idea it was to put these two together, but needless to say the results are absolutely abysmal.

The plot involves some tosh about recovering a stolen Japanese turbocharger engine, but is really only there as a flimsy excuse for some East meets West "hilarity" between Morita and Leno. Leno now refers to the whole mess as, "a horrible movie," which pretty much sums it up. Awful.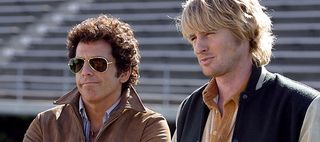 Best: Starsky & Hutch (2004)
Ben Stiller's loving tribute to the 70's cop show is a bit of a love-it-or-hate-it affair, with audiences divided over whether the period trappings come at the expense of the gags. For our money though, it's a pitch-perfect buddy-cop delight, with Stiller's uptight shtick a perfect match for Wilson's laid-back rule-bending.

Chuck in Fred Williamson as the perma-furious police chief and Vince Vaughan's moustachioed sleazeball as the villain of the piece and you've got all the ingredients for an ace crime caper. Top soundtrack too. Do it. Do it…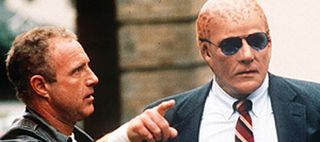 Worst: Alien Nation (1988)
Any film containing a pun in the title should automatically be treated with suspicion, and this sledgehammer-subtle racial allegory is no different. The futuristic premise revolves around the arrival on earth of a race of extra-terrestrials known as the Newcomers. Before long, they're mucking in with us earthlings as bus drivers, bin men and inevitably, cops.

Mandy Patinkin plays the excruciatingly-named Sam Francisco, who finds himself partnered with James Caan, no alien-lover himself having seen his last sidekick killed by Newcomers. A hopelessly clumsy social satire in which nothing very much happens, it's a bit of a bore really. You can keep your life-lessons thanks, we want wise-cracks and action. Both are sadly missing here.
Best: Tango & Cash (1989)
"Who do you think you are Tango? Rambo?"… "Rambo's a pussy!" Sly breaks open the funnies to good effect, riffing on his usual musclebound antics to play the bespectacled foil to Kurt Russell's dishevelled loon in Tango & Cash .

There's nothing terribly revolutionary here, a pair of mismatched cops forced to work together after being framed for murder, but the hackneyed set up is played for maximum laughs by Russell and Stallone, who seem to be cracking wise in more or less every line of dialogue. Meanwhile, Jack Palance is a hammy treat as the cackling bad guy.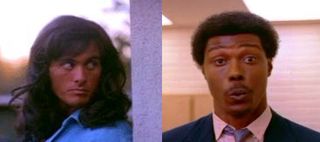 Worst: Samurai Cop (1989)
Christ alive, if ever there were a more ham-fisted, knuckleheaded attempt at a buddy movie, it's certainly passed us by. So much so in fact, that it's impossible to talk about Samurai Cop without just a smidgen of fondness, so comically bad is its acting, dialogue, stunts…you get the picture.

Eponymous sword-swinger Joe Marshall (Matt Hannon, unsurprisingly making his first and only big-screen appearance) isn't even Asian for a start, rather a lank-haired, Seagal-esque white boy, presumably cast in order to capitalise on the interracial chemistry to be had with his black partner, Frank.

Frank knows his way around a wise-crack you see, lending a touch of humour to the limb-hacking action. Well worth a look on YouTube for a quick chuckle, but the full film is a joke too far…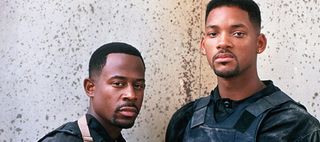 Best: Bad Boys (1995)
Fast-talking playboy Will Smith teams with happily married Martin Lawrence to take on some standard-issue, mid-'90s Euro-baddies. Bad Boys cemented Smith as a bona fide leading man, and it's easy to see why. His comic sparring with Martin Lawrence steals the show, despite Michael Bay blowing up everything around them in the cinematic equivalent of a someone shouting, "look at me, look at me."

A Martin Lawrence film that's not just watchable, but enjoyable as well? By virtue of that feat alone, Bad Boys definitely earns its spot on the Best list.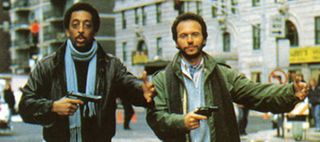 Worst: Running Scared (1986)
Swallowing the idea of slightly-built funnyman Billy Crystal as a cop isn't such a problem given that he's playing it for laughs, but when those laughs fall so consistently flat, it's probably not worth the bother.

Neither Crystal or co-star Gregory Hines are particularly bad in their own right, but they just don't work as a double-act. Both of them are playing the same cocky douchebag routine, without really bothering to see what the other is doing. Factor in a half-baked, by-the-numbers plot and you're left with two hours of your life you'll wish you spent elsewhere.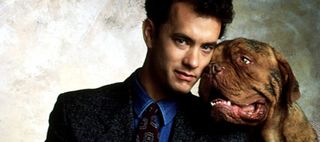 Best: Turner & Hooch (1988)
Man stars with dog in non-crap film shocker! We've all heard the received wisdom about working with animals, but Tom Hanks somehow pulls it off in this tale of a small-town cop forced to team up with a murder witness, who just happens to be a slobbering mutt.

Instead of being a wearisome slog through its kiddie-friendly premise, Turner & Hooch is genuinely quite funny, thanks largely to Hanks' early-career gift for physical clowning and the Hooch's prodigious appetite for lager. The ending still chokes us as well…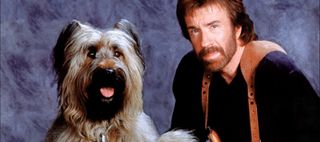 Worst: Top Dog (1995)
And here's how the man and dog partnership can go horribly wrong. Poor old Chuck Norris must have fallen upon hard times indeed to agree to this one, and indeed, it doesn't take a sniffer dog to detect the barely suppressed loathing old Chuck feels towards his canine co-star Reno.

He might be adept at knock seven bells out of the odd bad guy, but Chuck just isn't cuddly enough to make this work. Meanwhile, the mixture of family-friendly doggie daftness and full-on terrorist mayhem makes for an uneasy watch. Plus, Hooch could have Reno every day of the week…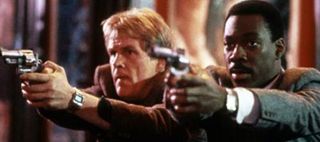 Best: 48 Hours (1982)
Grizzled boozehound Nick Nolte is on the hunt for a pair of cop-killing crims. A promising set-up for a hard-boiled thriller there, but not much potential for laughs along the way. So Nick goes and breaks his old partner out of jail…enter smirking wise-ass Eddie Murphy. Problem solved!

Brilliantly, the verbal jousting is a bit more vicious than your average buddy-cop flick, primarily because the two aren't really buddies. In fact, they flat-out hate each other. It's a sleazy, snidey take on the usual formula, and all the better for it. Top stuff.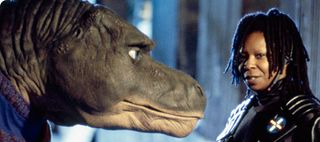 Worst: Theodore Rex (1996)
Hmm, how to freshen up the buddy-cop formula? Well, you could cast Whoopi Goldberg as one half of the duo, that'd be a bit of a curveball. And for her partner? Why not make him a dinosaur? Brilliant! Best dust off the tux for Oscar night…

Seriously, this is probably the worst film on the list, largely thanks to the cast of fist-gnawingly irritating dinosaurs, creatures so unconvincing they make Barney look as though he's strolled out of the Natural History Museum.

Incredibly, this isn't some low-budget farce, but a serious attempt at a kiddie crime romp. Unsurprisingly, it became the most expensive film ever to go straight to video. At least Whoopi looks suitably embarrassed throughout…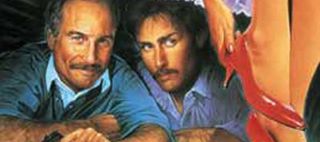 Best: Stakeout (1987)
Old hand partnered with young buck. That's the formula here, although the stereotypes are neatly subverted by making Richard Dreyfuss's elder statesman the wreckless old lech, whilst Emilio Estevez is the exasperated straight-man.

Director John Badham crowbars his buddy-cop dynamic into a kind of comic reworking of Rear Window , with the pair assigned to spying duty on an ex-convict's girlfriend, only for Dreyfuss to fall hopelessly in love with her. It's as daftly implausible as it sounds, but thanks to the inter-generational chemistry between the two leads, it works!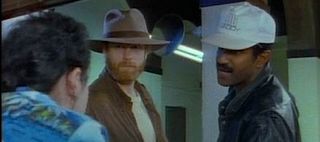 Worst: Shotgun (1989)
"Playing by the rules can get you killed" warns the tagline of this uproariously shoddy (and thoroughly enjoyable) slice of '80s tripe. Stuart Chapin stars as Ian "Shotgun" Jones, a take-no-shit cop attempting to clean up the mean streets of LA with his partner Max Billings. Top name there, Max.

If this were a spoof it would be hailed as a laugh-a-minute Black Dynamite -esque pastiche. It's not however. It's an attempt at a gritty, maverick cop saga. That said, it's still worth checking out, if only for a masterclass in ultra-wooden acting and hilariously full-throttle dialogue. Any film that features a character reacting to a bullet in the backside with an indignant, "you motherfucker, you just shot my asshole," can't be all bad!
Best: Beverly Hills Cop (1984)
Has Eddie Murphy ever been better than he is as Axel Foley? Sherman Klump you say…well anyhow he's on top form in this '80s action caper, as the streetwise smart-mouth drafted in to help the squares at the Beverly Hills Police Department figure out the murder of one of his childhood friends.

A giant smash at the box office, Beverly Hills Cop would be a fairly standard police-thriller fare if not for Axel's mile-a –minute jabber. Mickey Rourke and Sly Stallone had both been offered the role of Foley before Murphy got his hands on it. Can you imagine?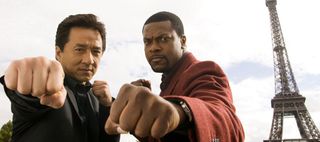 Worst: Rush Hour 3 (2007)
The first Rush Hour was an agreeable genre revival, the chemistry between Chris Tucker and Jackie Chan adding a novel spin to the big, loud action favoured in most '90s blockbusters. The second one however, saw the novelty beginning to lose its shine, and by the time this stinker hit our screens, it had completely worn through.

Anyone with an appetite for a third round of Tucker's ear-bleedingly relentless babble clearly needs their head looking at, but even taking him out of the equation, there's nothing much to get excited about on the action front either. The plot is the usual Triad-related guff, with the added contrivance that Tucker's character has mysteriously become a martial-arts pro overnight. Garbage.
Best: Demolition Man (1993)
Pairing face-smashing meathead Sly Stallone with lovely, pretty Sandra Bullock? This'll never work…only somehow it does! It helps that the film has its tongue lodged firmly in its cheek, from the fact that Sandy's character collects buddy-cop memorabilia (including an eerily prophetic poster for Lethal Weapon 3 ) to Wesley Snipes in full-on wackjob territory as the trigger-happy villain.

Bullock and Stallone also enjoy a surprisingly decent line in banter. "Let's go blow this guy!" yells Sandy, to Sly's dismay. "Away!" he yells. "Blow this guy away." Plus, if there's a better named double act than John Spartan and Lenina Huxley, we've yet to meet them.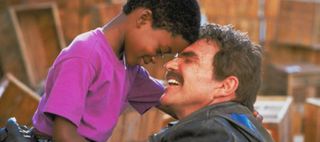 Worst: Cop And A Half (1993)
Fonzie himself, Henry Winkler, has a crack at directing a cop movie, with predictably disasterous results. After a farcical plot contrivance allows pint-sized sprog Devon to join the police force for a day, the rest of the film consists of him spouting a series of infuriatingly childish witticisms, while "partner" Burt Reynolds hopes for the ground to swallow him up.

You know a family film has landed way off the mark when you find yourselves rooting for the bad guys to give the hero a thorough kicking. "I'm your worst nightmare," shrieks Devon, "an eight-year-old with a badge!" You're not wrong, son, you're not wrong.
Best: Red Heat (1988)
Hmm, this one could have gone in either column to be fair, except that Arnie's syllable-mangling turn as flat-topped commie copper Ivan Danko is just too much fun to be on a "worst" list of anything.

He's paired up with wise-cracking smartass James Belushi on the hunt of the drug-pusher who killed his former partner. Cue much cross-cultural mickey-taking as the gunfights, punch-ups and car chases come thick and fast.

The tag-line should give you some idea of what to expect: "Moscow's toughest detective. Chicago's craziest cop. There's only one thing more dangerous than making them mad: making them partners." Brilliant.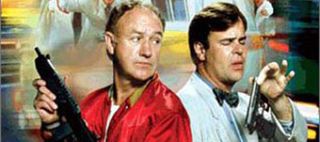 Worst: Loose Cannons (1990)
At best, this is a misjudged comedy farce. At worst it's just plain offensive! Dan Akroyd stars a detective with a multiple-personality disorder of the Me, Myself And Irene variety, i.e. one that throws up a series of zany impersonations for humorous effect. Mental illness eh? What a riot.

He's working with regulation hard-ass Gene Hackman, in an attempt to discover an Adolf Hitler sex-tape (seriously) that stands to jeopardise the career of a German politician. Aiming for wacky, but settling for plain stupid, this is one to expunge from the CV for its two talented leads.
Best: Dead Heat (1988)
Just to be perfectly clear, we're aware that this is an utterly preposterous portion of '80s trash. However, anyone who doesn't think the premise of a human/zombie police pairing isn't the dictionary definition of awesomeness is clearly missing a soul. Much like a zombie, in fact!

Boasting lashings of gore, some top trash-talk and Vincent Price as a baddie with a fiendish plot to create a production line of zombie gangsters, Dead Heat is the ultimate guilty pleasure of buddy-cop movies. As the poster says, "you can't keep a good cop dead." Amen to that.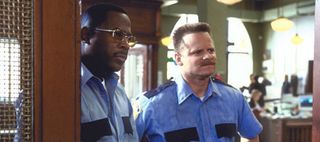 Worst: National Security (2003)
Here he is…Martin Lawrence wasn't going to get away with an entry on the Best list without a nod to National Security , possibly the worst film he's ever been involved with. And yes, that does include Big Momma's House .

Lawro plays loudmouth wannabe cop Earl, who got chucked out of the academy for, you guessed it, being a loudmouth. Now a security guard, he ends up teaming with Steve Zahn, the officer he got chucked off the force after falsely accusing him of a racist beatdown. Sounding funny yet? No, thought not. Give it a wide, wide berth.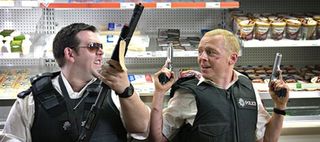 Best: Hot Fuzz (2007)
Having conquered the rom-zom-com with Shaun Of The Dead , Edgar Wright turns his hand to the cop movie with pleasingly knowing results. It's certainly not perfect by any means, with a slightly weighty running time, and a plot that sags slightly towards its denouement.

However, in terms of OTT buddy-cop fun, it's hard to beat. Simon Pegg and Nick Frost can do this sort of whip-smart banter in their sleep, but that doesn't make it any less enjoyable, whilst the action sequences are deliriously kick-ass as well, the gleeful shootout in the village supermarket being a particular highlight.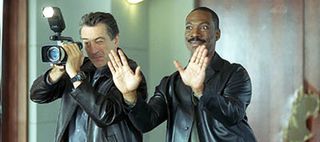 Worst: Showtime (2002)
A cop-comedy featuring Eddie Murphy and Robert De Niro at the tail-end of their careers could be expected to be many things, but who knew it could be so boring?

The two A-listers shamelessly phone this one in, retreading the grizzled tough-guy and streetwise show-off roles they've played a thousand times before. Still, it's tough to blame them when the cop-show spoofery they've got to work with is this lame. When even a William Shatner cameo fails to raise a smile, you know you're in trouble.