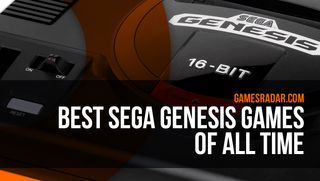 Mega love for Sega's 16-bit console
The Sega Genesis/Mega Drive was a game changer. As a 16-bit system, it meant sharper resolution, bigger characters, more complex animations, and digitally-sampled audio. The graphics began to approach cartoon-like quality, allowing developers to design large casts of recognizable characters. Released in 1989 with the (awful) slogan 'Genesis does what Nintendont', it was consistently neck and neck with its biggest competitor, the Super Nintendo Entertainment System. If you missed out on these classics, or just want an old-school nostalgia fest, you can grab them via Sega Forever, a service that makes Sega games from all eras absolutely free, for mobile phones. Now, allow us to present our list of the 50 best Sega Genesis games of all time...
Read more: The 25 best Dreamcast games of all time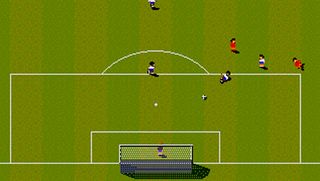 50. Sensible Soccer
Before FIFA debuted on in late 1993, Sensi (as its known by acolytes) was the ruling king of console football. Even after EA's tour de force, there were many who preferred this more cosmetically-modest offering. Presenting a top-down view reminiscent of computer soccer titles like Imagineers Kick Off line, developer Sensible Software was open about forgoing flashy graphics in favor of 60fps movement and a persistent wide-angle perspective allowing for full-team tactical play.
Some versions included licensed teams, but all allow the player to input their own team and player names. It's something pretty much every sports game does these days, but there's still something special about seeing you and your mates running around the screen, representing Crapston Utd.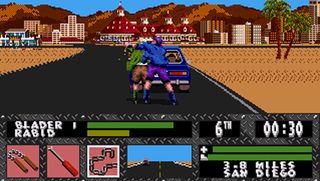 49. Skitchin
There are games you play for their evergreen appeal, and there are the ones you dig back up as time capsules of the era in which they were unleashed upon the world. It's the latter case with Skitchin, a radical blitz of x-treme 1990's with a color palette so downright tubular you'll need wraparound shades just to get past the title screen.
Srsly tho (as we say back here in the 21st century), this one-of-a-kind rollerblade racer can't be faulted for originality, nor for the challenge of racing down American freeways by slingshotting between the bumpers of hostile motorists, flannel shirts all a-billow. With a graded trick system, hidden warp boards, and the 16-bit console's best attempt at a grunge soundtrack, Skitchin is worth your attention, even now.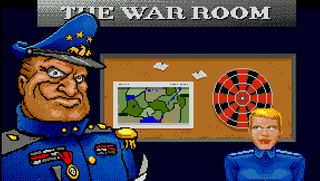 48. General Chaos
Future Medal of Honor stablemasters Electronic Arts were making forays into the fog of war long before Saving Private Ryan rendered senseless battlefield violence all respectable-like. Shot through with the sly anarchy that marked many a 90's console blockbuster, General Chaos is satire so thick you could cut it with a knife - or shoot it, blow it up, stab it with a bayonet, whatevs.
General Chaos and his arch-rival, General Havoc, engage in a series of territorial skirmishes that play like a cross between a PC-based point-and-click and a heavy-artillery version of sports titles such as EA's NHL series. Multitap-enabled four-way play lets the whole neighborhood get in on the slaughterisin' fun. For added fun, lob a grenade at your mate, pause the game and watch as the pause state doesn't affect the grenade. Priceless.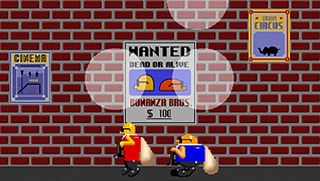 47. Bonanza Bros
Robo and Mobo Bonanza are 3D-rendered masters of infiltration whose innocent television-watching is suddenly interrupted by a shadowy deus ex machina offering some dubious rationale for why it's entirely reasonable to go on a roaring rampage of trespass, theft, and petty larceny. Oh, the lengths to which western publishers would go to establish that their games weren't about criminality!
Thus the stage is set for an exploration-heavy, stealth-centric series of heists whose gameplay would go on to underpin the likes of Metal Gear Solid. Persistent split-screen means two players can team up for shared bouts of treasure-stealing, guard-tranquilizing fun.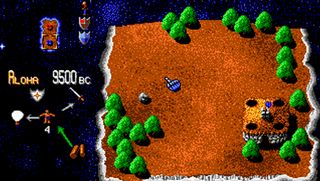 46. Mega-Lo-Mania / Tyrants: Fight Through Time
Tyrants: Fight Through Time (Mega-Lo-Mania in Europe) is Sensible Software's take on the god game genre pioneered by the likes of Peter Molyneux's Populous. Released the same year as Sid Meier's Civilization, the title places a stronger emphasis on combat and martial supremacy.
Making it from the dawn of time all the way through to the distant future of 2001 will require strategic resource-management skills, a watchful eye on the research tree, and the bloodthirsty will to slaughter unfortunate humans born into any civilization that worships a rival god. The game usually ends with someone developing and launching nuclear weapons, at which point amazing speech synthesis declares camply 'we've been nuked!'. Happy times.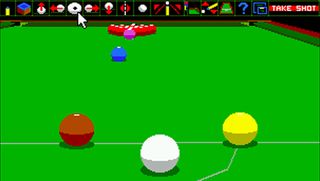 45. Jimmy White's Whirlwind Snooker
Archer MacLean (the 8-bit rockstar programmer responsible for the likes of Dropzone and International Karate +) was the mastermind behind this unprecedentedly realistic simulation of the second-best thing to do in an English pub. Players raised to believe that the Genesis was incapable of sophisticated 3D graphics must have pinched themselves at the sight of this fast-flowing, full-screen sim which mixes realistic physics with MacLeans trademark brand of offbeat humor.
Full games of snooker can be broken up by a showboating Trick Shot mode, mastery of which might just save you from having to buy the next round (but probably not).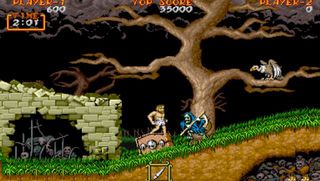 44. Ghouls 'n' Ghosts
The sequel to Ghosts 'n' Goblins once again casts you as the knight Arthur, off to rescue the soul of his beloved Princess Prin Prin. Taking damage strips you of your armor, making you fight monsters in your underwear, just like in real life.
With its spooky setting and infamous difficulty (which often sees you trying to survive while transformed into a baby), you could call Ghouls 'n' Ghosts the Dark Souls of its day. As if to prove its brutal, unforgiving nature, you have to beat it twice in a row just to get a proper ending!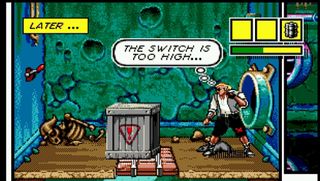 43. Comix Zone
Comix Zone is the classic tale of a creator trapped within his own work. Sketch Turner, comic-book artist and freelance rock musician (basically the man we all aspire to be), is pulled into the panels of his creation. The games comic-book aesthetic has dialogue bubbles and often lets you choose which panel you want to visit next.
The animation and sound effects are magnificent, pushing the hardware beyond its supposed limitations. It may imitate a 2D art form, but it's by no means flat. With the popularity of comic books these days, it's surprising no one has gotten around to remaking or knocking off this game.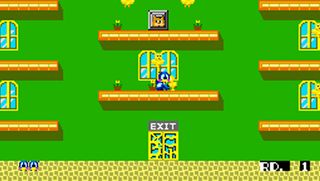 42. Flicky
Something of a touchstone of second-tier Sega properties, cutesy platformer Flicky's legacy is long: The titular baby blue birds make repeat appearances throughout the Sonic series, as well as sneaking into titles such as Super Monaco GP and Shenmue, and inspiring a level of the Game Boy Advance's Gunstar Super Heroes.
So what's so special about the flickies, or their confusingly-named mascot, Flicky herself? The title offers platform play of a more confined bent than the genre was tending toward at the time, pitting Flicky against a horde of bird-hungry housecats named Nyannyan. Yes, just like Nyan Cat. The cute setup and simplistic one-button control scheme mask a tight arcade challenge style of play, always good for revisiting amid excursions into more expansive platformers such as Sonic or the Illusion series.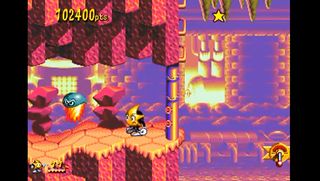 41. Ristar
Another video game character that could've had his own Saturday-morning cartoon, Ristar had long stretchy arms he used to grab objects and enemies. That's how he attacked, by slamming himself sumo-style into the enemy. Ouch. Maybe Sonic Team should have designed Ristar with a helmet.
While some critics loved Ristar, it might have been the wrong time for a new platforming series. The Sega Saturn was on the horizon and the era of the Genesis was ending. Gamers just weren't investing in too many new cartridges. Too bad, Ristar was a platformer with personality, worthy of standing next to Mario and Sonic. And his game has aged surprisingly well.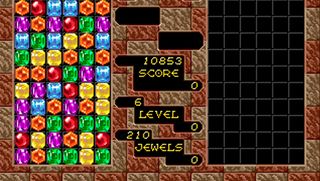 40. Columns
No history of falling-block puzzle challenges would be complete without Columns, one of the first and best Tetris-a-likes to appear in the wake of Alexey Pajitnov's copyright-mired classic. Jay Geertsen's more strategic take on the genre was quickly snapped up by Sega, which proceeded to convert it across the full range of its consoles.
The Genesis version provides the same furious jewel-matching, combo-building play as its smaller-sized equivalents, with full advantage taken here of the 16-bit machines graphical and sound capabilities, resulting in a sumptuous, meditative puzzler that charms right up until the point where it ramps up to hyperspeed and kicks your ass.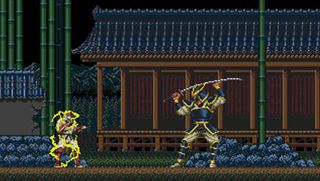 39. Revenge of Shinobi
The first Shinobi title on Genesis is a timeless slice of side-on ninja-combat platforming if ever there was one. Mixing traditional Japanese lore and neon-lit sci-fi pyrotechnics, there's scarcely time to pause for breath through Joe Musashi's shuriken-hurling rampage across Japan and the US.
And if you thought ninjutsu was cool when it was just about wearing black and slicing necks, imagine how badass it becomes with the addition of a range of ninja magic techniques, including the suicide-bombing Jitsu of Mijin. This is ultra-precise, hardcore combat with few frills. But that's exactly why it's still so compelling now.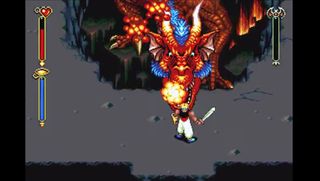 38. Beyond Oasis
It may look like Prince of Persia, but the top-down action RPG Beyond Oasis was Sega's answer to The Legend of Zelda. You control Prince Ali, another hero of destiny who likes to raise newly found objects over his head.
The game has great graphics and sound, and some of the goofiest walking, crouching, and jumping animations you'll ever see. From the way Ali struts, you'd think disco was going strong in the land of Oasis. Those animations only add to the game's charm, however, assuring it a spot in gamers' memories forever.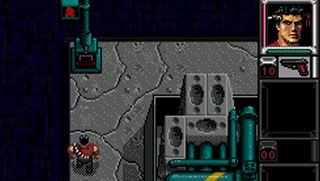 37. Shadowrun
If you're after a snapshot of 90's cyber-geek culture in video-game form, don't pass up the Genesis version of Shadowrun, developed by future Vectorman masterminds BlueSky Software. The action RPG takes place in and around a futuristic Seattle warped beyond recognition by an event known as the Awakening, in which magic, elves, and everything else out of Dungeons & Dragons has suddenly returned to a technologically charged world.
Investigating a mystery with roots in the Awakening itself, you'll be called upon to hack computers, cast magic, fire a range of weaponry, and explore a world in which magic and technology warily coexist.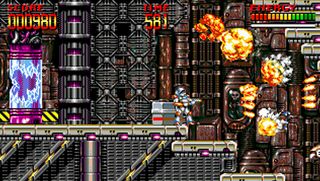 36. Mega Turrican
Factor 5's avenging-robot platform blaster had its origins on computers, and there's still more than a glimmer of that bedroom-coder pizazz on show in this Genesis original--which turned out so well that it was released on Amiga as the long-awaited Turrican III. Chris Huelsbeck's legendary soundtrack shows why Factor 5 would go on to become called-upon experts in the field of console sound design.
More than a straight run-n-gun, Turrican's explosive escapades may not have quite the exploratory depth that marked competitors like Metroid but that didn't stop the buff bot from borrowing many of the latter's best moves, such as the dexterity-testing Grapple Beam and bomb-laying Roll Ball.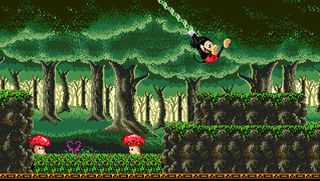 35. Castle of Illusion
Mickey Mouse has starred in more games for young and old alike than you can name - but if you ask players to name one Mickey game, chances are this is the one they'll immediately call to mind. Taking cues from popular platformers of the day, Castle of Illusion alternates platforming and puzzle play to keep your thumbs and brains on the job.
Sega and Disney wraps the whole package in a technicolor Disney flair that's fondly remembered over 20 years later - so much so, in fact, that the game saw a 2013 remake under the supervision of original Illusion pioneer Emiko Yamamoto.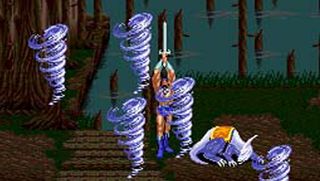 34. Golden Axe II
Boasting cover art from fantasy legend Boris Vallejo, Golden Axe II knows it has some big barbarian-boots to fill and wants you to know you're in good hands. Unlike the downscaled Genesis conversion of the seminal original, this sequel is an exclusive to Sega's 16-bit machine and designed to play to its strengths.
The gameplay is similar to Streets of Rage in that you slug your way from left to right through hordes of enemies, but the mountable creatures, varied fantasy levels, and pyrotechnic magical extravagances make this a distinctly different-feeling brawler.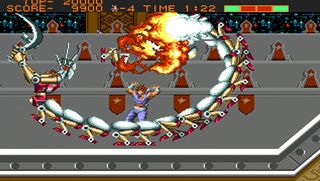 33. Strider
Capcom's futuristic ninja series has taken on many forms and, for a certain generation of gamer, the Genesis port is the most memorable. This recreation of the arcade version has Strider slashing cyborgs to pieces with his patented underarm swing, killing pseudo-Russians left and right. It is early '90s cool crystallized in one lovely cartridge.
For its era, Strider is pretty advanced, hyping its 8-megabit cartridge size on the front of the box. Later Genesis games would reach up to 24-megabits, but few titles on the system ever outdid Strider's fast-paced action and campy brand of ninjitsu.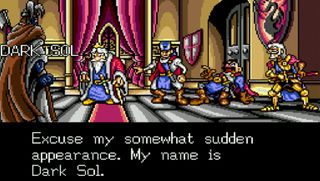 32. Shining in the Darkness
Taking inspiration from computer RPGs such as Wizardry and SSI's Gold Box series, the premiere entrant in Climax's acclaimed Shining series offers first-person play with a tactical depth to challenge your grasp of the genre. Writer/producer Hiroyuki Takahashi, hired off the back of producing games in Enix's Dragon Quest series, has said that he aimed for Shining to bring a "realism" to the genre.
The title's claustrophobic first-person dungeon-crawling certainly feels considerably more intimate than that offered by contemporaries such as Final Fantasy IV. Later entries in the series would forgo the first-person perspective but retain many of this games stylistic and gameplay innovations.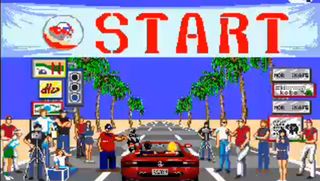 31. OutRun
OutRun was created by Yu Suzuki, the man behind Virtua Cop, Shenmue, After Burner, and Virtua Fighter and his games are known for their longevity just as much as their quality. He obviously loves his sports cars, too. He went on to develop an officially licensed Ferrari video game, Ferrari F355 for Dreamcast and the PS2. But before that came OutRun.
You and an anonymous blonde co-pilot took on all challengers in your blood-red Ferrari Testarossa. Well, it's not an officially-licensed Ferrari Testarossa, but you can clearly see the prancing horse on the back. Originally released in arcades, the game uses clever 2D trickery to simulate hills and dips in the road. Dubbed 'the beautiful journey' by its fans, OutRun is a lovely, lovely thing and this Mega Drive port is the closest any of the contemporary home ports came to replicating that astonishing arcade original.
Read more: Shenmue 3 - everything we know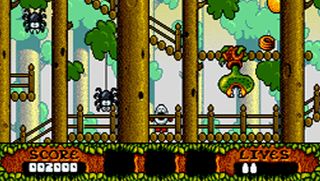 30. Fantastic Dizzy
Players reared on early home-gaming computers like the Spectrum or Commodore 64 will know Dizzy well from his blockbuster series of adventures on those platforms, which catapulted Codemasters to international renown; but newcomers to gamings most resourceful sentient egg can rest assured that this is the hero's finest hour.
Retaining the item-ferrying platforming of its predecessors, this was the first title in the series to feature scrolling levels, a development which allows for far greater exploration and discovery than was possible on the humble Spectrum. The title also adds minigames to the mix, as well as so many egg-based puns you'll wonder if the whole thing is some sort of cosmic yolk.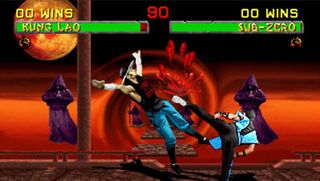 29. Mortal Kombat II
Sega didn't remove a drop of blood or a single fatality in its port of the arcade smash Mortal Kombat II. In fact, neither did Nintendo, since its censored version of the original MK sold so poorly. That meant Liu Kang and friends were free to disembowel, dismember, and generally beat the hell out of each other in full motion-capture glory, much to the chagrin of parents worldwide. Well, except Japan. The blood was green there.
Controversy abounded in MK2's wake. Parents protested, politicians filibustered, and the game was even banned for a while in Germany. That didn't stop it from becoming one of the fastest-selling Genesis games in 1994. In fact, it probably helped.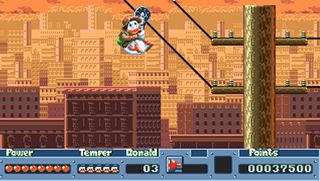 28. Quackshot Starring Donald Duck
Inspired by the Indiana Jones movies, Quackshot Starring Donald Duck is a tomb-raiding platform extravaganza boasting some of the Genesis most accomplished visuals and animation. The plot is a nightmare of avarice and subterfuge, with Donald uncovering a secret treasure map and determining to become "even richer than Uncle Scrooge," hampered by the villainous Beagle Boys effort to claim the treasure for themselves.
It belongs in a museum, Donald! Level progression offers more than the standard run-n-jump fare, with plunger-shooting Donald able to unlock new weapons for accessing new areas, and the music is superb. It may be an early-era 16-bit title (and it shows), but its intrinsic quality means it's still an absolute blast today. Especially when you get five chilli peppers!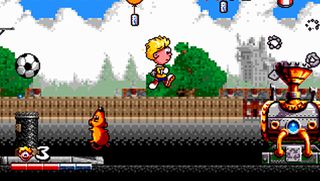 27. Marko's Magic Football
Marko's Magic Football (or just Marko in the US) was developed internally by a team of Domark developers united in their love of animation. The influence shines clearly in this one-of-a-kind tale of a soccer-loving boy whose soccer ball gains magic powers after coming into contact with some of that all-purpose toxic sludge that was causing so many miracles in the 1990s.
Sumptuous animation and vibrant artwork mark the game as something special from the outset--an impression that only builds as you learn the advanced ball control skills and guide Marko and his magic ball through the charms of suburban Britain. Crashed UFOs and all.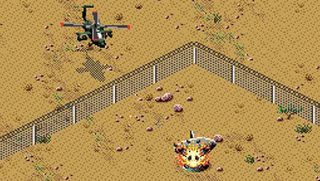 26. Desert Strike
Electronic Arts wasn't afraid to fly the flag of freedom in this fictionalized retelling of the first Gulf War, which mixes true-to-life craft and ordnance loadouts with a willfully fantastic reimagining of the Persian theater of conflict. Get your briefing from a decidedly Stormin Norman-esque superior then fly inland, guns blazing and targets lit.
The free-form mission-based play offers you the chance to complete levels your way, so long as that way involves blowing the everloving heck out of each and every structure, vehicle, and miniscule human adversary unfortunate enough to venture onscreen. And rescue some dudes or whatever, great, now heres a bunch more things that need blowing up.
Love Retro games? Grab 5 issues of Retro Gamer magazine for just £5!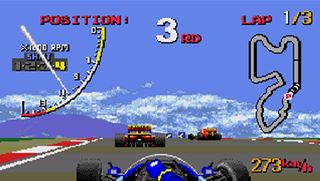 25. Ayrton Senna's Super Monaco GP II
Boasting fluid full-screen play, Sega's finest first-party F1 offering on the Genesis presents a realistic simulation of high-speed racing that's not afraid to lean toward arcade action if that's what'll keep you interested. Besides providing feedback during the development process, Senna himself presents briefings on each course, as well as popping up in digitized form throughout to smile encouragingly or grimace at a poor placement. He even provided voice samples too.
A range of play modes include the bite-sized Senna GP series and a rival-based World Championship where you must advance through the ranks of the world F1 circuit by challenging a succession of other drivers.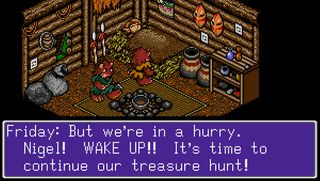 24. Landstalker: The Treasures of King Nole
As well as the tactics-heavy Shining series, Climax gifted Genesis players with this stunning action RPG, whose treasure-hunting play takes equal inspiration from A Link to the Past and dungeon-crawlers like Software Creations Solstice/Equinox - on which this game's fluid isometric play builds admirably to launch a series that would continue on the Saturn and Dreamcast.
OK, so the lead character is called Nigel. Perhaps not as legendary a name as Link, or Cloud Strife, but Nigel does have his charms. And the game's real-time combat, platforming and even dexterity challenges (like throwing a pot onto a moving platform) make for a much more involving game than the detached, turn-based RPGs that typified early 1990s role-playing. More ambitious even than Zelda LttP, though perhaps not quite as polished, Landstalker is an underrated classic.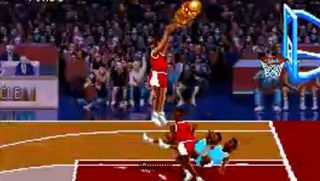 23. NBA Jam
The Genesis was ground zero for 16-bit sports-gaming innovation, much of it driven by Electronic Arts; other players bent on driving the genre included arcade mainstays Midway. The company's stripped-down take on NBA two-on-two "jam" play put the emphasis on fast-turnaround arcade play; so when Acclaim brought the hit to home consoles, the biggest change was the omission of those pesky quarterly 'Insert Coin' prompts.
Pretty much everything else remained intact: the sizeable real-life roster; the furious two-on-two, drop-in-drop-out play; and the backboard-smashing theatrics that had drawn arcade crowds. A later Tournament Edition update further increased the roster - and added some of gamings most legendary Easter eggs, including the option to play as then-Commander-in-Chief William Jefferson Clinton.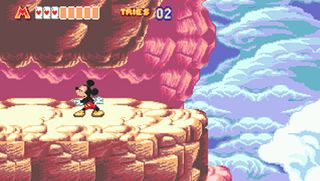 22. World of Illusion Starring Mickey Mouse and Donald Duck
Branching out from Mickey's lonely foray into the Castle of Illusion, this sequel sees stage-magic duo Mickey and Donald stumble upon a secret compartment in a prop for one of their tricks. But before Donald has time to chide, the pair are sucked into the titular World of Illusion, where nothing is what it seems - apart from bottomless pits and grimacing enemies, which are exactly what they seem and need dealing with post-haste.
The game's standout feature is its co-op play, allowing two players to brave levels inspired by Disney classics while controlling the differently-abled Mickey and Donald. Amazingly, there's a separate quest for each character, plus another for the pair in co-op, with only a few areas shared. In other words, you're getting three high-quality Disney Platformers in one.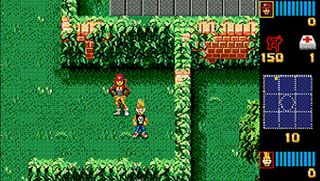 21. Zombies Ate My Neighbors
Dead Island, Dead Rising, Left 4 Dead nowadays zombie-popping thrill-rides are a dime a dozen, but in the 1990's, chainsaw-toting champions of the living had to actively seek out the walking dead. Into this lamentable death-dearth came the rock-solid partnership of LucasArts and Konami with this ode to horror cinema.
The games brightly colored nightscapes run the gamut of sci-fi/horror scenarios, lovingly rendered in a cartoonish style that nevertheless earned the game a bout with censors on its European release. Which, when you're dealing with the horror genre, really just means your game is on the right track. The game also recognises the blobs need freezing with fire extinguishers. Authenticity like that is what makes Zombies a massive success.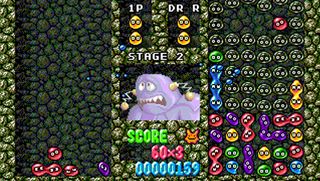 20. Dr Robotnik's Mean Bean Machine
Until Bust-a-Move shot a bubble full of novelty into arcades, Compile's Puyo Puyo series was arguably puzzle gaming's biggest shake-up since the release of the original Tetris. But this original property wouldn't make it to the west until Sega tagged it with a Sonic license and added elements from the then-current Adventures of Sonic the Hedgehog cartoon.
But these are merely cosmetic changes: Once you're past the menu screen, this is Puyo Puyo all the way down, with all the fiendish combos and nonstop multiplayer matchups that entails. Single-player mode sees a succession of the Sonic cartoons Badniks line up to school you in correct bean-handling procedure - and school you they will. Until you work out the secret to mega-combo stacking, at which point you can smother their game screen in a metric tonne of transparent beans. Hehehe.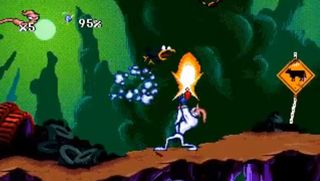 19. Earthworm Jim
So, there's this worm who finds a space suit, which allows him to stand up and shoot enemies with a gun. He decides to use it to save a princess and... well, it really doesn't matter. It's just an excuse to have a jolly side-scrolling adventure where stuff gets blasted and gaps get jumped.
Earthworm Jim's supporting cast were just as weird as its main character. Names like Evil the Cat, Professor Monkey-for-a-Head, Psy-Crow, Bob the Killer Goldfish, Major Mucus, and Queen Slug-for-a-Butt ensured that no character could be forgotten. But it's the game's free-form shooting and platforming that ensure the game remains fresh and relevant, perfecting the formula prototyped by the likes of Cool Spot. 16-bit platformers don't come much better than this.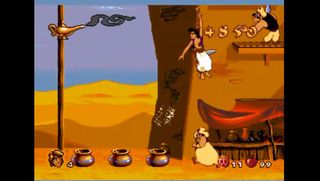 18. Aladdin
Well, they do come slightly better. Aladdin was a revolution on its release. Sure, even back in the Genesis days, licensed games were a mixed bunch, but Aladdin bucked the trend to create a platformer of astonishing quality - and one that remains exclusive to the Sega machine. It even had clever gameplay references to lines in the movie: You could hop on the backs of camels and watch them spit!
Not only was Sega's Aladdin a fast-paced romp, the graphics and sounds captured the look and music of the movie in exquisite fashion, unlike the comparatively poor SNES game of the same name. Sadly it was too early in gaming's life to have Robin Williams record a voice track, but everything else was spot-on. And the game world is so detailed, a guard's knife can split one of Aladdin's apples in half in mid-air. Just too good.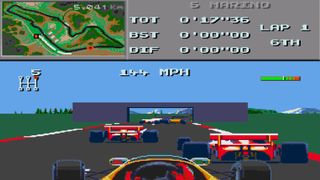 17. F1
With its speedy Motorola 68000 CPU featuring in periodic advertising pushes, the Genesis was fast and it wanted you to know it. Sega put its money where its blast-processed mouth was with a healthy roster of racing titles on the machine, including several F1 sims for hardcore speed freaks.
Domark's Formula One was not only a prime exemplar of the high-speed gameplay demanded by 1993 motorheads; it also pushed the Genesis hardware to its limits, offering rotation effects and 3D scenery elements that should, by rights, need additional hardware to run. Especially at this speed. There's even a two-player mode, as well as a stripped-back turbo mode for true speed freaks. The latter remains one of the fastest gaming experiences in all of gaming. With all the official tracks and most of the real drivers' names, this is an authentic recreation of the sport from its golden era.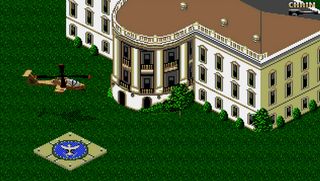 16. Jungle Strike
Desert Strike had courted headlines with open reference to the first Gulf War, and the sequel upped the ante by making the enemies agents both of nuclear-equipped rogue states and the US South American adversaries in the War on Drugs. Just Saying No wasn't an option here, but EA gave you plenty to say yes to instead: a greater range of weaponry, the ability to switch between a variety of vehicles, and a daunting roster of enemy craft with which to engage.
The games large levels, nonlinear mission structure, and resource-conserving strategy elements were all augmented and improved, giving Jungle Strike a clear edge over its predecessor. With the gameplay now finely-tuned and animated cut-scenes adding cinematic drama to the mix, the result stands tall, above even the Strike games on superior hardware.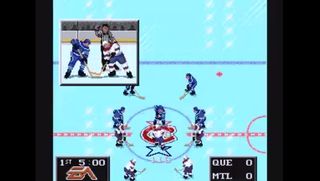 15. NHL 94
EA's officially licensed NHL game is considered one of the greatest sports games of all time. Indeed, it still has a following to this day! With multiple game modes, including exhibition, Stanley Cup, and a shootout minigame, it's got all the bases covered, even now. Oh, and it showed up in some Kevin Smith movies, too.
NHL '94 introduced several features that elevate it above its already-excellent predecessor. It was a more realistic take on hockey; you could now shoot directly off a pass (dubbed a 'one-timer'), which still feels amazing when it flies into the top corner of the net. With improved sound, team-specific organ songs and wince-inducingly heavy collisions between the players, this is a superb package and arguably the last iteration of the pure, 'EA Hockey' gameplay before the series became needlessly complex.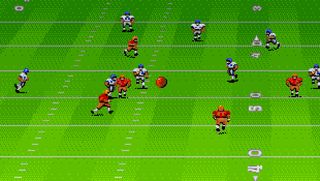 14. John Madden Football
The term 'game-changer' gets thrown around an awful lot nowadays, but changing the game is exactly what Electronic Arts achieved with its John Madden Football series, which began on home computers in 1988 but truly began to take recognizable form with the 1990 leap to consoles.
The game made two massive leaps forward in the American Football game genre, namely introducing a pseudo-3D perspective (which made it look more realistic than any other sports game available), and its split-screen displays that allowed you to see individual receivers as you decided who should receive your pass. The result was a game that made such an impact on the gaming public's consciousness, the brand became the football game for the next 20+ years. This original 16-bit version remains brilliantly playable as a game in its own right regardless of its age.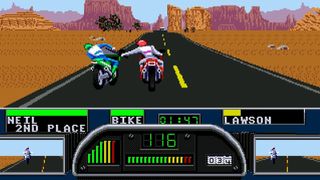 13. Road Rash 2
The original Road Rash has a fond place in Sega fans' hearts, but it's Road Rash 2 that's undeniably the pinnacle of the series. The combination of hand-drawn pixel art and skull-crushing violence somehow manages to make the game charming instead of alarming. And this art style has aged much better than the supposedly more realistic digitised characters of Road Rash 3.
There are additions to the formula, such as a chain to swing at your rivals (alongside the return of the big black club of the original), nitrous boosts for the faster bikes and a split-screen two-player mode that really pushed the hardware to its limit. But the best enhancement is the added fallibility of the police. Unlike the original's invincible fuzz, you can knock O'Learly and his cronies off their bikes and zoom away for the win unchallenged. Magnificent.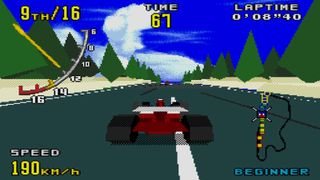 12. Virtua Racing
Sega's answer to Nintendo's Super FX Chip was the SVP, or 'Sega Virtua Processor. It was only ever used for one game because it cost so much to manufacture. But what a game it is! Virtua Racing's Genesis port somehow managed to replicate the groundbreaking arcade game's three courses, music and full 3D graphics. Wow.
Like so many of AM#2's arcade games, it stands up as a great game despite the now painfully restrictive colour palette, polygon count and frame rate. Somehow it's still an absolute blast to play. It's fast, controls as well as the digital input will allow and offers substantial replay value in terms of time attack fun. There's even a 2-player split screen mode, which is clearly stretching the hardware's abilities to breaking point. But do it, it does. It deserves to be played, but just don't do it on a big screen. Your eyes will hate you.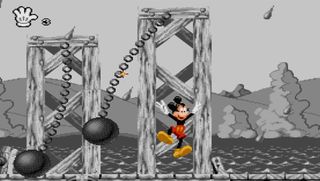 11. Mickey Mania
Not many AAA platform games double as an interactive romp through the history of animation, but thats the best way to describe Travellers Tales 65th birthday present to the worlds most famous (and least mousey-looking) mouse. Subtitled The Timeless Adventures of Mickey Mouse in the US, the game offered a hint at the high production values that would come to typify Mickey's adventures, detailing a playable journey through more than a half-century's worth of classic Mouse cartoons.
So lush is the game's presentation (allegedly the first to count Disney animators among its staff) that it saw conversion to the Sega CD and PlayStation. The SNES port was forced to omit certain content, making this the definitive 16-bit iteration.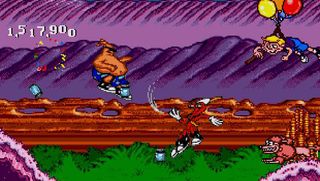 10. Toejam & Earl 2: Panic on Funkotron
Toejam and Earl were a pair of aliens who looked like a cross between members of the band Jamiroquai and characters from the fiction of H.P. Lovecraft, with crazy adventures to match. The pair really came into their own in this sequel, a vast platform game full of secrets and bonuses that managed to make something fun happen in every single screen.
With their home planet of Funkotron infested by slack-jawed earthling looky-loos, TJ&E must explore all manner of weird alien landscapes rounding up members of our dumb, dumb race before we gawp the funk-loving planet into extinction. Oh, and the boom box minigames lay down some beats so phat, you'll find yourself absent-mindedly Boom-Clapping them literally years later.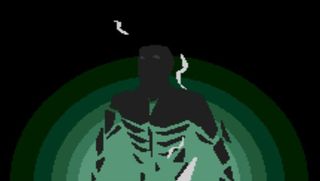 9. Flashback: The Quest for Identity
It should feel derivative: an upscaled presentation of the rotoscope technology driving Jordan Mechners Prince of Persia, pressed into the service of a plot that's shameless in its debt to Schwarzenegger movies such as Total Recall and The Running Man. But Delphine's Flashback: The Quest for Identity (or just Flashback, outside the US) is definitely more than the sum of its parts.
With vector-driven story sequences hinting at the look of future hardware generations, and an unprecedented smoothness to the stealth-n-shoot gameplay, its no wonder the game (still the best-selling French title ever) continued to shine decades later in a 2013 remake.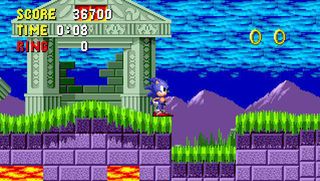 8. Sonic the Hedgehog
You may've heard of this game! Sonic has secured his place not just in gaming but in the wider popular culture, and this is the title where it began. Yes, the game came presaged by a marketing blitz representing the full weight of the Sega hype factory at the height of its powers, but it had the substance to justify it too.
This is a game built around the thrill of movement, the exhilaration of discovering new areas, and the challenge of developing reactions as fast as our hero's iconic red footwear. The levels reward any kind of approach, whether that's hunting out every last ring or just blazing through as quickly as you can. New to Sonic? Do yourself a favor and start all the way back here. You'll be up to speed before you know it.
Read more: The best Sonic games of all time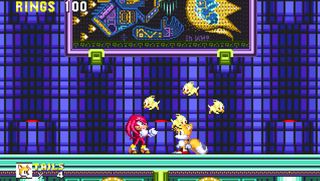 7. Sonic The Hedgehog 3 & Knuckles
Sonic the Hedgehog 3 might just be the blue blurs finest hour on the classic consoles, mixing the originals explorative platforming with the sequels hyperspeed thrills; but the definitive version was originally only available to players who owned both the Sonic 3 cartridge itself, and the lock-on Sonic & Knuckles cart.
Originally intended as a single adventure, time constraints led to the Knuckles installment's separate release, but to ensure players didn't feel hard done by, Sega designed not only a games worth of content in Knuckles, but for the cartridge to unlock the full-featured, Sonic 3 & Knuckles extravaganza. Offering the only way for completionists to access the games Super Emeralds (and Hyper Sonic!) as well as access the hidden routes and unseen bosses in Sonic 3, this is a showcase platformer for the system and the most ambitious platformer Sonic Team ever made.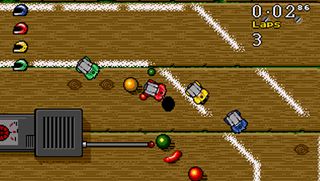 6. Micro Machines 2: Turbo Tournament
With the original Micro Machines, Codemasters delivered a shakeup to the racing genre whose impact can still be felt today in the likes of Calling All Cars! and Burnout Crash! (and probably also games with less insistent punctuation). The sequel improved on the originals strongest elements, namely the little vehicles deceptively solid physics and blistering multiplayer matchups.
The game is much more varied than its predecessor thanks to more vehicle types, even including helicopters with two heights to toggle between. Solo play is bolstered with a groundbreaking ghost mode time attack (that saves ghosts to memory), but it's multiplayer that steals the show, supporting up to support EIGHT PLAYERS by sharing four pads, two of which are plugged directly into the cartridge thanks to Codemasters' J-Cart. The results are hilarious.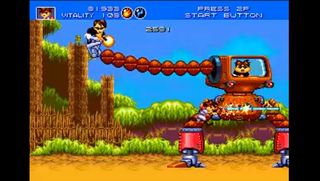 5. Gunstar Heroes
Contra fans and Metal Slug junkies take note, if you've never tried this intense old-school shooter, prepare to put Gunstar Heroes right at the top of your 'must play' list. It may look like a cartoon, but there's nothing childish about the high-octane challenge of this side-scrolling masterpiece.
Treasure has always appeared to get more from consoles than the spec sheets would suggest, and Gunstar is no exception. Bravoo Man at the top of the pyramid in the first level looks 3D thanks to his multi-segmented body and the boss at the end of the mine with his many forms (including a spectacular, running man) still looks astonishing. With a mix and match weapon system, 8-way shooting action and constant, impeccably-programmed spectacle, this is one of gaming's finest hours.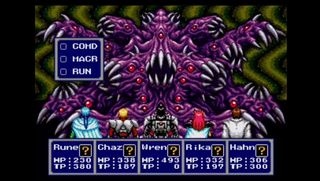 4. Phantasy Star IV
At the time of its launch, it was a uniquely anime-inspired RPG. The games dense story, told with manga-style panels, made it stand out amongst other top down, turn-based fare. Sadly, it was to be the final entry of the original Phantasy Star series, but what a fine send-off it was. After the previous instalment dabbled in a medieval setting, IV brought the series back to its sci-fi roots to conclude the story of the Algol system. Sega will be hard-pushed to ever make an RPG better than this one.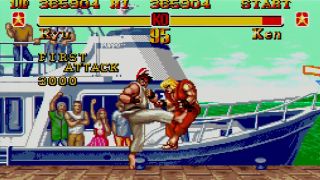 3. Super Street Fighter II
For all the comparisons between the SNES' and Genesis' various SFII conversions, the simple fact remains that Super Street Fighter II is one of the purest and best fighting games ever made. The fighting system is supremely deep, yet somehow balanced perfectly across its roster of wildly different characters and fighting styles.
With support for the 6-button pad, Super Street Fighter II offers a comprehensive home console conversion of one of arcade gaming's brightest lights. And despite its age, the old excitement still swells inside when Ryu appears in that famous intro sequence and throws a Hadoken fireball at the screen. Goosebumps time!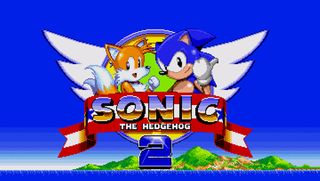 2. Sonic the Hedgehog 2
Sonic 2 perfected the formula of the original, downturned the difficulty dial and ramped up the speed and spectacle, making for a perfect pop song of a video game. Newly added sidekick Tails allowed for an early form of drop-in, drop-out co-op, and his unlimited lives made him perfect for grabbing that last ring or getting the final hit on Dr. Robotnik. Younger siblings everywhere were suddenly useful!
Sonic the Hedgehog 2 also introduced pseudo-3D bonus levels where you could earn Chaos Emeralds. Collecting all seven let you become Super Sonic, a turbocharged yellow version of the hero. So, essentially super-saiyan Sonic. Subsequent Sonic games all tried to augment the experience, but invariably ended up diluting what made Sonic 2 so great. What a game.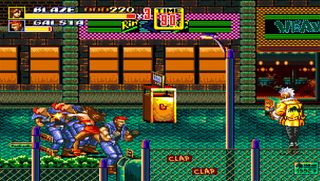 1. Streets of Rage II
The original Streets of Rage had something special, sure, but it was imperfect in every respect. Somehow Streets of Rage II just revisited the exact same formula and righted every wrong along the way. The result is a game that looks, sounds and feels sensational.
Yuzo Koshiro's soundtrack is a masterpiece, something that was rarely mentioned at the time as everyone focused on timing their pipe swings to connect perfectly with the thugs' faces. Weapons include knives, Samurai swords and grenades. By rights, it should be a gorefest, but the reality is much more dignified. Quality oozes from every pixel, fun from every co-op ruckus and technical prowess from every frame. Streets of Rage II never ages, but we do, allowing us to appreciate its artistry beyond how fun it is to smash up a bunch of 1990's-sterotyped punks. Streets of Rage 3 couldn't replicate the magic, leaving us with this as the pinnacle of 16-bit Sega gaming.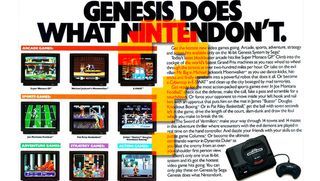 Genesis does...