Klaatu Barada Nikto
Whether metal menaces made from diving helmets and gorilla suits, or mighty CG behemoths striding through the oceans, robots have been a staple of cinema since Maria in Metropolis. Before the 50s robots were invariably evil; clanking crates with death rays (even better if the death ray came out of their eyes). But Forbidden Planets Robbie, all gleaming metal spheres and polite servitude, proved that robots could be our friends as well. Welcome to our countdown of the best droids the big screen has to offer.
50. Harvesters
Special Features: Size these behemoths are eighteen feet tall. And if you think they're cumbersome, they can shoot bike-like moto-terminators out of their legs to catch you.
Human Qualities? We all like to collect things. Just not humans.
49. B.E.N.
Special Features: Part of his cognitive computer (ie brain) has been removed by space pirates to withhold information.
Human Qualities? So scatterbrained he sounds uncannily like Martin Short being Martin Short.
48. SID 6.7
Special Features: He is able to rewrite his own programming, albeit only to make himself more of a badass.
Human Qualities? None youd want to borrow.
47. Rags The Dog
Special Features: He talks! Uh, thats about it, unless Woody Allen is right and it shits batteries.
Human Qualities? Wrong question. Canine qualities, maybe.
46. 21-B
Special Features: Custom-built for medical duty, with pincer hands that could be removed and replaced with arm attachments.
Human Qualities? No bedside manner to speak of, but at least its calm.
45. Joshua
Special Features: Nothing more than a wheelchair with a robotic arm, but thats all Proteus IV needs to terrorise homeowner Susan Harris (Julie Christie).
Human Qualities? Sadly, yes. Proteus IV turns Joshua into a rapist robot.
44. Fembots
Special Features: Guns in their breasts.
Human Qualities? Susceptible to Austins mojo. Arent we all?
43. Jinx
Special Features: Hes the worlds only $27 million handyman.
Human Qualities? The entire premise of the film rests on him being, frankly, a bit of a dick. Who calls their robot Jinx anyway? Asking for trouble.
42. Dot Matrix
Special Features: Her programming is a bit different from the usual Isaac Asimov rules. Her job is to stop Vespa losing her virginity.
Human Qualities? Straight out of the big book of Jewish mother stereotypes.
41. Box
Special Features: He also doubles as a guard, patrolling the frozen wastelands to prevent thirtysomething Runners from escaping.
Human Qualities? Overwhelming arrogance. He reckons he's "more than machine, more than man". He isn't. He's a box.
40. Rodney Copperbottom
Special Features: A true wiz with nuts and bolts, he can repair even the most worn out of 'outmodes'.
Human Qualities? He can't resist the charms of Halle Berry (playing love interest Cappy), even when she's made of tinplate.
39. IG-88
Special Features: Nothing on-screen, but in Star Wars extended universe we learn that he was originally created as an assassination droid.
Human Qualities? Hes only in it for the money.
38. Sentinels
Special Features: Sonar for detection; lasers to rip open the rebels' submersibles.
Human Qualities? They hunt in packs, the cowards.
37. Hector
Special Features: Hectors brain is living human tissue.
Human Qualities? He takes on Bensons madness and lust, and starts chasing after Farrah Fawcett.
36. Gigolo Joe
Special Features: He knows all about women, about whom he dispenses wisdom with a theatrical sense of style.
Human Qualities? Designed to be naughty, he's proven rather too good at it with that murder rap.
35. Spider robots
Special Features: Aside from agility, their heat-seeking sensors can pick out a target even through walls.
Human Qualities? They're persistent little buggers, forcing Anderton to take a cold bath to shake them off his trail.
34. Tik-Tok
Special Features: He requires three keys to be wound up in order to work properly. These control, respectively, thinking, speech and walking.
Human Qualities? He has the Blimp-esque persona of a stuffy military figure.
33. Droidekas
Special Features: Can transform from walking attack to wagon-wheel mode for speed.
Human Qualities? Little thats obvious, although the fact that they carry around personal shield generators mean theyre not totally mindless.
32. D.A.R.Y.L.
Special Features: Strength, intelligence, blah blah. More importantly, hes ace at video games.
Human Qualities? Hes become so human the military wants to decommission him.
31. V.I.N.CENT and B.O.B.
Special Features: Low-level flight, powered (it looks like) by blasting exhaust out of their arses.
Human Qualities? All in the accents. V.I.N.CENT is urbane Roddy McDowall, B.O.B. is a deep south clich courtesy of Slim Pickens.
30. Killbots
Special Features: Lasers!
Human Qualities? Most security guards would probably share the urge (albeit not quite as homicidal) to keep the mall clean of after-hours revellers.
29. Pris
Special Features: Shes a pleasure model, which means... yup, you guessed it.
Human Qualities? Spin-off novel The Edge of Human reckoned she wasnt a replicant at all, but an insane woman who thought she was a replicant.
28. Robot police
Special Features: Those unnervingly blank chrome faces are ideal for intimidating dissenters.
Human Qualities? We could say something here about well-known instances of real-life cops using disproportionate force, but we won't.
27. Omnidroids
Special Features: Ultra-adaptable, they can walk, roll or jump, and there are all kinds of life-threatening gizmos hidden under their shell.
Human Qualities? They learn from their mistakes. Probably more so than the rest of us.
26. Teddy
Special Features: Everything a normal teddy bear does to comfort you, with added psychotherapy.
Human Qualities? He refuses to believe hes a toy. Fair play. Hes Davids friend.
25. Johnny 5
Special Features: Yeah, sure, it's impressive that he could blow up the planet if he wanted to. But the fact he can play musical instruments is cooler.
Human Qualities? An appreciation for naked Ally Sheedy: Nice software!
24. EVE
Special Features: A neat balance of life (specimen storage compartment) and death (a lethal plasma cannon).
Human Qualities? WALLE charms EVE out of her coldness; by the end, shes as heroic and romantic as him.
23. Mechagodzilla
Special Features: Laser beams in its mouth and Space Titanium armour.
Human Qualities? Hard to tell, although its astute enough to forge alliances with monsters like Mothra when required.
22. Bishop
Special Features: He can do that knife-between-the-fingers trick really, really fast.
Human Qualities? Such mournful nobility that, despite taking Ripleys prejudice throughout the film, hes the guy who gets her off the planet.
21. The Stepford Wives
Special Features: Perfect replicas of the mens real spouses, albeit with all of the personality removed.
Human Qualities? Only if youre the kind of sexist bore who believes women are good for nothing but having sex and doing the shopping.
20. Marvin the Paranoid Android
Special Features: Brain the size of a planet, but nobody ever needs him to use more than a fraction of it.
Human Qualities? Bored and permanently depressed, all the more so for being sourly voiced by Alan Rickman.
19. ED 209
Special Features: Primarily, the hardware. This mother is locked and loaded, and you have 15 seconds to comply.
Human Qualities? His professionalism get compromised by the fact hes a little bit too trigger-happy.
18. David Swinton
Special Features: Davids imprinting protocol simulates feelings of affection for Davids surrogate mom but what if those feelings are real?
Human Qualities? Obsessed with Pinocchio, all David wants is to be a real boy so he can be loved by his human mother.
17. The Gunslinger
Special Features: Initially programmed to start but always lose a duel, now hes simply a very good shot.
Human Qualities? Yul Brynners implacable performance only heightens the androids remorselessness.
16. Sonny
Special Features: In a word, emotion. This machine is chatty, instinctive and prone to bouts of depression.
Human Qualities? Keep up, thats the whole point of the film.
15. Optimus Prime
Special Features: Hmm... how about the ability to transform into a truck? That special enough for ya?
Human Qualities? A tendency to make very long, very boring speeches gets in the way of fighting and driving.
14. Data
Special Features: A walking computer, with strength to match his mental prowess. Owns a cat.
Human Qualities? Eventually, yes. In 1995's Star Trek: Generations, he finally installs the emotion chip his creator had always intended him to have.
13. C-3PO
Special Features: Fluent in over six million forms of communication. Also an Ewok deity.
Human Qualities? Pedantic to the point of prissiness, once you remove the circuitry hes the archetypal dragged-along-for-the-ride comedy robot sidekick.
12. The Iron Giant
Special Features: Self-repairing, but hindered by a defence mechanism that reacts automatically to provocation.
Human Qualities? Grief, anger, heroism he really is a superman.
11. Huey, Dewey and Louie
Special Features: Can be reprogrammed depending on the work required. Got an injured leg? Set them to surgery mode.
Human Qualities? As loyal as dogs, these guys are your best friends in space. And losing them will rip your heart out.
10. Evil Maria
Special Features: The ability to perfectly replicate Marias femininity comes in handy for a machine.
Human Qualities? In a word: sin. Her robot rumba certainly has more sex appeal than most computers.
9. Ash
Special Features: Weird milky stuff for blood; can hold a conversation after being decapitated.
Human Qualities? The ability to convincingly pass himself off as a jerk is central to Aliens impact the first time you see it.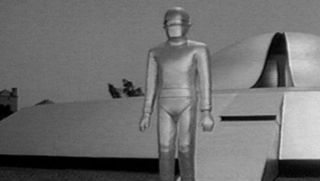 8. Gort
Special Features: Really directional lasers, that destroy military hardware but leave humans unharmed. Only answers to the cool-sounding command, "Klaatu barada nikto!"
Human Qualities? He certainly knows how to make an entrance.
7. Roy Batty
Special Features: Superhuman strength, but a limited life span. Win some, lose some.
Human Qualities? Roy has the soul of a poet, and is going to miss the things hes seen, lost in time like tears in rain.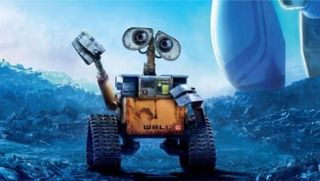 6. WALLE
Special Features: He can shovel garbage into his tummy and turn it into a tidy cube.
Human Qualities? He likes Barbra Streisand movies. Inevitably, he's gonna fall in love with lay-dee robot EVE.
5. The Terminator
Special Features: Coated in Schwarzenegger-esque skin, it looks real enough, but can mimic voices and not mind getting blinded.
Human Qualities? Not at first, but a spot of reprogramming makes him into a teddy bear for the sequel.
4. Robby the Robot
Special Features: All kinds of whirling, flashing, moving parts notably a mouth that lights up when he speaks.
Human Qualities? He's a comedian. Consider his view of oxygen: "I seldom use it myself, sir. It promotes rust."
3. RoboCop
Special Features: Hes kept Murphys old habit of twirling his gun, cowboy-style.
Human Qualities? See above. Murphys still in there somewhere.
2. T-1000
Special Features: Made of liquid metal, this guy can dissolve and reassemble at will, turn hands into weapons, and let bullets pass through himself.
Human Qualities? Robert Patricks naughty, naughty finger wag is the giveaway. This killer enjoys it.
1. R2D2
Special Features: You name it, he has it. Lightsaber port? Check. Fire extinguisher? Yup. Flight? Uh-huh.
Human Qualities? Despite only being able to communicate in beeps and whistles, theres no denying his altruism and reckless bravery.