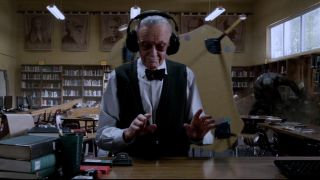 It's a bird! It's a plane! It's a cameo!
The Marvel Cinematic Universe is, basically, one giant Easter egg. In its efforts to build out a consistent canon across different titles starring a veritable pantheon of superheroes, Marvel Studios has harnessed nerd culture's ultimate weapon - hyper-specific yet entertaining minutia - to connect all its different movies and create a fan-powered hype generator for titles to come. It's a brilliant set up, where Marvel can be strategic about its movie roadmap while still delivering a fun and extra-fulfilling experience for even the most hard-nosed comic fans.
Naturally that means there are a whole lot of MCU Easter eggs - so many you could probably start reading a list of them now and not finish until the Easter Bunny starts making the rounds next year. So rather than painstakingly detailing every single egg the MCU has hidden, let's highlight the fifty very best that Marvel has to offer, the sort that deserve to be unearthed and shared.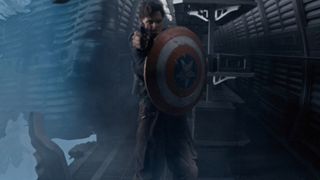 50. Bucky picks up Cap's shield
The Easter egg: Shortly before Bucky supposedly dies in Captain America: The First Avenger, he picks up and tries to use his friend's shield. This is a nice nod to his later reincarnation as The Winter Soldier who, at one point in the comics, tries to take over as Captain America for a short time, adopting the shield as his own.
How obscure is it? You have to really want to make the connection to get the reference, but it's a nice moment for those that choose to read into it.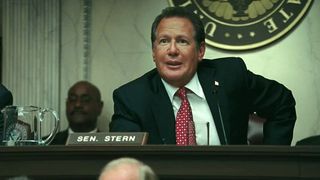 49. Secretary of Defense
The Easter egg: When talking to Senator Stern in Iron Man 2, Tony Stark mentions that he would happily accept the position of Secretary Of Defense, which in the comics, he actually does.
How obscure is it? It's not hard to imagine that avid readers of the Iron Man comics would get the in-joke.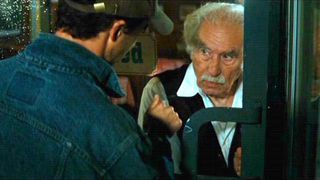 48. Paul Soles cameo
The Easter egg: Stanley, the owner of the pizza shop that takes in Bruce Banner while he is in hiding in The Incredible Hulk, is played by Paul Soles, who voiced Bruce Banner in the 1966 Hulk cartoon series.
How obscure is it? Hmm… how do we put this? He's not so famous that you'd recognize him by sight.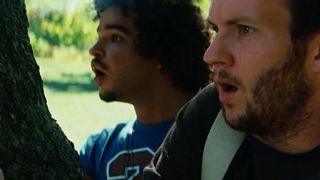 47. Jack McGee and Jim Wilson
The Easter egg: In The Incredible Hulk, two students are interviewed in the news about having seen the Hulk and their names are Jack McGee and Jim Wilson. Jack McGee is a reference to a journalist who tracked down Bruce Banner and the Hulk in the original TV series, and Jim Wilson is the name of a young orphan who became the Hulk's friend.
How obscure is it? Frankly, you'd need to be a Hulkologist to get these references. Universities still do course in Hulkology, right?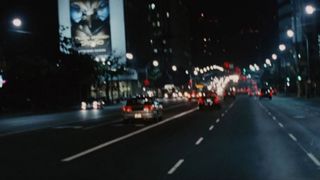 46. Fin Fang Foom
The Easter egg: Famous Iron Man nemesis Fin Fang Foom - a giant alien dragon - can be seen in Iron Man… as a billboard poster.
How obscure is it? It only shows up for a brief moment as Iron Man zooms down a road. Even if you do spot it, the dragon isn't immediately recognizable, so this is for trivia fans only.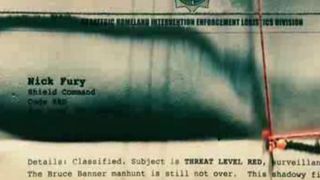 45. S.H.I.E.L.D. files
The Easter egg: During the introduction of The Incredible Hulk, the events of the non-canon first Hulk film are hinted at with the appearance of redacted S.H.I.E.L.D. files. These also contain a mention of Rick Jones, famous in the comics as the person that Banner saved from gamma radiation, sacrificing himself and becoming into the Hulk.
How obscure is it? Those with any knowledge at all of the Hulk's back story will get the reference.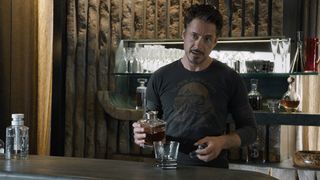 44. Earth's Mightiest Heroes
The Easter egg: In his cozy chat with Loki towards the end of The Avengers, Tony Stark refers to the newly formed band of superheroes as "Earth's mightiest heroes, that kind of thing", directly quoting the comic book description of The Avengers that has appeared on front covers since 1963.
How obscure is it? Even if you weren't familiar with the original Avengers tagline, the recent cartoon series The Avengers: Earth's Mightiest Heroes will help you make the connection.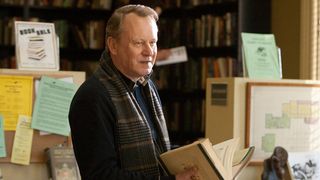 43. "A pioneer in gamma radiation"
The Easter egg: In Thor, Dr. Selvig mentions that he knew a colleague who encountered S.H.I.E.L.D. and describes him as "a pioneer in gamma radiation" - a clear reference to Bruce Banner.
How obscure is it? It's obvious to anyone listening to the dialogue. Surely any mention of gamma radiation automatically counts as a reference to Hulk?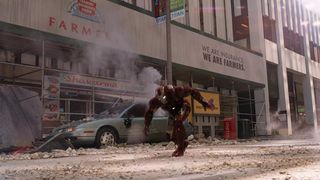 42. Shawarma Palace
The Easter egg: Leading up to the famous Shawarma scene at the end of The Avengers, the restaurant itself can actually be seen earlier in the film as Iron Man crashes to the ground after attacking the giant alien Leviathan. It's particularly cool when you realize that Tony's the person who suggests going for the dish, which means that even if you didn't notice the egg at the time, he certainly did.
How obscure is it? Everything happens so quickly in this scene involving alien monsters and flying billionaires in robotic suits, that you'd be forgiven for never noticing the shop name in the background. It''s more there to reward repeat watchers.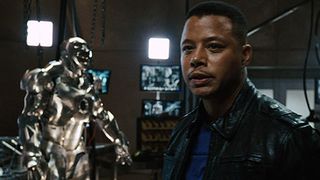 41. "Next time, baby"
The Easter egg: Originally an Easter egg-type nod for fans that ultimately came true. In Iron Man, as Tony Stark flies off in his suit, Rhodey is left behind to look at a War Machine-type armor and say "Next time, baby" in a nice bit of sequel foreshadowing. For the character anyway. Unfortunately not for Terrence Howard.
How obscure is it? Even those unfamiliar with War Machine could guess that this alludes to some kind of comic book character progression.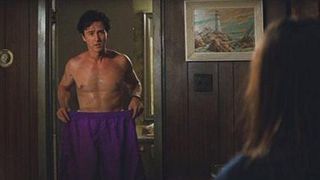 40. Purple pants
The Easter egg: Betty Ross buys new clothes for Bruce Banner in The Incredible Hulk and returns with purple pants with an elastic waistband: an obvious reference to Hulk's wardrobe of choice.
How obscure is it? One of the easiest Easter eggs to spot. You only need to have seen an image of the Hulk to get this one.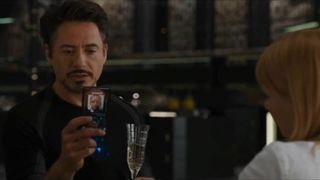 39. Life Model Decoy
The Easter egg: Tony Stark tries to avoid Agent Coulson's call at the beginning of The Avengers by pretending to be a Life Model Decoy, which is a recognized term for android replicas frequently used by Nick Fury in the comics.
How obscure is it? Even if you haven't come across the term before, it's not hard to guess that this is a reference to an existing thing in the Marvel universe.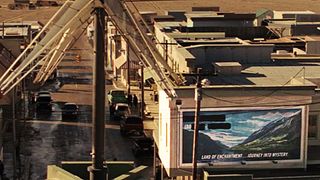 38. Journey into Mystery
The Easter egg: For a brief couple of shots in Thor, a billboard in the background can be seen advertising New Mexico as a "Land of Enchantment – Journey into Mystery". A poster bearing the same phrase also shows up in The Dark World when the gang is in London. It just so happens that Thor made his Marvel debut in a comic book titled Journey Into Mystery.
How obscure is it? It's a bit blink-and-you-miss it, so even if you do know your Thor-lore, you'd be forgiven for missing this one.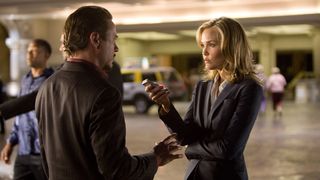 37. Christine Everhart
The Easter egg: Christine Everhart - the blonde journalist who seemingly dogs Tony Stark throughout the first two Iron Man films - is actually a pre-existing Marvel character, although she usually works for the Daily Bugle rather than Vanity Fair.
How obscure is it? She's only a minor character, but anyone familiar with Spider-Man's place of work in the comics will at least recognize the name.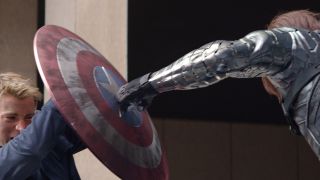 36. Epic shield punch
The Easter egg: To prove just how determined they were to nail the relationship between Bucky and Captain America in Winter Soldier, directors Joe and Anthony Russo pulled straight from the Winter Soldier comics for one of the movie's most iconic shots. The instant when Bucky punches Cap's vibranium shield is an exact replica of the same moment in the comic, just shown from a slightly different angle.
How obscure is it? Readers who have pored over the Winter Soldier comics will spot this in a heartbeat, though the rest of us can still appreciate how amazing it looks.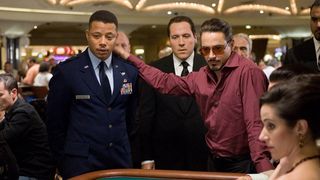 37. Casino music
The Easter egg: As Tony and Rhodey walk through the casino in Iron Man, the music in the background is a jazz version of the theme from the 1966 Iron Man cartoon series.
How obscure is it? It's barely noticeable in all honesty, but a nice nod all the same.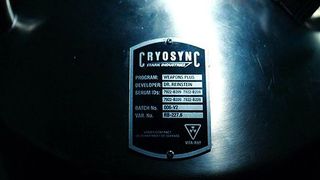 36. Dr. Reinstein
The Easter egg: As General Ross dusts off his special serum to give to Blonsky, the label reads Dr Reinstein, who helped to administer Steve Rogers' own formula, implying that this is a based on the original super-soldier serum. Just with the very different consequences.
How obscure is it? The very nature of this mysterious formula makes you want to get some information from the label, but its relevance is really only obvious to eagle-eyed comic book fanatics.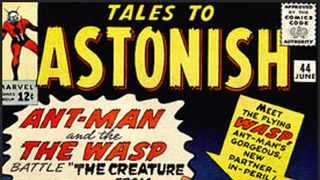 35. Tales to Astonish
The Easter egg: After showing off old archival footage of Hank Pym's Ant-Man exploits to his investors, Darren Cross mentions that the idea of an actual working shrink suit is a bit hard to swallow, calling these accounts "tales to astonish." He would say something weak like that, being a corporate-y villain, but that line also happens to be a cleverly disguised reference to the Tales to Astonish comic series, where Ant-Man made his comic debut in 1962.
How obscure is it? Ant-Man fans undoubtedly caught this one in an instant, but those with less comic knowledge would have to go over the movie with a magnifying glass to spot it.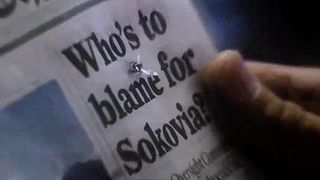 34. Who's to blame for Sokovia?
The Easter egg: To show that Ant-Man's story takes place in the same universe as the Avengers (and set Ant-Man up to appear in Captain America: Civil War), the film gives us a glimpse at an important newspaper during Scott Lang's first ant-back ride through the streets of San Francisco. The headline reads "Who's To Blame For Sokovia?", referencing the fictional city's nearly catastrophic flight in Age of Ultron.
How obscure is it? As long as you spot it and remember the name of that unfortunate flying town in Age of Ultron, you're probably going to get this one.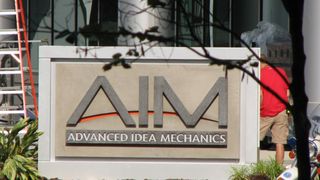 33. A.I.M.
The Easter egg: Aldrich Killian's organisation in Iron Man 3 is called Advanced Idea Mechanics, or A.I.M. for short. In the comics, A.I.M. is a villainous terrorist company not too dissimilar to S.H.I.E.L.D. and it was originally an offshoot of HYDRA.
How obscure is it? An easy reference for comic-book fans there, while everyone else remains none the wiser.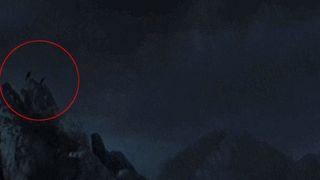 32. Huginn and Muninn
The Easter egg: When Thor first catches up with Loki in The Avengers, two ravens can be seen flying across the screen. These are obviously Odin's pet ravens Huginn and Muninn, implying that he is keeping his eye on proceedings from afar.
How obscure is it? Easy enough to spot if you know your Thor comics and/or Norse mythology.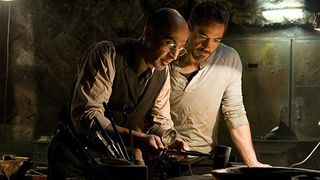 31. Dr Yinsen
The Easter egg: Not so much an Easter egg as a nice gag, but in Iron Man 3's opening flashback, Tony Stark is seen briefly being introduced to Dr Yinsen at a conference in Switzerland. Of course, we recognize him from the first film, in which he is trapped and held hostage with Stark and helps him escape. And he even says in this time that they met once before, at a conference in Switzerland.
How obscure is it? You don't have to be a comics fan to spot this neat way to tie up the trilogy.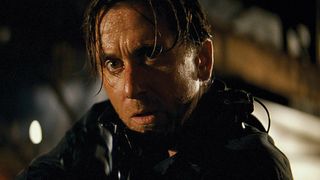 30. Greenish-grey Hulk
The Easter egg: In an Incredible Hulk deleted scene, Blonsky describes his first encounter with the Hulk and says "8 foot, 1500 pounds easy... and green. Or grey, sir. Greenish-grey. It was very dark, I couldn't tell." It's an obvious reference to the Hulk's coloring problems in early versions of the comic, which saw his grey coloring come out green.
How obscure is it? A nice, easy nod to this well-known piece of comic book trivia. You just need to find the deleted scene first.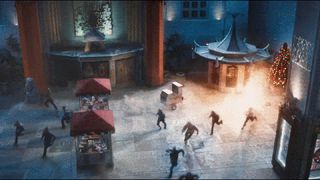 29. Tony Stark's handprints
The Easter egg: During the explosion scene outside LA's Chinese Theatre in Iron Man 3, at one point the explosive villain sits down next to Robert Downey Jr's handprints in the concrete.
How obscure is it? It's very difficult to see even if you're looking out for it, but knowing that the Chinese Theatre is the landmark for Hollywood handprints, it's easy to guess that some kind of cameo would make an appearance.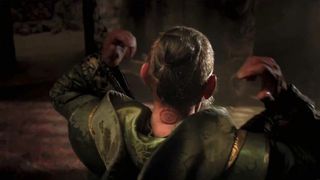 28. The Mandarin's Captain America tattoo
The Easter egg: As The Mandarin takes off his hood in Iron Man 3, he reveals a tattoo on the back of his neck that looks like a Captain America shield with the sign for anarchy at the center of it.
How obscure is it? It's obvious enough for fans to speculate what it might mean when it was seen in the trailer, but its relevance is less easy to understand. Overall, it just seems to be an anti-establishment symbol.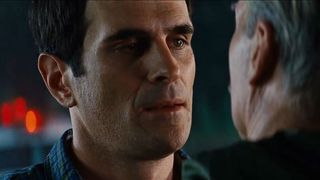 27. Doc Samson
The Easter egg: Ty Burrell plays Leonard Samson in The Incredible Hulk. He only appears in a handful of scenes as the new beau of Betty Ross, but comic book fans will recognize the name as being superhero Doc Samson, who gains superhuman strength after being exposed to Bruce Banner's gamma radiation.
How obscure is it? It's an easy reference for Hulk fans. It would be even easier if, in the film, Samson appeared with his trademark green hair.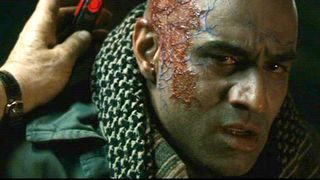 26. Raza
The Easter egg: The leader of the terrorists that kidnap Tony Stark at the start of Iron Man is called Raza. There is actually an existing Marvel character called Raza - an alien cyborg member of the Starjammers, a group of space pirates. The two characters would appear to have nothing to do with each other so you might assume it's just a coincidence with their names… apart from they are both facially disfigured which implies there might be some connection?
How obscure is it? You have to connect a few dots to get this one and even then it doesn't appear to make an awful lot of sense.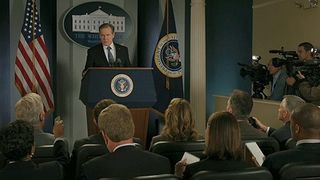 25. President Ellis
The Easter egg: The President in Iron Man 3 is named President Ellis, a clear nod to comic book writer Warren Ellis who penned the Extremis story arc on which the film was based.
How obscure is it? A subtle-but-effective wink for those fans in the know.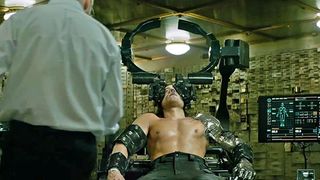 24. Brubaker cameo
The Easter egg: 'Kill your darlings' is a standard rule of storytelling, but this is taking it a bit far. In the scene where Bucky is being brainwashed by agents of HYDRA-cum-S.H.I.E.L.D. in Winter Soldier, the scientist overseeing the awful proceedings is Winter Soldier comic author Ed Brubaker. Haven't you done enough, sir?
How obscure is it? It's unlikely anyone but Brubaker's immediately family and friends noticed this one at first, especially given the angle he's standing at, but now the secret's out.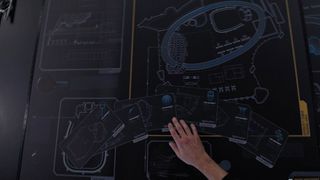 23. Avengers HQ
The Easter egg: As The Avengers ends, Tony Stark and Pepper Potts can be seen looking at plans for the new Stark Towers. Only if you look closely, it seems that Tony has changed his mind about the building and is instead planning an Avengers headquarters.
How obscure is it? Easily missed on first, second and even third viewings but, if you look closely, you'll see that each frame in front of Stark has a small Avengers-related symbol in the corner to denote each hero's quarters.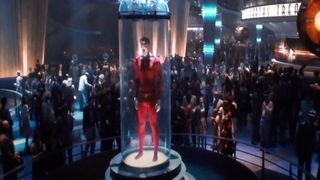 22. The original Human Torch
The Easter egg: As Steve Rogers and Bucky enter the exhibition of future technologies, you can see a red figure in a bright red jumpsuit in a glass cage, a reference to the original Human Torch, the very first superhero ever created by Timely Comics which went on to become Marvel Comics.
How obscure is it? It's an easy spot, but you'll need a degree in comicology to get the reference.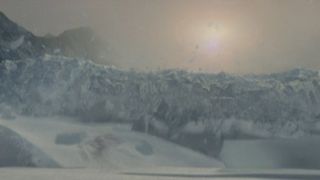 21. Hidden Capsicle
The Easter egg: An alternate beginning to The Incredible Hulk can be found among the special features on the DVD and it sees Bruce Banner walking a long a snowy landscape that eventually becomes an avalanche and, as the snow breaks and falls towards the camera, you can just about see Captain America's frozen body buried in the ice for a split-second.
How obscure is it? Even knowing that he is there, it will still take about twelve viewings and a magnifying glass to actually spot him.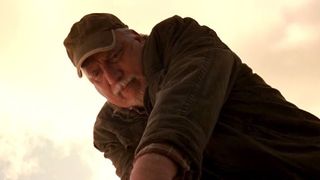 20. J. Michael Straczynski cameo
The Easter egg: As locals step up to lift Mjolnir from the ground in Thor, the first person to try is none other than J. Michael Straczynski, famed comic book writer.
How obscure is it? Only die-hard comic-book fans and Straczynski's own mother would recognize him here.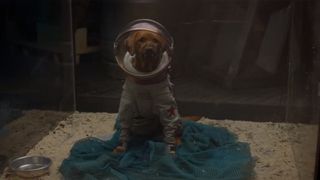 19. The Collector's museum pieces
The Easter egg: This is the moment in Guardians of the Galaxy when James Gunn turns into the directorial equivalent of a kid in a candy store. Throughout the Collector's impressive museum of living oddities, you can spot the gross slug creatures from Gunn's film Slither, Howard the Duck, and Cosmo the Spacedog, an actual member of the Guardians in the comics.
How obscure is it? There's a little something for everyone here, so most people will probably catch at least one of these references. Howard the Duck in particular is (unfortunately) hard to forget.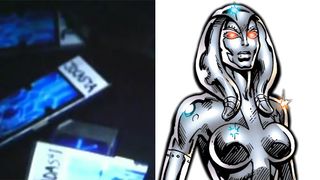 18. Jocasta
The Easter egg: This one pulls from all over the MCU catalog. When selecting a new AI butler to replace the dearly departed Jarvis in Age of Ultron, Tony Stark ultimately picks Friday, and in the process passes up on another AI drive labeled 'Jocasta'. Fans of the wide world of Marvel comics will recognize Jocasta as an AI created by Ultron to be his bride (unwilling as she might be) based on the brainwaves of Janet van Dyne, the first Wasp and Hope van Dyne's mother from Ant-Man.
How obscure is it? You have to dig pretty deep into Marvel canon to drag this one out, so chances are it flew right by most viewers.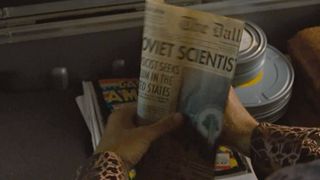 17. Howard Stark's a fan
The Easter egg: As Tony Stark looks through his father's belongings in Iron Man 2, you can just about make out an original Captain America comic in among some other papers.
How obscure is it? It's the kind of spot that you'll only get with a screen-grabbing fanbase and the Internet at your disposal.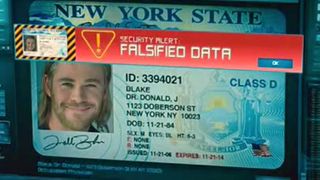 16. Dr Donald Blake
The Easter egg: In homage to Thor's human alter-ego in the comics, he goes by the alias Donald Blake at several times throughout the original Thor.
How obscure is it? Anyone who has ever read a Thor comic will probably get this one.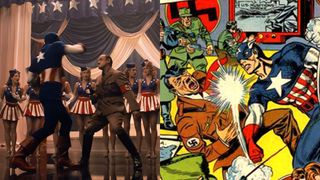 15. Hitler punch
The Easter egg: While Captain America goes about his goodwill tour spreading positive messages throughout the country in Captain America, he acts out a moment in which he punches out Adolf Hitler, recreating the cover of the very first Captain America comic.
How obscure is it? The image of Cap knocking out the Führer is well-known enough for anyone to easily make the connection.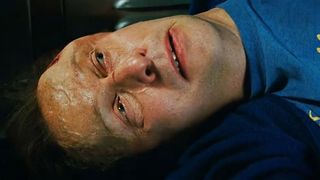 14. The Leader
The Easter egg: In The Incredible Hulk, Bruce Banner's anonymous online friend Samuel Sterns (a.k.a. Mr Blue) gets into an altercation and ends up with the Hulk's blood entering a head wound. We last see him on the floor, smiling while his head mutates, supposedly setting up famous villain The Leader for a sequel that never came.
How obscure is it? Even if you don't know who The Leader is, seeing someone smiling while their head mutates ALWAYS means 'possible sequel villain'.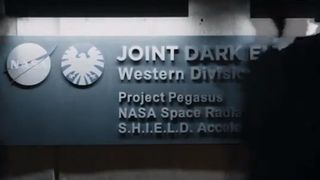 13. Project Pegasus
The Easter egg: When Coulson hands Stark several files to read over in The Avengers, you can see that one of them mentions Project Pegasus and, in particular Project 42. This is a reference to the famous Civil War story arc in which Stark builds an extra-dimensional prison for villains called Project 42 – something that he builds over an old site that marked Project Pegasus.
How obscure is it? The Civil War story arc has been one of the most successful in recent years, so all of this is common knowledge among comic-fans but even then you have to have sharp sight to spot the reference.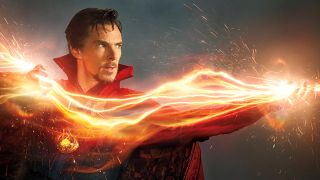 12.Dr. Strange name-drop
The Easter egg: HYDRA really does cover all its bases, even the ones that haven't made it to film yet. When Cap, Black Widow, and Falcon are putting the fear of superheroes into a HYDRA operative on the roof of a very tall building in Winter Soldier, he reveals that the organization has designed a program to find and take out any threats to its operations, including Cap and a host of other heroes. He's a bit out of breath when he runs down the list, but you can still distinctly hear him mention Stephen Strange, the true identity of Dr. Strange. How obscure is it? If you know Dr. Strange's real name this is hard not to catch, and even if you don't you still have a good shot. It's not exactly a common surname.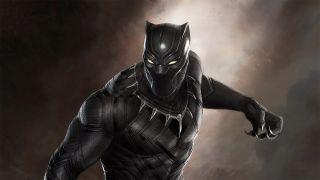 11. Black Panther
The Easter egg: While trying to unearth exactly what Ultron has planned for the Avengers (and the human race in general) in Age of Ultron, the gang eventually meets Ulysses Klaue, an arms dealer who recently stole a vast amount of Vibranium from an African nation called Wakanda. That might seem like just a quick way to segue into talking about Ultron's new suit, but it's actually a many-layered reference to the Black Panther comics - Wakanda is Black Panther's home, Ulysses Klaue is one of the series' major villains, and it really is a major source of vibranium in the Marvel universe.
How obscure is it? This one undoubtedly hit Black Panther fans smack in the face, and even for those unfamiliar, the pointed mention is enough to get the gears turning.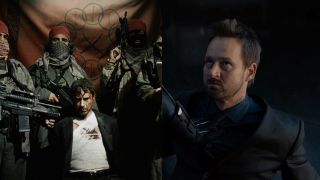 10. The Ten Rings
The Easter egg: You never forget your first. Nearly a decade after the first Iron Man movie kicked the MCU into high gear, we get a nod to the original terrorist group that kidnapped Tony all those years ago, the Ten Rings (itself a clever reference to the ten rings worn by the Mandarin in the comics). In Ant-Man, when Daniel Cross goes to greet his nefarious investors on the roof of Pym Technologies, you can see that one of the men has a Ten Rings tattoo on his neck, proving they're far from forgotten cannon fodder. How obscure is it? It's been almost ten years since the first Iron Man movie came out, and it isn't obvious enough to jumpstart all but the most well-maintained memories. But still, it's part of the MCU, so not too obscure. Remembering that it's all an indirect reference to the Mandarin is trickier by far.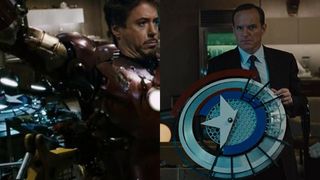 9. Captain America's shield
The Easter egg: A half-constructed Captain America shield can be seen just behind Tony Stark when Pepper walks in in him taking off his armor in Iron Man, and then again in Iron Man 2 when Agent Coulson hands it to him to balance out the equipment he uses to create a new element.
How obscure is it? Blatantly telegraphed in the second film - so much so that it hardly counts as an Easter egg - but a lot harder to spot in the first film.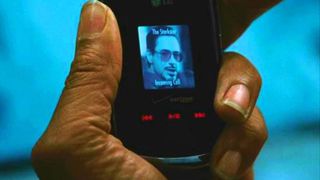 8. Rhodey's ringtone
The Easter egg: In Iron Man, when Rhodey has pilots chasing down a Tony Stark-shaped UFO, he gets a phone all from the man himself and his ringtone is a midi version of the 1966 Iron Man cartoon theme music.
How obscure is it? Easy to spot as long as you've actually SEEN the 1966 Iron Man cartoon.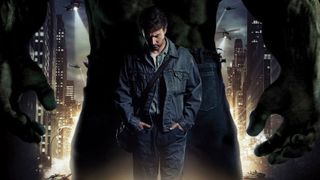 7. The Lonely Man
The Easter egg: Incredible Hulk composer Craig Armstrong weaves the famous "Lonely Man" theme - the sad piano piece used in the Incredible Hulk TV show - into his score.
How obscure is it? As long as you have an ear out for the film's music and have seen the TV show, this one is easy to spot.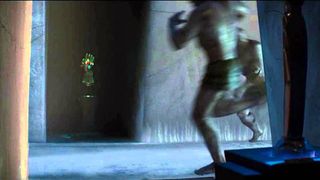 6. The Infinity Gauntlet
The Easter egg: As the Destroyer awakens in Thor and kills two thieves in the Asgard weapons vault, a jeweled glove can just about be seen in the background. This is the Infinity Gauntlet, an artifact that, along with the infinity gems, gives the wearer god-like powers. It is likely also the thing that Thanos is after, his plot already taking shape when he appears in the mid-credits sequence of The Avengers.
How obscure is it? Even if you know all about the Infinity Gauntlet storyline from the comics, this is still a blink-and-you'll-miss-it, wear-out-the-pause-button-on-the-DVD moment.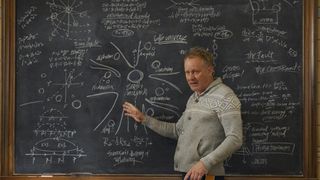 5. Selvig knows too much
The Easter egg: While the world of Marvel comics is a confusing and complex place, riddled with parallel universes and alternate realities, the MCU has kept mostly to a single world and timeline so audience members' heads don't spin off into the sunset by Captain America 5. But it still hints at the concept of those many disparate timelines through Selvig in The Dark World. On a chalkboard in the mental institution where he's being held, you can spot a reference to 'Earth-616', the most robust and heavily-used Marvel reality, alongside mentions of 'The Crossroads' from Dr. Strange and 'The Fault' from Guardians of the Galaxy. How obscure is it? Even comic fans might not instantly know where these references came from, if they're eagle-eyed enough to spot them in the first place.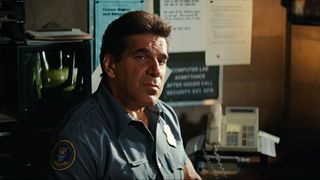 4. Lou Ferrigno cameo
The Easter egg: Lou Ferrigno was the lean, green body builder, star of the original Hulk TV show and, at this point, likely to be the only person to ever officially play the character unaided by CGI. He has a cameo as a security guard in The Incredible Hulk. Not only that, but he also voices the Hulk in this film and in The Avengers.
How obscure is it? You're not likely to miss his appearance in The Incredible Hulk, even without the green body make-up, but his voice work in The Avengers? That's one for movie trivia fans only.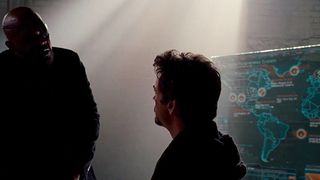 3. S.H.I.E.L.D.'s map
The Easter egg: As Tony Stark meets Nick Fury at the end of Iron Man 2, a map can be seen in the background with red hotspots highlighted. From their positions, you can see that they seem to indicate the locations of superheroes, including one in Africa, which can only be the Black Panther, and one in the middle of the Atlantic Ocean, presumably denoting Namor.
How obscure is it? You have to really know your superhero geography to get these references.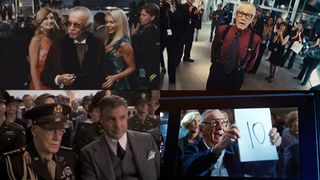 2. Stan Lee cameos
The Easter egg: Stan Lee, famed comic book writer and creator of some our best-loved comic book characters, makes a cameo appearance in each and every Marvel-released movie.
How obscure is it? Not in the slightest. In fact, you could spend each new Marvel film waiting for Lee's inevitable appearance and odd line of dialogue.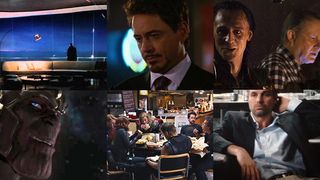 1. Post-credit scenes
The Easter egg: What started off as nice Easter eggs have become a tradition in themselves, with mid-credit and post-credit scenes appearing at the end of every film normally showcasing the next movie to be released by Marvel Studios.
How obscure is it? Surely everyone knows by now to always stay until the end of the credits?