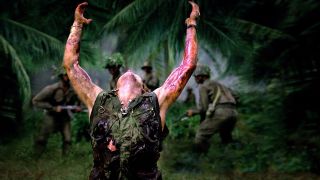 Tanks for the memories
Many films take a very casual attitude towards violence. The average viewer has seen piles of bodies, hundreds of severed limbs, and more rounds-per-minute than they could ever comprehend. However, the act of war is still (mostly) handled with extreme care by the movie business. And while violent conflict itself is a horrific thing, some of the most beautiful stories committed to cinema have focused on it.
We've rounded up a collection of the 25 best war movies ever. It's not all about bullets and blood, though, as many of these films use their subject matter to tell some amazing human stories. Of course, some of them really are about bullets and blood, so... enjoy those too!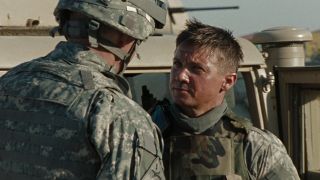 25. The Hurt Locker (2008)
Before he became the Avengers' archer Jeremy Renner took on the role of a conflict vet, tasked with leading a explosive ordnance disposal team in Iraq. Not the most tantalising job offer, but that's the pull of Kathryn Bigelow's Oscar-winner. Despite the constant danger, for guys like Sergeant First Class William James war is a drug. He's content in the thick of it. Even when he ventures way off task, getting both he and his squad into horrible scenarios (discovering children surgically implanted with bombs), there's a sense that he's exactly where he wants to be. This is a bracing and honest look at what war does to soldiers.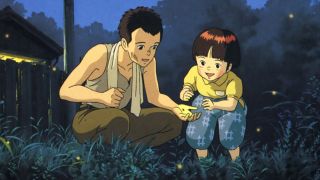 24. Grave of the Fireflies (1988)
Studio Ghibli has a gift for transforming somewhat harsh subject matters into lush, playful movies. The Japanese animation house outdoes itself with this stunning story, a bleak reminder that it's children who suffer the most from warfare. The use of animation achieves a power that live-action probably wouldn't have matched, as the movie follows Seita and Setsuko, two kids orphaned after American bombers destroy their hometown. Heralded by many as one of the most moving anti-war films, it's a true tear-jerker from start to finish.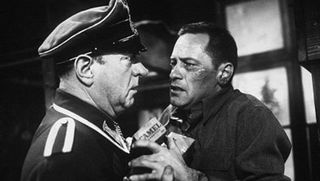 23. Stalag 17 (1953)
Two American prisoners attempt an escape from a Luftwaffe prison camp during World War II. Stalag 17 opens as they're caught and shot dead by Germans, prompting their remaining comrades to wonder; who snitched? Based on a Broadway play, this comedy drama slowly cooks in the stifling boredom of the American barracks, a perfect place to let prisoners' suspicions fester and for dark wit to surface. As the group of airmen tries to figure out who is the mole, they hatch a new escape plan. The film marks one of director Billy Wilder's last offerings before he switched to (mostly) comedies. You can tell he's itching to truly make that leap; the script is a very funny response to the cabin fever of these servicemen.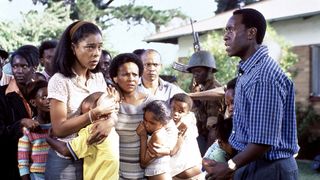 22. Hotel Rwanda (2004)
The Rwandan genocide of 1994 left close to a million dead. Amidst that senseless loss of life, around 1,000 people were saved by the heroic efforts of a hotel owner, Paul Rusesabagina played here by Don Cheadle. The brutality of the militia is a daily reality for Paul and his family, and it's up to him to placate those leaders while keeping his hotel open as a safe haven for refugees. A damning expose of the U.N.'s ineffectual presence, here's a rare Hollywood film in which the African characters take charge.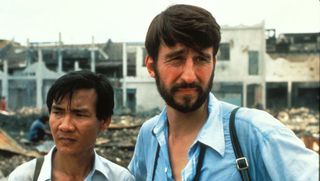 21. The Killing Fields (1984)
Based on the experiences of two journalists during the era in which the Vietnamese communist forces, the Khmer Rouge, entered Cambodia and instigated a war with the Cambodian national army. Sam Waterson and John Malkovich play Schanberg and Rockoff, a couple of Americans who team up with local Cambodian reporter Dith Pran to capture the truth behind Pol Pot's savage regime. This is a brutal and stirring piece of filmmaking, inspired by an article written by the real Schanberg and Pran. The title refers to a number of fields where the bodies of a million Cambodians remain, after being killed and buried by the Khmer Rouge. That term was coined by Dith Pran, who saw those fields with his own eyes.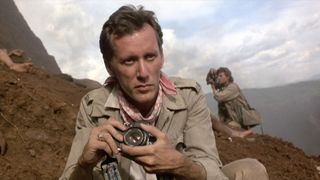 20. Salvador (1986)
Way before James Woods became the butt of several Family Guy cutaways he made some powerful movies. Salvador is probably his finest, directed with grit, grime, and a distinctly anti-US angle by Oliver Stone. Woods still plays the type of character you'd expect though; starting out as hedonistic, cynical jackass photojournalist Richard Boyle who slowly becomes less self-involved after he and his buddy (Jim Belushi) head to El Salvador. It's only once the pair arrive, eager freelance their way through the civil war, that they themselves become involved in the horrors of conflict. Things get real for Boyle when American border officers turn back his girlfriend Maria (Elpedia Carillo), condemning her to an uncertain future.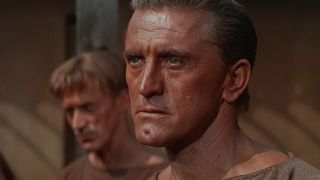 19. Spartacus (1960)
Stanley Kubrick knew how to crank out an epic. His riff on the gladiatorial arena, penned by Dalton Trumbo, is the swords 'n' sandals flick. It's a sprawling effort that tells of a lowly slave, Spartacus (Kirk Douglas), who rebels against his owner and leads a revolt. What drives Spartacus to lead that charge? Is it being forced to fight as a gladiator, or seeing his missus Varinia (Jean Simmons) bought by corrupt Roman Crassus (Laurence Olivier)? It's emotional stuff, but not as eye-watering as its most memorable scene, showing the solidarity amongst slaves, as everyone claims to be their leader: "I'm Spartacus!"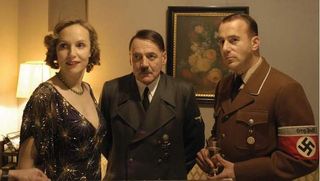 18. Downfall (2004)
Even dictators have their bad days, but humanising Hitler (while far from excusing him) makes his crimes all the greater. Downfall takes a fly-on-the-wall approach to the Fuhrer's final ten days, told through the point-of-view of his secretary. In fact, it's the real life Traudi Junge whose voice is heard opening the movie. Much was made of how the film paints a realistic portrait of a monstrous man, who displayed kindness to his staff while seconds later utter contempt for millions he sent to their deaths. It's a near-perfect piece of filmmaking, thanks to Bruno Ganz eerily-precise depiction of Hitler.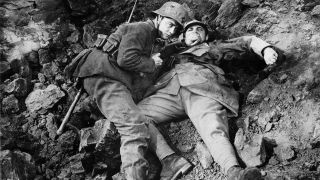 17. All Quiet on The Western Front (1930)
Boredom, hunger and the ever-present threat of sudden death transform an episodic story into Hollywood's definitive account of trench warfare. The original film from 1930 is the role for which actor Lew Ayers is best known, as German soldier Paul Bumer. One of several schoolboys convinced by their patriotic schoolteacher to enlist in the army, he and his friends come to learn that doing your bit for your country means sacrificing everything.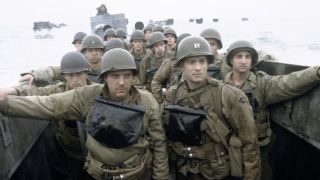 16. Saving Private Ryan (1998)
What's one man's life worth? That's the staggeringly huge question Steven Spielberg sets out to answer in his blistering 1998 actioner. Its opening sequence never lets up as a US squad hits the beaches of Omaha, aiming to track down the last surviving son of a single American family and return him safely home. The cast assembled here is terrific, with all of them on the top of their game and working together to bring out the best in each other's performances. There's nothing flashy or glitzy about the harrowing truths of war here, as Tom Hanks' leader pushes his team into the darkest parts of conflict. This is a brutal and totally unflinching dip into wartime violence.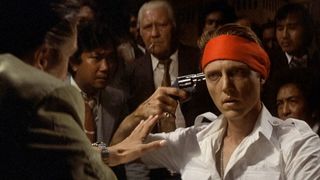 15. The Deer Hunter (1978)
The Russian roulette scene is perhaps what Michael Cimino's Vietnam drama is best known for, a moment that epitomises the utter hopelessness of a man torn apart emotionally by his tour of Vietnam. He's one of three childhood friends, who sign up to serve their country. By focusing as much on the buddies' home lives as well as their combat experiences, Cimino paints a tragic portrait of a blue-collar Pennsylvania community destroyed by war. It's a striking piece of cinema that cuts between their initial excitement and the harsh reality, brought to life by an epic cast that includes Christopher Walken, Robert De Niro, Nick Savage, and Meryl Streep.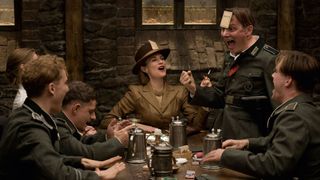 14. Inglourious Basterds (2009)
Tarantino says the dialogue he's most proud of is spoken during Inglourious Basterds' opening sequence, when the 'Jew Hunter' Hans Landa (Christoph Waltz) calmly interrogates a French dairy farmer believing that he's harbouring Jewish refugees in his basement. It's testament to Tarantino's confidence that this scene is 15 minutes long - a terrific start to a World War II flick that's an action with a giant splat of camp comedy thrown in. The Basterds of the title - led by Brad Pitt's Aldo Raines, a take-no-bullshit Lieutenant who demands his men procure him hundreds of Nazi scalps - are part of the plot, that weaves in a dastardly scheme to take out the Third Reich's highest-ranking officials in a movie theater. Beautifully nutty.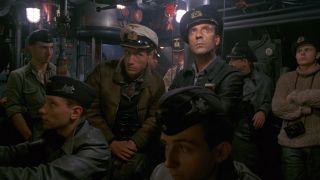 13. Das Boot (1981)
Wolfgang Petersen's film is really one of a few examples where the term 'epic' can be used with authority. Das Boot runs just a shade under five hours. It's had trimmed theatrical releases, TV miniseries cuts, and extended home video director's edits: all of them pack the same thudding truth. War is hell wherever you are, as a submarine of German sailors face boredom, claustrophobia, and terror under the waves. That terror is boldly presented, as the crew, bound by orders not to take prisoners, watch as the crew of a torpedoed British tanker goes drown. Bleak.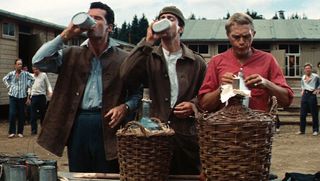 12. The Great Escape (1963)
You know the theme. That uplifting ditty that's drafted into so many movies and TV shows as a way to give authority the finger, without… well, having to literally show it. But The Great Escape gave us much more than that. A fun, heart-warming adventure about a band of allied POWs during World War II, who are recaptured by the Germans and sent to a high security Stalag in Poland. The film's two leads, Steve McQueen and Richard Attenborough, rally together a hodge podge of prisoners to dig three tunnels. The great thing is, nobody is under any illusions about getting home. So why do it? Simply: to piss off the Nazis. You've got to admire their balls.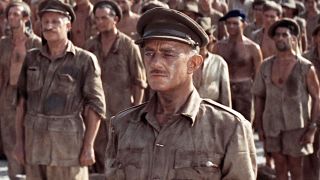 11. The Bridge on the River Kwai (1957)
Regarded as one of the finest World War II movies ever made. Bridge on the River Kwai is a fictional story surrounding the construction of the Burma railway. Alec Guinness stars as a British Colonel who, along with his platoon of men, is forced by the Japanese to construct the bridge. But the Colonel's alliances become unclear as he collaborates with his enforcers, believing the British Army should be remembered for its sterling construction work. A strange turn of events, certainly, and one that's brought to a head by William Holden's American officer who swoops in to try and blow up the bridge. Heart-wrenching stuff.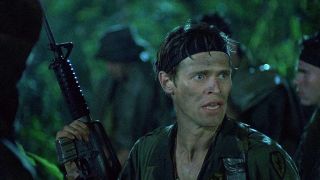 10. Platoon (1986)
Platoon comes with an added boost of authenticity as writer-director Oliver Stone lived through the horrors of the Vietnam war. Stone was part of the US infantry for 14 months, channeling his experiences into his ensemble flick that follows Charlie Sheen's character as he jacks in his studies to serve his country. It's believed that this is the first Vietnam film to hail directly from someone who saw action. Stone knew himself how conflict rocks the psyche. Likewise, the squalor of jungle warfare has rarely been more palpable, but Stone puts things in perspective in a gruelling scorched earth raid on a Vietnamese village.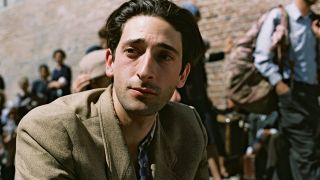 9. The Pianist (2002)
To fully immerse himself in the character of pianist Wladyslaw Szpilman, Adrien Brody embraced The Method. He dumped his girlfriend, sold his belongings, gave up his home and lived as the Jewish pianist did during his time in the Warsaw ghetto. That commitment shows on screen, and is likely what earned Brody his Oscar as the inner torment suffered by his character is matched perfectly by his physical transformation. The film is based on a true story, and serves as a stark reminder of the lengths Jewish Europeans had to go to in order to survive.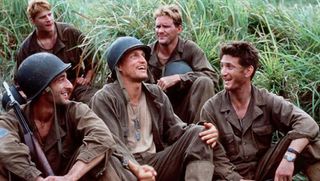 8. The Thin Red Line (1998)
20 years away from filmmaking and Terrence Malick returned with The Thin Red Line. A lingering, slow-drawl of a war film that shows how mankind's desire to fight one another devastates nature. Cut down from a much, MUCH longer version, the finished movie surprised a lot of the cast who learned in the theater that their roles were bigger/smaller than expected. It's the thin red line of the title, which is according to Malick what separates the sane from the mad, that's best brought to life over and over in the performances of its soldiers. In particular? Nick Nolte's unhinged Colonel; possibly his best-ever role.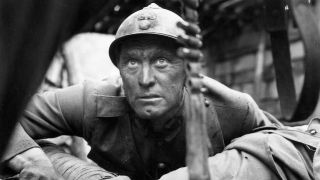 7. Paths of Glory (1957)
Kubrick took inspiration from Humphrey Cobb's novel to tell the story of a World War I Colonel who refused to walk his men to certain death. Kirk Douglas is steely as Colonel Dax, the commanding officer of four soldiers sentenced to death, who turns to his pre-war civilian life as a lawyer to defend the men. Along the way he becomes strongly disillusioned with the madness of his superiors, part of Kubrick's strong anti-war sentiment making its way into the main part of the plot. As heavy-handed as that may be, it's the final twang that finds the survivors of Dax's company gathered in a local inn, knocking back the ale, and listening to a local woman sing, that packs the real punch. It's seeing Dax watch his men, eyes brimming with tears in the moment, knowing that they don't have long until the next big push.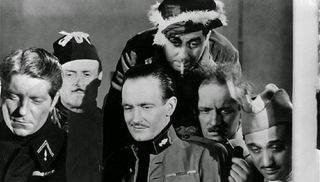 6. La Grande Illusion (1937)
Wartime behind enemy lines is a melding pot of cultures in Jean Renoir's superb French dramedy. It's a compelling dip into the class politics of World War I, coming across as both a mediation on POWs and an uplifting salute to the human spirit. The film follows two French pilots, Captain de Boeldieu and Lieutenant Maréchal, who are captured during a routine recon mission. Along with hundreds of other inmates they plot to escape during a cobbled-together variety act. The complete senselessness of war is perfectly shown with Renoir's simple ending: two escapees are fired at as they run to freedom, but seconds later the German patrol guards are ordered to cease firing. The pair walk without a care into the safety of Switzerland.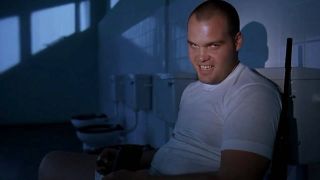 5. Full Metal Jacket (1987)
This dark comedy takes aim at the Vietnam war, told through the eyes of Matthew Modine's Joker, a man who hedges his bets by scrawling 'Born to kill' on his helmet but also wears a peace symbol, to show "the duality of man". Yeah, he's quite a character, and this is a film full of complex, troubled individuals each dealing with the pressures put upon them by their intense drill instructor. R. Lee Ermey's role is one of the most memorable of the whole movie, his torrent of insults designed to toughen up the men, the source of an hour-long improvisational rant. This is war, Kubrick-style.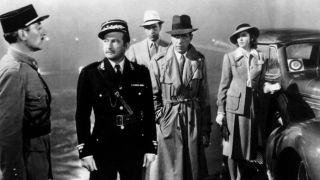 4. Casablanca (1942)
Hollywood's definitive wartime propaganda pic blends together the melodrama of lovers who can't be together with the harsh reality of conflict. Michael Curtiz's World War II actioner has two top-of-their-game actors in the lead roles, Humphrey Bogart and Ingrid Bergman, as Rick and Ilsa. Rick's a bartender in Casablanca, Ilsa's an old flame in town with her new husband, a notorious rebel who's out to bring down the Nazis. The great source of tension between them stems from Rick, who can't stand idly by when he has the power to help Ilsa's man. It's chemistry like theirs that's rarely seen onscreen nowadays, a result of their off-set friendship, which also gave the film its most memorable one-liner. Casablanca is the wartime romance to end 'em all.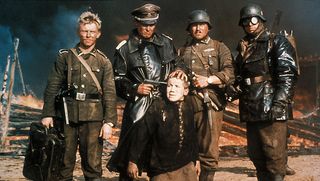 3. Come and See (1985)
Some of the most horrific images shot by wartime correspondents include children. They're innocents, in the wrong place at the wrong time. It's that child's eye view of war which drives home the horrors of the Nazi-occupied Soviet Republic in Come and See. Inspired by the experiences of a survivor, the movie follows young lad Florya (Aleksey Kravchenko) as he's lured away from his family to help fight the Resistance. It's only when he attempts to return home that he witnesses the hallucinatory terrors implied by the title (e.g. villagers herded into a church, into which grenades are then thrown). Hard-hitting in its unflinching approach to the material, there's no stone unturned when it comes the atrocities the Nazis committed in Belarus.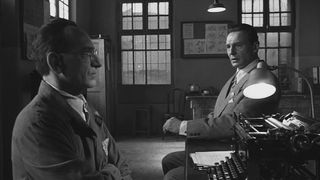 2. Schindler's List (1993)
Steven Spielberg received a bit of a critical mauling for ignoring the entire six million who lost their lives in the Holocaust, but this movie still remains heart-wrenching, tear-jerking stuff. His effort to zero in on 1000 or so fortunate survivors, as a way to highlight the larger tragedy, nevertheless works. He brings his Spielbergian touch to a story that's about the dichotomy of man: within us all is the power to unspeakable acts of evil alongside the power to do untold acts of kindness. The story is based on the efforts of one Oskar Schindler - played here by Liam Neeson - a man who chose to help as many Jews as possible through his business endeavours, proving that in our darkest hours, there is light.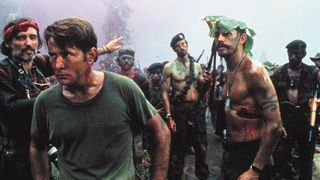 1. Apocalypse Now (1979)
The hallucinatory madness depicted in Francis Ford Coppola's Apocalypse Now is unlike any other Vietnam movie. There's nothing remotely normal about the film's take on war; this isn't a typical tale of 'us vs. them'. Martin Sheen's Captain Willard is sent on a kill mission. It's up to him to take out the seriously unhinged Colonel Kurtz who's gone off the deep end. Watching Willard himself try and keep it together amidst Wagnerian helicopter attacks, tigers, Playboy bunnies, and Dennis Hopper's mental photographer is a pure cinematic delight. It begs the question; who's really losing their mind here? Sheen or the absolutely mad as a hatter Marlon Brando as Kurtz? The casualties of war shown here are the minds of men.