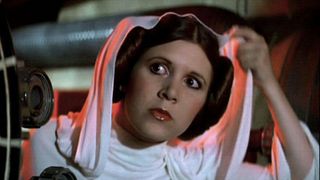 So who REALLY shot first?
There's no doubt Star Wars is the most closely examined, lovingly cherished entertainment franchise in the world. Its fans are legion, and they're usually incredibly knowledgeable. As such, the series has very few true secrets. That's great news for you, because even the most trivial of details about Han, Luke and co. are just a few clicks away. In fact, there's such a wealth of information out there, it's tough to know where to begin. And that rather neat segue leads us to this feature: a collection of the 30 coolest facts about the Star Wars universe. So, if you're looking to show off, click on and swat up.
Read more: George Lucas nearly wrote a perfect prequel trilogy. He just didn't notice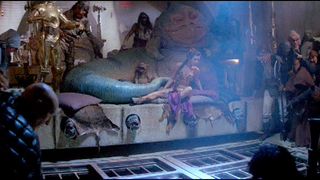 30. The numbers
The Jabba Palace sequence in Return of the Jedi involved 42 extras, 18 principal cast members, 10 puppeteers, nine mime artists, and 90 crew members... and it took a month to film. Plus, one famous gold bikini that often wouldn't behave itself - Carrie Fisher refused to use tit-tape, meaning many sequences had to be reshot because of wardrobe malfunctions. Also, on the number front, the Death Star 2 in Jedi, was 460% larger than the first (destroyed) one from A New Hope.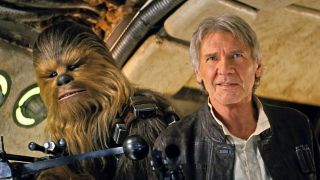 29. A dangerous endeavor
You probably know that Harrison Ford broke his ankle on the set of The Force Awakens in 2014, after one of the Falcon's hydraulic doors slammed down on his leg. What you perhaps didn't know is that JJ Abrams broke his back... while trying to rescue Ford. According to Vanity Fair, the director attempted to lift the door off Ford's ankle when he heard a 'popping sound'. A few days later he visited the doctor and was told he'd actually broken his back. A trooper to the end, Abrams never told the cast and crew, and returned to work wearing a back brace...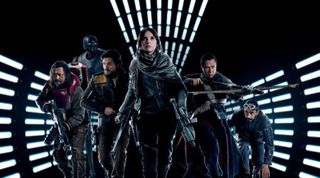 28. What's in a name?
Rogue One's naming has a curious history. It's the only Star Wars movie where the title of the film is actually spoken as a line of dialogue. One of the alternative titles of the movie was Dark Times, but that was rejected shortly into pre-production. And there was an opening crawl to the movie, but it was never used.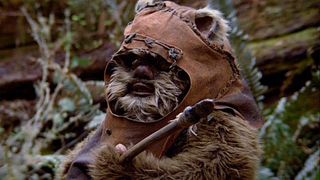 27. Furballs
An army of Wookiees was originally intended to help out on Endor in Return Of The Jedi, but Lucas opted to use a smaller furry animal instead. And so the Ewok was born. Strangely, the word Ewok isn't actually mentioned at all in the film. We finally got a Wookiee battle to remember, though, in Revenge Of The Sith (which featured a young Chewbacca).
26. Did you spot James Bond?
Remember the scene from The Force Awakens, where Rey uses the force to free herself from Kylo Ren's interrogation chair? Daniel Craig (Yes, James Bond) is the Stormtrooper who lets her out. Speaking in an interview during July 2015, he said: "Why would I ever bother doing something like that? Fucking hell! Pffft. Play an extra in another movie?" Clearly a heavy dose of sarcasm, then, and one of the greatest movie cameos of all time.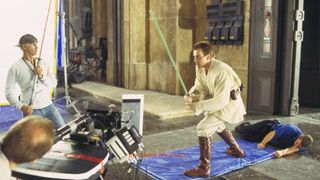 25. Big kids
Shove a lightsaber in any grown man's hands and they're immediately transformed into a giddy kid. Even Ewan McGregor's not immune: during the lightsaber duels in The Phantom Menace, he made lightsaber sounds that had to be fixed in post-production. Hayden Christensen did the same...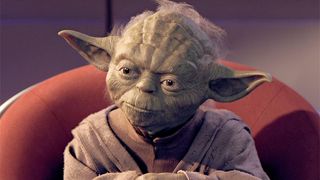 24. Origins
George Lucas plundering of non-English languages for names is legendary. On top of pinching the Dutch word for father for Darth Vader, he also used the Sanskrit word for warrior to name Yoda. As for Jar Jar, that name was created by George Lucas's son. Meanwhile, John Williams turned to a 13th century Welsh manuscript for the chanting in his composition 'Duel of the Fates'. He translated the lines "under the tongue root a fight most dread, and another raging, behind in the head" into Sanskrit.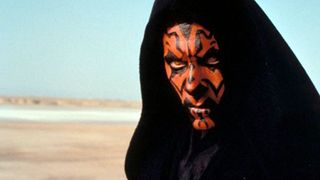 23. Maul him
The role of Darth Maul in The Phantom Menace almost went to Benicio Del Toro. The actor wasn't happy when Lucas removed most of Maul's lines from the film, though, and he dropped out to be replaced by Ray Park. In the end, Maul only speaks three lines in the entire film. Meanwhile, his double-ended lightsaber was a design lifted from comic book series Tales Of The Jedi: The Sith War.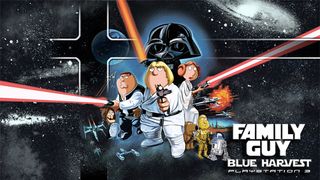 22. Title changes
During filming on Return of the Jedi, the film went under the working title of Blue Harvest in order to keep curious fans from attempting to get on-set. That title was, of course, later used in Family Guys loving spoof. Meanwhile, the working title for Episode 2 was, believe it or not, Jar Jar's Big Adventure, which would certainly have put many fans off attempting to infiltrate the film's production. The Last Jedi went under the working title 'Space Bears', and Rogue One was called 'Los Alamos'.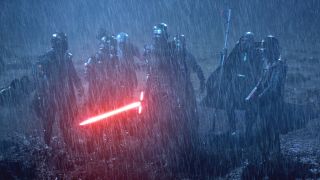 21. Design, not accident
Kylo Ren's lightsaber - with the two hand-guards poking out of the side - is an ancient design, not a modification. These features are known as quillions, and apparently they poke out of the handle as a result of a cracked Kyber crystal housed inside.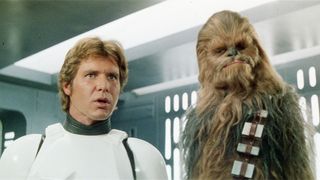 20. The perfect Wookiee
Peter Mayhew was working as an orderly at a hospital in Yorkshire when he was cast as Chewbacca in A New Hope. According to Star Wars legend, Lucas knew he was perfect within 10 seconds of meeting the Englishman, mostly because he was 7'2". Sometimes size does matter. As for the word Wookiee, the name came about after Terry McGovern did some voiceover work on THD 1138, in which he said: "I think I ran over a Wookie back there". Lucas liked the made-up word so much he noted it down for later use.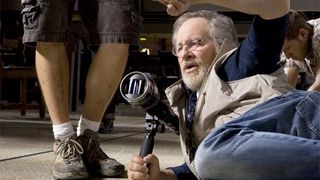 19. Spielberg
Steven Spielberg was George Lucas first choice to direct Return of the Jedi. However, because Spielberg was part of the Directors Guild (which Lucas left on bad terms), Spielberg was forbidden from taking the gig. Years later, though, The Beard did end up helping on Episode 3. When Lucas realised how massive the film was going to be, he asked Spielberg to help him with certain sequences, including the epic lightsaber duel between Anakin and Obi-Wan. Spielberg went on to make War of the Worlds having gained invaluable experience with modern day visual effects.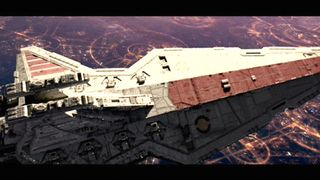 18. Visual effects
By the time Episode 3 rolled around, Lucas had become so reliant on digital effects that the film contains over 2,200 digital effects shots, more than the total contained in Episodes 1 and 2. By contrast, A New Hope had just 350 visual effects shots. Somewhat ironically, despite all the effects in Episode 3, it was the only Star Wars film not to receive an Oscar nom in the Best Visual Effects department. Sadly, that dubious honour has now gone to Rogue One too.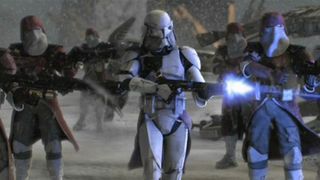 17. Clone Troopers
There's not a single live-action clone in Revenge of the Sith. No, really. They were all created using CGI, meaning that not a single clone helmet or costume was physically created for the threequel. Ironically, for The Force Awakens, the blasters fired by the First Order troopers were based on compressed air guns, so they actually packed a real punch when fired. So, no fakery there.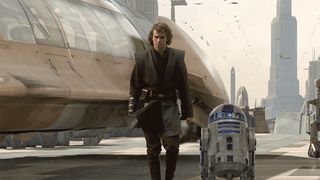 16. Droids
The droid factory sequence in Episode 2 wasn't in the film's original script: it was added later by George Lucas. Speaking of droids, Lucas original idea for R2-D2 came after he saw Silent Running and its trio of drones (Huey, Dewey and Louie). The likeness of R2-D2 and the drones prompted a lawsuit from Universal Studios, which was retracted when Fox countersued, noting the similarities between Battlestar Galactica and Star Wars. Sadly, The Force Awakens was the first movie that didn't feature original actor Kenny Baker as R2... although he is in the movie's credits as an R2-D2 consultant.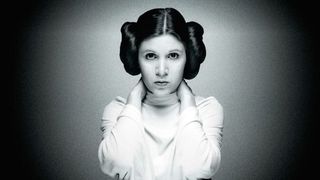 15. You can type this...
Harrison Ford coined a phrase that stuck when he found himself struggling with Lucas's dialogue on A New Hope. Frustrated, he raged: "George, you can type this shit, but you can't say it!" It's a quote that's been attributed to both Ford and Carrie Fisher. Though we could buy either of them saying it, according to Anthony Daniels, it was Ford who voiced what everybody was feeling on set. Proving that she could also be a quip machine, Fisher joked about having her breasts taped down under her costume: as we all know, there is no underwear in space.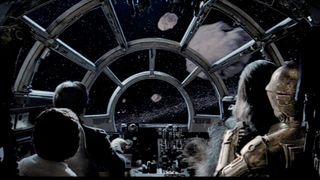 14. Asteroids
The asteroid sequence in The Empire Strikes Back is legendary for its special effects stories. According to numerous SFX crew members, one of the asteroids in the sequence is actually a shoe, while another is a potato. The shoe was reportedly chucked in because one of the SFX animators became so annoyed by Lucas requesting adjustments to the sequence.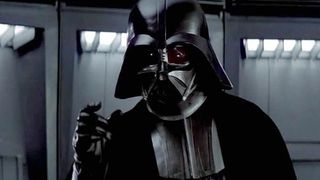 13. The Force
During scripting of A New Hope, the Force was originally envisioned as a kind of galactic holy grail called - wait for it - the Kyber crystal. We now know that Kyber crystals are the rare components at the heart of a Jedi's lightsaber, and Rogue One deals with the mining of them to form the heart of the Deathstar's giant laser. That wasn't the only thing that changed during pre-production. While the Force became more of an energy, Luke and his relatives were originally imagined as dwarves, while Han Solo was going to be a green-skinned monster who had a set of gills and no nose.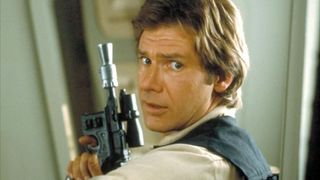 12. Going Solo
Though he was originally envisioned as some kind of Swamp Thing, Han Solo was later reimagined by Lucas as a black character, which prompted him to audition the likes of Glynn Turman and Billy Dee Williams. After a change of heart, Lucas auditioned everybody from Jack Nicholson and Nick Nolte to Christopher Walken before finally settling on Harrison Ford. Now we're getting Alden Ehrenreich as the young Han Solo, and Donald Glover as the young Lando in the forthcoming spin-off movie.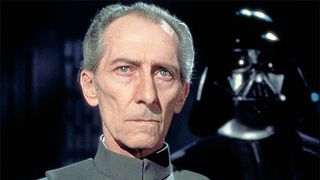 11. From beyond the grave
In Revenge of the Sith, George Lucas originally wanted to resurrect Peter Cushing using stock footage and CGI in order for him to appear as Tarkin, the character he played in A New Hope. Sadly, footage of Cushing was deemed unusable and Lucas was forced to abandon his plan. Of course we now have CG Tarkin in Rogue One, which is - while technologically amazing - deeply creepy.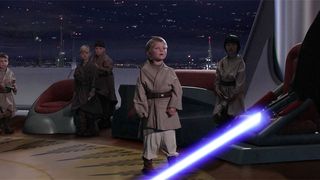 10. Body counts
Episode 3 contains the highest body count of any of the Star Wars films, with a total of 115 deaths on screen. That figure, of course, doesn't factor in the deaths of the population of Alderaan, which was destroyed in Episode 4, nor the implied deaths that are not shown on-screen throughout the franchise. The film with the saga's lowest body count is The Empire Strikes Back, which has just 30.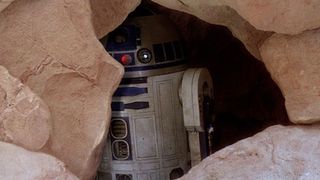 9. Sound advice
Sound editor Ben Burtt's genius knows no bounds. He turned to numerous unusual sources to create the many (MANY) sound effects that he needed for Star Wars. Chewbacca's growls were a mix-tape of various large mammals (mostly bears), while R2-D2's signature whistles are actually baby sounds manipulated to sound electronic. Meanwhile, the lightsaber sound effect was achieved by combining the sound of a movie projector with the feedback made by holding a stripped cable by a TV set.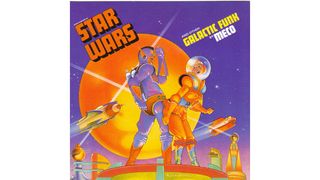 8. Musical number
A pop version of the original Star Wars theme that appeared in A New Hope was remixed by Meco, who created a disco version that included some of the Cantina Band song. In a sure sign of the film's sky-rocketing success, the song climbed to the number one spot on the Billboard Pop Chart in October 1977 and stayed there for two weeks. Time for a reissue, we say...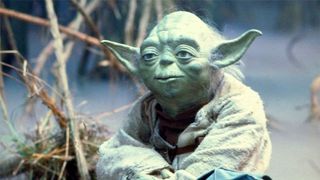 7. Yoda
If Yoda looked familiar the first time you saw him (in The Empire Strikes Back), it's probably because part of his likeness was based on Albert Einstein. In particular, his wise eyes. The puppet was so lifelike, in fact, that director Irvin Kershner often gave it directions instead of puppeteer Frank Oz. Interestingly, Oz only landed the job when original choice Jim Henson turned it down and recommended the puppeteer. Lucas was so impressed with Oz's work that he lobbied for him to receive an Oscar nomination. Sadly it never happened.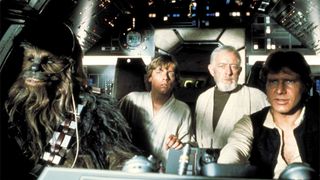 6. Lining up
The saga's most-repeated line is: "I have a bad feeling about this". It originated in Episode 4 (uttered by Luke), before being repeated by Han Solo in the same movie, then Leia in Episode 5, and C3-PO in Episode 6. The prequels continued the trend with Obi-Wan saying it in Episode 1 and Episode 3, and Anakin in Episode II. Han picked up the line once again in The Force Awakens when the Rathtars are set loose on the Millennium Falcon. In Rogue One, it becomes a joke, when K-2SO gets half way through the line and Jyn tells him "Quiet".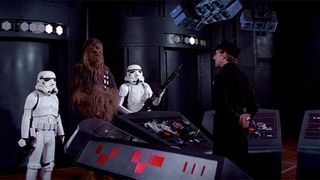 5. The clean wars
During production of A New Hope, Lucas and his team constantly butted heads with the studio's cleaners, who kept cleaning up the sets. It was particularly annoying for Lucas, who wanted his sets to look dirty and lived in. Inspired by Gerry Anderson's work on Thunderbirds, Lucas attempted to dirty up everything that would go on camera. The R2-D2 models in particular were kicked around and rolled in dirt.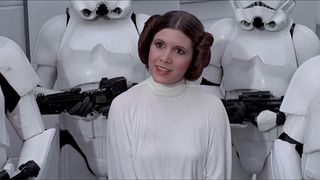 4. Mother issues
The budget on A New Hope was so limited that Lucas and his cast and crew decided to fly to England (from America) in economy rather than first class. When Carrie Fisher's mother, Debbie Reynolds, discovered this, she called Lucas to express her disdain. Luckily, Fisher herself was nearby and took the phone from Lucas to say: "Mother, I want to fly coach, will you fuck off?!" Which is something we can all imagine Princess Leia saying, right?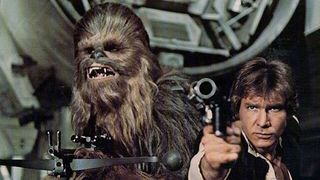 3. Furry shorts
Can you picture what Chewbacca would have looked like if he'd been clothed? That's almost what happened, according to Mark Hamill. The actor has said that studio execs weren't happy about the fact that Chewie is essentially naked for the entirety of A New Hope, and attempted to get his costume redesigned with shorts. Needless to say it never happened.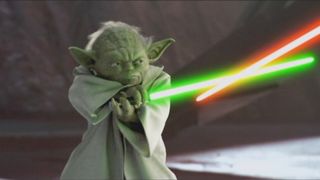 2. Dooku vs Yoda
Though we'd already seen examples of Yoda's formidable power in The Empire Strikes Back, Episode 2 was the first time the little green fella wielded a lightsaber - something the puppet had trouble with previously. During rehearsals of Yoda's fight with Count Dooku, a small Yoda model was put in place for Christopher Lee to use as a reference. Except this Yoda model had been given a pair of vampire fangs as a joke about Lee's historic role as Dracula.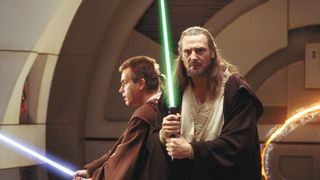 1. Props
Ever thought that the communicator used by Qui-Gon Jinn (Liam Neeson) in The Phantom Menace looked sort of familiar? That's probably because it's actually a Sensor Excel Razor for women, only redecorated to give it an even glossier sci-fi sheen.