Black Widow
At Comic-Con 2010, newly appointed Avengers director Joss Whedon assembled the principal cast of his forthcoming movie on-stage.
Notably, the only woman was Scarlett Johansen, reprising her Iron Man 2 role of S.H.I.E.L.D. agent Natasha Romanoff, aka Black Widow.
But Buffy creator Whedon, no stranger to strong female roles, has since confirmed that Romanoff "will not be the only female character."
Who will join Scar-Jo in the 2012 movie? Looking at Marvel's illustrious history, there is no shortage of candidates to help or hinder the Avengers...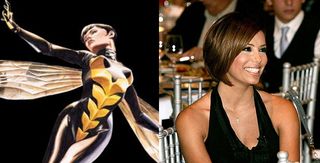 Wasp
The Comic-Book Character: Heiress Janet van Dyne was moved to fight crime after an alien monster killed her father.
Injected with the same particles that powered Ant Man, she can shrink, grow wings and hire energy blasts from her wasp's 'sting.'
The Movie Version: As one of the founding members of The Avengers in print, she's bound to get a look-in at some point.
It'd be fun to seed her backstory as a spoiled princess who will come good in future movies, whether it be The Avengers' sequel or Edgar Wright's in-the-pipeline Ant Man movie.
Played By: Recent rumours suggest that Eva Longoria has screen-tested for the role, and her sexy/spiky persona could well be worth a punt.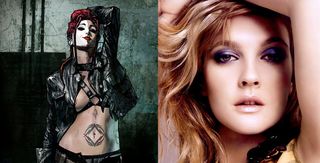 Typhoid Mary
The Comic-Book Character: Mary Walker is mentally ill, with three distinct personas: timid "Mary," violent"Typhoid" and brutal "Bloody Mary.
Helpfully, she's also telekinetic, making her extremely useful as an assassin.
The Movie Version: Already a bit disturbed, Walker is nearly killed during one of the Hulk's rampages and mistakenly believes him and his fellow Avengers to be villains.
So she sides with criminal organisation HYDRA to get her revenge.
Played By: A punk'd up Drew Barrymore could pull off the necessary street-trash aura.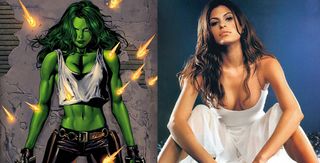 She-Hulk
The Comic-Book Character: Originally a lawyer, Jennifer Susan Walters developed the angry-green gene after cousin Bruce Banner had to give her a blood transfusion.
The Movie Version: Keep tight to the backstory. Walters is a minor character, providing legal counsel for the team and giving Mark Ruffalo's Bruce somebody to spar with.
When tragedy strikes, he gives blood but, in a last-minute twist, Jennifer starts to show signs of Hulking out.
Played By: Eva Mendes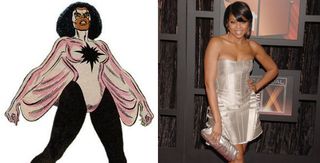 Photon
The Comic-Book Character: Monica Rambeau is capable of transforming herself into any kind of energy: electricity, radiation, cosmic rays, you name it.
This makes her capable of nifty tricks like invisibility, flight and powering toasters.
The Movie Version: With all that kit, the Avengers are going to need somebody to keep the fires at HQ burning. Movie Photon is the team's sparkplug.
Played By: Taraji P. Henson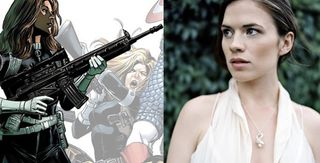 Sharon Carter
The Comic-Book Character: S.H.I.E.L.D. operative Agent 13, she's also the niece of Captain America's original wartime lover, Peggy Carter.
The Movie Version: With Hayley Atwell already playing Peggy Carter opposite Chris Evans's Steve Rogers in The First Avenger, there's scope for a neat gag as the Captain finds her descendant working for Nick Fury in the present day.
Played By: Hard to resist giving Atwell a second role.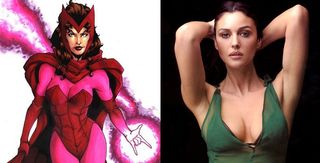 Scarlet Witch
The Comic-Book Character: Wanda Maximoff is the daughter of Magneto. Yes, that Magneto.
In the comics, this villain-turned-Avenger can warp reality, which pretty much means she can do anything.
The Movie Version: Largely responsible for capturing the Avengers by mid-movie, it turns out she despairs of the depths of depravity to which her fellow villains are capable, so helps the Avengers to escape.
Played By: Monica Bellucci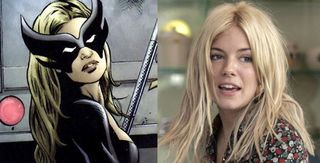 Mockingbird
The Comic-Book Character: Barbara 'Bobbi' Moore has nothing to do with England winning the World Cup. She's yet another S.H.I.E.L.D. agent: no superpowers but an expert fighter nonetheless.
The Movie Version: Considered one of S.H.I.E.L.D's finest at the film's start, she inadvertently stumbles upon HYDRA's big scheme and is offed in a killer early twist, kickstarting the Avengers' adventure.
Played By: Sienna Miller.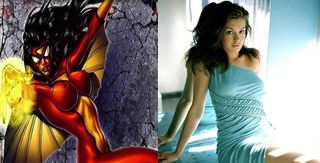 Spider-Woman
The Comic-Book Character: Jessica Drew isn't related to Peter Parker, although her roots are similar (radiation + spiders = Spidey-powers).
Where she truly parts company from the good guys is that she was recruited by HYDRA and, initally at least, fought the Avengers.
The Movie Version: The Avengers are in a pickle and hear the telltale swish of Spidey web-slingers. Saved!
...Or, at least they think they are until Spider-woman swings by on the bad guys' side.
Played By: Anne HathaWay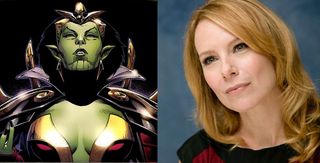 Skrull Queen
The Comic-Book Character: Queen Veranke is leader of the villainous alien Skrull and, like them, a shape-shifter undetectable by the Avengers.
The Movie Version: Tweaking a plot twist from Marvel's Secret Invasion arc, it turns out that Veranke is impersonating Black Widow and has gained access to the inner circle of the Avengers.
A complication they don't need given their battle against HYDRA.
Played By: Amy Ryan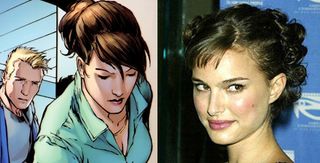 Jane Foster
The Comic-Book Character: A nurse, assigned to Donald Blake (aka Thor), who eventually falls in love with both.
The Movie Version: Already cast, of course, with Natalie Portman's upgraded Jane (a fully-fledged scientist now) joining the Marvel movie family in Kenneth Branagh's forthcoming Thor .
Although she's said she won't be involved in The Avengers movie...seriously, how can Whedon resist?
Played By: Natalie Portman.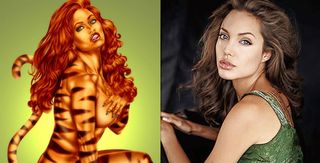 Tigra
The Comic-Book Character: Unusually, Greer Grant Nelson was already a costumed crime-fighter, The Cat, before she became a superhero.
But she was transformed by the ancient race of Cat People into legendary half-human, half-feline Tigra, giving her fur, claws and great strength and agility.
The Movie Version: Here, Tigra is well known to the Avengers, but considered too loose a cannon to play as part of the team.
Nevertheless, they are forced to seek her help when a little feline intuition comes in handy in a raid on HYDRA's jungle lair.
Played By: Angelina Jolie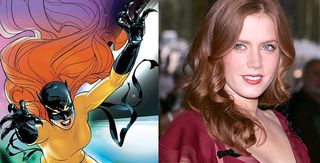 Hellcat
The Comic-Book Character: Patricia "Patsy" Walker was an ex-teen icon who dreamed of becoming a superhero.
Thanks to an old suit from Tigra's old days as The Cat, that's exactly what happened.
The Movie Version: Tigra's apprentice - human, but brought up in the ways of the Cat People and so virtually indistinguisable in manner if not look.
To make up for her lack of true felinity, she fights dirty. Hence the name.
Played By: A cast against type Amy Adams.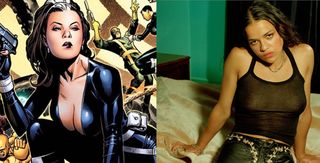 Madame Hydra
The Comic-Book Character: HYDRA high-flyer Valentina Allegra de Fontaine was also Nick Fury's ex. No superpowers, but trained to perfection in combat and espionage.
The Movie Version: HYDRA's head of operations: not unlike a comic-book equivalent to From Russia With Love's Rosa Klebb.
Played By: Michelle Rodriguez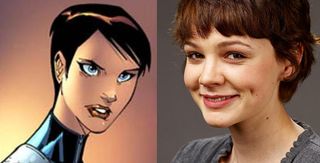 Maria Hill
The Comic-Book Character: Nick Fury's Deputy Director at S.H.I.E.L.D, with particular links to Tony Stark.
The Movie Version: Easy to see her starting as a secretary figure who rises through the ranks to grow in importance...
...and since she eventually becomes an Avenger, she could be one to bloom in the sequel.
Played By: Carey Mulligan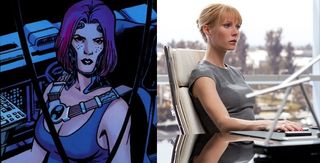 Pepper Potts
The Comic-Book Character: Tony Stark's secretary and unrequited love interest, Virginia "Pepper" Potts.
The Movie Version: Familiar enough by now, since Gwyneth Paltrow has already played her in the two Iron Man films.
Character-wise, she's gone to become CEO of Stark Industries, potentially giving her a cameo role in The Avengers greenlighting Stark's latest crime-fighting gadgets.
Played By: Gwyneth, going for the hat-trick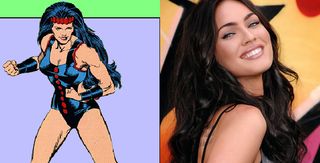 Titania
The Comic-Book Character: Timid weakling Mary MacPherran willingly agreed to follow The Fantastic Four's arch-nemesis Doctor Doom in exchange for powers... so he made her a she-woman.
The Movie Version: HYDRA's muscle, and a girl who can teach the male-dominated Avengers a thing or two in a scrap.
Played By: Megan Fox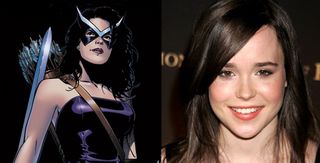 Katherine "Kate" Bishop
The Comic-Book Character: Bishop became a proficient combat expert after being attacked in Central Park; eventually she'd become Hawkeye for the Young Avengers.
The Movie Version: A local kid who Hawkeye (Jeremy Renner) saves from an attack and takes under his wing to train her to fight back.
Played By: Ellen Page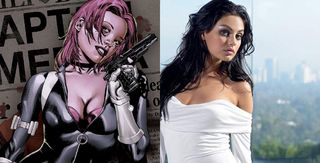 Sin
The Comic-Book Character: Daughter of Captain America's nemesis The Red Skull, Synthia was age-accelerated to fast-track her into his evil plans.
A self-styled evil Mother Superior, Synthia assembled criminal gang the "Sisters of Sin."
The Movie Version: Much as the above. Sin kidnaps orphan girls and brainwashes them into becoming formidable fighters.
Trouble is the Avengers are aware they're really innocent and won't hurt them...which gives them a significant advantage.
Played By: Mila Kunis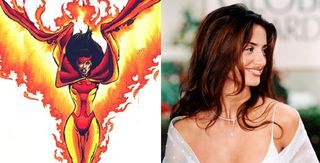 Firebird
The Comic-Book Character: Hit by a radioactive meteroite fragment, Bonita Juarez developed the power to generate heat and flames.
The Movie Version: Another ally of the Avengers considered too hot to handle full-time, Firebird is a freelancer called upon to help out with pyrotechnics when things start hotting up.
Played By: Penelope Cruz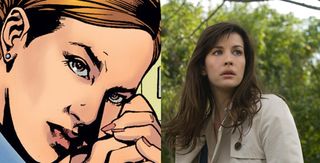 Betty Ross
The Comic-Book Character: The long-suffering love interest of Bruce Banner aka The Incredible Hulk.
The Movie Version: A cameo, as the Avengers' activities draws Betty's attention to Bruce's current whereabouts, and they share a few tender moments in between the mayhem.
Played By: Given that Mark Ruffalo has replaced Edward Norton, Liv Tyler would provide some much-needed continuity with the earlier film.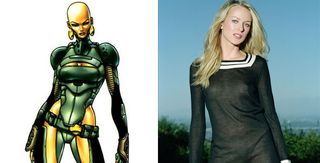 Moondragon
The Comic-Book Character: Heather Douglas is a shaven-headed, bisexual telepath who achieved her powers after being trained by alien monks.
The Movie Version: Effectively working as a spy, Moondragon is the person who gives the Avengers the lowdown on HYDRA's plans and initiates the action.
Played By: A hairless Naomi Watts would provide the necessary gravitas.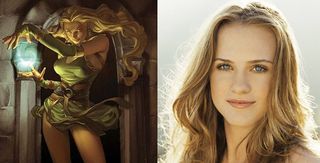 Enchantress
The Comic-Book Character: Like Thor, Amora is an Asgardian - but she decided to side with The Avengers' enemies, the Masters of Evil.
Rather handily, she can make any man become her slave simply by kissing him with her enchanted lips.
The Movie Version: A major villain, who is revealed to have been controlling the Skrull and HYDRA through enchantment for her own nefarious ends.
Played By: Evan Rachel Wood