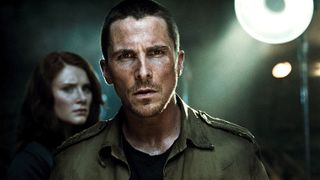 Oh the glamour...
Workplace arguments can get the best of us all, but when your workplace is a movie set, which includes hundreds of cast and crew, a stressful and demanding filming schedule, and a studio breathing down your neck, those little tiffs around the water cooler can escalate into much more serious incidents.
The next 20 'disagreements' showcase just how bad things can get when actors disagree with directors, each other, and, frankly, anyone on set! From Faye Dunaway throwing a cup of urine in Roman Polanski's face, to Christian Bale being caught on camera ranting at a crew member, here are the most awkward movie set spats to ever take place. Bet your office doesn't look too bad now, eh?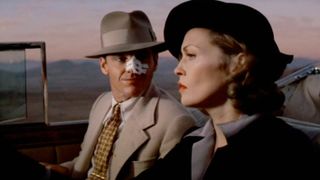 Faye Dunaway vs. Roman Polanski
The movie set: Polanski's 1974 masterpiece Chinatown, in which Faye Dunaway gave great smoulder opposite Jack Nicholson's busted-nose investigator.
The awkward argument: It started with Dunaway attempting to understand the motivations of her character. When she asked her director for, uh, direction, he reportedly merely yelled: "Say the fucking words. Your salary is your motivation!"
Worse still, when one of the actress' stray hairs threatened to ruin a shot, Polanski plucked the offending strand from Dunaway's head without even considering calling in make-up.
Dunaway got her own back when, after her director refused to let her take a loo break, she threw a coffee cup full of urine in his face. Polanski's later description of his lead actress as "a gigantic pain in the ass" seems fitting.
The kiss and make up? Dunaway refuses to address the stories about Chinatown's troubled production. When one Guardian journalist dared ask her about it, she flew into a rage.
"I think you've brought up something that is so distasteful," she told him. "You know very well, I am a lady and you were completely insulting." Didn't really help her case any, did it?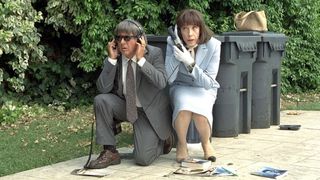 David O. Russell vs. Lily Tomlin
The movie set: Passable domestic comedy I Heart Huckabees, about a husband and wife who go detective on their existential issues.
The awkward argument: Russell lost his rag on the set of the 2004 dramedy, taking his frustrations out on poor Lily Tomlin. Brilliantly, his rant was caught on camera and has been yo-yoing all over YouTube ever since .
Tomlin started it by complaining that Russell was making too many confusing changes to the script (a common issue with Russell movies), which prompted her director's transformtion into a Tasmanian devil of curse-words and desk-sweeping.
Tomlin holds her own with a well-placed "why don't you fuck your whole movie?"
The kiss and make up? There were no hard feelings after the fact, apparently, with Tomlin forgiving her director his fiery temper.
"I just have great affection and regard for David," she said in a post-shoot interview. "There was a lot of pressure in making the movie."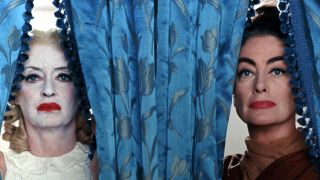 Bette Davis vs. Joan Crawford
The movie set: Classic washed-up-celebrity chiller Whatever Happened To Baby Jane?, in which Davis and Crawford play sisters living together in a ramshackle old house.
The awkward argument: A bitter rivalry had raged between the two actresses for almost 30 years (amid rumours of man-stealing and bisexual liaisons) before they made Baby Jane.
Their enmity came to a head rather literally during one scene in which Davis' character kicks the living daylights out of Crawford's.
The scene was meant to a no-contact, choreographed outburst, but Davis ended up booting Crawford in the head for real. Crawford ended up needing three stitches and was left with a lump on her forehead the size of an egg.
She got her own back by sewing weights into her dress for another scene in which Davis has to heave her across the floor…
The kiss and make up? "Miss Crawford and I weren't enemies," Davis maintained in 1979. "We made one film together. We didn't know each other at all." Hello denial, old friend.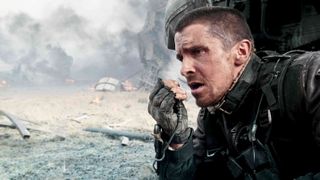 Christian Bale vs. Shane Hurlbut
The movie set: Futuristic fourquel Terminator Salvation, which has Christian Bale taking on the role of mankind's saviour John Connor.
The awkward argument: The most recent on this list (it took place July 2008), Christian Bale's furious rant at director of photography Shane Hurlbut caused a storm in the tabloids.
During a filthy four minute rant, Bale loses it completely, yelling at Hurlbut for breaking his concentration by walking on set during a scene. Bale's so angry he even switches between an American and an English accent.
The recording (presumably leaked by an insurer) went on to become an online sensation thanks to numerous wickedly funny memes .
The kiss and make up? Bale and Hurlbut talked the incident out afterwards and patched things up. Later, Bale publicly apologised on the radio, admitting that he'd "acted like a punk". He's a big softie, really.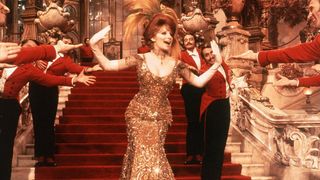 Walter Matthau vs. Barbra Streisand
The movie set: The lavish '60s musical Hello, Dolly! sees Barbra Streisand star as a titular warbling matchmaker.
The awkward argument: Matthau infamously referred to Streisand as having "no more talent than a butterfly's fart". The pair bickered throughout filming, and Matthau refused to be near the actress unless the script demanded it.
"He hated Barbra Streisand," says Christopher Andersen, author of Barbra – As She Is. "He had just won an Oscar for The Fortune Cookie. She was running the show. She was telling the director, Gene Kelly, how to direct that movie.
"Walter Matthau went to the head of the studio, Richard Zanuck, and Zanuck said, 'I'd love to help you but this is not Hello, Walter! we're making.'"
The kiss and make up? They may have fought on-set, but Matthau clearly held no grudges against his co-star. Years later, he was an invitation-only guest at her One Voice concert, paying $5,000 for the privilege.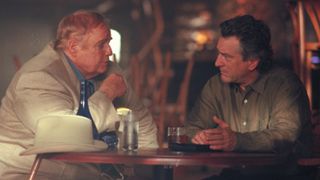 Marlon Brando vs. Frank Oz
The movie set: So-so crime comedy The Score, in which Brando played an elderly gay thief about to take on an epic heist with the help of Ed Norton's young thug.
The awkward argument: Despite earning a cool $3m for just three weeks of work, a 77-year-old Brando was as typically diva-ish as usual during his time shooting with director Frank Oz.
Refusing to dumb down his overly camp performance at Oz's request, Brando began referring to his director as "Miss Piggy" (Oz, of course, voiced the porky puppet in The Muppets), while snarling: "I bet you wish I was a puppet so you could... make me do what you want."
Brando even allegedly refused to come to the set if Oz was present, forcing co-star Robert DeNiro to direct one of his scenes.
The kiss and make up? Time magazine ran their report on The Score's tricky on-set antics, detailing the above quarrels, but Frank Oz has frequently denied any problems ever existed.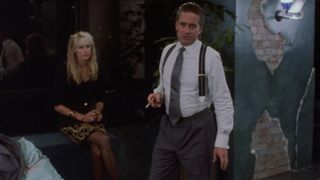 Sean Young vs. Daryl Hannah/Oliver Stone
The movie set: Oliver Stone's momentous money-flavoured Wall Street; Charlie Sheen's an upstart stockbroker, Daryl Hannah's his wispy-haired love interest, and Michael Douglas is the slimy money-raker who corrupts them all.
The awkward argument: There's making a fool of yourself (say, turning up at the Warner Bros lot dressed as Catwoman hoping to bag the role), and then there's really making a fool of yourself.
Young's ability to rattle was never more evident than during her time on Stone's 1987 opus. She'd already landed the role of Gordon Gekko's wife, but she irritated her director no end by suggesting that she should switch parts with Hannah.
Stone became so infuriated one day that he cut Young's scene short, put her on a bus home, and sliced her role in half.
The kiss and make up? Young's not worked with Stone since. That probably speaks for itself. "I'm a comeback waiting to happen," the actress told EW in 2008. "No one deserves it more than I do." We're still waiting, too, Sean…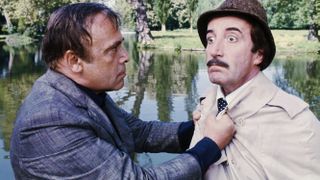 Peter Sellers vs. Blake Edwards
The movie set: The sets of five Pink Panther movies, as well as comedy The Party.
The awkward argument: Though their combined creativity forged a handful of cinematic Pink Panther masterpieces (and 1968 laugh riot The Party), Sellers and Edwards shared a famously strained relationship.
They would often refuse to speak to each other on set, while Edwards once said that working with Sellers was "truly a schizophrenic experience".
Revenge of the Pink Panther in 1978 was their last Panther film together, though Edwards went on to direct further adventures with a different cast. Those Sellers-less efforts all bombed.
The kiss and make up? Sellers was working on a new Pink Panther film when he died. His relationship with Edwards had deteriorated such much by this point that Edwards was not involved in the film's production.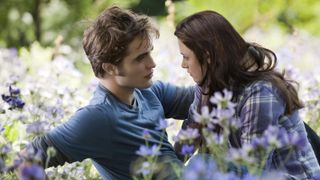 Kristen Stewart vs. Robert Pattinson
The movie set: Shirt-less wonder Eclipse, third film in the interminable Twilight Saga about a young teen who falls in love with a pale, frown-y vampire.
The awkward argument: Ah, young love. Accusations were hurled when Pattinson turned up on the Eclipse set later than co-star Stewart. The latter had a meltdown, accusing Pattinson of spending time in a burlesque bar.
Said an onlooker: "When Robert arrived, he and Kristen started fighting. She accused him of taking a later flight from London because he had been hanging out too late at a burlesque bar. She accused him right in front of the director and crew."
Needless to say, the crew recessed and the sparring pair had a private make-up session.
The kiss and make up? Evidently things are rosy now. The pair have finished filming the final chapter of the Twilight Saga (two-hander Breaking Dawn) and no reports of further bust-ups have emerged.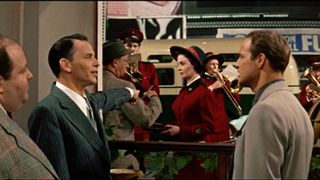 Marlon Brando vs. Frank Sinatra
The movie set: The all-singing, all-dancing movie version of musical Guys and Dolls.
The awkward argument: It didn't start out well – crooner Frank Sinatra wanted to play Sky Masterson, but to his chagrin it was Marlon Brando who landed the role.
That early admonition affected the entire Guys and Dolls shoot, with both men taking a dislike to one another. Showing he wasn't afraid of Brando, Sinatra dubbed him 'Mumbles' because he was barely ever coherent on set.
The kiss and make up? The two never recovered. "Frank's the kind of guy who, when he gets to Heaven, is going to give God a hard time for making him bald," Brando later said.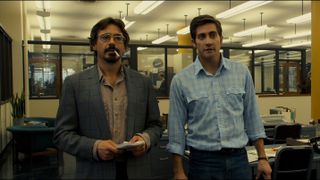 Jake Gyllenhaal vs. David Fincher
The movie set: Mystery-with-no-conclusion thriller Zodiac, with Jake Gyllanhaal and Robert Downey Jr attempting to unmask a serial killer who's menacing San Francisco in the '60s and '70s.
The awkward argument: "We'd do a lot of takes, and [Fincher would] turn, and he would say, 'Delete the last 10 takes,'" mopes Gyllenhaal. "And as an actor, that's very hard to hear."
Director Fincher apparently established a cruel technique for ridding Gyllenhaal of his "earnestness", forcing him to endure take after take during a punishing shoot. "Usually by take 17 the earnestness is gone," the director says. Ouch.
The kiss and make up? Neither actor nor director showed for Zodiac's LA premiere, and there are no plans for them to work together again. Shame, Fincher's technique seemed to work, with Gyllenhaal delivering a stunning performance in the film.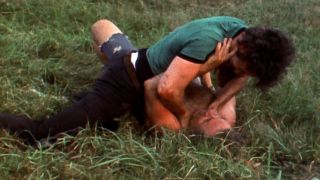 Rip Torn vs. Norman Mailer
The movie set: Maidstone, the third film from director Norman Mailer. He plays a man running for president. Rip Torn is his needy, sponging brother Raoul.
The awkward argument: Torn and Mailer improvised a fight scene that ended up turning into a real, bloody scuffle on the set of Maidstone.
First, Torn bashed Mailer over the head with a hammer, causing Mailer's scalp to open. Instead of backing off, Mailer wrestled Torn to the floor and chewed off a chunk of the actor's ear.
The fight only stopped when Mailer's wife waded in (while their children cried in the background), and despite everybody involved using their real names, the scene still made it into the movie .
The kiss and make up? Torn was reportedly outraged at Mailer's approach to directing, which would explain why they never worked together again.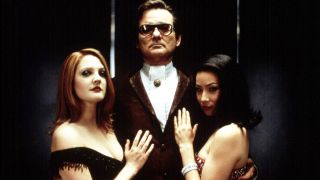 Bill Murray vs. Lucy Liu
The movie set: A big screen reboot of beloved TV series Charlie's Angels, directed by McG.
The awkward argument: Murray caused quite a scene during shooting of the TV update. At one point, he interrupted shooting in order to address the three leading ladies.
"I get why you're here," he said to Drew Barrymore. "And you've got talent," he commended Cameron Diaz. "But what in the hell are you doing here? You can't act."
That last was aimed at Lucy Liu, who was none too pleased and showed her displeasure by aiming a few swift blows at the tactless comedian. They had to be separated by crew members.
The kiss and make up? Wonder why Murray wasn't in the second Charlie's Angels film…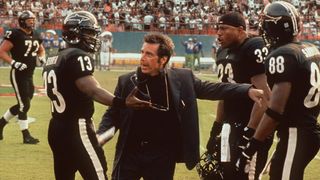 LL Cool J vs. Jamie Foxx
The movie set: Al Pacino-led sports drama Any Given Sunday, about a team of American football players.
The awkward argument: There are plenty of actors who like to stay in character throughout filming (Tom Hardy gave journalists a scare when he stayed in character on the set of Bronson), but LL Cool J found it particularly difficult to separate reality from fiction while shooting Any Given Sunday.
While his character and Foxx's get into a ruckus on-camera, Cool J failed to stop fighting after director Oliver Stone yelled cut. His temperamental behaviour prompted Foxx to call the police and file assault charges.
"It wasn't Jamie and I fighting," Mr Cool insists. "It was our characters."
The kiss and make up? It took them seven years, but the duo are friends again, with Foxx providing vocals on Cool's album Todd Smith.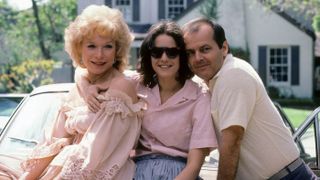 Debra Winger vs. Shirley MacLaine
The movie set: Touchy-feely book adaptation Terms Of Endearment, about a mother and daughter who are as different as they are close.
The awkward argument: Winger certainly didn't do much to endear her co-star MacLaine to her during shooting of this domestic drama. She and MacLaine played a sparring mother and daughter in the film, a relationship that wasn't all that different from that of the actresses themselves.
MacLaine reportedly had no appetite for Winger's flighty, erratic behaviour. With Winger reported to have once lifted her skirt and aimed a fart at her older co-star, it's not hard to see why.
The kiss and make up? MacLaine beat Winger to an Oscar and celebrated by cheering "I deserve this!"
According to Winger, there were no hard feelings, though. "There was no blood drawn," Winger told an interviewer later. "There might have been a scuffle. I don't remember. I mean, we were wild, you know."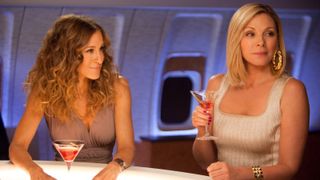 Sarah Jessica Parker vs. Kim Cattrall
The movie set: Controversy-heavy sequel Sex and the City 2, which saw the four Manhattan man-eaters jetting off to Abu Dhabi.
The awkward argument: Rumours of cat-fighting had plagued Sex and the City's TV run for years, but things apparently finally bottomed out on the set of Sex and the City 2.
Behind the scenes reports held that instead of slinging barbed insults at one another, Cattrall and Parker barely spoke during filming, instead bitching behind each others' backs. Meow.
The kiss and make up? Cattrall reportedly left the premiere screening of SATC2 after just the first few minutes. And no, there are no plans for a third Sex and the City.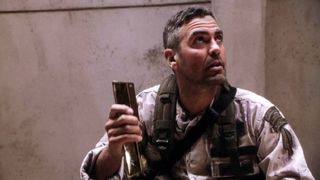 David O. Russell vs. George Clooney
The movie set: War-themed gold heist drama Three Kings, starring George Clooney, Mark Wahblerg and Ice Cube.
The awkward argument: Clooney struggled from the off to keep both his burgeoning movie career and his TV commitments in check while shooting Three Kings. It soon turned into what Clooney calls "the worst experience of my life".
During shooting in the Arizona desert, director Russell demonstrated how he wanted an extra to throw an actor to the ground. Feeling he'd gone too far, Clooney stepped in to help said actor.
In return, Russell snapped. "Why don't you just worry about your fucking acting?!" he screamed. "You want to hit me? Come on, hit me." The director then seized his lead man by the throat, and Clooney "went nuts". Take from that what you will.
The kiss and make up? Clooney's said he'll never work with Russell again, though he acknowledges that the director is "tremendously talented". Perfect gent.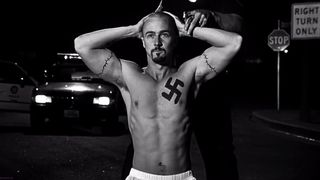 Edward Norton vs. Tony Kaye
The movie set: Black-and-white hard-hitter American History X, which follows a former neo-Nazi who tries to rescue his younger brother from the same fate.
The awkward argument: What began as a perfectly amicable relationship soon turned sour as Norton attempted to rescue what he felt was a disaster of a movie.
Norton gave the film's script a polish (with Kaye's blessing), but then rushed in to edit the movie himself when Kaye assembled a shocking 87 minute cut.
In response, Kaye demanded his name be removed from the credits, and called Norton a "narcissistic dilettante", accusing him of "raping" his film.
"If Tony Kaye hadn't wanted to make the movie with me, the studio wouldn't have made the movie with Tony Kaye," Norton said on the matter.
The kiss and make up? Norton got a second Oscar nomination for his performance, but also earned a reputation as being difficult to work with. Kaye, meanwhile, has only directed DTV garbage.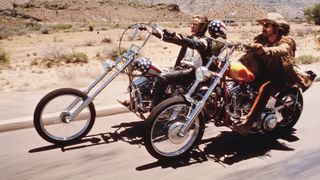 Dennis Hopper vs. Rip Torn
The movie set: Restless '60s road movie Easy Rider.
The awkward argument: Didn't think Rip Torn was even in Easy Rider? Well, he's not, and that's because director Dennis Hopper gave him the boot.
Thirty years after the event, Hopper admitted to Jay Leno on The Tonight Show that he'd been forced to fire Torn from the movie when the latter pulled a knife on him during an on-set argument.
Jack Nicholson was brought in to replace him. And the rest is history.
The kiss and make up? No kissing and making up here. Rip Torn filed a defamation lawsuit against Hopper after he made the story public, alledging it was really Hopper waving a knife around.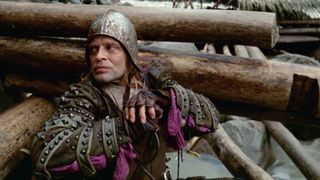 Werner Herzog vs. Klaus Kinski
The movie set: German film Aguirre, Wrath Of God. Set in the 16th century, it follows madman Aguirre, who goes on a quest for El Dorado.
The awkward argument: Perhaps the most famous of all on-set clashes took place between director Werner Herzog and Klaus Kinski while filming 1972's Aguirre.
Though the pair were best friends, their relationship was as temperamental as a volcano. When Kinski threatened to leave the film set, Herzog pulled a gun on him.
Kinski wasn't an innocent victim, though – he fired three rifle shots one night during filming, aggravated at the noise the cast and crew were making while playing cards in a nearby hut.
The kiss and make up? Herzog and Kinski worked together five times, but they never left their rivalry behind. Ten years later, while making Fitzcarraldo, Herzog attempted to kill Kinski by setting fire to his house while he slept…