The unexpected gems of Cannes
From its modest beginnings in the '40s, the Cannes Film Festival has become synonymous with granting movies global recognition. Each year juries assembled from the industry elite award a handful of prestigious prizes to the very best films entered into their coveted array of categories.
But we're not here to talk about the prestige. We're on about the movies that anyone would queue up to see at your local multiplex. Films that are a cut above, most definitely, but not so far above that you haven't got a cat in hell's chance of understanding them. Cannes has witnessed tons of these cinematic triumphs play its screens, from small unknown indies to explosive studio blockbusters.
So here's our rundown of the best movies that premiered at Cannes. Not all left with prizes, not all left with universal acclaim, but that's not stopped this bunch from becoming films that you'd actually want to watch.
25. Barton Fink (1991)
The movie: A hard-boiled Coen brothers classic starring John Turturro as an East coast screenwriter who relocates to Hollywood to pursue his dreams. He strikes out with writer's block while holed up at the Hotel Earle, a dismal abode that's made all the more creepy by his neighbor, played to perfection by John Goodman.
Why you want to see it: This is one of the sibling duo's darkest comedies. There's tons of literary and cinematic references woven into the plot, so you can give yourself points for each one you spot.
24. L.A. Confidential (1997)
The movie: Based on James Ellroy's hard-boiled noir, Curtis Hanson takes an old school thriller story and turns it on its head. The movie examines the political climate in Hollywood in the early '50s through the investigations of a potentially-crooked LAPD.
Why you want to see it: If you're not bowled over by the superb performances of Kevin Spacey, Danny De Vito and Kim Basinger - or the compelling story - then you might get a kick out of its two leads. Complete unknowns at the time Guy Pearce and Russell Crowe totally steal the show.
23. Desperado (1995)
The movie: A guy, a guitar and a buttload of guns. That's the short version. This follow-up to El Mariachi is Robert Rodriguez's first Big Movie, putting him and his leading man on the Hollywood radar. Antonio Banderas stars as a desperado with oodles of musical talent and a guitar case that doubles as a weapons locker.
Why you want to see it: Didja not see the picture above? Banderas and Salma Hayek walking away from an explosion. Big 'effing guns. Need I say more?
22. Maniac (2012)
The movie: Want to be inside the mind of a vicious murderer? Look no further! A loose remake of the '80s horror of the same name, Franck Khalfoun's 2012 movie stars Elijah Wood as Frank Zito, a killer who stalks women in New York City and scalps them. It's one of the best horrors to come out in the last decade.
Why you want to see it: As serial killer movies go, this one's out there. The style of shooting mostly favors the killer's viewpoint, which, if you've ever watched Peep Show you'll know is creepy as hell. When you've got Wood on top form as a psychopath - that you barely see - it's even creepier.
21. WarGames (1983)
The movie: Before he became Ferris, Matthew Broderick nearly started a nuclear war playing a teen hacker who accesses a military supercomputer. It can't be, though can it? Yes, somehow the super-smart lad doesn't quite realise until it's too late that the machine he's been playing games with believes World War III is imminent...
Why you want to see it: Old school '80s computers that are boxier than your first car; Broderick with a superb hairdo... nah, this one's worth seeing because it's just a damn good thriller.
20. Willow (1988)
The movie: Ron Howard's family-friendly '80s fantasy. Yeah, it premiered at Cannes! Even though the movie was a modest hit at the box office and received middling reviews at the time, it's become something of a cult classic. Warwick Davis plays a young man whose fate is entangled with that of an orphan he discovers floating down the river. This baby could rid the kingdom of the evil sorcerer...
Why you want to see it: Nearly thirty years before Game of Thrones hoisted up the fantasy genre by its geek culture lapels and hoisted it into the mainstream, Willow did that same thing on the big screen. With less tits and violence. Doesn't make it any less fun though.
19. The Neon Demon (2016)
The movie: Announced a few years back as Refn's first horror movie, The Neon Demon has a terrific cast. Christina Hendricks, Jena Malone, Keanu Reeves appear alongside Elle Fanning, who stars as an eager actress-model who hits up L.A. to make her dreams come true. It's not long before she comes to learn that the women who want to help her are hiding a secret.
Why you want to see it: It's Nicolas Winding Refn doing a proper horror movie. It's like imagining David Lynch doing a romantic comedy.
18. Sicario (2015)
The movie: Sicario completely knocks you for six right off the bat with a stunning opening sequence. Of the back of the brilliant Prisoners and Enemy, Denis Villeneuve directs this hard-hitting thriller about the US-Mexico drug trade that stars Emily Blunt as an FBI agent given a shady-as-hell assignment. She joins a task force aiming to bring down the kingpin of Mexican cartel.
Why you want to see it: Dark, compelling, and boasting one hell of a performance from Blunt, there's no reason not to. Prepare yourself for a lot of 'No they didn't!' moments.
17. Kiss Kiss Bang Bang (2005)
The movie: Part murder-mystery, flat-out comedy and thriller, Kiss Kiss Bang Bang is one of the best flicks to ever spoof the film noir genre. Harry Lockhart, a petty crook, accidentally winds up in an audition and blows away the casting directors who send him to Hollywood. This Christmastime whodunit crackles along with some of the best dialogue ever to emerge from Robert Downey Jr.'s mouth.
Why you want to see it: Remember all that great snappy dialogue from '80s Lethal Weapon, The Last Boy Scout and The Long Kiss Goodnight? All the handiwork of Shane Black, who also wrote and directed this corker.
16. The Skin I Live In (2011)
The movie: Another bananas Pedro Almodovar outing. The Spanish director trades the sharp, dialogue-driven family dramas of his earlier work for something else entirely. Antonio Banderas stars as a morally-bankrupt surgeon whose research into synthetic skin leads him to make some shocking steps outside of the norm.
Why you want to see it: Reading up on the plot should be avoided at all costs - and adding it to your watchlist should be done immediately. There's no other movie of recent years that's such a torrid blend of drama, comedy and thriller. At its core though, this is as a deliciously twisted body horror. Cronenberg would be proud.
15. The Usual Suspects (1995)
The movie: Gabriel Byrne, Kevin Spacey, Benicio Del Toro, Stephen Baldwin and Kevin Pollak star as the group of five criminals who club together to take down the mysterious kingpin known as Keyser Soze. The whole thing is told in flashbacks from the POV of Spacey's character Verbal Kint as he recants his tale to the cops. Christopher McQuarrie (Mission Impossible) made his screenwriting debut on the film, and Bryan Singer (X-Men) directs.
Why you want to see it: This is the movie which kickstarted a whole sub-genre of crime flicks that ended on twists. If for some reason you've never seen it - and never had it spoiled - then get it watched, pronto.
14. No Country For Old Men (2007)
The movie: The Coen brothers jaunt into western territory created this thrilling cat-n-mouse gem that borrows elements of the 'bumbling fool stumbles upon fortune' tale from previous Coen outings. None of those had Javier Bardem, or his badass haircut. Or that insane bolt gun for that matter.
Why you want to see it: Seriously, just to see Bardem's psychopath Anton Chigurh. And, if you're a comic book movie fan, it'll give you a chance to see Josh 'Thanos' Brolin in a role that's the polar opposite of his Marvel villain. He does the nice guy schtick pretty well.
13. A Scanner Darkly (2006)
The movie: Almost a decade before Boyhood hit cinemas, Richard Linklater busied himself with other projects including this gorgeous thriller based on Philip K. Dick's novel. It tells of a dystopian future where the war on drugs has been lost - everyone's hooked on Substance D causing the population to constantly experience hallucinations. Keanu Reeves stars as an undercover cop tasked with finding suppliers.
Why you want to see it: It's a beautiful-looking film that uses a technique known as interpolated rotoscoping - artists go over each frame of a movie by hand to make it look animated.
12. Kung Fury (2015)
The movie: Writer-director-actor David Sanberg grew up loving '80s action films and police movies. And, it seems he had a fondness for sci-fi too. Whatever it was he liked, you can bet it's all in his Kickstarter-funded film Kung Fury. It's hard to categorise a movie that defies labels so I'll just say that this is the best spoof you'll ever see.
Why you want to see it: Dude, there's a dinosaur cop, time travel, and a plot to kill Hitler. Oh and a drunk arcade machine that wants a punch-up.
11. It Follows (2015)
The movie: From the opening sequence to the final shot, It Follows will really have you wondering what the hell is going on. It's atmospheric in its own unique way because this is a horror with no clearly defined villain. Maika Monroe's teenager sleeps with a guy who then tells her that he's passed something to her. That thing is death, which slowly stalks the 'infected', resembling anybody it likes.
Why you want to see it: It's kinda like Adam Wingard's The Guest as it channels '80s John Carpenter without ripping him off. From the gorgeous synthy score to the weird blending of eras, writer-director David Robert Mitchell really nails the eerie mood.
10. The BFG (2016)
The movie: Steven Spielberg just might be ready to drop his best family flick since E.T. this summer. The next movie on his slate is the long-awaited adaptation of The BFG, starring newcomer Ruby Barnhill as a young orphan girl visited by a big friendly, giant (hey, that's BFG!). He whisks her away to a world unlike ours, where giants roam free, and err, quite enjoying eating kids.
Why you want to see it: It's Roald Dahl's best book ever! And it's being directed by Steven Spielberg!
9. The Fifth Element (1997)
The movie: Back when Bruce Willis was a bankable star he managed to get some more unusual films on his resume. Luc Besson's sci-fi extravaganza is one of them. Willis stars as cabbie Korben Dallas who crosses paths with Milla Jovovich's Leeloo, an orange-haired girl who's actually the fifth element. Yes, that's a big deal. It gets over-the-top crackers from there and doesn't really let up.
Why you want to see it: It's worth checking out for Chris Tucker's amazing outfit alone. In fact, most of the costumes are cracking thanks to the absurdist eye of Jean Paul Gaultier who worked as the designer. If you like your sci-fi with a side of zany, zany ZAAANY action, then look no further.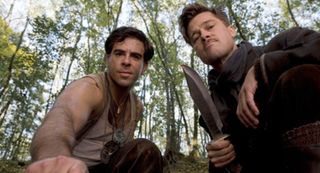 8. Inglourious Basterds (2009)
The movie: Only Tarantino can create a movie that's essentially four or five scenes stretched out over 150 minutes, and you won't think anything of it. Inglourious Basterds begins with possibly his longest-ever opening sequence, setting the stage for that same sense of the slow-burn throughout. The main story follows a group of Nazi hunters, led by Brad Pitt's Aldo Raine, who are out to slay the Fuhrer's henchmen.
Why you want to see it: The basement bar scene.... it's just stunning. From the minute it begins you won't have any idea how it'll end up.
7. Fear and Loathing In Las Vegas (1998)
The movie: Terry Gilliam's opus is an adaptation of Hunter S. Thompson's autobiographical book. Like that novel it's utterly barmy. Forget your sophisticated plots, this stoner movie follows Johnny Depp (as Thompson) and Benicio Del Toro (as his best pal Gonzo) as they drive from L.A. to Las Vegas to cover a motorcycle race for work. Oh, and there's the small matter of their sizeable drugs stash.
Why you want to see it: If you thought Leo's drug-added meltdown in Wolf of Wall Street was good, you're gonna love what Depp and Del Toro are like off their faces. Yeah, it all gets rather reptilian.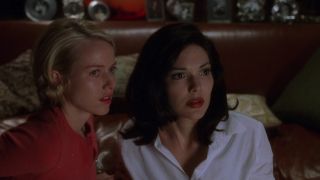 6. Mulholland Drive (2001)
The movie: David Lynch's amnesiac thriller is just divine. Its murder-mystery story twists and turns around Hollywood hopeful Betty, who plans to make her dreams come true by becoming a serious actress. Throw in an amnesiac in the shower, shady mafia men, a hitman... ah, the list of strange, compelling characters goes on and on for Lynch's masterpiece. Bottom line is, Betty's in for one hell of a ride.
Why you want to see it: Betty's persona switch midway through - along with the belly-flopped plot - showcases Naomi Watts utterly phenomenal performance. It's astonishing that she didn't win the Oscar that year.
5. Taxi Driver (1976)
The movie: One of the most-celebrated 'isolated loner' movies to define a generation. Taxi Driver is (arguably) the crowning achievement of Martin Scorsese's career, with both he and Robert De Niro - as the troubled cabbie Travis Bickle - inspiring young filmmakers and actors everywhere to go method. It's haunting, often very funny, and quite simply a masterpiece.
Why you want to see it: If you've heard the line "You talkin' to me?" and not known where it's from - it's Taxi Driver. Watching that clip on its own is terrific, but it comes alive when you see it in the movie.
4. Pan's Labyrinth (2006)
The movie: Horror and fantasy maestro Guillermo del Toro's fairytale homage wowed in 2006 with its unflinching violence and creeping terror that pops out of every frame. This story of a young girl's experiences in a post-Civil War Spain is beautifully shot and packs a punch at its unexpected ending.
Why you want to see it: Scary and heart-breaking - this is how you do fantasy right - by making us care. And that's exactly what the Cannes audience thought; they gave it a long standing ovation. And I mean long. The audience were on their feet clapping for 22 minutes.
3. Drive (2011)
The movie: After a burgeoning European film career, Nicolas Winding Refn took the leap to big Hollywood movies with Drive. His first collaboration with Ryan Gosling - whose practically dialogue-free role is one of the actor's most iconic - is his best ever. Gosling plays a stunt driver who winds up moonlighting by helping out crooks as their getaway guy.
Why you want to see it: Like Quentin Tarantino-esque violence? Well, imagine that, except way, way more stylised with buckets more blood, gore and bad language. It's grrrreat.
2. Pulp Fiction (1994)
The movie: Quentin Tarantino's second film totally takes apart how we normally watch movies, flitting between three different storylines all of which are told out of order. There's Vince and Jules, the two criminals who shoot the shit about trivial day-to-day stuff; Mia Wallace, the gangster's girlfriend with a nasty drug habit; and Butch Coolidge the boxer who makes crappy decisions. Tarantino attracted an A-list cast to bring it to life and cinema has never been the same since.
Why you want to see it: If you've reached this point in life and you've not seen Pulp Fiction, then you probably want to see it so you don't feel left out of the cultural conversation.
1. Mad Max: Fury Road (2015)
The movie: Normally when a film's production is reported as 'rocky' and it gets its release date pushed back, everyone fears the worst. Then there's Mad Max: Fury Road. A decades-late sequel that totally blew everyone away, it's a hyper-kinetic assault that won over fans and critics, most of whom declared it a game-changer for the action genre.
Why you want to see it: Oh, why wouldn't you want to see it? Director George Miller shatters expectations of your standard actioner, making a road movie to nowhere that never ever lets up. Phenomenal set pieces, sky-high explosions, superb characters, and Charlize Theron kickin' ass.