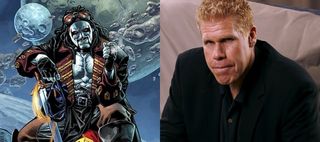 Lobo
The Villain: Ridiculously strong and ridiculously evil. Doubt it? Lobo wiped out his entire race on home planet Czarnia (for kicks) before heading to Earth to fight Green Lantern. Also, his name is Khundian for "he who devours your entrails and thoroughly enjoys it". Lovely.

Coolest Quality: Accelerated healing means Lobo's near impossible to destroy – his body can repair itself from any kind of assault.

Likelihood Of Appearing: Lobo's a popular villain in the DCverse – so much so that Guy Ritchie was attached to direct a solo movie outing for him in 2009. That project looks to be all but dead now, though, so an appearance in Lantern 2 is highly likely.

Perfect Casting: Ron Perlman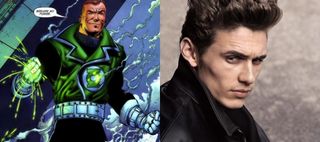 Guy Gardner
The Villain: Son to an alcoholic and abusive father, Guy turned out good after attending college. But when alien Lantern Abin Sur crash-lands on Earth, the dying Lantern finds two possible successors in the form of Guy and Hal Jordan. Jordan's closer, which means he's the one who's picked.

Gardner is relegated to back-up, and is later recruited by the Controllers. They give him his own power ring and order him to recruit the most deadly criminals in the universe to go up against the Lanterns.

Coolest Quality: When he acquires a red ring, Gardner is able to generate flames and form them into solid constructs. Hot stuff.

Likelihood Of Appearing: Gardner has a small role in the Green Lantern movie, which means the chances of his character being expanded in any sequels is almost a dead cert.

Perfect Casting: James Franco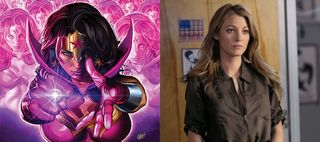 Star Sapphire
The Villain: Queen to a race known as the Zamarons. When each incarnation of Star Sapphire dies, her followers scour the universe for a physically identical mortal on whom they bestow their queen's powers.

When Hal Jordan's love interest Carol Ferris is selected as the next Star Sapphire, she is ordered by the Zamarons to defeat him to settle a matter of revenge, and the two become enemies.

Coolest Quality: The gem of power grants Sapphire the ability to fly, as well as throw energy blasts that almost match the power of the Lantern's ring.

Likelihood Of Appearing: Extremely high, with Blake Lively already having dropped hints that her Ferris will follow the comics with respect to the character's transformation into Sapphire. That said, they may want to draw that arc out into a trilogy, so Sapphire's debut could well be delayed until Lantern 3 .

Perfect Casting: Blake Lively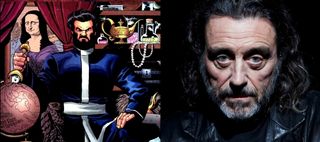 Vandal Savage
The Villain: Power mad, Savage was born 50,000 years ago, son to Vandar Adg, the chief of a tribe of Co-Magnons. After becoming master of the Illuminati, Savage is caught in the path of a falling meteor, which endows him with immortality. Savage is generally a schemer who has spent centuries seeking to gain more power.

Coolest Quality: Vandal pairs a knife-sharp intellect with the ability to manipulate inter-dimensional warps, and occasionally uses magic.

Likelihood Of Appearing: Savage would work as a one-off foe, but his backstory (which includes time traveller Rip Hunter killing his father) is a little too convoluted to work as a villain subplot.

Perfect Casting: Ian McShane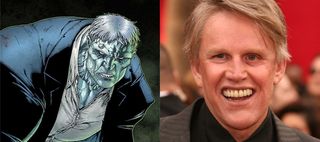 Solomon Grundy
The Villain: Killed by a prostitute's boyfriend in 1894, Grundy's (formerly Cyrus Gold) body was dumped into Gotham's Slaughter Swamp.

Coalescing (and convalescing) over 50 years at the bottom of the swamp, Grundy emerges as a powerful monster - with no memory of his former self - who falls in with a group of thugs in modern day Gotham City.

Coolest Quality: He may have super-strength and near invincibility, but Grundy's main advantage is that he never has to sleep, eat or even breathe. Just think what he can get done with that much free time.

Likelihood Of Appearing: Grundy would make for a good 'B villain', who's utilised as a brawny intimidator by the film's 'A villain'. Likelihood - fair to average.

Perfect Casting: Gary Busey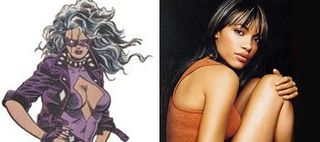 Harlequin
The Villain: A mysterious young woman whose real name remains unknown, this feisty fighter follows in the footsteps of Molly Mayne, Duela Dent and Marcie Cooper by taking on the Harlequin moniker.

As a young girl, she discovered she had the power to create illusions and, upon learning the story of Green Lantern Alan Scott and his love affair with the original Harlequin, she knew it was her destiny to grow up and be with a Lantern.

Coolest Quality: Harlequin can create realistic illusions and use them to taunt her victims.

Likelihood Of Appearing: Harlequin would be perfect for spicing up the relationship between Hal and Carol Ferris in a second movie – especially as a replacement lover if Ferris goes rogue in Lantern 2.

Perfect Casting: Rosario Dawson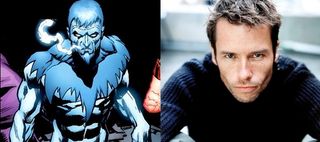 Icicle
The Villain: The son of European physicist Dr Joar Mahkent, who created a pioneering ice gun, Cameron Mahkent has the ability to create and manipulate ice.
He affiliates himself with numerous supervillain groups, and comes close to killing Brainwave Jr during a scheme to murder the members of Infinity Inc.

Coolest Quality: Using ambient moisture, Icicle is able to create icy items like walls and missiles, and uses sleet and rain as forms of assault.

Likelihood Of Appearing: Icicle could be appearing in David Goyer's script for Green Arrow film Super Max , meaning he's unlikely to show up in Lantern 2 – unless we get a crossover event.

Perfect Casting: Guy Pearce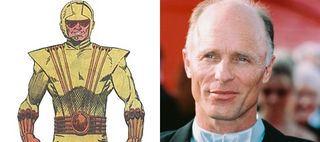 Puppeteer
The Villain: A scientist turned evil schemer, the Puppeteer (aka Jordan Weir) creates a hypno-ray which he uses to control criminals. Literally pulling their strings for them, he manipulates them into carrying out jobs for him, leading to a crime wave in Coast City.

Coolest Quality: Hypno-ray aside, Puppeteer also has an army of robots at his disposal.

Likelihood Of Appearing: Puppeteer could prove useful in a scheme to make Hal look inept in his heroic pursuits, much like The Joker did in The Dark Knight . He smacks of 'B villain', though, so don't hold your breath.

Perfect Casting: Ed Harris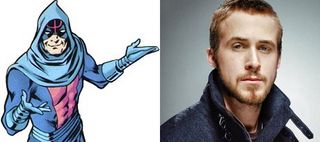 Major Disaster
The Villain: A petty criminal, Paul Booker breaks into Tom Kalmaku's apartment in order to evade the police. There, though, he discovers Kalmaku's confidential Green Lantern Casebook, which contains the secret identity of Lantern Hal Jordan, as well as The Flash Barry Allen.

Spying an opportunity, Booker endeavours to turn himself into a criminal supervillain, hiring scientists to turn him into Major Disaster.

Coolest Quality: Transformed into Major Disaster, Booker has the ability to create natural disasters like tidal waves and earthquakes – to which he's completely immune.

Likelihood Of Appearing: Interesting parallels between Hal being bestowed power and Booker's desperation for it could be drawn in a movie, while Major Disaster's powers could result in some awesome set-pieces. Mark this as a very possible 'maybe'.

Perfect Casting: Ryan Gosling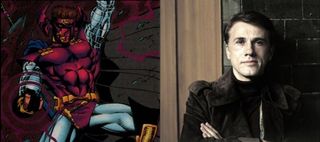 Doctor Polaris
The Villain: Real name Dr Neil Emerson, this physician was once a kindly do-gooder who used electromagnetism in order to cure otherwise devastating illnesses.

When his psyche splits, though, Emerson is literally in two minds – with the other one called Dr Polaris, who's obsessed with his never-ending search for more magnetic power.

Coolest Quality: Polaris can manipulate magnetic fields, while he can also fly and destroy most metal constructs.

Likelihood Of Appearing: Polaris could be a formidable foe for Jordan, not least because his dual identity echoes our favourite Green Lantern's. That said, Polaris' backstory would need some serious padding out. Could be an interesting challenge, mind.

Perfect Casting: Christoph Waltz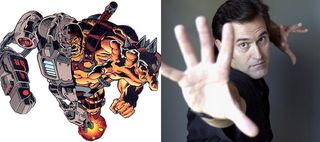 Duality
The Villain: Created by the last Guardian Ganthet, Duality is made up of two warriors squashed into one. One half is a beefy, barbaric, sword-wielding alien; the other is robotic with its very own energy blaster.

Duality was created in order to test new Lantern Kyle Rayner's ability to cope with his new power ring.

Coolest Quality: Duality is a genius combination of old school and hi-tech, boasting the best of both worlds – on the one hand (literally) he has muscle and a sword, while the other has a jet engine and an energy gun.

Likelihood Of Appearing: He'd be a fun addition for a training segment, with Jordan honing his abilities while up against the giant nemesis. That's if they have the budget for such a glorified cameo.

Perfect Casting: Bruce Campbell (under a lot of prosthetics)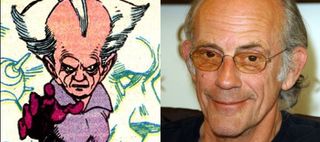 Myrwhydden
The Villain: A devious sorcerer, Myrwhydden ruled a whole planet using his enchantments, until alien Lantern Abin Sur got whiff of it. Gagging him so that he can't cast any spells, Abin Sur shrinks Myrwhydden down and imprisons him in his power ring.

When Abin Sur dies, Myrwhydden takes on the current possessor of his ring, Hal Jordan. Jordan enters the ring to do battle with the impish sorcerer, and eventually outsmarts him.

Coolest Quality: Myrwhydden is only able to cast spells by coming up with fancy rhymes.

Likelihood Of Appearing: Pretty slim, he's sort of a daft little guy, isn't he?

Perfect Casting: Christopher Lloyd (shrunk down, of course)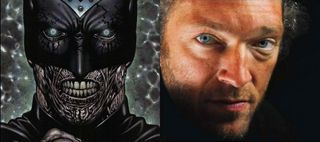 Black Hand
The Villain: Originally known as William Hand, this villain grew up obsessed with dead bodies thanks to being raised at the family's mortuary.
He's stalked by necromancer Atrocitus, who senses in William the 'power of the black', a strange new force that he wants to use to gain revenge on the Guardians.

Hal Jordan and Sinestro intervene when Atrocitus attempts to kill William with a cosmic divining rod. But now Hand is hearing a voice that urges him to do evil things, and he kills using the rod before branding himself Black Hand.

Coolest Quality: Thanks to alien gremlins, Hand can absorb the life force of people near him to repair his wounds. His cosmic rod is also able to manipulate Lantern power rings.

Likelihood Of Appearing: Hand's a creepy, multi-faceted character with an interesting origins story and cool abilities. In short, he'd make for a great screen villain.

Perfect Casting: Vincent Cassel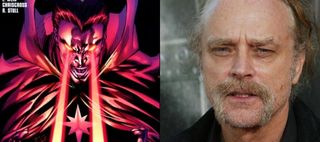 Evil Star
The Villain: Evil Star is a scientist living on the planet Aoran who draws energy from the stars in order to cheat death. Inventing the starband, he uses the device to prolong his life, but the power turns him evil.

His reliance on the belt leads to the destruction of his fellow Aorans, and Evil Star scours the galaxy for new worlds to annihilate – meaning he's frequently up against the Lantern Corps.

Coolest Quality: Evil Star has his own minions, the Starlings, who he controls completely and are miniature versions of him.

Likelihood Of Appearing: It depends on how intergalactic the minds behind the Lantern movie(s) want to take their stories. The whole concept is already pretty out there, so Lantern 2 's villain will probably be Earth-centric in order to anchor the story. That said, Evil Star could easily be relocated to our planet.

Perfect Casting: Brad Dourif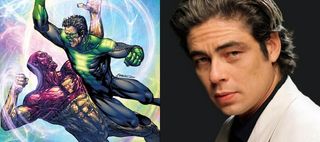 Major Force
The Villain: A test subject in the US Government's 1960s Project Atom, murderous psychopath Sgt Clifford Zmeck is destroyed during a test in which he's surrounded by strange alien alloy before a hydrogen bomb is dropped on him.

In reality, Zmeck hasn't been destroyed – the explosion merely catapulted him through time, and he emerges in our time with his body fused with the alien alloy, making him superhuman.

Coolest Quality: Major Force is invulnerable thanks to the metal coating his body, and he's able to use black matter as an assault weapon.

Likelihood Of Appearing: Another one who feels more like a 'B villain', Major Force would make for an intimidating henchman, which means he's probably pretty high up on the list.

Perfect Casting: Benicio Del Toro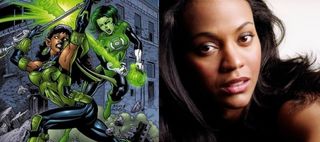 Fatality
The Villain: The sole survivor of the planet Xanshi, Yrra Cynril's homeworld was accidentally destroyed by Lantern John Stewart.

Having survived thanks to being off-world trained, Cynril gives herself over to revenge, takes on the name Fatality, trains to become a deadly warrior and hunts down and kills Green Lanterns.

Coolest Quality: Fatality has a pair of jet boots, and uses a cool energy staff as her primary weapon of choice.

Likelihood Of Appearing: The idea of a villainess slaughtering Lanterns is a neat one, and the moral dilemma of Fatality looking for vengeance would be fun to play out, with Hal split in his loyalties. And if they can get Zoe Saldana for the role, this would be a very enticing prospect.

Perfect Casting: Zoe Saldana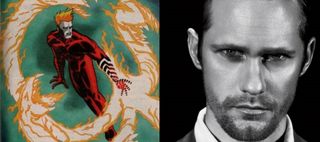 Effigy
The Villain: Experimented on by the Controllers, Seattle native Martyn Van Wyck was kidnapped by the alien race who attempts to create superhumans in order to use them as protectors.

But when he's returned to Earth, Wyck discovers he has power over fire, which he can use to create all manner of deadly conjurations – like flaming tigers, for example. He becomes obsessed with causing destruction for fun, attracting the attention of the Lanterns.

Coolest Quality: Effigy's fiery constructs include battle armour and various creatures. He can also fire torrents of flame as a defence mechanism.

Likelihood Of Appearing: We all like a villain who just likes to watch the world burn, and Effigy's one of those forces of nature who could prove a challenge for Jordan simply because he's just a bit of a nutter.

Perfect Casting: Alexander Skarsgård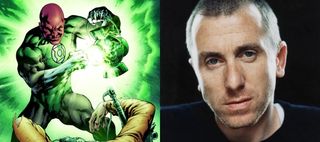 Amon Sur
The Villain: Bitter son of alien Lantern Abin Sur, Amon is hurt that his father abandoned his family and his planet, died on Earth and gave his ring to a human man.

Determined to live up to his father's legacy (without the use of a power ring), Amon joins forces with an intergalactic group of criminals called the Black Circle Syndicate.

Coolest Quality: Being of Ungaran physiology, Amon can regenerate all of his limbs, as well as his head. Which surely comes in handy on the battlefield.

Likelihood Of Appearing: Amon seems more like a Lantern 3 villain than a first sequel nemesis – if only because his appearance in a trilogy-closing third Lantern movie would dovetail nicely with the first film.

Perfect Casting: Tim Roth