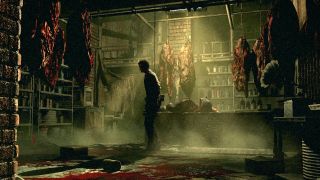 Bloody hellish
The Evil Within is a horrible game. I mean that in the most delightful sense, of course. I love a good survival-horror experience, and this new one, from original Resident Evil creator Shinji Mikami, is shaping up to be exactly that. This is no glorified cover-shooter with tentacles thrown in for good measure. It's a malicious, brutal, tense, atmospheric fiend of a thing, that takes nothing but the most utter joy from putting you through the wringer again and again, in a giddy array of increasingly unpleasant ways.
I recently played my way through a solid couple of hours of the game, currently set for release in October. Two concepts struck me during those 120 minutes. Firstly, The Evil Within feels like exactly what real survival horror would have evolved into by now if we hadn't gone the route of grenades and rock-punching over the last generation. Secondly, the genre's original spirit has become one hell of a twisted, inventive, sordid little genius during its sabbatical. Here are the 13 nastiest things I happened upon.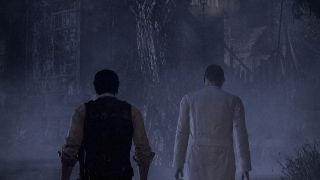 The horribly familiar ambiance
One thing is instantly apparent when I start playing The Evil Within. Ive been here before. Or rather, Ive been somewhere very much like this. Somewhere that felt the same, while in reality being a different place entirely. Its like the way that bad dreams all have variants of that same, hyper-aware, weighty atmosphere. Recognition rapidly dawns on me. Im in Resident Evil 4 country.
Theres the immediate iconography, of course. That horrible, rotting staleness of the rural horror setting. The skewered cows head on a pole. The all-permeating mist that thickens the air and tightens the tension, giving the space around me a choking heaviness and kinetic life of its own. But it goes beyond that. The Evil Within is undoubtedly a new, unique game. It's certainly not retreading old ground, as you'll discover a little later on. But that atmosphere--that thick, stinking, foreboding atmosphere--can't fail to conjure up distraught memories of what happened last time a game felt like this. It's wonderfully wonderfully vile and exciting, all at the same time.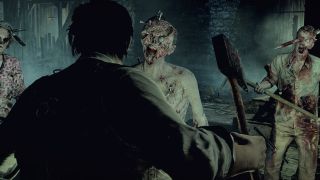 The extreme widescreen horror-vision
A simple detail, this one, but one that will screw with your head for the entire duration of the game. Director Shinji Mikami, gleeful engineer of utter bastardry that he is, has chosen to render the whole game in a super-widescreen aspect ratio, with black bars at the top and bottom of the screen narrowing the display down far beyond the usual 16:9/16:10.
The end result, frankly, is horrid. While it doesnt necessarily make the game any more difficult to play, the distracting, claustrophobic sense of being boxed in is a permanent, subliminal source of stress. Is there a threat above me? No idea. Is there something at my feet getting ready to take a large, nourishing bite out of my knee-caps? No way to tell. If I want any idea of the overall level of danger, I need to back up, take a look, and then head back in, hoping Ive spotted everything. Its a simple but damnably clever design trick, making my immediate environment constantly dangerous by nature of its sheer proximity.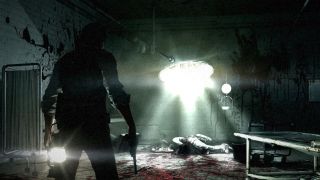 The twisting, surreal nightmare of it all
A little later, I find myself in a long, subterranean corridor. I have a couple of NPCs with me, relating vague backstory and reducing the sense of tension through the illusion of human contact. Just as Im starting to relax a little, all of that goes away in the most drastic way imaginable. In a flash, the entire corridor changes. Theres now a new, distinctly foreboding room ahead of me in the distance. I turn around to consult my companions, but theyve gone, along with the corridor behind me and the staircase we entered it from.
The safe area Ive already cleared out is nowhere to be seen, and what stretches out in its place could now contain anything. Having no choice, I press on to the new chamber. In it, I find nothing good.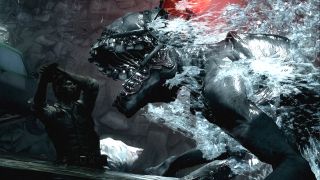 An unkillable spider made of limbs
Instead, I find the rapidly materialising corpse-spider creature youve probably seen in the trailers. She/it is a skittering nightmare of a thing, immediately chasing me back down the corridor with the unapologetic threat of an instant kill should I not make it through the easily-missed side-door in time.
On first attempt I dont make it. The reason? While there are plenty of unkillable, run-and-hope enemies in The Evil Within, the game puts a great deal of emphasis on the hope part of that equation. And the reason for that is...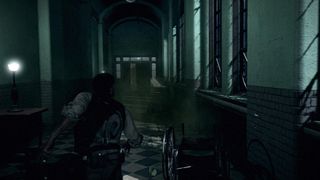 Sebastian's total lack of athletic ability
As well as a desperately fragile health bar, protagonist Sebastian has a stamina gauge, governing his ability to sprint. This might sound similar to Resident Evil 5s system for managing the noble art of zombie-punching track and field, but in truth its a far more malicious little bugger. Its not there to give you ease of escape, but rather to take it away.
You see throughout my demo--taking in two separate sections of the game, several hours apart--at no point does it provide me enough juice to perform anything approaching an impressive getaway. Sebastian has a scant few seconds of sprinting ability at best. And at worst, if I dont keep a close eye on his energy reserves and slow down before the meter is (rapidly) depleted, hell find himself staggered, stuck to the spot while he catches his breath. Any advantage cleaned from the initial run is immediately undone. Its utterly brutal, and it puts a very big smile on my face.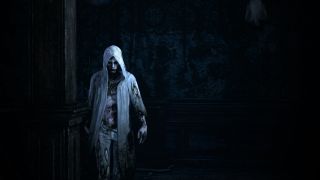 A horrifying no-win situation
Immediately following my escape from the limb-failing horror of my last pursuer, I find myself atop a very long industrial staircase, spiralling down into darkness. At least thats what I think. After descending a few flights, I find that it drops off to nothing. Crap. I start to think about alternative routes, but Im not allowed that luxury for long. Theres another flash, and an apparition of Ruvik--the games invulnerable, current big bad--appears in front of me.
His movement is slow, deliberate, and full of single-minded intent, like that of a ghostly Terminator. I turn 180 to run, already knowing that theres nowhere to go. Theres nothing back there but the locked door I used to keep the corpse-spider at bay. But right now theres nothing to do but get away from from Ruvik and hope for the best. Based on current knowledge Ive got a few seconds to survive at most, but given the immediate situation Ill happily take those few seconds over dying right here and now. I make it to the top and await the inevitable. But it doesnt come. Instead the entire staircase collapses, plunging me hundreds of feet to whatever lies below. I inhale a brief sense of reprieve, but it doesnt last long. What lies below is hardly an improvement.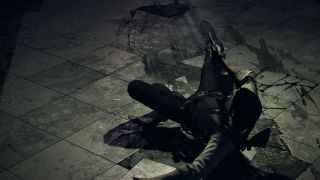 A blood-drenched deathtrap
Sebastian regains his senses in a moderately-sized industrial chamber. There are concrete walkways on either side, but in the middle, where I am, is a large, waist-deep pond of blood. Imagine the Death Stars trash compactor, but with floating, discarded anatomy instead of rusting space junk. I quickly scramble out and start to explore.
Along the way I find a few interesting details. Crates that bestow a paltry handful of much-needed pistol rounds. Ladders that lead to platforms going nowhere. The occasional petrol can, lying around or suspended from a chain. A few levers sticking out of the walls. Finding no route out, I experiment with detonating and activating what I find. The former explode uselessly. The latter deliver the full brunt of unseen harpoon traps. Soon Im limping around on minimal health, still looking for an exit. The Evil Withins environments are clearly not here for my convenience. Quite the opposite. The surreal, twisting dream-logic of the corridor above should have told me that. Suddenly aware that Im getting no easy answers, I resolve myself to look harder. Then Ruvik comes back.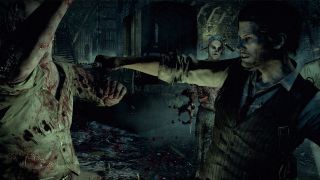 A blood-drenched deathtrap filled with zombies
He doesnt directly attack this time. Instead, he fires a flash of light across the room and disappears. Its not a good light, like the kind at the end of the proverbial tunnel. Its more like the kind emitted by a small nuke going off in ones toilet just after unzipping. Five or six shambling but aggressive mutants rise out of the blood and come at me from every direction. Im low on ammo and health, having already used the rooms resources while exploring it. And previous experience tells me that any of these things can take off 2/3 of my health bar in one grapple attack. Im in trouble.
Clearly, the traps were meant for another target. Its now obvious what that dangling petrol can was for. Unconvinced Ive got anything left to work with, I get moving, telling myself Im using tactical use of space and elevation to get the upper hand, but knowing that Im also just running away. I manage to take down a couple of zombies with headshots, and eventually find the one petrol can I havent already wasted. I kick it towards a group in a doorway and detonate it. But theres one left. And I only have one bullet and one spear trap. I shoot to get his attention, then run to the trap and hope for the best.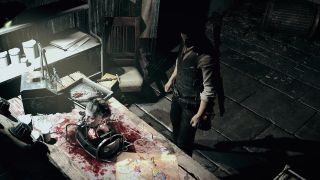 A brilliantly obtuse, brilliantly macabre puzzle
In the later mansion section--theres a brilliant sense throughout the demo of Mikami taking back his old survival-horror territory and making it even more unpleasant--things become slower, but no less harrowing. While the mansion is a rangey, multidirectional structure full of optional areas and rooms, my ultimate progress is curtailed by two main puzzles. One requires me to seek out three severed heads and probe them with an electrified needle in order to play out hallucinatory backstory and release the gallons of blood that unlock a main doorway (yep, you just read that), the other demands that I find the hidden combination to a safe.
While Lucas has already detailed the former, the latter is even more interesting, being related through the same abstract, implicit instructions that fueled the classic survival-horror puzzles of the 90s. I find a scrap of narrative history relating a brutal execution scene, but no direct objective. After a little exploration, I discover two copies of a painting depicting said event. One has its top half torn away, the other its bottom section. I count the number of people in each half and hope that the resulting numbers make up the combination. They do, and I press on. But the process of getting that far is nothing like as easy as Ive just made it sound.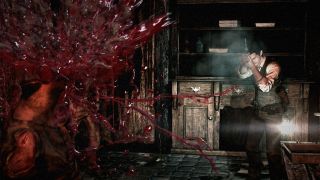 An overwhelming, entirely unexpected death
The scraps of painting are tucked away at opposite ends of the mansion, and--much like the puzzle they belong to--are not flagged up or explained in any way. Just finding them takes a while, but as for getting close enough to note down the required information Yikes. The first painting, for instance, is on the mezzanine of a library. Theres already a female mutant stalking the room on an erratic patrol path, and it takes some tense and ballsy stealth-stalking before I can put her down with a silent knife to the head.
Upstairs, I find myself on a rickety, ring-shaped platform, with the painting on the other side and a dead mutant between me and it on either side. As I step forward, one springs up. Then the other. Im surrounded. I back away from the first, hoping I can burst his skull before I step backward into the clutches of monster number two. Before I can squeeze off a second shot, theres another flash. Ruvik appears directly behind be and kills me in an instant. The second zombie doesnt even get a look in. Shaken and confused, I restart, wondering how the hell something so brutal has just happened, seemingly at random. On my second attempt, I discover something very important. And brilliant. You see The Evil Within has...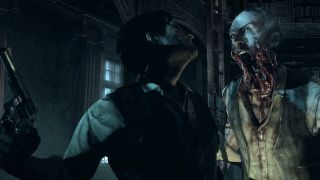 Completely unpredictable monsters
My second time through the library, theres only one zombie lying on the ground upstairs. Ruvik remains staunchly absent. I count my blessings, but feel Ive got off too easily. Im alive, but the tension is now rising with every second that Im not attacked. This becomes a consistent theme as I explore the mansion further. As it turns out, while certain enemies will appear, scripted, in certain areas every time, some others have more general behaviours. Sometimes they turn up, sometimes they dont. Sometimes their numbers will vary, or the timing of their appearance will change. Ruvik himself seems to be on a randomised timer, capable of appearing anywhere you might be, however inconvenient.
Factor in the knowledge that it takes very specific treatment to permanently kill an enemy in The Evil Within--namely burning the body or exploding the skull, both of which require desperately rare resources--and thats a hell of a scenario for mixing up the bloody cat-and-mouse game. In The Evil Within, if you relax in the knowledge that youve learned all the threats in an area, youre actually in more danger than ever before. And as for dealing with those threats, that's all about...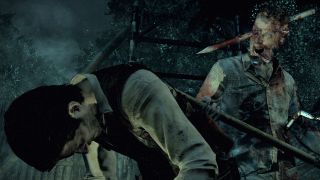 Knife-edge, tactical combat
Some things you need to understand about The Evil Within's combat. Firearms will put enemies down, but only temporarily unless you take the time to finish them off. The sound of gunfire will bring other monsters in the area straight to the party. Ammo is incredibly scarce. Stealth kills are silent, but take a lot of risky maneuvering. In short, fight stealthy, quick, and smart, and if in doubt, just get the hell away and hide. And with Ruvik, hiding is the only option.
Fortunately, Sebastians array of throwable lures (wine bottles are most abundant in the mansion) open up the option to distract, divide and survive. His most important tactical tool, however, is his crossbow. Take, for example, the group of zombies that invade the library as Im trying to leave. Ducking behind a desk. I fire my sole electric trap-bolt near the door, creating an electrified trip-wire, BioShock-style. That gets one of them, but there are three more. One falls to a silent arrow. The other two start patrolling aggressively, so I run back up to the top floor. I have one arrow-mounted proximity mine, so I embed it in the ladder as I hide again. After scrabbling around for a bottle, I hurl one down to get someones attention. My trap works. Boom. But the last mutant is now very agitated, and the last stealth kill is going to be very tricky indeed.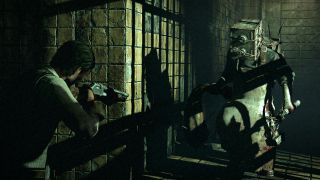 The hindrance of a 'helpful' health boost
There is a health upgrade system in The Evil Within, but in-keeping with the personality of the game, it will only help you out while delivering a simultaneous kick in the teeth. At a later point in the mansion, I discover a special health syringe. Im told that it will permanently increase my health capacity, but that there will be side effects. Checking around to make sure that Im as safe as can be, I give it a go. Immediately everything goes to shit.
My vision is blurred to the point that I can barely make out my surroundings, let alone navigate them. Then I notice that in the centre of the blur, near where the door once was, something is moving, and its speeding up. All I can do is literally blind-fire and hope that a) I hit whatever my target is, and b) my flailing shots dont bring all the other undead boys to the yard. A few seconds later I have an empty clip and a corpse at my feet, but no idea whether the monsters appearance was scripted to coincide with my health boost, or a dynamic coincidence. Thats the great thing about The Evil Within. Its impossible to ever know. All I do know is that the syringe has increased my bar by a grand total of about 5 pixels. Damn you, Mikami, you glorious bastard.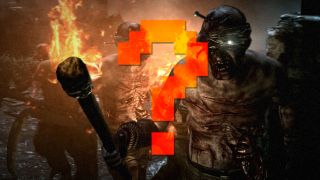 Scared yet?
So there are my findings from my most recent wade through the bloody mire. Thoughts? Excited for the return of real Japanese survival-horror, or do you still fear rock-punching. Let me know.
And while you're here, check out some of our related content. For all the nitty-gritty details on The Evil Within, have a look at our Road to the review article. And if you want to keep things on a general survival horror bent, check out our list of the Best horror games.