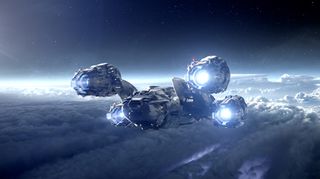 Why is the ship called Prometheus?
It's a Weyland in-joke, tied to the concept of science allowing men to be gods, as outlined in his TED talk.
Scott says... "The title was really a metaphor for a being challenging the gods. In a funny kind of way, that's what this story is about.
"The platform is fundamentally about who made us and if they aren't gods, who made them?
"It's discussing that chain of events that actually represents all of creation."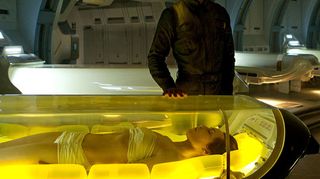 What purpose did the dream sequence serve?
The golden rule in screenwriting is to show, not tell.
We're massive fans of Prometheus , but we can understand the criticism that the film has too many mysteries.
And we think that's because there was too much showing, and not enough telling.
This scene is a great example.
It makes perfect sense when it's explained in the commentary by Scott, but the film makes literally no mention of a concept that no audience member would be able to guess this early in the narrative (most people would have put it down to foreshadowing, and would end up disappointed that it doesn't have a pay-off).
"It was my thought that as and when cryogenics become successful, which I guess they might at some point, that because the brain is a muscle, you better keep that brain working during the state of hibernation, and therefore, maybe what you do is psychologically list, with the right doctor, psychologist, a number of dreams that can then be somehow captured in your mind state enabling your muscle to exercise itself during the time that you're asleep," Scott says.
"So I thought that was a pretty interesting idea. It sounds vaguely logical. Whether it is or not, I don't know."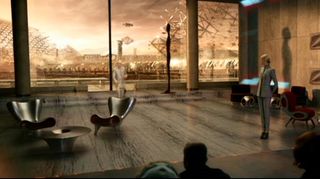 How did Weyland know where to look when he's addressing the room as a hologram?
This one is so easy we don't even need Ridley's help.
As anyone who's had to do a presentation will tell you, you practice in an empty room first, remembering to make eye contact with the empty chairs.
That's all Weyland is doing here. He's looking at where he imagines the crew will be sitting, that's all.
What's interesting about this scene is Weyland has a more complicated backstory than we realised.
According to the commentary, he's 90 years old when he records his hologram speech, and is at one of his bases on Mars.
Scott eleborates: "He was a prospector on Mars, and made his money finding giant uranium plots as opposed to oil. He's the 21st century equivalent of the oil men."
So, Peter Weyland is the Prometheus equivalent of Daniel Plainview. Pretty cool.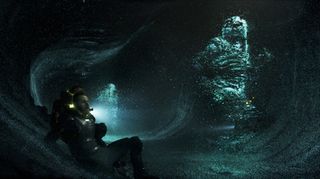 Why did the engineer go back into the vase room if they were trying to escape - did he leave his phone there or what?
Scott's pretty clear on this, in the panic of the escape the Engineer doesn't deliberately go into the room…
"He falls. And we don't know yet, but a door dropped on his head. So there was a trap door in there. They went through that emergency exit.'"
It's not immediately clear that the Engineer falls on the first watch, so we're glad Ridley's explained this one for us.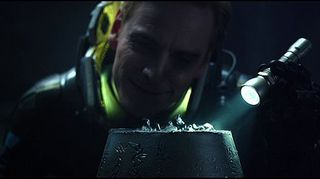 Is the black stuff the Engineers' chemical weapon?
When our heroes go into the vase room... "There's a mural on the ceiling which looks like it might be human, but it looks like a human - its very mysterious - it looks like a human in a form of distress - and maybe it's a human in terms of being sacrificed to the idea of this evolution," Scott says.
"Kind of rather what I call a really dangerous creation. What they've created here is really dangerous."
So, basically, the Engineers' method of populating planets - as seen in the opening sequence - is poisonous to humans.
So, they weren't carrying weapons of mass destruction to earth.
They're weapons of mass creation.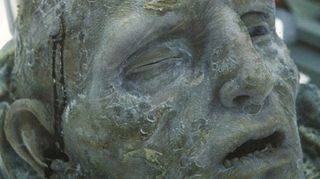 How rubbish are the scientists if they can't even examine a head without blowing it up?
A lot of online critics have complained that Noomi essentially puts the head into a microwave at too high a setting, which is obviously a fairly terrible experiment.
But the Engineer is infected by what was in the vase room, and that's what causes his demise.
"The thing starts to weep with blackish blood and starts to disintegrate. But worse than that it starts to change shape.
"So he was already infected with something. He's already going into an evolution."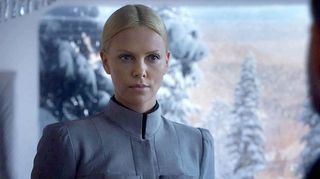 Is Vickers a robot - does it have a double meaning when she calls Weyland father?
Nope, Ridley's pretty pleased with the father / daughter dynamic, and the fact that she's essentially on the mission to impress her dad, and keeps coming back to the subject throughout the commentary.
He confirms that Vickers is definitely not a robot during the scene in which Janek asks her the question directly.
"This scene here is comical in one sense because he's saying to her 'Hey, are you a robot?' And at one stage I was thinking 'Well, do I need it?' But the scene is so good and so amusing that I thought, 'Why not?' But it also aligns with the scene in the blue corridor, where she asks David what the mystery person said.
"Now here Janek's saying - and he's being amusing - saying, 'You a robot?'
"But he kind of means it, because he knows David's a shipboard company robot, whatever you want to call it, I think a company employee would be the best description, is she another employee? So even Janek hasn't twigged who she is."
Who she is is Weyland's daughter. There's no deeper mystery than that. That's the film's Ash twist.
Later, Ridley says of David...
"They said, let's hide the fact he's a robot, and I said no. I've done replicants, there's been a trillion robots, let's just make him a company employee who happens to be a goddamn robot."
There's no hidden robots in this film.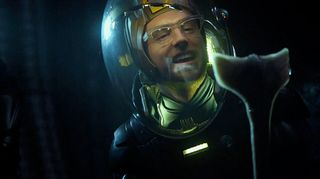 Why does Millburn run from the Engineer, but isn't afraid of the worm?
This one didn't really make sense for us on first watch.
The guy's a biologist, so surely he'd be interested in a dead alien? And if he's so freaked out by an alien corpse, why isn't he scared of a live one?
But, as Ridley explains, he's not actually a general biologist, he specialises.
"It's a guy who is an entomologist, small creatures and insects.
"This is the first real violent piece of the film, I think people aren't suspecting what can happen from such a small slender object as that."
So, giant decapitated corpse - not his speciality. But live alien worm, fascinating, and within his field of expertise.
We still think it's a bit too scary looking to want to give it a cuddle straight away, but we guess Millburn felt protected by his suit - which must be pretty sturdy.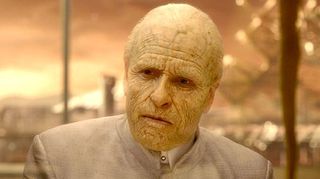 Why cast Guy Pearce as an old man?
Firstly, as a lot of people know already, there were scenes involving Weyland as a younger man in the original script, which were cut. Ridley describes them in his commentary.
"I think you'd be disappointed that he's not showing himself as being the young man as well. I had every intention of seeing him as a younger man. On board a super yacht in the cyber Mediterranean, with a lot of cyber girls.
"Because if he was gonna say at 96 'if I'm going to go into cyber sleep and I can select that sleep, I may as well be at my prime, like, 42, with some super girls, having a jolly old time. I can do that for two and a half years.'
"In the scene, and it was a pretty good scene as it was written, he said 'This had better be good, because you've kind of woken me up. Do not disturb me again until you have something specific.'"
But it's more than that; Ridley thought Pearce was the best person to play the character.
"Self-made man, very highly educated, super high IQ. You know and British, therefore slightly well spoken, Queen's English, and I thought he's one of the best things in The King's Speech ."
"The scene when he's going down the cellar for his champagne, with his brother walking behind him who will be king, it was great."
"I thought he captured that English aristocratic twang with a lisp brilliantly. He was good fun. It was great. Does his homework, knows his stuff. He's fantastic."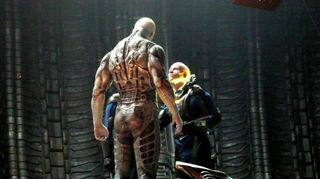 Why does the Engineer react so angrily to what David said to him?
It turns out it's not what David said, but the fact that he's the one saying it.
"We narrowed it down to this, which you think is a blessing, but I think what's going through the giant's mind is, he's thinking, 'Here's this man talking to me, he's not even real. He's not the same as this man' and looks at him, goes 'ech' and decapitates him"
"Knowing, probably, they've got kind of robotics anyway. So he probably understood what David was immediately.
"Maybe he was insulted that a non-human was talking to him, you know. That was the subtext."
We really like this - throughout the film, Holloway insults David, calling him 'boy' and believing him to be a lesser being. "We created you because we could."
The Engineers seem to have the same level of arrogance about their creation - humanity - so being addressed by the creation of their creation is essentially like Obama sending a Hoover to negotiate with Putin.
We hope that in the sequels, we get to see the creators of the Engineers. We don't imagine they'll be very nice.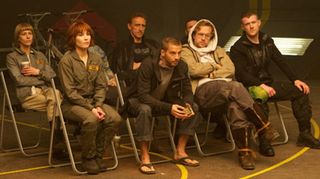 Why would a bunch of scientists travel across space without knowing what the mission is?
"The location, as you can see, is undisclosed, because it's top secret," says Scott.
This is a hard one to convey with a written quote, but Scott's pronunciation of 'top secret' here is so gleeful, it makes us wonder who wouldn't want to go on a top secret mission to space fer chrissakes?
Scott's commentary really is great, this feature is the tip of the Deacon in terms of the information it conveys.
Ridley goes into real detail about the making of the film, and the conflicts that occurred on the way.
We especially like the bit where Scott says that the job of the director is to tell everyone to "Fuck off."
For that moment and much, much more Prometheus is available on DVD, Blu-ray and 3D Blu-ray now