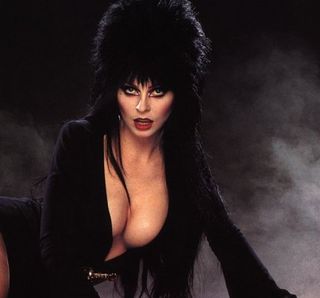 Elvira
The Witch: Mistress of the Dark Elvira is a TV host in Los Angles who quits her job thanks to sexual harassment claims (um, have you seen her outfit?) and heads home for a funeral. There she discovers an ancient recipe book that belonged to her Great Aunt. In actuality, it's a book of shadows. Can she survive rumours that she's a witch?
The Hotness: Think the antithesis of Dolly Parton. Hammer Horror could have done with a babe like Elvira to liven up their stock back in the day.
Boasting all three of the big Bs – barnet, boobs and balls – Elvira's a slinky, sexy vixen.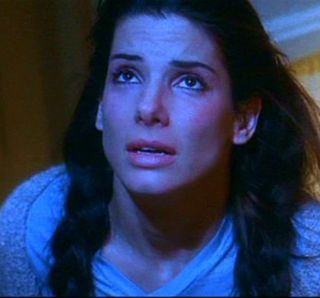 Sandra Bullock
The Witch: Poor Sally is suffering under a family curse - any man that she or the other women in her coven fall in love with will meet a tragic and sticky end. In desperation, Sally casts a spell that all but ensures she'll never meet a man. Until her aunt brews another potion that makes Sally fall in love and get married...
The Hotness: She may spend half the film hidden behind massive glasses and under stupid hair, but Sally's just pretending to be an innocent wallflower in order to get by unnoticed.
Unbraid that hair, though, and she'll cast a spell on even the most resistant soul.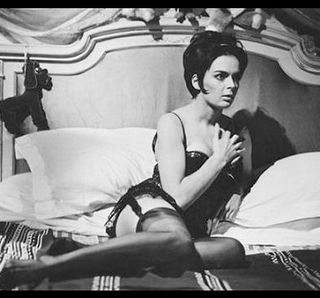 Barbara Steele
The Witch: In 1630, Asa Vajda is sentenced to death by her own brother for dabbling in the occult. Before she is burned at the stake, she curses him and all of his descendants.
Two-hundred years later, after a bit of clumsiness on the behalf of a doctor, she is resurrected to exact her revenge...
The Hotness: Yeah, we're talking about before Asa gets deaded and then wakes up with a face covered in boils and blisters – unless face pustules are your idea of a good time. Asa's got a heck of a temper as well, but we'll label that 'passion'. Enchanting.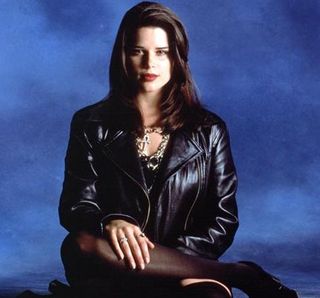 Neve Campbell
The Witch: Horribly scarred after an unfortunate incident (we're assuming with a vat of boiling water, though it's never clarified), Bonnie befriends three other witchy teens as a result of her outsider status. It's all pretty selfish, though – she just wants a quick fix for those wounds.
The Hotness: We all love an ugly duckling who transforms into a swan, and Bonnie is no different. Once her scars are healed, Bonnie's newfound confidence means she's hot to trot. Of course, with great power comes great something or other, and Bonnie becomes quite literally a catty witch.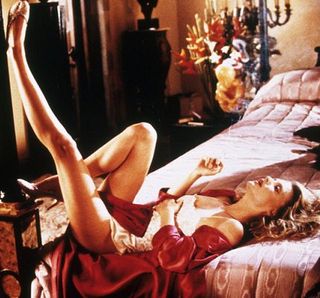 Michelle Pfeiffer
The Witch: Nah, not the craggy old thing in Stardust (though when she's rejuvenated she's pretty sizzling), we're talking about The Witches Of Eastwick 's Sukie Ridgemont.
Living in a tiny town on Rhode Island, she's got a brood of kids, and belongs to a coven along with Cher and Susan Sarandon. As you do.
The Hotness: Yummy mummy! With the help of Jack Nicholson's devilish no-gooder, Sukie realises her potential as a very sexy lady. When the glasses come off, the party really gets going. Bewitching.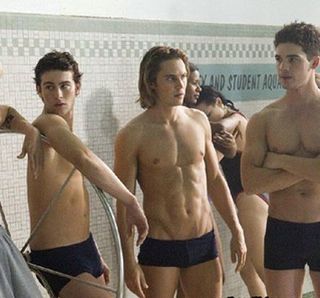 Taylor Kitsch
The Witch: Yep, that's him in the Tiniest Trunks Ever™.
There are male witches, too, apparently. And Kitsch is just one of a quartet of floppy-haired young witch jocks (jockches?) whose perfect bods are works of magic in themselves. Pity their powers hasten their aging. Get 'em while they're still hot!
The Hotness: All firm of abs and tanned of skin, Kitch's witch obviously spends most of his time in the gym and scoring rays at the beach. We're disgustingly jealous, and not a tiny bit sad that he comes a cropper in the end.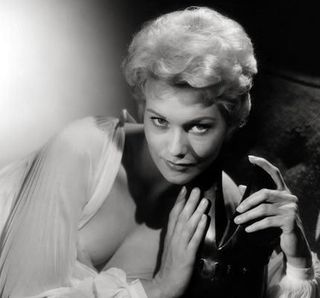 Kim Novak
The Witch: Ah, like most witches, poor old Gillian Holroyd (in Bell, Book And Candle ) has been unlucky in love.
Taking revenge on an old enemy by casting a love spell on her neighbour (Jack Lemmon), Gillian then falls head over broomstick for said neighbour herself. Whatever is a witch to do?
The Hotness: Smouldering eyes, low-cut dresses, and a figure that any woman would happily hex another for, Gillian is the epitome of well-dressed gorgeousness.
Parading a classy wardrobe and talking in a throaty burr are key to her charm.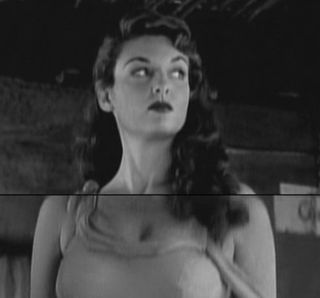 Allison Hayes
The Witch: In The Undead , Livia is a "lady of the night" who a pair of psychical researchers transport back through time via hypnosis.
Awakening in the body of one of her ancestors, Livia finds that she is about to be beheaded as a witch. But when Livia escapes with her life, she begins to change history...
The Hotness: Hayes displays the same sexy-as-hell prowess as she did in Attack Of The 50ft Woman , even though she's got nothing on that towering lovely in the height department.
Elegant and demure, Livia would eat most of you alive for breakfast. And you'd thank her for it.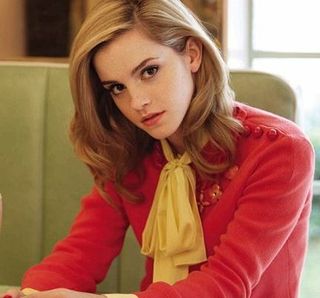 Emma Watson
The Witch: Know-it-all Hermione Granger was born to a Muggle (read: human) family, but discovers her calling as a witch and is shipped off to Hogwarts School to learn her craft.
There she falls in with some bloke called Harry Potter who's got a scar on his head, and a ginger fella who gurns alot.
The Hotness: Yes, it feels sort of icky labelling her as 'hot', considering we watched her grow up on-screen. But there's no denying that Ms Watson has blossomed into a beautiful young thing.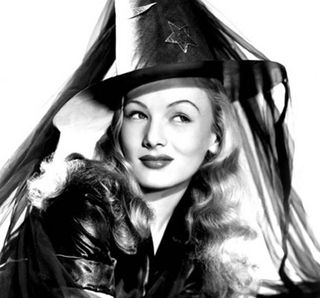 Veronica Lake
The Witch: Lake smoulders as Jennifer in I Married A Witch , a spellcaster burned at the stake along with her father for crimes against the Puritans.
But when her spirit is set free from its branchy prison, Jennifer goes about ruining the lives of the descendants of those who condemned her to death...
The Hotness: It takes a very special kind of hot to pull of the conical hat.
Luckily, Ms Lake is wielding it by the cauldron-load. Perfectly styled, sun-kissed locks, and the lips of a goddess. Hubble hubble, this one looks like trouble...