Trailer Breakdown: Star Trek Promo 3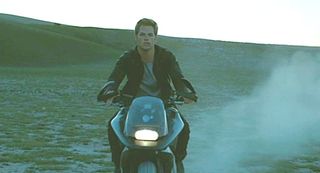 Iowa's Finest
Kirk rides his bike up to look at.. something. You might know what it is.
Hey, look kids... new trailer! With all-new footage! EXCEPT HALF OF IT ISN'T. We're not sure whether to congratulate JJ Abrams for keeping plenty under wraps or feel cheated that there's so much recycling going on here.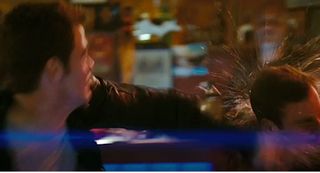 Bar Brawl
Kirk in a pitched bar fight with several Starfleet cadets. "I couldn't believe it when the bartender told me who you were," says - we presume - the bouncer or something, in voice-over. But, umm, isn't this before he's The Famous Captain Kirk?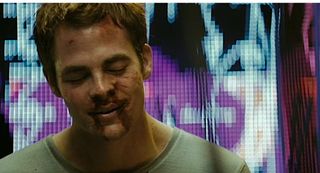 Bloody Good
"Why are you talkin' to me, man?" asks Kirk once everything has settled down. He's talking to you, young man, because - ah! - he's Captain Christopher Pike and he wants to recruit you for Starfleet. Much promise does Pike see in Kirk - particularly in the field of having fights in bars.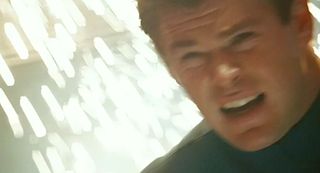 Daddy Issues
"Your father was captain of a Starship… for 12 minutes," says Pike. That would be George Kirk, and the ship is the one we see being battered several times throughout the trailer - the USS Kelvin, we think you'll find.
Most depressing recruitment speech ever.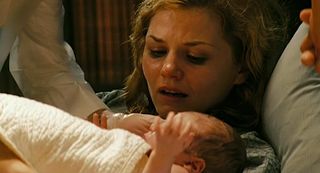 Baby Love
"He saved 800 lives, including yours." Awww... They've used Benjamin Button technology to make Chris Pine into a baby!
Oh, wait... no... actual baby. And that's Jennifer Morrison, of TV's House as his proud mum.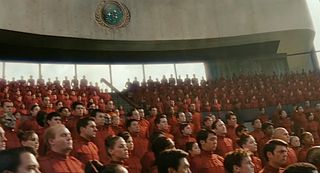 Academy Days
Quick fun game... Like Where's Wally, but with Karl Urban's Dr McCoy... Can you spot Bones? Eh, eh?
Oh, and that's the seal of the United Federation of Planets, in case you're interested. We'll get our anorak...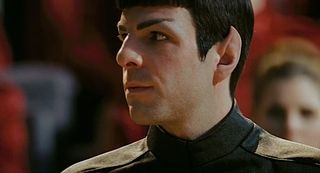 Spooock!
"You will experience fear," Spock tells the recruits. "Fear in the face of certain death!"
500 members of the freshman class immediately drop out. Way to go, big ears.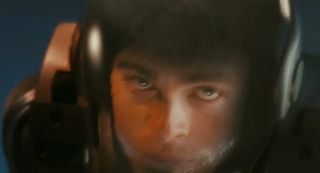 Freefalling
Kirk decides to put that "certain" death idea to the test. Okay, not really. He's plummeting down to the drilling platform that is the movie's big doohickey along with Sulu and a "red shirt" - aka Doomed Minor Crew Member. "Pull your chute!" someone screams over the comms link...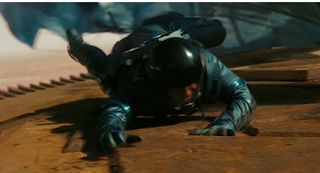 Oh, Chute!
"No! No! No!" Kirk's too devil-may-care for that. He nearly goes over the edge. Silly boy. If only there was some way for him to channel this reckless spirit, to tame and transform his inner turmoil into some kind of leader spirit...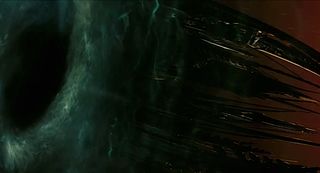 Big Nothing
It's so nice to see the Eye of Sauron getting out and about after the stress of...
Actually, that's a huge, deadly ship belonging to bad-guy Nero (Eric Bana).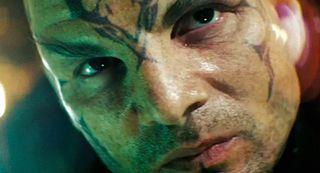 We Could Be Nero's
"I've been waiting for this day my whole life," says Nero as his ship's toilet is finally installed. Er... as he prepares to take his revenge on... someone.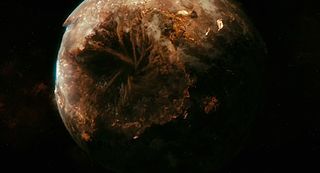 Planet Killer
"This day of reckoning!" A planet - which we won't name here for spoiler reasons - begins to implode on itself. CGI skills!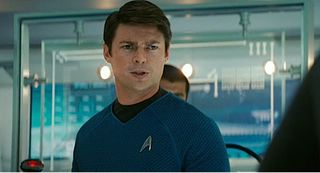 Dem Bones
Ah, a return of our fun game... So, can you spot Bones? Umm, bit easier this time...
"We've got no Captain and no first officer to replace him," says the grouchy and - this time - understandably concerned medical officer.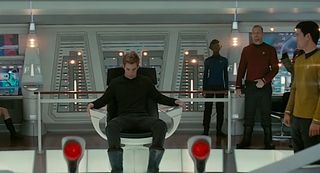 Captain On The Bridge!
"Yeah we do," says Kirk, and promptly sits down in the big chair. Boy becomes man. Upstart becomes icon. Geekgasm!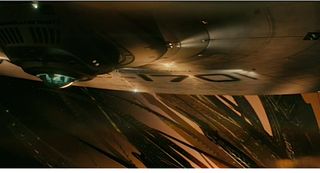 Destiny's Children
Over an action montage of very pretty starship shots, we hear Spock's dad giving us the theme of the film: "You are capable of deciding your own destiny. The question is, which path will you choose?"
Hey, it's sort of the theme of life too, eh? Er, provided you subscribe to the views of certain existentialist philosophers who postulate that free-will (trails off)...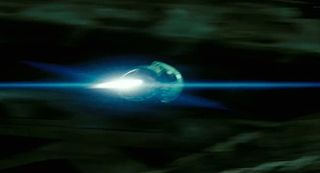 Fire One!
We're trying to figure out what this destructive little gadget is. Looks too big to be a photon torpedo. Tell us in the Comments...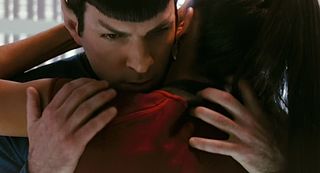 Big Hugs!
Spock gets a cuddle - doesn't seem to get it. We can't argue with his choice of grapple partner (Zoe Saldana as Uhura), but, y'know, Spock's not usually the hugging type.
Perhaps he's gone mad and this is the extra touchy-feely version of the Vulcan Death Grip - which of course doesn't actually. Anorak again...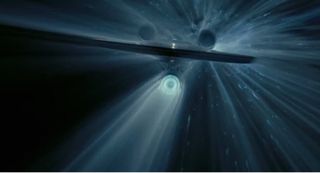 Warp Speed, Mr Sulu!
The ship jumps to warp and totalfilm.com 's James squeals like an over-excited toddler. He genuinely did this.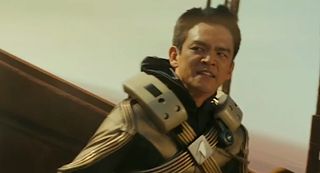 Everybody Was Sulu Fighting...
John Cho's Sulu squares off against a Romulan warrior after landing on the drilling platform. Cho, Pine and Quinto spent weeks learning to fight properly to stop the fisticuffs looking too camp.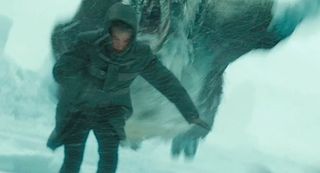 Snow Joke
"James T Kirk was a great man," says Nero. "But that was another life." Oohh... hint at the slightly parallel universey-nature of the story there.
Meanwhile, Kirk's having trouble in the snow. "Daaaad! The dog's playing too rough again!"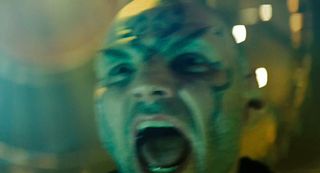 Everybody Shout!
One last, flashy montage to finish up... The Enterprise getting into battle with Nero's ship, Pike shouting, "Emergency evasive!" and Nero channelling Gary Oldman in Leon by bellowing, "FIRE EVERYTHING!" Looks like the toilet didn't work, then...