When it comes to creating open-world games, it's easy to overlook how difficult it can be to get them right. Some of the most prominent studios in this space include Platinum Games, Bethesda and Rockstar Games – whose open worlds are still brimming with players to this day. And now it's time to add another name to that list: Endnight Games, through its work in Sons of the Forest.
The development team behind The Forest have finally returned to frighten us with Sons of the Forest, first cryptically revealed at the 2019 Game Awards. Now, with Sons of the Forest having hit four million copies in its first week, we hear from company director Anna Terekhova and project director Rod Green on how they levelled up their open-world to scare people all over again. Endnight seems to understand the same secret ingredient that Rockstar sneaks into their open-world games: having the biggest world possible isn't fun if there's nothing interesting in it.
"Just speaking about our own games, trying to keep a large world interesting seems to be the hardest part, if you just add lots of repeated stuff everywhere you can risk it feeling like a copy paste, and if you leave it emptier some players may never see the cool stuff you've made," says Terekhova.
Familiarity breeds content
Part of The Forest's landslide success came in its secrecy – no-one knew what lurked beneath the island, nor what its true purpose was. It slowly revealed itself to those playing around the world through the hands-off environmental storytelling that Endnight founder Ben Falcone encouraged, in turn injecting player interactivity into every element of the world. Now, the cat's out of the bag, and Endnight has been aware of the bar it set itself for some time.
"It's definitely a lot harder in a sequel, in the first game we had the benefit of no one expecting what was behind the red door. In the sequel people who played the original have already been exposed to the supernatural & sci-fi parts of the world and come to know a bit more of what to expect," Green explains. As a result, Endnight Games kept quiet on the development of Sons of the Forest for years. The team quietly worked away on Site 2, levelling up everything players had become familiar with in order to deliver something that matched their original ambition, but that wouldn't overpromise and underdeliver.
"It's tricky because we always want to make it bigger and cooler, and more immersive, and that can be at odds with delivering a project on time," Terekhova says. Sons of the Forest boasts a much larger environment than the original game – around four times bigger. This is because the focus on exploration has split in half. Now, it's as much about exploring what's above as below, but dark labyrinths still lurk below for those adventurous enough; now far more complicated and detailed thanks to the use of their new terrain generation tool, Houdini.
Terekhova adds: "Similarly, to the first game, we always had the idea of having a big underground world that would be a lot scarier than above ground. We used a new software on Sons of The Forest called Houdini which allowed us to generate caves and their details relatively quickly, and so allows a lot of iteration."
Houdini allows the Endnight team to 'paint' their environments rather than manually constructing them, allowing for rubble and disturbed ground, simplified water simulations and a greater number of cut wood shapes possible on a screen at once. Likewise, photo-scanning has further cut down Endnight's development time, allowing them to go out and scan whatever they need rather than spend time hand-modelling whatever rocks, streams, or sticks they desire.
A cut above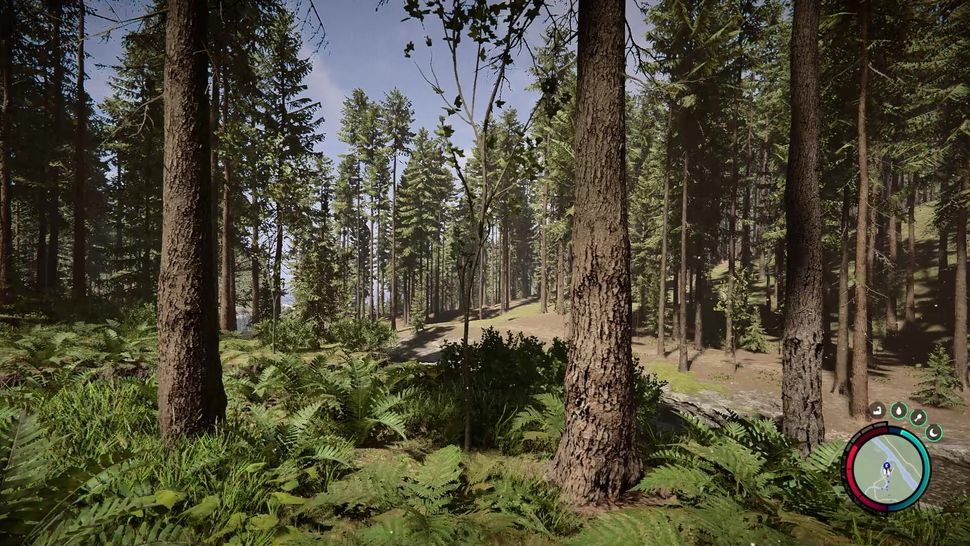 Whereas many open-world game developers today typically flock to Epic's Unreal Engine, Endnight Games have continued to develop their titles with Unity, creating a strong relationship with the engine and the company over the years. "We developed The Forest with Unity, and so it made sense for us to use Unity for our new project. Unity had been improving the engine drastically since we released our first game and so this was a perfect opportunity to use all the latest tech in the new title," Green clarifies.
Part of the team's preference in Unity is its openness with the possibility of custom plug-ins – that was how The Forest achieved its volumetric lighting through its sky light scattering system and skin shaders, alongside some wizardry from technical artists Oren Kurtis and David Miranda. For Sons of the Forest, Unity 5 now has what Endnight needs for their lighting right out of the box. It's undeniable that the island has a remarkably photo-genic aesthetic, and that's down to a little clever trickery. Green adds: "With reflections, we use a generic reflection of a forest but to be convincing, fade it out based on the intensity of the sun, and how many trees are around you."
Just like with The Forest, Endnight Games is fully committed to supporting the game for a long time coming – interacting and answering fan Q&As on Reddit and Discord, as well as having already delivered an update to fix some of A.I. companion Kelvin's funnier malfunctions. It's clear that part of Endnight's success comes from including fans in the post-launch development process, creating a much more open dialogue that benefits those who play Sons of the Forest as much as those who make it. What lies in store for Sons of the Forest over its first year of support remains to be seen, but if it's anything like The Forest, Endnight Games are onto another open-world winner.
---
The best survival games will take you to the brink and back again