12 Uncomfortable Movie Beds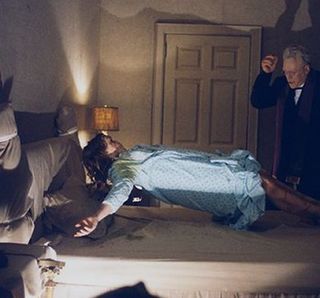 The Exorcist
The Bed: Pretty sturdy timber four poster effort.
Why You Wouldn't Sleep In It: Has a habit of shaking uncontrollably during the night.
Plus can cause sleepers to inexplicably levitate.
Comes with detachable restraints and padding (bonus), but is also generally pre-disposed to devil-possession.
Results in occupier having a propensity for potty mouthed behaviour, vomiting, and spine-cracking contortion.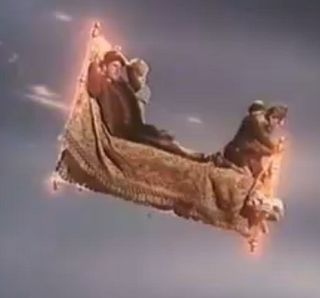 Bedknobs and Broomsticks
The Bed: Ornate, steel-framed double with lots of knobs.
Why You Wouldn't Sleep In It: Bit crowded, for a start.
Three taps and a turn of one of its golden knobs (ahem, yes) and you're transported to wherever in the world (real or imagined) that your little heart desires.
Which is all well and good until your mates find out and decide to use you as an international taxi service.
Sleepless nights guaranteed.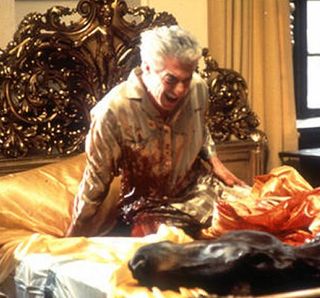 The Godfather
The Bed: Beautifully ornate bronze bedframe, Egyptian cotton sheets.
Why You Wouldn't Sleep In It: Sure, it's grand enough for a bona fide mob boss. But the horse's head is a bit much.
In a word: messy.
Not for animal lovers.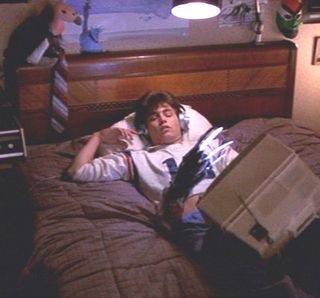 A Nightmare on Elm Street
The Bed: Regular double with wooden headboard.
Why You Wouldn't Sleep In It: You'd be an idiot to even attempt to sleep if you're a) a teenager and b) living on Elm Street.
Haven't you heard of a guy called Freddy? One, two, Freddy's coming for you? Preys on kid's dreams? No?
Poor old Johnny Depp learnt the hard way – he got sucked into his mattress and lacerated until he was nothing more than a fountain of blood.
Sing it with us: never sleep again, never sleep again...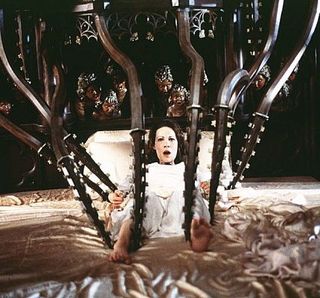 The Haunting
The Bed: Ridiculously opulent carved affair replete with creepy cherubs.
Why You Wouldn't Sleep In it: Did we mention the creepy cherubs?
We wouldn't want those things watching us sleep, especially knowing that they become animated by CGI when scared.
Also heavily prone to ghostly activity: spirits sweep through the bed sheets, and the silly, extravagant head-rest turns itself into lethal prongs that cage any unlucky sleepers.
Plus? It looks like a church organ.
Oh, and did we mention the creepy cherubs?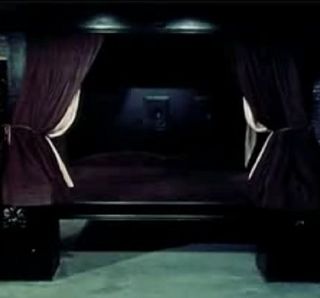 Death Bed: The Bed That Eats
The Bed: Gothic four poster.
Why You Wouldn't Sleep In It: The tell-all title pretty much sums it up.
This one is guilty of causing delirious nightmares (the kind of kooky minimalist trips that involve sitting in a dark room and being fed insects) before spewing out soapy suds that suck sleepers to their doom (we ain't kidding).
Likes to laugh to itself, as well.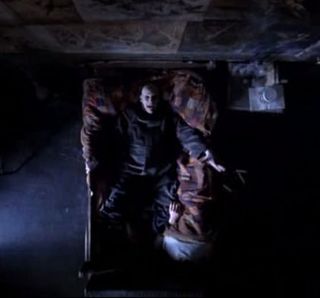 The Addams Family
The Bed: Too many to count... Bed of nails, the rack, Fester's bunk.
Why You Wouldn't Sleep In It: Frankly, you'd be hard pressed to get a good night's sleep in any of these.
Of them all, Fester's is probably the worst.
When he's not catching some zzz's (and, no doubt, tetanus) on a nailbed, he's getting lost in the voluminous folds of a smothering, doughy mattress that looks like it auditioning for a cameo in Death Bed 2 .
Not that it'd succeed; far too wooden.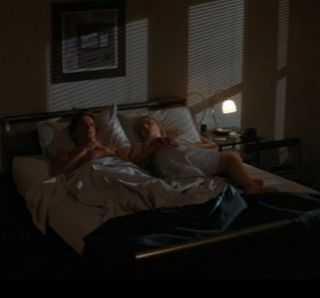 Basic Instinct
The Bed: In this case, any bed currently occupied by one Catherine Tramell (there are many).
Why You Wouldn't Sleep In It: Those lucky enough to receive an invitation into Ms Tramell's boudoir are in for the ride of their life.
Until she whips out her favourite play thing, that is.
No, nothing from Ann Summers, think something that rhymes with "mice lick". Deadly.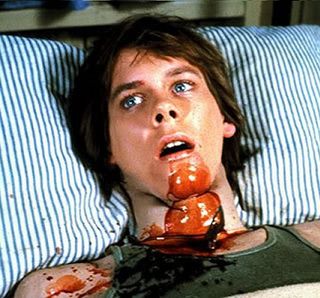 Friday the 13th
The Bed: Camper's bunk bed.
Why You Wouldn't Sleep In It: Didn't anybody tell you to check under the bed before you shack up with a ditzy camp leader?
There be monsters.
Sleepers generally end up with an arrow through their neck, pushed up through the mattress by a bloodthirsty serial killer bearing a 20-year grudge – and surprising strength considering she's getting on a bit.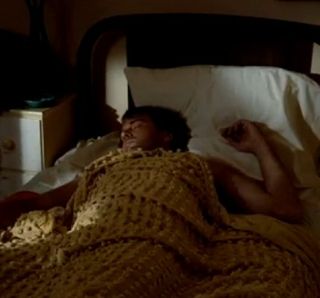 The Burning Bed
The Bed: Eighties style single with jazzy covers.
Why You Wouldn't Sleep In It: Never go to bed angry, gentle readers. You might wake up on fire.
To be fair, Mickey Hughes was sort of asking for it with this one, while the bed was a bit of an innocent bystander.
Guilty of raping his wife, Mickey rouses from his sleep to find himself well and truly aflame.
Revenge is sweet. Nothing like a woman scorned, kids.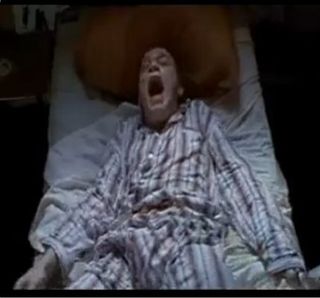 Trainspotting
The Bed: It has a mattress (just).
Why You Wouldn't Sleep In It: If you're in this bed, it's pretty safe to say you've been getting down with some rather colourful partying, and acquainting yourself with a variety of fascinating substances.
Cue nightmares about babies crawling on the ceiling, and one heck of a killer comedown.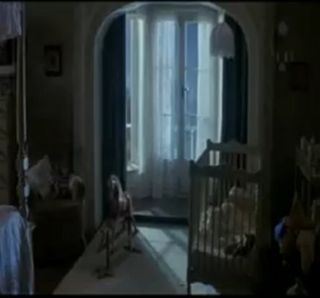 Labyrinth
The Bed: A baby's crib, really.
Why You Wouldn't Sleep In It: Size issue aside (it's pretty snug), you're likely to be snatched by a Goblin King if your put-upon older sister so wishes.
The phrase "sleeping like a baby" couldn't be less applicable here; you'd need to be on your guard at all times with this tricksy number.