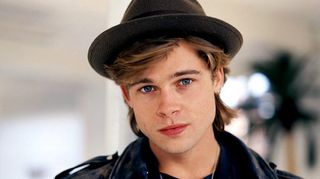 No Way Out (1987)
The Film: Kevin Costner stars as Tom Farrell, who attempts to track down the person responsible for killing his lover, Susan Atwell (Sean Young).

Rad Brad: In an uncredited role, Pitt plays 'Airport Cop'. Well, you've got to start somewhere, haven't you?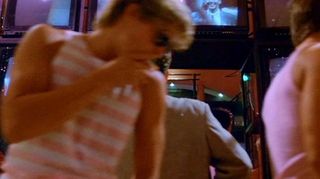 Less Than Zero (1987)
The Film: Pitt teams up with '80s Brat Pack Robert Downey Jr and Andrew McCarthy for this crime drama about a guy who comes home from college only to find his friend's got a nasty drug habit.

Rad Brad: Alright, 'teams up' might be a bit of a stretch – Pitt appears briefly dancing in a vest and shades. He looks awesome, mind (and was paid just $38 for his appearance).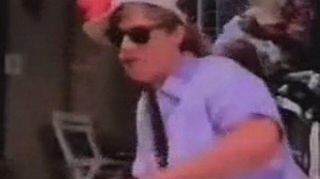 Happy Together (1989)
The Film: College comedy based on the musical Cabaret. Struggling writer Christopher (Patrick Demsey) moves in with party animal Alex (Helen Slater) on campus thanks to a computer glitch.

Rad Brad: Though he only makes a tiny appearance as Brian, there's no doubting Pitt's cool creds – just check out those shades.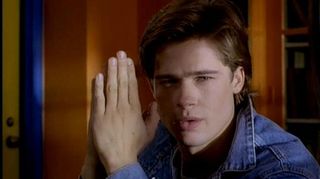 Cutting Class (1989)
The Film: Way before Scream made it cool to be a serial killer in high school, Brad Pitt starred in this crime thriller, in which a murderer stalks the halls of an American school. It's been described as "good campy fun".

Rad Brad: With his puppy eyes and floppy hair, Pitt's playing a bad boy – but the prettiest bad boy you'll ever lay eyes on.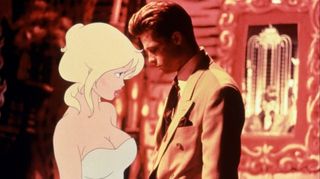 Cool World (1992)
The Film: Capitalising on the popularity of Who Framed Roger Rabbit? , this animated comedy sees Jack Deebs' (Gabriel Byrne) cartoon world come to life. There, a seductively-drawn vamp attempts to seduce him.

Rad Brad: With his own firearm and a killer suit, Brad takes it all with a pinch of salt, fully knowing he's in a one-joke movie.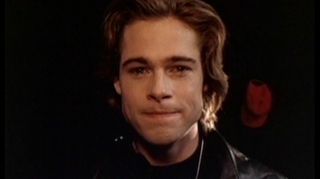 The Dark Side Of The Sun (1988)
The Film: American-Yugoslavian co-production, with Brad Pitt playing Rick, who's searching for a cure for his rare skin disease, which means he's unable to handle sunlight.

Rad Brad: Pitt makes the most of a character who's given about as much depth as a pancake, sharing some decent chemistry with his leading lady.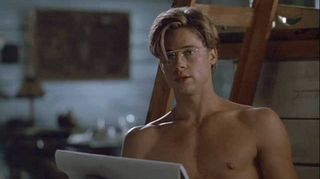 The Favour (1994)
The Film: Romantic comedy that follows the love lives of Kathy (Harley Jane Kozak) and Emily (Elizabeth McGovern). The latter is dating Elliot (Pitt), but when she falls pregnant, she's unsure if the baby's his or not.

Rad Brad: Donning specs and a jacket, Pitt is likeable and sensitive, often the butt of everybody's jokes – but he takes it on the chin.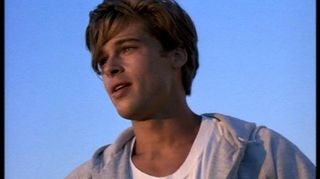 Across The Tracks (1991)
The Film: Two brothers, Billy (Ricky Schroder) and Joe (Pitt), go head to head when they join the same track team and find themselves in a heated competition. Pitt served as a producer.

Rad Brad: Sharing rough-and-tumble chemistry with Schroder, Pitt's on affable form – and proves he's not bad in a pair of trainers, either.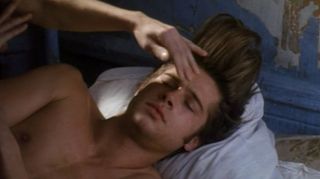 Johnny Suede (1991)
The Film: Writer-director Tom DiCillo's debut, with Pitt playing Johnny Suede, a wannabe rock star who idolises Ricky Nelson.

Rad Brad: It's all about the 'do in this '90s curio, with Pitt donning a giant pompadour and moon-gazing like only a dreamer can. Iconic to the max.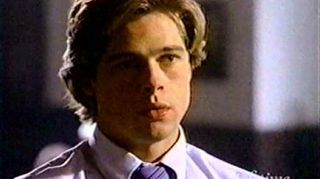 A Stoning In Fulham County (1988)
The Film: TV drama directed by Larry Elikann. When an Amish child is killed, it causes an uproar in a rural community, where religion and the law come to loggerheads.

Rad Brad: Another small role at the dawn of Pitt's career, this one at least gives him a pivotal role to play.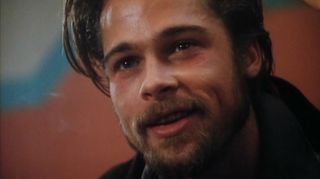 Too Young To Die? (1990)
The Film: Another TV drama, this one's based on a true story and paired Pitt with Juliette Lewis for the first time. She plays Amanda Sue, who kills a man and winds up on Death Row.

Rad Brad: Cringing away from the pretty boy image, Pitt brings real grit to his role as Billy Canton, and shows early promise as a dramatic actor.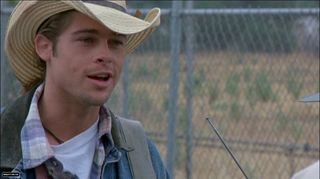 The Image (1990)
The Film: Albert Finney plays Jason Cromwell, an investigative reporter whose dedication to his job means his personal life is taking a turn for the worse.

Rad Brad: Pitt plays Steve Black, a cameraman. Not exactly a glamorous role, but when you're sharing the screen with Albert Finney, who's complaining?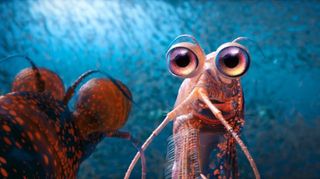 Happy Feet Two (2011)
The Film: George Miller's sequel to Happy Feet . This time around, Mumble the penguin encounters a penguin with the ability to fly and must battle a blizzard that threatens to wipe out the Emperor clan.

Rad Brad: As Will the krill, Brad gets to play one of the better new characters the sequel has to offer – Will wants to move up the food chain by eating a larger animal. Cute.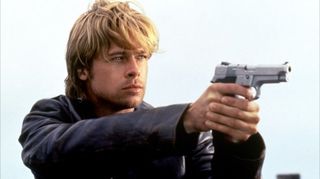 The Devils Own (1997)
The Film: New York cop Tom O'Meara (Harrison Ford) gives shelter to a young man, unaware that he's actually Frankie McGuire (Pitt), one of the IRA's most dangerous assassins.

Rad Brad: A dodgy accent doesn't detract from this being a fantastic performance as Pitt attempts to bury his nice-guy image as a ruthless killer. Pitt later disowned the film after a troubled production.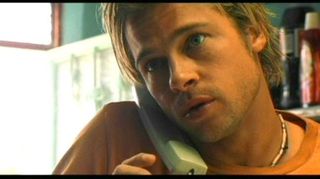 The Mexican (2001)
The Film: Criminal Jerry Welbach (Pitt) is under pressure from both his boss and his girlfriend. The former wants him to retrieve a 'cursed' gun from Mexico, while the latter (Julia Roberts) wants him to leave his life of crime behind.

Rad Brad: Pitt plays up the comedy as a criminal who's clumsier than Mr Bean. The film's hit and miss, but Pitt keeps things ticking over.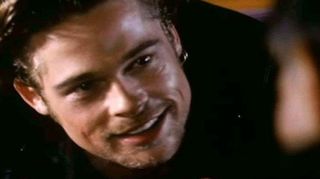 Two-Fisted Tales (1992)
The Film: A three-part anthology of horror tales co-written by Frank Darabont and directed by Richard Donner, Tom Holland and Robert Zemeckis.

Rad Brad: Pitt appears in the segment entitled 'King Of The Road', which sadly doesn't exactly make the most of his talents.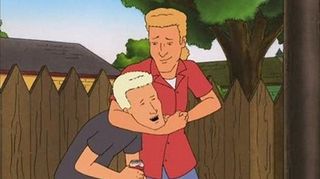 King Of The Hill (2003)
The TV Series: Mike Judge's animated comedy series. Pitt guest starred in season eight episode 'Patch Boomhauer', an episode named after the character he plays – the brother of regular old Boomhauer.

Rad Brad: Pitt goes lothario in a vague reprise of his Thelma & Louise character. Nice.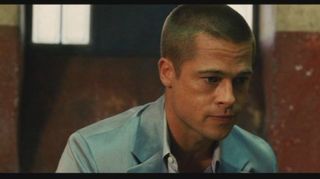 Oceans Twelve (2004)
The Film: Least-loved in Steven Soderbergh's Ocean's trilogy, this second caper sees Danny Ocean (George Clooney) attempting three European heists. Meanwhile, Terry Benedict (Garcia) wants his money back.

Rad Brad: Jostling for space in a mammoth cast, Pitt stands out with a wry smile and a twinkle in his eye – and strikes up some sizzling chemistry with love interest Catherine Zeta-Jones.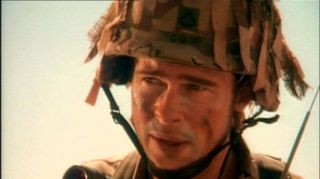 Contact (1992)
The Film: Not the Jodie-Foster-alien-movie, but a war drama short in which an Arab and American soldier confront each other in the desert.

Rad Brad: The film was Oscar-nominated for a Best Live Action Short in 1992, which we like to think is thanks mostly to Pitt's emotional turn as Cox.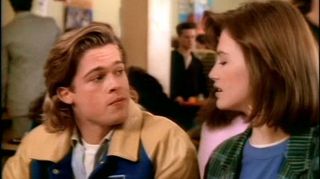 21 Jump Street (1988)
The TV Series: The show that launched Johnny Depp's career also featured an early appearance by Brad Pitt, who showed up in season two episode 'Best Years Of Your Life'.

Rad Brad: As Peter, Pitt shares a brief canteen scene with Depp . He's in firm jock territory, replete with football jacket.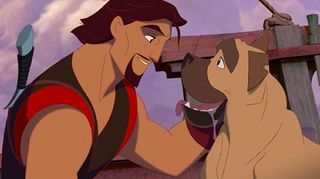 Sinbad: Legend Of The Seven Seas (2003)
The Film: Pitt lends his voice to this animated production as the titular Sinbad, who's framed as a thief by Eric (Michelle Pfeiffer).

Rad Brad: Pitt stepped into the role after Russell Crowe bailed, and helps turn Sinbad into the hero he should be.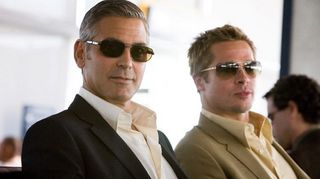 Oceans Thirteen (2007)
The Film: The Ocean's series gets back on track for its glossy finale. Danny Ocean (George Clooney) reunites with his band of con-men in order to take down double-crosser Willy Bank (Al Pacino).

Rad Brad: As always, the highlight in this final Ocean's film is the bromantic banter between Pitt and Clooney. Talk about charisma overload.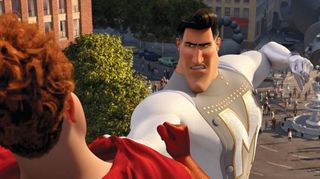 Megamind (2010)
The Film: DreamWorks animation about the eponymous supervillain (voiced by Will Ferrell), who searches for a new purpose in life after managing to kill his nemesis, Metro Man.

Rad Brad: Pitt voices Metro Man, a stereotypically strutting superhero, and is effortlessly hilarious. He looks nothing like the character, but that's probably a good thing.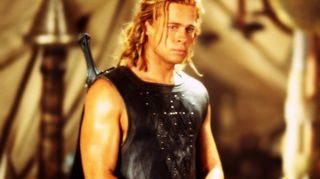 Troy (2004)
The Film: Wolfgang Petersen brings Homer's epic to the big screen as the Greeks attempt to invade Troy. Yes, there's a big wooden horse involved.

Rad Brad: All tanned and toned, Pitt simply is Achilles – a gorgeous charmer of myth and legend. The camera loves him, and so do we.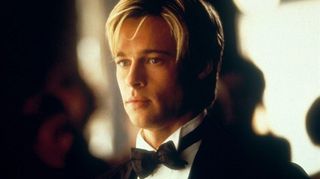 Meet Joe Black (1998)
The Film: Death (Pitt) comes to Earth and is guided by media maestro William Parrish (Anthony Hopkins). It all goes a bit wrong, though, when Death falls for William's daughter.

Rad Brad: Pitt set a million hearts a-fluttering with this one as the perfect, surfer-dude version of Death, but his subtle performance also digs at deeper issues, making it one of his most interesting shows.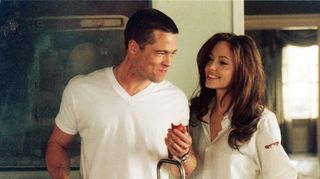 Mr & Mrs Smith (2005)
The Film: Spy drama that has Pitt playing a super-spy who's unaware that his wife (Angelina Jolie) is also a spy.

Rad Brad: Pitt does the 'action hero' thing and shows he's got the moves. He's believable as an alpha male and the air between him and Angelina Jolie positively crackles.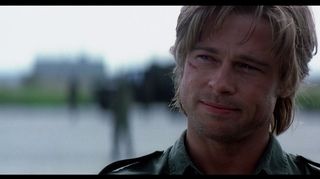 Spy Game (2001)
The Film: CIA operative Nathan Muir (Redford) attempts to free his young protégé, Tom Bishop (Pitt), who's been arrested as a spy in China. In flashbacks, we see how Muir trained him.

Rad Brad: Pitt's swaggering as a young hotshot, and the film works best when we see his character butt heads with Redford's.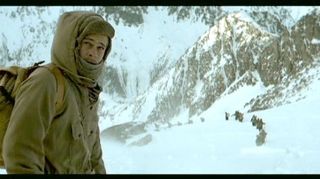 Seven Years In Tibet (1997)
The Film: Pitt plays Heinrich Harrer, an Austrian mountain climber who befriends the Dalai Lama during the Chinese takeover of Tibet.

Rad Brad: A fine multi-faceted turn for Pitt, who nails Harrer's loner characteristics and makes him a fascinating hero to follow over 138 minutes.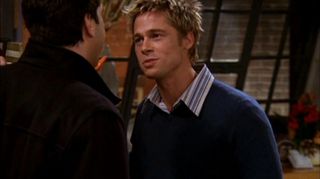 Friends (2001)
The TV Series: One of the best sitcoms to ever come out of the States. Pitt guests alongside his then-wife Jennifer Aniston in eighth season episode 'The One With The Rumour'.

Rad Brad : Proving once and for all that he can do comedy, Pitt is hilarious as a once-fat, ex-Rachel-hater who started a vicious rumour about her in high school with Ross. Not quite as funny in retrospect.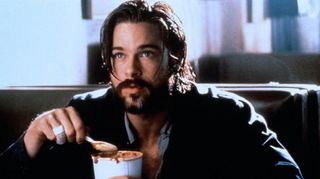 Kalifornia (1993)
The Film: Pitt reunites with Juliette Lewis and grows a beard to play Early Grayce, a fresh-from-jail con who becomes more and more volatile during a cross-country murder scene tour.

Rad Brad: Grubbing up as a menacing criminal, Pitt is a revelation here, going to surprisingly dark places.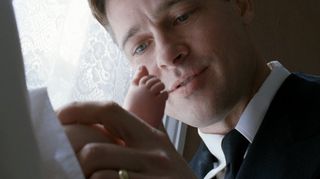 The Tree Of Life (2011)
The Film: Terrence Malick's triumphant magnum opus, a dreamy, unconventional drama that follows a family living in 1950s Texas.

Rad Brad: Though Malick's approach means Pitt barely gets to hold a full conversation, he lets his facial expressions do much of the talking – he's all soulful eyes and tensed jaw.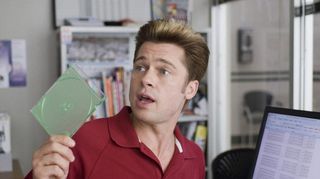 Burn After Reading (2008)
The Film: Rip-roaring comedy from the Coen brothers, in which two gym employees – including Chad (Pitt) – end up in the possession of top secret discs containing the memoirs of a CIA agent.

Rad Brad: Completely off-the-wall and with a 'do that almost rivals Johnny Suede's, Pitt plays dumb brilliantly – and that shock wardrobe scene's a killer.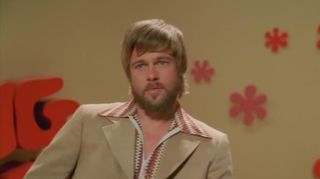 Confessions Of A Dangerous Mind (2002)
The Film: George Clooney directs this slick biographical crime comedy, which follows Chuck Barris (Sam Rockwell), a game show host who's rumoured to also have worked as a hitman.

Rad Brad: Sharing a cameo scene with Matt Damon, Pitt's on top comedy form – it's like a mini Ocean's reunion. Except not.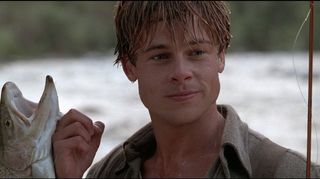 A River Runs Through It (1992)
The Film: Montana brothers Norman (Craig Sheffer) and Paul (Pitt) share a love of fly fishing but that's where the similarities end – the former's studious and sensible, while the latter's rebellious and passionate.

Rad Brad: Pitt's turn in this drama is often referred to as his big break; his impressively naturalistic turn helped him net more lead roles. It's praise well-deserved.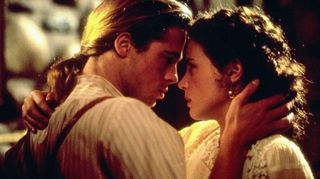 Legends Of The Fall (1994)
The Film: Epic historical drama following three brothers and their father through World War I into the 1930s. Pitt plays one of the brothers, while Anthony Hopkins is the father.

Rad Brad: Balancing strength with vulnerability, Pitt is a rough charmer as thoughtful as he is prone to wild behaviour. Thrillingly unpredictable.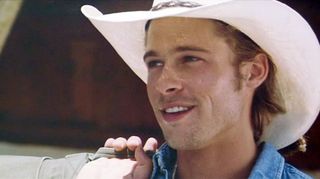 Thelma & Louise (1991)
The Film: Ridley Scott's dusty road movie in which the titular twosome (Geena Davis and Susan Sarandon) take to the road after shooting a man.

Rad Brad: Responsible for many a cinema swoon, Pitt flashes those abs during a steamy sex scene with Geena Davis, but also impresses during his scenes in a police station as a loud-mouthed tease.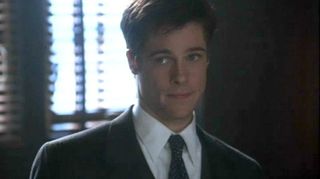 Sleepers (1996)
The Film: A group of men who were brutalised at a detention centre a decade ago set out to get revenge in Barry Levinson's crime drama.

Rad Brad: Though it's a small role, Pitt really shines as Michael Sullivan, not least during a powerful subway scene with Minnie Driver.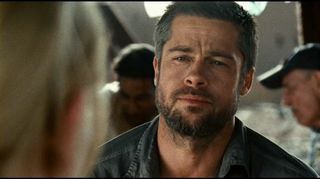 Babel (2006)
The Film: Oscar-winning drama from director Alejandro González Iñárritu. An American couple holidaying in Morocco form the crux of a film that follows four storylines all connected by a gun.

Rad Brad: Playing a live-wire who's frustrated by his wife's behaviour, Pitt brings the emotion – even if we know almost nothing about the character, this is a tight, taut performance.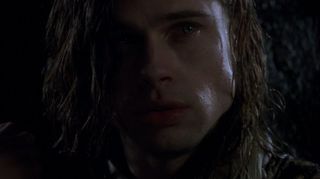 Interview With The Vampire (1994)
The Film: Based on Anne Rice's popular novel, Neil Jordan's lavish adaptation stars Tom Cruise as vampire Lestat, who creates himself a companion in Louis (Pitt).

Rad Brad: Move over R-Pattz. Pitt gets past the fangs and the funky contacts and brings surprising humanity to his troubled vampire.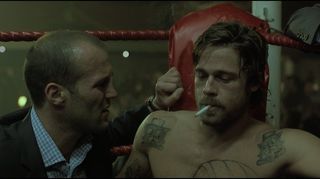 Snatch (2000)
The Film: Guy Ritchie follows up Lock, Stock with another London-set crime thriller, in which boxing man Turkish (Jason Statham) gets caught up in the plans of gangster Black Top (Alan Ford).

Rad Brad: Pitt's back getting his fists out a year after Fight Club , cranking up the charisma as an Irish gypsy with a comedy accent.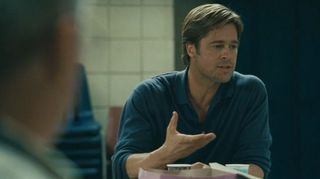 Moneyball (2011)
The Film: Alan Sorkin adapts Michael Lewis' script for the big screen, with Billy Beane (Pitt) coming up with the crackpot idea of using computer analysis to select a team of baseball players.

Rad Brad: Pitt's come a long way since playing bit parts in the '80s, and here he completely inhabits his character while igniting a fantastic rapport with Jonah Hill.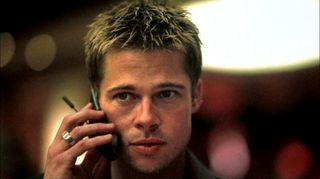 Oceans Eleven (2001)
The Film: First and best of the Ocean's films, this remake of the Frank Sinatra heist movie sees Danny Ocean (George Clooney) recruit 11 men to help him rob three Las Vegas casinos.

Rad Brad: Looking sharp in a suit and shades, Pitt bounces effortlessly off his co-stars. It's the repartee he shares with the likes of Clooney that make this hotter than the sun.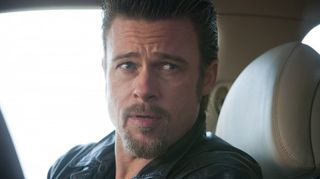 Killing Them Softly (2012)
The Film: Pitt reunites with his Assassination Of Jesse James director, Andrew Dominik, to adapt 1974 bestseller Cogan's Trade . Pitt is Jackie Cogan, a heavy sent in to investigate a heist that took place during a mob poker game.

Rad Brad: Sinewy and unsettling, Pitt's fantastic as Cogan, playing down the drama for a powerfully restrained performance.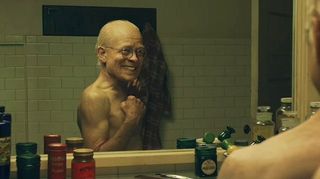 The Curious Case Of Benjamin Button (2008)
The Film: David Fincher directs the tale of Benjamin Button (Pitt) who ages backwards – he's born as wrinkled as an old man, and gradually gets younger as the years pass.

Rad Brad: The prosthetics and CGI never get in the way of what is a stunning acting tour de force for Pitt, who emotes through the make-up with affecting results.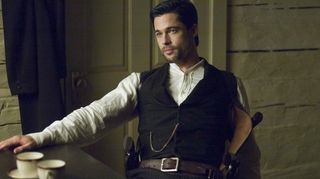 The Assassination Of Jesse James By The Coward Robert Ford (2007)
The Film: Sweeping biographical drama that tracks Missouri outlaw Jesse James (Pitt) as Robert Ford (Casey Affleck) attempts to join his band. Slowly, though, Ford begins to resent his leader.

Rad Brad : As per our official review: "It's a supreme performance: haunted and hunted, soul crumbling from the slow-motion panic of guilt and paranoia." Top dollar.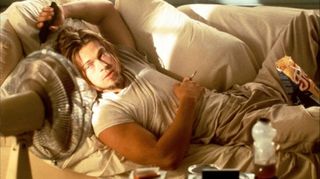 True Romance (1993)
The Film: Tony Scott comes out guns blazing in this defining action movie, which sees Christian Slater and Patricia Arquette attempting to outrun a ruthless gangster who wants his coke back.

Rad Brad: Is it wrong that Pitt's so convincing as a couch-dwelling stoner? Here, he's hilariously on-note just two years after he worked for Tony's bro on Thelma & Louise.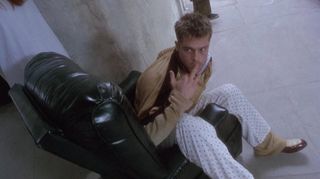 Twelve Monkeys (1995)
The Film: Brad Pitt's future convict is sent into the past in order to find the source of a man-made virus that wiped out much of Earth's human population.

Rad Brad: Terrifyingly convincing as a frantic asylum inmate, Pitt's at his twitchy best in Twelve Monkeys – apparently director Terry Gilliam got the desired effect from Pitt by confiscating his cigarettes.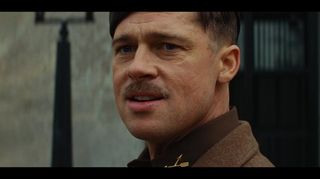 Inglourious Basterds (2009)
The Film: Tarantino's blistering World War II drama, in which – among other things – a theatre owner living in France plans a revenge attack on the Nazis.

Rad Brad: "Each and every man under my command owes me one hundred Nazi scalps. And I want my scalps." Sure, Christoph Waltz got all the attention, but Pitt delivers an equally riveting performance that's both imposing and tongue-in-cheek.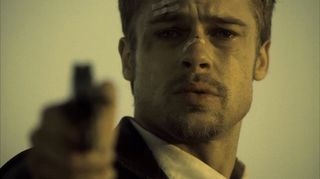 Se7en (1995)
The Film: Rookie detective David Mills (Pitt) is partnered with old hat Somerset (Morgan Freeman) to hunt a serial killer who's using the Bible's seven sins as inspiration for a series of murders.

Rad Brad: Alternately naïve, horrified and vengeful, Pitt's arc in Se7en is a masterclass in character evolution – when he pulls that trigger at the end, you know exactly what he's feeling.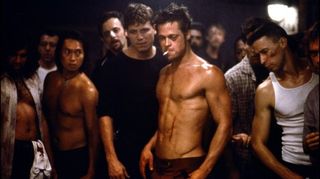 Fight Club (1999)
The Film: When an insomniac (Edward Norton) meets a soap salesman (Pitt), the two decide to set up a secret underground club where anybody can come and fight.

Rad Brad: Part rock-star, part ultimate fighting champion, part something else entirely, Pitt's jigsaw-puzzle character-building is at an all-time high with Fight Club , which has him alternately charismatic, annoying and scary as hell.