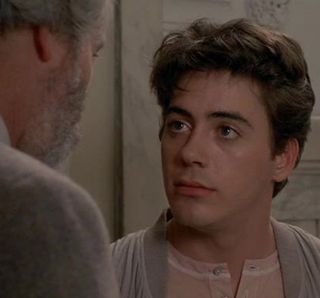 The Pick-Up Artist (1987)
After a few minor parts, and some notable appearances on Saturday Night Live, Downey Jr. starred in rom-com The Pick-Up Artist .
RDJ plays Jack Jericho, a serial womanizer, who falls for hard nut Randy Jensen (a girl, in case you were wondering).
Charm Factor: Charm-rate is set at medium to high. Randy's a tough cookie, and it takes a lot of strenuous magnetism.
Plus, he's not nearly at his prime. Check out the floppy hair and chubby cheeks. Bless.
He gets there in the end though. (He always does.)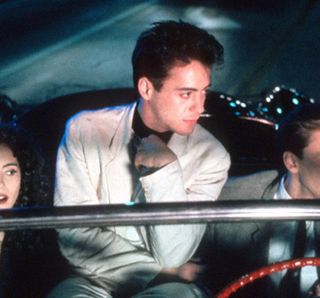 Less Than Zero (1987)
Downey Jr. is Julian, a Berverly Hills Brat who takes a lot of drugs and is in a lot of debt.
It's thought that some of the antics Julian gets up to weren't a million miles away from what was happening in RDJ's personal life at the time.
Charm Factor: Downey Jr. proves that there is are few people in this world as charming as drug addicts persuing drugs, you know, before they go all sweaty and desperate.
He's looking a bit more dapper, too.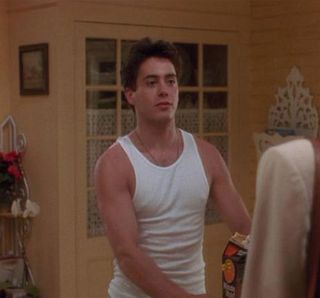 Chances Are (1989)
Alex Finch is the re-incarnation of Louie Jeffries, who was killed in 1964 but instantly re-born.
When Alex meets Corinne, Louie's widow, he remembers much of his past life. And then he starts going out with his sort-of daughter from his past-life marriage. Which is pretty messed up.
Charm Factor : Just bear in mind that he's trying to woo mother and daughter.
And that the daughter is actually his daughter .
That's a pretty thick load of charm he's got to layer on.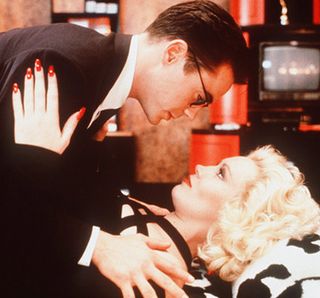 Soapdish (1991)
A satirical take on the cut-throat world of the soap opera, Soapdish centres around the fictional soap The Sun Also Sets , and features a host of pretty big names.
Downey Jr. is the show's sleazy producer, David, who conspires to oust the show's longtime star, Celeste (Sally Field).
Charm Factor : David himself is charmed by one of the show's stars, who offers herself to him on a plate if she'll help her to elbow out poor Celeste.
So he doesn't need to put in much work there - but he's charming anyway, obviously.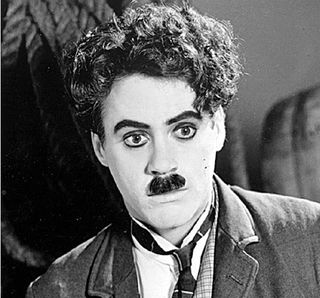 Chaplin (1992)
As the film that proved Robert Downey Jr.'s status as a serious (and seriously good) actor, Chaplin received huge praise from critics.
It was RDJ's sensitive (not to mention, impressively accurate) performance as Charlie Chaplin that gained the loudest applause.
Charm Factor: In character, Downey Jr. takes on a different sort of charisma - he is naïve, earnest, and above all, very, very funny.
It's little wonder the whole world turns to putty in his hand.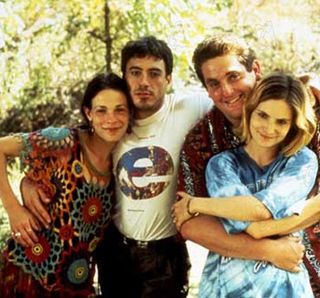 Short Cuts (1993)
Based on a series of short stories, Short Cuts was directed by Robert Altman, and stars just about every third actor in Hollywood.
Downey Jr. has a relatively small amount of screen-time, but makes a fair impression as Bill Bush, a make-up artist who's also a sadist.
He likes to paint fake injuries on his wife and wear extremely short shorts.
Charm Factor : It's an odd one, because his character isn't terribly likeable, though he softens up in the more intimite scenes with his wife.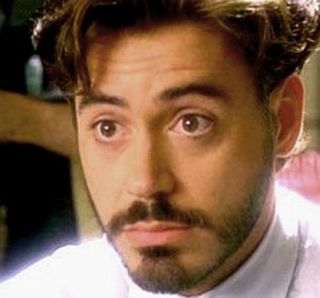 Natural Born Killers (1994)
Oliver Stone's super-violent, super-stylised flick was a satirical stab at the media, and its glorification of violent crime.
Downey Jr.'s Wayne Gale is the Australian reporter who attempts to elevate the psychotic Mickey and Mallory to a celebrity status. Which is a bit like putting a pair of jackals in teddy bear costumes.
Charm Factor: He's charming enough to worm his way into a maximum security prison for an interview with Mickey (Woody Harrelson) himself.
However, it's a clawing, paparazzo kind of charm that kind of makes you want to punch him in the face.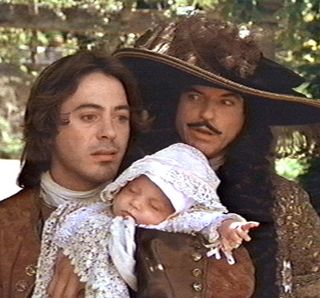 Restoration (1995)
Yay! A costume drama! RDJ done a costume drama!
He plays Merivel, King Charles II's doctor. He has a terrible time - his wife dies and he has to give his baby to some nuns, on top of dealing with the plague and the Great Fire of London.
When it rains it pours , eh?
Charm Factor: Downey Jr. sports a rather fetching hairstyle and a passable British accent, which gives him a new Colin Firth / Hugh Grant sort of charm.
He is a bit whiney though.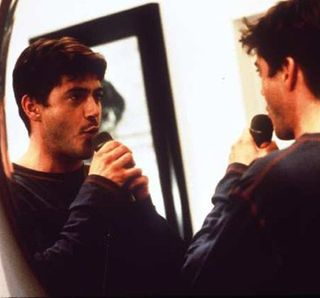 Two Girls And A Guy (1997)
It's a title that must have led to a considerable amount of online video-search disappointment.
Carla and Lou discover, when waiting for respective boyfriends one day, that they're dating the same guy. Guess who?!
Downey Jr. is Blake, the eponymous Guy, who's having his cake and eating it.
Charm Factor: Even RDJ has a problem charming his way off this fish hook. He manages it, though.
Not only that - he even gets the girls to reveal that they, too, have been unfaithful. And makes them both want to have sex with him. God, he's good.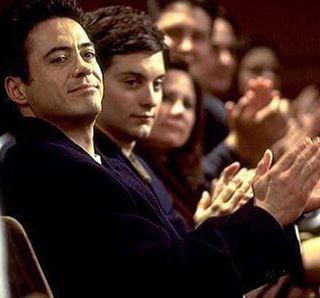 Wonder Boys (2000)
Something we learnt from Wonder Boys is that Robert Downey Jr. makes a very convincing homosexual.
He plays Terry, publisher to Michael Douglas' writer and college lecturer, Grady. Terry takes a shining to one of Grady's most exceptional (though hugely impressionable) students, James (Toby Maguire).
He gets away with all sorts just by being irresistibly charming.
Charm Factor: Downey Jr. is on typical cheeky-chappy form, and his character's overt sexuality brings a new allure to the twinkle in his eye.
In short: Robert, you are a tart.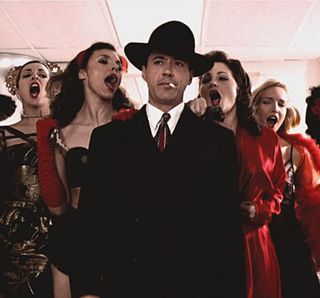 The Singing Detective (2003)
The trailer said, "starring Robert Downey Jr. and Robert Downey Jr." In The Singing Detective, RDJ is Dan Dark, in two different worlds - one is real, one isn't.
Dark is in hospital with arthritis and a gross skin disease. In his imagination, he's part of a detective thriller, and surrounded by lots of lovely ladies.
Charm Factor: As his diseased bedridden self, he's not much of a looker.
But Detective Dark is pretty suave, and has some pretty smooth lines - example: "When you're dealing with the devil praise the Lord and pass the ammunition."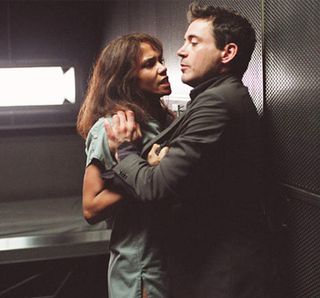 Gothika (2003)
Gothika , or Halle Berry's 2-hour-long panic attack wasn't our favourite film of 2003. But, characteristically, RDJ brought a little ray of sunshine to the darkness, redeeming the scene every now and then.
He plays Dr Graham, a psychiatrist at a prison for the criminally insane, where Halle Berry is incarcerated.
Berry's got to convince him she's not mad. Which is difficult when you look and sound very, very mad.
Charm Factor: The script didn't really allow for a great deal of twinkle eyes, but he manages to shoe-horn it in, somehow.
What a pro.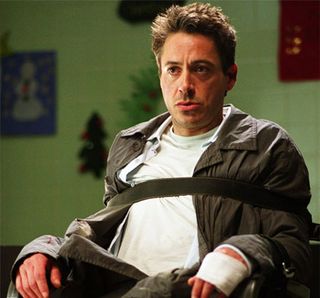 Kiss Kiss Bang Bang (2005)
The role: Harry Lockhart introduces himself at a party as retired, claiming, "I invented dice when I was a kid."
The film is a noirish dark comedy-thriller, through which Lockhart stumbles, gauche and hapless, somehow managing to survive on sheer dumb luck.
Charm Factor: His charm levels fluctuate throughout the film. He's incredibly charming in the majority of it - particularly in certain voice-over interjections.
He's not so charming when he's just had his finger chopped off in a door-slamming incident.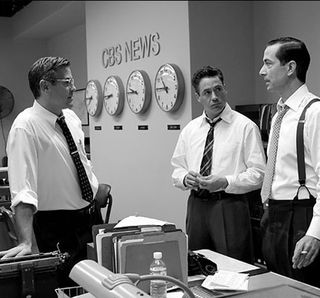 Good Night, And Good Luck (2005)
George Clooney's critically acclaimed film about the Communist witch-hunts of the '50s focused on the world of broadcast journalism, and the media's responsibility as a voice for the people.
Downey Jr. plays Jo Wershba, who is secretly married to a co-worker at CBS (which was forbidden at the time).
The sub-plot offers a welcome moment of warmth to a tough film.
Charm Factor: He spends much of the movie being stressed out. It's a tense film. However, is relationship with his wife Shirley wonderfully affectionate, and there's charm in that.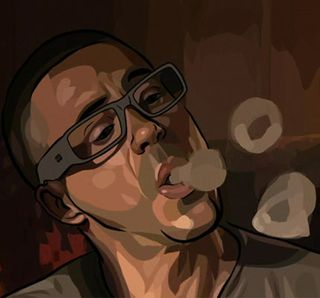 A Scanner Darkly (2006)
The stunning visuals of A Scanner Darkly set it apart from other films of 2006.
James Barris, Downey Jr.'s character, is a druggy who's unknowingly living with Keanu Reeves' undercover narcotics cop.
He some lovely hats, too. Our favourite is the beret.
Charm Factor: He's incredibly charismatic as Barris, and the the animation slavered over the top of the digital footage doesn't impede on his charming capabilities.
Thank goodness .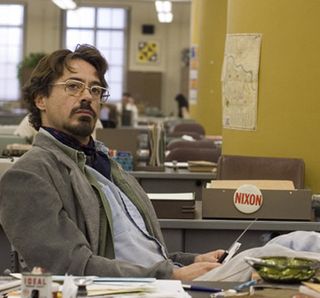 Zodiac (2007)
Featuring some rather graphic murder scenes, Zodiac follows the infamous San Fransisco serial killer case with direction from David Fincher.
Paul Avery, RDJ's character, is a reporter working for the San Fransisco Chronicle, who covers the case.
He's also an alcoholic, and his drinking starts to get in the way of his job.
Charm Factor: Call us crazy, but there is something inescapably charming about the way he bullies the shit out of Jake Gyllenhaal's character. Thumbs up.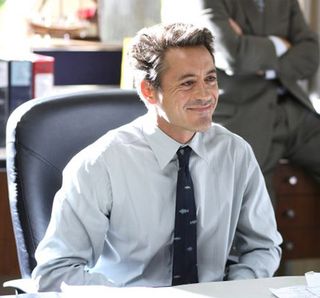 Charlie Bartlett (2007)
Charlie Bartlett is a kid who's kicked out of his public school (British public) and sent to a public school (American public).
When he doesn't fit in, he sets up his own psychiatric ward in the toilets.
Robert Downey Jr. is his world-weary principle, whose laid-back attitude towards schooling means that the scheme goes undetected for ages.
Charm Factor: He's pretty much the head teacher everyone wishes they'd had. 9/10 on the charm scale.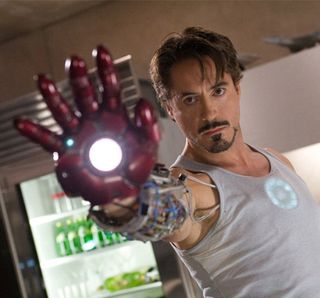 Iron Man (2008)
Tony Stark is exceedingly rich, as CIO of the family business - weapons manufacture.
After a stint in Afghanistan, and a horrific accident, Stark decides to decides to dedicate his efforts to developing armour, not weapons. In doing so he creates a flying suit!
Charm Factor: This is pretty much RBJ's most charming performance of all time. You want to climb into the screen to give him a hug for being so brilliant.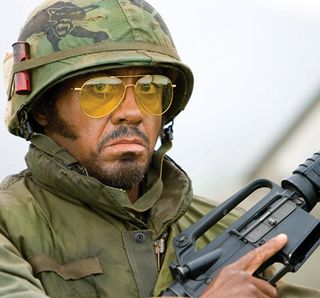 Tropic Thunder (2008)
Kirk Lazarus, a renowned actor, undergoes "pigment orientation surgery" in order to look the part in his latest role as a black sergeant. Oh dear.
If that wasn't enough, he also insists on talking in the African American accent of his character, even when the camera's stopped rolling. It would be offensive if the joke wasn't undeniably on Kirk.
Charm Factor: Well, he's unbelievably funny. The Academy though so, too, even gave him an Oscar nod for Best Supporting Actor.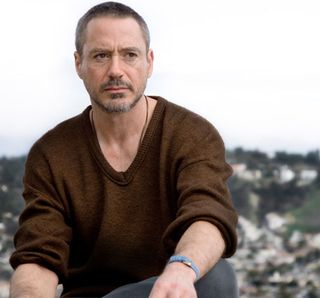 The Soloist (2009)
It's out this weekend, and sees RDJ in serious mode as real-life journalist Steve Lopez.
Lopez comes across Nathaniel (Jamie Foxx), a musical prodigy who's become homeless and schizophrenic.
It layers on the sentiment pretty thick, and isn't much of a laugh.
Charm Factor: Robert's good at playing reporters - from the world-weary to the ruthless shark - and every single one of them could charm the pants off the Pope. Lopez is no exception.