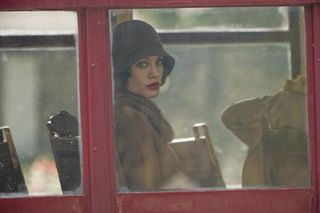 20. Christine Collins (Angelina Jolie) - Changeling (2008)
Hands up who was paying close attention to the really, really stupid story instead of admiring Ms Jolie's oddly impeccable, prissy-but-potent allure...
Clunky heels, flimsy frock, smoky eye-shadow and always a perfectly formed dab of red, red lipstick.
She looked more like an aloof '20s style icon than a haunted young woman on an unswerving quest to find her missing child.
Still - the Stone-Roses-drummer hat? No.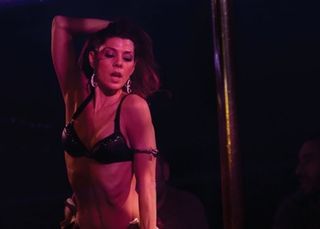 19. Cassidy/Pam (Marisa Tomei) - The Wrestler (2009)
For nailing that uneasy balance of dignity and gorgeosity, and for teasing everyone who couldn't take their eyes off Mickey Rourke to the sly reality of the movie's theme: it should have been called The Stripper.
Why? Both Randy and Pam use their bodies to make a living. But Randy can't separate his public fantasy life from his private reality.
Cassidy/Pam has worked out how and tries to transmit the secrets to Randy before it's too late. But she might as well be trying to down a rhino by throwing peanuts at it...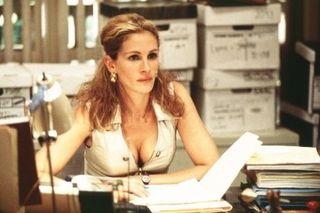 18. Erin Brockovich (Julia Roberts) - Erin Brockovich (2000)
Roberts joyously roughed up her bland, non-threatening image with a rousing turn as the tart and tarty environmental campaigner.
Some reviewers complained about how the plunging necklines and clinging miniskirts cheapened the material.
But Roberts - and Soderbergh - wallow in the spectacle of a smart, sexy, blue-collar woman striding into a man's world, taking care of business while dressed for pleasure ("I think I look nice, and as long as I have one ass instead of two, I'll wear what I like.")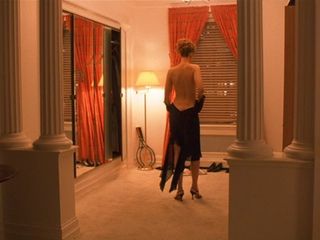 17. Alice Harford (Nicole Kidman) - Eyes Wide Shut (1999)
Kubrick's drifting, dreamlike story of a rich married couple in meltdown may have deliciously mirrored his stars' private lives, but it's Alice/Kidman's confession of infidelity fantasies that gives the film its erotic edge.
She's the sleek, statuesque touchstone that sends her husband (Tom Cruise) out on a pleasure-seeking trip of his own.
Okay, mum-wise, the kids are mostly out of sight, but it really doesn't get much hotter than a woman of Kidman's allure delivering that final line to welcome her wayward man back to his domestic reality ("There's something very important we need to do as soon as possible...")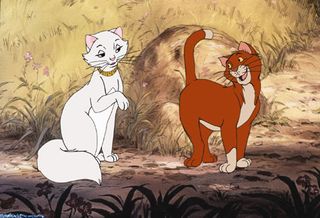 16. Duchess (Eva Gabor) - The Aristocats (1970)
Back when talking-animal movies weren't the default setting for animators, Disney's Aristocats felt shiny and vibrant, just like its star - a feline supermum with sass and sauce.
Duchess is a pretty kitty who beguiles alley-cats with her sophisto elegance while teaching them lessons in deportment ("Aristocats do not practice biting and clawing. It's just horrible.")
Fittingly, her honey-glazed voice was provided by Zsa Zsa Gabor's sister Eva - a woman who snagged and spat out five husbands.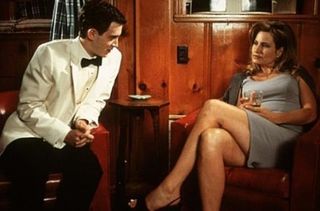 15. Stifler's Mum (Jennifer Coolidge) - American Pie (1999)
Stifler's Mum/Mom (real name Jeanine) is MILF Zero - the movie character who spawned a porno/pop-culture crossover phenomenon.
She's a boozy floozy secretly coveted by the entire male student body. So when Stifler's buddy Finch nails her on the pool table, she insists on keeping her legend alive...
("Oh, Jeanine!"... "Call me Stifler's mom!"... "Oh, STIFLER'S MOM!!")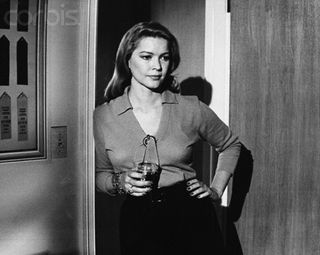 14. Lois Farrow (Ellen Burstyn) - The Last Picture Show (1971)
Peter Bogdanovich's '50s-set Texan coming-of-age tale is dominated by newcomer Cybill Shepherd's gleaming performance as a teeny temptress.
But it's Burstyn, as the lonely, rich, alcoholic philanderer who's the real wonder woman - sad-eyed and regretful, marooned in a comfortable but sexless marriage, yet still radiant and undimmed in Bogdanovich's high-contrast monochrome.
Best line: when a call to her lover is rebuffed ("I thought I'd drive out, see how my well was doing") Lois lashes out: "Drill hard. You're better at oil wells, anyway..."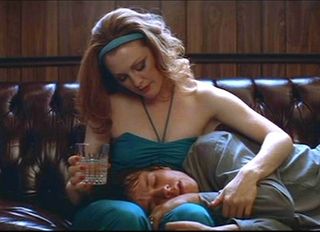 13. Amber Waves (Julianne Moore) - Boogie Nights (1997)
Amber may be a coke-dusted screw-up with her own daughter, but she seizes her chance at maternal redemption by mentoring Mark Wahlberg's perky young porn-star.
She's a fantasy mother figure - both fantasy (seen it all, done it all) and motherly ("Take your time, honey..." she reassures a nervy Dirk as he hesitates with his Diggler.)
"Boogie Nights is an American tragedy," says Moore. "About how we all think it's so important to be a 'star'." Luckily, Dirk has Amber to catch him when he falls.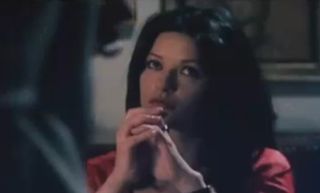 12. Helena Ayala (Catherine Zeta-Jones) - Traffic (2000)
If we ever stumble into a multi-stranded legal wrangle involving an international drug-running cartel, we'd want a woman like the beautiful, brazen Helena as our back-up.
Forced to cope alone after the arrest of her coke-baron husband leads to death-threats against her only child, the model mum takes a trip to Mexico, into the belly of the beast, hiring an assassin to kill her husband's hospitalised supergrass of a deputy.
Hot and cold.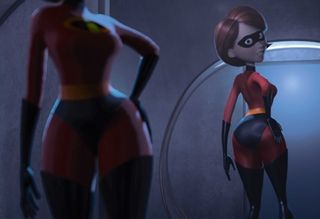 11. Helen Parr/Elastigirl (Holly Hunter) - The Incredibles (2004)
Let's not be coy... She has bendy, prehensile control over her body parts and everything that implies.
Plus, unreconstructed males would be entirely justified in asking her to grab them a beer - since, well, it'd be no trouble, would it? She could just streeetch her arm from sofa to fridge and back again...

And just to warn you - there's some deeply dubious Elastigirl-inspired image-manipulation and slash/fiction out there in the Internet badlands. So we've heard.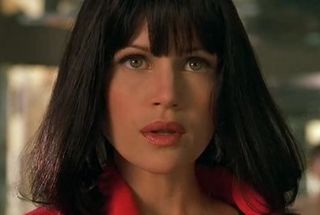 10. Ingrid Cortez (Carla Gugino) - Spy Kids (2001)
In the midst of Robert Rodriguez's ropey Mr & Mrs Smith For Kids, the breathtaking Carla Gugino once again proves why she really should be a huge star by now. (Watchmen will help, but she's surely ready for a proper lead...)
As a not-so-secret spy mum, she plays dress-up, gets chained up, demonstrates a variety of exciting wigs and, best, humiliates Alan Cumming.
She's the fantasy figure for working mums everywhere - proof that you can keep a family life and a busy job in balance, and look pretty damned good while you're at it.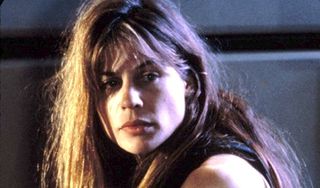 9. Sarah Connor (Linda Hamilton) - Terminator 2: Judgement Day (1991)
Sure, she's a little earnest, but who could deny that irresistible challenge of seething inner energy and biceps you could bounce marbles off?
Sarah's hardly the warm, fuzzy, make-you-a-sandwich type-mum, but she's smart, aggressive and, with really careful persuasion, could probably turn her hand to loving when she's finished fighting.
(She could maybe do with a few style tips, mind. Gok Wan would be horrified at the reliance on cheap vests and combat kecks).
And remember: really doesn't like having her face licked.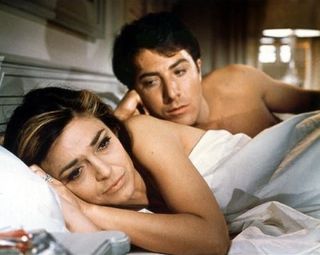 8. Mrs Robinson (Anne Bancroft) - The Graduate (1967)
Since women mature before men, it makes sense that every good boy deserves his first hit of badness to be served by an older woman.
Method actress Bancroft delivers Dustin Hoffman's conflicted college boy's real-world education with a dizzying mix of lonely hunger and power-play curiosity - like a wily cat pawing at a winged bird.
To answer his famous question - yes, she's trying to seduce him. But, knowing instinctively that it won't last, she savours every second.
Pub-bore fact: the pointy-toed stocking leg in the iconic poster shot isn't Bancroft's. It belongs to Linda Gray - who went on to play Sue Ellen in Dallas.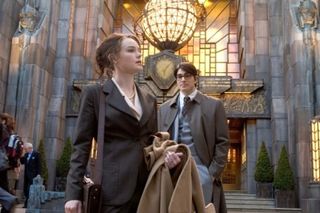 7. Lois Lane (Kate Bosworth) - Superman Returns (2006)
Reboots of mega-franchises are always going to suffer from fanboy-bleating about how the new actresses can't live up to the originals.
But the online petitions were way off on this one.
Margot Kidder's Lois was more tomboy ballbreaker. Bosworth's job was simpler: be an all-American girl for an all-American superhero (and - SPOILER! - an all-American mum for an all-American super-son).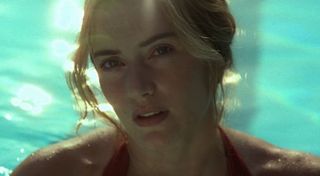 6. Sarah Pierce (Kate Winslet) - Little Children (2006)
The Madame Bovary riffs were a tad pretentious, but Kate tears into her turn as a dour, straggly-haired, mumsy mum whose sexuality re-blooms under the heat and light of equally estranged DILF Patrick Wilson.
The clash of pushchairs in the park, flustered bonding over the school-run, the red bikini signalling she's not to be spurned just because she's spawned...
She's the edgy embodiment that carnal hunger doesn't dry up in the face of wet nappies.
Best bit: being dirty among the clean washing ("Do you feel bad about this?"... "No, I don't!").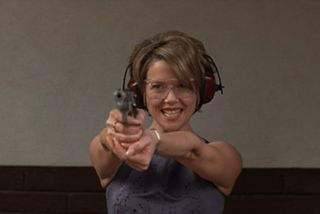 5. Carolyn Burnham (Annette Bening) - American Beauty (1999)
So why should a mid-life crisis be an exclusively male privilege?

While husband Lester is regressing - working out, smoking dope, quitting his job - Carolyn brings her own inner noise out into the open...

Loud singing in the car, big bangs at the gun-club, bigger bangs with accommodating key-jangler The Real Estate King ("Fuck me, your majesty!!")

She's a secateur-snapping, over-the-fence waving, suburban mum gone feral.

The irony: in newly alpha-male Lester, she has the perfect partner for a joint youth-revisit.

But, just as she begins to notice him, there's the biggest bang of all...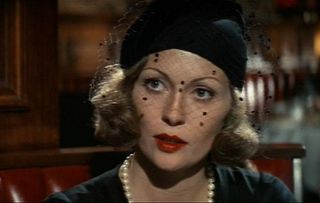 4. Evelyn Cross Mulwray (Faye Dunaway) - Chinatown (1974)
A classic femme fatale cast out of the film-noir shadows into the lurid light of corruption-obsessed '70s America.

Dunaway's aloof, breath-catching glamour sprinkles a little sex around the scrungey office of PI Jake Gittes' (Jack Nicholson).

He thinks he'll get to her through the twisted case of her cheating husband. But she has her hooks in him all along...
And, in her case, we obviously have to keep mum about the mum thing...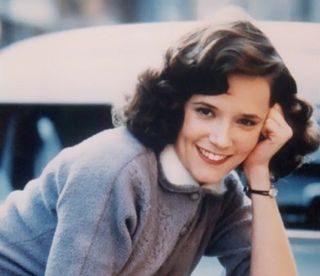 3. Lorraine McFly (Lea Thompson) - Back To The Future (1985)
Umm, we mean the young version, obviously. The one we all had a teenage crush on...
Look - it's confusing, okay? We all project onto Marty but we really, really fancy his mum when she was a kind and kooky high-schooler. And that's sort of okay, right? She is supposed to be seventeen. Ish...
It's the '50s wholesomeness. The clean-cut twinkle. The way she tends and nurtures the injured Marty while being quick to get him into her bedroom...
It might even be the cardigan.
Either way, she's more woman than Jennifer ever was. Er, will be...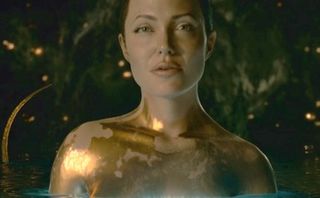 2. Grendel's Mother (Angelina Jolie) - Beowulf (2007)
According to the Ye Olde English version of Beowulf, after felling the foul beast Grendel, Beowulf must face his even fouler mother - a rancid monster bent on revenge for the slaying of her son...
It'll never play in the multiplexes, reasoned director Robert Zemeckis. She needs to be remoulded as a nude, lithe, excitingly reptilian mama-beast with a pony-tail whip, wearing high-heels... (pant, pant)... played... PLAYED BY HELEN HUNT!
No, wait. ANGELINA JOLIE!
Zemeckis copped out by masking Jolie's naughty bits with a shifting shimmer of liquid gold - cutting away just as the drips are about to fall off her nips.
Censor satisfied. English Lit purists irritated. Teenage boys stashing 11th century epic poetry in with their grot-mags...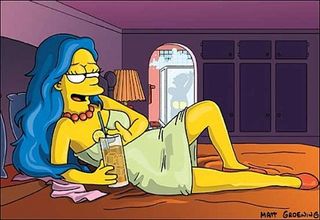 1. Marge Simpson (Julie Kavner) - The Simpsons Movie (2007)
The trouble with Marge is, she's perfect.
She's a towering, matriarchal monolith: propping up her dinosaur-brained husband; raising a very bad boy, a goody-good girl and a precocious pacifier-junky.
There's the hubba-hubba husky voice, the inappropriately tight dress, world-class pork-chop preparation skills...
Normally, this would all feel a bit airless and idealised. But then, there's the blue hair .
Sticky-up blue hair.
At her age, that's gotta imply something spicy and subversive writhing beneath the Steptford surface..
Liked This? Then see:
Sign up for our free weekly newsletter for the latest news, features and reviews delivered straight to your inbox.