Fast facts
Destiny 2 release date: Fall / Q3 2017
Formats: TBA, likely PlayStation 4, Xbox One, and PC
Developer: Bungie
Price: TBA, likely $59.99 / £49.99
Despite the best efforts of other shooters, Destiny remains the go-to FPS for many a discerning Guardian. There's plenty left to do if you've yet to hit that 400 light level cap, or have a quest or two (or ten) still kicking around in your inventory (particularly those Crucible ones... why do they take so long?!).
Bungie has made it clear that when it comes to following up its sci-fi smash, its plans to push out all the stops. So, for your delectation, we've collated the very latest Destiny 2 news, rumours and red-hot speculation (so please, take some of this with a shovel of salt) in this handy guide, complete with Bungie's recent confirmation of the 2017 release window. I know. We can't wait either, Guardian...
Destiny 2's release date will be "fall" / Q3 2017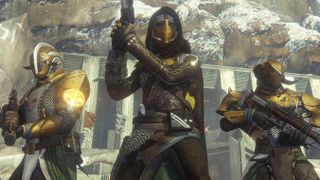 Bungie has finally confirmed that Destiny 2 - described by publisher Activision as a "full sequel" - will release in fall 2017. For those of us living on the other side of the equator, that's sometime around September, October, or November 2017. Hot money is on September, as that's when Activision released the original game and all the significant expansions.
Interestingly, the publisher also details "follow-on content plans" which "set the stage for growth". Could this be an acknowledgement that Bungie may be moving away from Destiny 1's irregular expansion release program? Here's hoping we find out more soon...
Rise of Iron wasn't quite as big as The Taken King, and even the latter expansion had some pretty bare months, so hopefully Bungie can keep Rise of Iron feeling lively until Destiny 2 arrives.
Destiny 2 planets will be bigger destinations
You might expect a Destiny sequel to just keep on building on the same fundamentals the original has refined over three years of real-world experience. But it sounds like Bungie will set much all of that aside and go for a relatively clean slate instead.
Reports indicate that Destiny 2 will make each individual planet feel like a more complete destination. Right now the Patrol Maps are a bit Theme Parkish, with little attractions like Patrol Missions connecting the Mission and Strike roller coasters. Though you can't actually ride the roller coasters without leaving and re-entering the park first, so maybe this isn't the best metaphor. Anyway, in Destiny 2, you could find new outposts and towns as you explore the world, each harboring their own missions and storylines. So yeah, it sounds a lot more MMORPG-ish.
Destiny characters may not transfer over (fully)
Unfortunately, starting with a clean slate might mean you can't take your old Guardian with you. Rumor has it that Bungie has walked back a bit from its former goal of letting players take their character with them across the entire ten-year Destiny plan. It makes sense - if the game is adding all-new systems and stripping out old ones, how could it meaningfully transfer over your old gear and progress?
Maybe there will be some massive cataclysm that strips every Guardian of their gear and progress so you can continue with the same face and class but all-new everything else. Samus somehow loses all of her power-ups at the start of every Metroid game, right? It could happen to you!
Destiny 2 could be coming to PC
The first Destiny remains a console-only affair, despite bridging two generations of gaming systems. But it sounds like PC players will finally get to start playing around with space magic in Destiny 2. If this is true, it will be interesting to see what Bungie tweaks to make the game more welcoming for the PC crowd. Gun perks that enhance aim assist, while great on joysticks, will likely be less significant for mouse and keyboard players. And a PC version would be a helluva lot easier to datamine for spoilers. Speaking of which...
Destiny 2 story has plenty of threads to pick up
In a recent investor call, Activision stated Destiny 2 will be here in the fall of 2017, promising an accessible and "great" cinematic story" with "relatable characters".
We have a full article just for Destiny 2's story, based on hints found in the original game and connections from the grimoire to real-life mythology. And it wouldn't be Destiny if it wasn't really hard to summarize. But suffice to say it looks like Eris Morn, the Cult of Osiris, and even The Traveler itself will soon be cast in an entirely new light. Keep your friends close, your enemies closer, and the people who say they're your friends but seem kinda sketchy closest of all.
Related Destiny 2 news:
Destiny 2 confirmed for 2017, Activision already promising "follow on content plans"
Destiny 2 rumors say it will be "a completely different game" and come out on PC
Destiny 2 story: The truth is hidden in plain sight, and will turn everything on its head
Destiny 2: Scale, depth, and true RPG scope will deliver the sequel the first game deserves
Take a look at this rejected Destiny 2 concept pitch from Taken King artist