Cinema is perhaps best described as a window into the lives of others. It's a look at different worlds and viewpoints, whether that's an entirely alien culture or a rather more familiar one. Some follow a regular joe or jane undertaking a wild and transformative adventure. Others follow a more distinct, radical or unusual character in experiencing the highs and lows of everyday life.
Gay cinema is no different. Some movies tackle a character's sexuality, and the associated issues and prejudices head on, while others simply happen to involve gay characters. What follows are the top 75 gay movies, showcasing the vibrant, albeit oftentimes difficult lives of these characters.
75. Parting Glances (1986)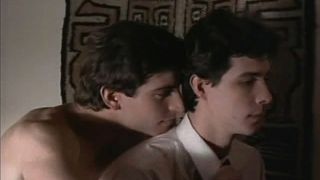 Writer-director Bill Sherwood made Parting Glances as an edgy, heartfelt ode to the New York gay scene. Set during the late eighties, at the height of the AIDS epidemic, the movie orbits around Michael (Richard Ganoung), whose boyfriend Robert (John Bolger) is on the cusp of leaving for Africa. Centring around the couple's last 24 hours, they attend farewell bashes while Michael tends to his former lover who now lives with HIV. It's the spot-on details of the period that add to this touching story. Keep an eye out for an early turn from Steve Buscemi as Michael's ex.
74. She-Monkeys (2011)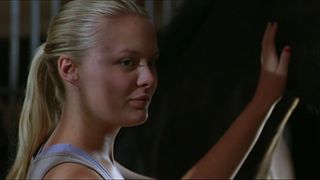 A topic that's a frequent go-to in the realm of lesbian cinema is teenage romance: am I gay, or am I just figuring myself out? This question dominates many of these tales, and Swedish direction Lisa Aschan's debut is no different. Teens Emma and Cassandra navigate such tricky matters of the heart, while the latter starts to have strong feelings about her new friend. A quiet, slow-moving drama, that's at times a little chilly, it nevertheless shines a light on the awkwardness of coming out.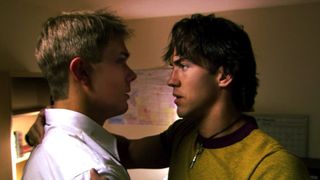 Not the best-acted film you'll ever see, but still a sensual little drama that features some serious beefcake. Mormon missionary Aaron Davis (Steve Sandvoss) questions his faith when gay party animal Christian Markelli (Wes Ramsey) enters his life. Not content to just be pals, Christian makes a bet that he can seduce either Aaron or one of his two missionary friends. Though it's not particularly interested in the religious issues, it does dabble briefly in the zealotry of Aaron's family and how that affects his own sexual awakening. Really, the best part of this flick it's that it's sexy and fun.
72. L.I.E. (2001)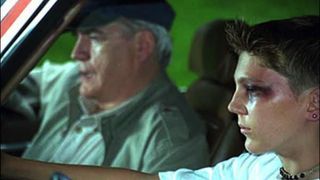 Grubbing drama meets touching love story here, as Howie (Paul Dano), who may as well be an orphan for all the good his father does, falls in with a gang and robs the house of ex-Marine Big John (Brian Cox). Despite stealing from the man, Howie eventually befriends the burly John, finding the father figure he never had in the least likely of places. Or, is he really seeking something more? The melodramatic climax is overwrought, but debut writer-director Michael Cuesta has fashioned a fascinating character study nonetheless.
71. The Children's Hour (1961)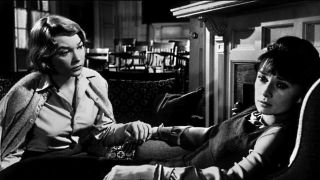 Shirley MacLaine and Audrey Hepburn headline this groundbreaking soap-ish tale set at a private school for girls. Yes, you're probably already thinking of the tired "predatory lesbo teacher lures in unsuspecting student" trope, but director William Wyler avoids that stereotype for a cry wolf story. See, Karen (Hepburn) and Martha (MacLaine) are put in the spotlight when a gobby student blabs that she caught the two kissing. They both brush it off as hogwash, while dealing with serious repercussions for Karen's upcoming nuptials, which leads to an unexpected revelation. As it came out in the early sixties, it meant it was perfectly fine to establish the now-tiresome 'evil lesbians must die' trope.
70. Death In Venice (1971)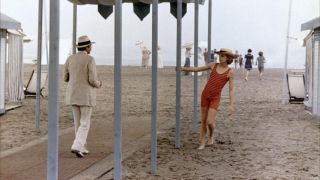 Sexual obsession shudders through Luchino Visconti's adaptation of Thomas Mann's novel, which is given a boon courtesy of Gustav Mahler's iconic, luxurious score. Switched from a writer in the original book so as to use Mahler's work, Dick Bogarde plays a German composer who departs for the idyllic Italian locale to get away from everyday stresses. During his down time, he falls for a young Polish man staying at his Venetian hotel. It's been derided as shallow and overly stylised, but there's no denying its grandeur. A heartbreaking work that'll leave you with a lump in your throat.
69. Lost & Delirious (2001)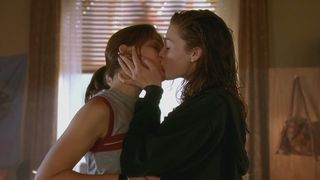 Way before she hit the big time on The O.C., Mischa Barton took the audience by the hand as the quiet, shrewish Mouse Bradford, a new student at an all-girls boarding school. She quickly learns that her two roommates aren't having late-night wrestling matches - Paulie (Piper Perabo) and Victoria (Mad Men's Jessica Pare) are lovers. It's through her eyes that we witness the strife of growing up gay with parental pressure to be anything but. Lea Pool's sensitive and moving drama perfectly captures the struggle of dealing not only with your own sexuality, but that of your partner. And Piper Perabo will just steal your heart.
68. And The Band Played On (1993)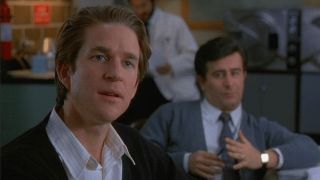 HBO movie based on Randy Shilts' book of the same name that drew back the curtain on the AIDS epidemic in America. Matthew Modine stars as Dr Don Francis, an epidomologist who attempts to discover why so many gay men died in the 1980s. Throughout his investigations he uncovers the truth behind what was then called 'the gay disease'; the resultant shock and horror of his experiences are still fresh in Roger Spottiswoode's film. It's hard to watch the prejudices and obstacles that Francis faced while conducting his research, and that's why it's all the more evocative. It provides a powerful look at a horrific era in gay history, that should never be forgotten.
67. Head On (1998)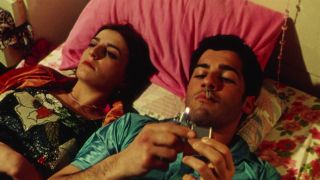 Alex Dimitriades - '80s babies will know him from Heartbreak High - plays Ari, a young Greek man who struggles with his sexuality while living in Melbourne. The film takes place over the course of 24 hours, during which Ari follows Dennis Hopper's lead in Blue Velvet - he fucks anything that moves. Directed by Ana Kokkinos, Head On gained notoriety for its explicit sex scenes - there's plenty of two-person antics and a pretty intense masturbation scene - but its daring depiction of a young man's search for sexual awareness is far more impactful. It's bleak and harrowing at times, but overall, a powerful addition to the gay cinematic canon.