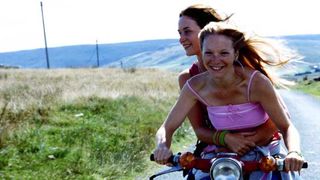 The 75 best gay movies ever
Cinema is perhaps best described as a window into the lives of others. It's a look at different worlds and viewpoints, whether that's an entirely alien culture or a rather more familiar one. Some follow a regular joe or jane undertaking a wild and transformative adventure. Others follow a more distinct, radical or unusual character in experiencing the highs and lows of everyday life.
Gay cinema is no different. Some movies tackle a character's sexuality, and the associated issues and prejudices head on, while others simply happen to involve gay characters. What follows are the top 75 gay movies, showcasing the vibrant, albeit oftentimes difficult lives of these characters.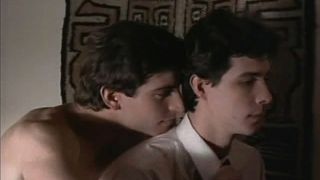 75. Parting Glances (1986)
Writer-director Bill Sherwood made Parting Glances as an edgy, heartfelt ode to the New York gay scene. Set during the late eighties, at the height of the AIDS epidemic, the movie orbits around Michael (Richard Ganoung), whose boyfriend Robert (John Bolger) is on the cusp of leaving for Africa. Centring around the couple's last 24 hours, they attend farewell bashes while Michael tends to his former lover who now lives with HIV. It's the spot-on details of the period that add to this touching story. Keep an eye out for an early turn from Steve Buscemi as Michael's ex.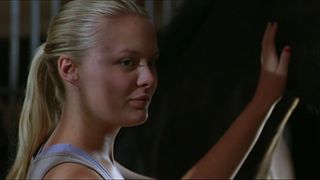 74. She-Monkeys (2011)
A topic that's a frequent go-to in the realm of lesbian cinema is teenage romance: am I gay, or am I just figuring myself out? This question dominates many of these tales, and Swedish direction Lisa Aschan's debut is no different. Teens Emma and Cassandra navigate such tricky matters of the heart, while the latter starts to have strong feelings about her new friend. A quiet, slow-moving drama, that's at times a little chilly, it nevertheless shines a light on the awkwardness of coming out.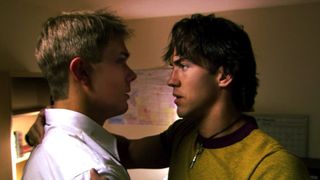 73. Latter Days (2003)
Not the best-acted film you'll ever see, but still a sensual little drama that features some serious beefcake. Mormon missionary Aaron Davis (Steve Sandvoss) questions his faith when gay party animal Christian Markelli (Wes Ramsey) enters his life. Not content to just be pals, Christian makes a bet that he can seduce either Aaron or one of his two missionary friends. Though it's not particularly interested in the religious issues, it does dabble briefly in the zealotry of Aaron's family and how that affects his own sexual awakening. Really, the best part of this flick it's that it's sexy and fun.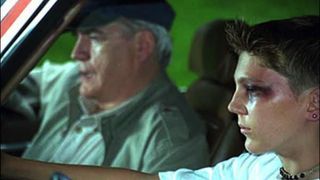 72. L.I.E. (2001)
Grubbing drama meets touching love story here, as Howie (Paul Dano), who may as well be an orphan for all the good his father does, falls in with a gang and robs the house of ex-Marine Big John (Brian Cox). Despite stealing from the man, Howie eventually befriends the burly John, finding the father figure he never had in the least likely of places. Or, is he really seeking something more? The melodramatic climax is overwrought, but debut writer-director Michael Cuesta has fashioned a fascinating character study nonetheless.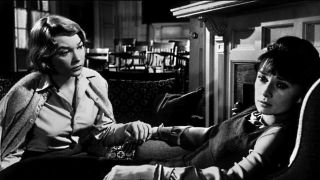 71. The Children's Hour (1961)
Shirley MacLaine and Audrey Hepburn headline this groundbreaking soap-ish tale set at a private school for girls. Yes, you're probably already thinking of the tired "predatory lesbo teacher lures in unsuspecting student" trope, but director William Wyler avoids that stereotype for a cry wolf story. See, Karen (Hepburn) and Martha (MacLaine) are put in the spotlight when a gobby student blabs that she caught the two kissing. They both brush it off as hogwash, while dealing with serious repercussions for Karen's upcoming nuptials, which leads to an unexpected revelation. As it came out in the early sixties, it meant it was perfectly fine to establish the now-tiresome 'evil lesbians must die' trope.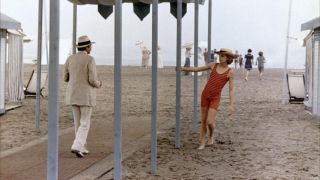 70. Death In Venice (1971)
Sexual obsession shudders through Luchino Visconti's adaptation of Thomas Mann's novel, which is given a boon courtesy of Gustav Mahler's iconic, luxurious score. Switched from a writer in the original book so as to use Mahler's work, Dick Bogarde plays a German composer who departs for the idyllic Italian locale to get away from everyday stresses. During his down time, he falls for a young Polish man staying at his Venetian hotel. It's been derided as shallow and overly stylised, but there's no denying its grandeur. A heartbreaking work that'll leave you with a lump in your throat.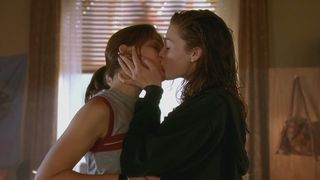 69. Lost & Delirious (2001)
Way before she hit the big time on The O.C., Mischa Barton took the audience by the hand as the quiet, shrewish Mouse Bradford, a new student at an all-girls boarding school. She quickly learns that her two roommates aren't having late-night wrestling matches - Paulie (Piper Perabo) and Victoria (Mad Men's Jessica Pare) are lovers. It's through her eyes that we witness the strife of growing up gay with parental pressure to be anything but. Lea Pool's sensitive and moving drama perfectly captures the struggle of dealing not only with your own sexuality, but that of your partner. And Piper Perabo will just steal your heart.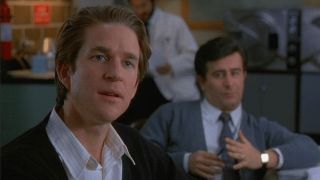 68. And The Band Played On (1993)
HBO movie based on Randy Shilts' book of the same name that drew back the curtain on the AIDS epidemic in America. Matthew Modine stars as Dr Don Francis, an epidomologist who attempts to discover why so many gay men died in the 1980s. Throughout his investigations he uncovers the truth behind what was then called 'the gay disease'; the resultant shock and horror of his experiences are still fresh in Roger Spottiswoode's film. It's hard to watch the prejudices and obstacles that Francis faced while conducting his research, and that's why it's all the more evocative. It provides a powerful look at a horrific era in gay history, that should never be forgotten.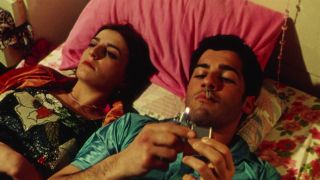 67. Head On (1998)
Alex Dimitriades - '80s babies will know him from Heartbreak High - plays Ari, a young Greek man who struggles with his sexuality while living in Melbourne. The film takes place over the course of 24 hours, during which Ari follows Dennis Hopper's lead in Blue Velvet - he fucks anything that moves. Directed by Ana Kokkinos, Head On gained notoriety for its explicit sex scenes - there's plenty of two-person antics and a pretty intense masturbation scene - but its daring depiction of a young man's search for sexual awareness is far more impactful. It's bleak and harrowing at times, but overall, a powerful addition to the gay cinematic canon.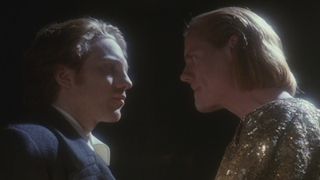 66. Edward II (1991)
Derek Jarman's gorgeous adaptation of Christopher Marlowe's play is a curious thing. The life of Edward II is the core of the story, yet it's the manner in which everything unravels that makes this more than a standard period retread. Forget your stuffy re-tellings of history, this postmodern riff flits between eras, and delves into Edward II (Steven Waddington)'s private life at a time when his infatuation with Piers Gaveston (Andrew Tiernan) was at its height. In Jarman's capable hands, this is a work of art in and of itself, partly helped by another stunning turn by Tilda Swinton.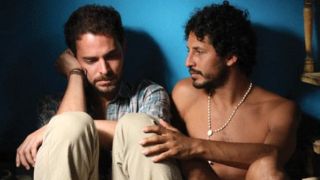 65. Contracorriente (2009)
This Peruvian drama won the World Cinema Audience Award at the 2010 Sundance Film Festival. The film revolves around married fisherman Miguel (Cristian Mercado), who strikes up an affair with painter Santiago (Manolo Cardona) and doesn't know how to face the reality of his feelings. Should he tell his wife or just deal with his burgeoning sexuality? Its translated title of Undertow hints at the ghostly goings-on that kick off in the second half - I'll be surprised if you can guess what they are - which transform the movie into a terrific gay spin on Truly, Madly, Deeply.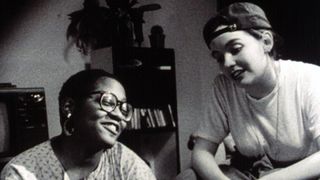 64. Go Fish (1994)
Rose Troche's feature film debut burst onto the scene, smashing to bits preconceived notions about the lesbian lifestyle. Because it's the same if you're straight: being young and in love is both wonderful and difficult. Opposites attract is the order of the day here, as young Max (Guinevere Turner) relocates to Chicago for school and winds up on a blind date with the older, butch Ely (V.S. Brodie). Modelling its lesbian lovers after actual people, this indie feels real, which is exactly why we like it. Look elsewhere for pretentious drama, Go Fish is all about the truth of being caught between two lovers.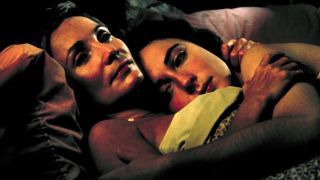 63. Lianna (1983)
An acting tour-de-force for Linda Griffiths, who plays the titular character, a mother of two trapped in a loveless marriage. Upon discovering her husband has been unfaithful, she chooses to get her jollies with someone else. That turns out to be the female professor of her child psychology class, whom she falls head over heels for. Dated in places - the dance scene boasts some pretty epic '80s hairdos and knitwear - it still hits home thanks to its central message. Keenly-observed and refreshing in its exploration of moral and emotional issues, this drama from John Sayles is definitely worth seeking out.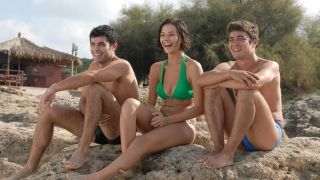 62. Loose Canons (2010)
Gorgeously shot, this foreign comedy will have you frantically searching for an all-inclusive getaway to the town of Lecce in Southern Italy. The story kicks off with the fates of two brothers in the balance; Tommaso (Riccardo Scamarcio) and Antonio (Alessandro Preziosi) both struggle with their sexual identities. The former is scared to come out to his family - but wants to in order to avoid taking over his father's pasta business - while the latter already has and has been banished as a consequence.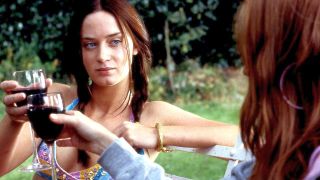 61. My Summer Of Love (2004)
Emily Blunt plays pampered beauty Tasmin, who becomes the object of tomboy Mona's (Natalie Press) affections over the course of a blistering Yorkshire summer. As an uneasy relationship develops, this romantic thriller from director Pawel Pawlikowski never plays it straight, always keeping its audience on its toes. The girls' romance and morbid fascinations are why its often compared to Heavenly Creatures. Although, because their trips into fantasyland don't involve murdering someone's mum, there's something a little lighter about this sapphic tale.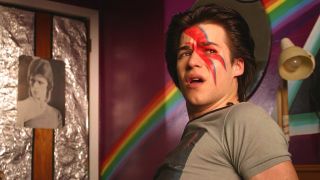 60. C.R.A.Z.Y. (2005)
Canada in the '70s, and Zac Beaulieu (Marc-Andr Grondin) is struggling with his sexuality. Growing up in a family of five brothers and a strict, conservative father, he's got the weight of the world on his shoulders as he figures out how to navigate pleasing his right-wing family and living the life he truly desires. Currently sitting at 100% fresh on Rotten Tomatoes, C.R.A.Z.Y. is a warm, energetic coming-of-ager that's both visually rich and thoroughly entertaining.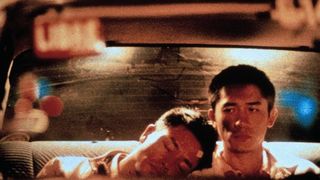 59. Happy Together (1997)
This Hong Kong drama charts the tumultuous relationship between Ho Po-Wing (Leslie Cheung) and Lai Yiu-fai (Tony Leung Chiu-Wai), who make a trip to Argentina in the hope that it will breathe some life into their partnership. They break up, they make up, and the backdrops to all of their squabbles are stunning. It's a confident and stylish offering from director Wong Kar-wait, who insists that the point of the movie isn't become 'another gay film' but simply as a portrait of modern romance, regardless of gender.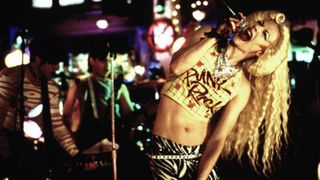 58. Hedwig & The Angry Inch (2001)
John Cameron Mitchell's awesome musical comedy is adapted from the cult stage musical and stars Mitchell as Hedwig, the genderqueer lead singer of an East German touring band who winds up in the U.S. after marrying an American citizen. While there's loads of comparisons to Rocky Horror, it's more than just a European knock-off. Yeah, you've got show-stopping musical numbers and outfits that'll make your head spin, but it's the surprising poignancy to Hedwig's journey that separates this terrific movie.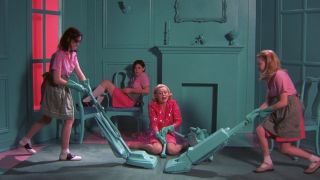 57. But I'm A Cheerleader (1999)
Cheerleader Megan (Natasha Lyonne) is sent off to sexual redirection camp by her parents, who suspect that she's a lesbian, all because she gets on better with her female friends than her boyfriend - and has posters of bikini-clad babes in her locker. Schlocky hijinks ensue as she bonds with her fellow campers, including the too-cool-for-school Graham (Clea DuVall), and realises there is an alternative to the camp's seal of approval. Cheerleader is the kind of film that John Waters would be thrilled by... which is good enough for us.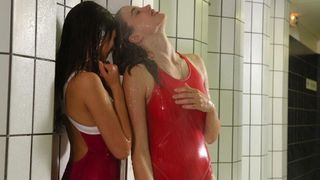 56. Water Lilies (2007)
Before she made Tomboy, director Cline Sciamma directed Water Lilies, an equally sensitive exploration of burgeoning sexuality. Set in France, this erotic tale follows fifteen-year-old Marie, whose desire to join the local swimming pool makes her wonder why she's so keen to take a dip. Is it the athleticism? Or the chance to spend time with Anne and Floriane? The trio's love lives collide during a summer spent splashing about, figuring out what they want and falling in love. Understated and gorgeous.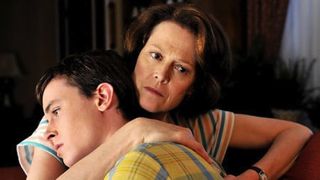 55. Prayers For Bobby (2009)
Grab the tissues for this one. Based on Leroy F. Aaron's novel, Prayers For Bobby is inspired by the true story of Bobby Griffith, whose struggles with coming out reach a head. He kills himself when his mother and the rest of the community ostracise him for being gay. Sigourney Weaver leads the way as Mary Griffith, as it's really her story that's being told here, the decisions of a mourning mother reaching out to deal with her choices and make amends. Prayers For Bobby is an unashamed weepy that still has very important things to say.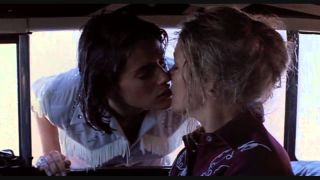 54. Desert Hearts (1985)
Based on Jane Rule's novel, this 50s-set romantic drama follows the relationship between divorcee Vivian Bell (Helen Shaver) and Cay (Patricia Charbonneau), the daughter of a ranch owner. Unconventionally for the time, this country and western-infused drama actually comes equipped with a happy ending. You know, as opposed to those arcane endings typically tagged onto most lesbian movies, where they die or turn out to be evil. Or both.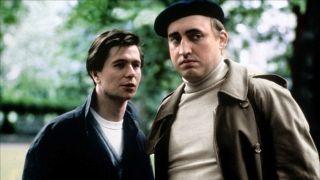 53. Prick Up Your Ears (1987)
Gary Oldman and Alfred Molina team up as lovers Joe Orton and Kenneth Halliwell in Stephen Frears' adaptation of John Lahr's book. A biopic following Orton's life as a successful playwright, the film picks up when the young scribe is at drama school, where he meets Molina's introverted Halliwell. The two bond, and begin an affair, while Orton's success brings out a dangerous side to his new lover. Alongside Vanessa Redgrave, Oldman and Molina are fantastic in a film stuffed with fantastic performances, while Alan Bennett's script is typically polished.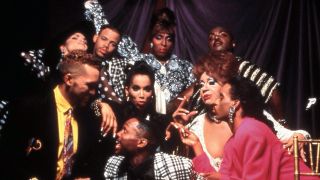 52. Paris Is Burning (1990)
Still longing for the day when RuPaul's Drag Race returns to our screens? Then check out Jennie Livingston's energetic documentary, which served as a template for RuPaul's modern TV riff in peeling back the curtain on New York City's 1980s drag scene. This fun and informative narrative-docco takes place during a time when NY's ballroom subculture was on the cusp of being dragged, kicking and screaming, into the mainstream. Seven years in the making, the film acts as a backdrop for a look at sexuality, race and gender in 80s America, and how the lives of transgender women, gay men and drag queens became a riotous cause for celebration.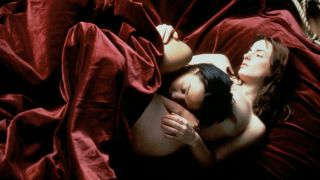 51. When Night Is Falling (1995)
So steamy that it was slapped with the dreaded NC-17 certificate in the US, Patricia Rozema's drama follows university professor Camille (Pascale Bussires) as she throws of the shackles of her upcoming nuptials when she crosses paths with the vivacious carnival worker Petra (Rachael Crawford). Unable to deny their chemistry, the pair's friendship soon takes to the sheets. Points awarded for the realistic sex scenes, and the sensitive approach to Camille's decision to change her entire life. Though it divided critics at the time, its generally celebrated as a unique portrayal of unexpected love.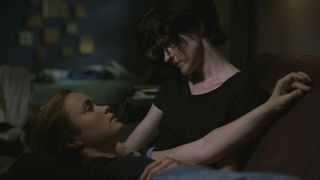 50. High Art (1998)
Picture the scene: your new neighbor pops by to ask for a cup of sugar or a drop of milk. The next thing you know, they're under your bathtub with a wrench tinkering with your plumbing. That's exactly what kickstarts a romantic affair between moody, retired photographer Lucy (Ally Sheedy) and her spritely new neighbor Syd (Radha Mitchell). Their passions drive most of the story, but it's Patricia Clarkson who steals the show as the heavy-lidded, perpetually drugged Greta, Lucy's heroin-loving girlfriend.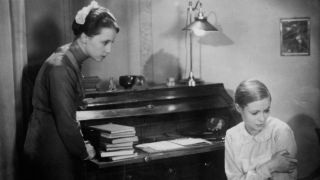 49. Madchen In Uniform (1958)
A gay tragi-drama from director Gza von Radvnyi stars Romy Schneider as Manuela, a boarding school student who falls for her teacher, Elisabeth Von Bernburg (Lilli Palmer). Naturally, this being 1931 when the Hays Code meant all homosexuality in film must be depicted in a negative light, their tryst soon turns scandalous. Director Radvnyi doesn't shy away from the tough material for a film that pushed the boundaries at the time. It still feels fresh all these years later.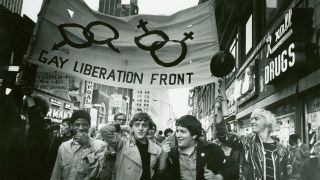 48. Before Stonewall (1984)
Yes, it's before Stonewall - that quasi-truthful Roland Emmerich flop from last year - but this documentary from Greta Schiller is an important cultural document. It flips through the history books, looking into what life was like prior to the Stonewall riots in 1969 New York. Through interviews with those who lived through years of prejudice, Schiller paints a fascinating portrait of life when homosexuality wasn't just Other, being gay was a life of condemnation. Hard-hitting stuff.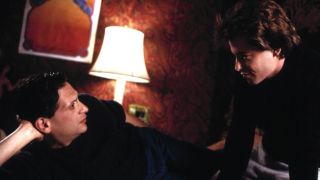 47. Torch Song Trilogy (1988)
Harvey Fierstein adapts his play and takes the lead role as Arnold Beckoff, a female impersonator looking for love and acceptance during the 1970s. After a brief dalliance with a schoolteacher, he meets Alan (Matthew Broderick), a male model who he falls for and settles down with. As they apply to foster a child, tragedy strikes. This is terrific, heart-wrenching stuff that shines a light on the issues gays had to contend with a decade before AIDS. Prepare to be very upset.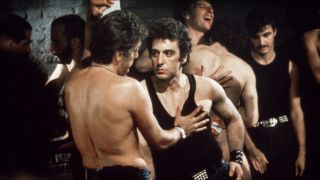 46. Cruising (1980)
Appearing in theaters barely a decade after Stonewall, Cruising was lambasted by gay rights protestors upon its release, who believed the film was anti-gay. William Friedkin's S&M serial killer movie continues to divide the gay community to an extent, but the uproar has simmered down somewhat since release. In the film, Al Pacino plays a cop who goes undercover in the Village to help the force track down a killer targeting gay men in their late twenties. It's easy to see why it's stirred up so much controversy, when positive gay representations in the media were few and far between, yet it's worth hunting down for Pacino's impassioned performance.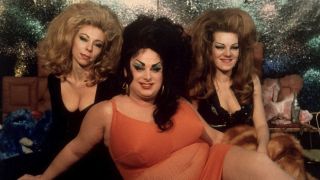 45. Female Trouble (1974)
The world's been turned upside down in John Waters' raucous, razor-sharp satire. In this garish tale, being gay is normal, and being straight is considered 'sick'. The movie chronicles the life of Dawn Davenport (Divine), a juvenile delinquent whose unlawful tendencies turn her into a full-blown career criminal. Of course, this is Waters, so things get even more barmy with Divine also playing a man who inevitably get together and do the nasty. Utter madness that has to be seen to be believed.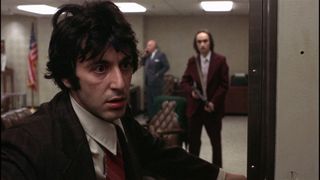 44. Dog Day Afternoon (1975)
Based on the real-life story of a Brooklyn bank robbery gone wrong, Sidney Lumet's film retains its power 40 years on, combining meaty drama with a breakneck pace. Bad boy Sonny (Al Pacino) plans a bank heist that will help him pay for his male lover's (Chris Sarandon) sex change operation. Such an earnest situation at the time pushed at the mainstream movie boundaries, but the brilliance of the script is how damn funny it is. From the third member of the heist crew who bails, to Sal's suggestion of Wyoming when asked which country he'd like to escape to.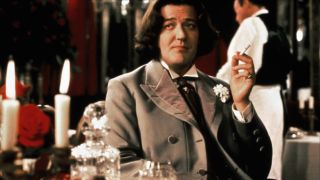 43. Wilde (1997)
In this period biopic Stephen Fry tackles the role of Oscar Wilde. He marries Constance Lloyd (Jennifer Ehle), begins a family and is then seduced by Robbie Ross (Michael Sheen), a life-changing moment forces him to confront his own sexuality. It's when he meets Jude Law's handsome young Lord that his secret longings turn to scandal. Fry is the perfect Wilde, bringing an urbane vulnerability to the role in what is a hugely charming ode to the great writer.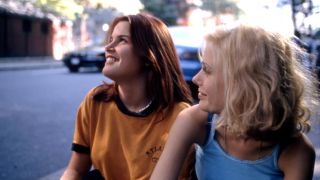 42. All Over Me (1997)
A lesbian drama based around the riot grrrl music scene, All Over Me takes place in a Hell's Kitchen far removed from the one inhabited by Marvel's small-screen heroes. It follows party animal Claude, who finds herself falling for her supposedly-straight best friend Ellen right as their lives are turned upside down by the violent murder a close pal. Alison Folland dominates the film with a masterful performance. Throw in its savvy soundtrack and you've got a flick that's an authentic and honest coming-of-age tale.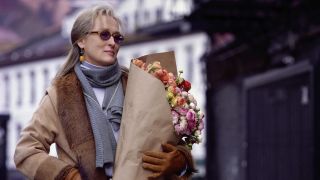 41. The Hours (2002)
Meryl Streep champions a gay lifestyle in this Oscar-bothering drama. She plays Clarissa Vaughan in one of three vignettes, a New Yorker in a relationship with Sally Lester (Allison Janney), though she was once with Richard (Ed Harris), a poet with AIDS. The 1950s segment features Julianne Moore as an unhappy housewife who makes a move on her female neighbor. There's no easy answers to any of the woes that plague each of these characters face, and with Philip Glass on score duties you're guaranteed to be blubbing by the end credits.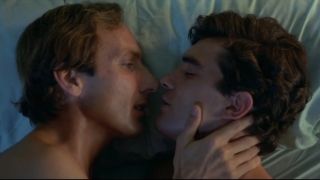 40. Law Of Desire (1987)
The first overtly gay film from Spanish auteur Pedro Almodovar, Law Of Desire (or La ley del deseo) centres on movie-maker Pablo Quintero (Eusebio Poncela), who has a one night stand with a puppy-eyed Antonio (Antonio Banderas) while in a relationship with Juan. The young Antonio's obsessive nature comes to the fore, bringing with it an unexpected twist. It's a must-see if you've enjoyed the director's later work, offering hints at content explored more fully in his recent films. Still, this early piece is as melodramatic as anything Almodovar has made. It's outrageous, colourful and impossible not to love.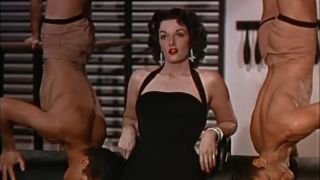 39. The Celluloid Closet (1995)
Based on the book by LGBT activist Vito Russo, The Celluloid Closet is a riveting examination of the treatment of gay and lesbian characters in film. This entertaining documentary analyses numerous movies in its discussion of gay representation in modern cinema, while interviewing the likes of Quentin Crisp, Whoopi Goldberg, Susan Sarandon and Tony Curtis. Lily Tomlin provides excellent narration. It's essential viewing, that now over twenty years later serves as a reminder of how far we've come in terms of gay visibility in movies.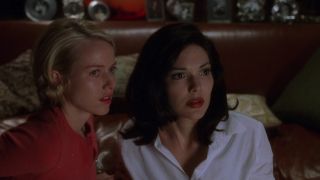 38. Mulholland Drive (2001)
A neo-noir thriller from David Lynch, Mulholland Drive is a surreal masterpiece in which a woman (Laura Harring) who survives a car crash attempts to regain her memories. Aided by wide-eyed wannabe starlet Betty Elms (Naomi Watts), "Rita" sets off down a path full of shady men in suits, bizarre lip-sync clubs and an absolutely sizzling romance. It's Lynch at his very best. But the best part is his approach to the lesbian relationship at its heart; no-one batters an eyelid about it. Watts and Harring share celluloid-shrivelling chemistry that is genuinely romantic without being lurid.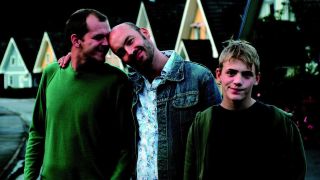 37. Patrik 1.5 (2008)
The Swedes serve up a thoroughly modern rom-com in Patrik 1.5, as gay couple Goran and Sven decide to adopt a baby. Through bungled paperwork, however, they don't receive the 18-month old baby they expected (written as 1.5) but a moody, teenage delinquent who's actually 15. Yes, the importance of a well-placed decimal is not lost on this couple who end up in a living hell for a week. Believing that all gay men are perverts, in a faux-serious way, Patrik makes their lives a misery. Funny, well-observed and pleasantly Scando-glossy.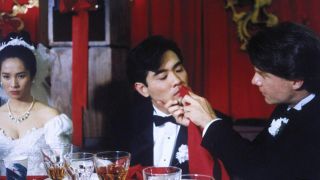 36. The Wedding Banquet (1993)
Ang Lee's first film about gay characters saw the director poke fun at a custom he found tiresome: the wedding banquet. And so, The Wedding Banquet is a comedy of errors packed with humor and heart. It follows a gay Taiwanese immigrant who marries a Chinese woman in need of a green card to appease his parents' wishes. But things go wrong when his parents turn up for the wedding and insist on a lavish ceremony, leading to a manner of strange twists and turns in this side-splittingly funny and poignant story.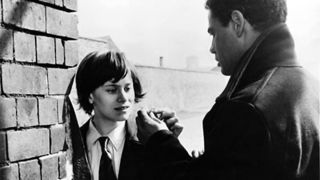 35. A Taste Of Honey (1961)
An adaptation of Shelagh Delaney's play, this kitchen sinker from Tony Richardson charts the relationship of 17-year-old Jo (Rita Tushingham), who moves in with gay textiles student Geoffrey (Murray Melvin) and discovers she's pregnant. It switched the typical kitchen sink "angry young man" angle to focus on a troubled young woman, who finds a friend in the least likely of places. Includes the immortal line: You need somebody to love you while you're looking for somebody to love.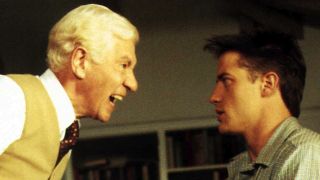 34. Gods And Monsters (1998)
Bill Condon explores the final days of Frankenstein director James Whale (Ian McKellen), a closeted gay gent who, after a revolving door of young suitors, develops a keen friendship with his ex-Marine gardener (Brendan Fraser). Condon's film is a technical masterpiece, flitting between Whale's heyday as a genre filmmaker when being out was not an option and his later sexual confidence. It's a true celebration of Whale's life and spirit that ebbs with real passion.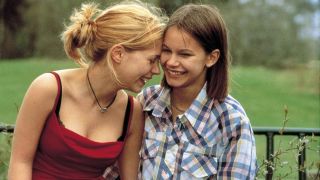 33. Show Me Love (1998)
The '90s are well and truly alive in this Swedish drama - not least in the terrible sports fashion - which gives us flashbacks to Byker Grove. Regardless of its somewhat dated visuals, Lukas Moodysson handles the love story at its core with humor and charm. Two angsty teenagers explore the possibility that their dissatisfaction with life might be due to their hidden desire: they're more than just best friends. Show Me Love, or Fucking Amal as it's called in Sweden, features some believably messed up and moody teens.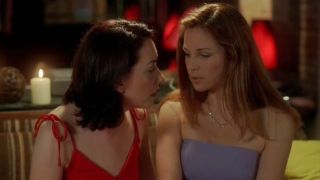 32. Kissing Jessica Stein (2001)
"A woman searching for the perfect man instead discovers the perfect woman" goes the plotline of this comedy drama written by and starring Jennifer Westfeldt. Westfeldt plays the title character, an anxious copywriter with more than a passing resemblance to any of Woody Allen's New York neurotics. Answering a personal ad that speaks to her love of literature, she finds herself on a date with the outgoing, sex-crazed Helen (Heather Juergensen). The results are funny, sharply-written, and offer a glitz-free look at love in modern day New York.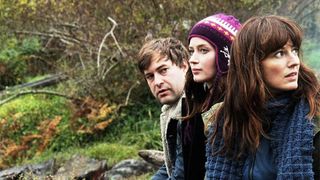 31. Your Sisters Sister (2012)
You'd never know it from the film's marketing, but there's a lesbian in Your Sister's Sister and she's played by Rosemarie DeWitt. Hannah has a drunken fling with her sister Iris' (Emily Blunt) friend Jack (Mark Duplass) in a desperate bid to get pregnant. The sting in the tale is that Iris and Jack are actually in love - they've just never confessed their true feelings to one another. Sexuality isn't an issue in Lynn Shelton's indie comedy - hurrah! - but sleeping with your sister's friend certainly is.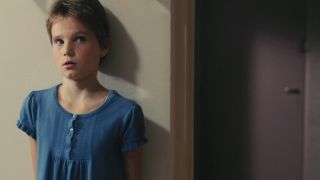 30. Tomboy (2011)
Director Celine Sciamma explores what it means to be a girl being a boy. 10-year-old Laure (Zoe Heran) moves to a new town with her parents and sisters, and after her next-door neighbor Lisa mistakes her for a boy she seizes the opportunity to reinvent herself as Mickael. It's tender, tentative and wonderfully underplayed, with some great performances from its young cast. Namely, Heran, who absolutely shines as the transgender youngster who isn't afraid to be himself.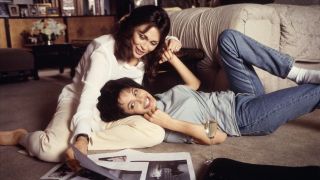 29. Gia (1998)
HBO's biopic about the tragic life of supermodel Gia put Angelina Jolie on the map. It's told in a mockumentary style with flashbacks charting her rise to the top. Jolie earned numerous awards for her performance - and won over countless legions of gay fans for not shying away from Gia's sapphic side. Still, as this is a loyal adaptation, there comes a sorrowful sting in the tail. Just to warn you; Jolie begging Elizabeth Mitchell's florist not to leave by promising to make her breakfast will totally break your heart.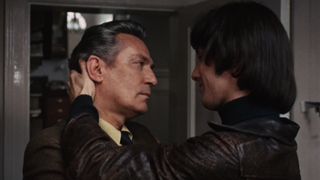 28. Sunday Bloody Sunday (1971)
Murray Head plays bisexual artist Bob Elkin who has relationships with both Glenda Jackson's recruitment consultant and Peter Finch's doctor. Pioneering in its depiction of happy, confident non-heteros, with a modern attitude towards polyamorous relationships. The film portrays Elkin as not in the least bit bothered by his sexuality or his exploits. It was rightly branded a masterpiece by Roger Ebert (and many after him). And no, the title has nothing to do with the shootings in Northern Ireland.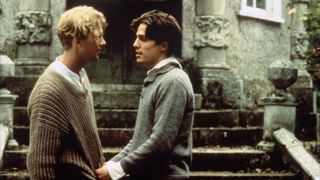 27. Maurice (1987)
Years before he became known for his roles as foppish Englishmen, Hugh Grant played the lustful object of male attention in Maurice. Set in the early 20th century at Cambridge University, James Ivory's drama is based on E.M. Forster's sweeping novel. It begins charting the intense love affair between Maurice (James Wilby) and Clive (Hugh Grant), until Clive bails for an easier, straight life. Boasting fantastic performances, Maurice offers eye-opening insight into a time when being gay was a crime.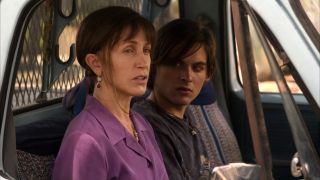 26. Transamerica (2005)
Thought Felicity Huffman was good on Desperate Housewives? You haven't seen anything yet. Strapping on a prosthetic penis, she plays a man who's living as a woman, and utterly convinces (that's a compliment). Bree Osborne discovers she fathered a son 17 years previously, and journeys cross-country to bail him out of jail - disguised as a missionary. It's a tour-de-force performance that somehow evades being showy or preachy. Duncan Tucker's drama is an unconventional delight.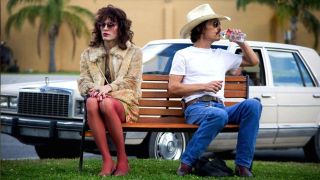 25. Dallas Buyers Club (2013)
Matthew McConaughey and Jared Leto deservedly bagged a golden baldie each for their roles in Jean-Marc Valle's no-frills biopic. Though Leto is magnificent - he reportedly never broke character while on set - this is McConaughey's show. Outdoing Christian Bale in the method stakes by shedding loads of weight, the comeback king plays AIDS sufferer Ron Woodroof, whose unconventional approach to self-medication sees him become a beacon of hope for those living with AIDS. And that's just one fascinating aspect of this moving, gorgeously-crafted movie.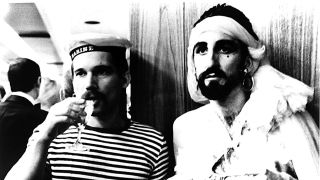 24. Taxi Zum Klo (1980)
A little-known German documentary that was re-released in 2011. The title translates to Taxi to the toilet, which is fitting for a film that takes an unflinching look at strings-free promiscuity in a pre-AIDS era as we follow writer/director/star Frank Ripploh around West Berlin. His experiences as a sexually-adventurous schoolteacher are both shocking and heartwarming. Ripploh's film provides an eye-opening insight into a bygone time.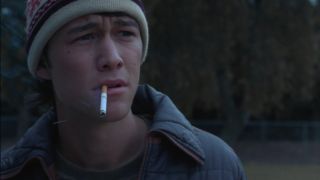 23. Mysterious Skin (2004)
Deeply depressing it may be, Mysterious Skin is nevertheless a rewarding drama that deals with some really difficult issues in a sensitive and compelling way. Directed by celebrated gay auteur Gregg Araki, who dabbles with LGBT in practically every one of his movies, we follow the lives of Neil (Joseph Gordon-Levitt) and Brian (Brady Corbet). The pair share a tragic event in their past, which sends them off in wildly different directions - one becomes a male prostitute, the other an alien abduction obsessive.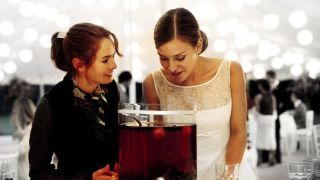 22. Imagine Me And You (2005)
In a world where gay characters are regularly sidelined as comedic relief, Imagine Me and You puts them front and center. Ol Parker's quaint British comedy is a by-the-numbers romance that was originally intended to be played straight; woman meets mysterious stranger on her wedding day and proceeds to fall in love with them. After a serious overhaul, Piper Perabo's bride locks eyes with Lena Headey's sexy tomboy florist Luce as she trots down the aisle. It's a refreshingly upbeat lesbian pic.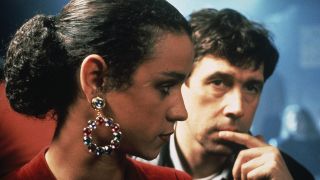 21. The Crying Game (1992)
Best known for that stinger of a twist, The Crying Game stars Stephen Rea as Fergus, a member of the IRA who falls in love with Dil (Jaye Davidson), a dead soldier's girlfriend. There's obviously a lot more to the movie - but we don't want to give away that reveal - which raised awareness for the LGBT community in a way that many other movies at the time wouldn't have dared to. Davidson gives a remarkable performance, which makes it even more of a shame that he's barely acted since.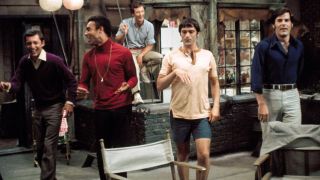 20. The Boys In The Band (1970)
Widely considered to be a milestone in cinematic evolution, William Friedkin's Off Broadway adaptation was one of the first films to revolve solely around gay characters. This bunch are all residents of New York City, led by Michael (Kenneth Nelson) who throws a birthday party one evening for Harold (Leonard Frey). The whole glitzy affair transforms into an intriguing night when Michael's straight friend Alan (Peter White) is accidentally invited. It now exists as somewhat of a period piece, now that closets are frequented less and less, but a fun one to revisit.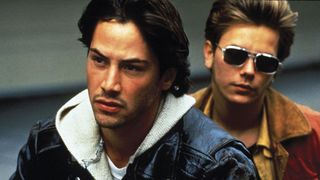 19. My Own Private Idaho (1991)
What's most haunting about Gus Van Sant's drama is the fact that we'll never see what was promised by River Phoenix's performance as a Portland hustler. It's arguably one of the late actor's finest turns, that finds him and Keanu Reeves working the city streets to make some dough, all the while growing closer. It's loosely based on Shakespeare's Henry IV and V, was made on a low budget, and is now a celebrated cult classic. Critic Roger Ebert notes that it successfully evokes that state of drifting need. We'd have to agree with him.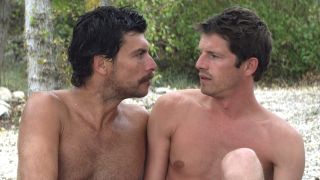 18. Stranger By The Lake (2013)
A psycho-sexual drama that dodges the erotic thriller tag, this Cannes Queer Palm winner from director Alain Guiraudie is dark, explicit stuff. Everything unravels in one location - a remote lakeside hook-up spot, that's an idyllic getaway for Franck (Pierre Deladonchamps), a single man desperate to find companionship. He heads to the sun-kissed beaches and lakes of this French cruising locale and makes the acquaintance of Michel (Christophe Paou), a mysterious, sexy character who has the entire place in a tizzy. Well, he does resemble Tom Selleck in his prime so that probably has something to do with it. Looks aren't everything though, as Franck soon discovers his paradise has become the scene of a murder.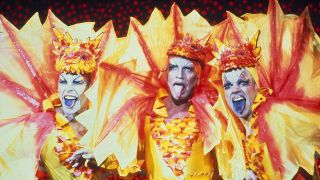 17. The Adventures Of Priscilla, Queen Of The Desert (1994)
Sparkly, shiny and hilarious, Priscilla makes for addictive viewing - and not just because it features Terence Stamp in drag. Well, Stamp's brilliant, but then again so is all of the star-studded cast. Hugo Weaving leads the pic as Anthony, a drag queen who convinces his two best pals to road trip with him across Oz doing shows. They rope in Guy Pearce's Adam and hit the road. And while the stage show upped the camp considerably, the cinematic Priscilla is a hybrid beast of its own. An intimate drama and all-out comedy, spliced together with flashy dance routines.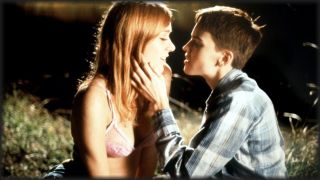 16. Boys Don't Cry (1999)
Talk about dedication. Hilary Swank lived as a man for a month in preparation for her role as a teenage girl who wants to be a boy. Boys Don't Cry goes deeper than previous transgender movies, shining a light on the ugliness and fear that trans people are faced with when in conservative communities. Based on the real story of Brandon Teena - born with those names reversed - it's a real eye-opener. Swank scooped an Oscar for her efforts, and the film itself is an eloquent, moving account of real bravery in the face of adversity. You will cry.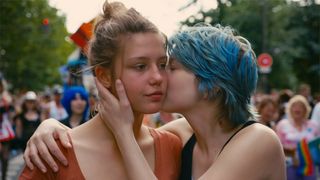 15. Blue Is The Warmest Colour (2013)
Reports of a war-torn set only add to the aura of intrigue surrounding this five-star drama. Was the director a complete beast? Well, whatever he did worked. A three-hour epic of teenage angst, desire and - yes - lesbian sex, its in-yer-face mattress shenanigans set headlines ablaze. Underneath those more scintillating aspects lie two stunning performances from Lea Seydoux and Adle Exarchopoulos. This pair are riveting to watch as they fumble with young romance; prepare to have your hearts broken.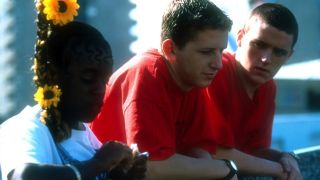 14. Beautiful Thing (1996)
Growing pains reverberate through this sweet-nature Brit flick. Set in a London suburb, Hettie MacDonald's upbeat movie follows the story of two youngsters growing up in a London housing estate. During one blistering hot summer the geeky Jamie (Glen Berry) falls for his athletic neighbour Ste (Scott Neal). Ah, bless. What's most touching about it, is how innocent the pair are. Neither has experienced these types of feelings before, and watching them try to understand what it means to be gay (one scene in particular has them both scouring a copy of Gay Times for clues) is heart-warming. The soundtracks great, too, featuring the trippy-hippy likes of The Mamas & The Papas.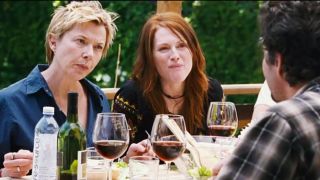 13. The Kids Are All Right (2010)
Who knew lesbians liked watching gay porn? Well they do in this flick. Out and proud director Lisa Cholodenko lifts the lid on real-life lesbian relationships, casting Annette Bening and Julianne Moore as life-long partners raising their two children. It's one of the first movies to explore how gay families operate. Which, is remarkably similar to straight ones. Still the differences that do exist are expertly navigated, particularly the tricky logistics of building a family outside of heterosexuality.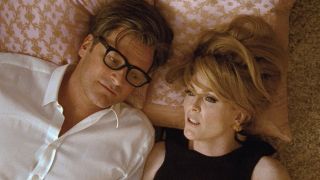 12. A Single Man (2009)
Fashionista Tom Ford brings a trained eye to his directorial debut, ensuring that every shot is one of breath-snatching beauty. A particularly nice touch is the way the colour of a scene brightens whenever our lead's interest is sparked. Meanwhile, Ford dresses Colin Firth up in suits from his own line as George Falconer, a college professor suffering from depression after the death of his lover (Matthew Goode) several months before. The film unfolds over the course of a day, following George's plans to commit suicide that evening. Sounds bleak, but it's a considered, sensitive drama.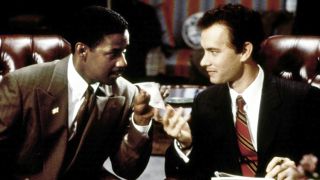 11. Philadelphia (1993)
Jonathan Demme shines a light on prejudice and homophobia as Andrew Beckett fights back when he's fired from his job when it's discovered he has AIDS. Casting Tom Hanks in the lead was a daring move at the time, what with Hanks being something of an icon for all things traditional. Demme's risk paid off, giving us one of the actor's best performances to date. Watching him spar with Denzel Washington, as Beckett's homophobic lawyer, makes for one of the finest dramas ever made.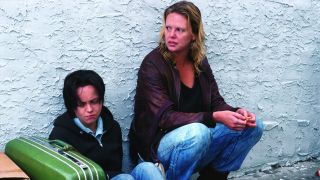 10. Monster (2003)
As upsetting as it is, there's no denying Patty Jenkins film is a beast all its own. A lot of that is thanks to Charlize Theron in the role of real-life serial killer Aileen Wuornos; a performance that marked her out as an actress willing to do anything for a part. Yes, even undergo uglification-by-prosthetics. It's partly that choice, and Theron's decision to perfectly capture every one of Wuornos' tics and mannerisms, which earned her the Oscar. Her turn is both horrifying and heart-breaking; we see her suffer great tragedy, fall in love, make some heinous decisions and then get stabbed in the back by those she trusts the most.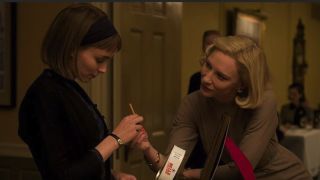 9. Carol (2015)
Carol narrowly missed out on a major Oscars haul - not that that matters one bit. Todd Haynes' adaptation of Patricia Highsmith's novel is sublime - and I don't use that word often. This isn't the first time Haynes has explored the repressed sexuality of 1950s women (see: Far From Heaven), however it's the first that involves a lesbian love affair. Cate Blanchett stars as the titular woman, an alluring and mysterious figure who attracts the attention of Rooney Mara's shopgirl Therese. The pair become friends, and it's through the superb nuances of both actresses that their true feelings are made apparent. A glorious, beautifully-shot piece of cinema. Bonus points for its happy ending.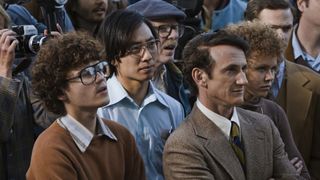 8. Milk (2008)
Sean Penn nabbed his second Oscar in Gus Van Sant's affecting biographical drama about the San Franciscan gay rights activist and politician. Playing the titular Harvey Milk, Penn dons a prosthetic nose and is the most likeable he's been in years as a man who ups sticks from New York to the city by the bay. His life story is a fascinating one, for sure, yet Van Sant chooses to kick things off on Milk's 40th birthday when his foray into politics begins. It's an affecting piece of work, highlighting the then-ongoing fight for LGBT equality in California - the film had its premiere the night of the state's referendum on gay marriage.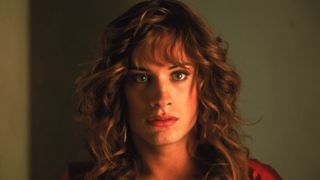 7. Bad Education (2004)
One of Pedro Almodovar's most celebrated works and a fascinating melting pot of melodrama that doesn't pull any punches when it comes to exploring transexuality and drug and sexual abuse. When Enrique (Fele Martinez) receives a script chronicling his upbringing at a Catholic boys' school, he takes a stroll down memory lane. From his early school days in the '60s through to the '70s and '80s, the movie flits between past and present, reality and fiction. Gael Garcia Bernal steals the show as his childhood pal Ignacio.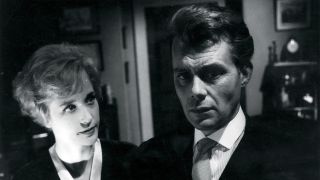 6. Victim (1961)
Basil Dearden's British suspense flick has the honour of being the first English-language film to contain the word homosexual in a time when homosexuality was still illegal in England and Wales. Initially considered so shocking that it was banned in the US, its story of a lawyer (Dirk Bogarde) who attempts to take down a blackmailer attempting to link him to a young gay lad (Peter McEnery) is still considered a milestone in liberalising and relaxing attitudes toward the LGBT community in Britain.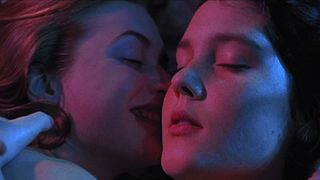 5. Heavenly Creatures (1994)
Delightfully barmy and with a viper-like sting in its tale, Peter Jackson proved he could spin a damn good yarn after the gore-drenched likes of Bad Taste and Braindead. Creatures is anything but. Instead, Jackson took inspiration from the real-life story of Pauline Parker and Juliet Hulme, two schoolgirls whose friendship turns to something more while they fantasise about a dream world. It boasts jolly performances from Kate Winslet and Melanie Lynskey that turn pitch black as we gallop toward the heart-in-throat finale.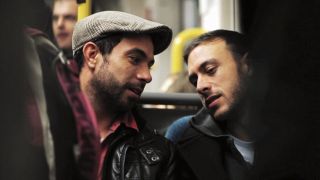 4. Weekend (2011)
Shot like a documentary and brimming with striking raw images, this is the gay movie of our generation. There's more than a passing resemblance - and passing of the torch - to the Angry Young Men kitchen sink dramas of the '60s. The men here aren't angry, in fact, there's a whole new world of acceptance available to them. Its portrayal of the brief encounter between Russell (Tom Cullen) and Glen (Chris New) shudders with perceptive nuance. It gets pretty racy in places, too.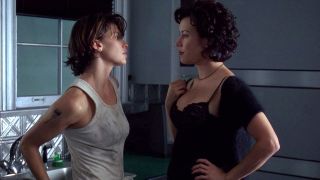 3. Bound (1996)
The Wachowskis' pre-Matrix debut is still held in high regard by cinephiles AND lesbians for one simple reason: it's a tightly-wound, cinematic masterpiece that just happens to be about two gay women. There's no time spent on the womens' quibbling about their orientation - because that's a topic handled in so many other movies - this is about getting down to business. Corky and Violet know how to screw over the mob, but for the gay audience, it's way more fun when they screw over each other. Finally. A movie that gets it right.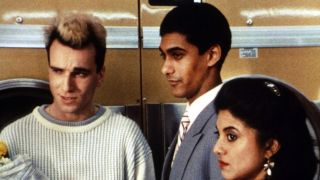 2. My Beautiful Laundrette (1985)
Stephen Frears captures a perfect snapshot of 80s London, where racial tensions are rife and gangs stalk the streets. Better still, he observes the gradual breaking down of cultural stereotypes, as two long-lost friends reconnect after years apart. Bruiser Johnny (Daniel Day-Lewis) falls head over heels for pretty Asian Omar (Gordon Warnecke), after the pair go in on a new business venture together, at a time when the gay lifestyle wasn't up for discussion. Much was made at the time of their bi-racial and homosexual affair, and it still stands as a timely - and, yes, beautiful - portrait of young love.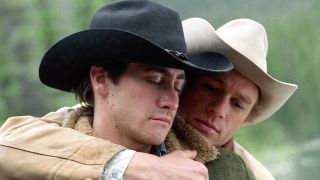 1. Brokeback Mountain (2005)
You'll never smell a shirt the same way again. Heath Ledger and Jake Gyllenhaal play Ennis and Jack, two ranchers who spend the season on the mountain refining the art of herding cattle and the joys of unexpected romance. Ang Lee's exquisite heartbreaker was snubbed at the Oscars, but that probably saved it from an unwarranted backlash. Rough, ready and stuffed with stellar performances (not least Heath Ledger and a surprisingly catty Anne Hathaway), they don't get any better than this.